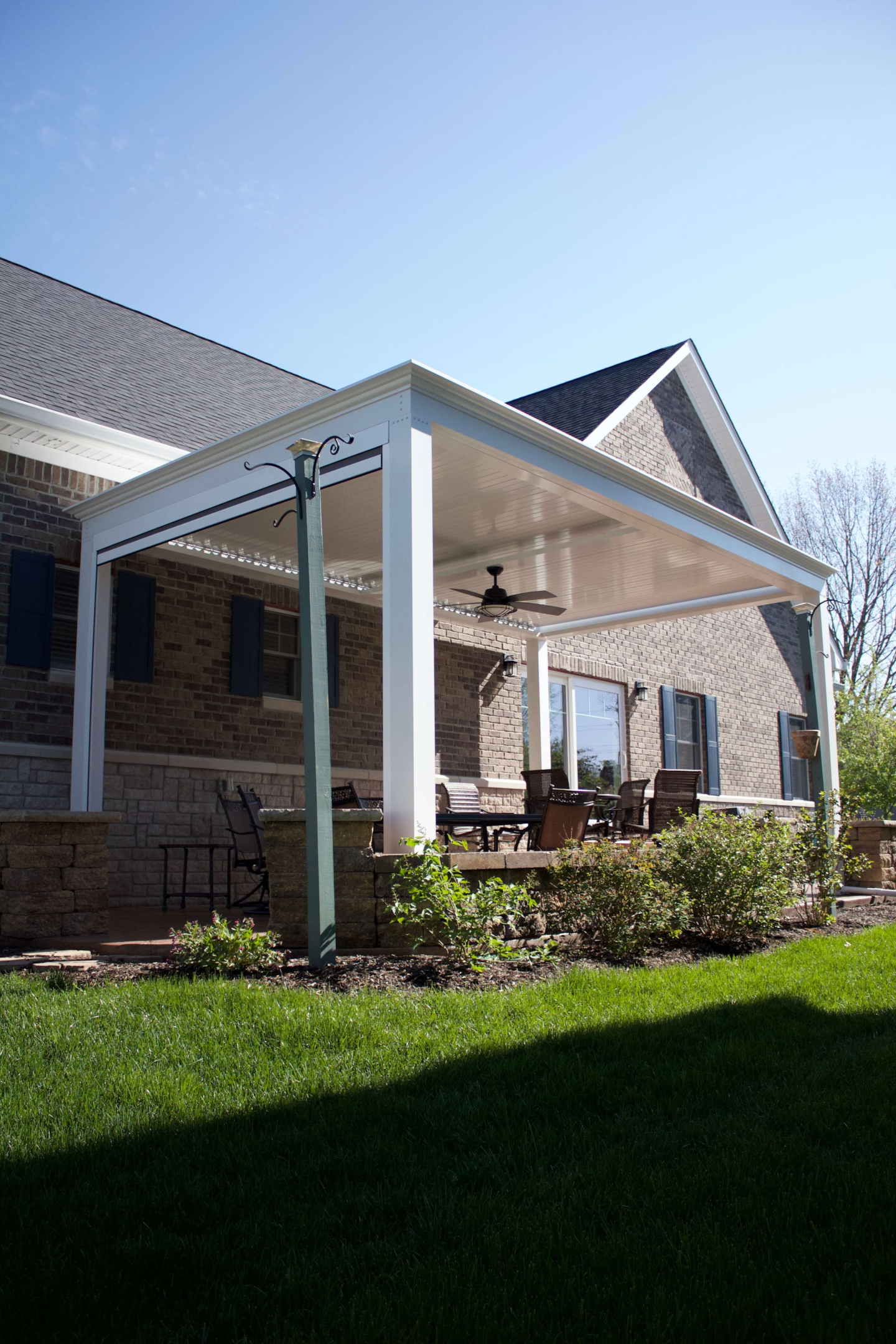 Listen to Article
When the sun is beating down on you on a hot July day, you look at your backyard and wonder why you waited yet another year to find some kind of shade for your patio. Your family doesn't want to come out there and enjoy the beautiful oasis you spent all year creating.
As the sweat begins to pour down your face, it can be easy to wonder if it's better to just wait until next year for all your outdoor dreams to come true.
It doesn't have to be this way.
You can change your entire life with one simple thing. A great pergola.
Now the question that plagues us all sounds quite simple. What is a pergola?
What is a Pergola?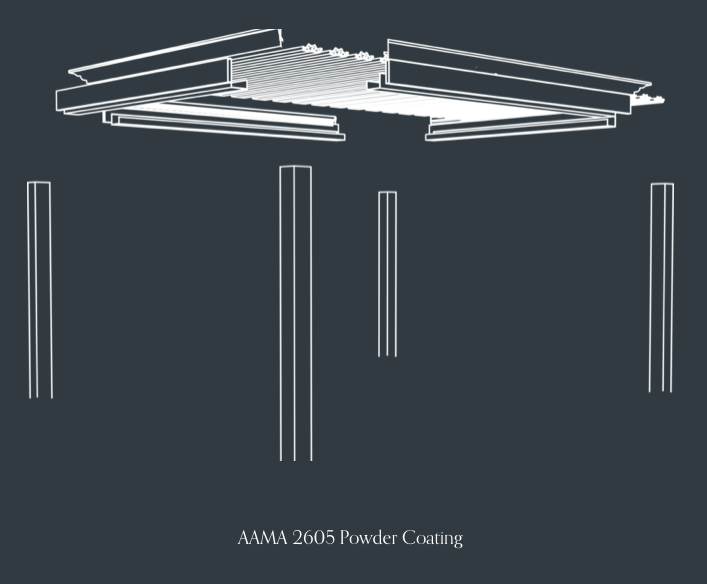 A pergola is a simple structure that can completely transform your outdoor space and how much space you have to use in your backyard. Pergolas are typically made from four sturdy posts that support an open roof.
Now some pergolas can open and close. These are called a louvered pergola or an adjustable louvered roof. The main difference between these revolutionary pergolas and the traditional canopy is the sheer versatility they offer.
Since everyone has seen a traditional pergola, we will discuss louvered pergolas here and louvered pergola kits.
Overview of Pergola Kits

If you are looking to add a pergola to your outdoor space, you basically have two options. You can get DIY pergola kits, or you can build a pergola from scratch. Building a pergola from scratch, will take huge amounts of time, and generally huge amounts of money. It does allow for a custom pergola that diy kits just don't offer.
However, if you want something far more affordable, convenient option for your outdoor oasis, DIY pergola kits are a great choice. In this article, we will be going over the benefits of a DIY Louvered Pergola kit, the pergola styles available, top manufacturers, installation, and more so you can get the bet for your yard.
Benefits of Pergola Kits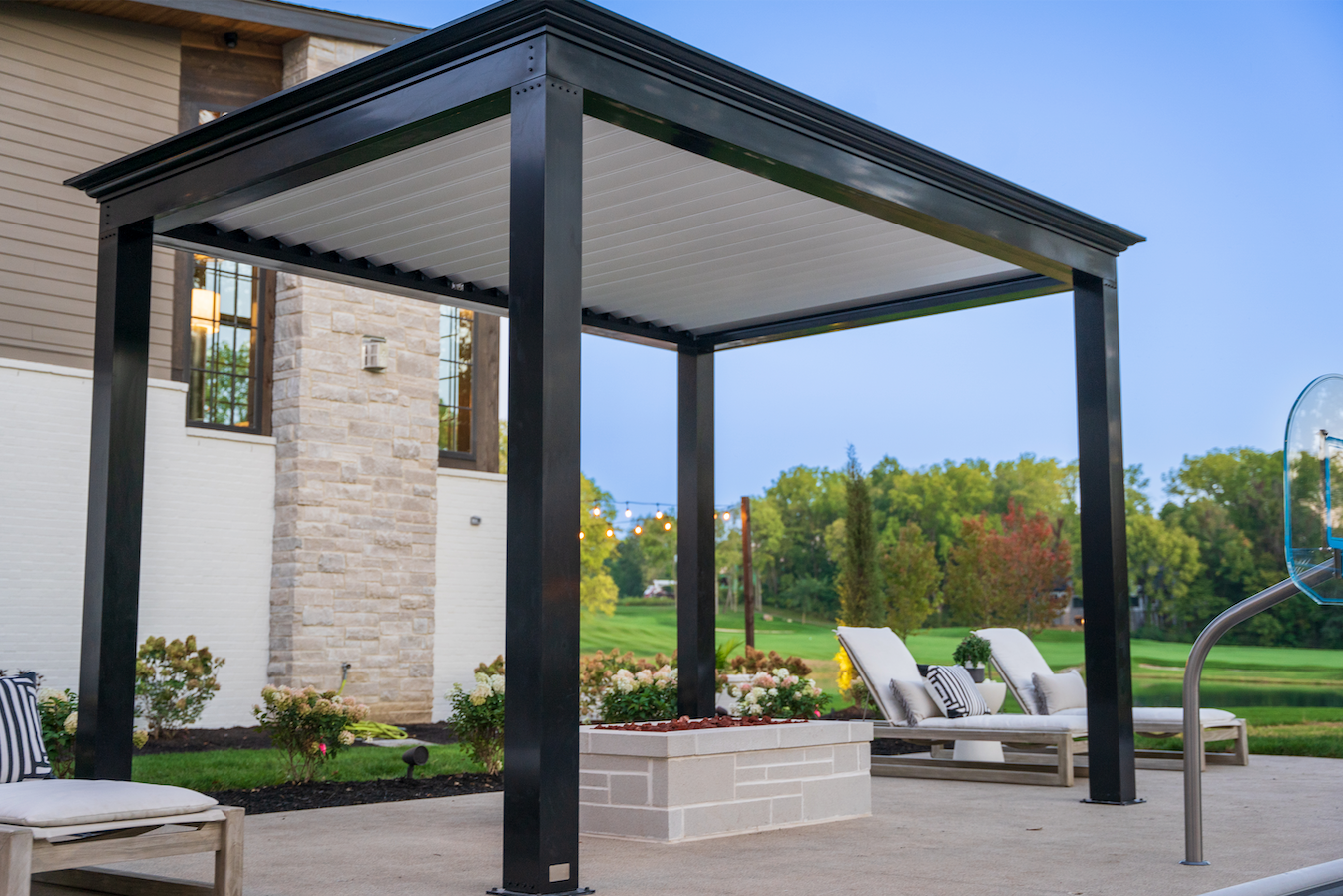 There are a huge number of benefits to going with pergola kits for your backyard structure. You need to consider the pergola cost, ease of installation, customization for your pergola styles, and the durability of the units.
Cost Savings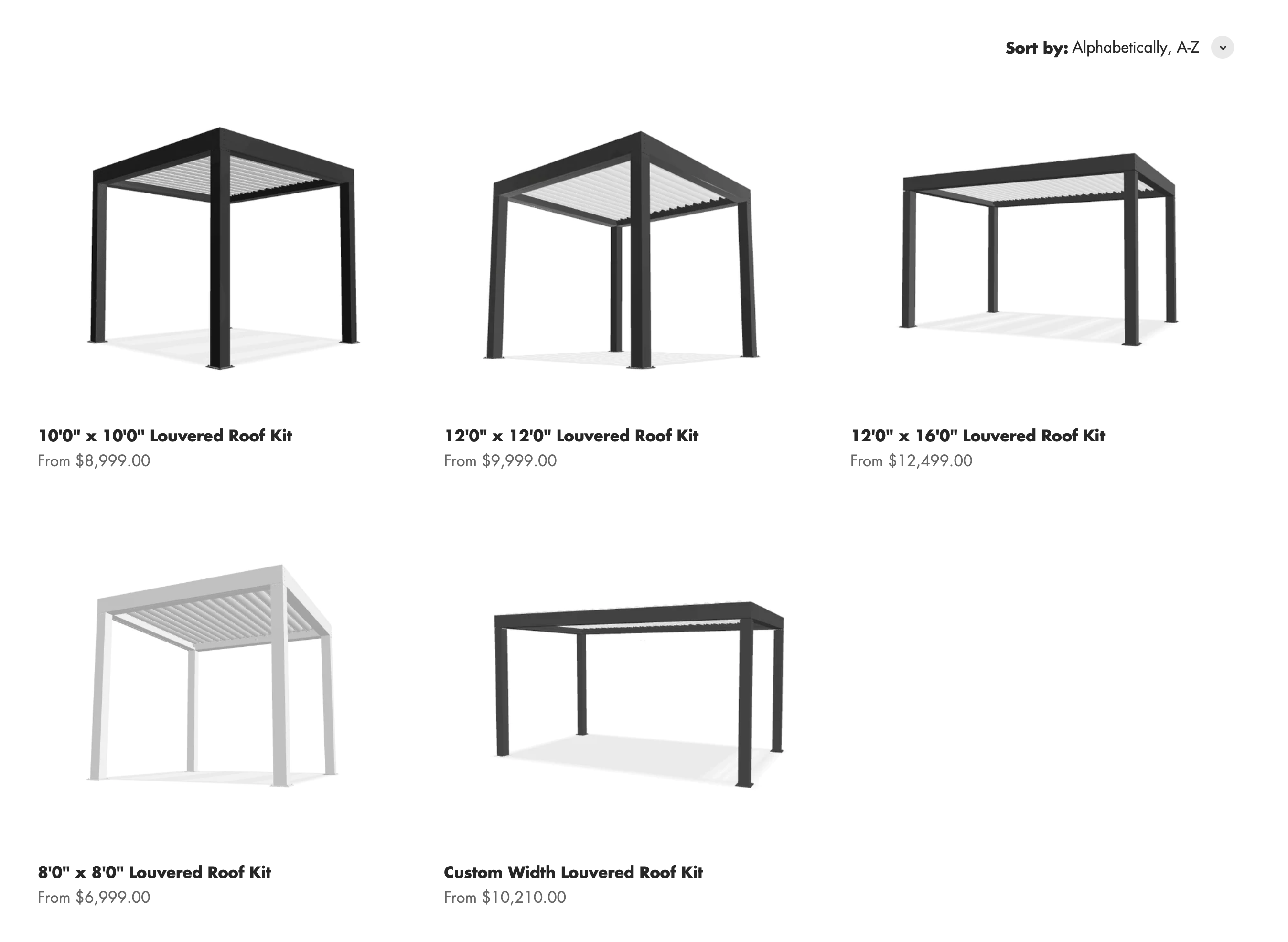 The biggest benefit to getting a high quality shade or canopy, is going to be the cost savings. The best aluminum pergola kit in the world will start somewhere around $8,000. You could go with a different pre cut option, like the Costco Mirador Adjustable Pergola kits, but that won't give you the best material when you wish to assemble.
The best free standing pergola kit, is easily the Luxury Pergola, but it does require quite a few more specialized tools, rather than the simple tools of some of the other options.
Pergola kits in general are designed to be a very simple outdoor structure that you can purchase directly from the manufacturer. what this does is save you a ton of money on your purchase so you can create the outdoor space you always wanted.
Ease of Installation
The ease of installation is generally the biggest sticking point for most when they are looking for the perfect structure for their backyard. With almost all of the kit options, you cannot customize your size and style, but you can get a nice shade at a reasonable price.
For almost all of the kits out there, you only need an Allen wrench and a Phillips head screwdriver. This will be the lowest quality kit on the market, as the layout with this hardware cannot stand up to high winds.
The more complex and expensive pergolas will require a much wider variety of tools to construct and if you want to attach to a deck, it is best to get a certified contractor to do the build for you.
If you want to know how to build a pergola, check the video at the top of this section.
Customization Options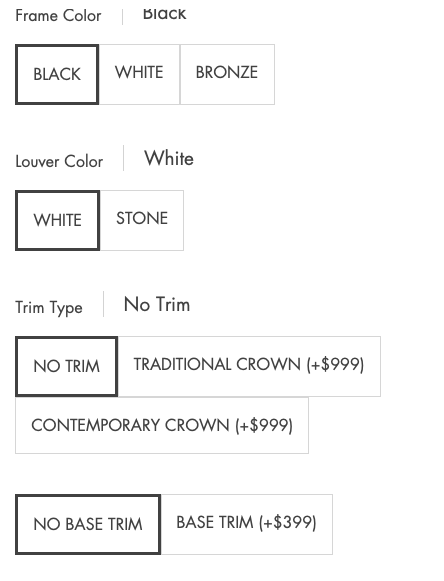 Pergola kits come in a wide variety of styles and sizes. Some can be attached pergola kits where it will connect to your house (we do not recommend these) while others will be freestanding. Some are pergolas designed for high winds, while others will struggle with a slight breeze.
Other pergolas will be a pergola with a roof or a louvered pergola kit, and others will have fixed slats that don't provide any kind of rain protection. The highest end options will offer a variety of colors and sizes, while also being a motorized louvered pergola.
With these higher end pavilion options, you get the shade you need in the outdoors while also protecting from rain. It is the ultimate in modern pergola kits.
Durability of Pergola Kits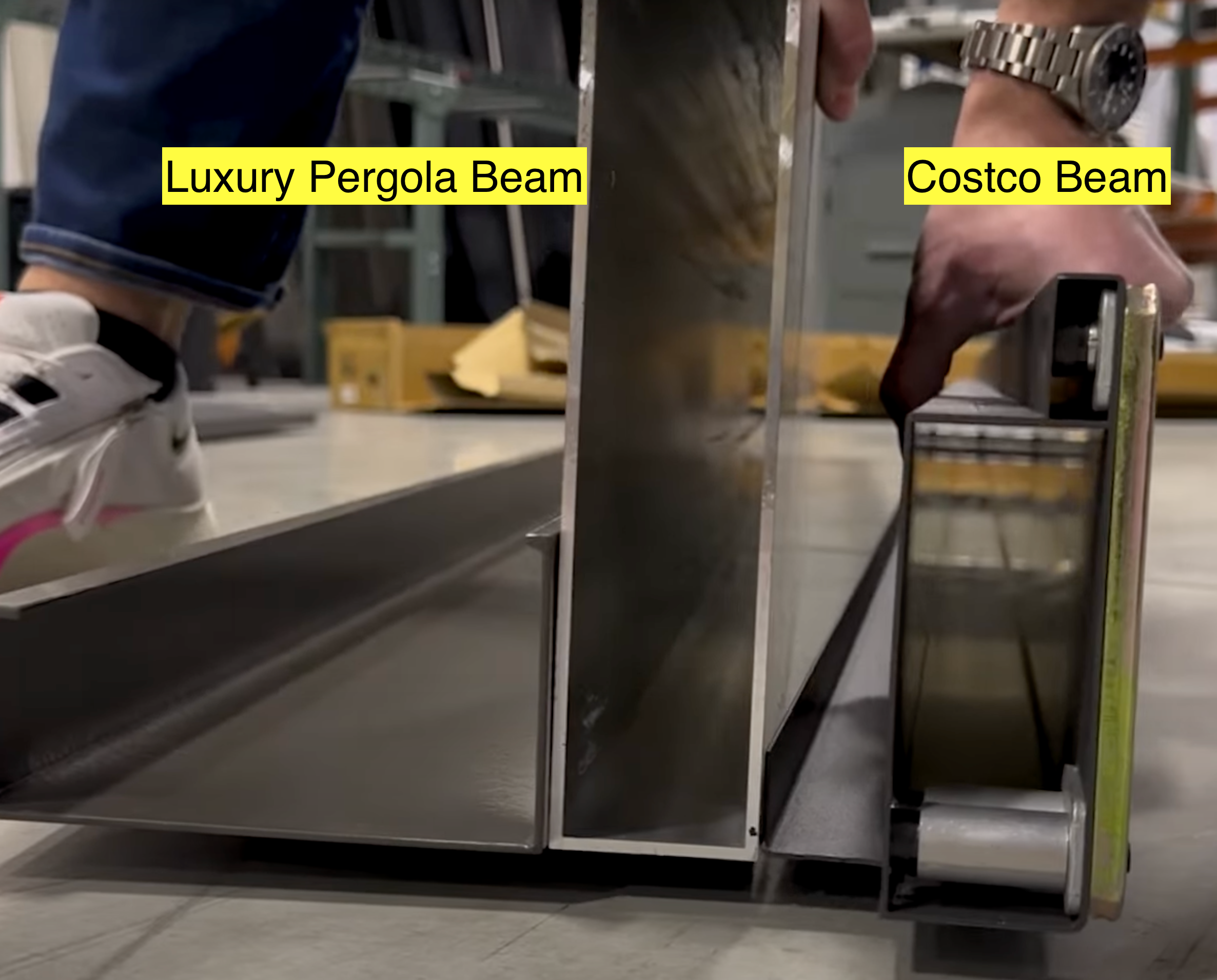 The biggest difference in different pergolas, especially in the diy space, is their durability. A cedar pergola will need to constantly receive fresh paint or stain, and maintenance, while aluminum will need almost no upkeep.
If you want a modern pergola kit, wood pergola kits are definitely out, as is pressure treated pine or cedar wood. The best roof will be made of aluminum rather than steel, and should be rated for at least 100 mph winds.
Below is a list of things to ensure your pergola can handle if you are looking at the adjustable louvered roof or a traditional style pergola canopy.
Handle at least 100 mph winds

Withand at least 1500 lbs of snow

Require minimal maintenance
Factors to Consider when buying DIY Pergola Kits
When you are looking for a DIY pergola kit, whether you want it louvered or one with a retractable canopy, it is important to understand a few key factors. Those key factors are size and design, material, and the price you are willing to pay for your free standing pergola.
Additionally if you want a motorized pergola, it will cost a bit more than a manual option, but the best aluminum pergola is going to be one that costs a bit more.
The two easiest points of comparison are the Costco Pergola vs the Luxury Pergola which you can see in the video above. Assembly is different between the two as is the overall quality. Hint: Luxury Pergola wins on all points.
Size and Design of a Pergola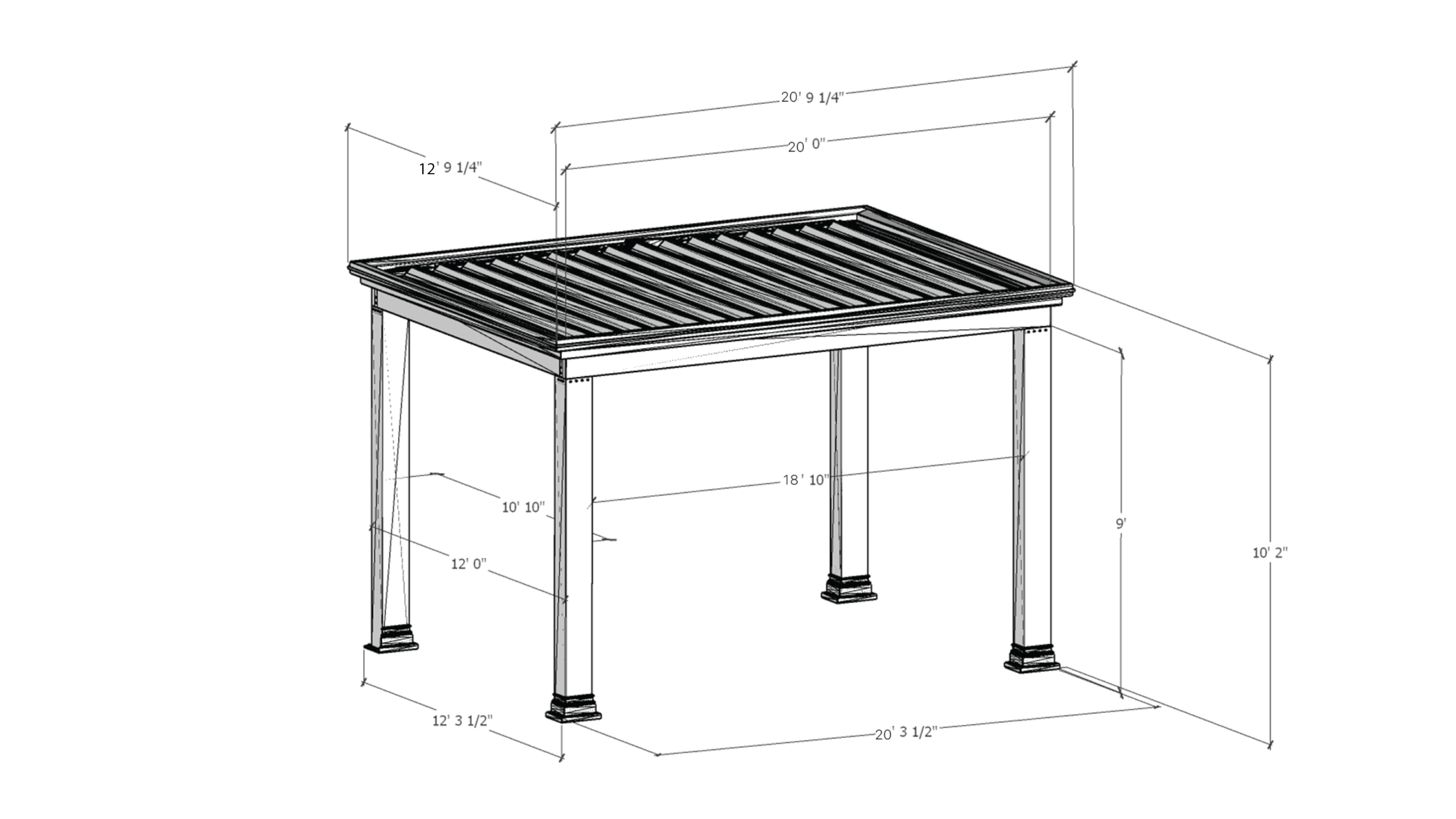 The size of your outdoor structure, will be a key factor when choosing your shade or gazebo. A motorized louvered pergola, can be as large as 12 x 20, and cover a large amount of outdoor area. The project shouldn't be too intimidating, however. You do just want to block some sunlight after all.
Additionally, the design of the pergola can be in a wide variety of options. The Luxury Pergola offers different crown moulding options for all their structures from a 12 x 16 pergola to things even larger.
Material Options on a Pergola Kit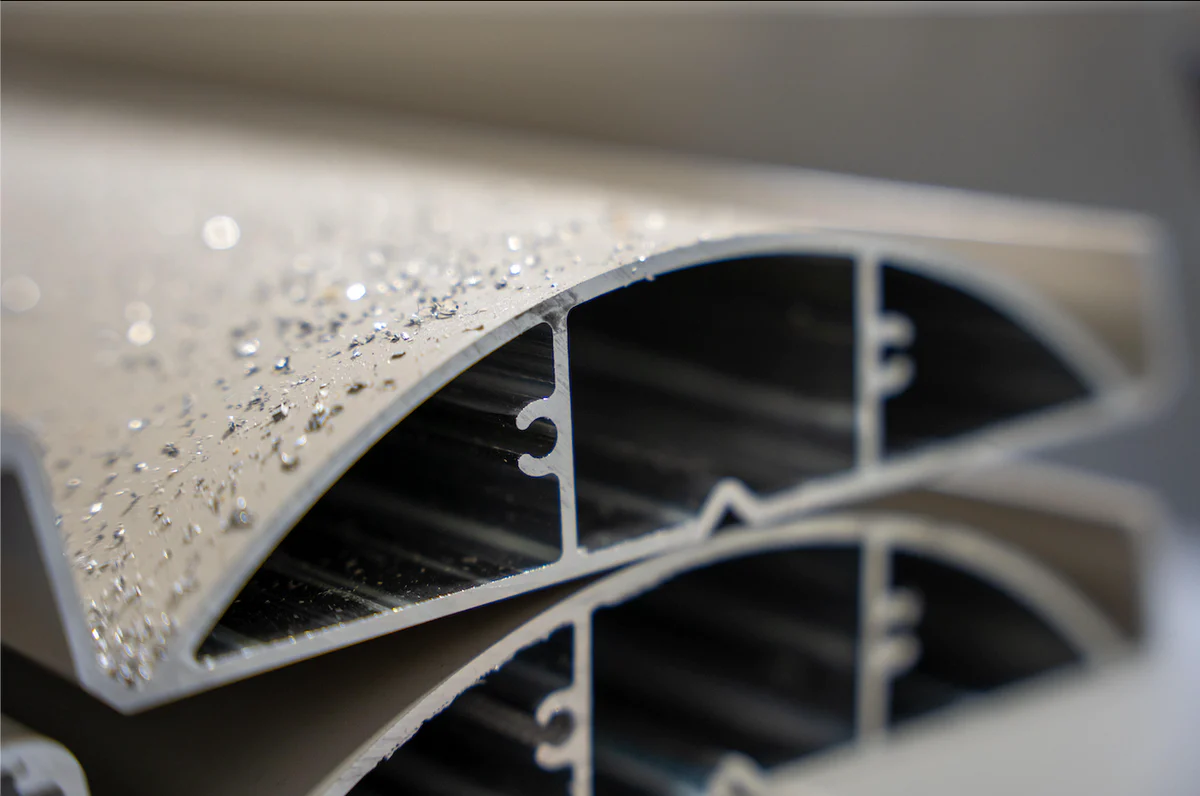 The three main material options for a pergola are wood, vinyl, and aluminum. Different kits and materials go better depending on your landscape ideas or backyard. The patio will help inform your material choice.
The most durable pergola material will obviously be aluminum when compared to the other options. The aluminum motorized pergola cost can sometimes make customers concerned, but when you compare the kit version to the Struxure Pergola cost, it is an easy decision.
When you remove the required cutting, sealant, and installation of a custom pergola with Struxure, the costs can quickly get out of control.
Price of a Pergola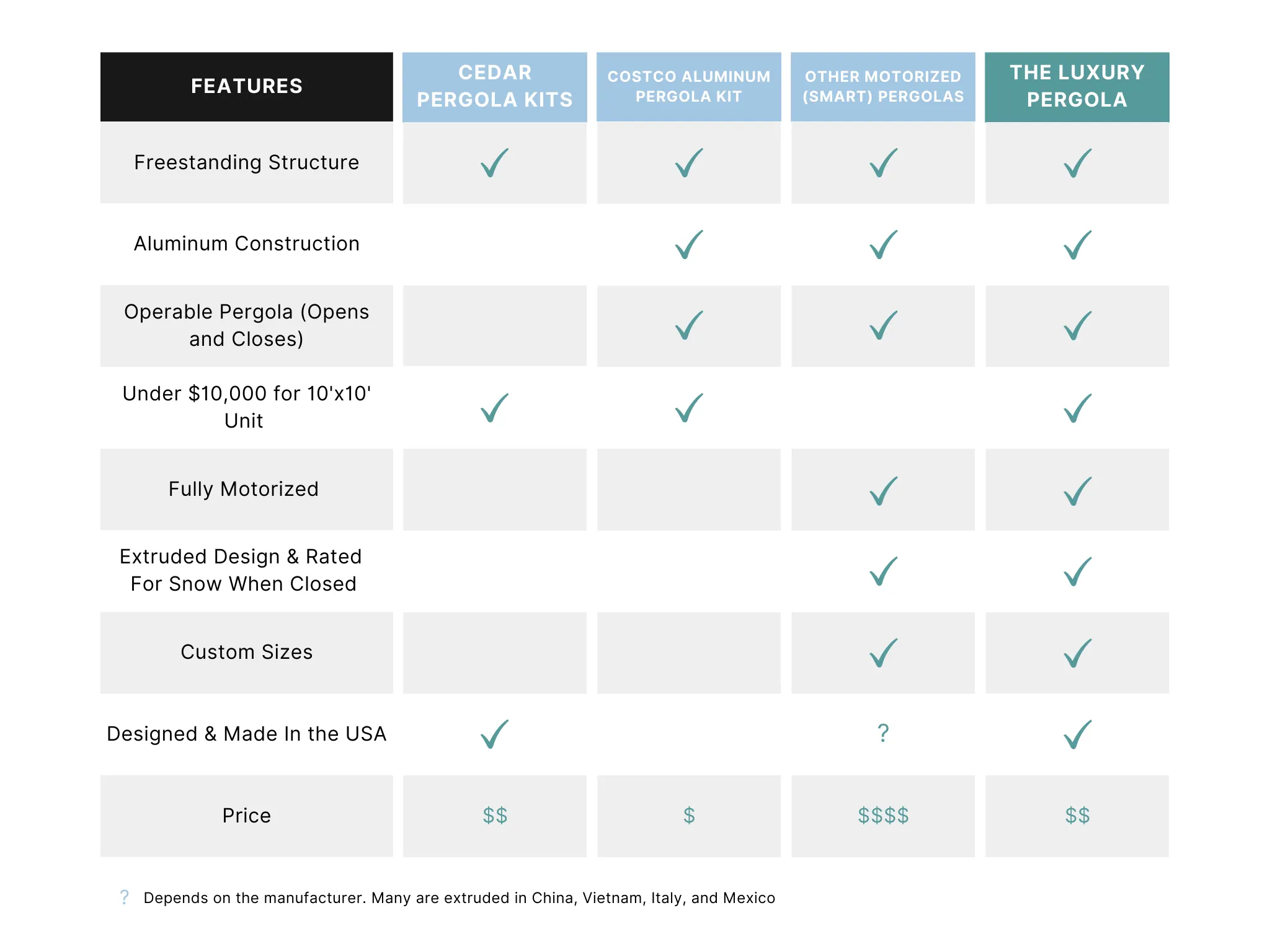 The pricing of different pergola kits can give you, somewhat, of an idea of quality. All will keep out the sun, but others will do better at handling sunlight than others.
Additionally, when you bring things into the outdoors, you want the best louvered roof kit possible. When you consider all the crazy weather your garden goes through, you need a structure that can handle the wind, rain, and elements.
The highest price option for a pergola kit will be the Luxury pergola. They have, by far, the strongest pergola on the market. It isn't even close when you look at the other kits out there.
The most affordable option would probably be the Costco pergola. It has worse paint and we wouldn't recommend putting a fire pit under it, but the pergolas are decently easy to assemble and the price is attractive.
Maintenance of Pergola Kits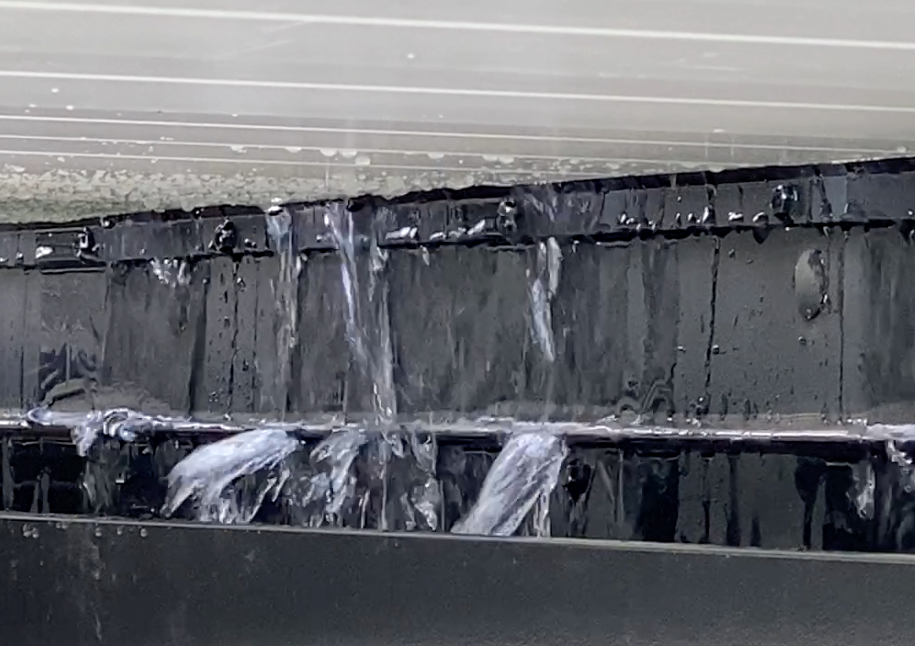 When you're looking at maintenance for a motorized louvered pergola kit, if the pergola is solid aluminum, the only maintenance you will have to do is cleaning out the gutters. With wooden pergola kits, the maintenance is significantly more.
The beauty of aluminum, is that you don't have to do much, if any, maintenance. You could even have a pergola kit in Miami and not have to worry about the weathering of your beautiful pergola.
Whether your pergola covers an outdoor kitchen, or just a nice seating area to entertain, if you get the right open and closing pergola, or louvered pergola kit, you won't regret going with the best to ensure your patio is enjoyable for years to come.
Conclusion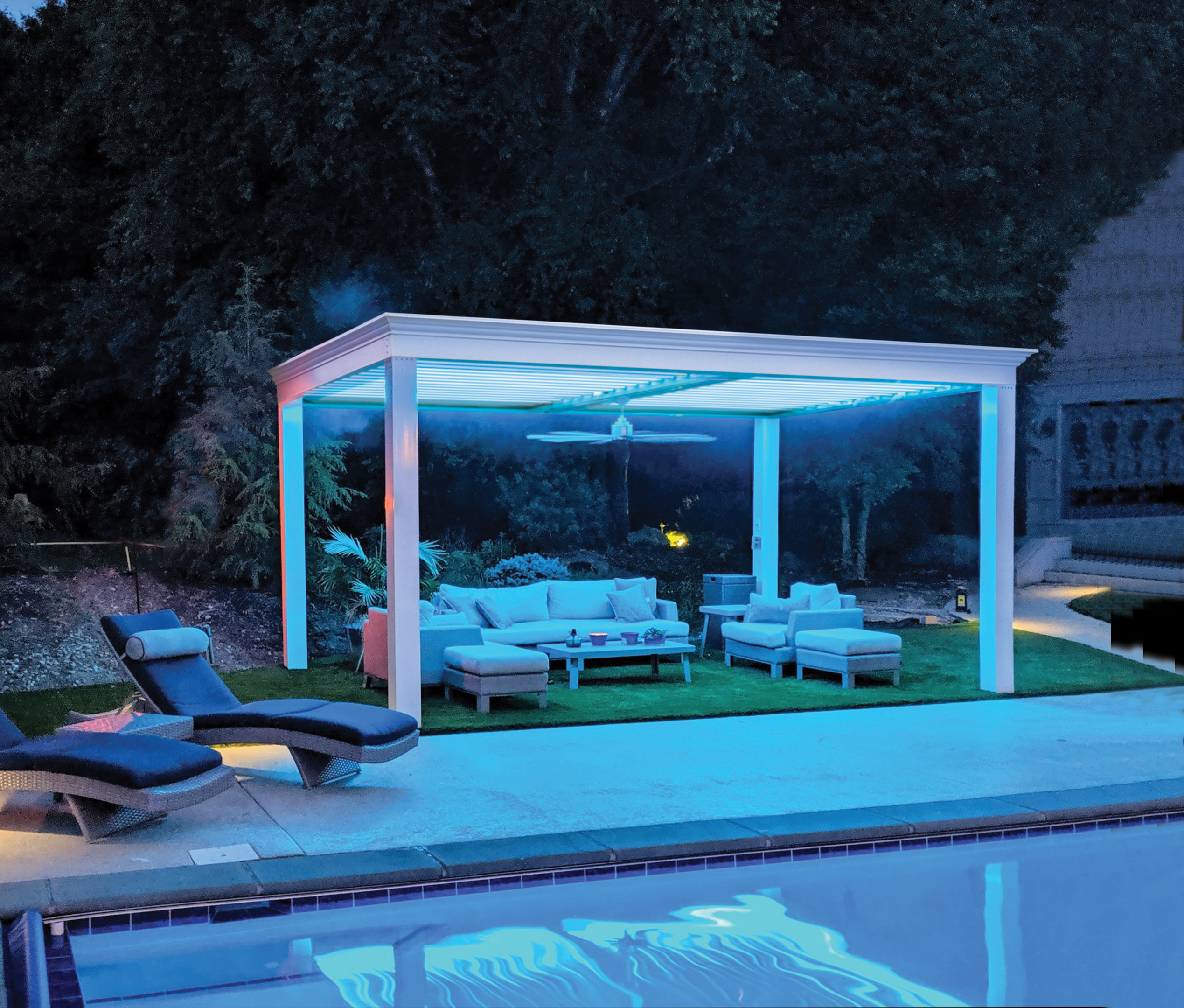 Pergolas are a great addition to any outdoor area, providing shade, style, and functionality. Pergola kits are a convenient and affordable way to add a pergola to your backyard or patio.
When selecting a pergola kit, consider the material, aesthetics, and price to ensure you get the best value for your money. Proper installation and maintenance are important to keep your pergola looking great and functioning properly for years to come.
With the right pergola kit and care, you can create a beautiful outdoor oasis that you'll enjoy for years to come.