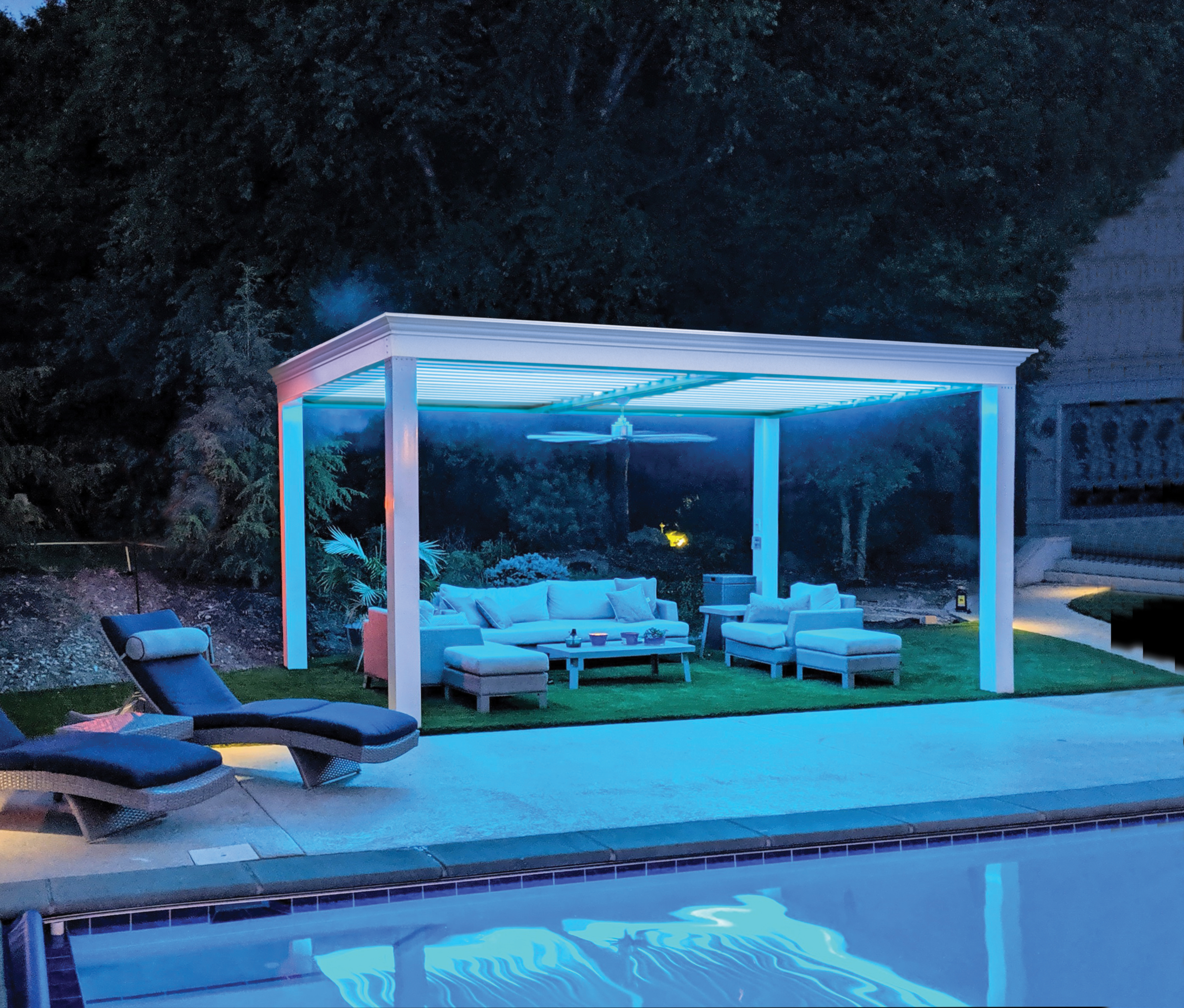 If you're looking for a pergola that can give you complete shade in your outdoor living space, can protect you from the rainwater with an internal gutter system, and has almost no maintenance, you came to the right place.
The Louvered pergola is the hottest product in a generation for any outdoor living space. It meets almost all zoning requirements, applicable hoa guidelines, and can withstand extreme weather conditions.
We will go in depth more here, but the best option is the Luxury Pergola. Read more to find out why!
Best Value Adjustable Louvered Roof: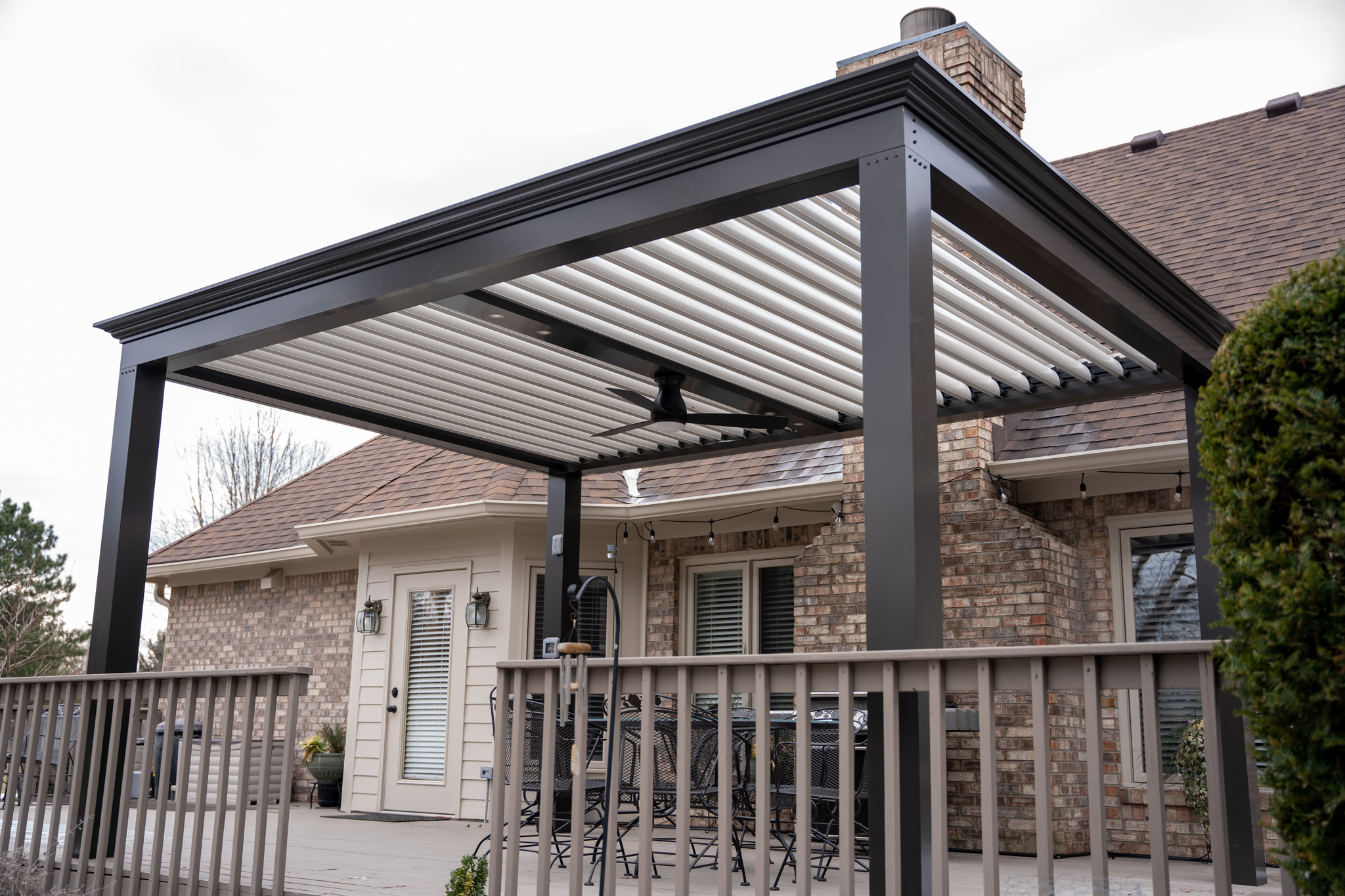 Introduction to the Adjustable Louvered Roof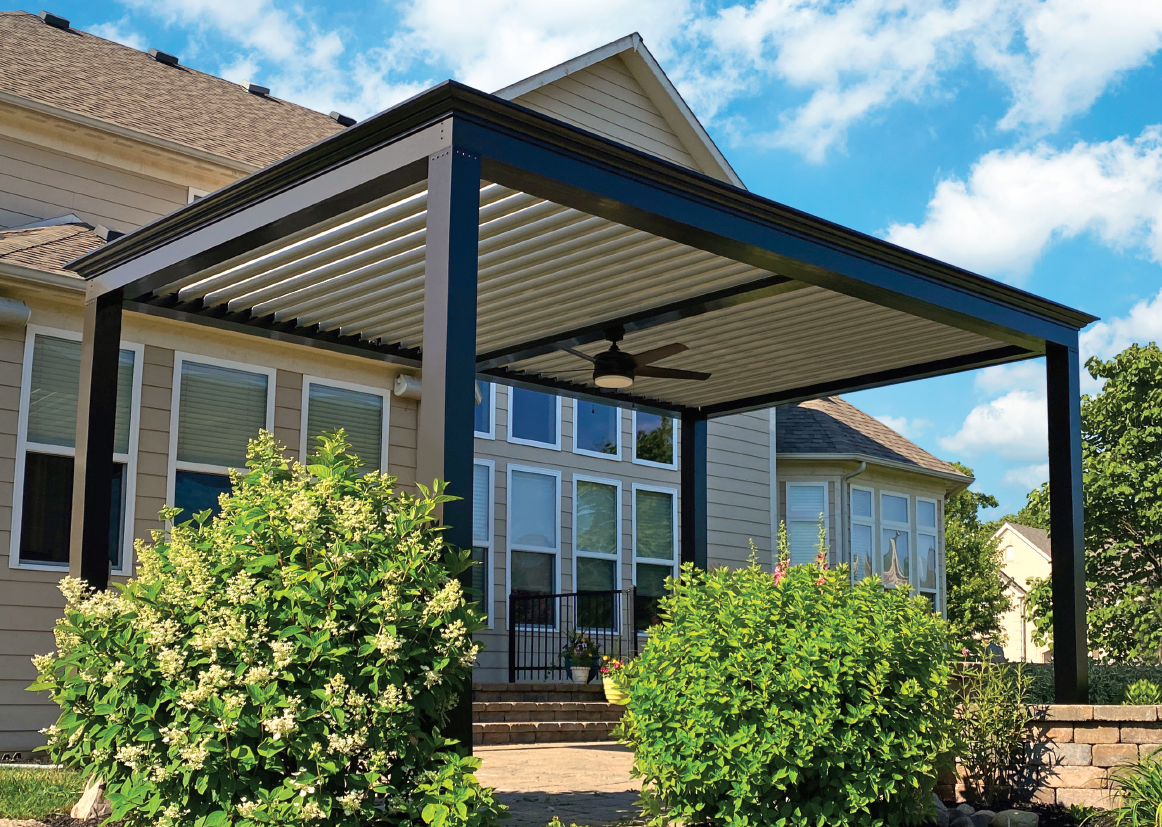 Now what is an adjustable louvered roof. Quite simply, it is a pergola with louvers that open and close. The best part of the pergolas that open and close is that, if you get a high quality item, is that they can withstand high winds, aggressive rain, and other extreme weather conditions.
The pergolas are designed to be sturdy and the manufacturer is going to be your main question. Can you rely on them and do you want a motorized louvered pergola, or a manual pergola.
Kit Options for Aluminum Louvered Pergola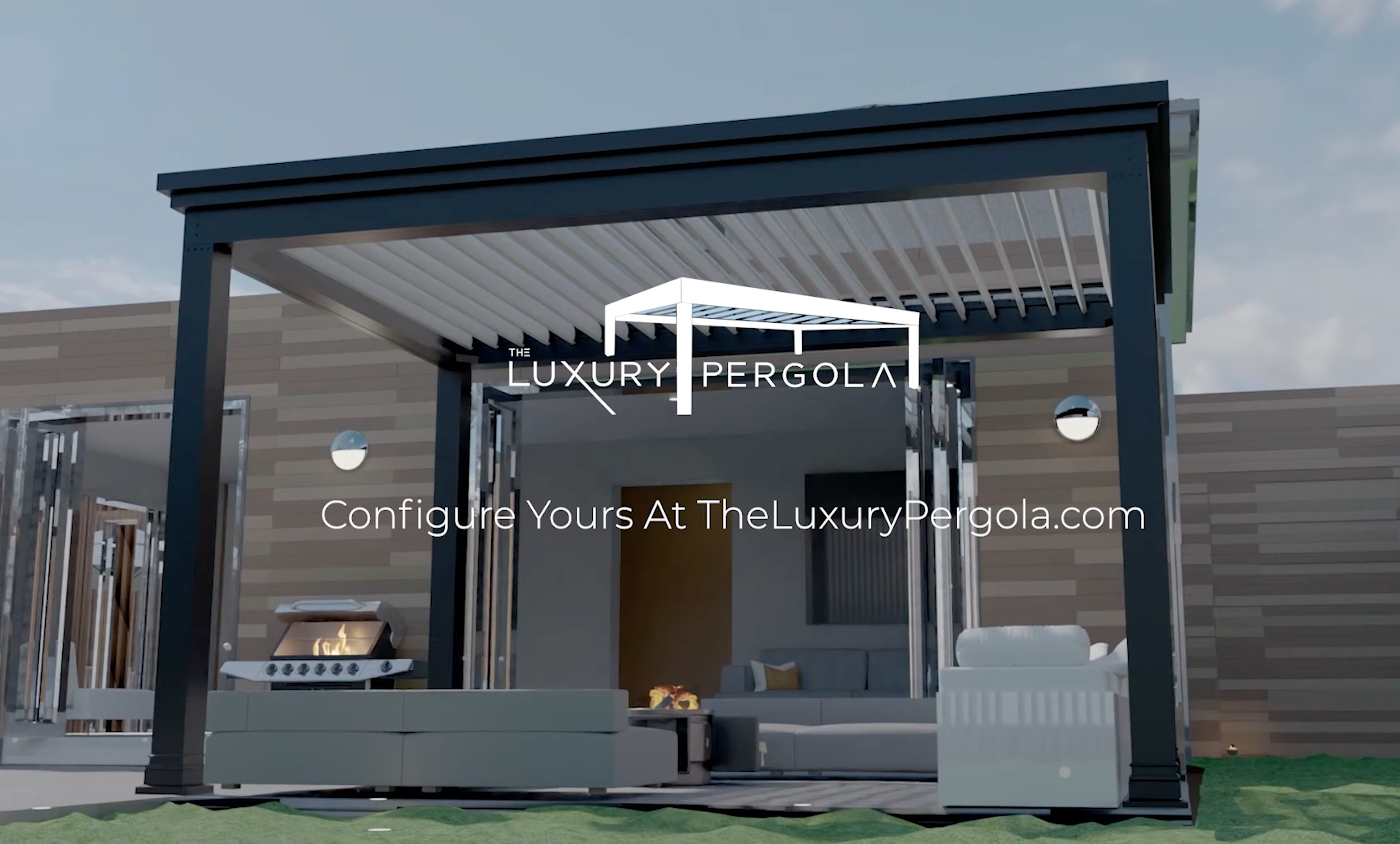 For most customers, the DIY Louvered Pergola kits are going to be your most cost effective option. The easiest way to install these units is either yourself with easy to follow instructions (video above), or by going with an installation service.
The service we recommend is Mr. Handyman. They are quite familiar with pergola kits with a roof, and can help install the best aluminum pergolas available this year.
Design and Functionality of a Louvered Pergola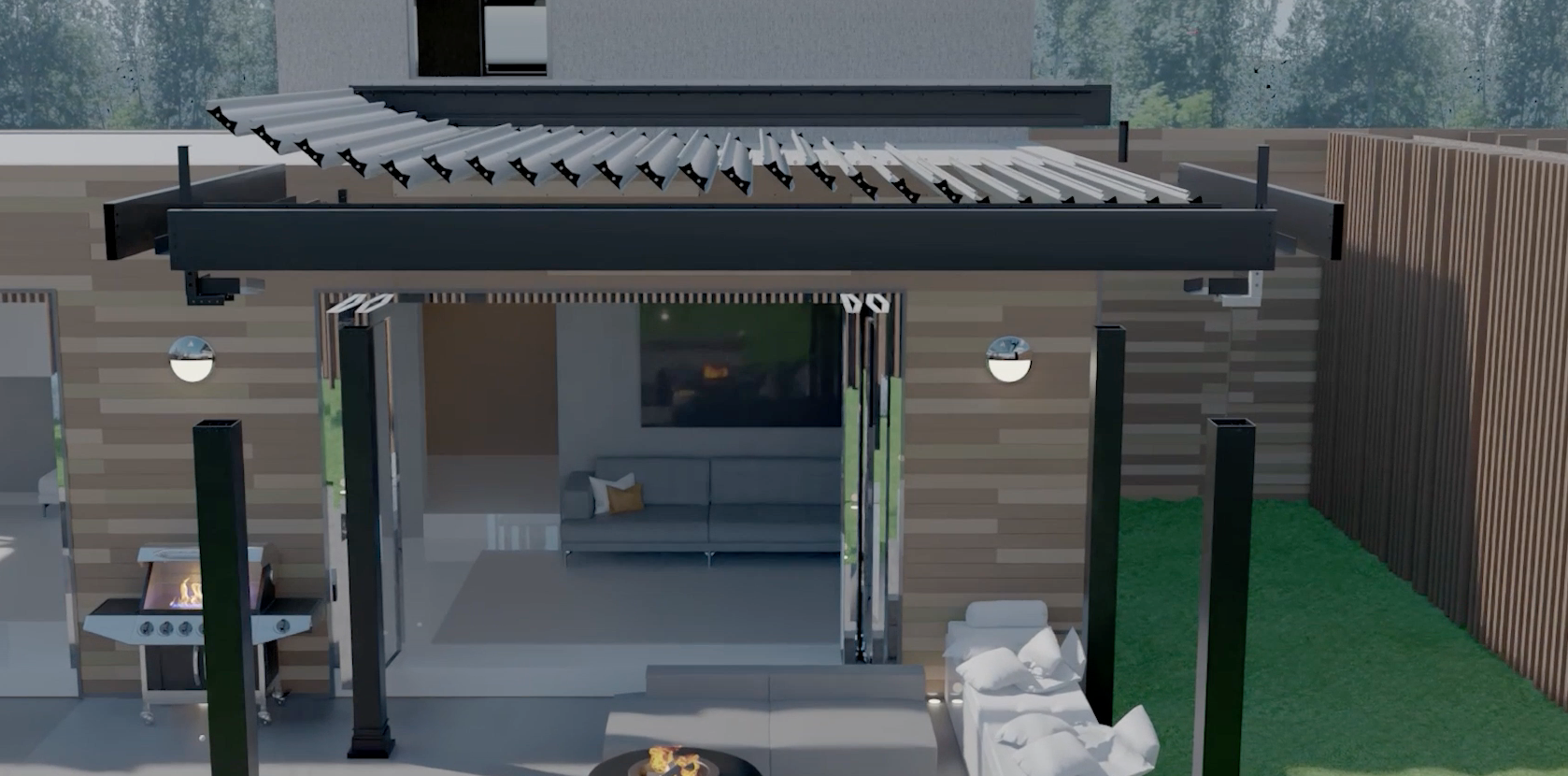 The design of a louvered pergola is quite simple. If you want it to withstand strong winds, you should have thick aluminum beams and louvers to make sure there isn't any potential damage to your home or structure in the case of inclement weather.
The most durable pergola material will be aluminum pergola options.
The Louvers
The main differences between units are going to be the frame and the louver design. If you re hoping to avoid potential damage and keep the sun out of your eyes for a good price, make sure you purchase something with a louver thickness of at least 0.093 inches for your outdoor area.
The best free standing pergola kit, will also be the best pergola for high winds. The structure will need to have easy assembly and be able to enhance your entire outdoor area.
The Powder Coated Aluminum Frame
The powder coated aluminum frame is better than pretty good, it's fantastic. Make sure you get one with a AAMA 2605 powder coat as that is the highest and most durable for your shade structure.
Additionally, if you are looking for a motorized louvered pergola, be very cautious of the motor you select for your unit. Many companies offer a motor that (in our experience) takes on significant amounts of water in the rain, thus shorting out the motor and rendering it useless.
Most louvered pergola kits do not have AAMA 2605 powder coat finishes and they won't last for a significant amount of time near your house.
Advantages of a Louvered Pergola

There are a few main advantages of the best luxury motorized pergolas, is that you get customizable shade and ventilation, protection from the elements, and year round usability.
Additionally, the quality will be a major concern. If you are looking at the Costco Mirador adjustable louvered aluminum pergola, you will get a good price for the system, but you don't get the same amount of control that you'd get with other systems.
Handling Approval and Zoning
The adjustable louvers also meet many local city building codes due to their strength and rigidity. To go through zoning regulations it comes down to 1 question.
What do I want to call it?
Permanent Roof: Will require significantly more approvals and paperwork depending on the jurisdiction

Pergola: If you call it a pergola, you don't have to typically do nearly as much paperwork (if any)
Now make sure you checkout the local building requirements for your area before you pick a great product. The need to get proper approvals may be a big factor before you get your unit installed and before you assemble.
Installation and Maintenance of a Louvered Pergola
Alright, now we get to installing your unit after delivery. This can be an intimidating situation after your system is delivered. Your outdoor space is about to get a huge upgrade, and you want to do it right.
The best pergolas for Florida or any area for that matter will need to be set in concrete to ensure the proper sturdy control of your area. The adjustable louvered roof that can open and close will give you the best control over your space.
The install video above will show you how to apply the special rivets for your unit to create the best possible outdoor space.
Cost of a Louvered Pergola
The main factors for cost of you aluminum louvered pergola is going to be how thick the aluminum is. The cheaper options use the lowest amount of aluminum possible to get you shade.
The main factors outside of aluminum weight for the price, is going to be the shipping, middlemen, and accessories you purchase. The brands that offer the best value for your patio will be The Luxury Pergola.
One of the most expensive options is the Struxure pergola. The Struxure Pergola cost can be well above $30,000 with the custom install and cut of the unit.
To get the best value, starting at $7,999, you should look at the Luxury Pergola for an 8x8 pergola.
Conclusion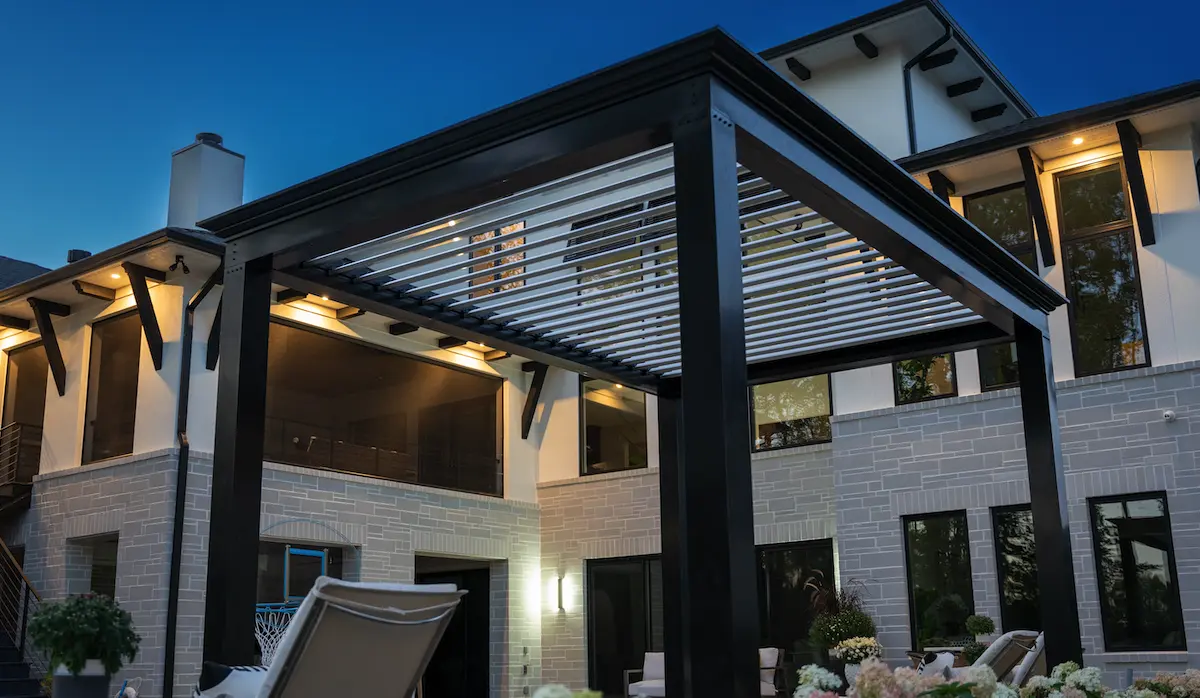 In conclusion, a louvered pergola is a versatile and practical addition to any outdoor living space. With its ability to control light and shade, protect from rain or sun, and customizable features, a louvered pergola offers a unique experience for homeowners to enjoy their outdoor spaces year-round.
While the initial cost may be higher than other outdoor living options, the value a louvered pergola adds to a home and quality of life makes it a worthwhile investment. We encourage you to consider investing in a louvered pergola to enhance your outdoor living and create a space that you can enjoy for years to come.