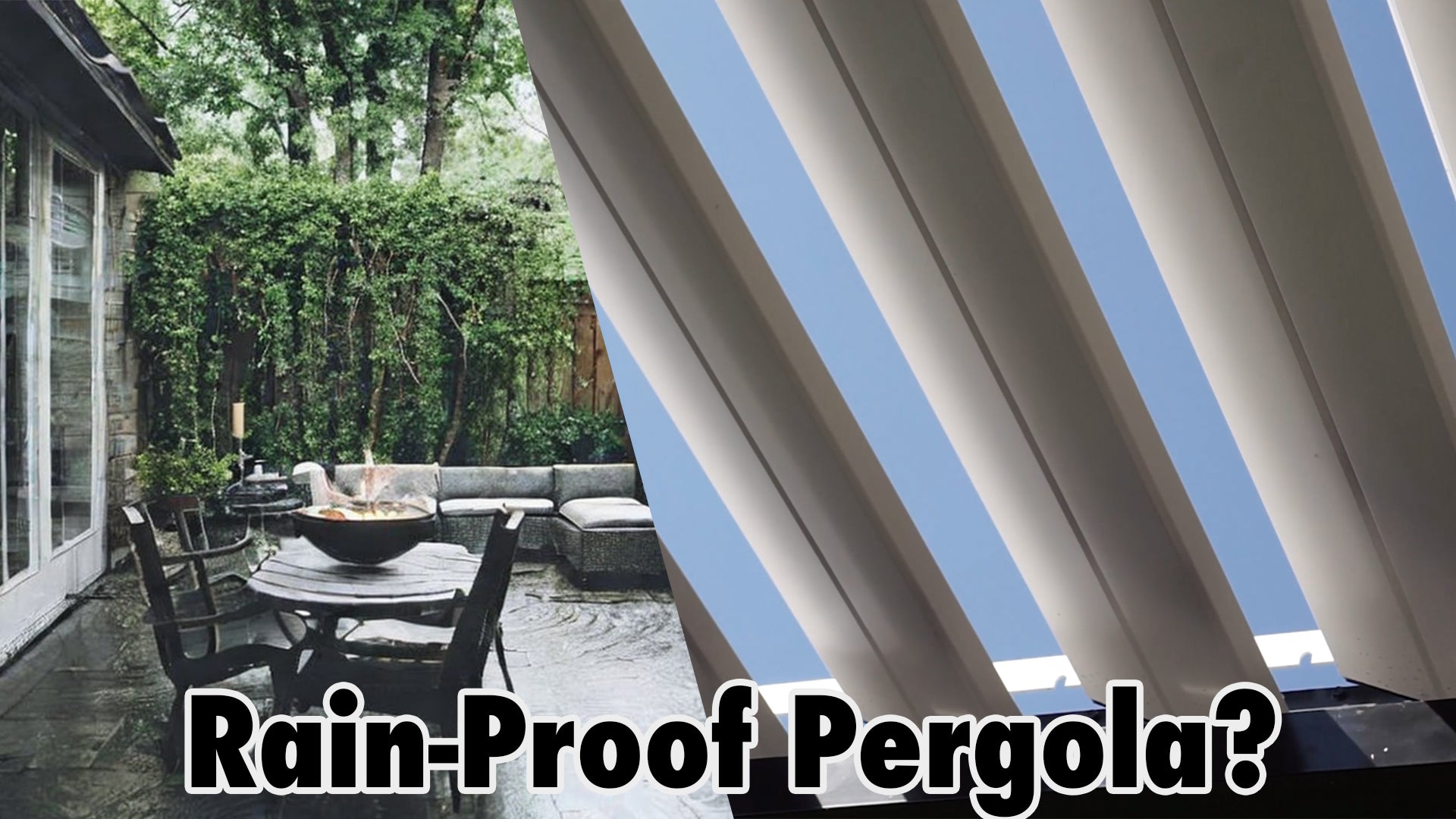 FAQ
What do I need to know?
How can you offer this high quality product for a fraction of the cost of other products of similar quality sold by others?

We can offer the highest quality pergola kit in the world we manufacture the product ourselves, here in the United States and ship directly to the consumer. We are able to cut out dealers (middlemen) that other companies use to distribute their product.
How is the Luxury Pergola different than the other online kits?

Unlike the other kits, that are typically rebranded kits, that are all the same out of China, The Luxury Pergola is manufactured ourselves. We use the finest aluminum grade, the same material used for commercial applications. Other online pergola kits use a light weight aluminum. For example, the material kit used for our 10 x 13 pergola has a total weight of over 1000 lbs. Other pergola kits, of same size, have a total material weight of less than 250lbs.
Can I adjust the size of my Luxury Pergola kit?

We offer more sizes and options than anywhere else in the world. If you don't see a size that works for you in our shop tab, feel free to give us a call and we can discuss how to achieve your dreams.
Will the Luxury Pergola blow away like my patio umbrella or light weight pergola?

No. The Luxury Pergola is designed to last a lifetime, not be replaced each year. Our engineering allows for the winds up to 130 mph. This far exceed any of the other online pergola kit wind ratings.
How do I order my Luxury Pergola?

Simply go through the main page of our website, scroll to "our best sellers", and select your prefered size. The 3D configurator will then allow you to customize your pergola!

Once all selections are made, add to cart and process payment to finalize your order.
Can I order a partial kit from the Luxury Pergola?

Unfortunately not, our units are engineered to exact specifications and are to be assembled as directed.
How long does the Luxury Pergola take to assemble?

The Luxury Pergola is designed for easy installation. With three people and existing concrete, the unit should take about a day to assemble. Keep in mind, our aluminum is high grade and does weigh more than other online kits. Each of the people assembling our product must be able to lift 50-70lbs.
What tools do I need to assemble my Luxury Pergola?

Screwdriver

Utility knife

72" Level

25' Tape Measure

1/2 " Combination wrench

Cordless impact drill

Rotary hammer

1/2" Rotary hammer bit

10" Magnetic bit holder

Wire strippers & crimpers

Ladders

Saw horses

Quick clamps

Caulk gun

Painters masking tape

Shop vacuum

Safety glasses

Hearing protection

Work gloves

Paper towels
Is the Luxury Pergola water tight?

Yes, it's water tight in a light to heavy rain. The Luxury Pergola's sealing louver system keeps you dry while all the water will rush into the gutters and drain then out of the system. Water Tight does not mean totally waterproof. Because it can open and close, the Luxury Pergola will not keep out the water as well as a traditional roof. Also, the sides of the unit are open, allowing for rain to enter.
Where is the Luxury Pergola made?

Designed, extruded, powdercoated, entirely in the United States by American Craftsmen, we are proud to say that the Luxury Pergola is Made In America. Other online pergola kits are mass produced in China then rebranded under countless brand names.
Does the Luxury Pergola keep the area cool as well as provide shade?

Yes, the dual wall louvers provide a great insulation barrier, keeping the space up to 20 degrees cooler with the louvers closed. When closed, it also keeps the sun off your windows, increasing their lifespan and reducing the energy bills of cooling the house.
Do I have to manually adjust the top of the Luxury Pergola like the other pergolas I see online?

The Luxury Pergola is motorized and comes with a remote to allow you to press a button and automatically adjust to the desired position.
What maintenance does the Luxury Pergola need?

Designed to be as maintance free as possible the Luxury Pergola requires only a hose or leaf blower to clean off the leaves and dirt that will accumulate. Keep the gutters clean of debris to allow for rain to flow away quickly!
How much can I adjust the louvers on the Luxury Pergola?

The louvers of your Luxury Pergola can be rotate by 130 degrees to allow for changing angles of sunlight.
Do you also offer assembly services?

Because we offer this product direct to consumer, we do not offer instation services. This allows us to sell our product as a reduced cost, saving you money!
Will the Luxury Pergola be able to handle my snow load?

Yes, while other pergolas will only handle snow up to 8.2 lbs. per square foot (quite weak), the Luxury Pergola is engineered to hold up to 60 lbs per square foot of snowload when closed.
Will the Luxury Pergola be able to handle my wind load?

Every Luxury Pergola is built to not only meet the expectations of your climate, but exceed even some of the harshest weather conditions. Our engineering is designed to withstand winds up to 130 mph.
How will the Luxury Pergola be sent to me?

Our product is shipped directly from our warehouse to your door. No freight depots. It must be signed for by the purchaser when received. Remember, this pergola is made of high quality aluminum and pieces could weigh up to 125lbs.
Can I pay COD (Cash On Delivery)?

Unfortunately not. All pergola kits must be paid for prior to shipment.
Does the Luxury Pergola have a warranty?

We offer a 10 year limited frame warranty. This protects you against manufacturer defects.
A Louvered Roof functions as an outdoor product designed to give you shade when you want it and light when you don't. Conventionally these products also are water tight, allowing you to sit underneath in the rain.
Can I attach 2 or more pergolas together to get an even bigger size?
Our customer support is available Monday to Friday: 8am-8:30pm.
Average answer time: 24h