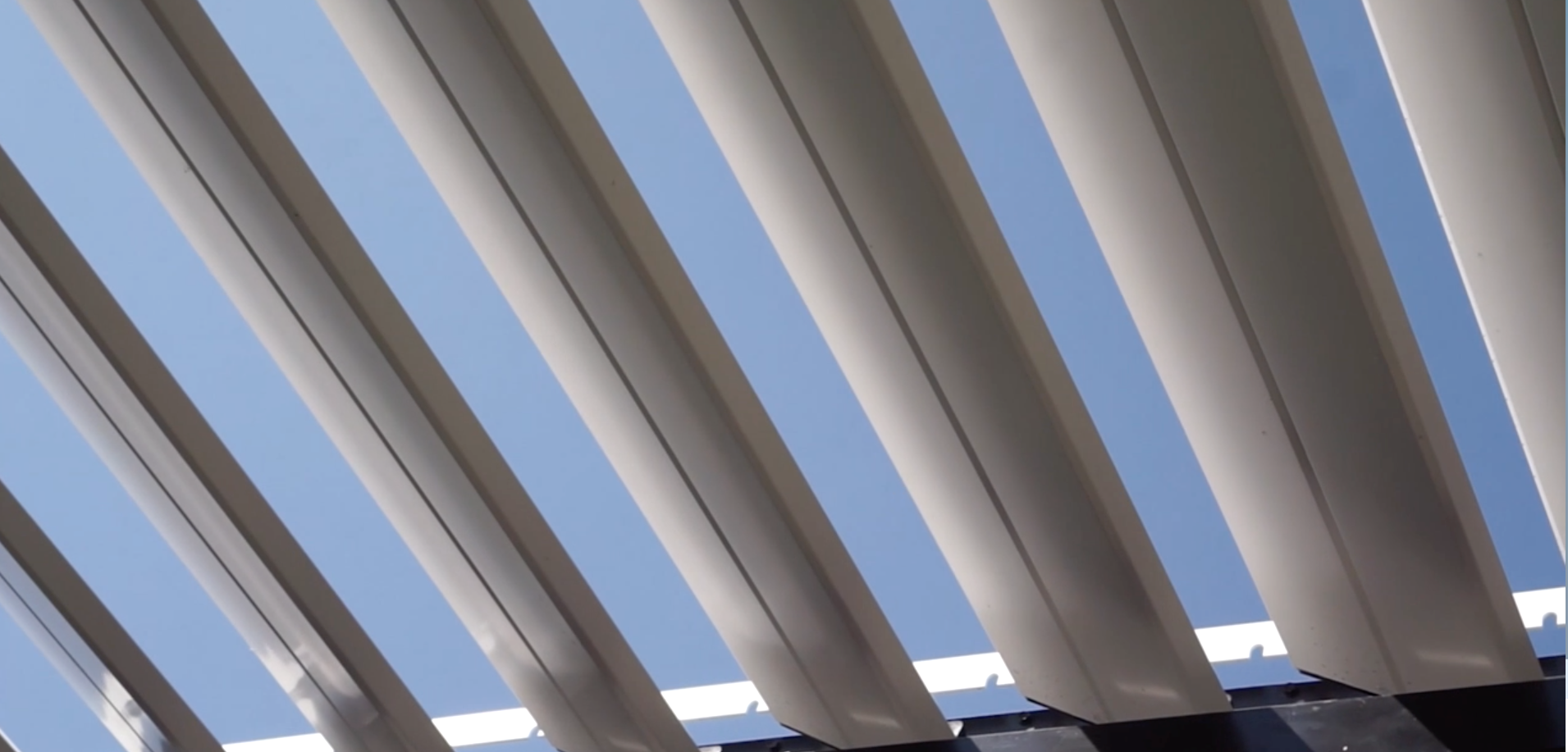 Table of Contents
Listen to Article
Introduction: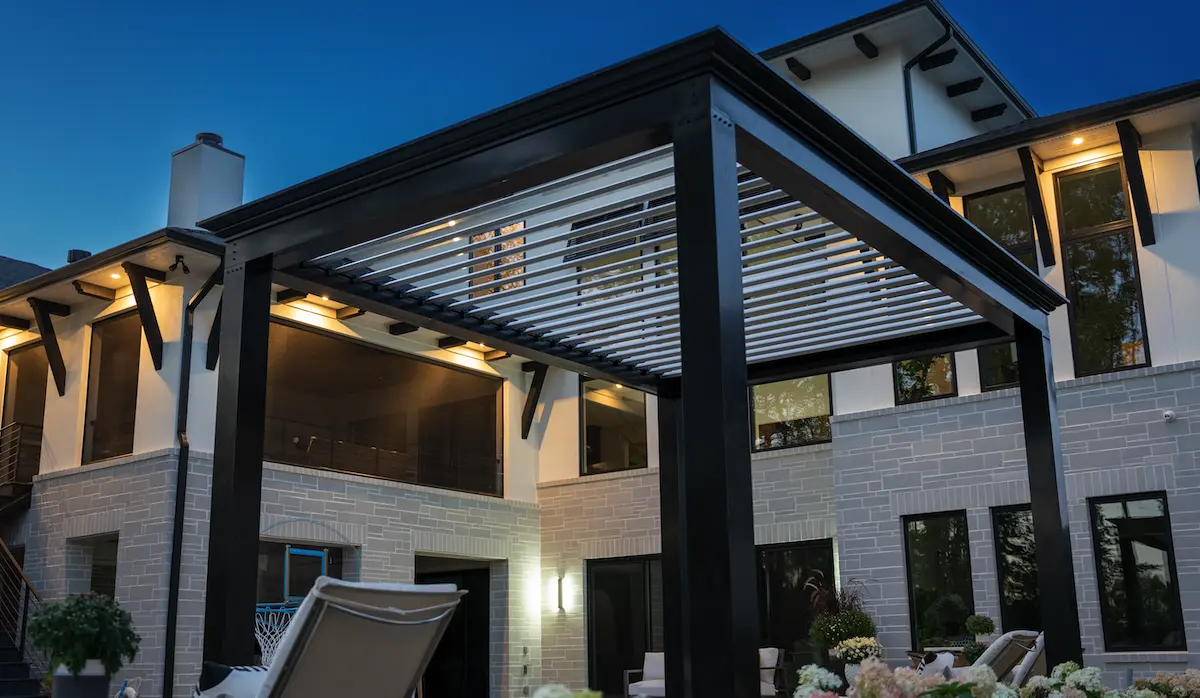 Pergolas are a popular outdoor feature that can add beauty, shade, and style to any backyard or patio. But did you know that many high end pergolas are also designed with open and closing mechanisms? That's right, these handy features allow you to control the amount of sunlight, rain, and wind that enters your outdoor living spaces.
Types of open and closing mechanisms for pergolas: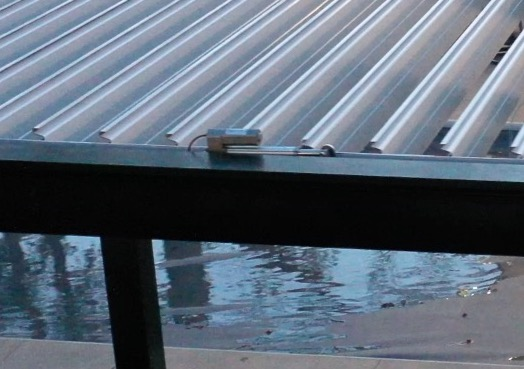 There are many different types of louvered roof system options out there on the market. Some have customization options, while others just have the standard manufactured version of the structure. A custom louvered pergola generally costs over $50,000, but some kits can be acquired (in custom sizes) for as little as $8,000.
There are several different types of open and closing mechanisms that you can choose from when it comes to pergolas.
Manual Louvered Roof System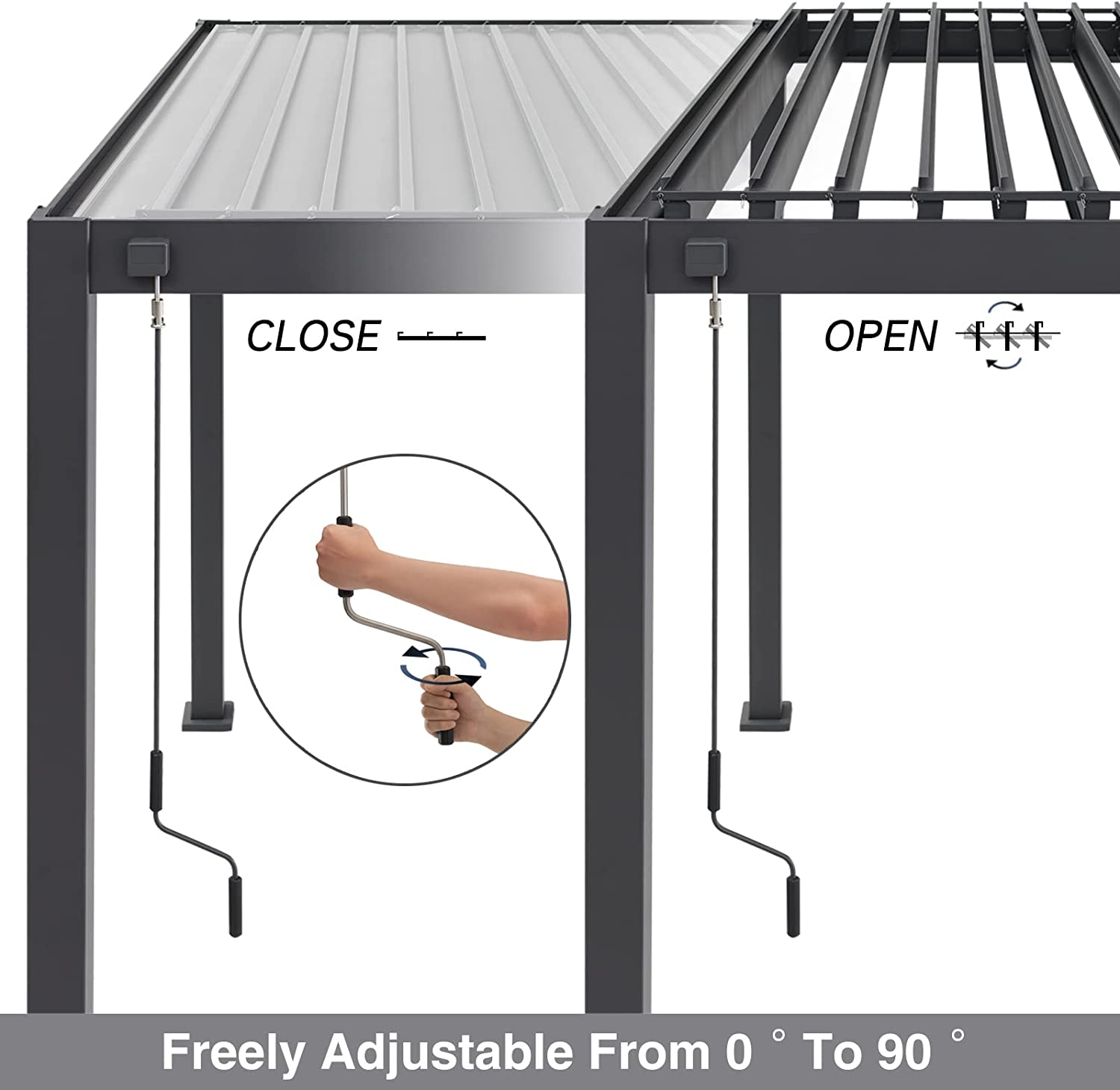 The most basic option is a manual system, which typically involves using a crank or pulley to open and close the canopy. This can be a bit labor-intensive, but it's a somewhat reliable and affordable option.
The issue with manual options, is that the manufacturer aims for an engineering price point, not a standard. The materials used make it so the pergola can be closed manually, but the product struggles in heavy rainwater and snow loads.
Many manufacturers of manual louvered roof systems, recommend you remove the louvers in heavy snow, wind, or rain. That simply isn't feasible for most people.
Motorized Louvered Roof Systems
For a more convenient option, you can opt for a motorized system. These systems use an electric motor to open and close the canopy, and they often come with a remote control for easy operation. Motorized systems can be a bit more expensive than manual systems, but they are much easier to use and require less physical effort.
The main draw for the motorized option for adjustable louvers, is that the aluminum used is typically incredibly durable. The DIY pergola kits from the Luxury Pergola is a pergola roof kit that you can get customized to your specific size and personal style.
Automated Adjustable Louvered Roof Pergola Options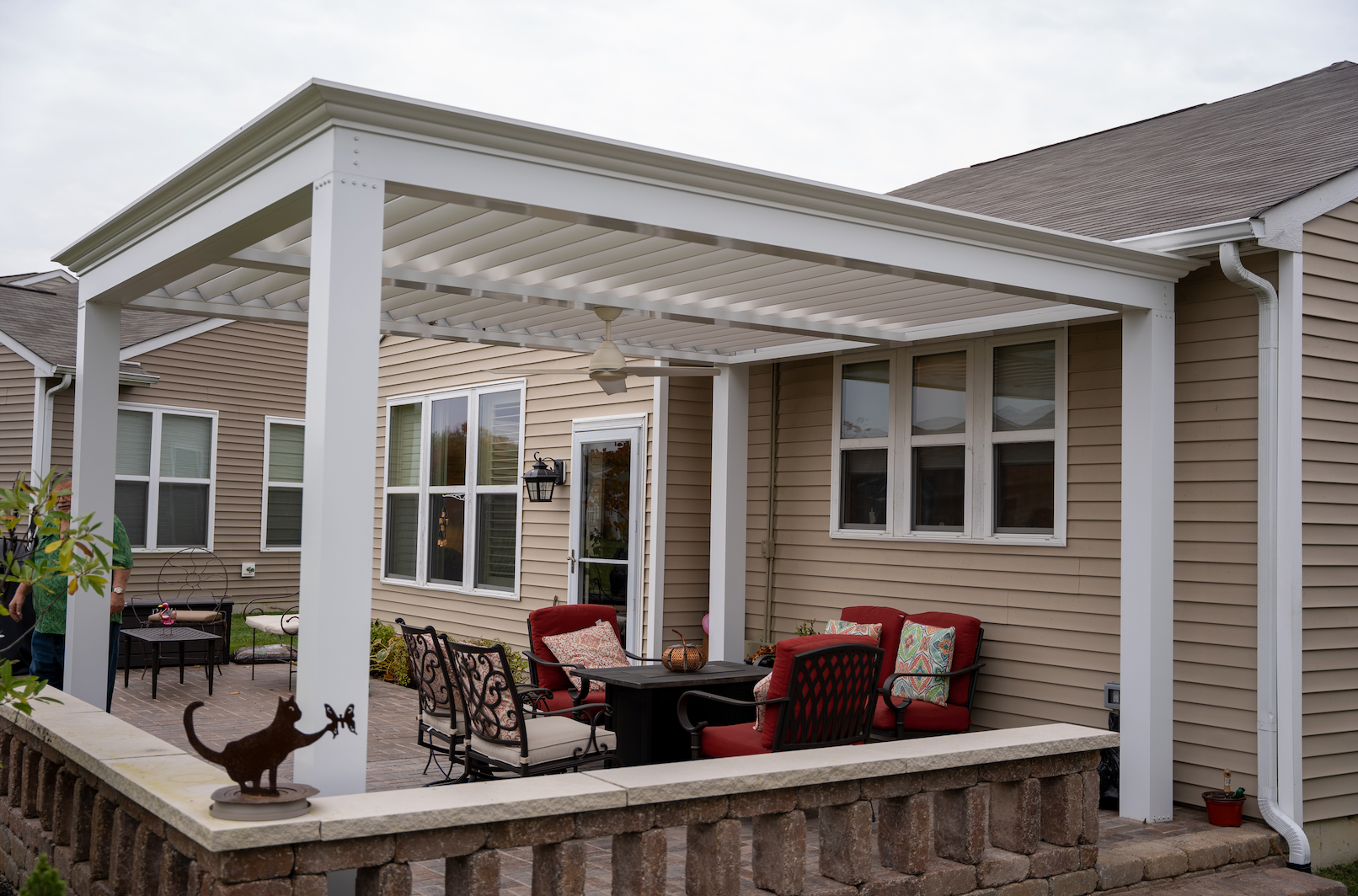 Finally, there are also automatic systems available for pergolas that open and close. These systems use sensors to detect the weather conditions, and they will automatically open or close the canopy as needed. For example, a pergola with a wind sensor will close the canopy when the wind picks up, and a pergola with a sun sensor will open the canopy when the sun is shining. Automatic systems are the most convenient option, but they are also the most expensive.
The MAJOR problem with automated louvered roof systems, is that if you live in a high snow area, you may damage the motor when it tries operating with heavy snow loads. This can cause significant wear and tear on the adjustable shade.
Advantages of louvered pergolas: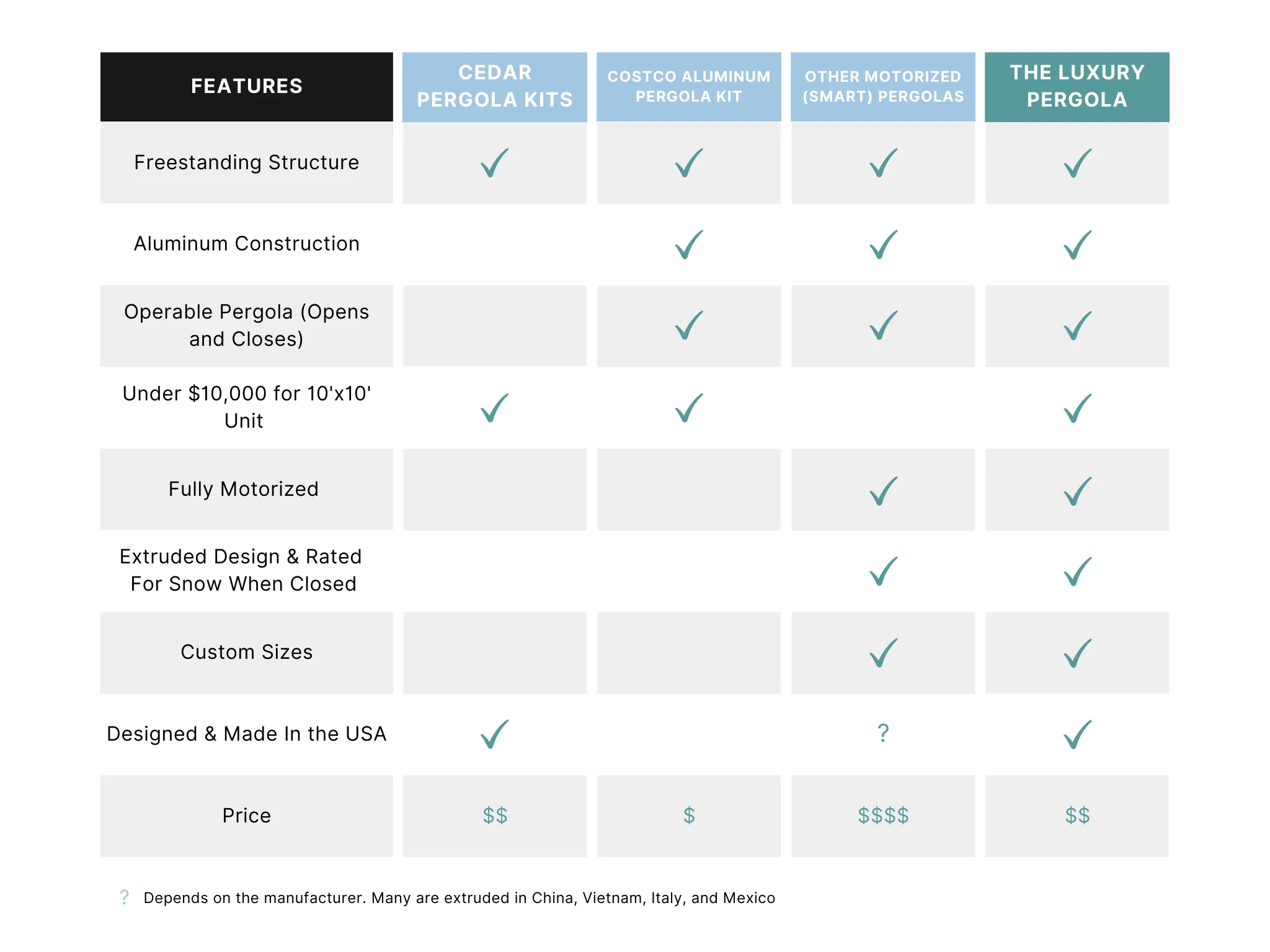 Now that you know about the different types of open and closing mechanisms for pergolas, let's talk about some of the advantages of these features. One of the most obvious benefits is weather protection. If it starts raining or the wind picks up, you can simply close the canopy to keep yourself and your furniture dry. And on hot, sunny days, you can open the canopy to let in a refreshing breeze and reduce the amount of direct sunlight coming into your outdoor space.
In addition to protecting you from the elements, operable pergolas also allow you to increase the amount of outdoor living space you have. Imagine being able to sit out on your patio or deck even when it's raining, or being able to enjoy a meal al fresco even on a scorching summer day. With an open and closing pergola, these scenarios become a reality.
Finally, luxury pergolas can also be a great way to save energy and reduce your carbon footprint. By shading your outdoor living spaces, you can keep your home cooler and reduce the need for air conditioning. And by opening the canopy to allow for ventilation, you can reduce the need for fans or other cooling devices.
Maintenance and repair of louvered roof pergolas: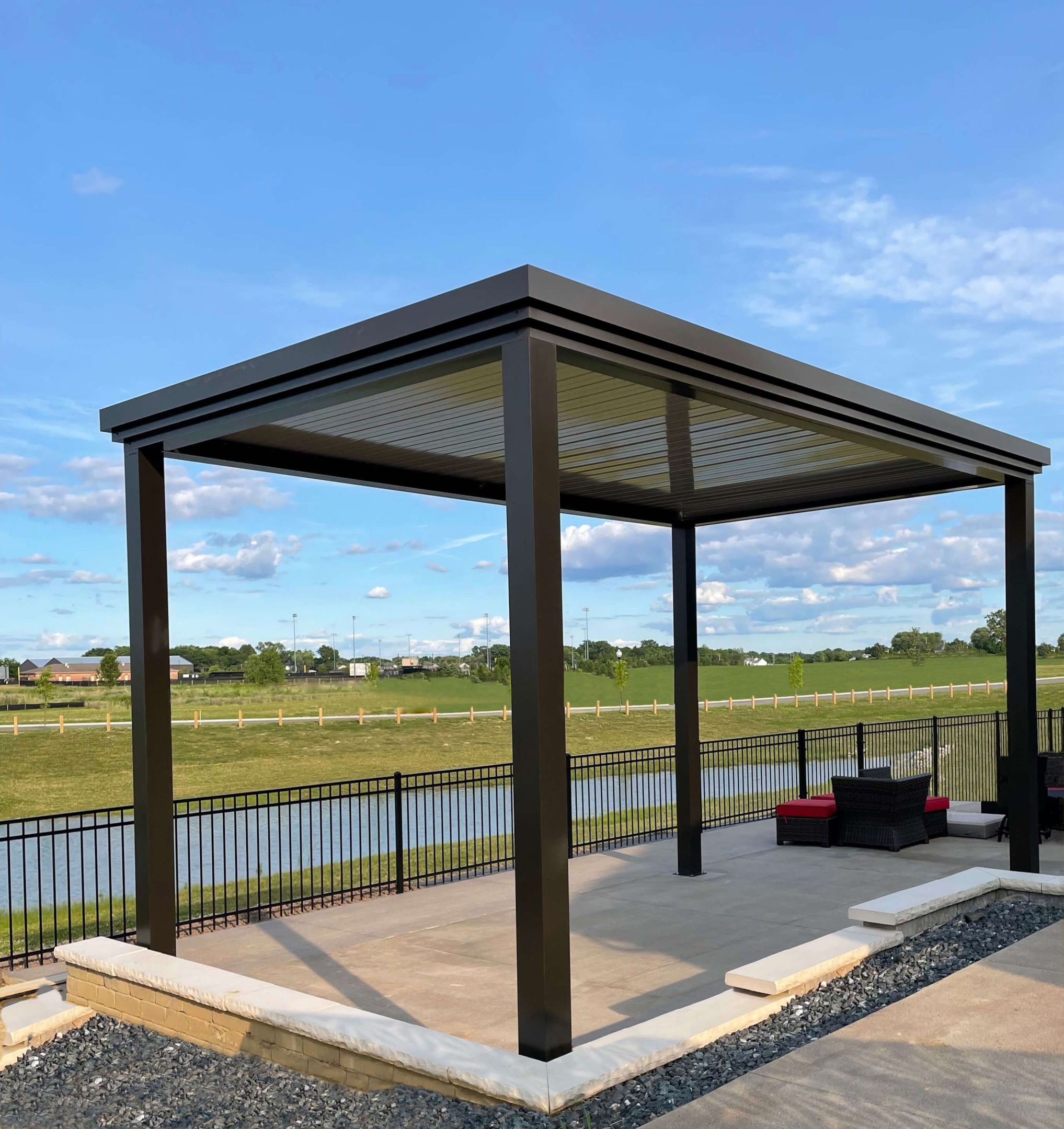 Like any outdoor feature, adjustable pergolas do require some maintenance and repair from time to time. It's important to regularly clean and inspect your pergola to ensure that all parts are in good working order. If you notice any worn or damaged parts, be sure to replace them promptly to prevent further issues.
Conclusion:
In conclusion, pergolas that open and close are a versatile and practical addition to any outdoor space. Not only do they add beauty and style, but they also offer a level of weather protection, increased outdoor living space, and energy efficiency.
With proper care and repair, these features can provide years of enjoyment for you and your family. So if you're considering adding a pergola to your backyard, consider one with open and closing capabilities – you won't be disappointed!
If you go with a low quality, operable pergolas, you will have significantly less care and maintenance than a traditional pergola. Installation is generally easier than traditional patio cover options, as the material and louvers are made of high quality, sturdy aluminum.
So if you want to add an outdoor feature that provides both aesthetic appeal and practical functionality, consider investing in an open and closing pergola. Whether you choose a manual, motorized, or automatic system, you'll be able to enjoy all of the benefits that these versatile structures have to offer. So, take your time to research and choose the best option for your outdoor space, and get ready to enjoy all that an open and closing pergola has to offer!