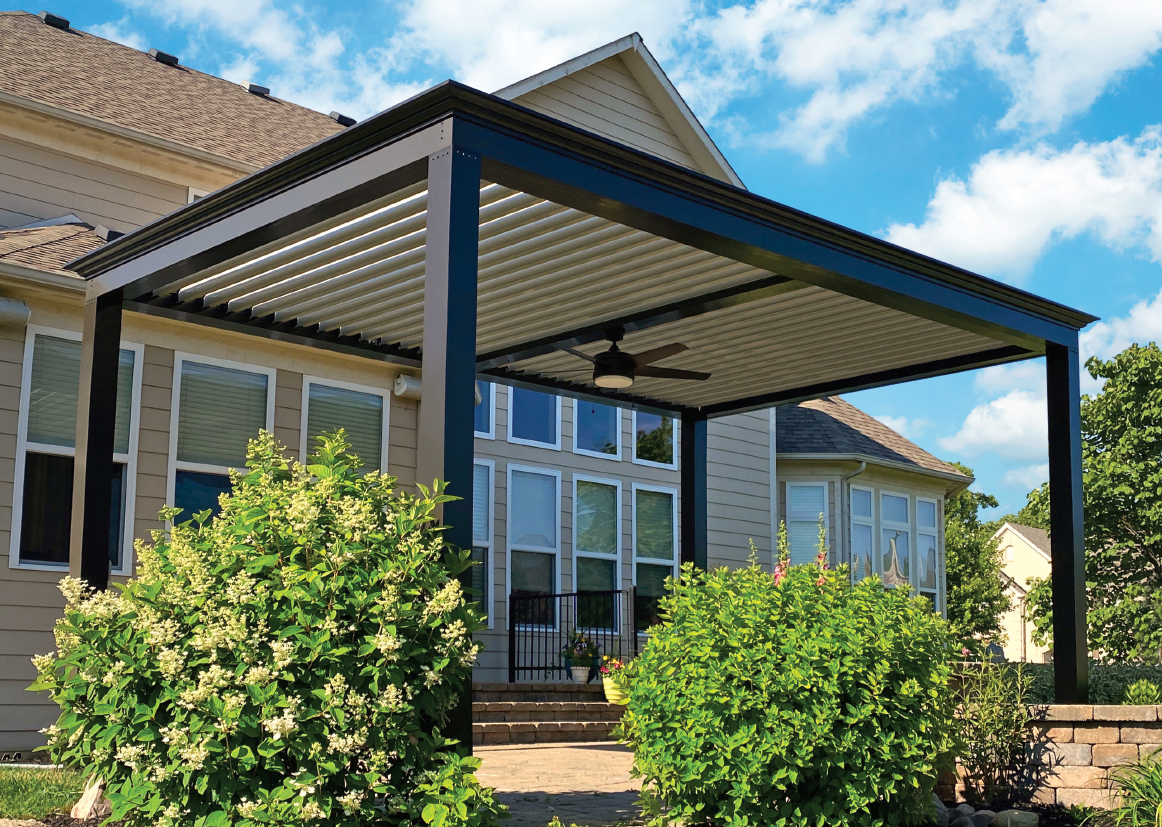 Listen to Article
Trying to decide which pergola color is the best for you? Are you interested in a Black pergola? This will showcase some already existing pergolas in black and also other colors to help you with your decision.
A good rule of thumb is to match either your window trim or a complimentary color to your patio.
Many questions arise when deciding on a pergola, but not always color.
Some important questions are:
If you have already gotten past these tough questions this blog will help you with deciding what color is best for you!
Choosing the Right Color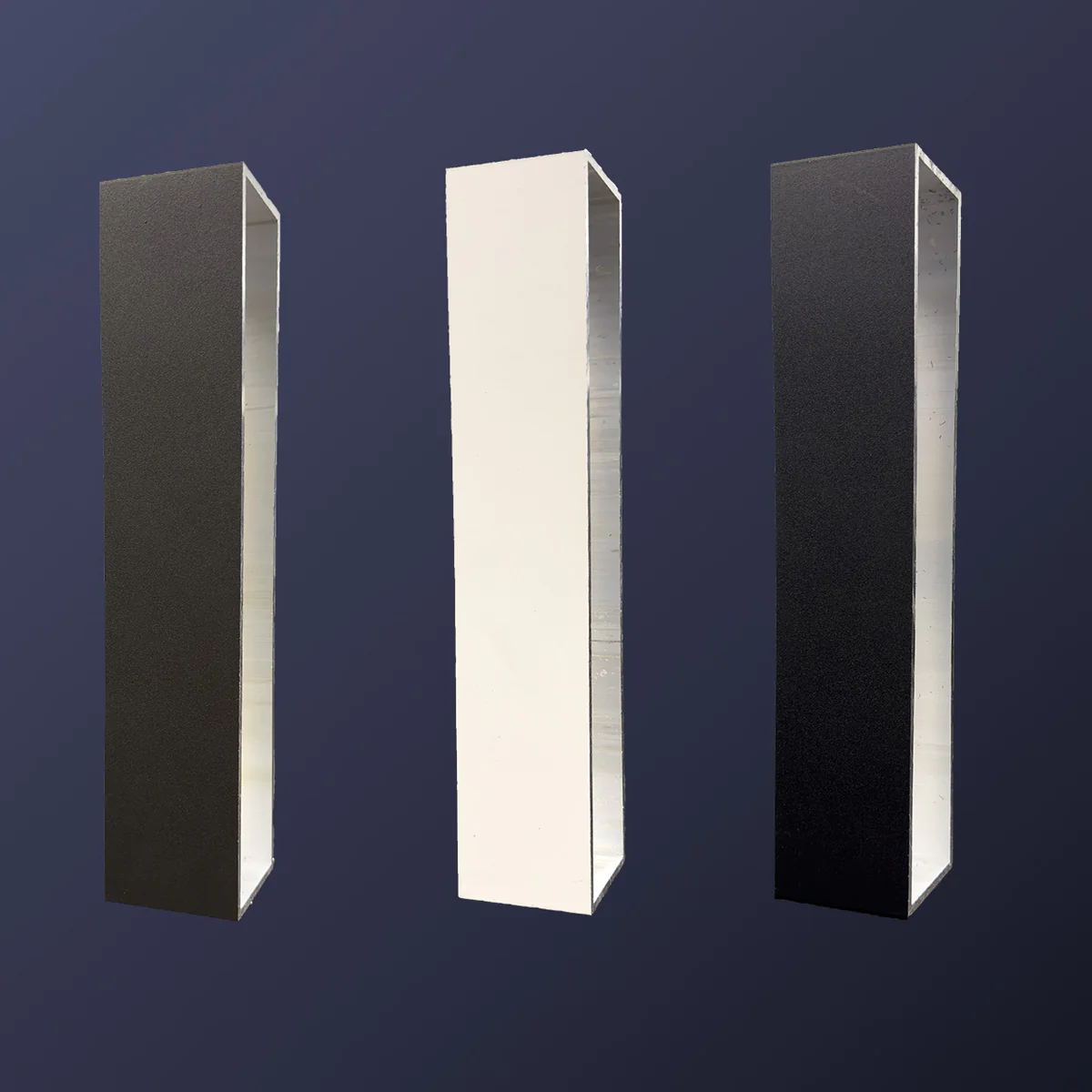 Your pergola color choices for your outdoor space can be a difficult one.
The right color may have influence from your already existing exterior house wall colors.
Many factors should be considered to make your decision. choosing the right backyard decor, or maybe matching your garden or landscaping in your yard.
Most people will match their window trim
Plants and other greenery always add styles to your outdoor space and creates a more outdoor oasis feel. A place to enjoy that morning coffee or share laughs at the outdoor dining area whether in the front or back yard.
These outdoor backdrops should help be an inspiration for your color decision. Below are some ideas for various color options that are available with any outdoor structure
White Pergola Design Ideas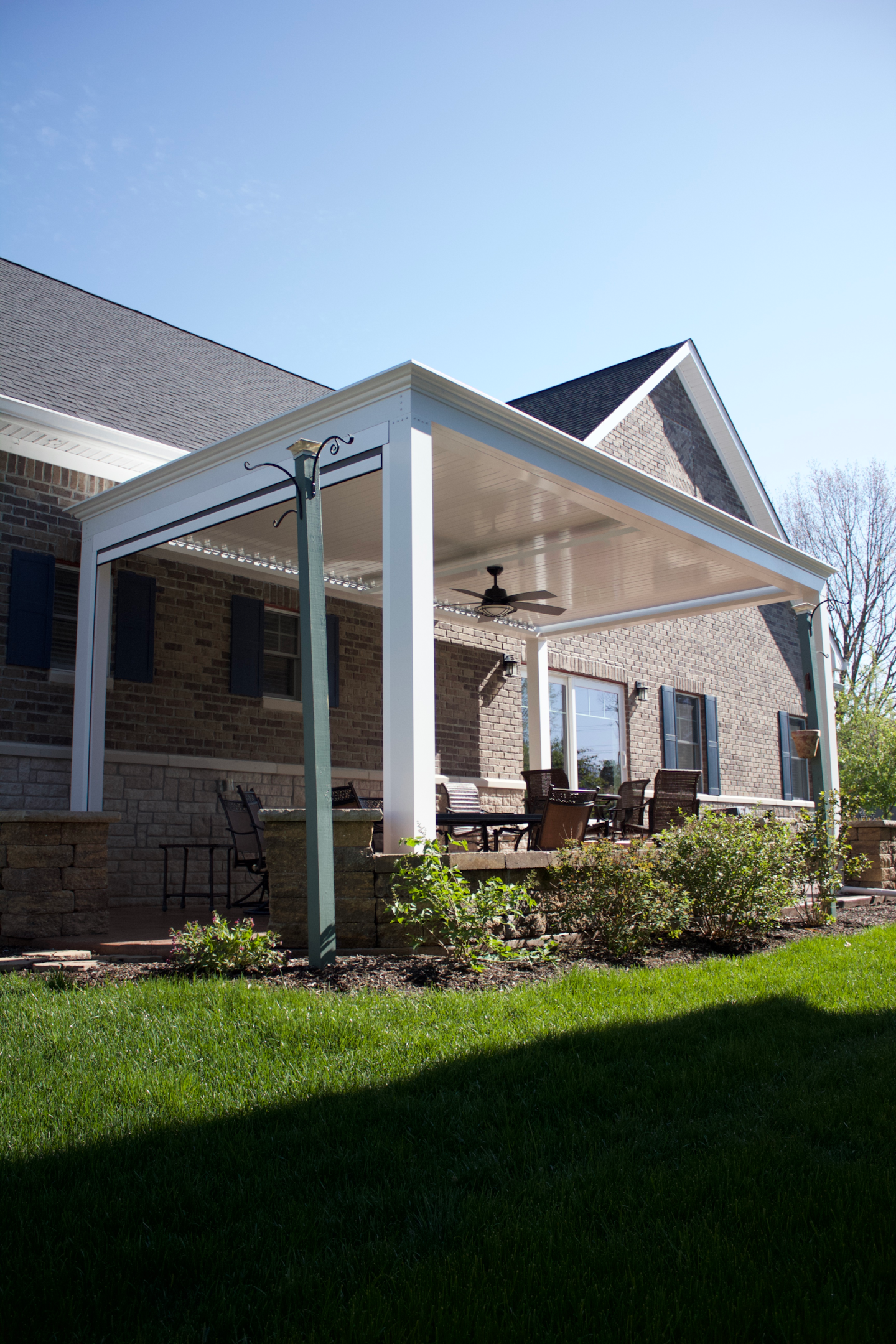 To show case a different idea other than just black, white is also a very popular idea and for some creates that perfect place to take shade from the sun and relax on their patio.
This particular pergola has a sun shade that is retractable and able to act as curtains from the sun. While a pergola may seem as a simple structure from afar they can be quite intricate and helpful in many ways.
You can also see an attached ceiling fan with lights. With lowering the sun shades, closing the roof overhead and having the fan circulating air, it's as if you create your very own outdoor room.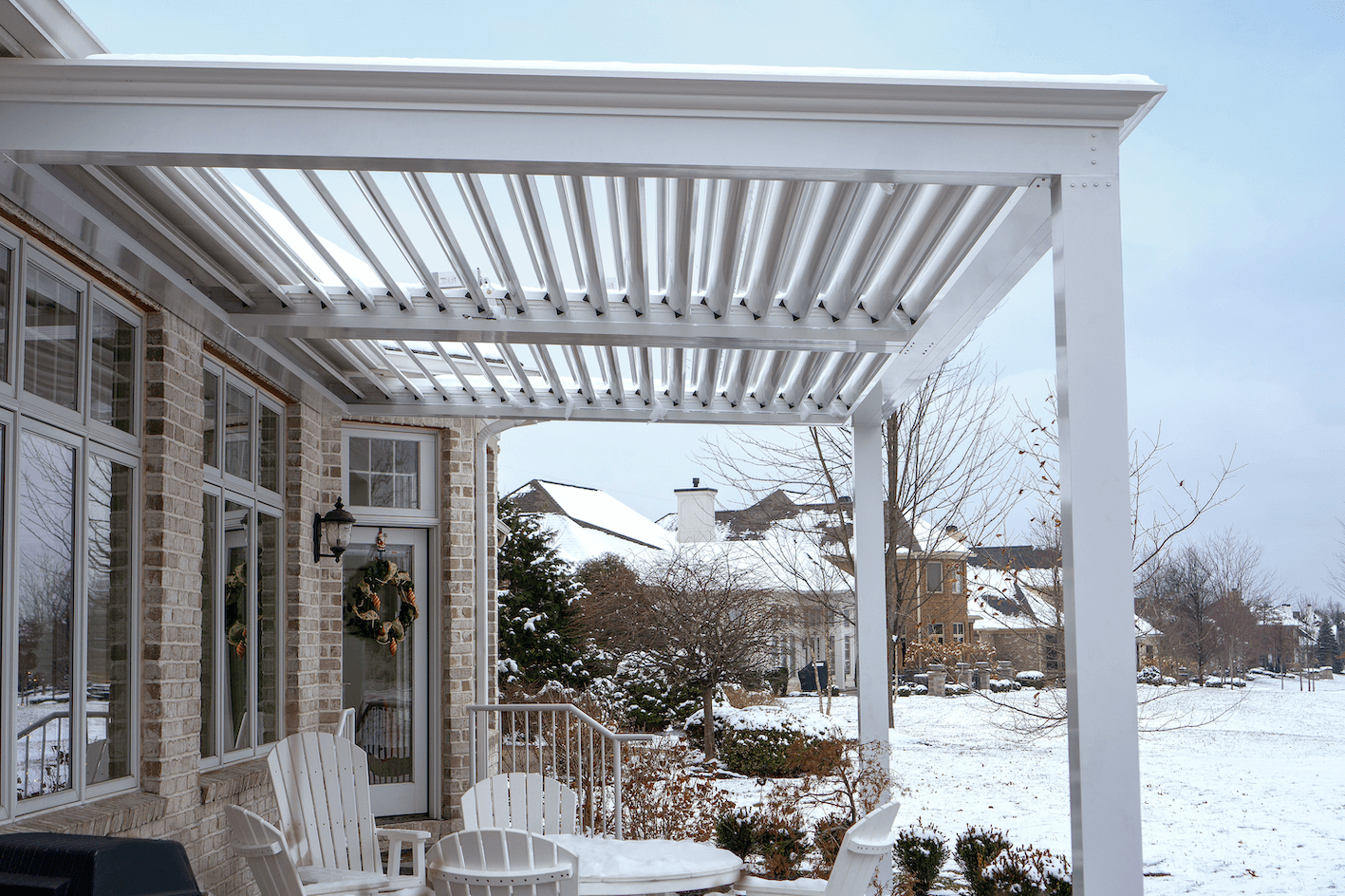 Snowy landscapes can look great with any color, black would have more of a pop effect in a snow weather climate. while white has almost a seamless blend into the landscaping.
This image shows a beautiful landscape with snow in the yard and on the pergola structure itself. notice the modern pergola has slanted louvers allowing the snow to pass through.
It is also possible to keep these closed throughout the winter to prevent snow fall and granting a snow free patio or deck.
Here's a great video to help demonstrate the weather prevention
Patios and decks are a great space to enjoy moments with friends and family. Pergolas help grant you that year round availability to continue to do so no matter the weather, rain, shine, or snow
Black Pergola Ideas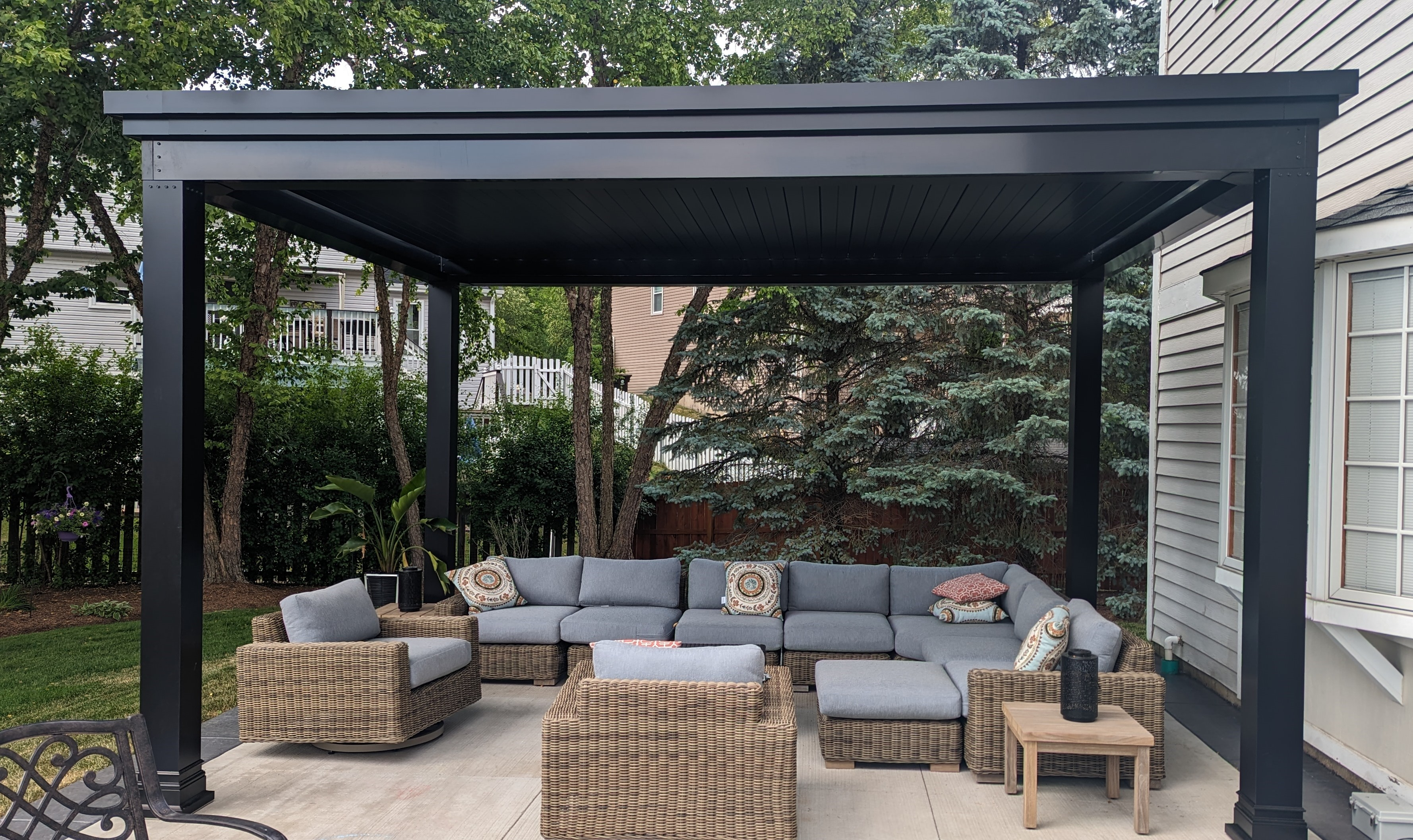 Here we have a nice outdoor living space with wicker chairs and cushions all blanketed in some shade.
Furniture
This black pergola goes great with the rustic appeal from the furniture and the greenery backdrop. The space you create on your backyard patio is one to be shared with guests.
Your patio furniture completes the space you create with your pergola, if you don't already have some furniture in your backyard patio or deck then you would not need to put this aspect in decision making with your pergola color.
A Modern Touch
Black pergolas have a unique ability be both modern and inclusive to your already existing backyard space.
A sleek pergola design goes a long way to increase curb appeal but also home valuation. A wooden pergola can look nice of course, but will never compete with the modern pergola sharp design and appeal.
Poolside Pergola Appeal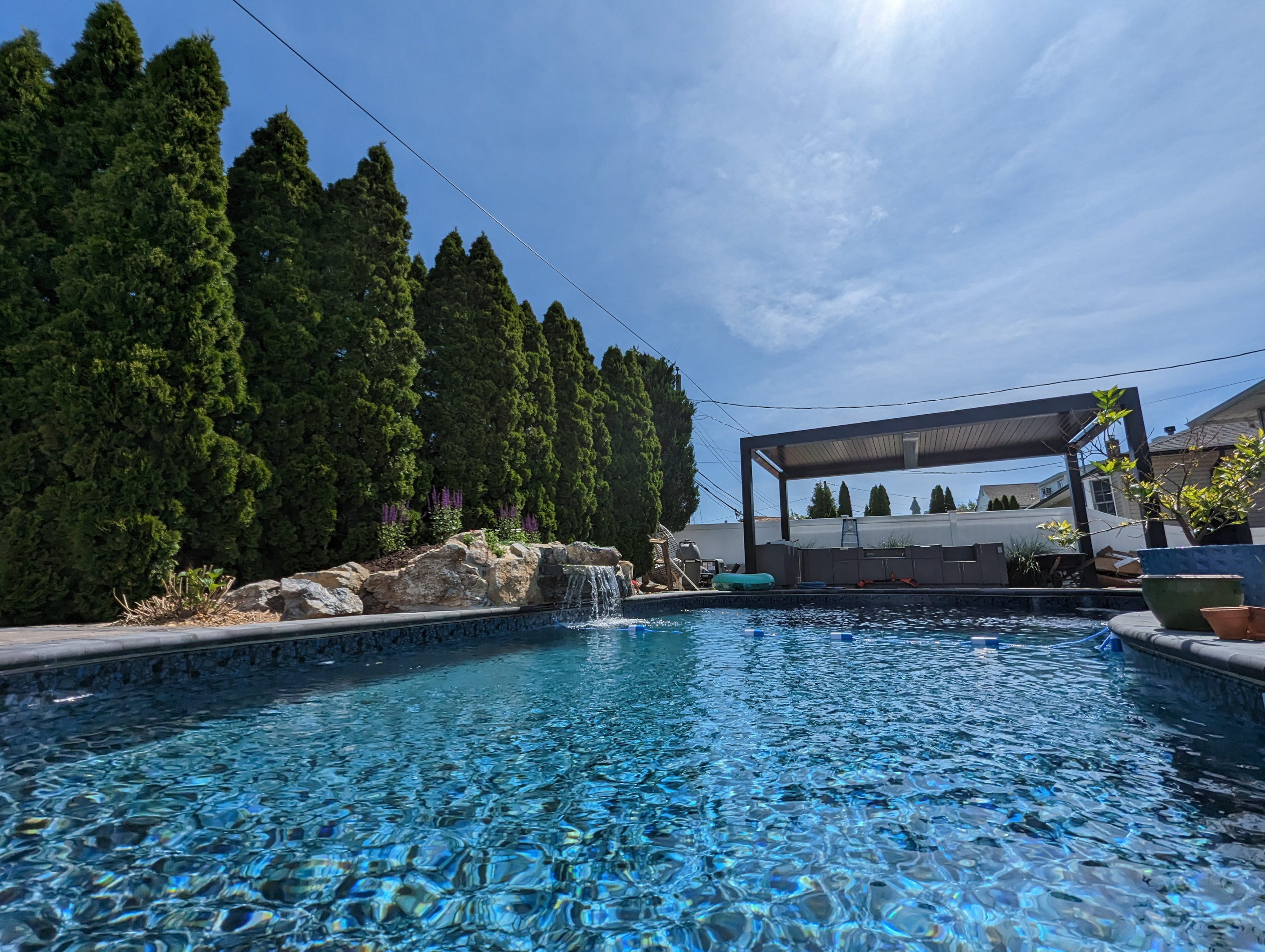 Adding to the increase in home valuation, black pergolas have subtle welcoming feel to them that matches perfectly with any pool scene.
Of any pergola ideas, planting a modern pergola next to a pool is always a great addition to any backyard.
Long Term Care
Having a metal pergola near water definitely has an advantage over a wooden pergola.
If you are looking for the most durable pergola material, aluminum is a great way to go. For obvious reasons but over the years water erosion to the wooden foundational posts can cause necessary repairs if not a total rebuild of the structure.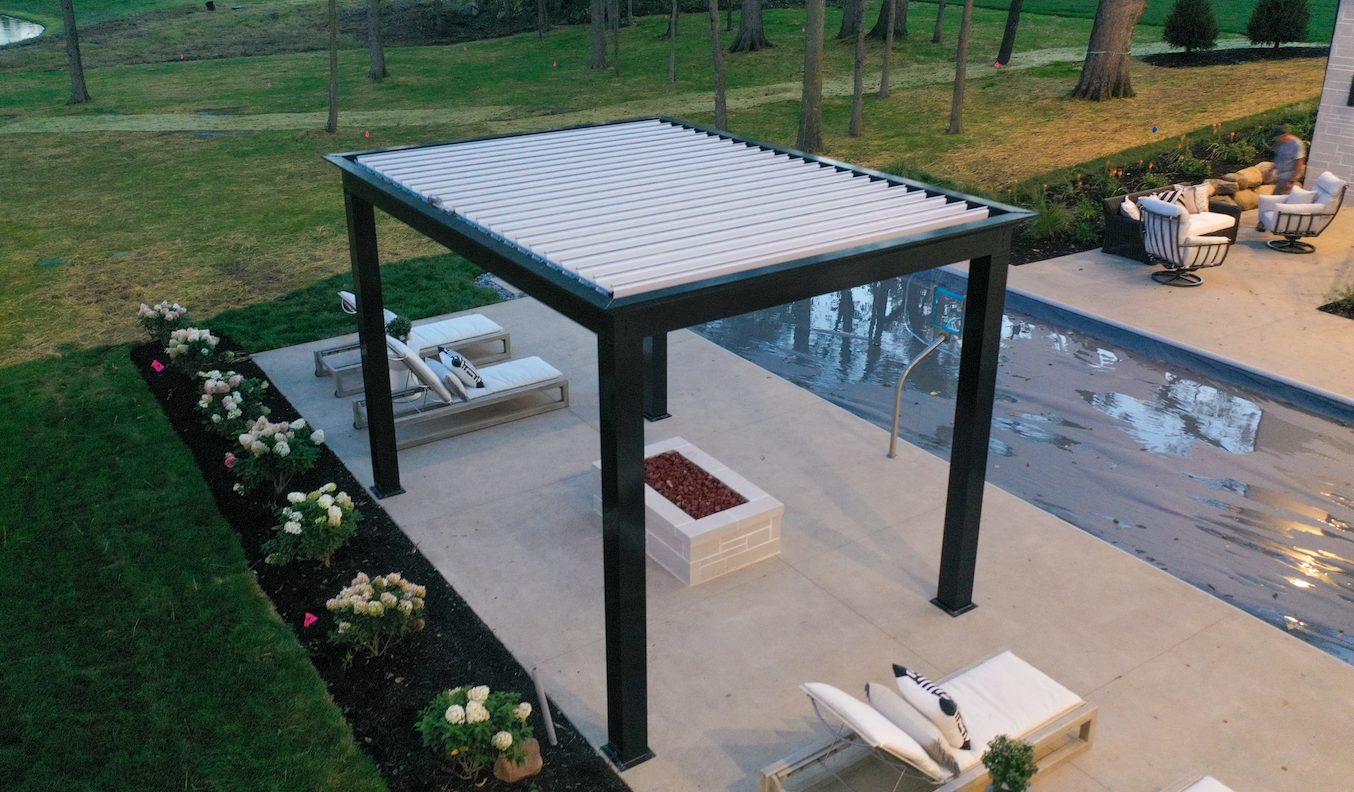 There are many pergola ideas out there on the internet, this image may help serve some inspiration. One great way to enhance a black pergola space is by adding a fire pit or fireplace into the design.
In this photo you can see someone added a fire pit on their pool side patio. giving their yard a great space to host with a great scenic surrounding.
Safety
For obvious reasons safety is a very important aspect to remember with any form of fire. DIY fire pits or structures should take into care spacial consideration allowing guests and framable objects the space needed to properly avoid catastrophe.
Lights surrounding such area would help with safely being able to maneuver area unlit by the fire.
Images to help you with your decision on a Black Pergola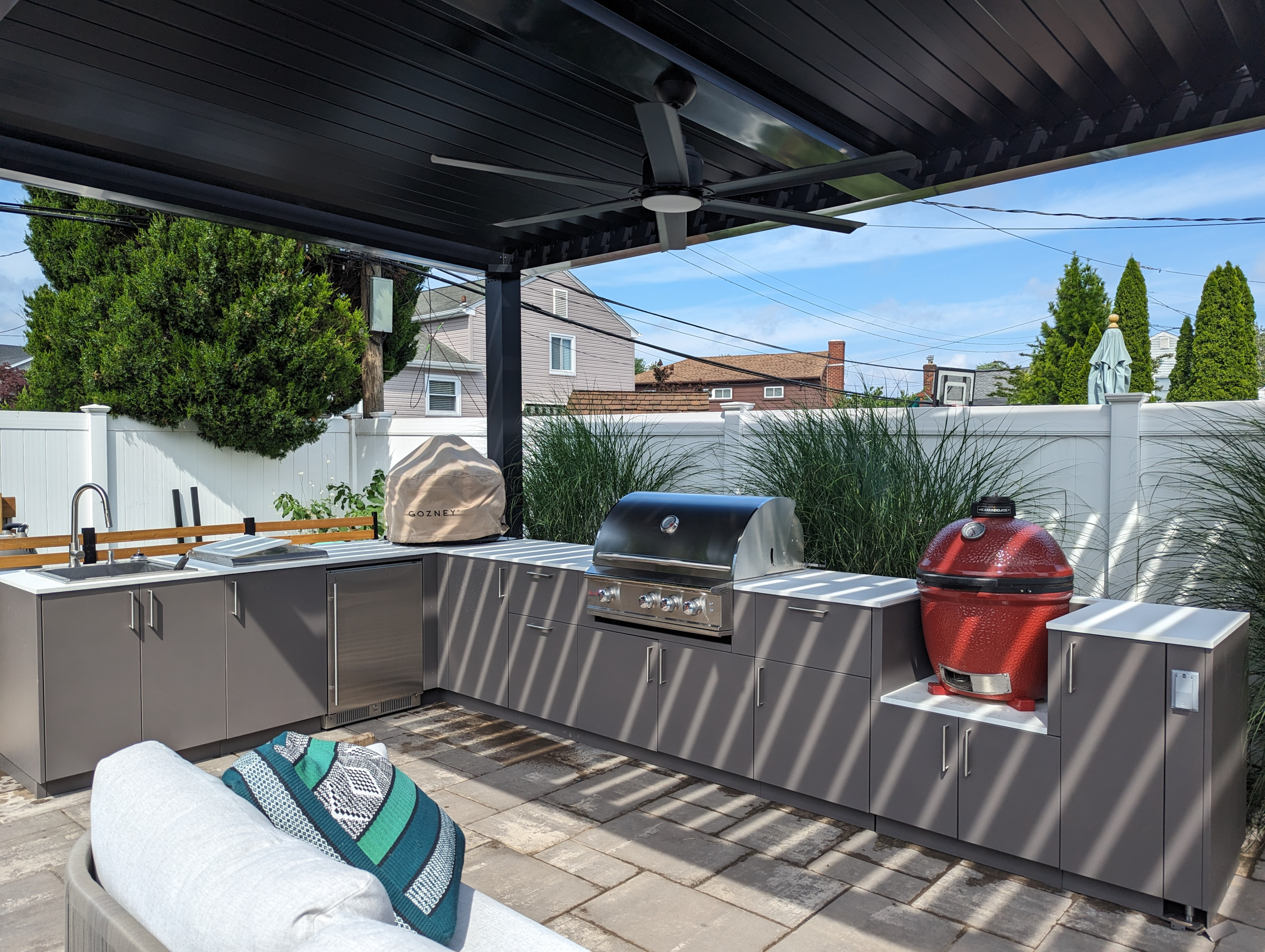 Black Pergola adding a sleek look while adding shade to the kitchen area.
Simple Fun And Elegant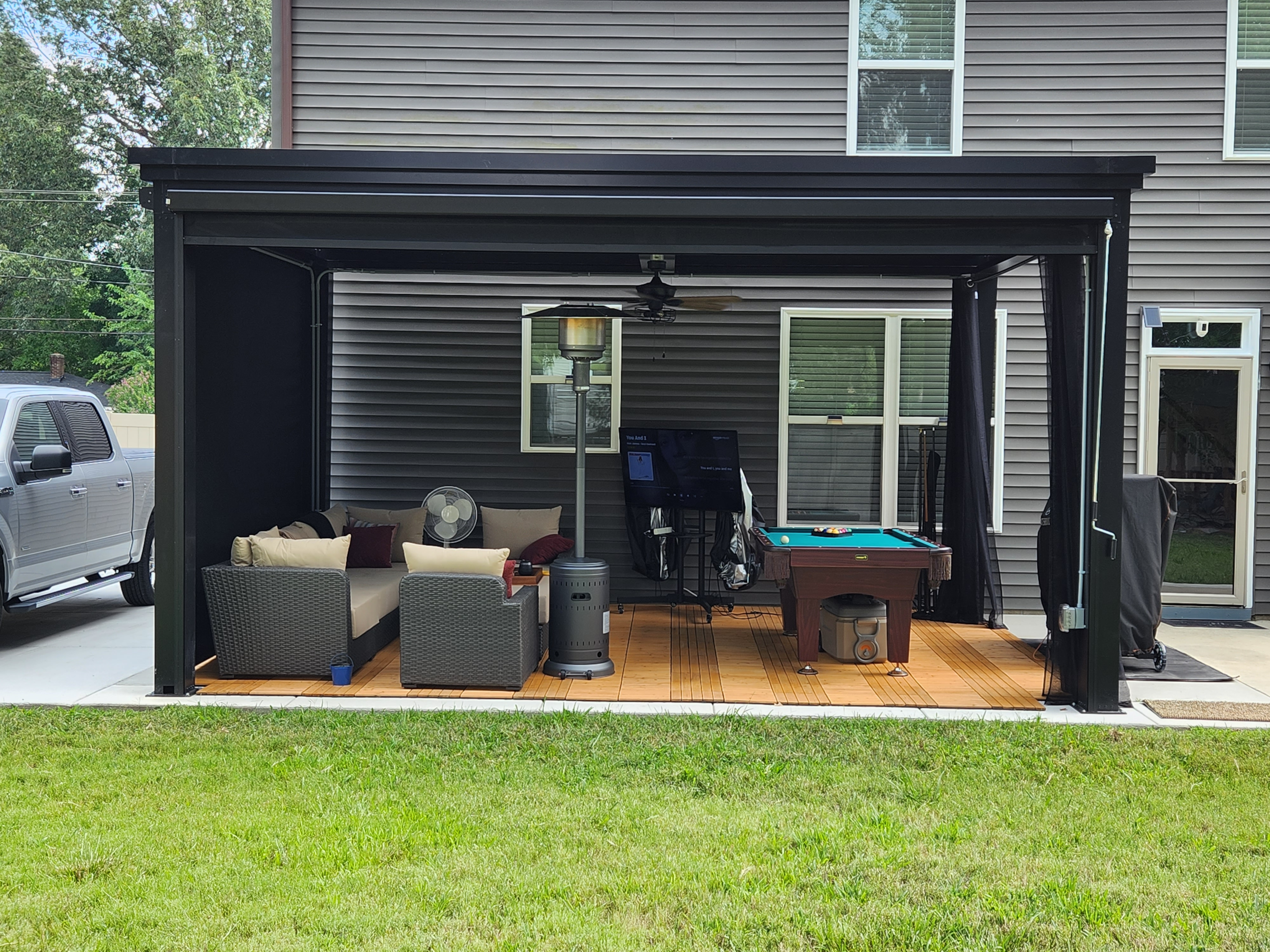 This family created a great environment for them to enjoy being outside of the house and even play some pool in the shade.
Enjoy during any season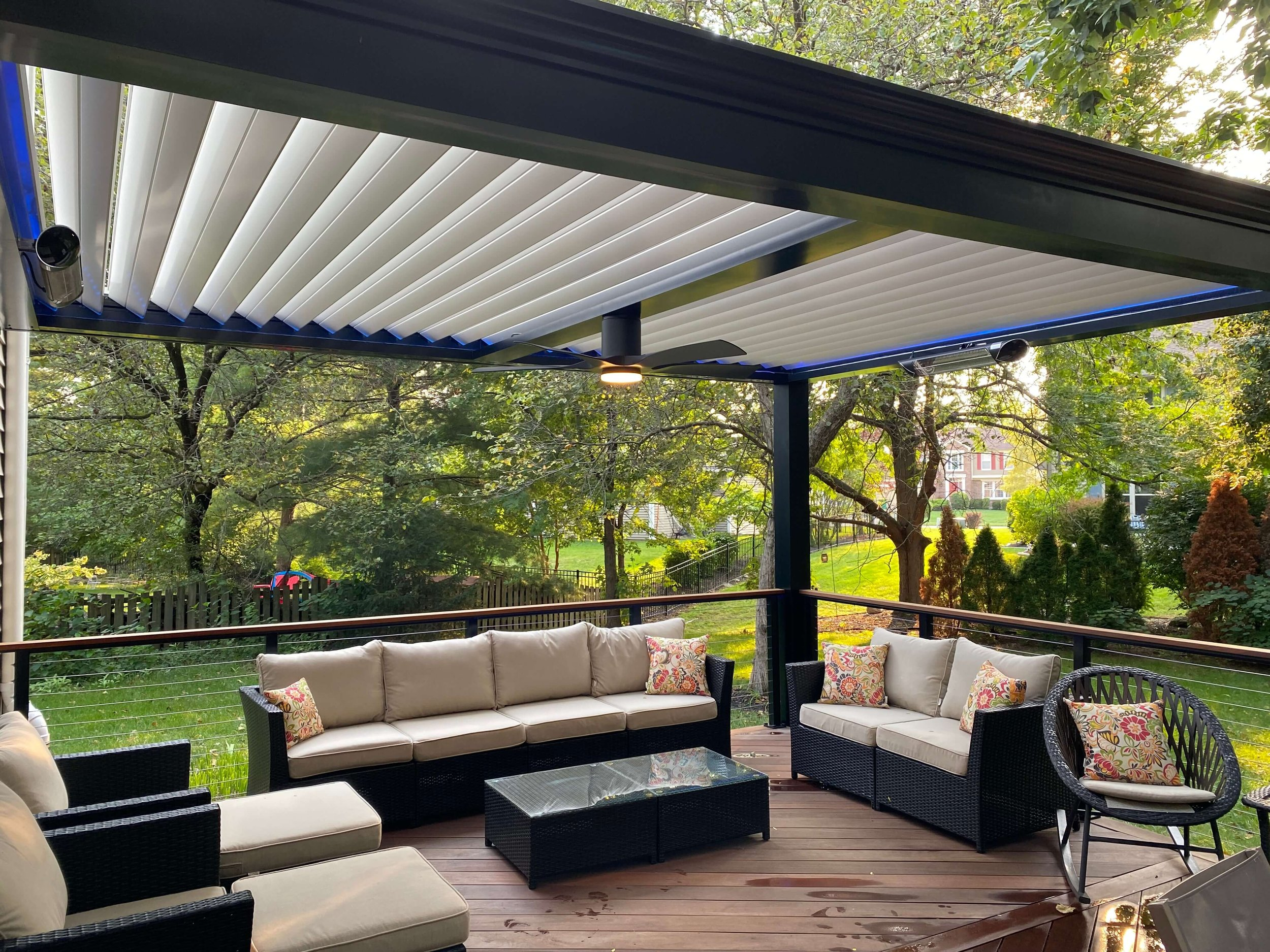 Notice the way the black color blends well with the stained deck. Great choice here.
Shade is important on those hot days but being able to open up your roof to sun shine and fresh air is always a wow factor.
Heaters have been installed! Another of many great Pergola ideas, heaters can give you that warmth you may need on those chilly fall evenings while hanging outside of the house.
A Modern Take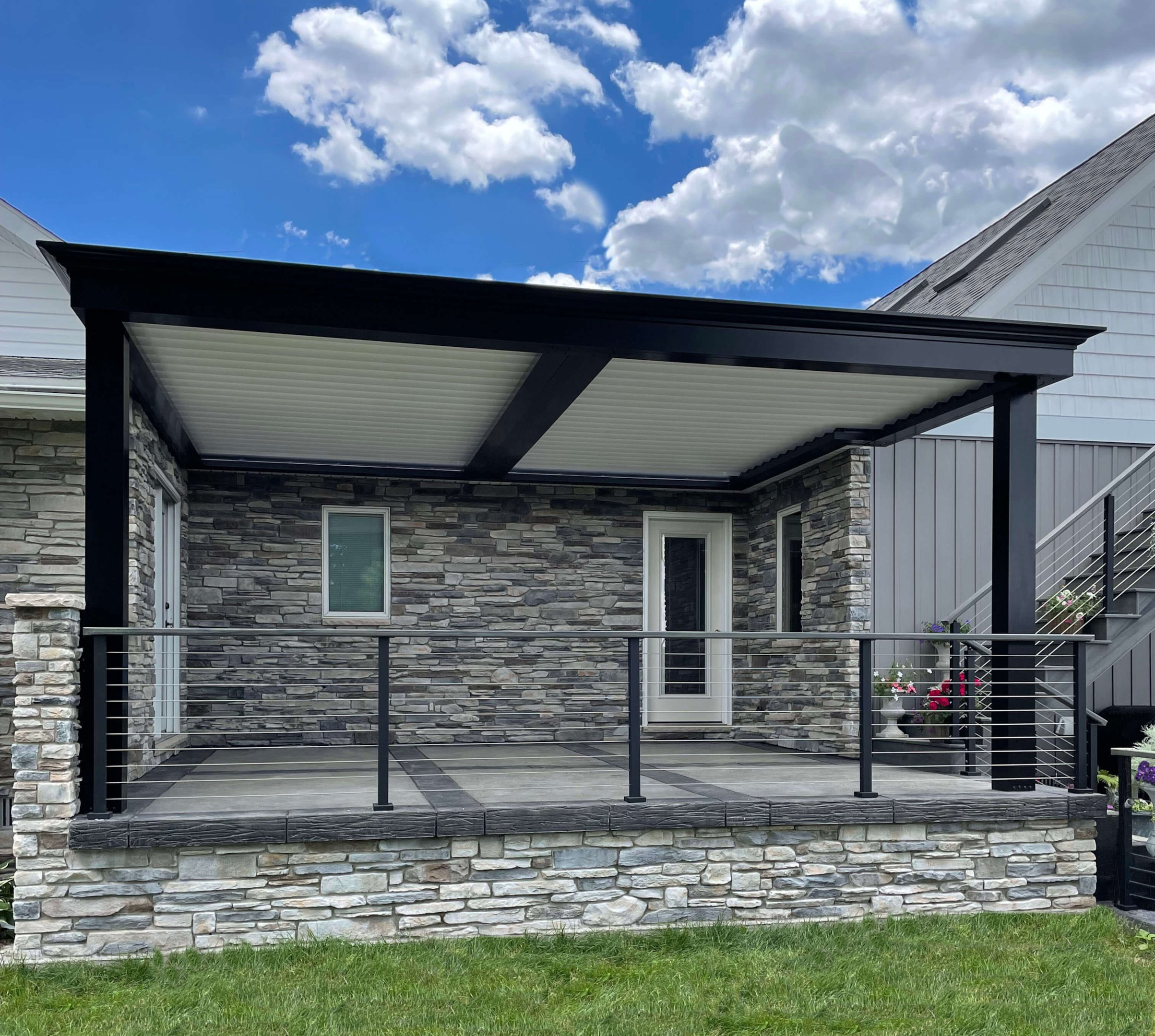 Here is a great design idea to show you what a modern pergola take you can have on your black color choice.
This design has a stone veneer on the walls of the house that match great with the black modern pergola and the metal wire fencing posts they have along side the pergola.
The stone and brick porch helps close this outdoor patio area off great with their style.
Outdoor Dining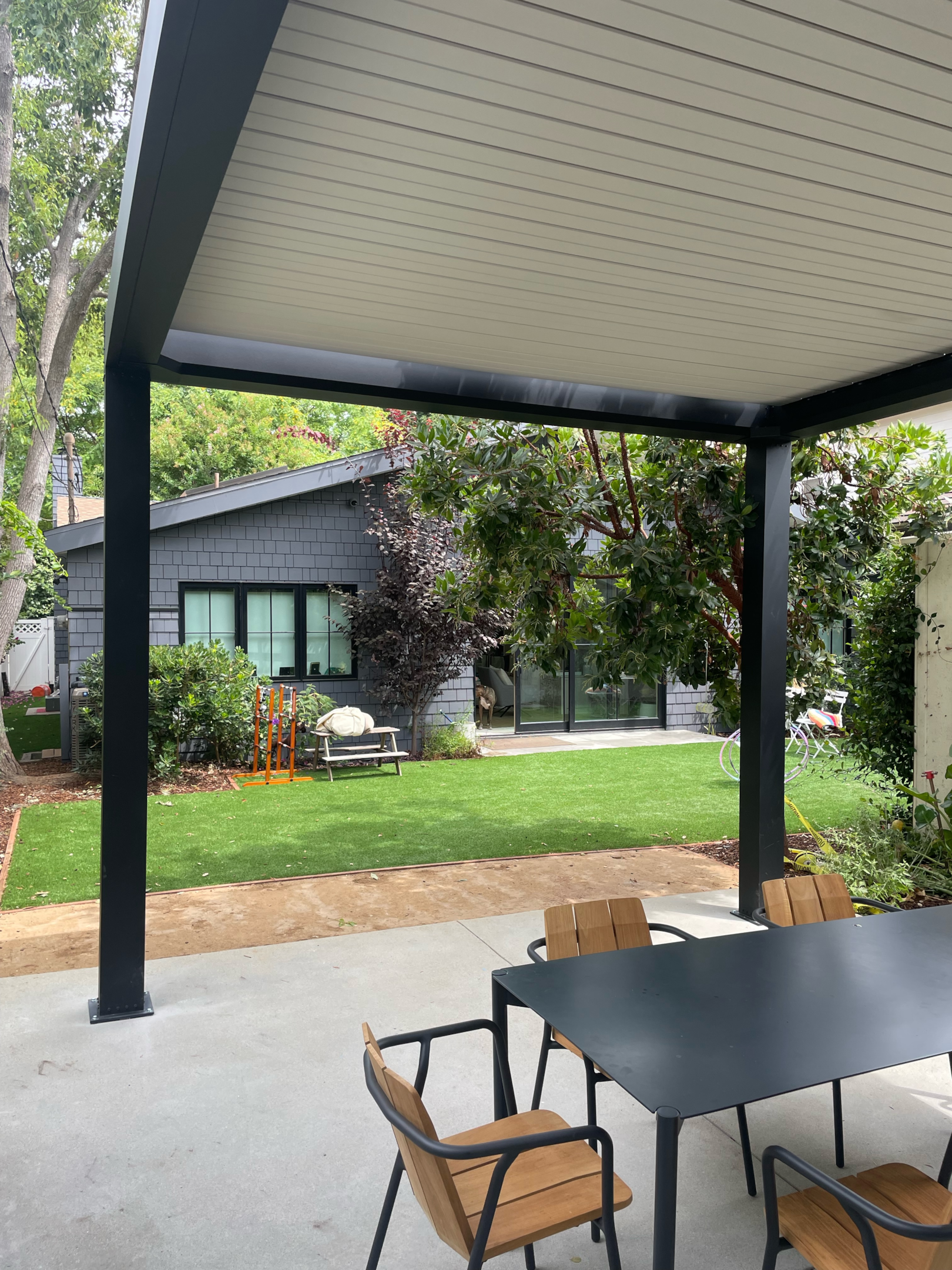 Another of many pergola ideas you can use with a great looking looking black pergola is the use of a dining table.
As you can see in this image, this family made use of their back modern dining table with wooden chair rest.