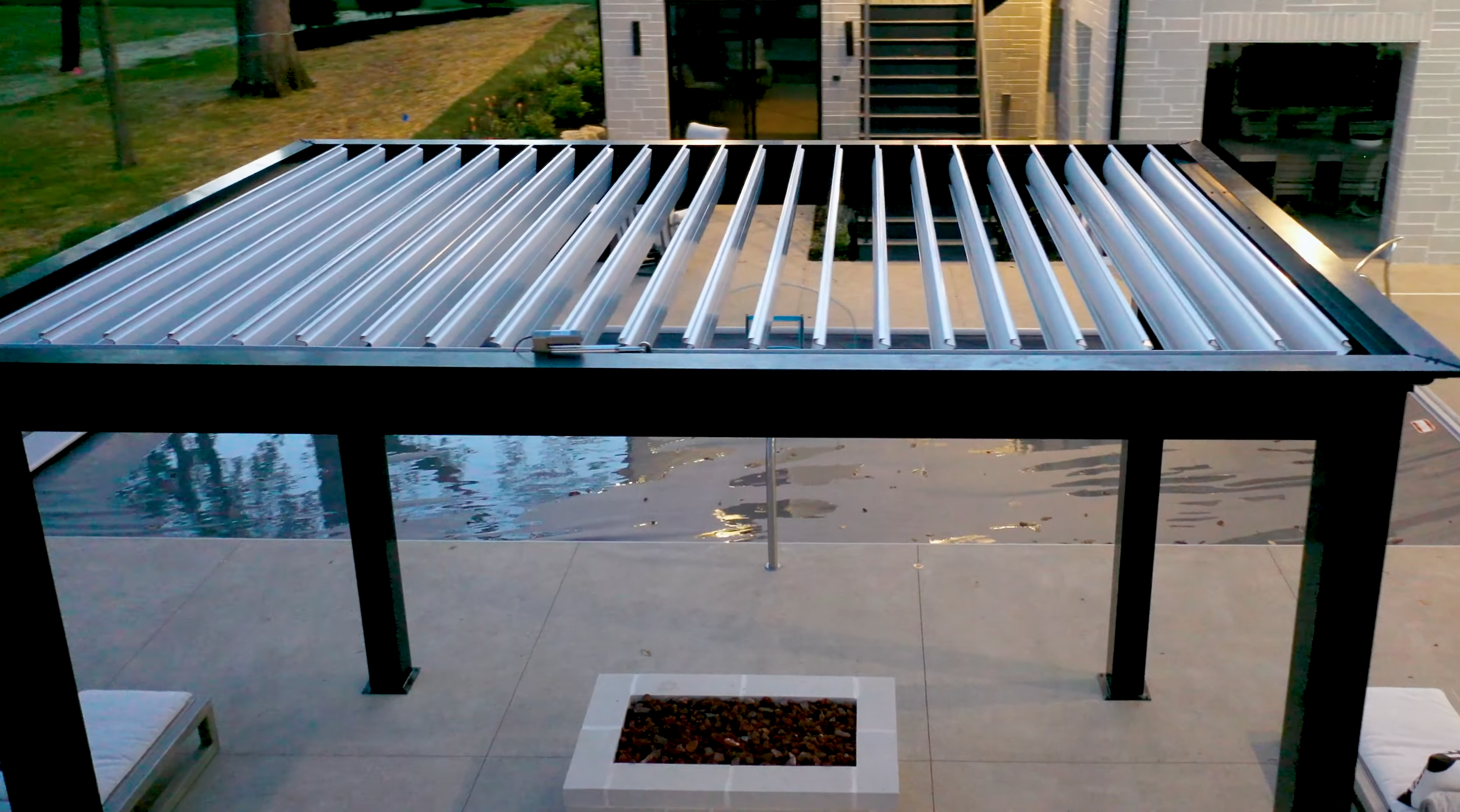 Listen to Article
When it comes to outdoor living space, these motorized louvered pergolas are a very popular and innovative feature. They offer a very practical and aesthetic appeal to any pergola system, which would be a fantastic addition to your outdoor living space.
Table of Contents
What are they?
Louvers are horizontal slats/panels, which can be used open or close in order to control the amount of sun, shade, and ventilation that passes through within the area. These motorized louvered pergolas can be easily positioned using a motor and remote control or a switch on the wall.
With the installed motor, you can open adjust the louvered roof to your desired angle or completely close it to block out any sun, wind, or rain coming in. These motorized systems will allow you to create a comfortable environment throughout the day and easily adapt to any changing weather conditions.
Outdoor living space key benefits/features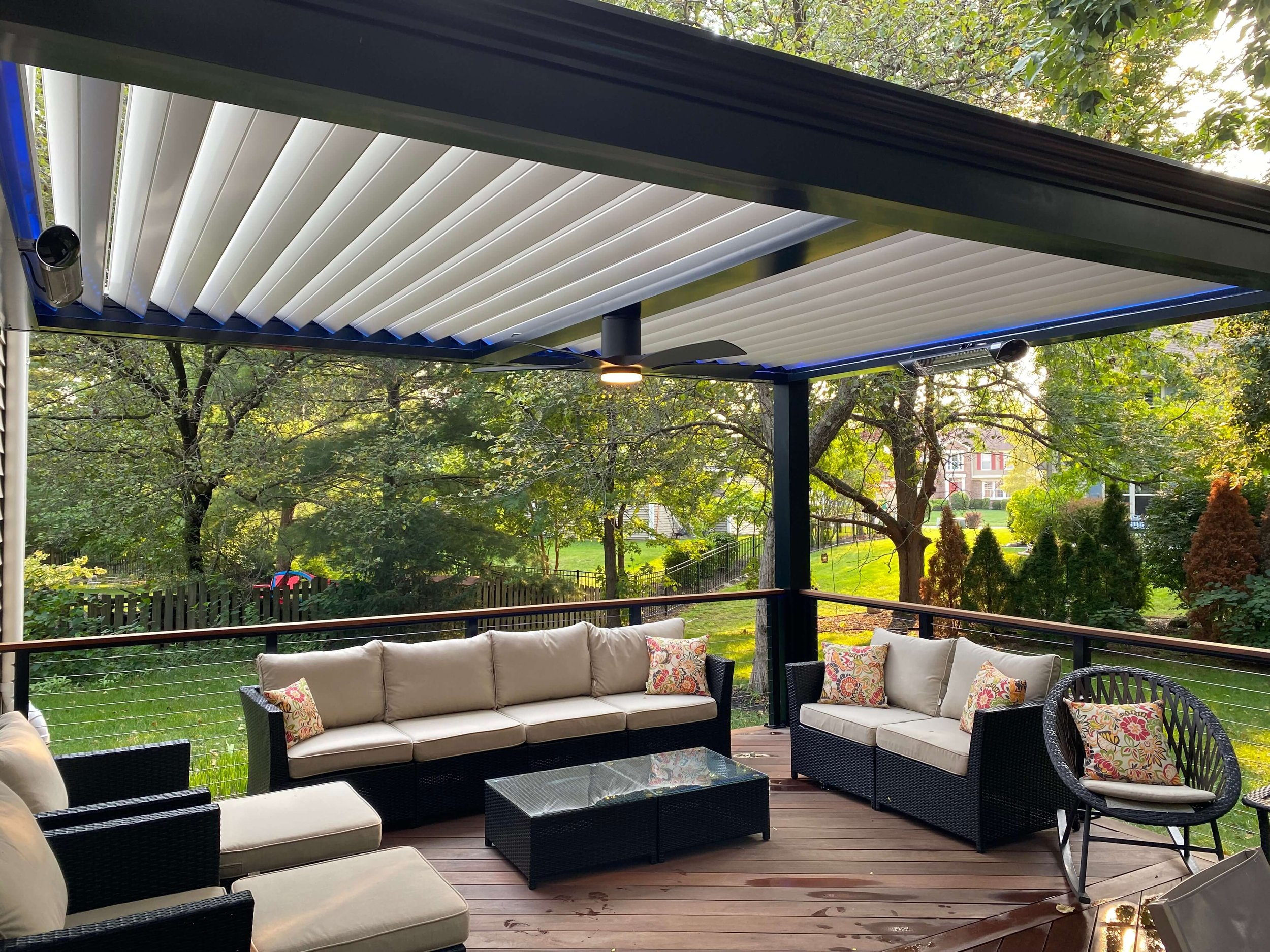 These louvered roofs offer convenience, flexibility, protection, energy efficiency, and excellent customization/design. These key elements give The Luxury Pergola a strong competitive advantage compared to other competitors.
Convenience:
This system makes it incredibly convenient to position your louvers to your preferences. It is as easy as pushing a button to open or close the motorized louvered roof, eliminating the need for manual adjustment.
You get the benefits of having something to cover your space while also giving you exact amount of shade to your preference. Not to mention that The Luxury Pergola offers this at a great price compared to its competitors.
Versatility:
The louvered roof offers versatile functionality, which allows you to change your outdoor living space to any weather conditions. On a hot day, you can easily adjust your louvered roof to create a fully shaded area or even partial shade to let in some natural light and fresh air. The louvers open and close from fully closed and up to 130 degrees open at an angle.
Versatility is very important aspect for our business, as this will allow you to enjoy your pergola year round, regardless of weather conditions. The Luxury Pergola wants to give customers the power to control your pergola to best enhance your outdoor space.
Protection:
This is a key importance of the louvered roof, as it offers protection to your outdoor space from less desirable weather conditions such as heavy rain, snow, and strong winds. These motorized louvers are designed to have strong durability, as it can withstand 9,000 LBS pounds of snow with the louvers close. It can also withstand up to 130 MPH wind (small hurricane force winds), so it is very high wind resistance.
The structure of The Luxury Pergola is made with aluminum, which is the strongest, most durable material that pergolas are made from.
Energy efficiency:
You can easily control the amount of light entering your louvered pergola. This would help contribute to energy efficiency to reducing any form of air conditioning. Especially during the hot summer days, maximizing your shade can keep your pergola area cool and comfortable for everyone wanting to relax.
Customization/design:
There are several different colors/designs/materials that you can choose from when ordering a motorized louvered pergola. This allows you to fully customize your pergola to match your outdoor aesthetics. Whether you prefer a more modern look or more traditional style, there are plenty of options available that can fulfill your needs.
You are also able to add your own LED lighting to the pergola, which would create a more captivating ambiance in the evenings/nights.
Motorized Louvered Patio Covers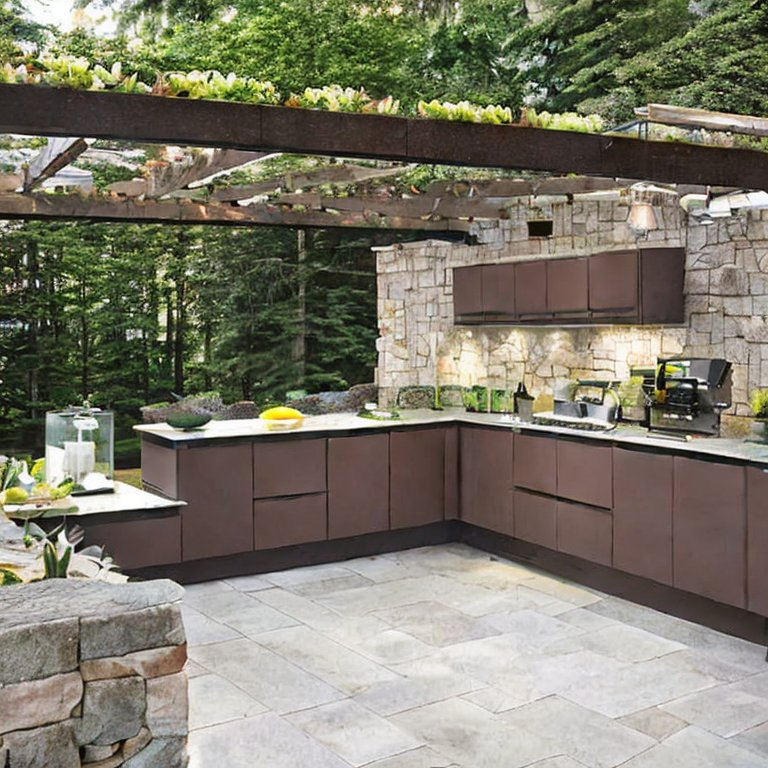 There are several different options to choose from when it comes to motorized covered patio covers.
You can go with the outdoor kitchen, giving you a multifunctional space for everyone to cook and also have plenty of space to eat and chat. Another option you can pursue is a pool paradise, allowing you sit and chat with yours family/friends and have an exciting pool party. One other option is an entertainment area, giving you the functional, aesthetic space to enjoy the fresh air and to have a fun time outside with company.
Weather
The louvered roof is well equipped for any weather condition thrown at it whether it is really hot/cold outside, heavy snow, sleet, rain, or excessive sunlight. These louvers are designed thicker than its competitors, so they are more reliable when it comes to quality and protection.
They are also built with an integrated gutter system which will automatically drain from the drain post, so there's no need to worry about rain or snow getting stuck on top. The motorized louvered pergola will allow you to experience luxury with convenience, which is what you deserve.
The Luxury Pergola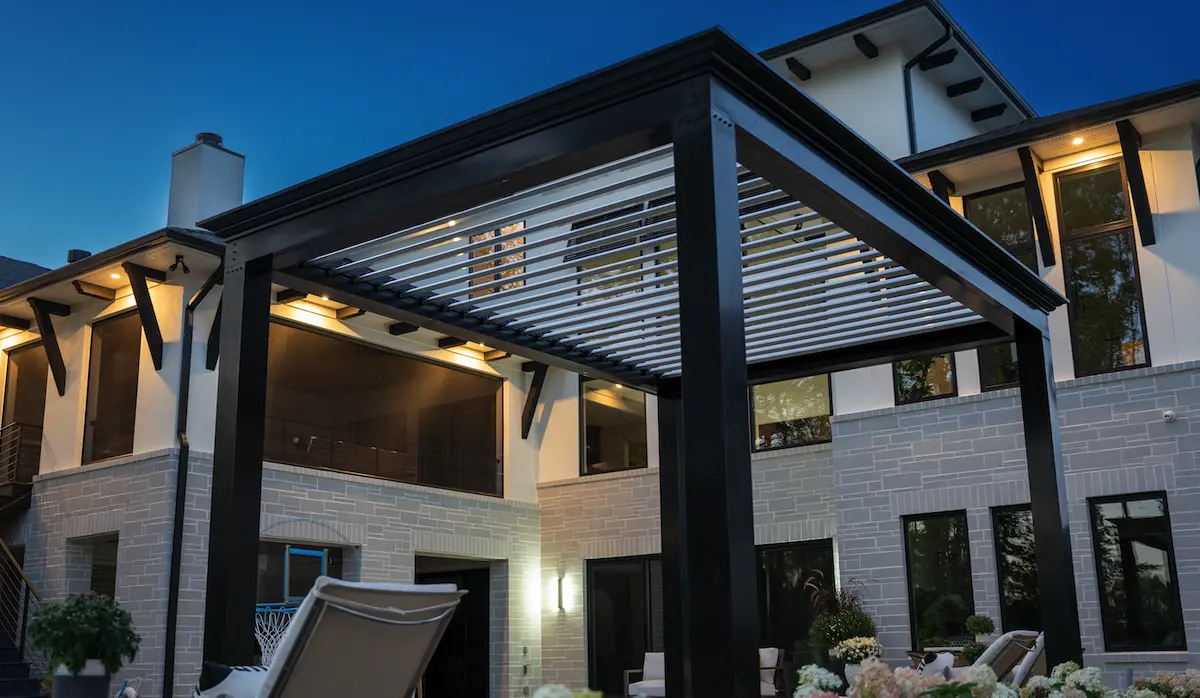 It's important to mention that requires professional installation to ensure that everything works properly and is safe to use. Reach out with a contractor and they will help you select the right system for your needs and provide expert guidance for installing.
With The Luxury Pergola, we provide simple instructions attached with the kit. You can also watch how we assembled it on our YouTube! The Luxury Pergola strives to make the most effective and best quality products for you, your family, and friends to enjoy.
Looking for the perfect solution for your outdoor living space year round? Purchasing a pergola is the way to go! Visit The Luxury Pergola for more info.