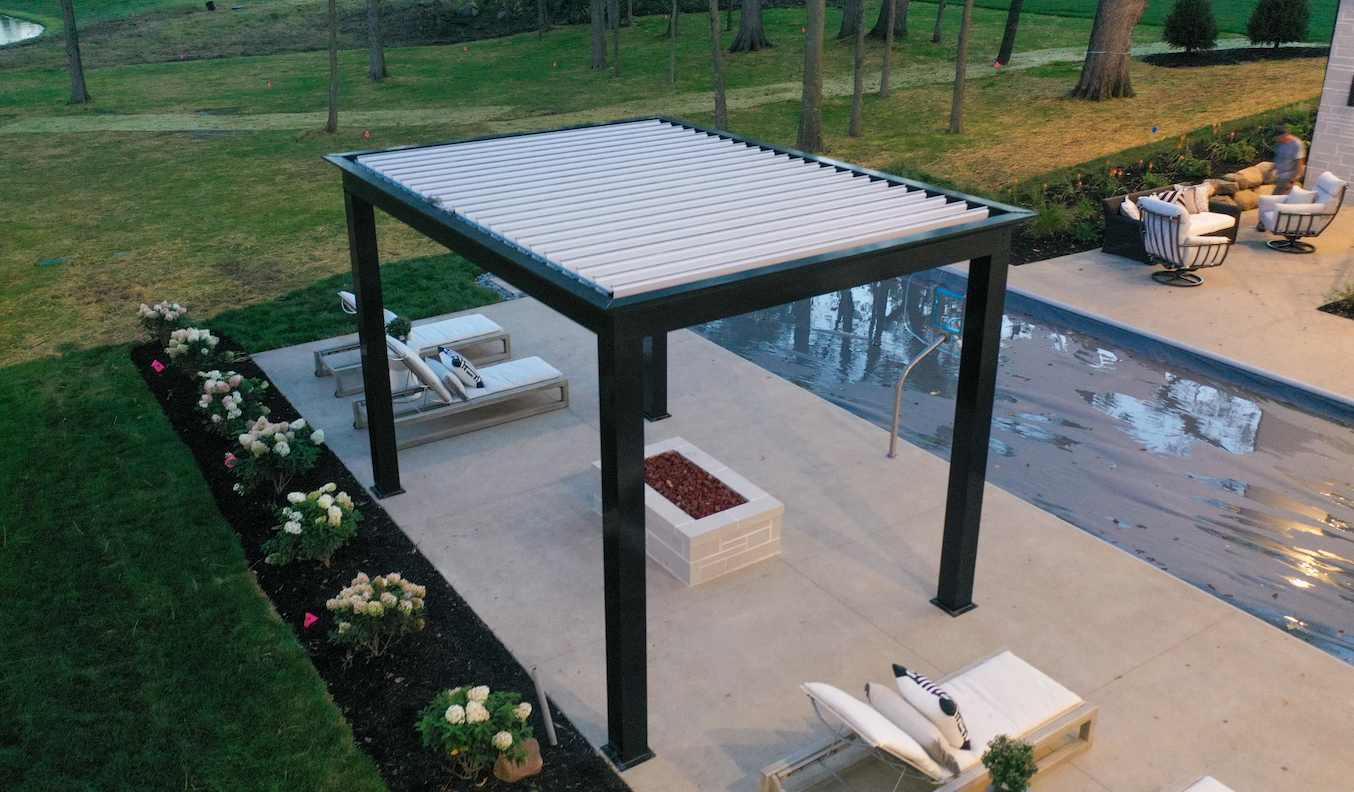 Listen To Audio
A fire pit underneath a pergola structure allows for year round enjoyment regardless the season. Fire pits for pergolas have grown in popularity as society takes a shift towards aluminum pergolas over wood pergolas.
Aluminum pergolas allow for a higher heat rating and is not flammable, therefore creating the utility of fire pits within the pergola system. Many homeowners have been creative and envisioned extravagant fireplace systems for their beautiful luxury home. Ideas range from brick oven fire pits for pizza all the way to large stone gas fire pits for year round ease.
Table of Contents
Fire Pit Ideas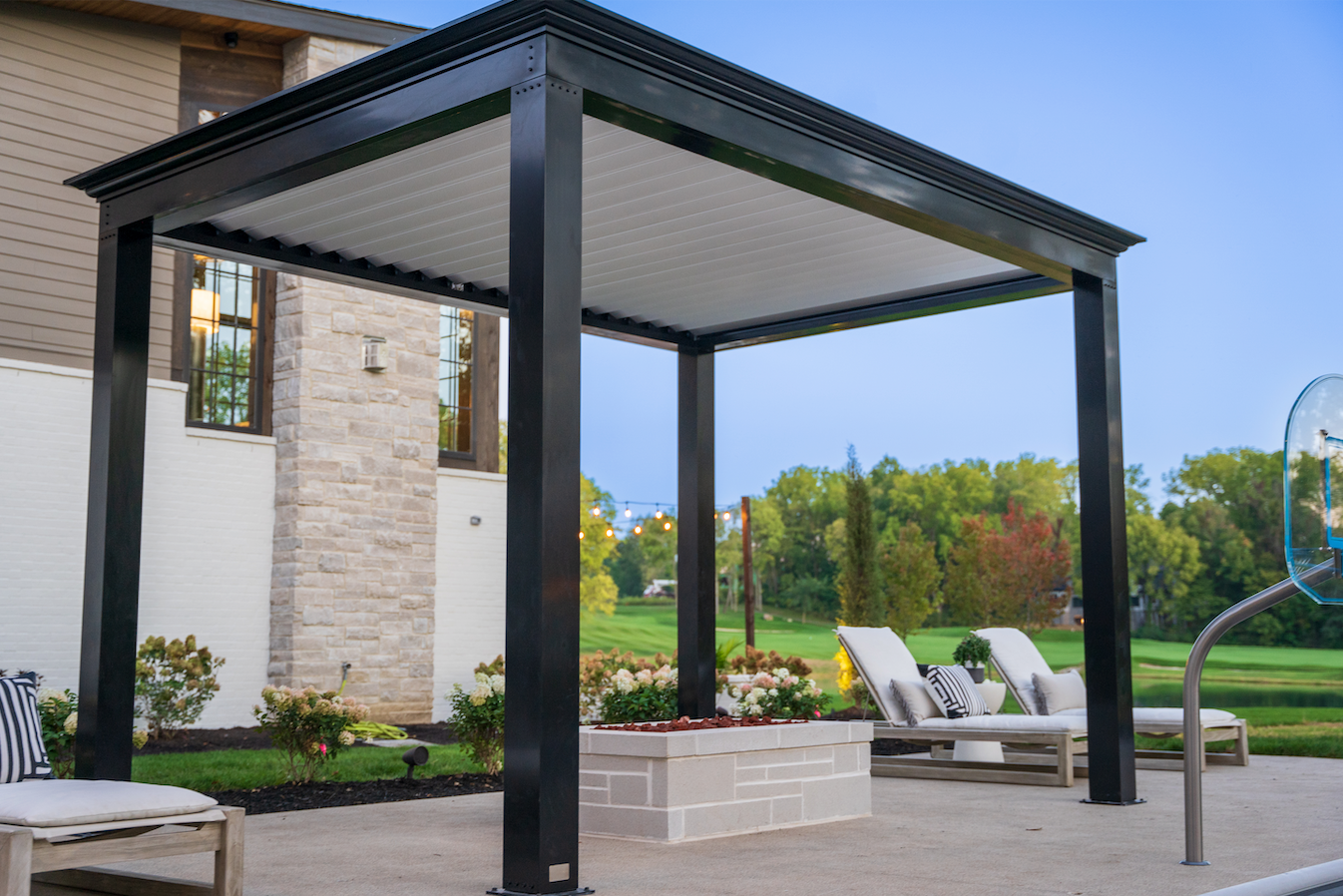 Fire pits can create moments of intimacy to build lasting memories with loved ones and company. Picture yourself on a beautiful starry night making smores underneath your new luxury pergola structure. Open the roof up to the beautiful night sky and experience the magnificence of the moment.
Moments like these are simple features that louvered roof pergolas allow which can add to any experience and moment. Fire pits that can be open to the night sky or protected from rain at the click of a button add versatility thanks to louvers that open and close.
Existing Fire Pit For Pergola Structure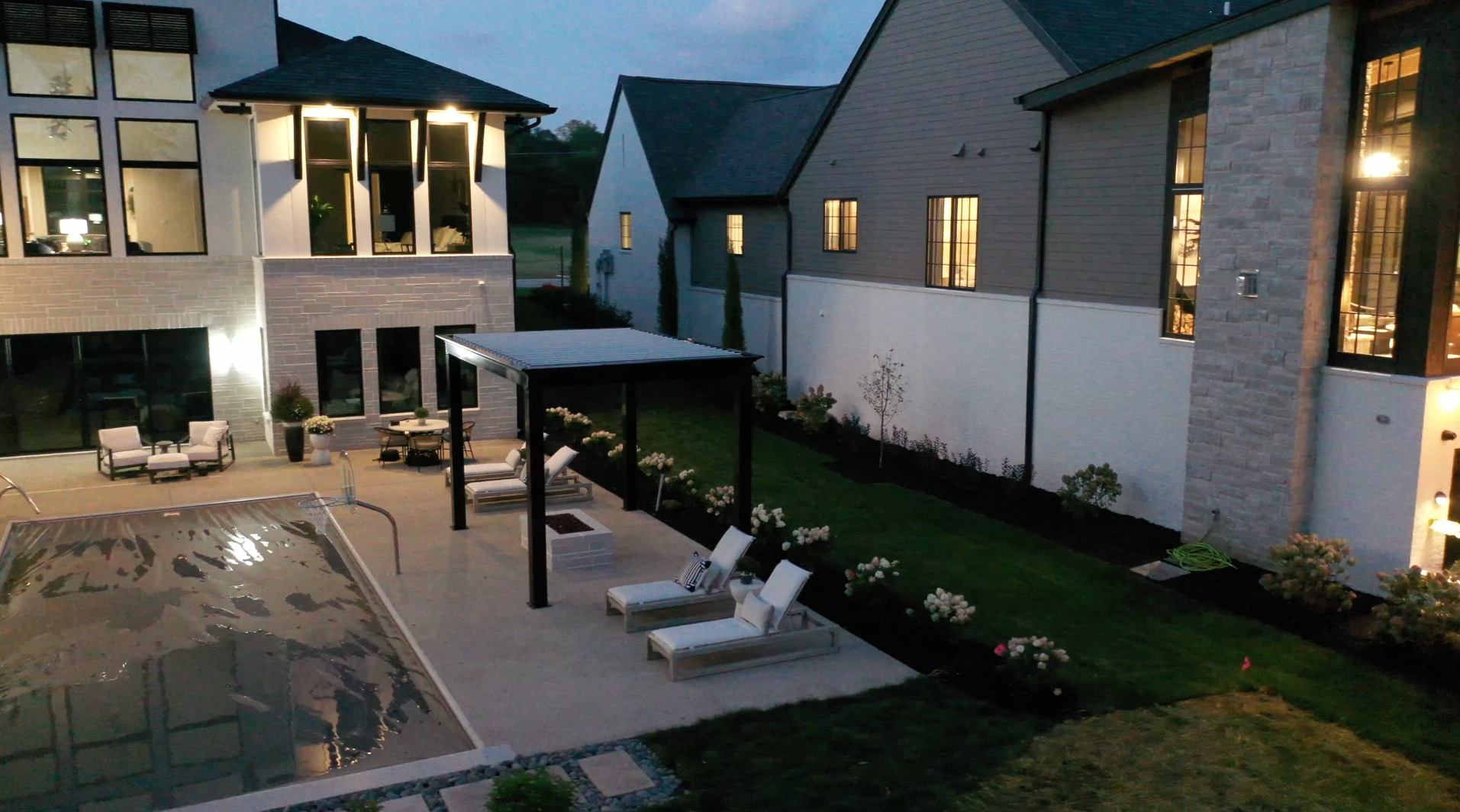 An existing fire pit can be a perfect location to add a pergola structure. Simply build the footings around the place of the fire and find the perfect size to fit your needs. Many have found larger sizes to be great at adding more space to further design their area.
Aluminum is highly heat retardant and will melt only at 1200 degrees F. This allows for large fire places to be in place with 0 worry of damage to the pergola itself. Wood pergolas and vinyl have a tendency to char or break down from excessive heat. Aluminum allows for the best of both worlds to be combined and create the exact design you would like.
Best Outdoor Living Space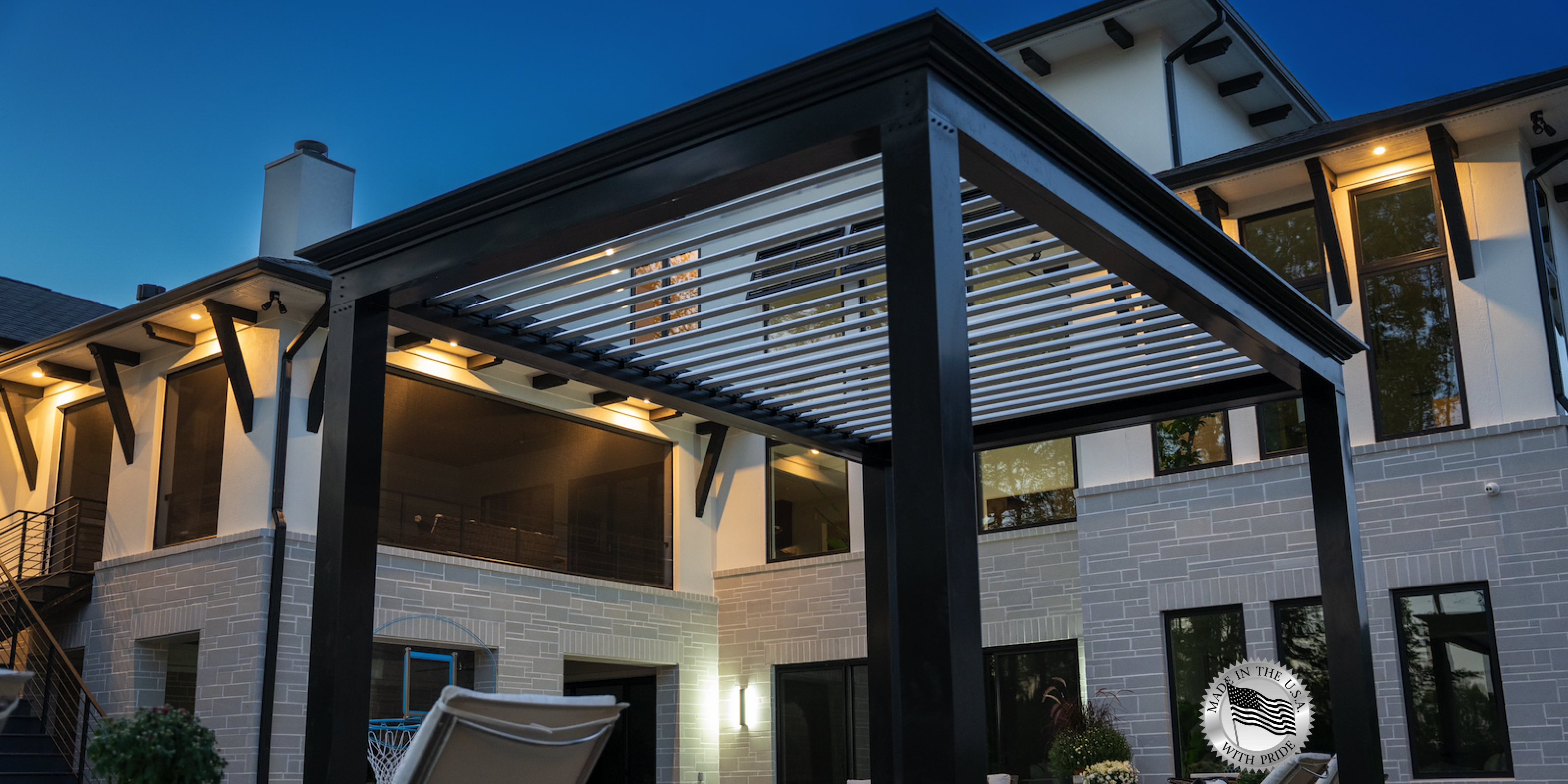 The best outdoor living space is a different vision for each individual. With the customization options of size, trim, as well as color, the luxury pergola can help you to identify and align with the exact customization you would like.
Wether you are looking for a large 12x40 that is black on black with a modern contemporary trim as well as a hanging fan, or if you are looking for a simple 10x12 in white with stone louvers in a traditional trim. The luxury pergola has high versatility which allows for you to find what suites you best.
Portable Propane Fire Pit In Pergola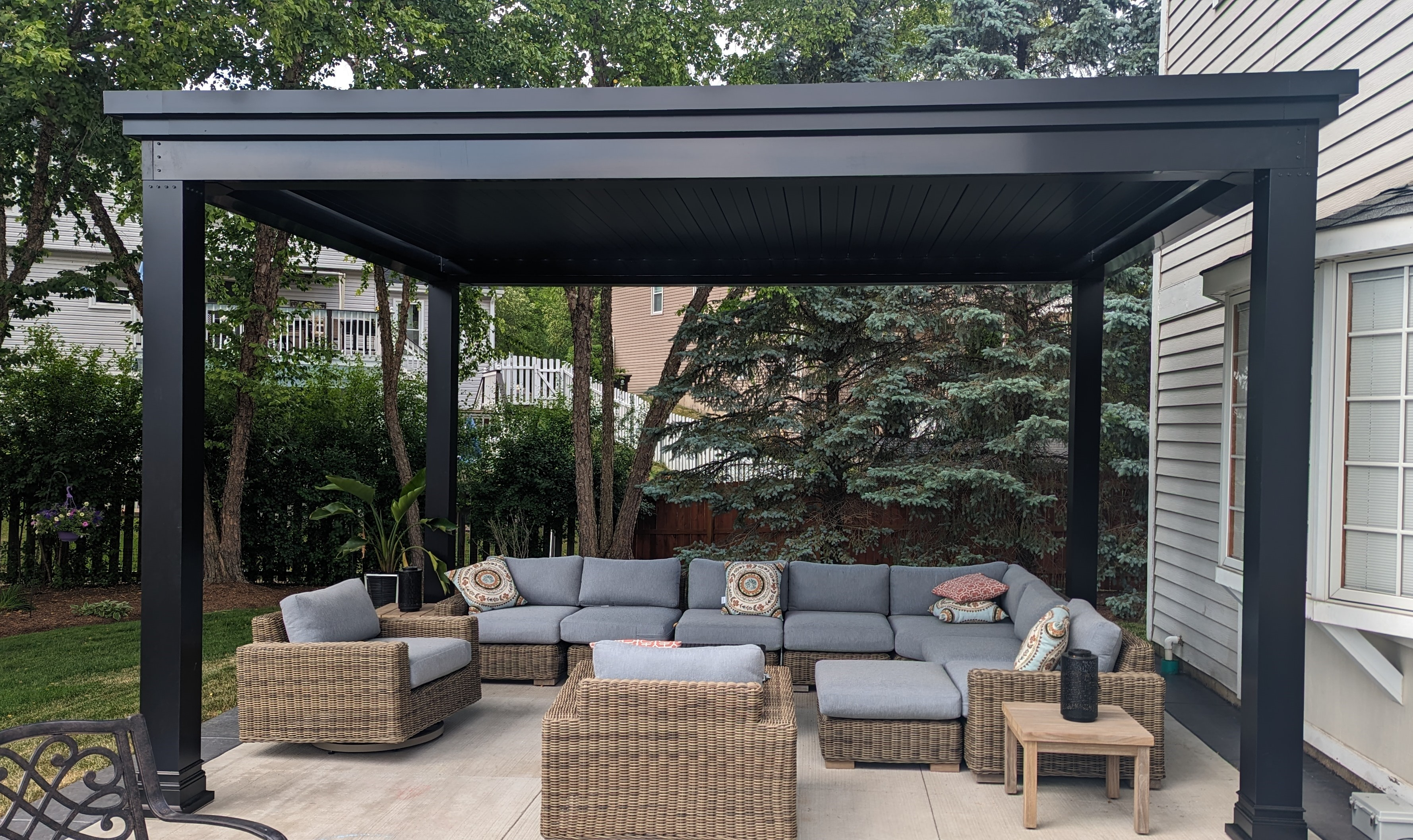 A portable fire pit can allow for ease of use in your pergola system. Simply roll the fire pit in and out depending on how you would like it. This also allows for multiple positions and design shift depending on the event.
Often a portable fire pit will be propane or gas similarly to that of a high end grill. This gas allows for easy ignition and further creates a pleasant experience in your pergola structure.
Stone Fire Pit In Pergola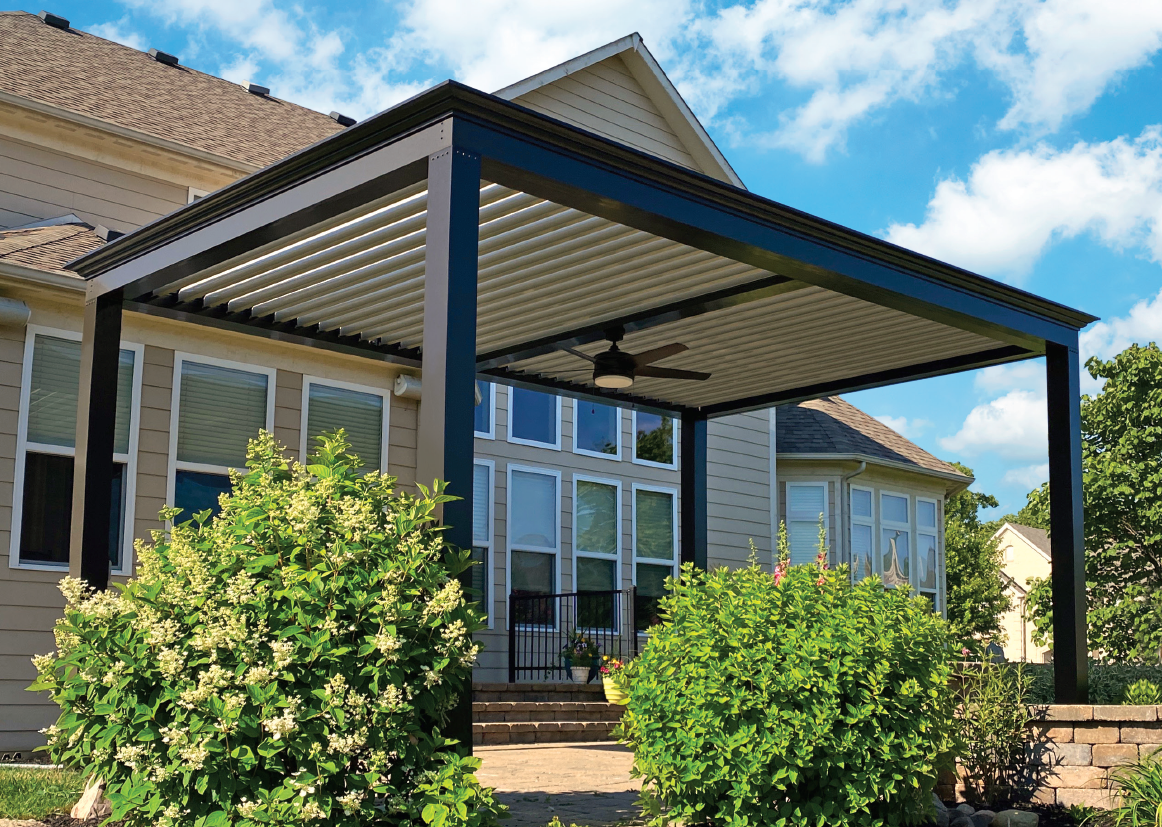 You do not have to have a traditional fire pit for your pergola. Many stone fire pits have been placed in excellent extravagant patterns to match that of a modern home, or kept traditional to match the home as well.
Regardless of the design you envision, a pergola can be made to be exactly how you would like and match the design of a stone fire place. Our color options of bronze, stone, black, and white allow for versatility to match any color pattern preferred.
Brick Fire Pit In Pergola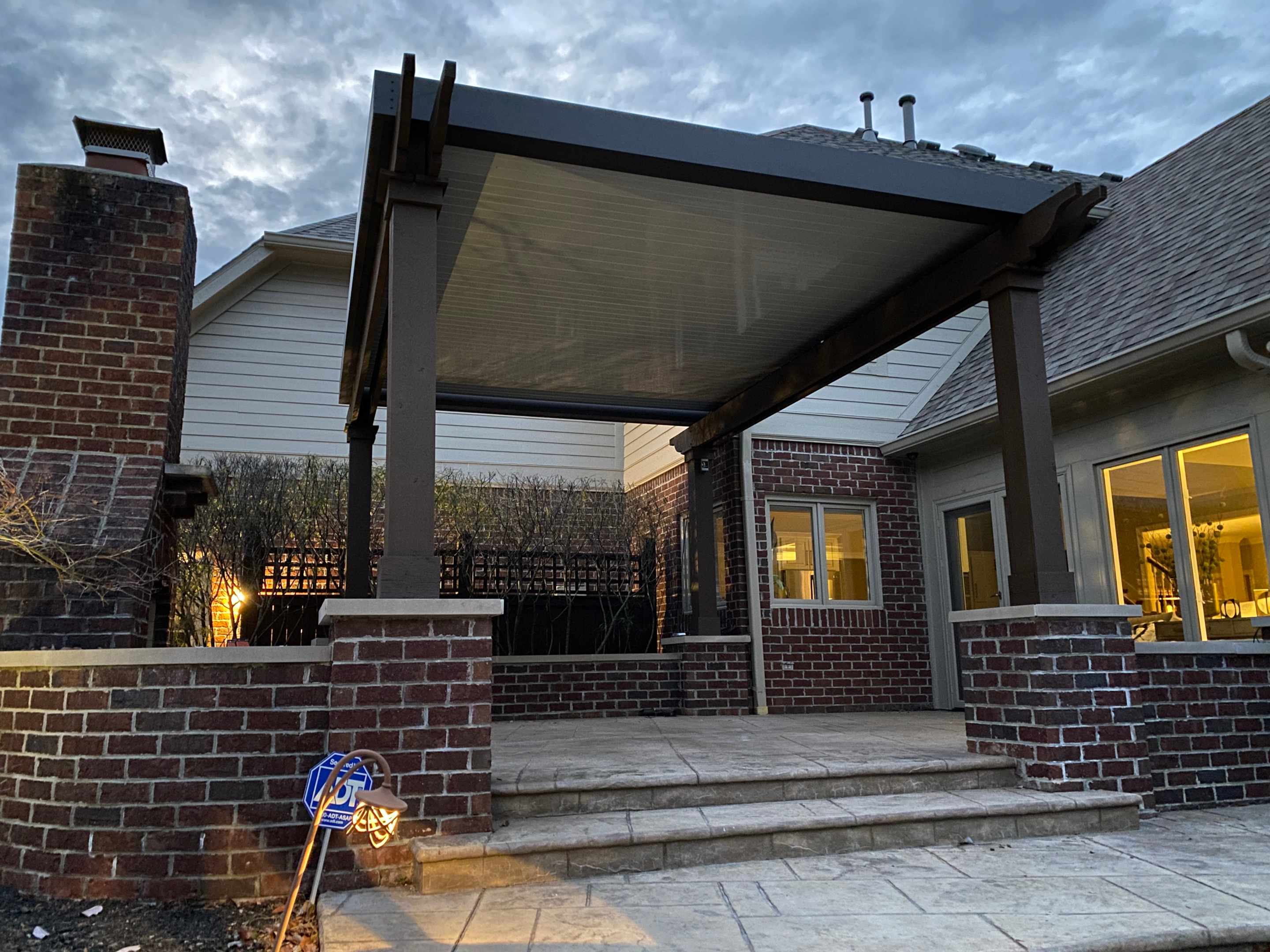 A brick fire pit can create the match you need for pure uniformity in your backyard setup. Picture this brick pergola shown above created to match a perfectly square brick fireplace in the center. This creates a matching of design and theme.
There is a pergola kit and fire pit to go along with it for every specific home design. Wether stone or all the way to brick. Finding what fits you can be made simple thanks to the versatility of design.
Roaring Fire Feature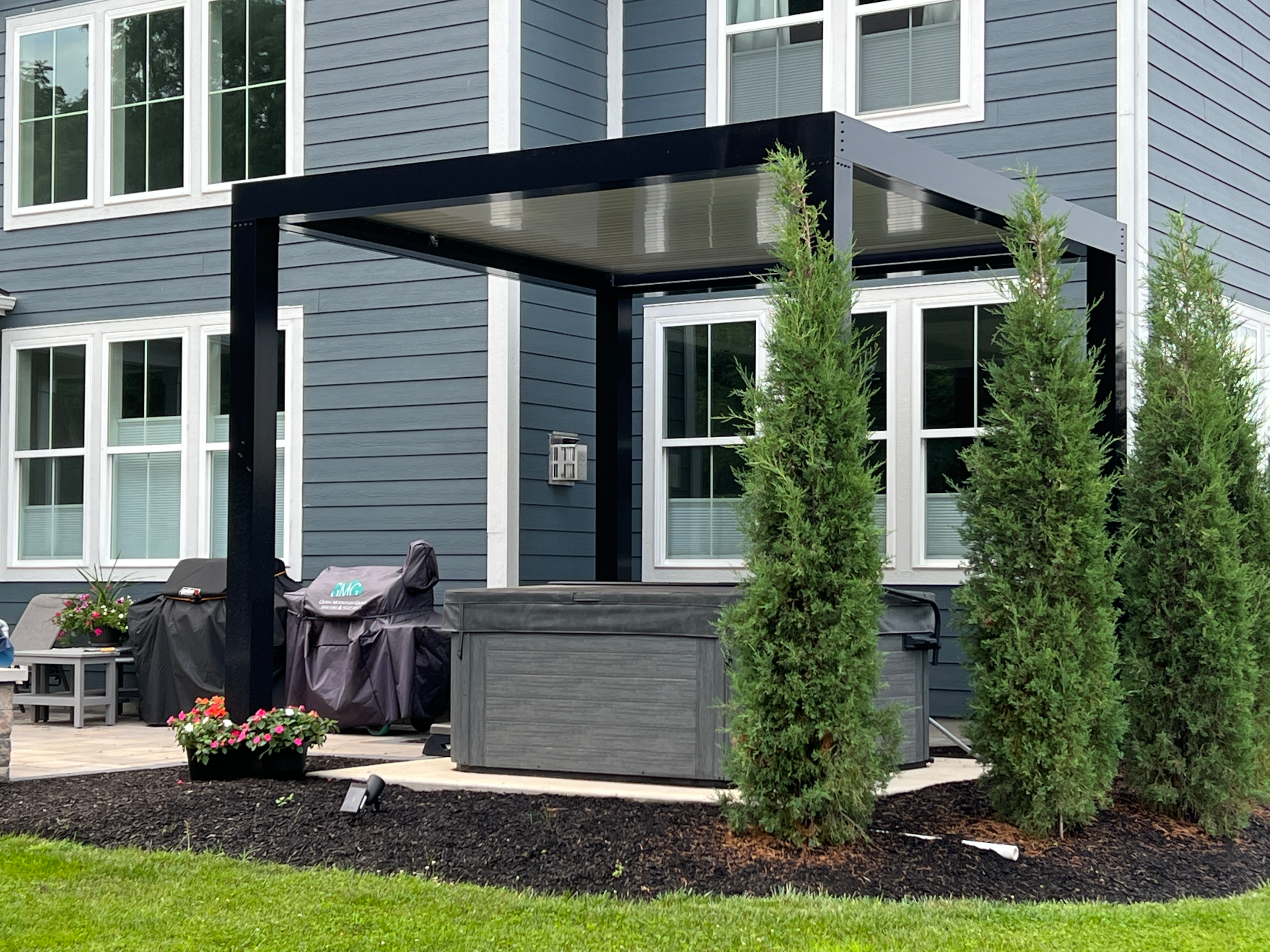 Allow your imagination to run wild in the creation of exactly what you like in your pergola system. You are only limited by the design of your mind as you would like to go on and build exactly what you would like.
A roaring fire feature can create a high level experience and leave a wow factor for any individual looking to add to the elegance of their backyard. This wow factor can increase home value and leave guests stunned at the creation you have made.
Wood Burning Fire Pits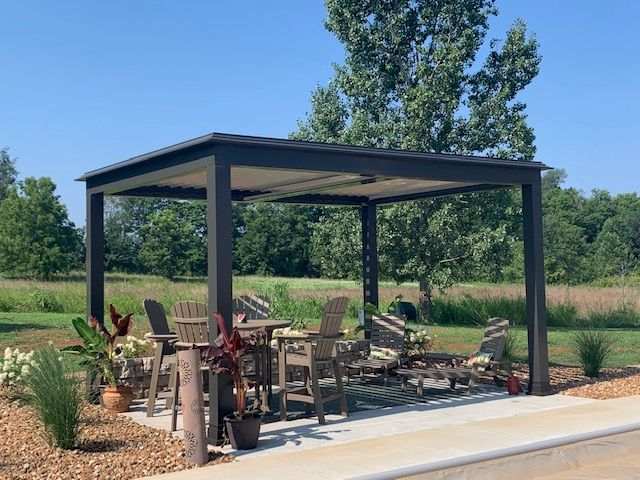 A wood burning fire pit is as old as time itself, the ability to have fire at the flip of a spark allows for true nature lovers to get exactly what they are looking for. Traditional wood burning fires allow for a more grounded experience of being connected to the earth as you smell the burning of cedar and oak underneath your pergola strucutre.
Wood burning fires can add a bit of unpredictability to your fire as well making it more fun for rustic and robust individuals looking for that. Build a fire each time and sit back as you enjoy the fruits of your labor enduring the heat and receiving the beautiful light.
Fire Pit Cover For Pergola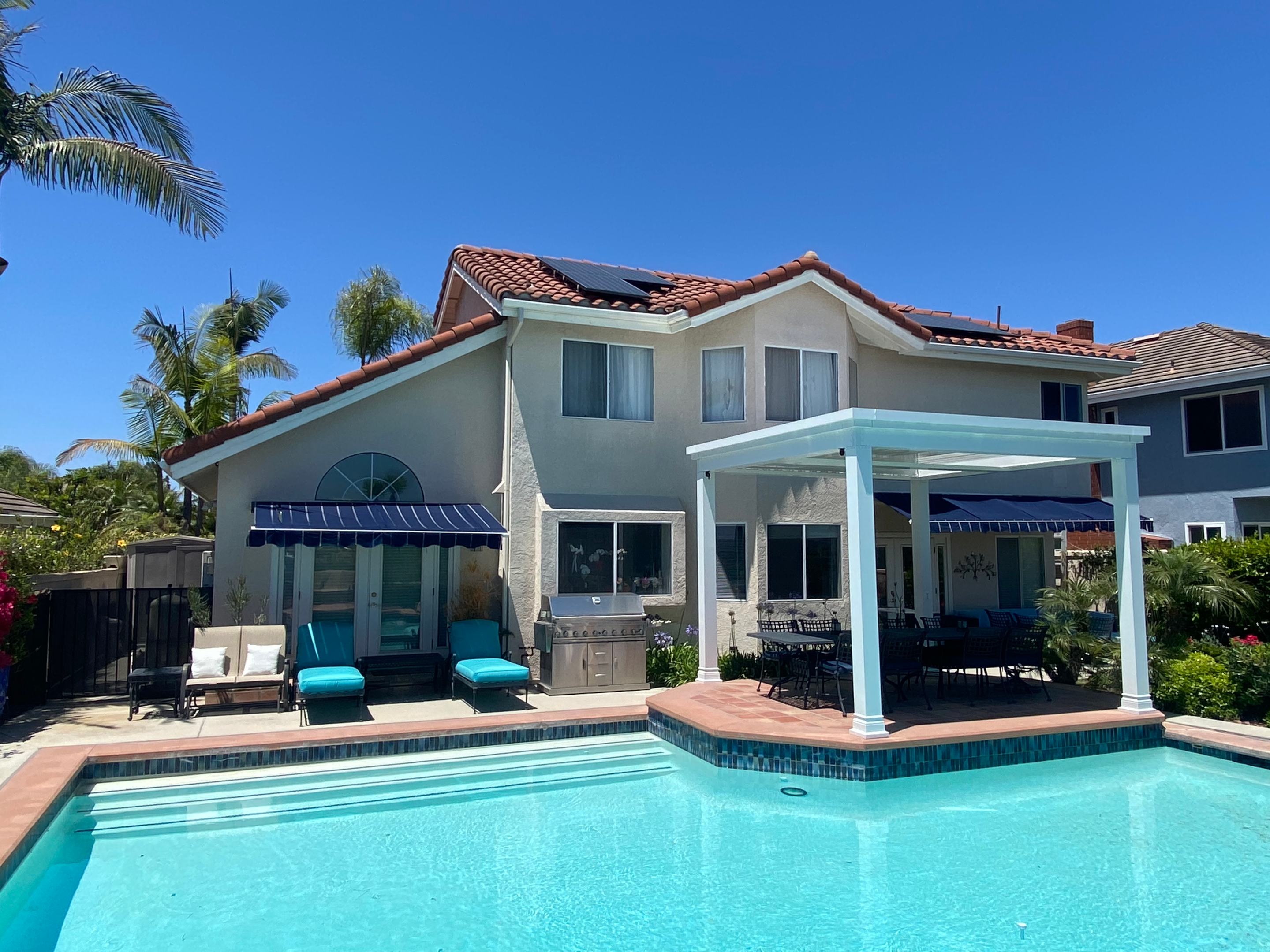 A fire pit cover under your pergola can be another added feature to increase the elegance of your experience. A fire pit cover will allow the transfer of het to be simple and easy as you want to decrease oxygen and put the fire out calmly.
This method can be entirely smoke proof, and will further add to the overall luxurious feel of the experience. This can align with the elegance of your already luxurious pergola set up and make the experience of your home even further elevated.