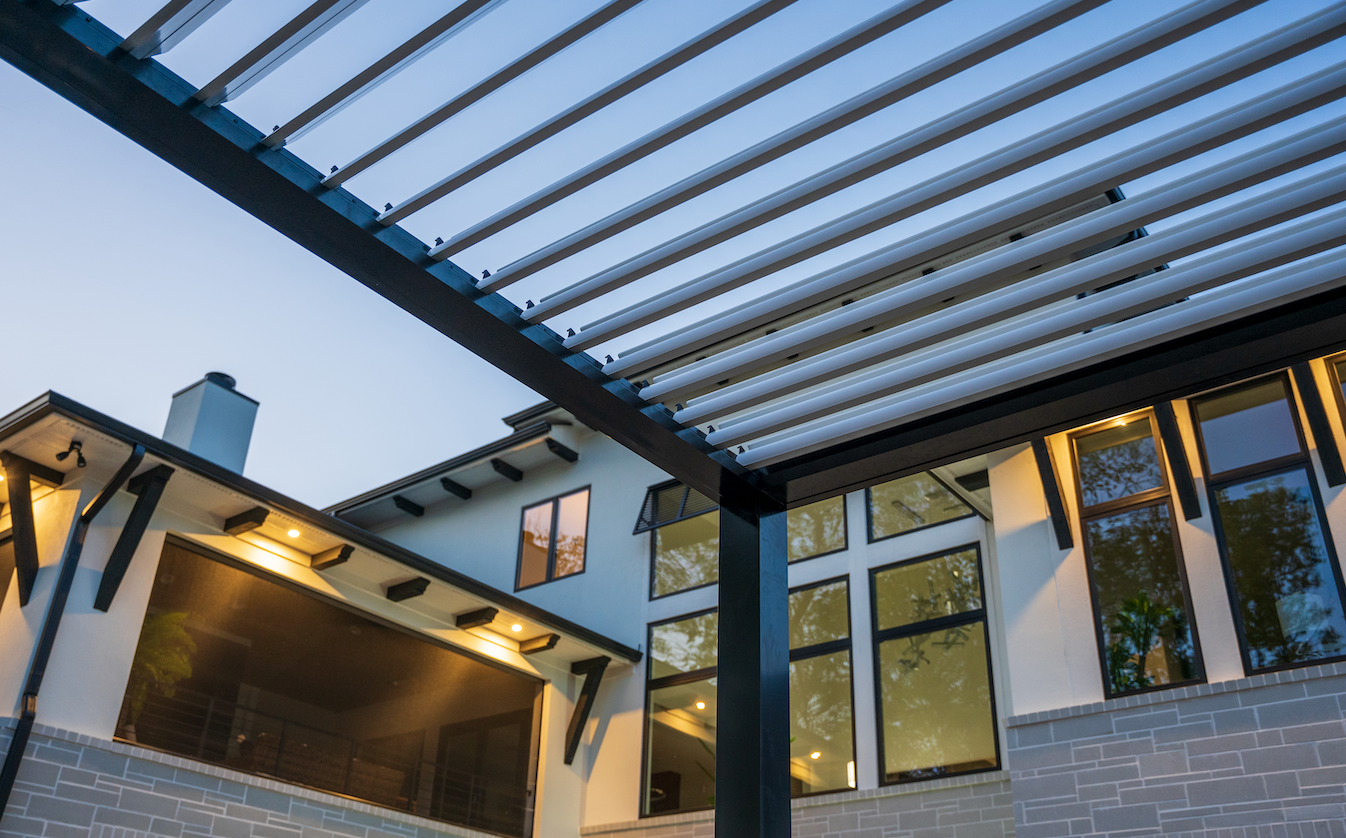 Listen to Article
Did you know Pergolas that open and close can be done via a remote control?
We are going to dive into some great information regarding the modern smart pergola and how the pergola roof and structure can enhance your backyard and also your life.
By the end of this article we will address multiple important aspects of the modern pergola roof such as:
Louvered Roof Pergola

Aluminum Materials
Louvered Roof Pergola 
Table of Contents
What is a Louvered Roof?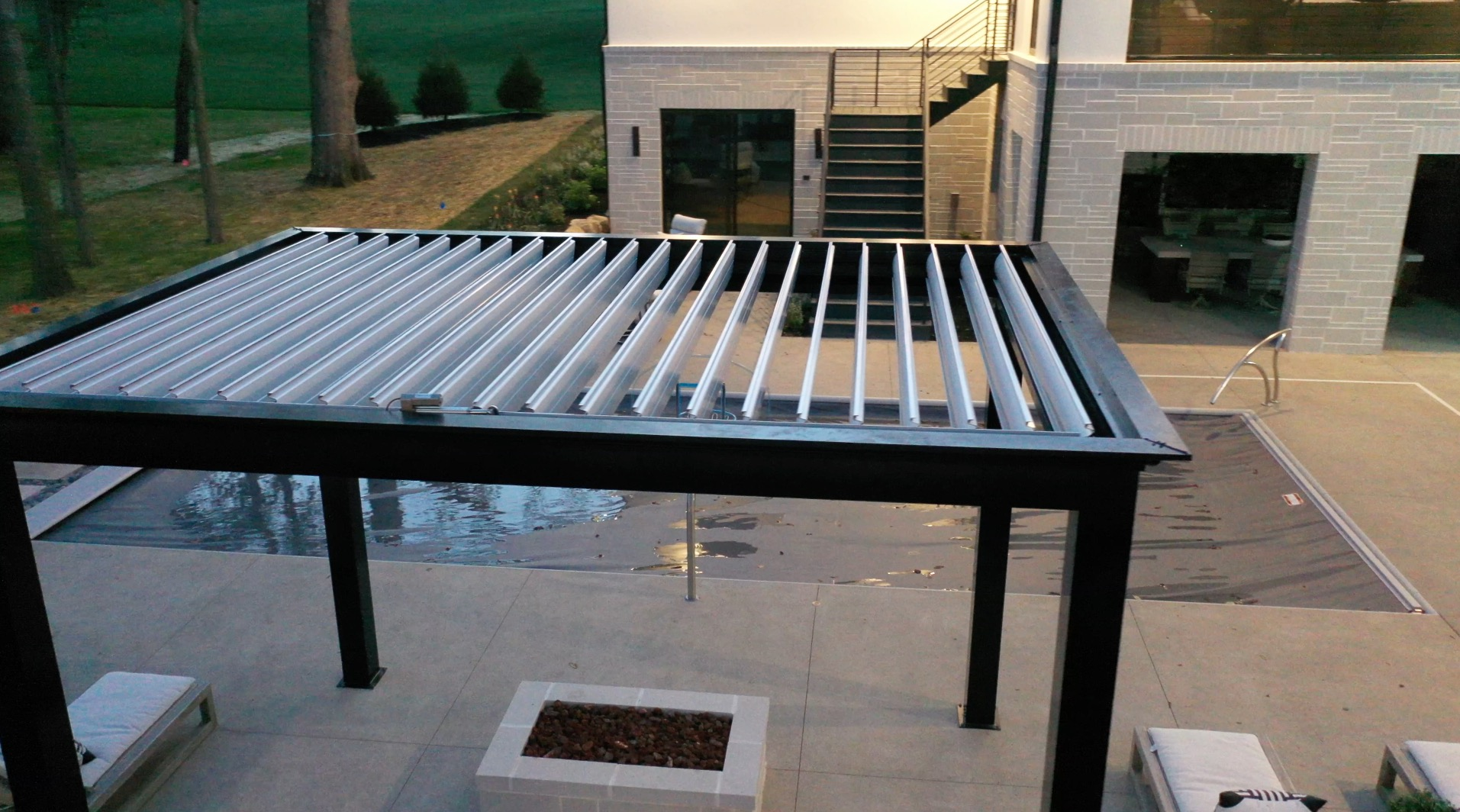 A louvered roof system is a roof that has adjustable shade, weather and rain protection, as well as coverage from the full sun. This is all capable to be done via wireless controller.
To Sun or Not to Sun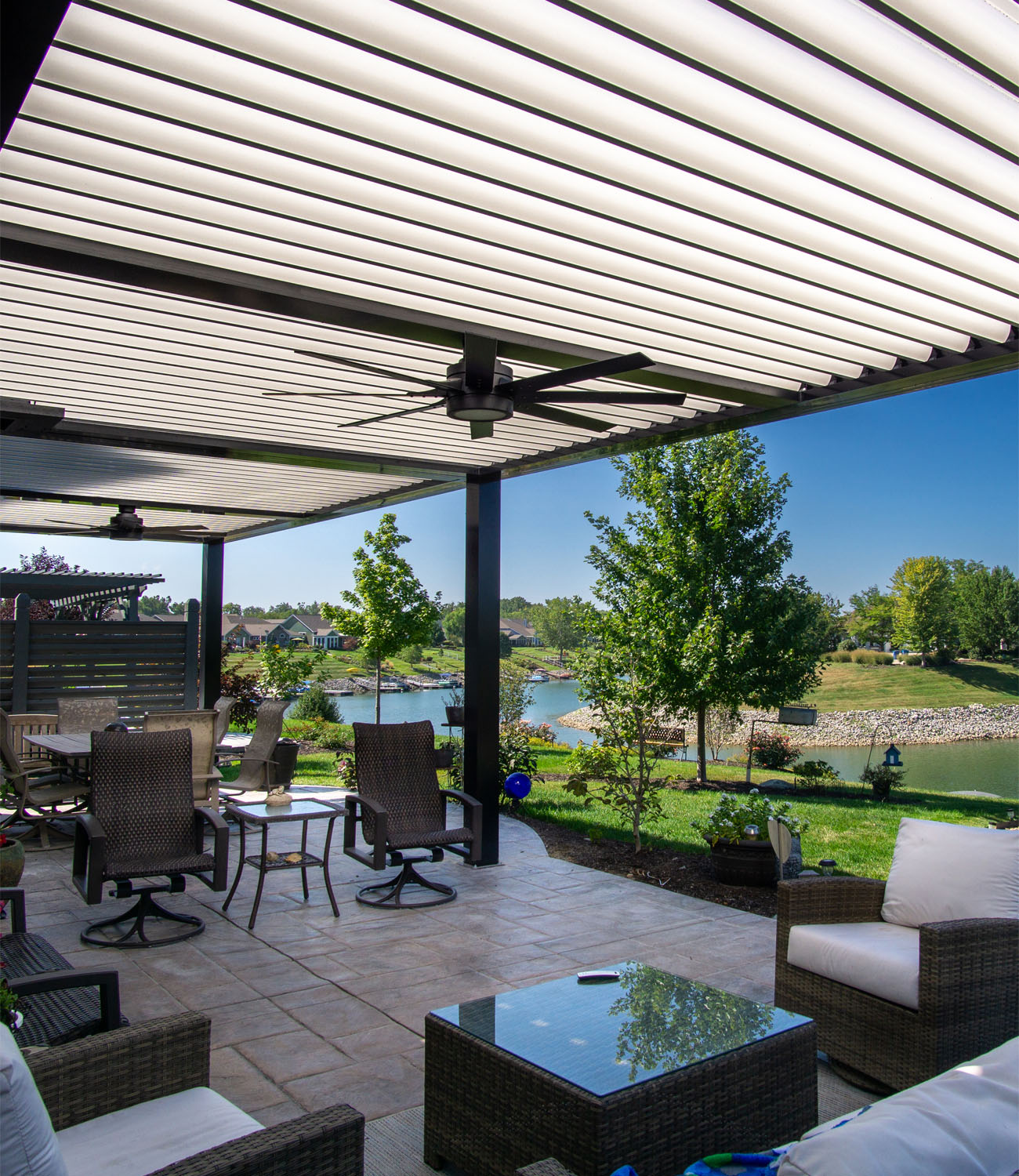 With the automatic roof system you can adjust your outdoor living space with a click of a button. Creating a space that can create shade or allow sun in.
This is possible because of the adjustable louvers being connected to an electronic system that is powered by a regular outlet. Putting the control of shade in your hands.
Remotely Controlled Luxury Pergola
Adjustable Louvered Roof Pergolas
Weathering Conditions
Blocking out the elements of the sun are a given, but how does a n adjustable pergola hold up with the outdoors various weather it throws at you.
Whether it is rainwater, high winds, or heavy snow fall companies like The Luxury Pergola have you covered.
Rain, Rainwater, and Drainage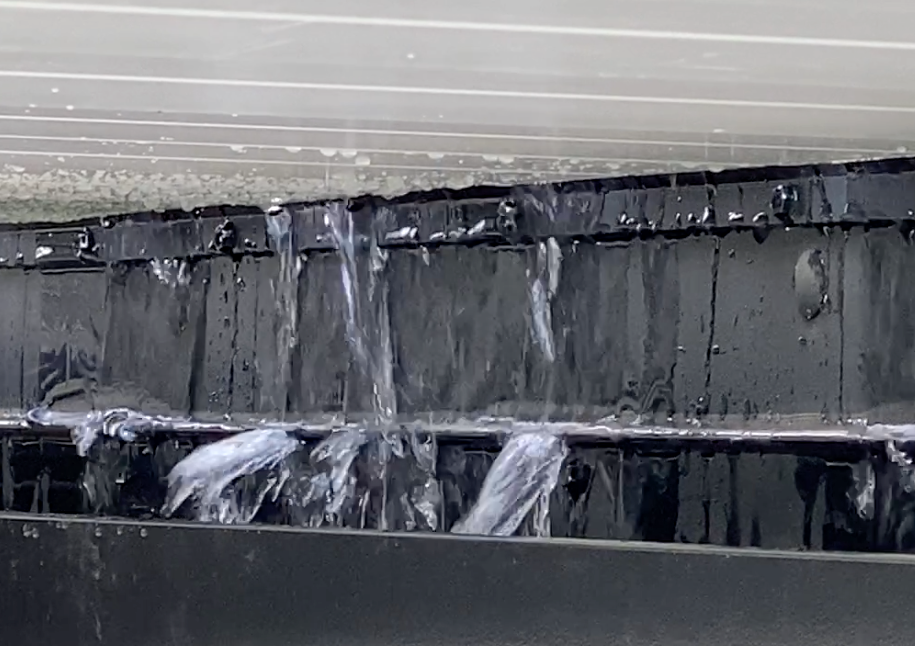 Due to the unique design of the pergola frame and the materials being aluminum you can rest easy with the concerns of metal degradation and rusting from rainfall.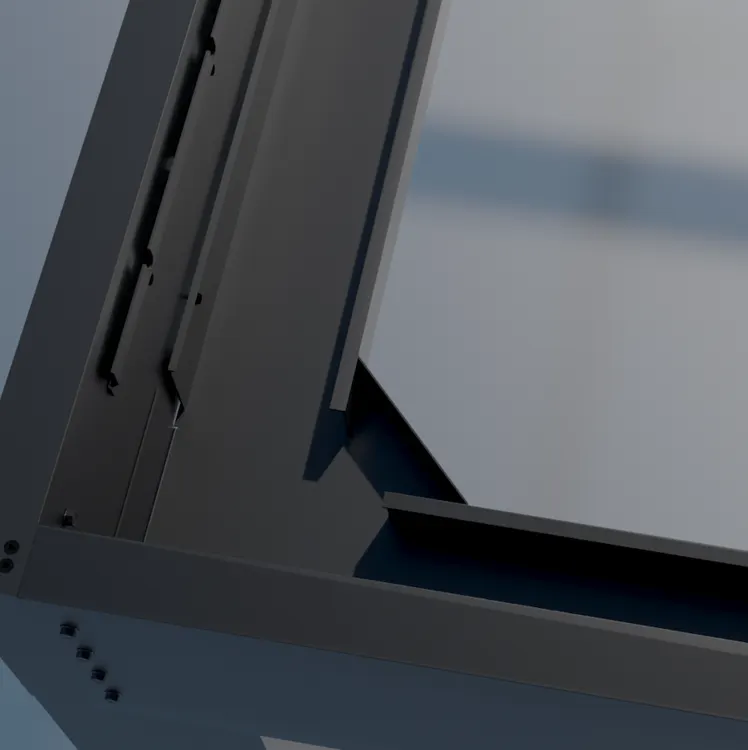 The louvered pergola can close on command and keep you dry when you change the louvers to close completely. It does this by pushing the rain into the integrated gutter system within the sides of pergola roof.
Preventing rainfall in your area can allow you to continue those hangouts in your outdoor living space despite some rain fall. The Gutter system helps direct the rain into the are you would like to have it sent. again giving you the control of the environment.
Snowfall and Ice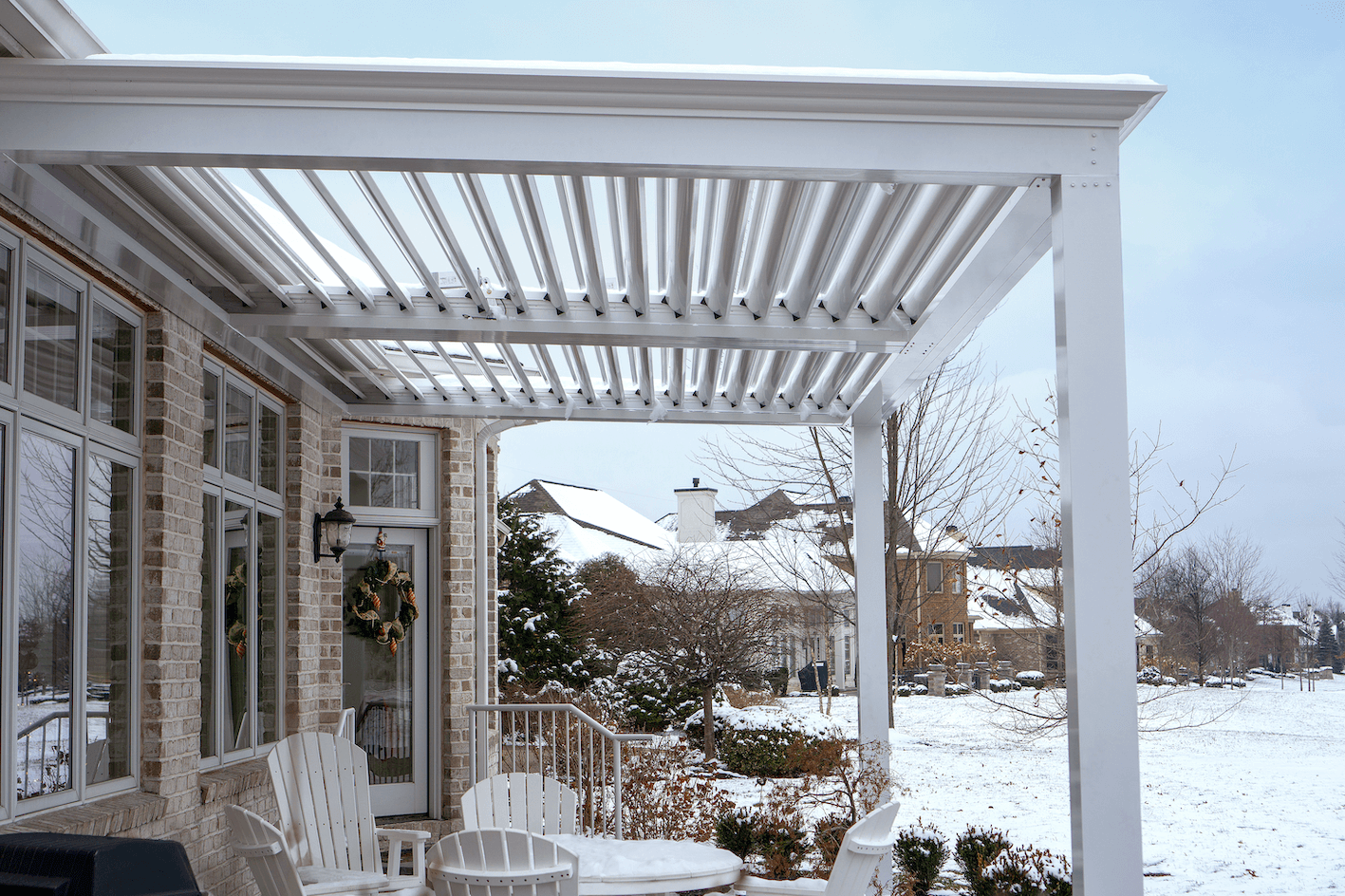 Living in areas that have heavy snowfall can be a good and valid concern when considering to get a pergola put on your patio or in your outdoor space.
With the Luxury Pergola, many owners enjoy having the peace at mind knowing they can keep their louver system closed to help prevent snow build up under the pergola and allow yourself to access the back patios space without any.
Snow Weight
Heavy snow loads are again, a valid concern. Which is why it's important to know that the Luxury Pergola options can hold up to 20 pounds per sq. ft.
Weather Resistant Louver System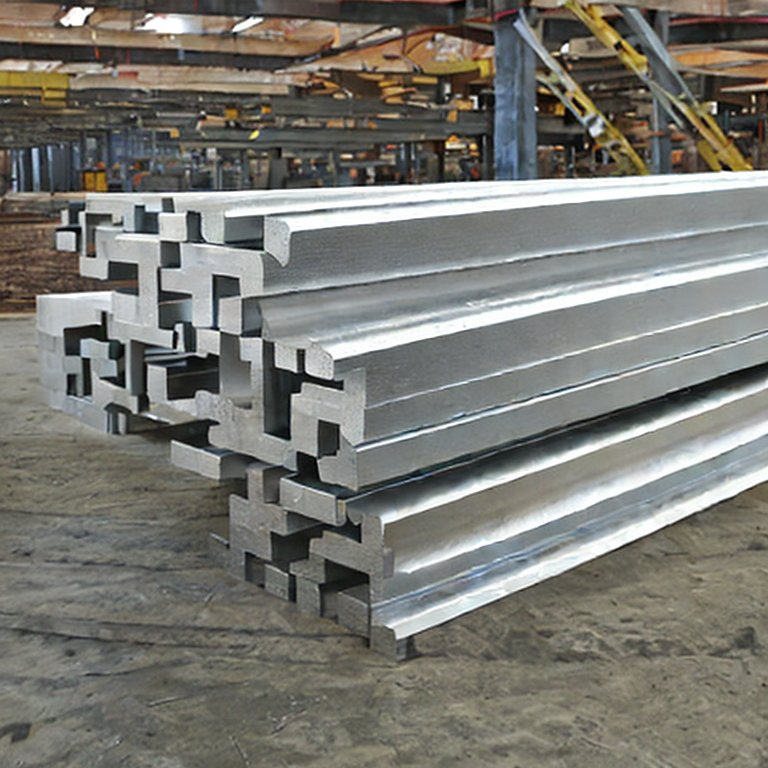 While everyone has a personal style and taste when it comes to pergolas. It is also important to consider the hardiness and longevity of the structure you are wanting to build in your backyard.
Durability
Aluminum is an incredibly durable material. Being resistant to rust and decay. Aluminum won't warp or crack over time like how wood can do from weathering.
Maintenance
With aluminum having weather resistance, maintenance is minimal as comparable to wood. Which after so many seasons may need to be replaced depending how weathered the wood framing or stationary louvers are.
Longevity
When you combine the durability and the lack of maintenance needed, you'll quickly come to realize that aluminum can last longer with less care. This means you can spend more time enjoying your pergola than caring for it.
Outdoor Space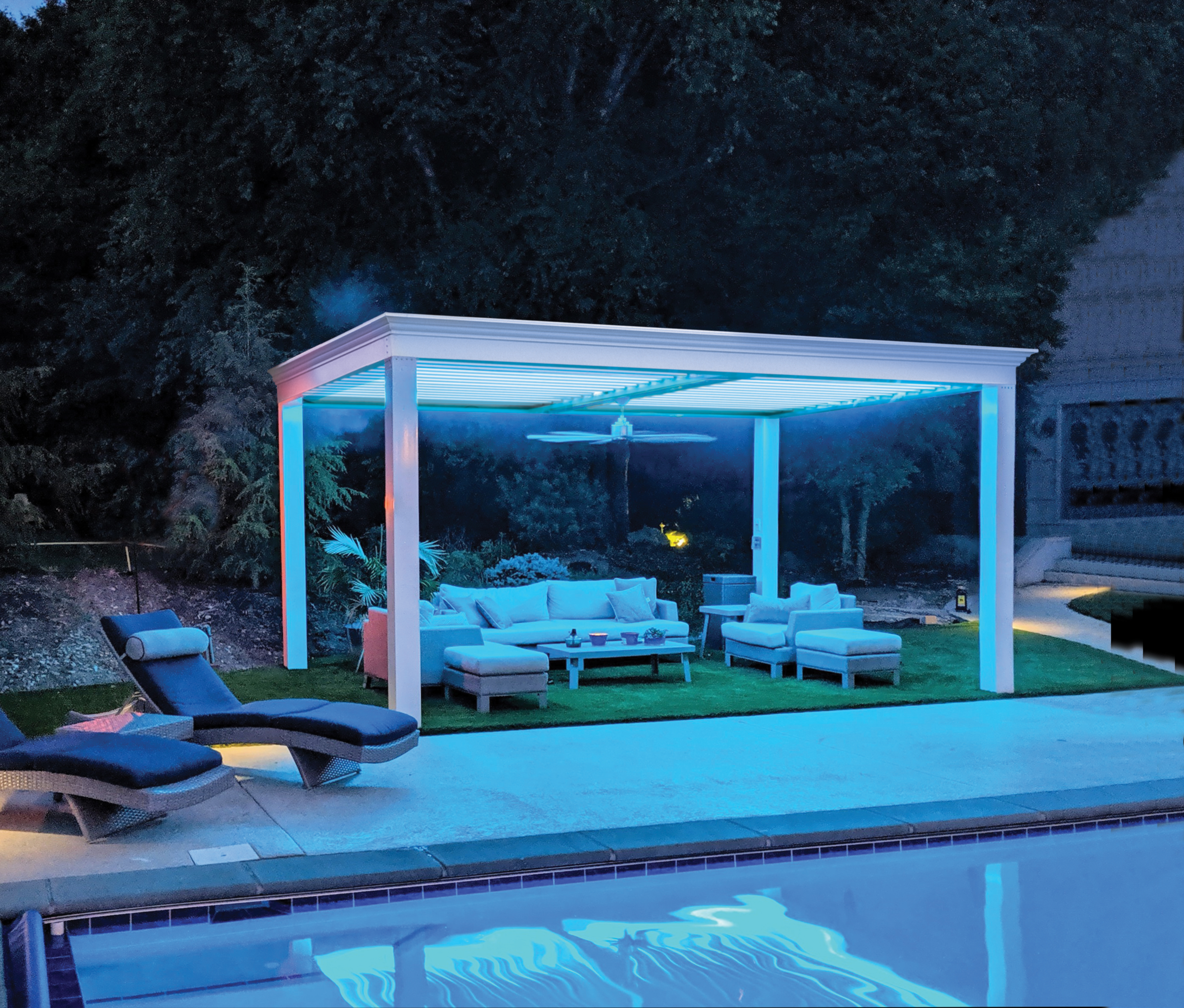 Including Pergolas that open and close transforms your regular patio and can create a space that brings comfort and simplicity to your world.
Pergolas are a great replacement for patio covers that gives you that adjustable shade. The simplicity is truly an environmental innovation.
Best in the Market
Hopefully this blog has helped guide you through some of the great and many reasons for you to invest in a smart pergola structure with automatic louvers over one that has to be closed manually.
Remember to do research and watch videos to help you with deciding what is best for you, but I have faith you'll fall in love with the smart pergola system.