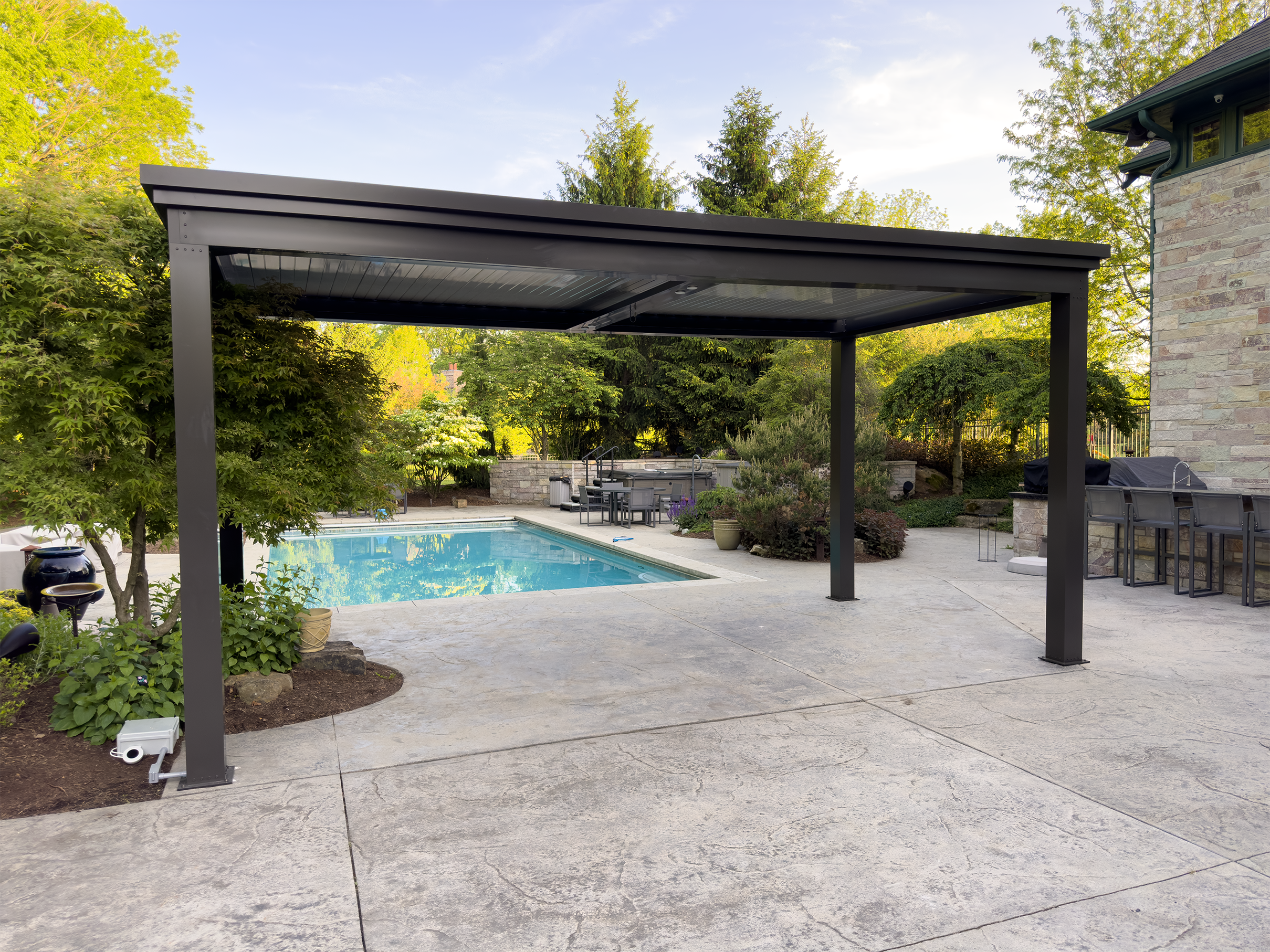 Listen to Article
Aluminum Pergola Kits are a modern blend to industrial integrity and historical pergolas. They offer quality ability and protection at a budget cost while still providing a luxury experience. Design and beauty can enhance any backyard space to create an unmatched yard with the addition of an aluminum pergola kit.
The Best Aluminum Pergola Kits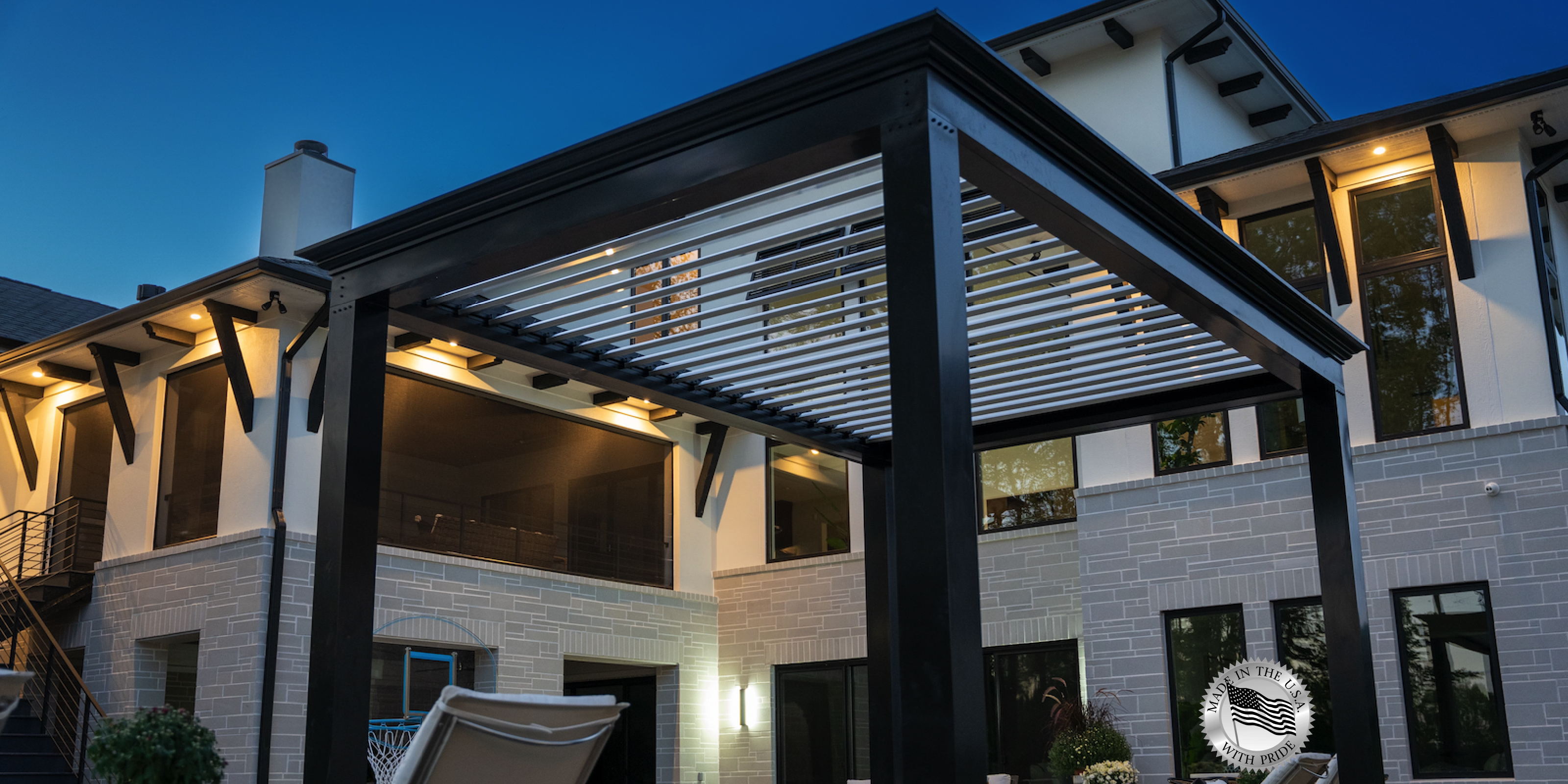 After scaling through the internet it is clear the luxury pergola provides the best kits, here is what they offer.
Best Overall: The Luxury Pergola 12x16
Timeless design matched with beautiful colors and a sleek assembly give you the 12x16 kit. It is able to accomplish all of a homeowners needs at a budget of the price.
Best Large Size: The Luxury Pergola 12x20
The great sizes offered are a perfect match to the 12x20 kit. It is large and durable thanks to it's clean strength with aluminum.
Best Small Scale: The Luxury Pergola 10x10
This simple building will maintain all the elements you would like without the risk of rot like wood pergolas. The styles available cam match an yard and thankfully it is no where close to expensive.
Minimal Maintenance Required
With the luxury pergola, nothing stands in you way in regards to maintenance. We created a plan with lots of research to maintain functionality with as little upkeep needed as possible.
The pergolas are durable and contain quality hardware that maintains function for the long run. We determine you will have to check on this system rarely ever.
What separates an Aluminum Pergola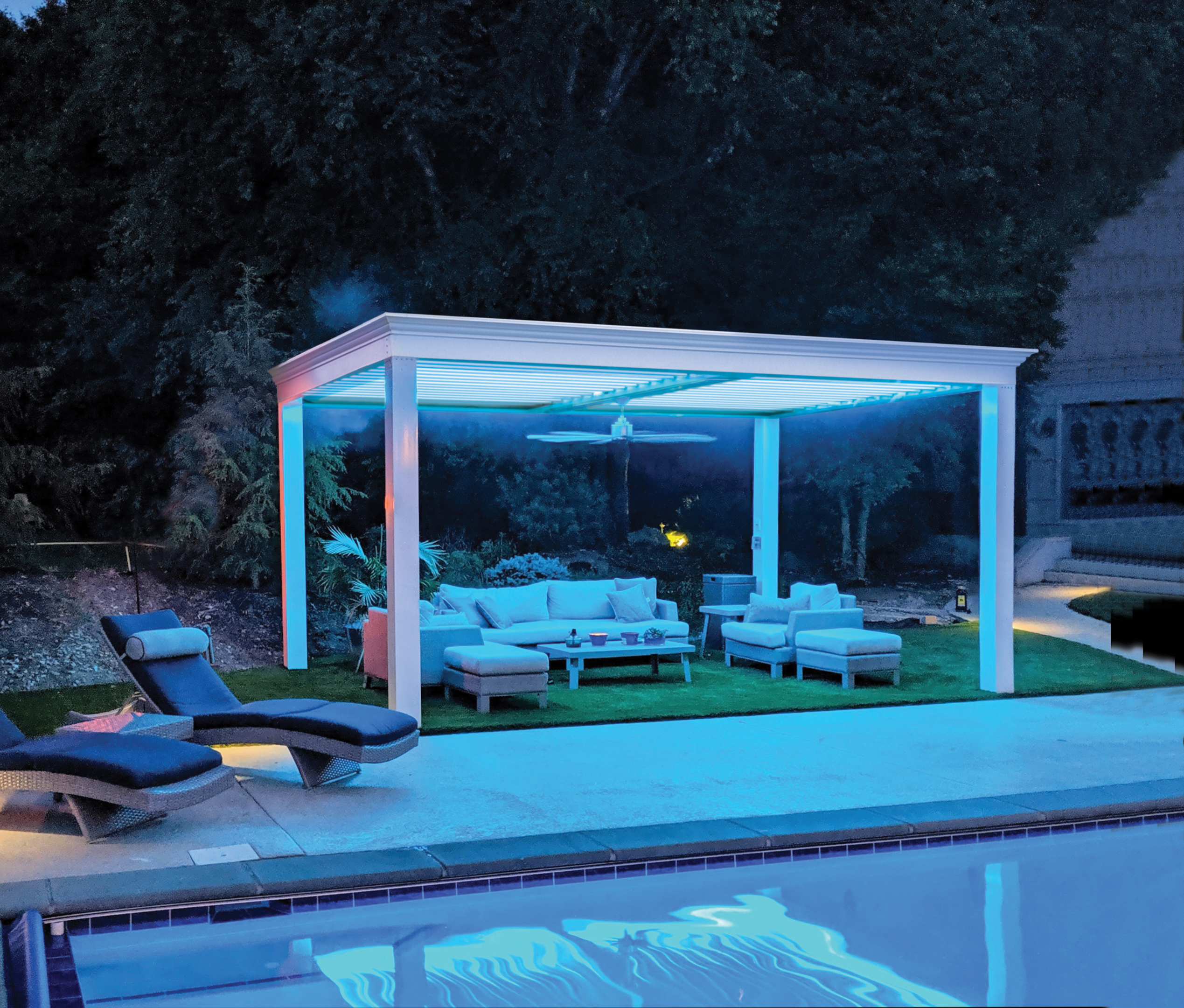 What separates an aluminum pergola kit from other kits is the pergolas ability to have a high quality design while being stronger and more weather resistant than other materials like wood and vinyl. This resistance is thanks to the high quality aluminum extrusions we use in construction.
Assembly of these pergolas is quite easy as the timeless design provides a blend of styles and beauty whilst still maintaining simplicity.
Additional Features For Pergola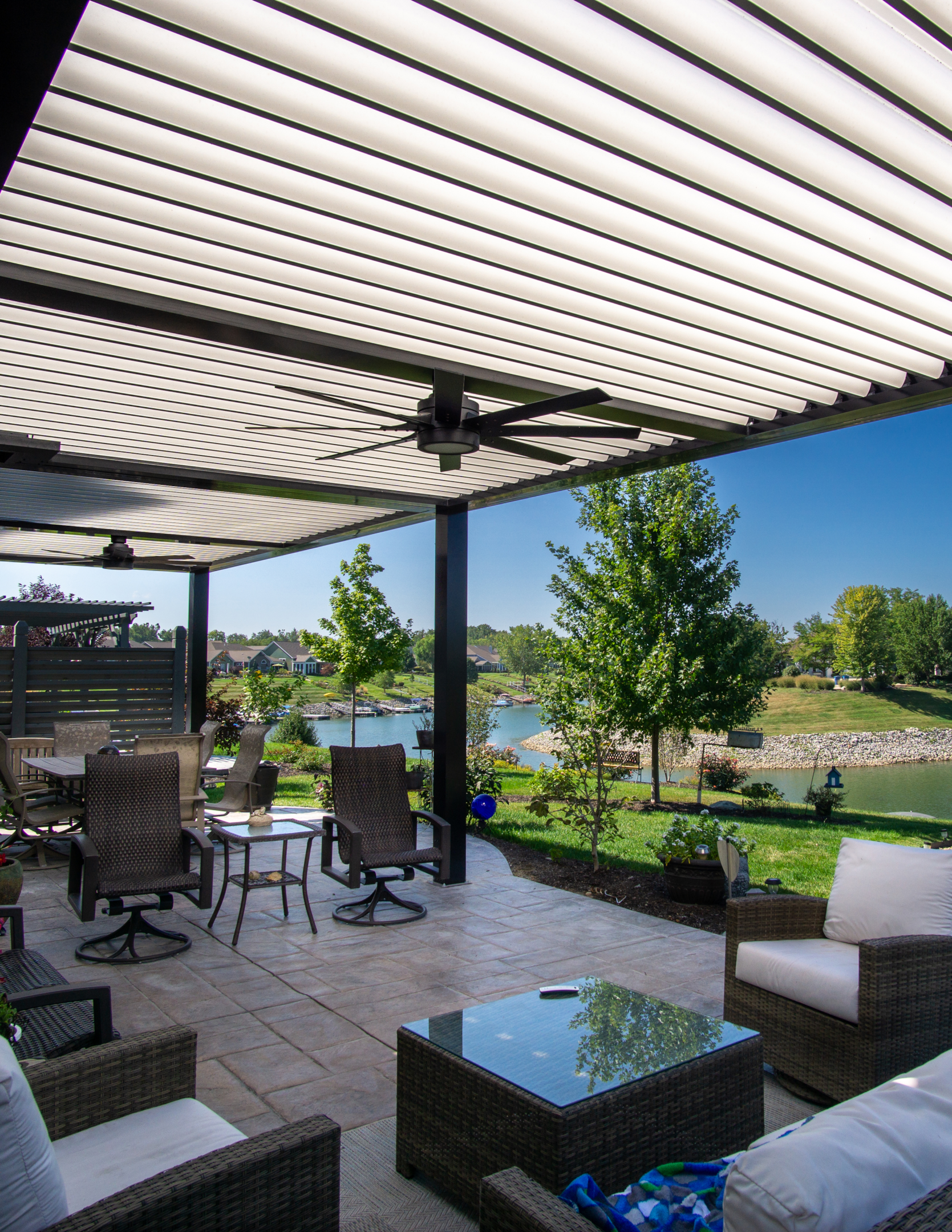 Other features that home owners like to add to their pergola are things like heaters, speakers, lights, fans, or more to upscale the environment even further to their shade. This can compliment the style as well and give a more modern look.
Materials used for this could be up to home owner preference as it is your project to create how you like. This allows for ultimate customization in your project.
Durable Materials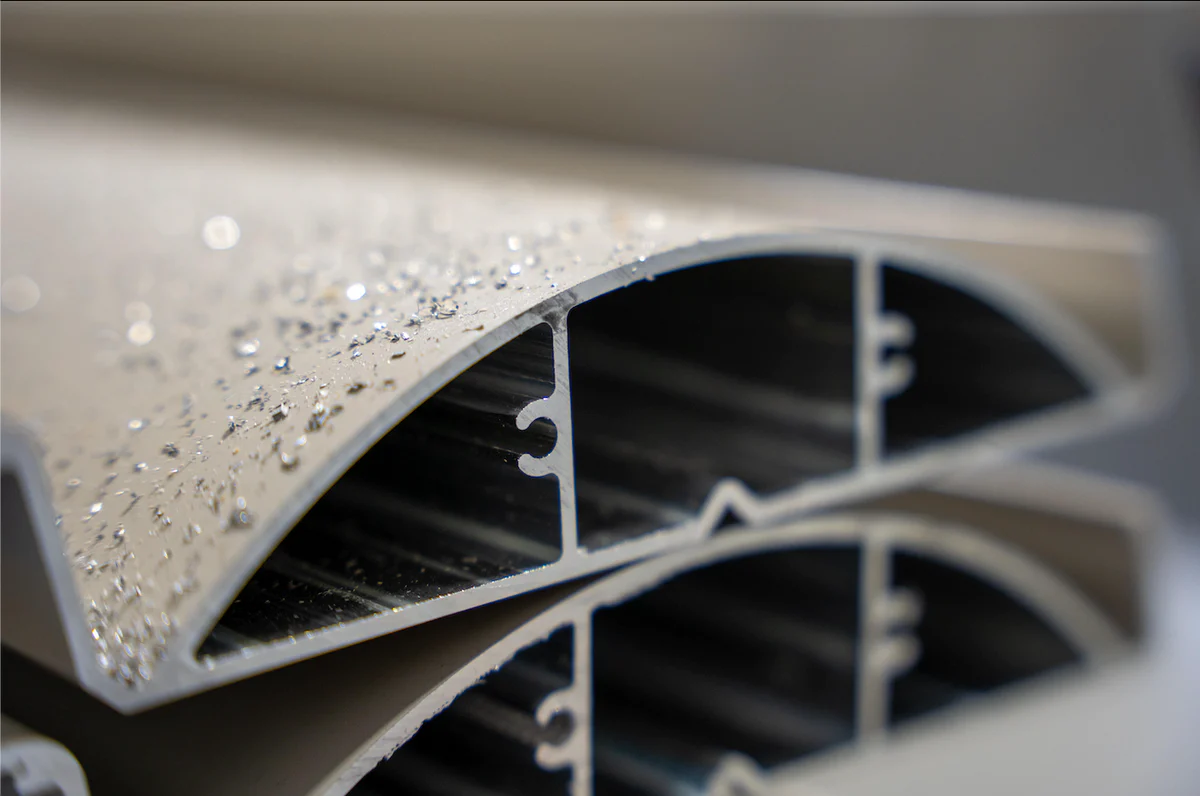 Durable materials are the greatest separating factor in quality of pergolas. They allow for the ability to withstand all weather whilst maintaining high function.
Painted To Withstand Extremes
Our powder coat paint method allows for longevity while providing style and protecting the aluminum frame all at the same time. This paint can withstand heat, cold, wind, ice, and more preventing rust on the frame as well.
Aluminum Requires Minimal Maintenance
Similar to the paint, this strong aluminum frame is made to be resistant to all weather. It can also withstand heavy loads while maintaining a light weight itself which is convenient and functional.
Quality Hardware For Longevity
The motor is the moving piece of the louver system that makes it all run. We made it easy to install, under warranty, and have resistance to all elements keeping minimal maintenance required.
Shade From The Sun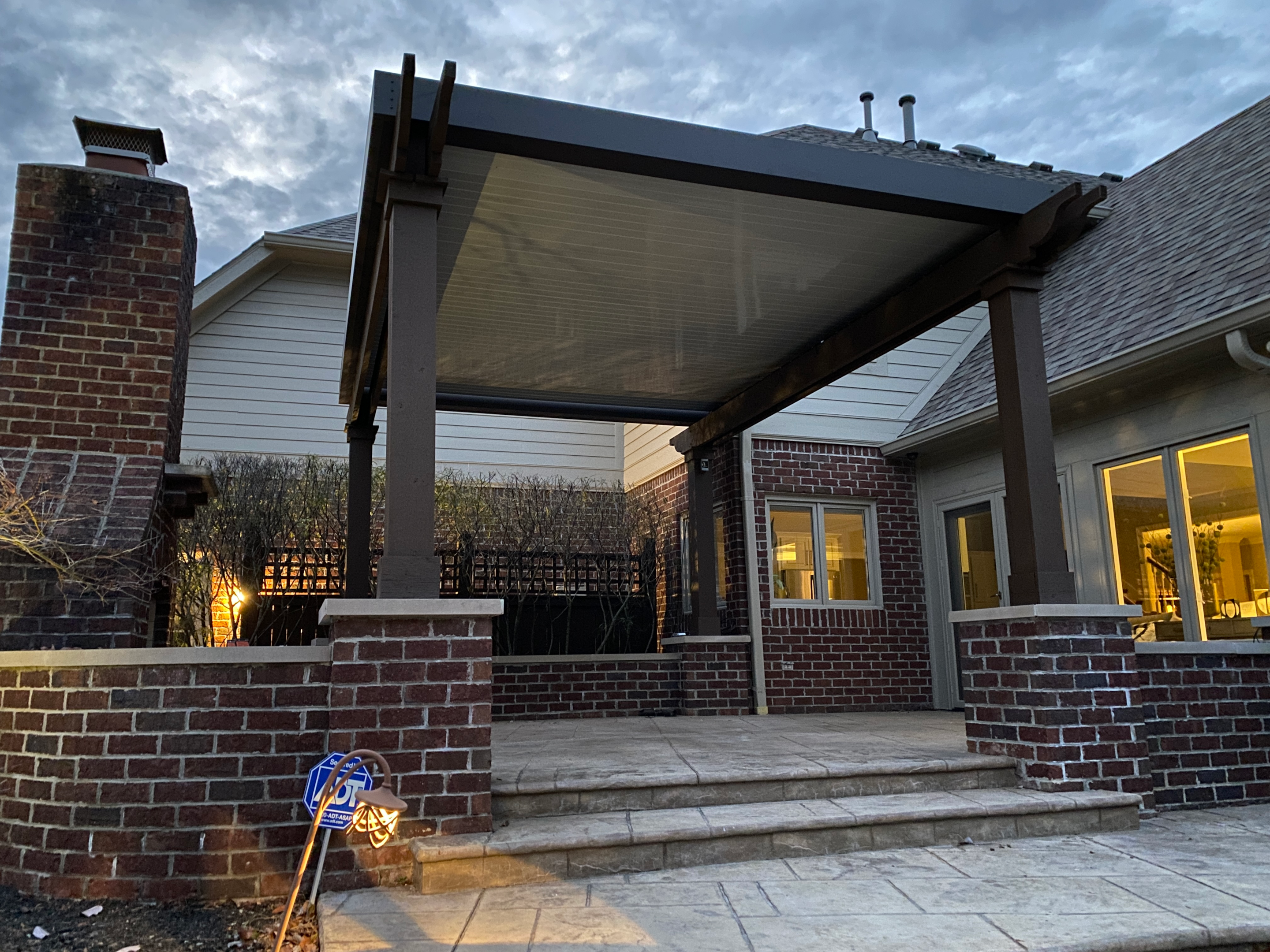 Shade from the sun is rated as one of the most desirable features one can have in their home. Aluminum pergola kits provide an adaptable roofing system that can create shade at the click of a button.
Aluminum vs. Steel Price (Best Metal)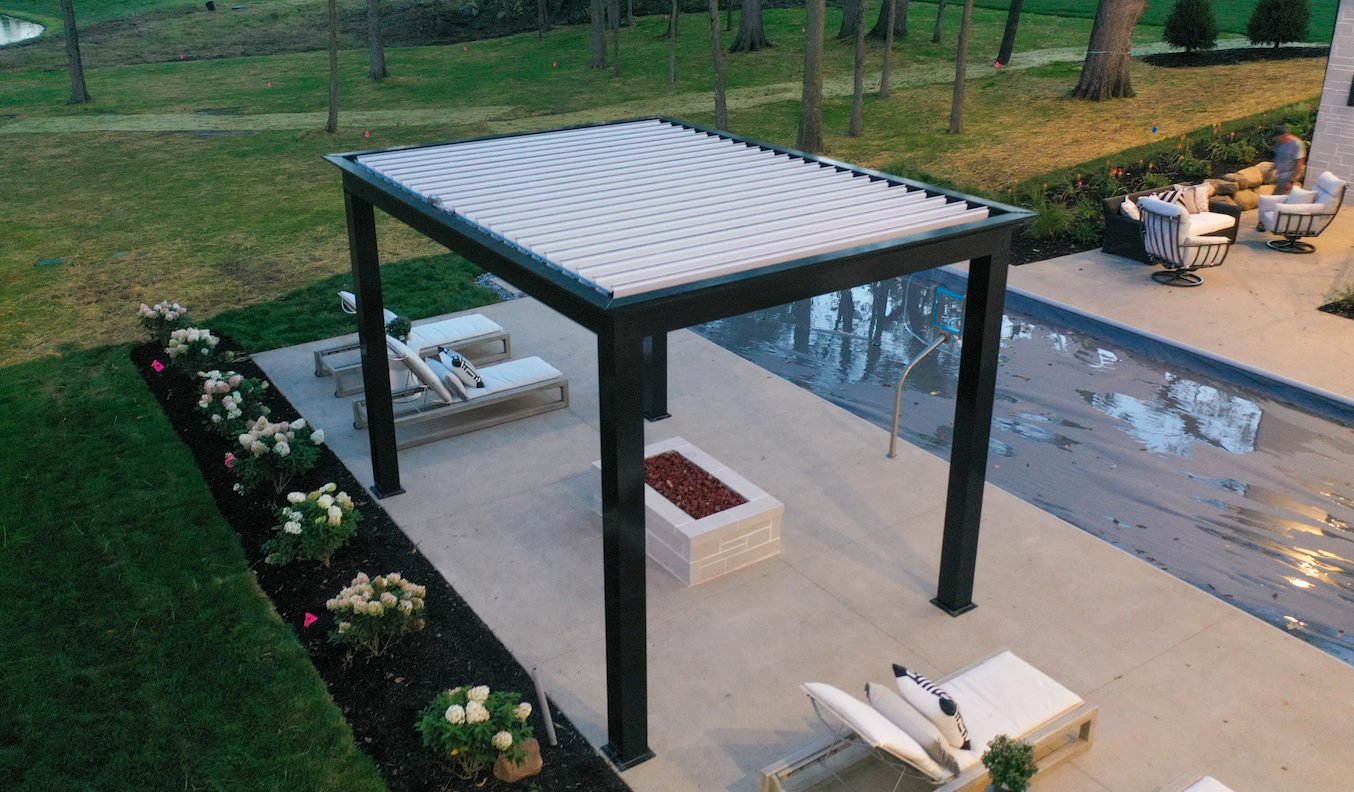 Aluminum pergola kits are the more popular option to steel due to several reasons, especially cost. Steel (unless stainless steel) tends to rust heavily or will be costly from it's treating process.
The warranty for aluminum pergolas is better than steel pergolas for that exact reason. Aluminum remains the most popular option.
Construction, Structure on Patio, Deck, Etc.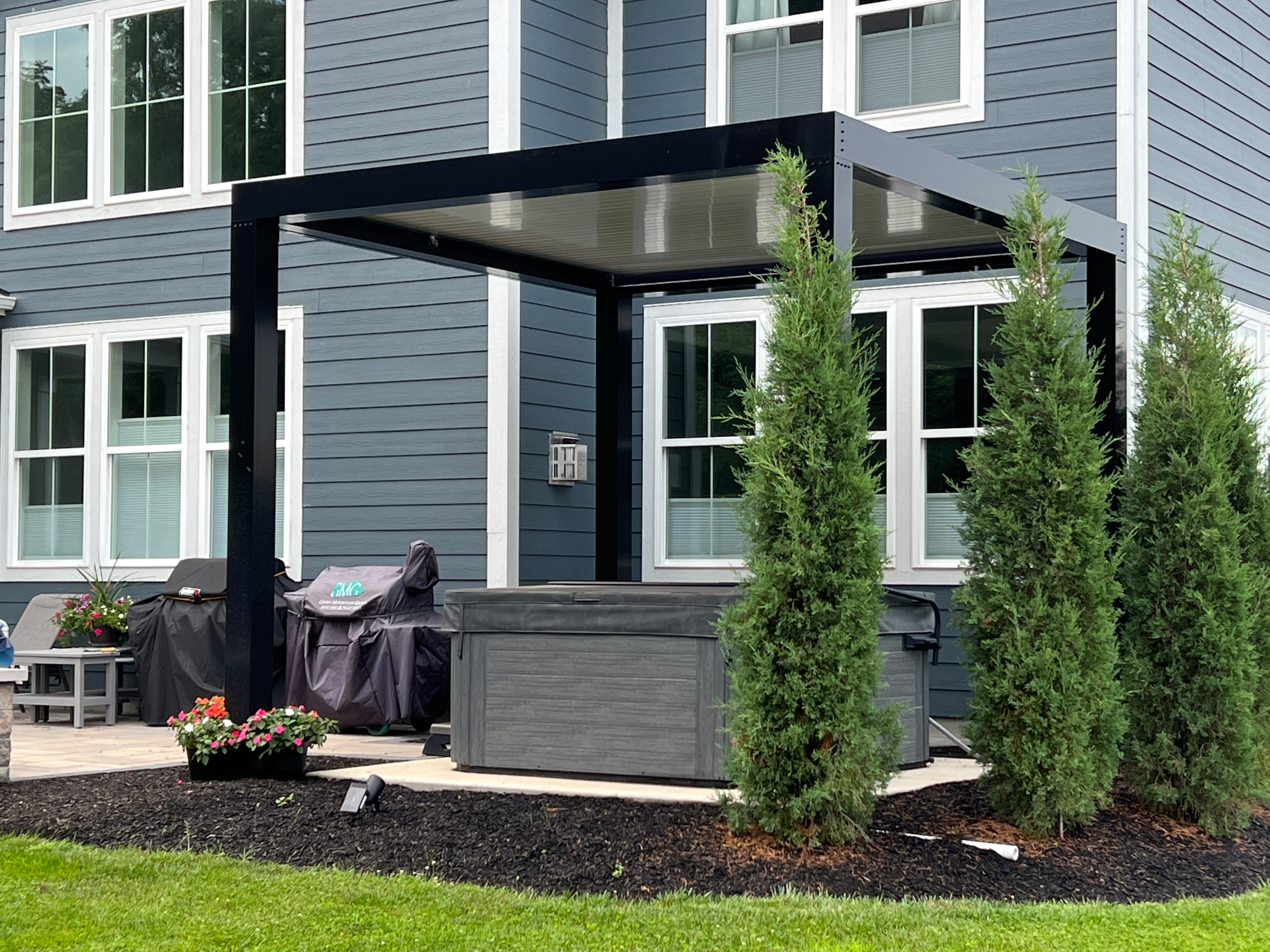 Construction and assembly of these kits will take 1-2 days, people often ask questions regarding installation on varying bases. Here are the answers provided.
Patio
As for patios, you will either want to cement in the patio in the grooves or add footings, this allows for a pure foundation for supreme wind resistance.
Deck
As for a deck, you will want to attach the pergola system to the cross beams of the deck. This may be done by adding wood to connect the beams. This allows for a strong foundation for the system.
Slab
A slab is as is, it is the simple option that does not need any changes. Simply pour and build your structure to whatever beautiful size you want.
Create Your Ideal Backyard Style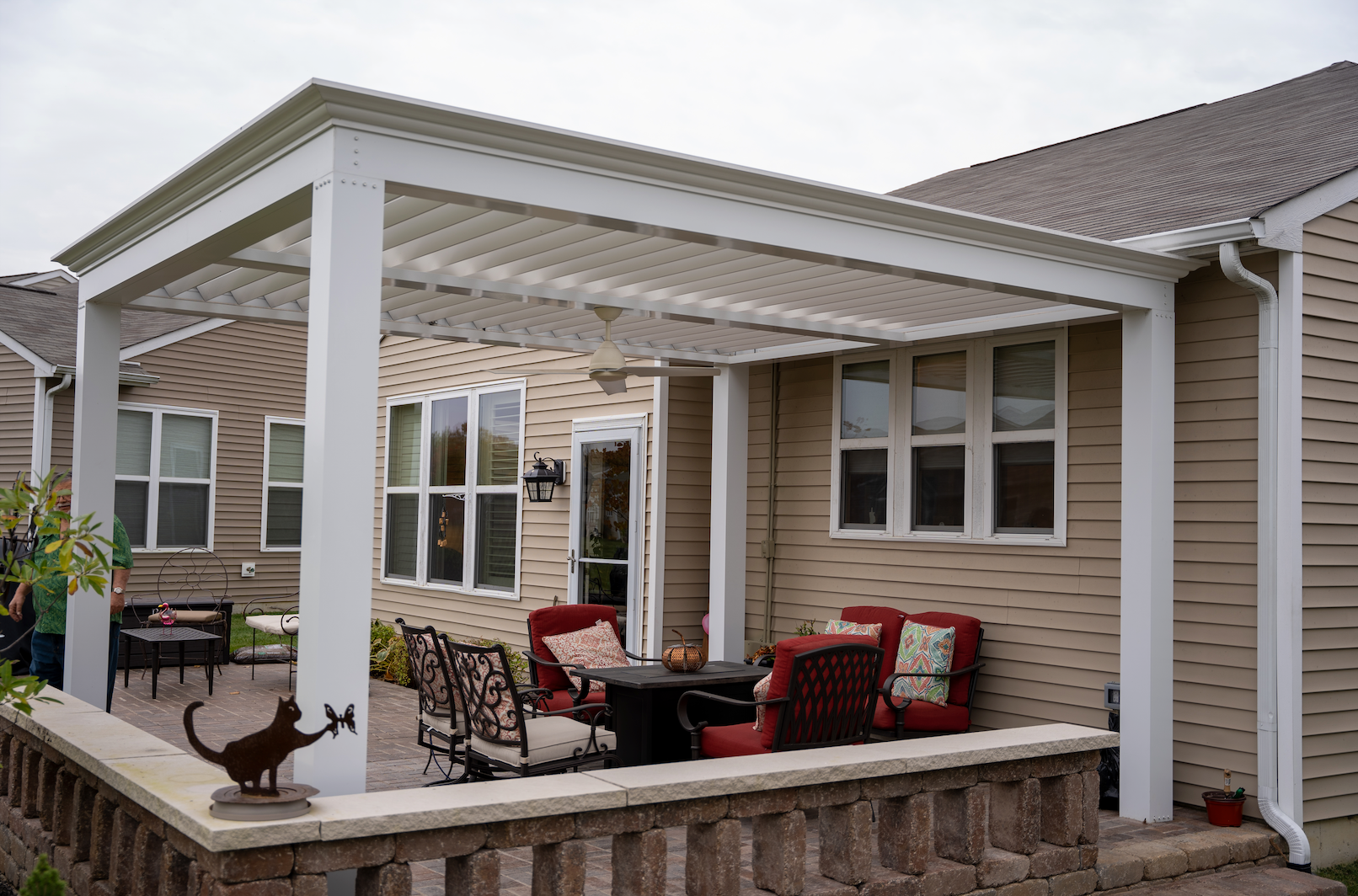 Pergolas will take your yard to the next level as you find your ideal aluminum pergola kit. This can be placed by a pool, next to a wood sauna, a barbecue area, or even a wood fire pit.
Created your ideal backyard, there are several luxury outdoor styles that you can visualize and have exactly the way you want. It is your picture to be painted to perfection.
Quality Warranty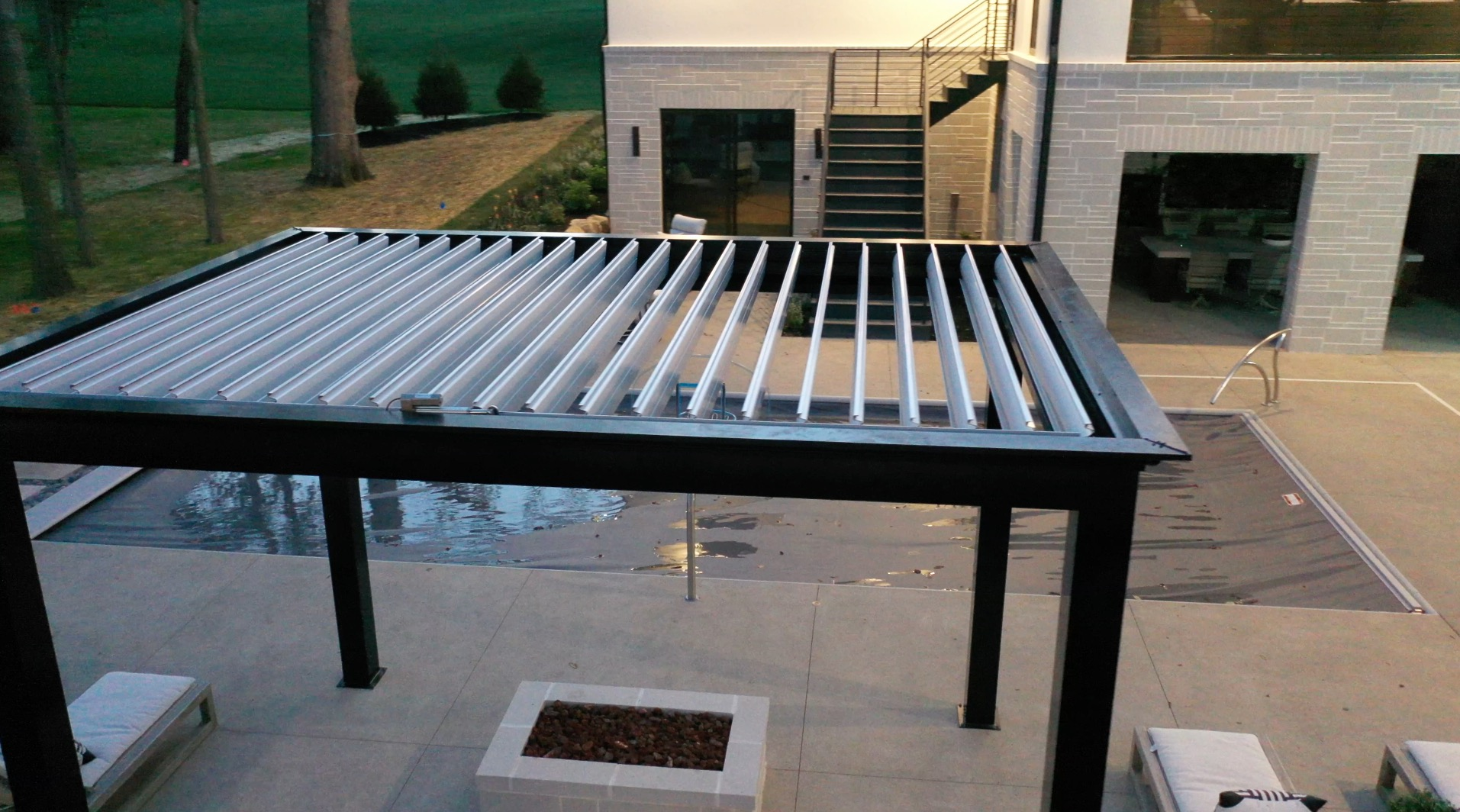 Regardless of varying sizes and colors the warranty remains the same. It is a high quality long term warranty on materials that will keep you feeling safe throughout the pergolas installation.
Heat, Sun, Rain, Snow (Resistance)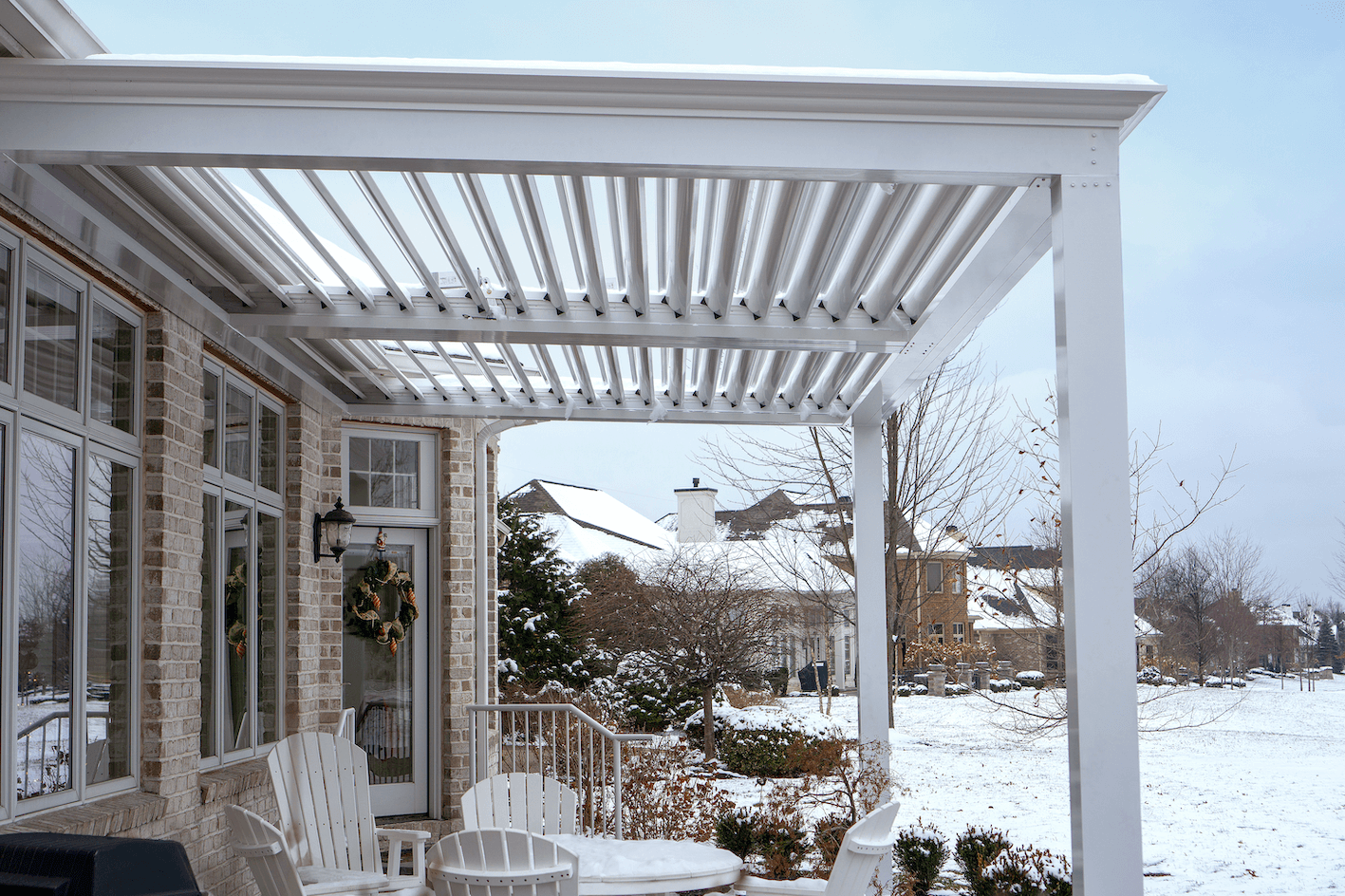 Aluminum pergola kits have gained popularity due to their weather resistance. In any climate from Florida to Washington state these pergola kits can take heavy snow and wind loads.
Having high weather resistance is great for longevity in pergolas, if you want your pergola to last more than 20 years go with the luxury pergola.
Wood vs. Aluminum vs. Vinyl Pergolas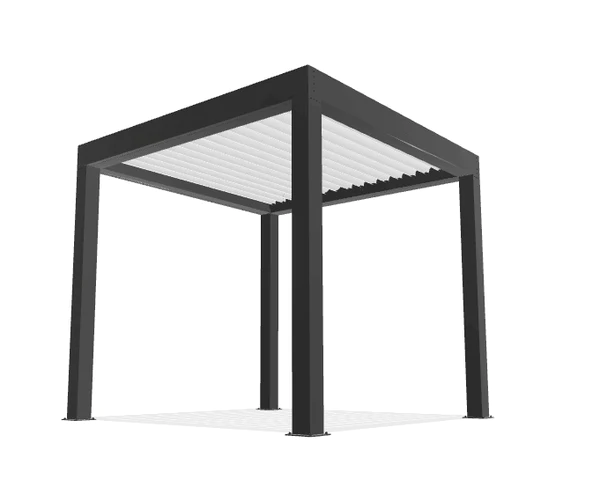 As for all the materials available, there is a reason why aluminum has become more and more common. Wood tends to rot after some years of weathering and moisture retention. Vinyl, unlike wood, is very weather-proof. But it is prone to snapping with heavy strain.
Aluminum reigns supreme as it does not weather from moisture nor does it snap from the strain of snow and wind. Aluminum is the way to go for these multitudes of scenarios, making aluminum the best of pergola materials.
Install a Quality Project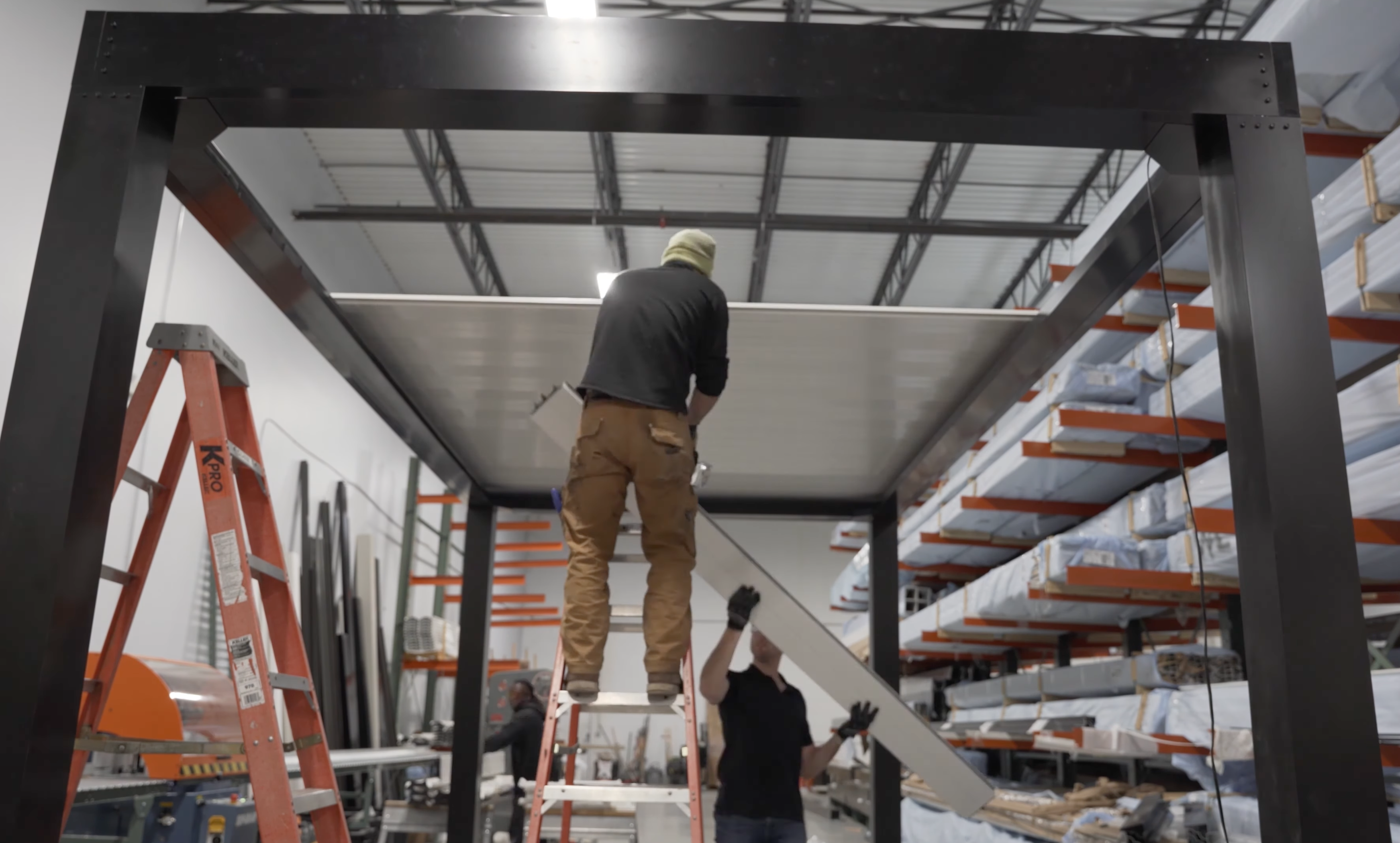 During installation you want to make sure you have a quality project. This can all start at your solid base. With a good foundation these pergolas are made to stand the test.
Wether installation with you and a couple of friends on a sunny afternoon, or hiring an installer to come get it done right away. These pergolas are easy to install and high quality to make sure you have a lasting, excellent product.