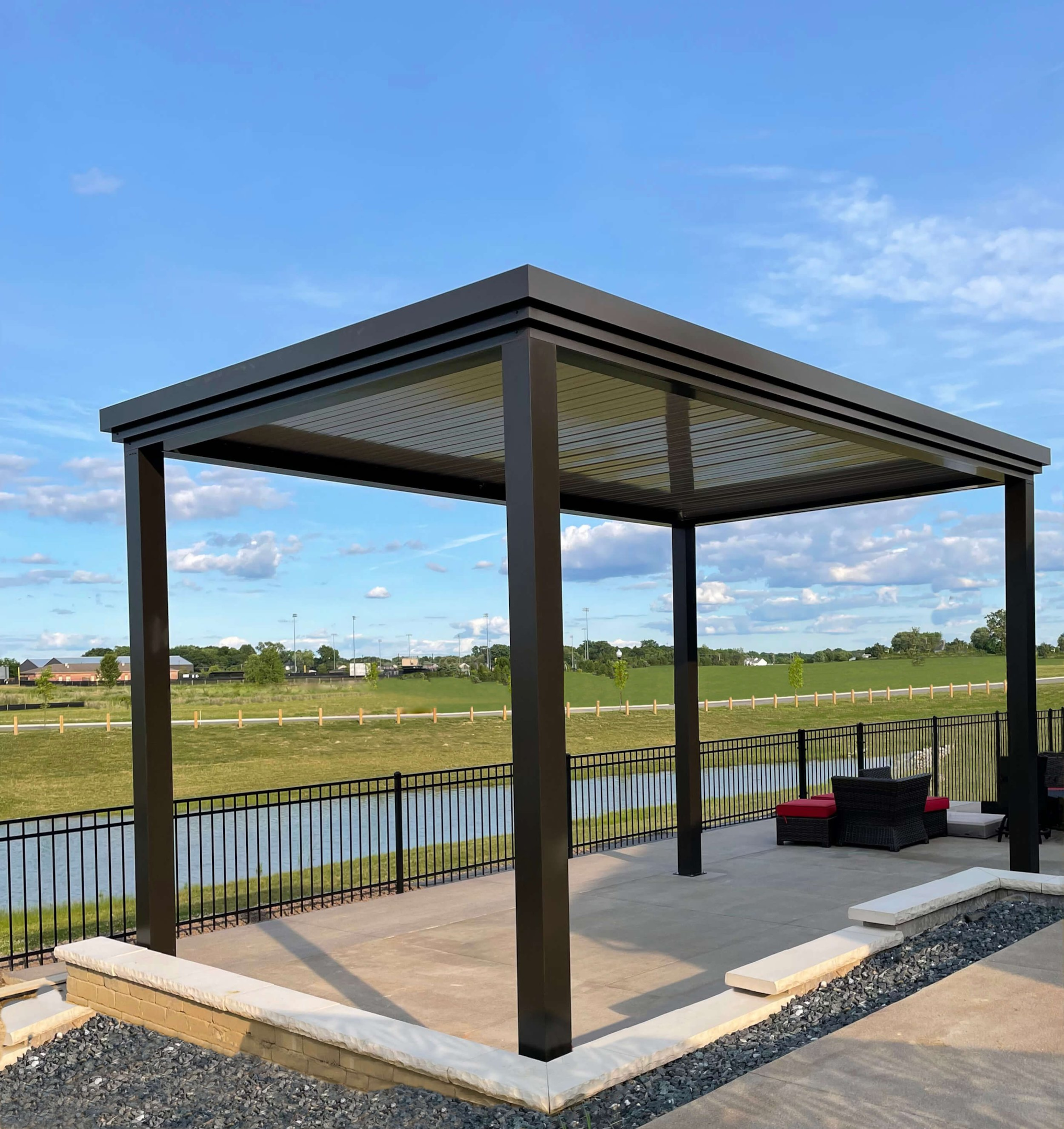 Listen to Article
Introduce architectural interest to your outdoor area which are slowly becoming the top outdoor solution to transform, extend, and elevate your outdoor area.
The Rise of Aluminum Pergola in Modern Outdoor Design
Creating an outdoor paradise for yourself to relax and add beauty to your outdoor area has become easier and more ideal with a durable aluminum pergola. Being able to choose your design and style of pergola with it being extremely durable and versatile will make your backyard be the backyard that everyone wants and dreams about.
Benefits of Aluminum Pergolas
An Aluminum pergola has many different benefits to it. Due to the material used, it is an extremely resilient and sturdy structure. It can accommodate many different environments and weather conditions. You can design it to your pleasure to make it be an extension of your home, and you can use it to be an entertainment hub.
Another benefit of having aluminum as the material used for your pergola is that it will be resistant to rust and rot. It allows you to control sunlight, wind, and has resistance to a lot of different elements.
Louvered Roof Pergola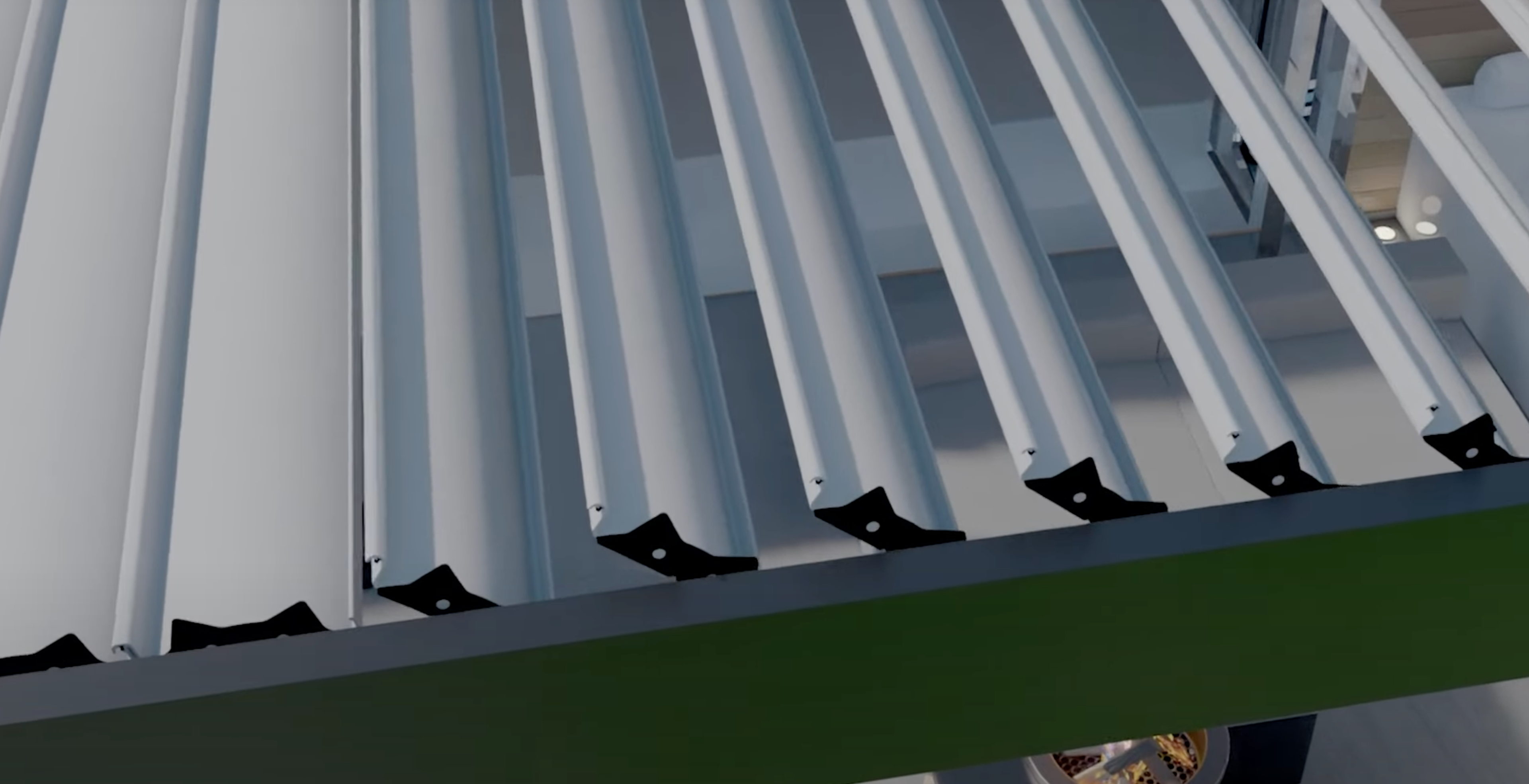 The Luxury Pergola's aluminum pergola comes with motorized louvers. With these, you can choose exactly how much sunlight, wind, rain, snow, and other environmental elements you would prefer to have in your outdoor area.
Style and Versatility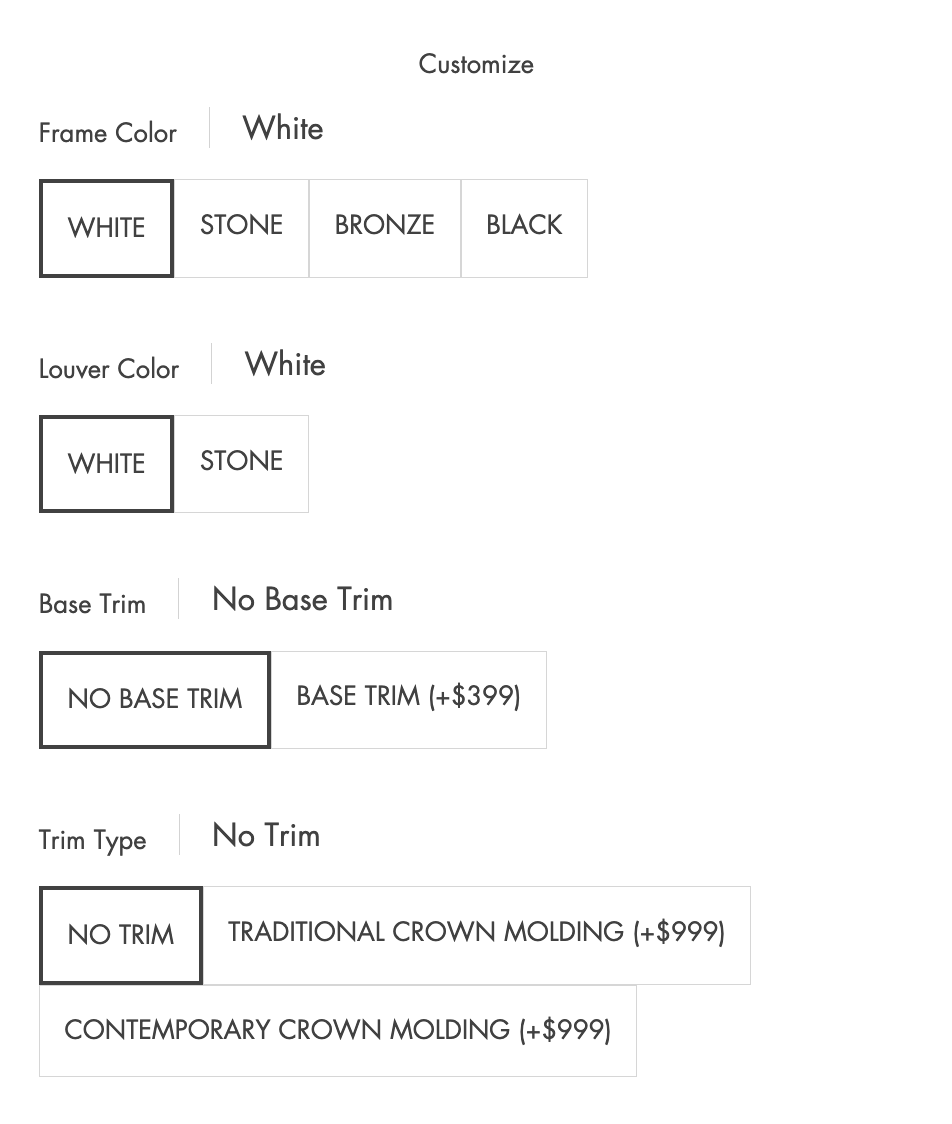 With a customizable aluminum pergola, you can choose the color and size that best fits your needs. An aluminum pergola kit would be the perfect choice for you. The Luxury Pergola offers 4 different colors and sizes (some that can be customized) that include white, black, bronze, and stone. These 4 colors have been found to match the exterior of a majority of houses and can spice up your patio. It can become patio covers which you can then turn into whatever your heart desires. Here's some ideas for your own pergola:
Kitchen Area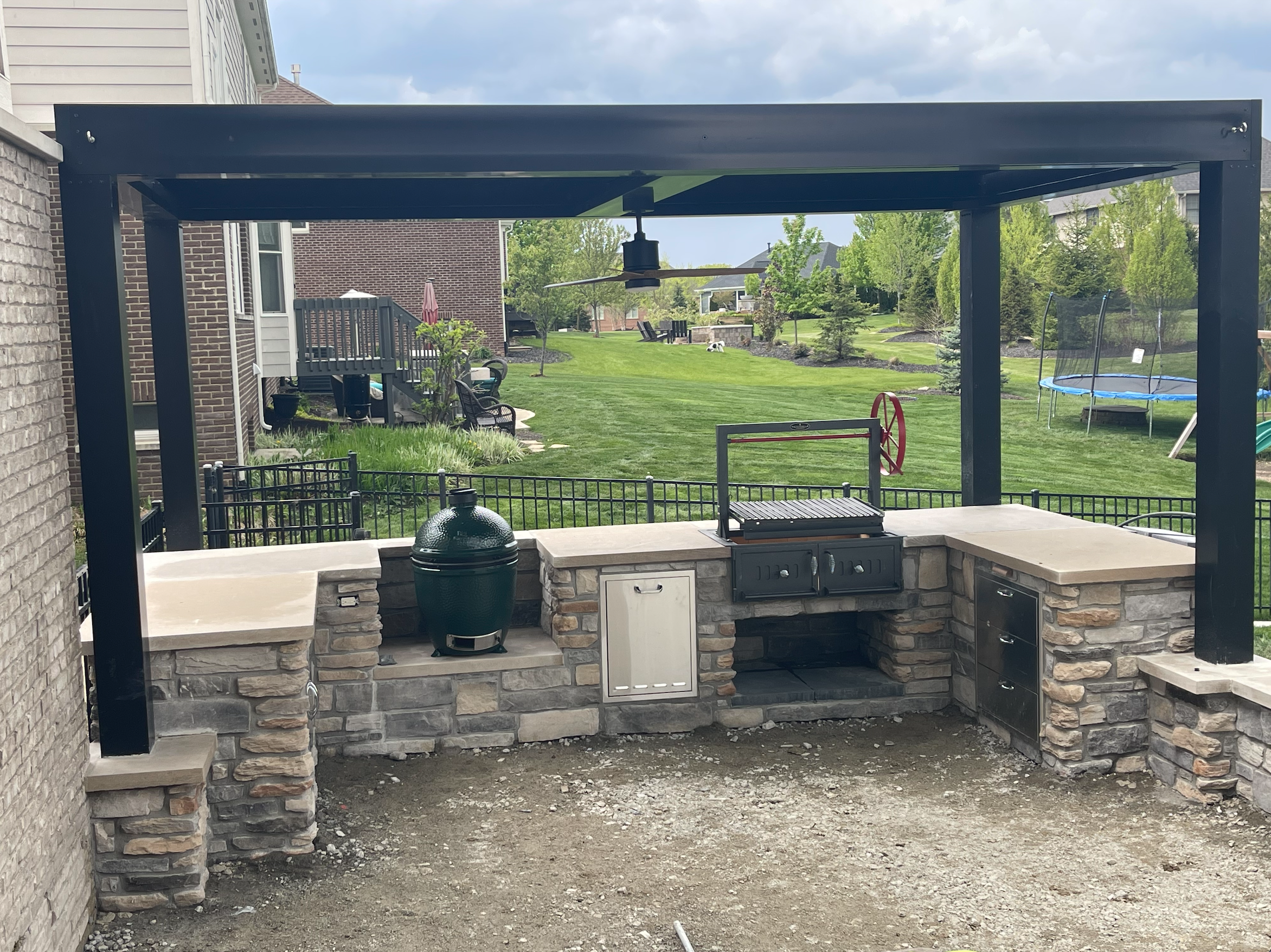 If you are a big fan of outdoor cooking (especially with a lot of summer holidays coming up), this is a great way to use your aluminum pergola as a multifunctional hub year round.
outdoor entertainment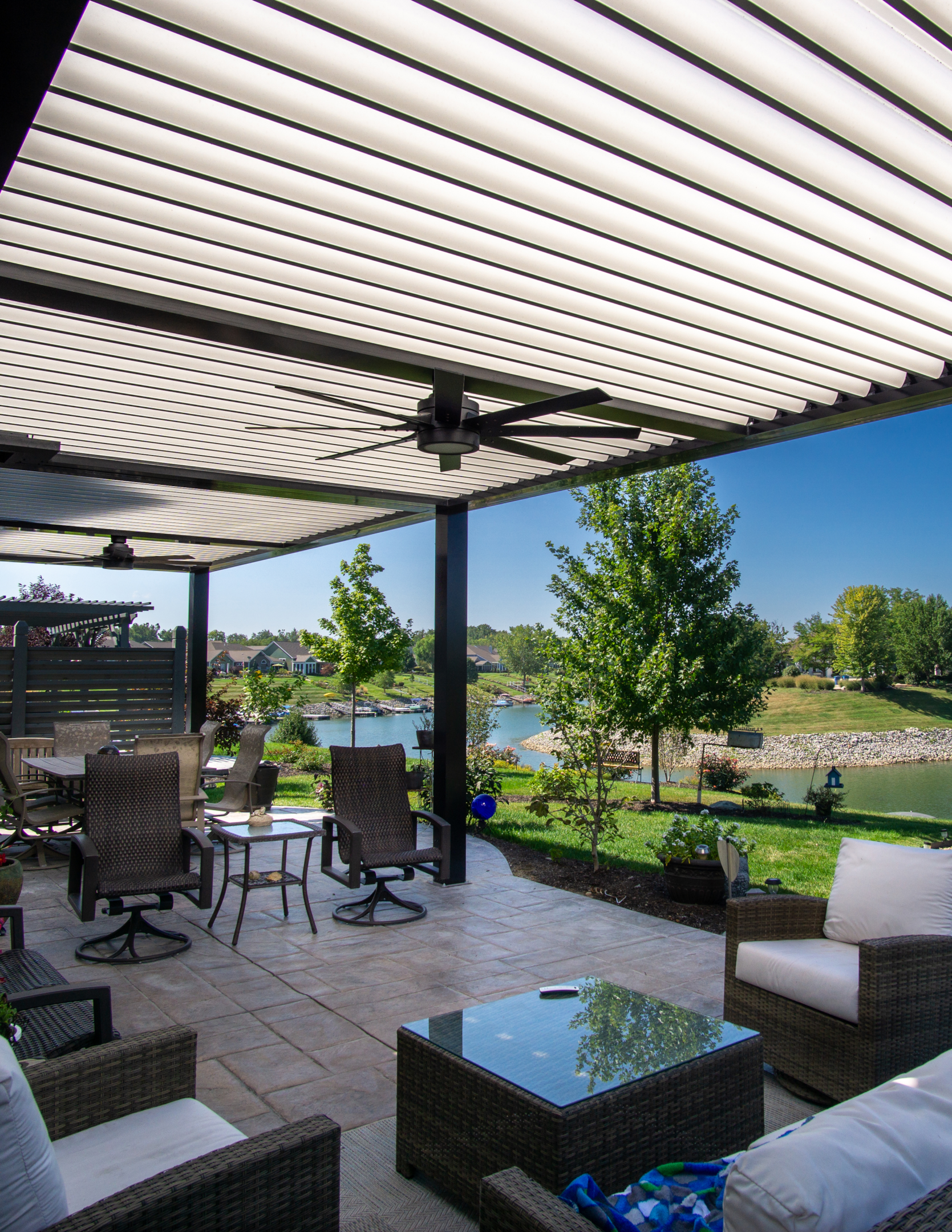 Another benefit of the louvered roof that comes with these pergolas is you can host anything outside, rain or shine. Hosting any party, whether it be Independence Day, a birthday, or just a classic summer barbecue or cookout, your pergola will allow you to control the weather conditions that you experience when you're having fun.
pool/hot tub area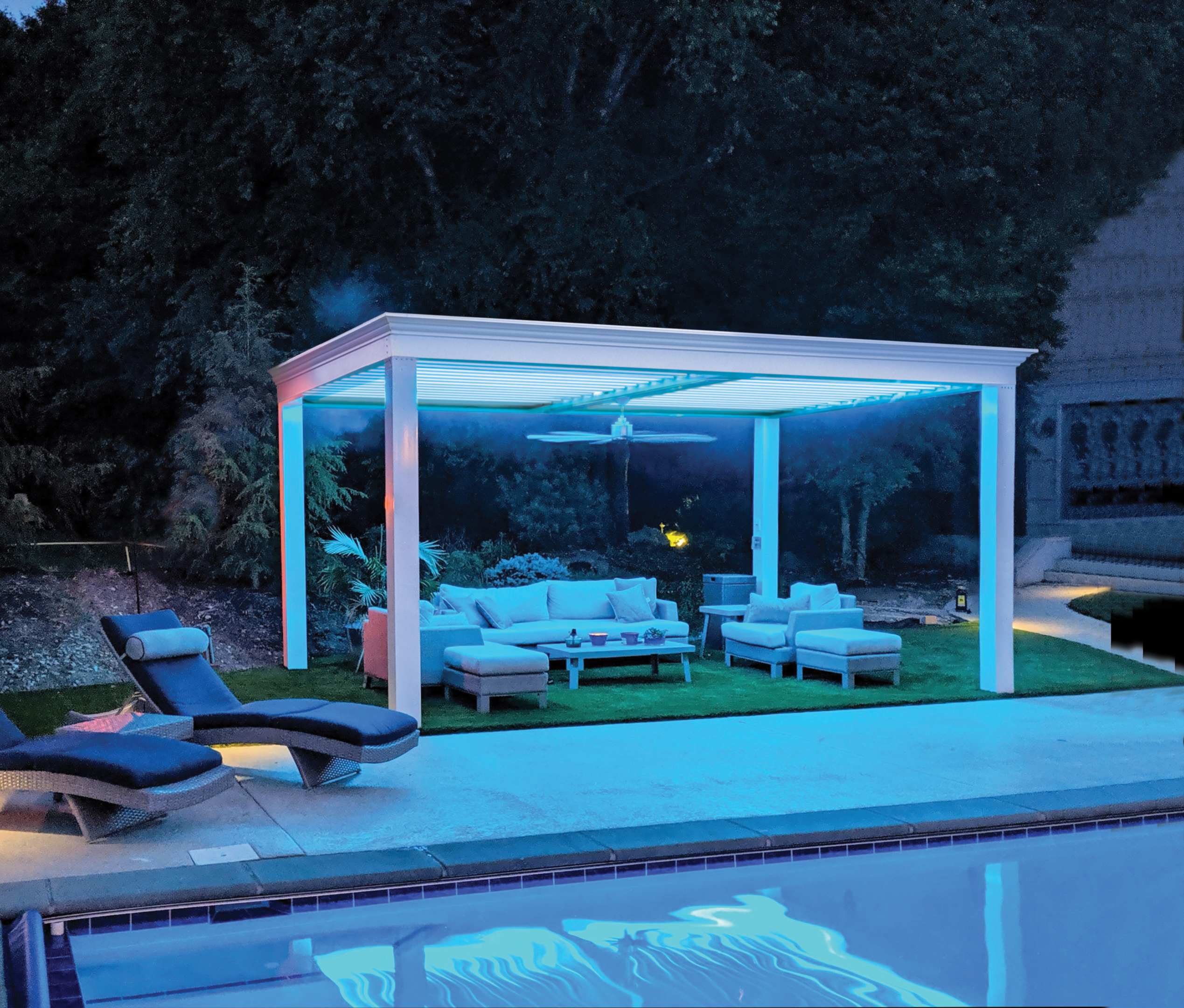 If you're already lucky enough to have your own pool/hot tub area, there is no other accessory that is as perfect for your area as a pergola. A pergola can elevate your poolside experience to a defined outdoor living space.
Weather Resistance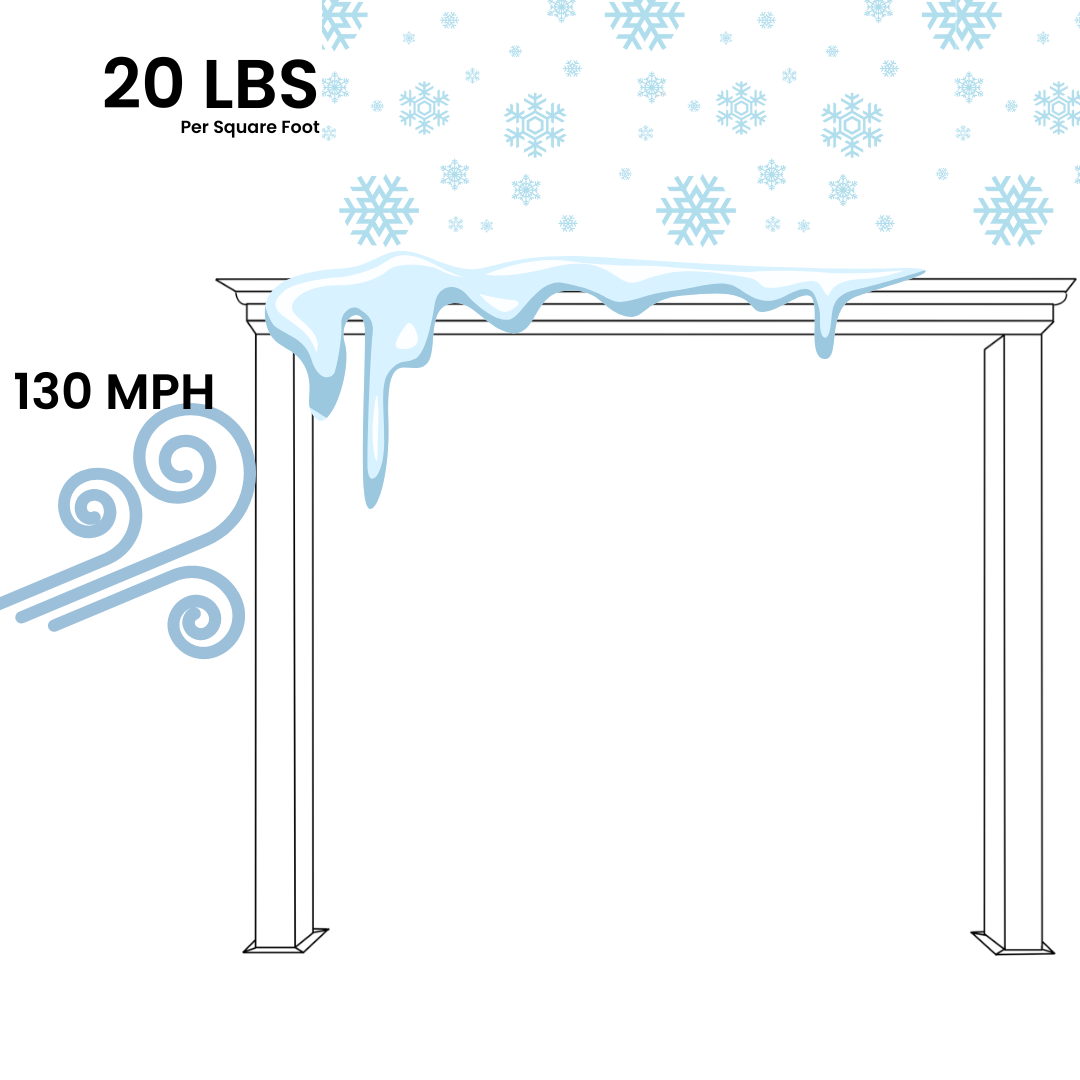 If you think the weather where you live gives you a reason to not be able to have a pergola in your space, let me take away your worries. These aluminum pergolas can withstand wind that goes as high as 130 MPH. The snow load they can hold is up to 20 lbs per square foot of snow load when the louvers are closed.
These pergolas were made to withstand the harshest of environmental conditions so don't worry if you think that because you live in Florida or another state known for its climatic demands, you cannot have your own pergola. In fact, a pergola may be a better investment for you than you think. So, if you deal with a lot of snow, rain, sun, wind, anything, The Luxury Pergola is the one for you.
Low Maintenance Beauty
Compared to Vinyl and Wooden pergolas, aluminum pergolas have the most minimal maintenance required. All you need to do to maintain the luxury look of your aluminum pergola is to wipe any dirt or debris down with soap and water and it'll look brand new once more.
Longevity and Durability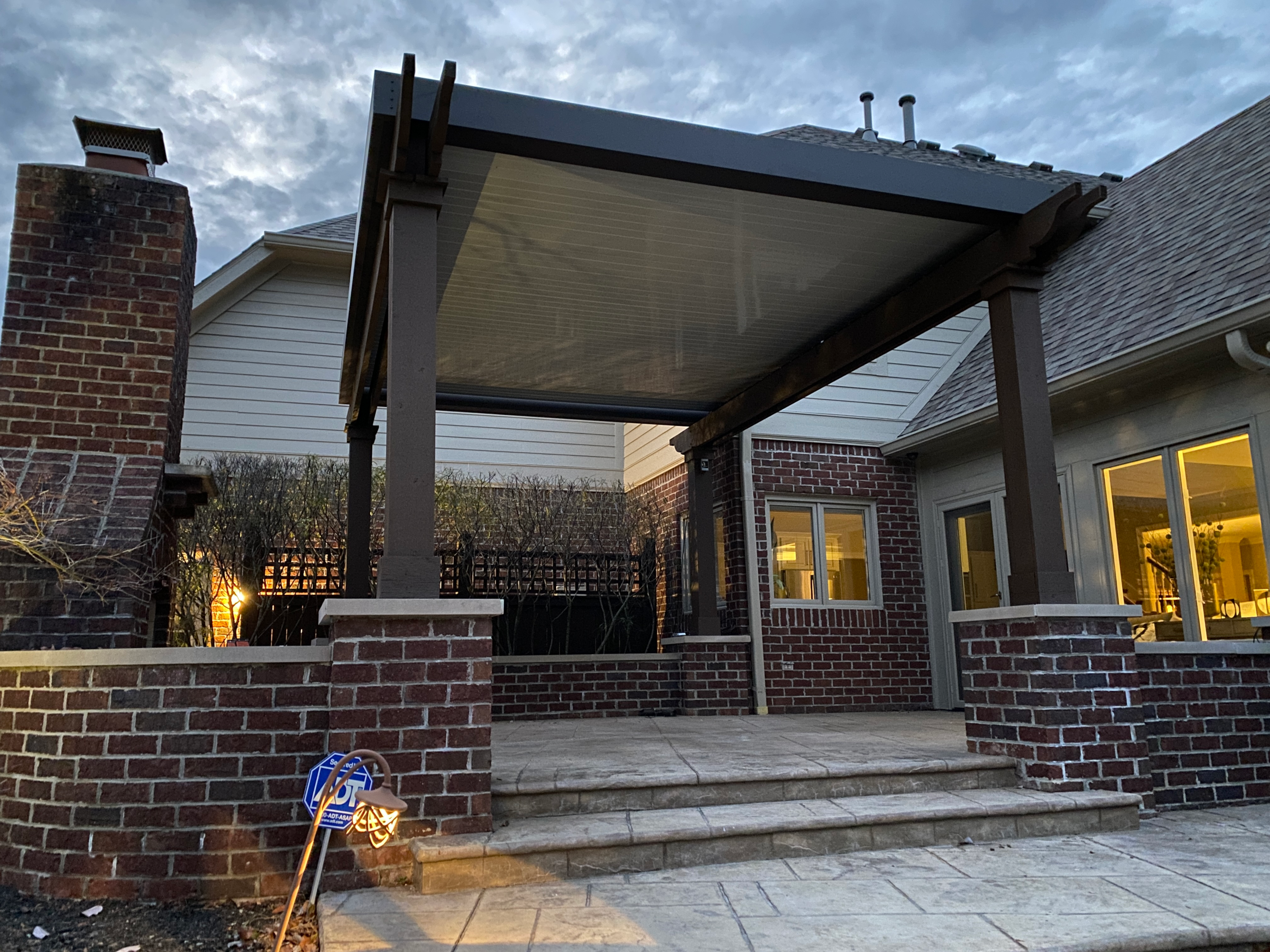 An aluminum pergola has one of the best materials that you can find on the market. It's best for its longevity and durability. You already read above that it is extremely easy to clean. Aluminum pergolas compared to other materials is the most rot resistant. With this material, your pergola will also be resistant to rust.
Aluminum is also one of the strongest and durable materials you can get for your pergola structure. The benefits of aluminum pergola far outweigh the disadvantages of a pergola made with any other material.
Shade and Sun Protection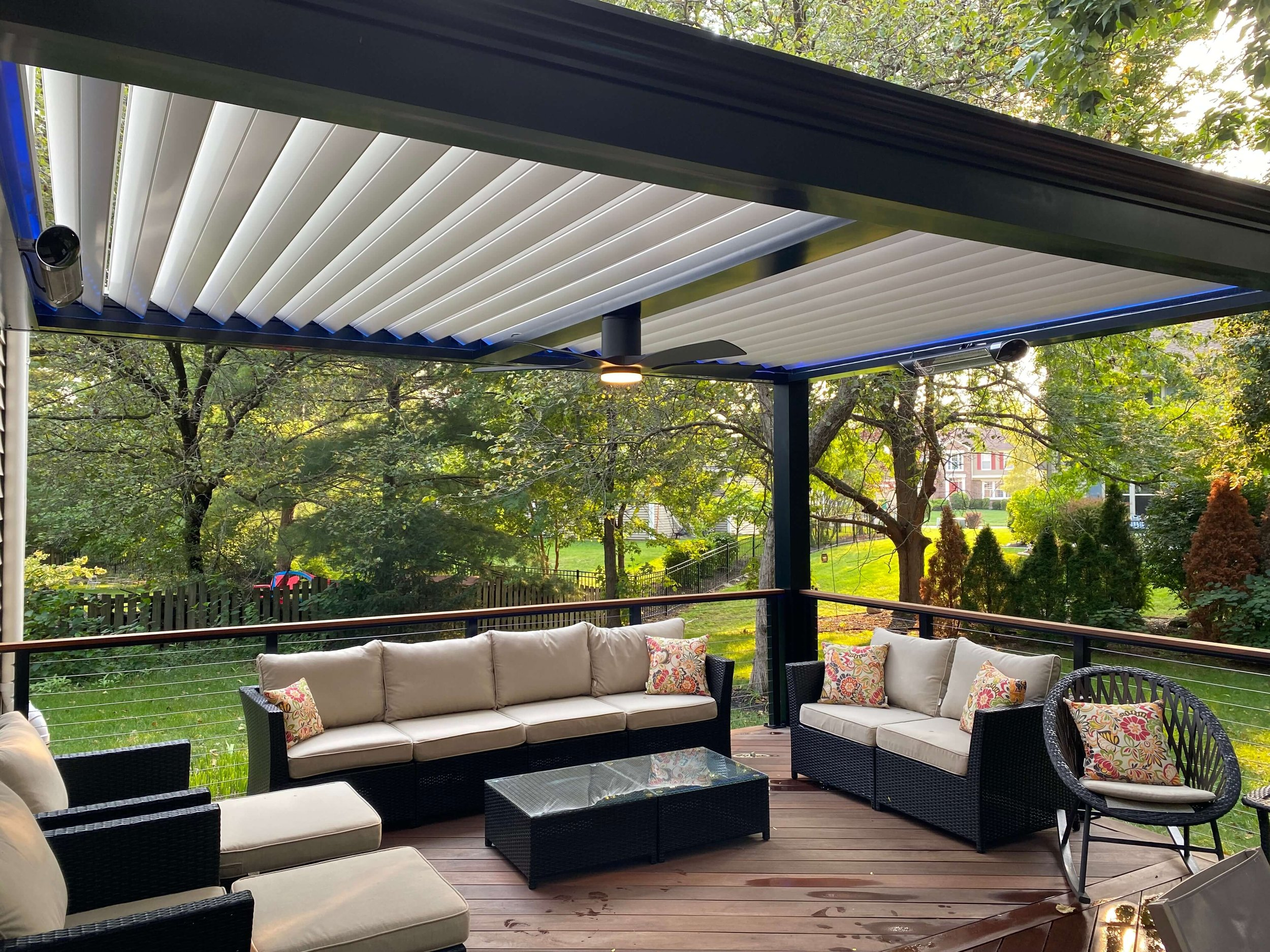 With the louvered aluminum pergola kit from The Luxury Pergola, you can have quite a bit of shade and rain protection. The louvered pergola roof that comes with The Luxury Pergola allows you to open and close the louvers as you please. Because it's motorized, it allows you to control the louvers with a remote. If you want a little sun or shade protection you can close the louvers fully or open them to up to 135 degrees.
Patio Covers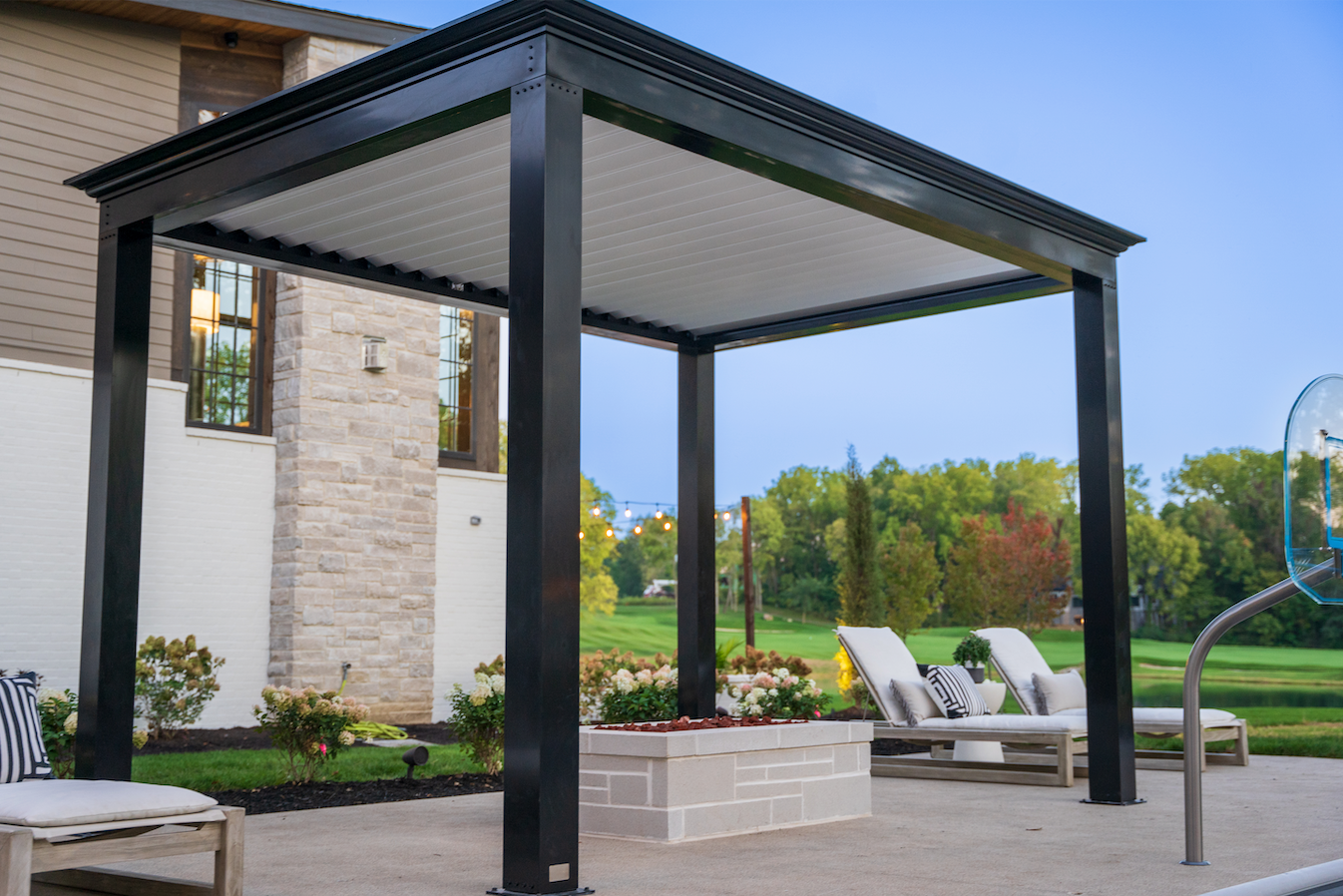 The louvered pergola is a great patio cover for your space. Because the louvers open and close as you please, it creates a great canopy for your patio. A canopy is a great patio covers for your space and the louvered pergola can act as both for you and your yard. The louvered pergola roof provides unrivaled rain protection and shields many environmental elements which surpasses traditional patio covers.
Create a Functional Outdoor Space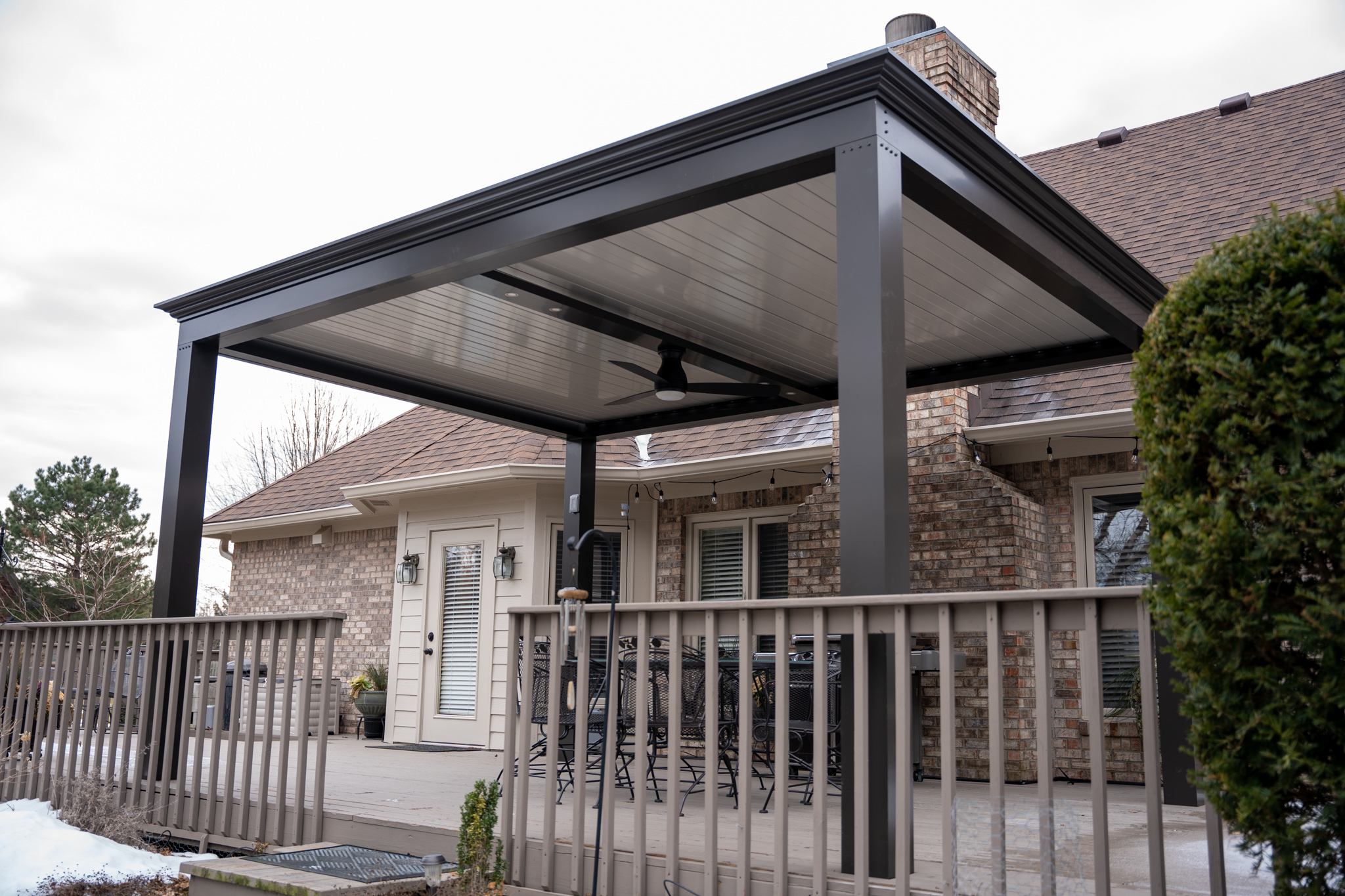 With many elements of design, such as furniture, decoration, and accessories, you can create the stunning yard of your dreams. An aluminum pergola kit has such a versatile design that it can help you transform your patio into a stunning structure that combines form and function. The adjustable motorized louvers act as a type of canopy which in turn provide ample shades. Pergolas make it so easy to create a space that blends outdoor and indoor space styles into a functional living area.
Custom Pergola
With The Luxury Pergola, you can receive a DIY aluminum pergola kit that you can customize to your needs. Because it is a DIY kit, the installation process is extremely easy, and you can do-it-yourself right at home!
The Luxury Pergola offers 4 different colors and sizes for you to choose from. You can choose from white, black, stone, and bronze as the colors, and find which one best matches your style. Their aluminum pergola kit is very durable, cost effective, and low maintenance.
Easy Installation with Aluminum Pergola Kit
To assemble the DIY aluminum pergola kit, you can simply read the instructions that come with the kit itself. This video shows a quick 60 second demonstration of the installation process. It proves that to install the pergola in your backyard isn't so much harder as your other projects you've accomplished.
Compare Other Materials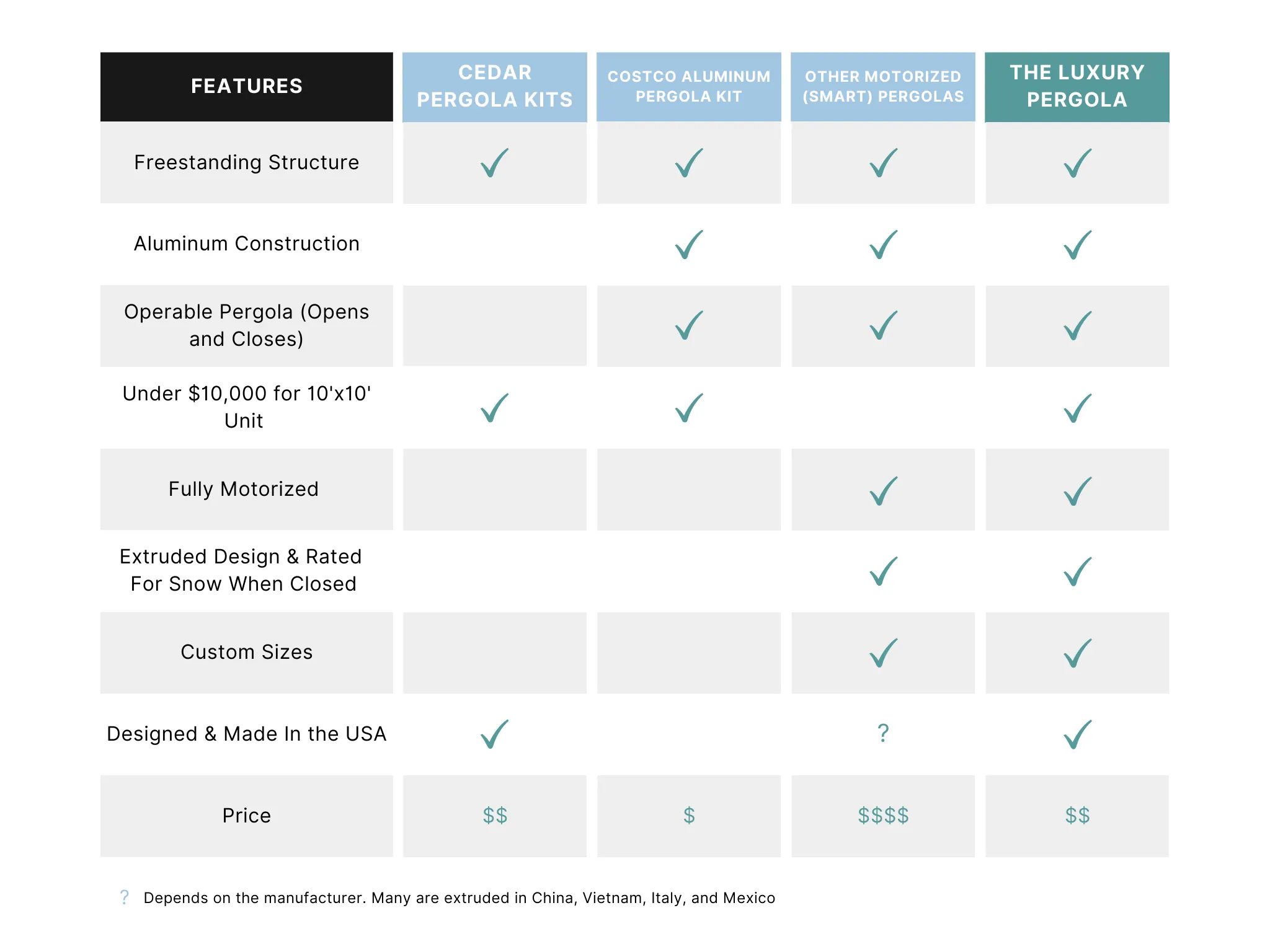 Curious what makes aluminum the best material to have in your pergola? Lets compare the aluminum pergola to a wood or vinyl pergola.
Wood Pergola
Compared to aluminum, wood is a great option for a bit of a cheaper price. Using cedar wood would be the best wood out of them all for pergolas because cedar is the most weather-resistant out of them all.
Wood pergolas do require a bit more maintenance than the other two materials we are discussing here as well as they are not resistant to rotting or fading.
When choosing a material, you need to think about how long you want your pergola to last and how well you want it to perform. If your answer to either of this is "not that well", then a wood pergola would be a great fit for you.
Vinyl Pergola
If you're trying to find something for an extremely cheap price, a vinyl pergola could be exactly what you are looking for. However, keep in mind, you are paying for what you get.
A vinyl pergola does have low upkeep, is resistant to rotting, but can fade easily. It also lacks the same level of durability that the other materials can provide you when face with environmental elements. A vinyl pergola will never be the right choice for you if you live somewhere with harsh conditions.
The Luxury Pergola

In conclusion, to get the most bang for your buck, a cost effective, strong, durable, stunning, easy to install freestanding pergola structure that will provide you with year round beauty, with no rust, low maintenance, waterproof, and all-weather, you need to look no further than The Luxury Pergola. All of your needs will be met if you get an aluminum pergola kit. These pergolas can add beauty and create the garden of your dreams.