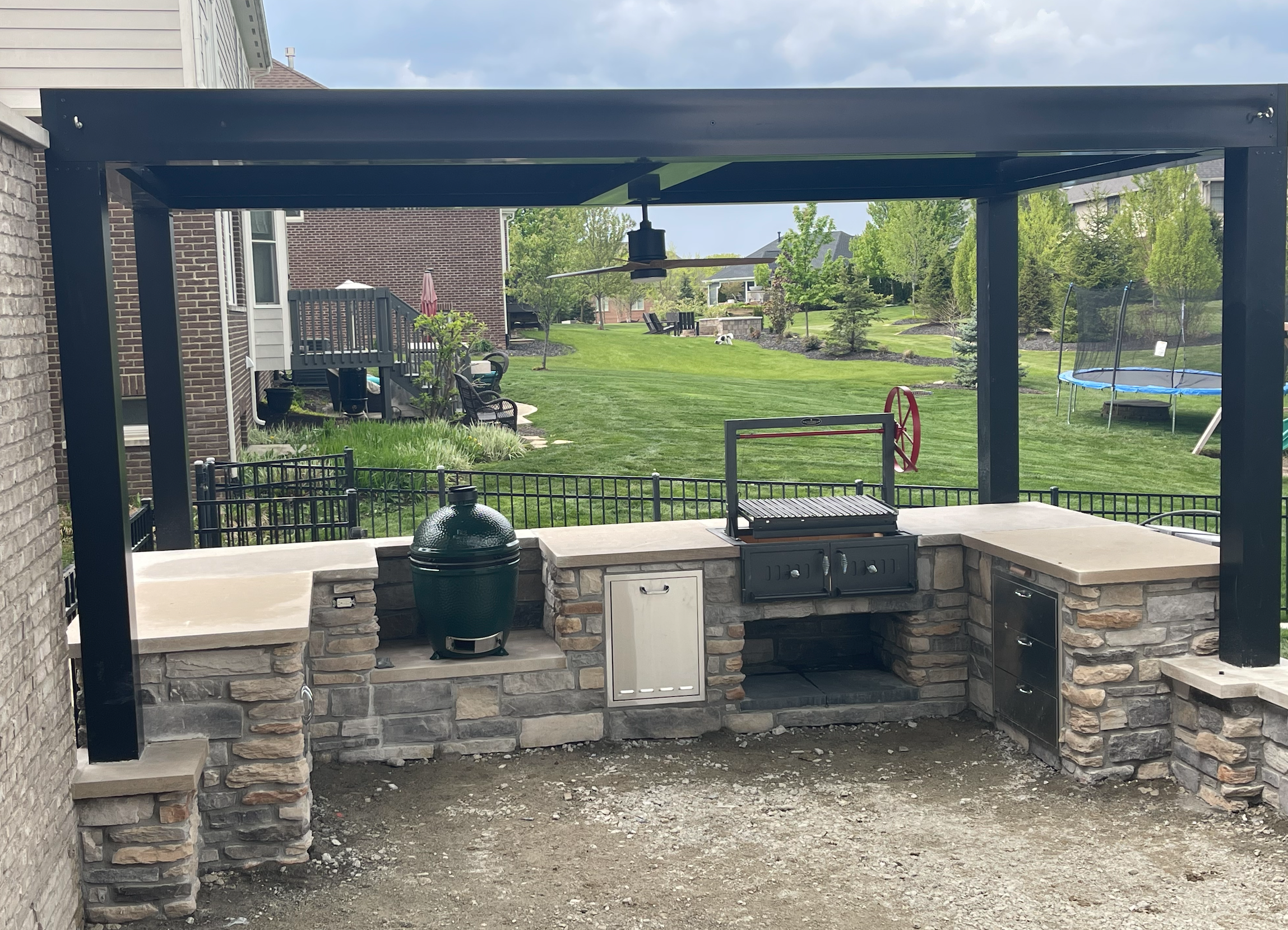 Wanting to spice up your backyard space but don't know where to start? Read through this article to see why a pergola over outdoor kitchen might be the perfect solution for you.
Essential Outdoor Features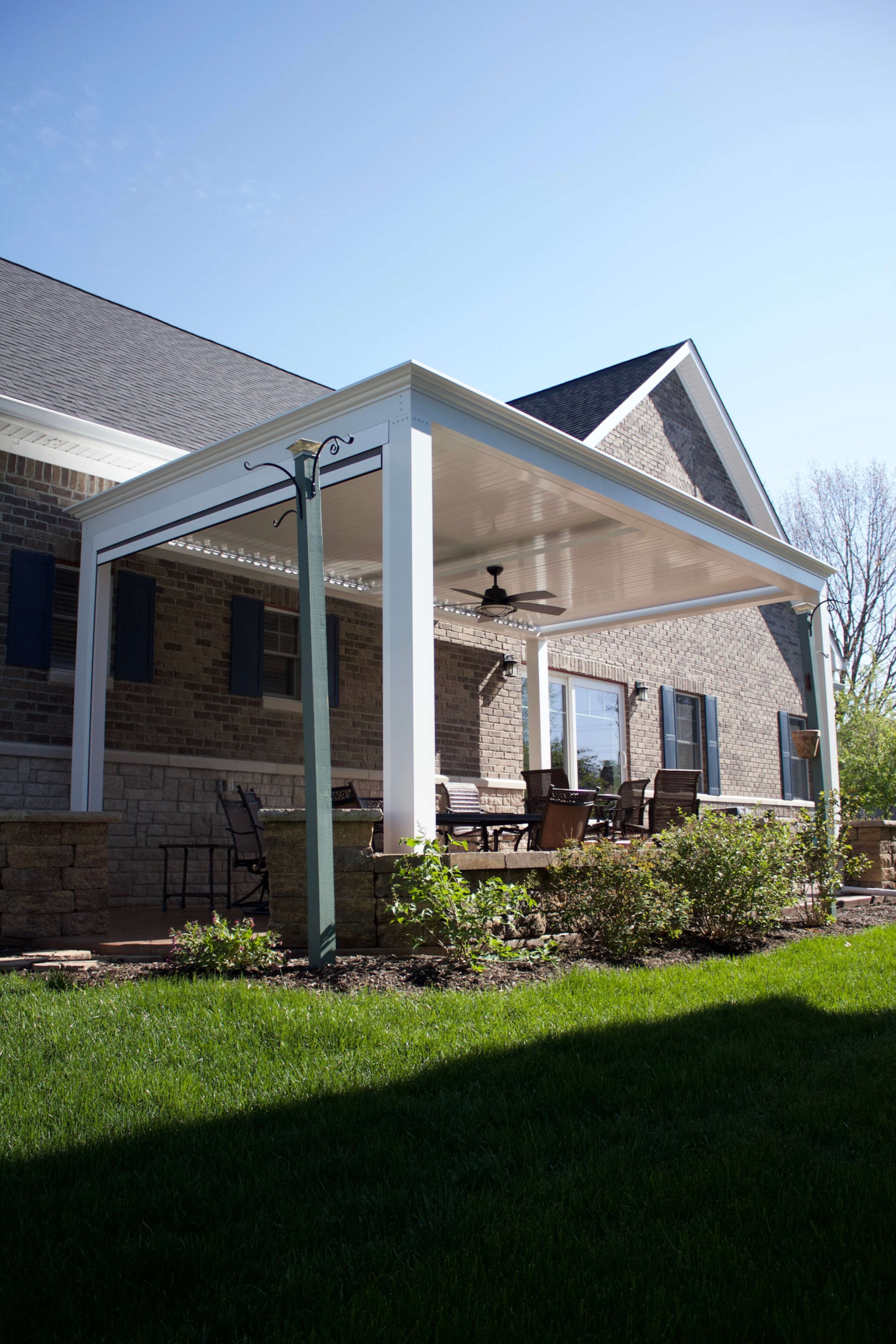 A pergola is an outdoor structure designed to provide a defined space and cover for outdoor activities, patios, or other outdoor areas.
A new modern pergola design has taken over the market. A motorized louvered pergola. This is essentially where the roof of the pergola has louvers which can open and close at your leisure. This way, you can control the climate, temperature, and ambiance to however you see fit.
An aluminum pergola will also be the most weather resistant and low maintenance for your outdoor kitchen space. Because the material is amazing, you will not only have a beautiful pergola, you will have a great outdoor kitchen design with the modern look and cover that the pergola provides.
Modern Pergola Magic on Outdoor Room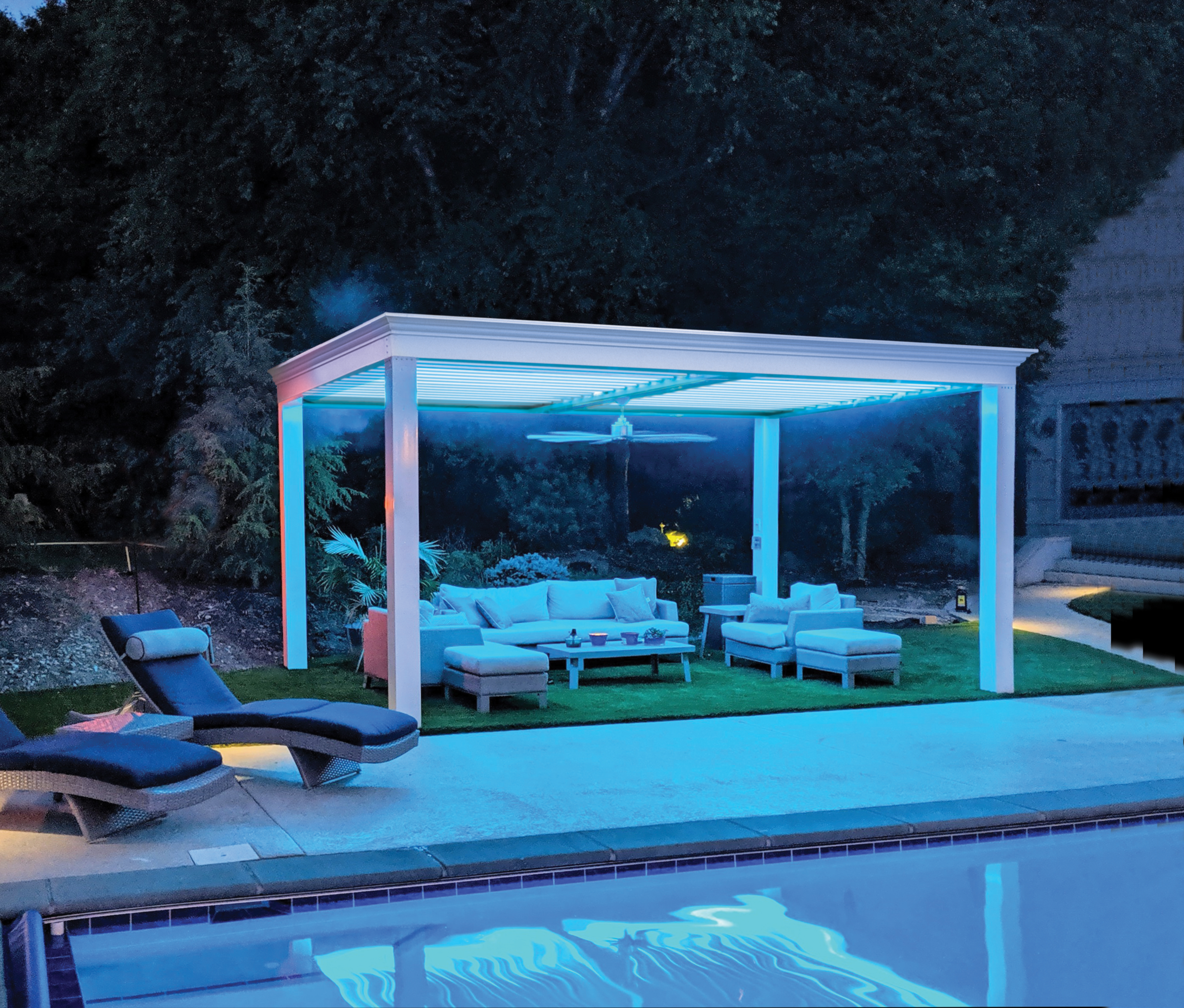 Modern pergolas bring a touch of magic when placed over an outdoor kitchen. They effortlessly transform the space into a captivating area to get your cooking on. These pergolas with a modern look create a clean minimalistic design, making your space visually appealing and functional. Choosing to put a pergola over outdoor kitchen will leave your guests in awe.
Inspiring Kitchen Ideas for Outdoor Kitchen pergola
Confused on how to incorporate your pergola with your outdoor kitchen? Here's some outdoor kitchen ideas for you to create in your space
outdoor furniture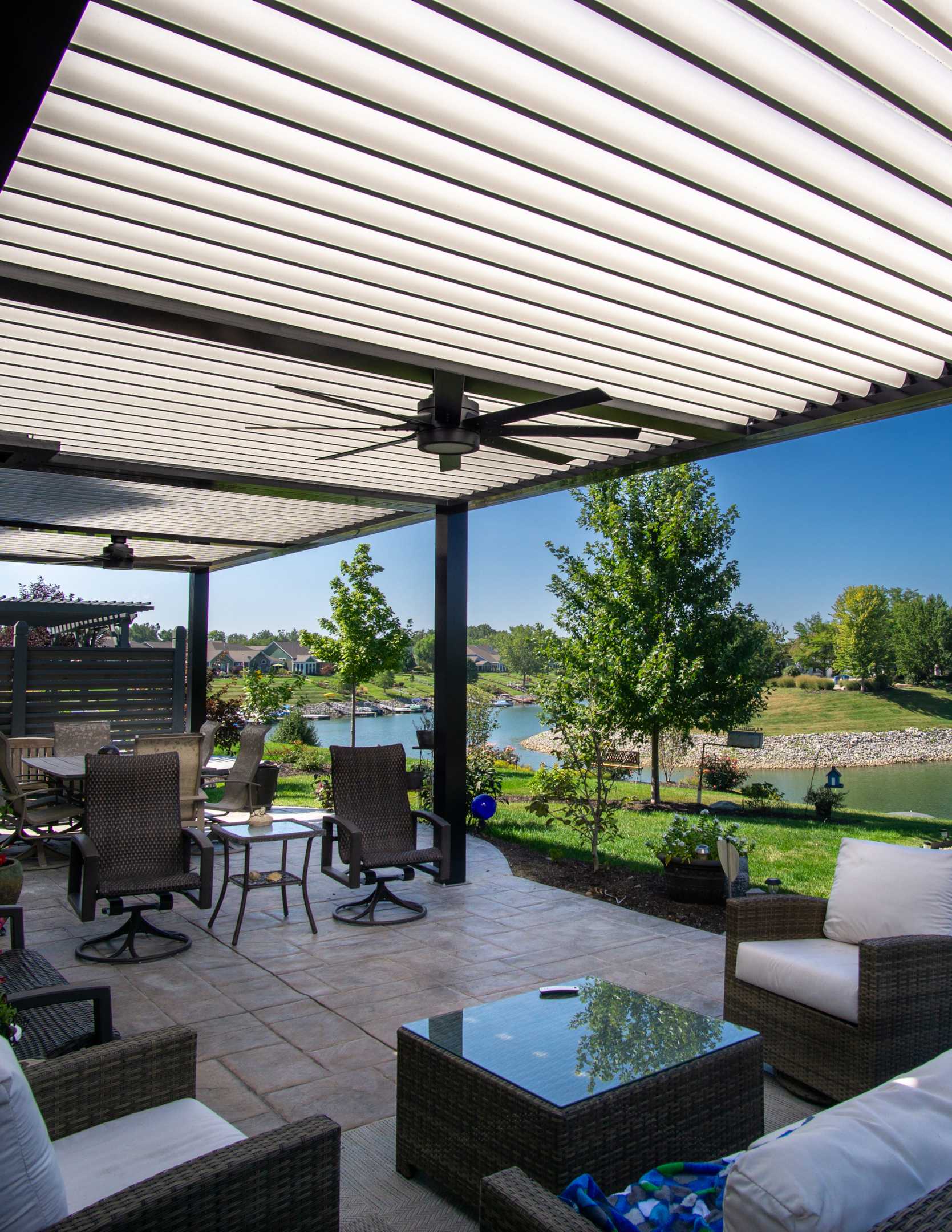 If you want to spice up your kitchen in a way to be the perfect entertainment area for your guests, adding outdoor furniture will give your guests their own space to enjoy the great outdoors while cooking.
outdoor pizza oven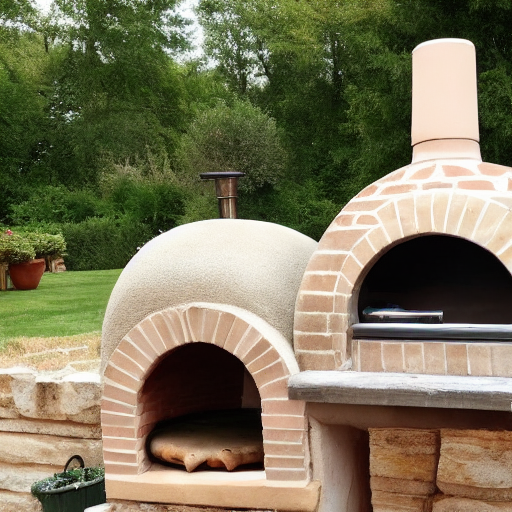 A big fan of pizza nights? If you own a pizza oven, pairing that traditional, yet classic look will pair wonderfully with an outdoor pergola. It will provide full shade and will give you a designated space for your food prep and outdoor kitchen.
outdoor fireplace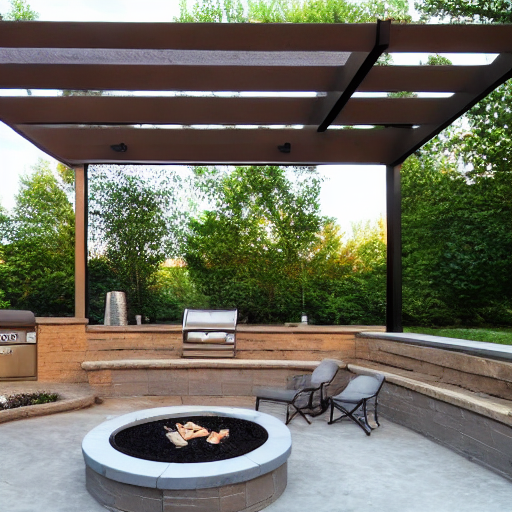 Love a bonfire night in the summer? Incorporating your own fire pit with a pergola in your beautiful backyard is a great way to spice up your outdoor living space. Having the pergola separate off your fireplace area away from the rest of your home gives you the chance to get away while still being in the comfort of your own home.
L shaped outdoor kitchen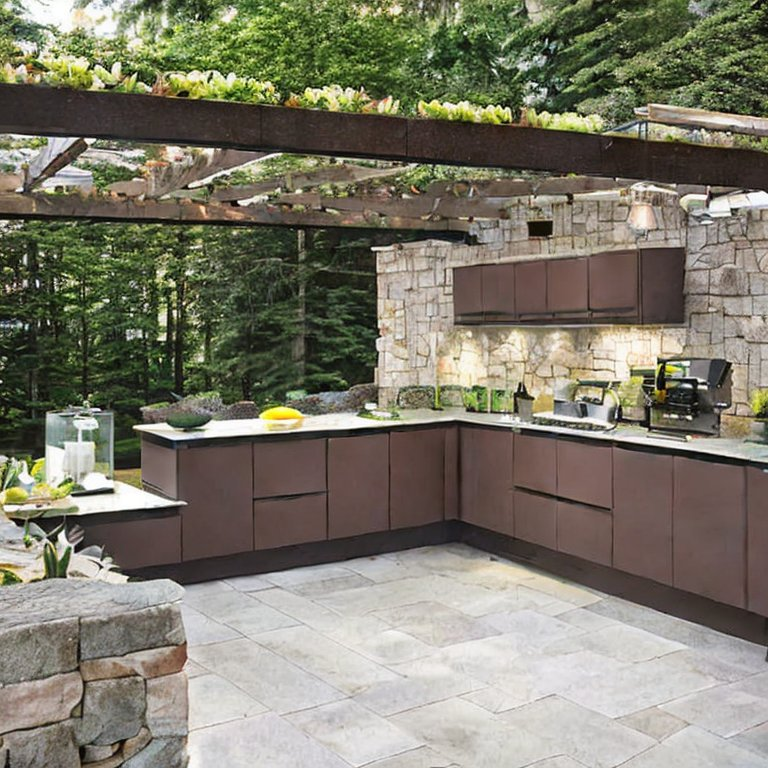 Having an L Shaped outdoor kitchen will allow you to make the most of your pergola space. It will give you plenty of counter space to do your food prep and storage. The covered outdoor kitchen will pair well with the L shaped area, and will maximize space and beauty.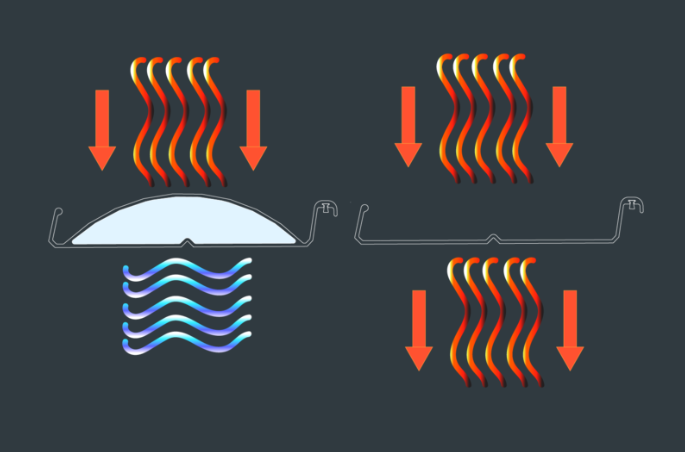 The louvers on these pergolas can be fully closed to provide you with complete shade cover from the top. Your outdoor kitchen won't be burning up, and with the louvers you can actually make it up to 20 degrees cooler in your outdoor kitchen area. Outdoor kitchens can seem scary especially if you're in a very hot/weather intensive state, but with the amount of shade and cooling that these pergolas serve, you will easily be able to enjoy the weather with no worries.
Weatherproof Your Haven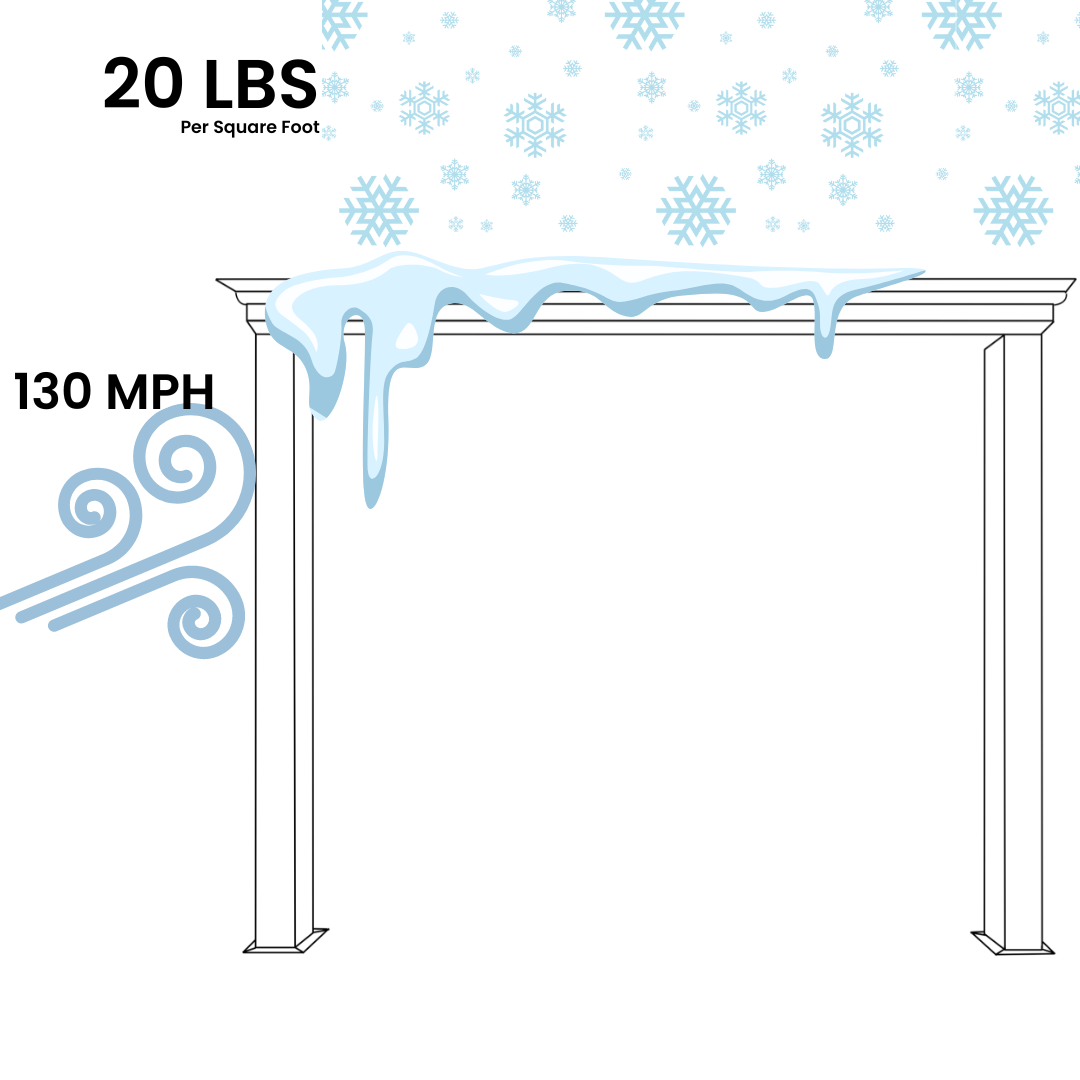 The Luxury Pergola offers a weather resistantaluminum pergola to put over your outdoor kitchen. Their pergola also has a louvered roof, which means you are allowed to control how much you want your pergola to open. On a rainy summer day, you can sit outside and enjoy the ambiance while being completely dry in your own haven. The Luxury Pergola provides pergolas that can withstand the harshest weather conditions: meaning it can hold up to 6000 LBS of snow, and 130 MPH of wind. The aluminum is the best material for longevity and durability so you will have these memories for a lifetime.
Effortless Entertaining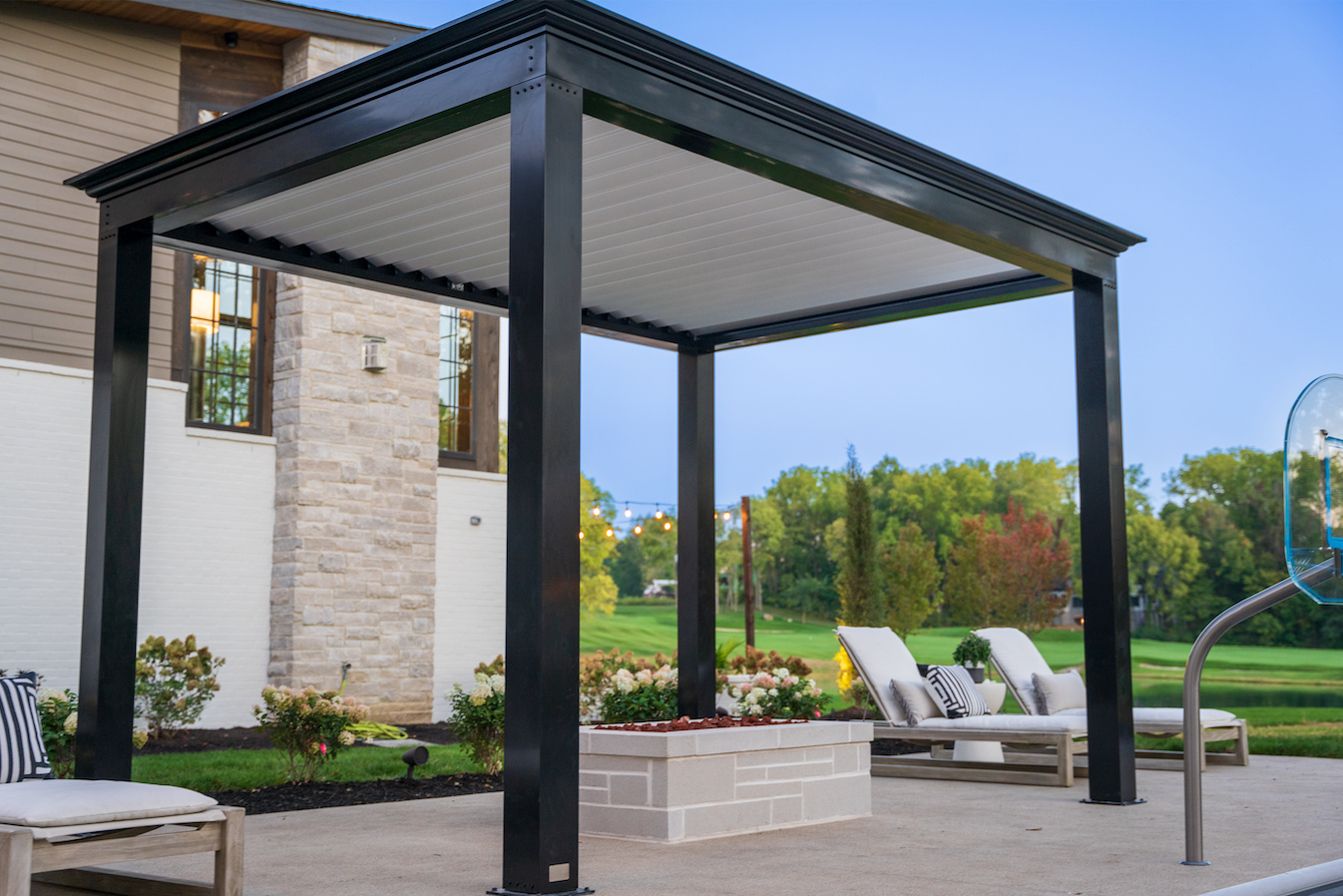 In general, a pergola increases your ability to entertain tenfold. It allows you to easily entertain your guests because of the covered security it provides. Adding in an outdoor kitchen will allow your outdoor kitchen pergola to be upgraded in a way that allows you and your friends/family to experience many entertainment nights for years to come.
Grilling to Relaxing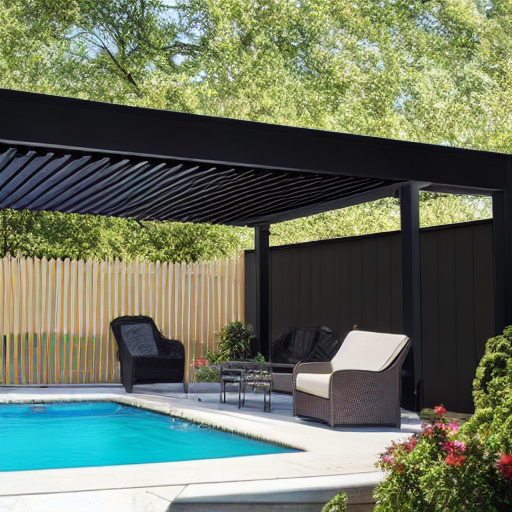 If you want to take notes from previous customers of The Luxury Pergola and their design style, adding furniture with your outdoor kitchen also gives you the opportunity to have your grill station, enjoy your cooking, and then go to sit down, gather with friends and family, and enjoy the fruits of your labor.
Pergola Materials Decoded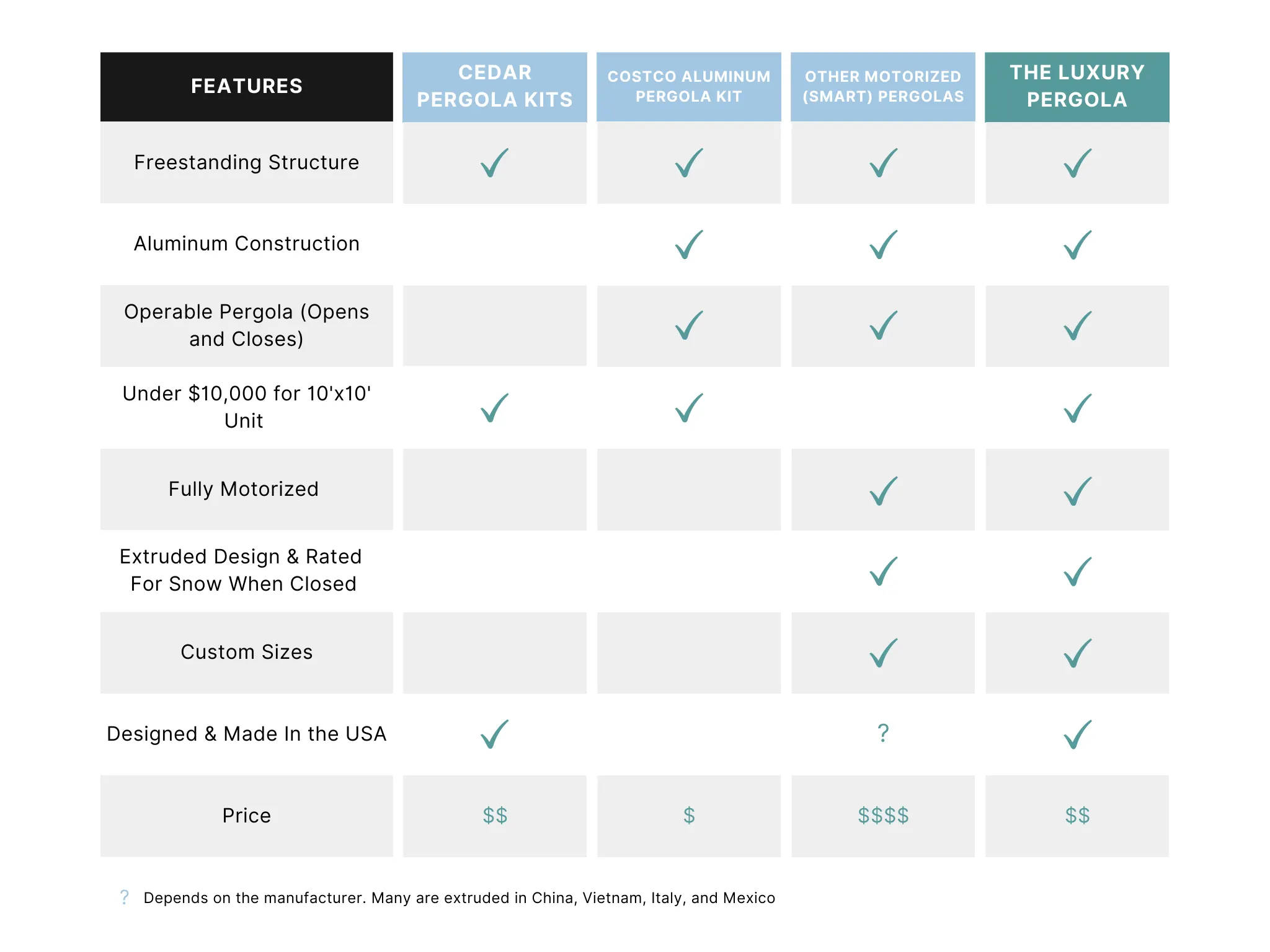 We've talked this whole article about aluminum pergolas, and there's a big reason for that. Using aluminum in a pergola in the best option for you, if you want something that can withstand heavy weather conditions, is very low maintenance to take care of, and you want your backyard to be upgraded to a sleek and modern look. Aluminum compared to wood and vinyl is super easy to take care of as all it takes to clean it up is some water and soap. So if you're worried you'll be making quite a bit of mess in your outdoor kitchen, have no fear. Even if you do, it's a simple fix to clean it up.
Customizing Your Haven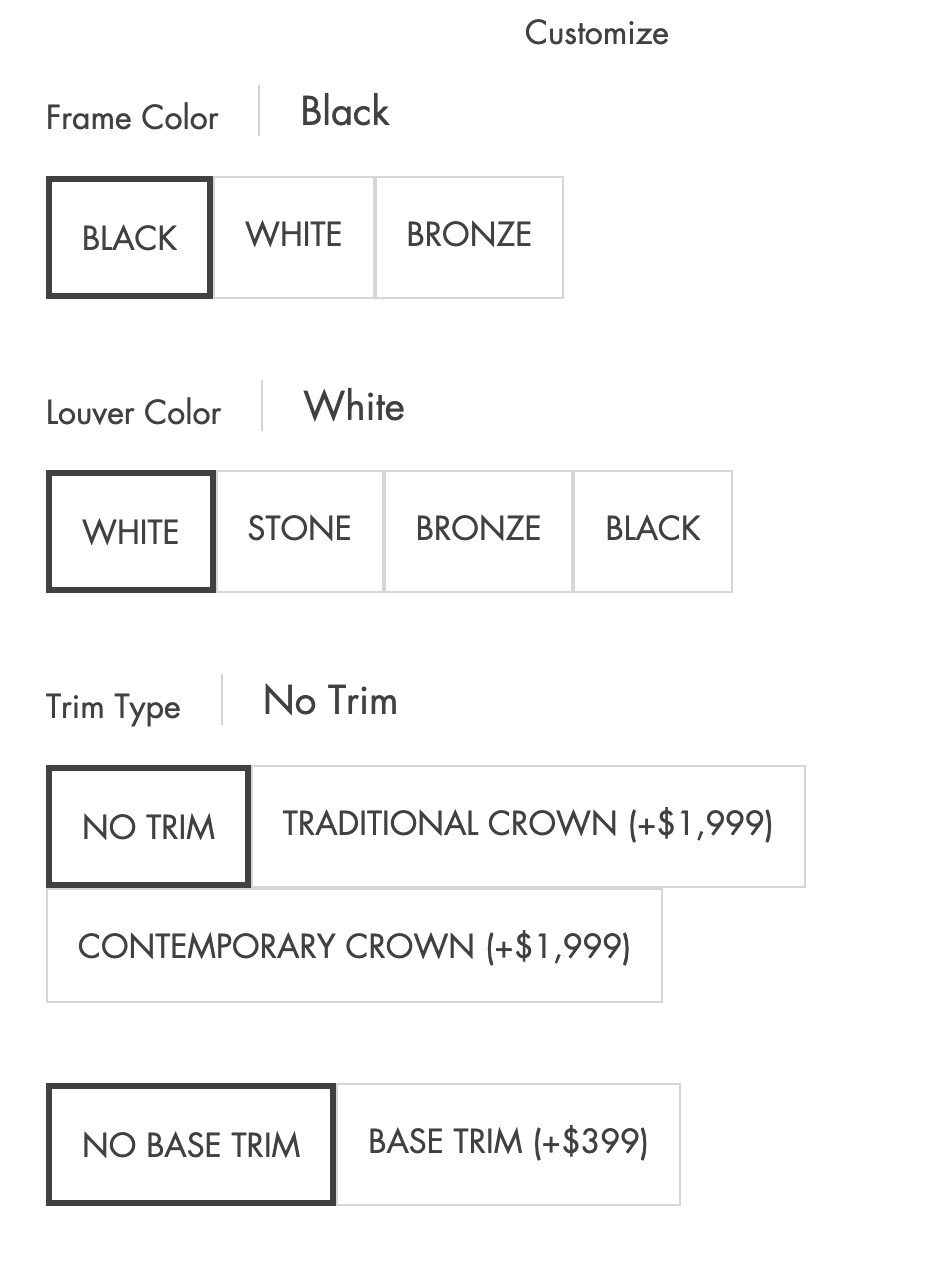 With The Luxury Pergola, you can customize your outdoor kitchen in a way that will match everything about your outdoor living area, and make a seamless transition from your modern home to you backyard.
They offer 4 different colors on the aluminum pergolas, which include white, black, bronze, and stone. These colors were carefully curated to maximize matching of the house and yard. When you choose the colors of the posts, you can mix and match the colors of the louvers with it. Your choice will be the inspiration behind everyone's pergolas in the future.
Multi-Season Enjoyment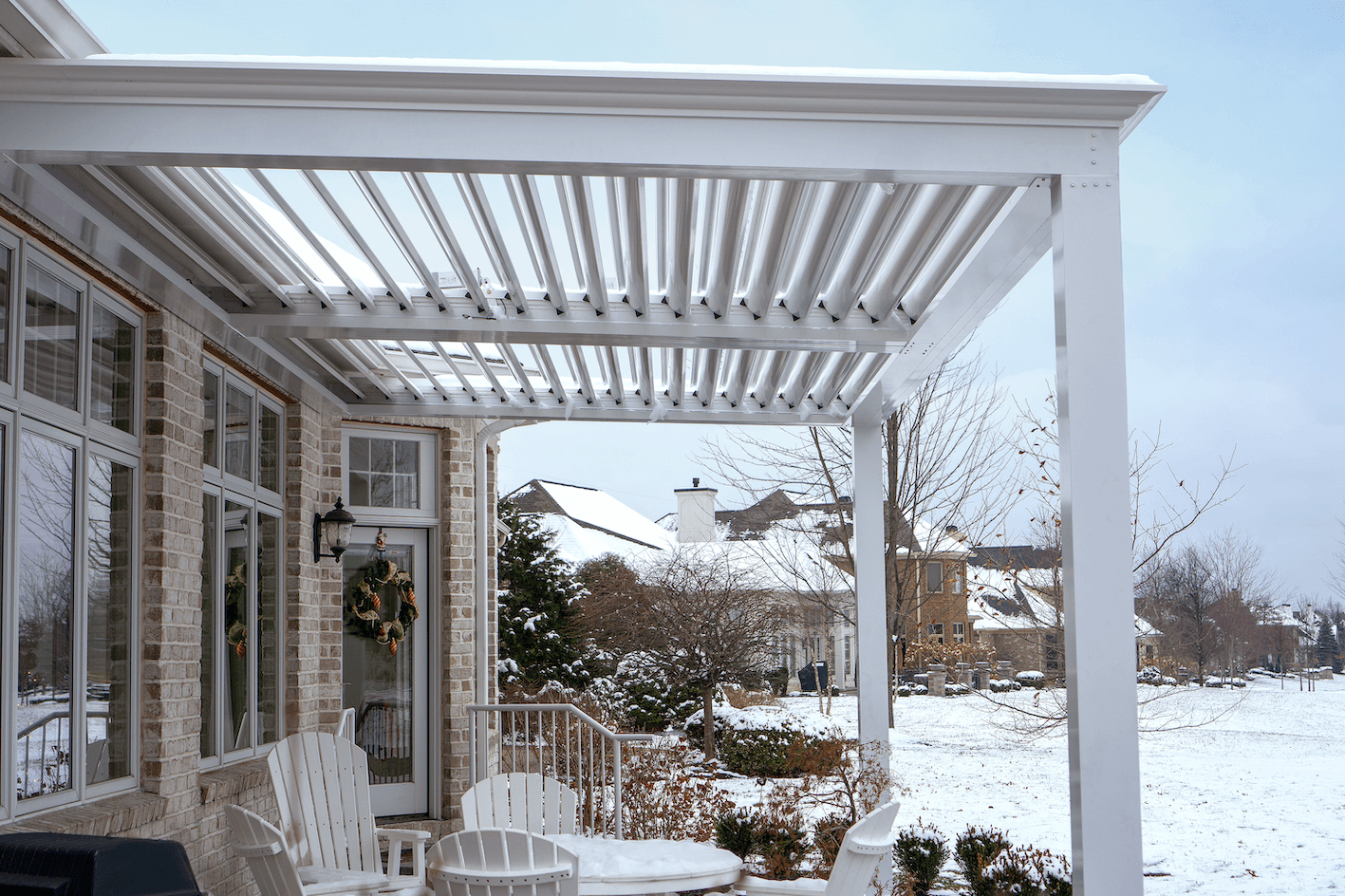 If you are hesitant about putting a pergola over outdoor kitchen because you live in an area where the weather may not permit use of the outdoor kitchen in the colder months, don't worry. Just because you cannot use your outdoor kitchen, doesn't mean it won't stay say and sound with the luxury aluminum pergola. The Luxury Pergola provides pergolas that can withstand the harshest weather conditions: meaning it can hold up to 6000 LBS of snow, and 130 MPH of wind. With this strong and sturdy of a structure, you should not worry at all about the security of your outdoor kitchen throughout any season.
Alleviating the Heat
The louvers that come with the Luxury Pergola allows you to control how much wind flow and sun you want shining through. When the louvers are closed, your area underneath can get up to 20 degrees cooler, which in the recent summers is absolutely necessary.
Seating and Dining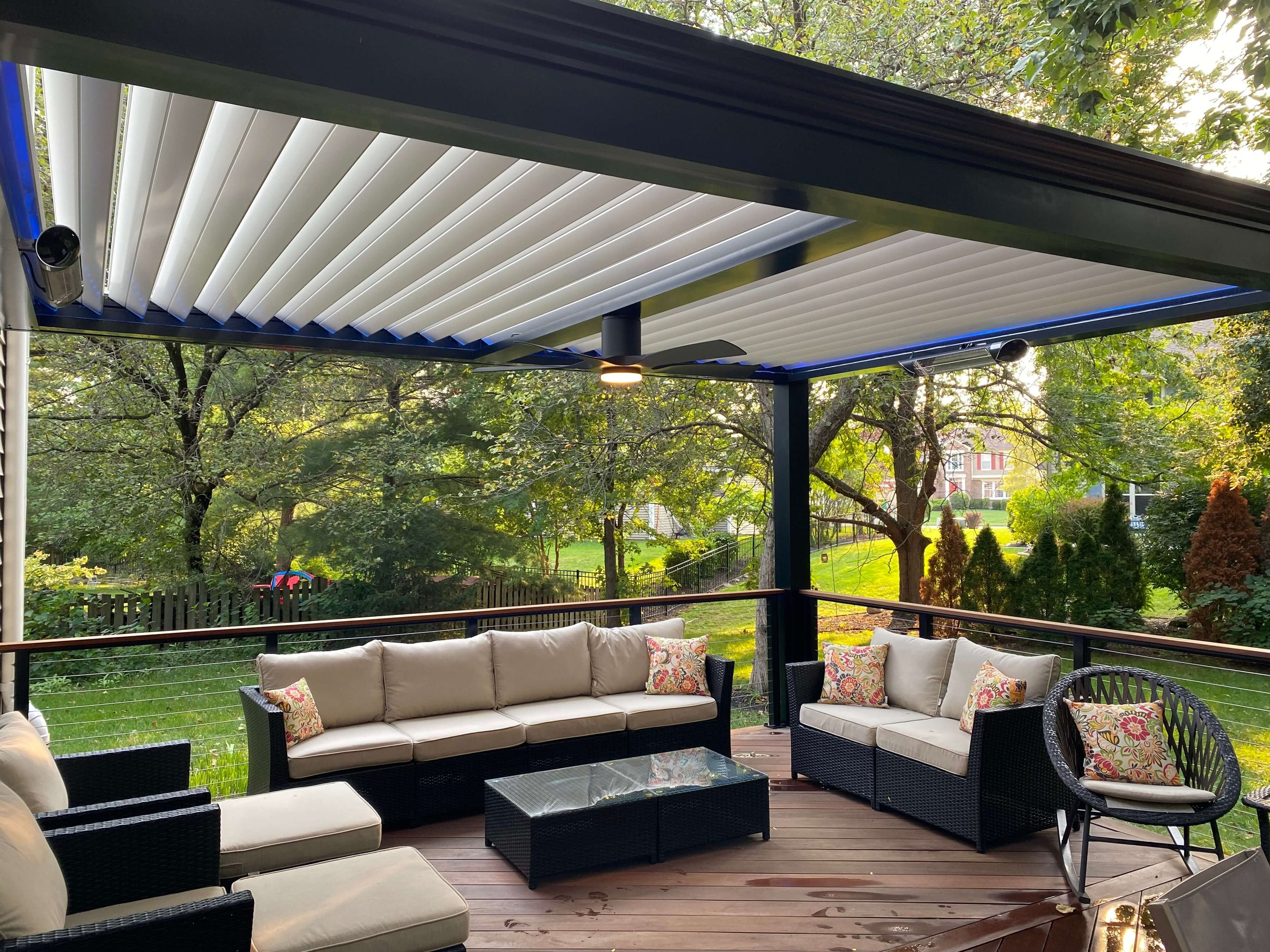 Here in the midwest, we've had some cold spring months, and the heat coming up is exactly what we need. Sitting outside and soaking up some Vitamin D is great for the soul. For any summer event, especially with Memorial Day, 4th of July, and Labor Day, having designated outdoor room all to yourself complete with security and privacy is the best thing you can provide for your friends and family.
Extend Your Living Space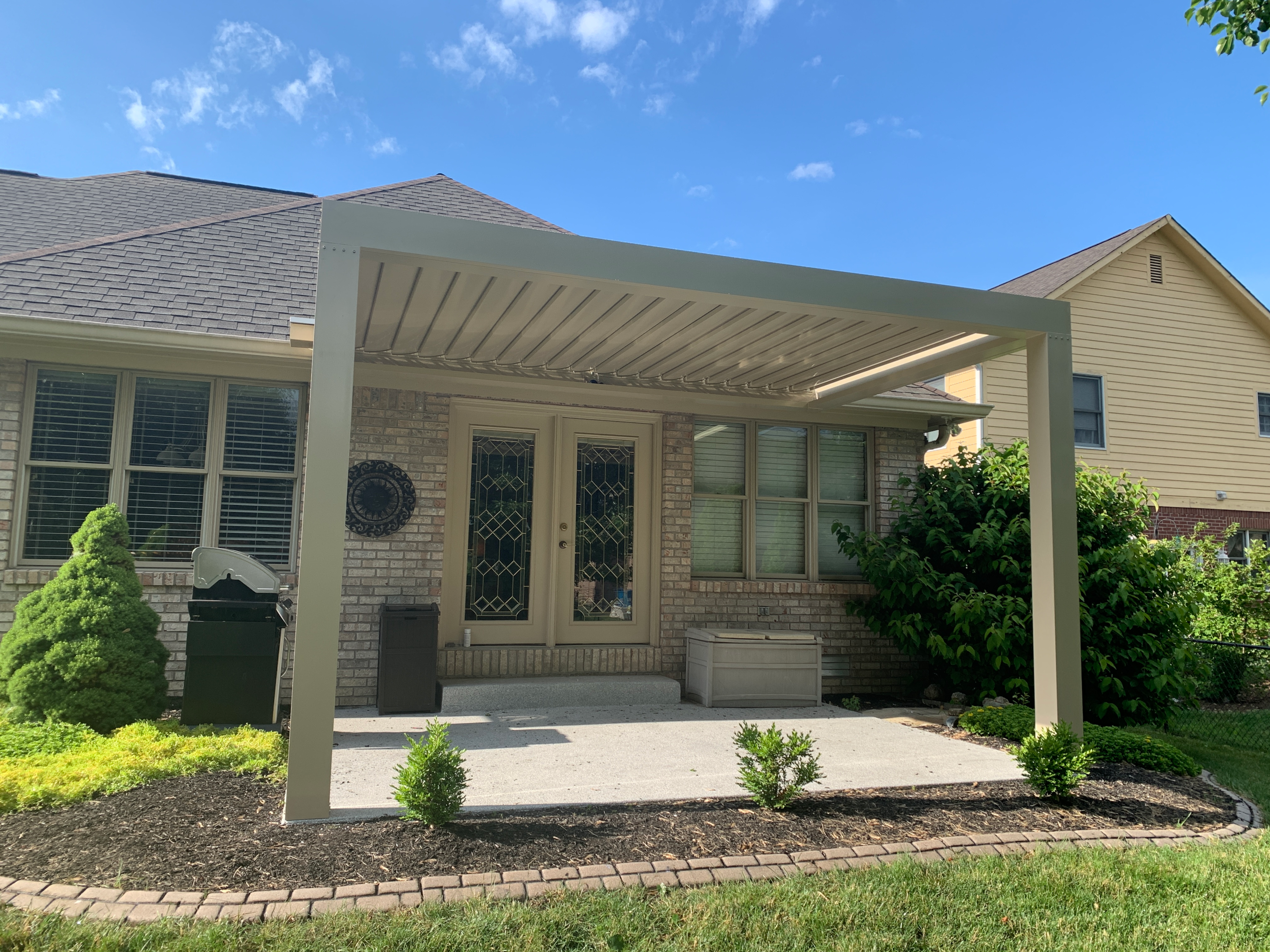 The outdoor kitchen is the best way to extend your living space from inside the house to outside. A kitchen is sometimes the heart of your home, and having one outside provides you with the opportunity to have a bigger space for friends and family to enjoy. The covered outdoor kitchen allows you to have a luxury area for serving food, setting up a picnic table, covering patio space, and having a built in grill station for a beautiful and function outdoor kitchen design.