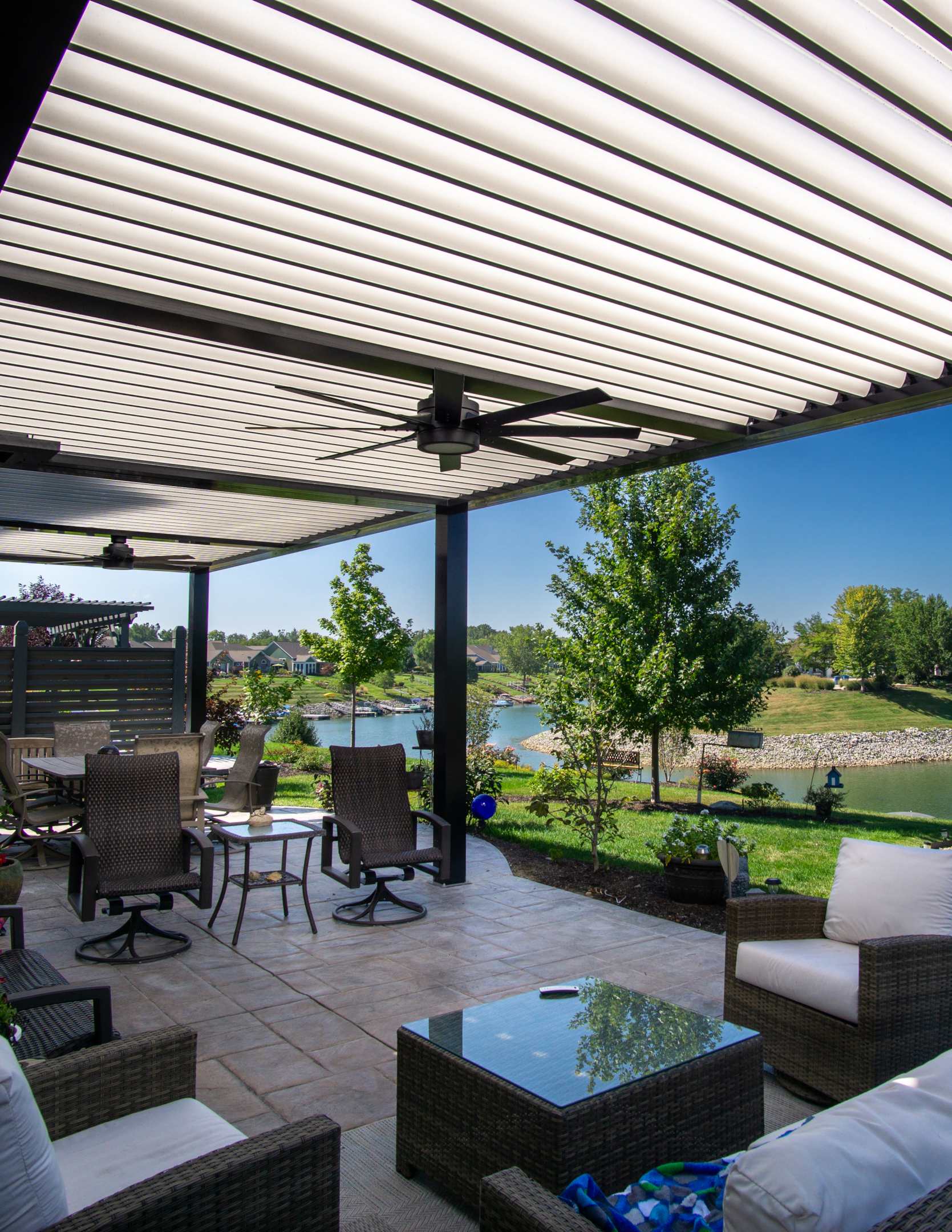 Listen to Article
Curious about learning about pergolas but unsure if you want to put the money in? Look no further. This article will walk you through all pros and cons of buying a pergola to help you determine if it is worth it for you.
How much does a pergola cost?
Depends on what kind of quality you're looking for. Do you want a cheap, easy fix for a long weekend? Or do you want something that will transform your whole space for years to come? 
If your answer is the latter then you're in the right place. The Luxury Pergola is a company that provides you with a DIY pergola kit that exudes luxury (that's why it's in the name). 
The Luxury Pergola quality is unmatched and is built to last. The customizations will allow you to make them match your home perfectly, and extend your space from inside to outside seamlessly. 
Average pergola costs in 2023
There are many different Pergola companies and options to choose from. Comprehensively, the best pergola kit would be a louvered pergola kit. It allows you to easily regulate how much sunlight you want to come in or turn your outdoor space into a shaded area as well as maximizing airflow which ensures comfort.
If you want an even more distinct pergola, a motorized louvered pergola would be a perfect option for you. 
The top 3 valued louvered roof kits are:
The Luxury Pergola: Starting at $7999

Struxure Pergola Cost (12X12): Starting around $25,000

Mirador/Costco Adjustable Pergola: Starting at $1899
All of these come with their own pros and cons, but we will further discuss the best option out of these.
Pergola costs per square foot
The per square foot pricing of The Luxury Pergola Louvered pergola kits will be shown below. As the square foot area increases, the price increases.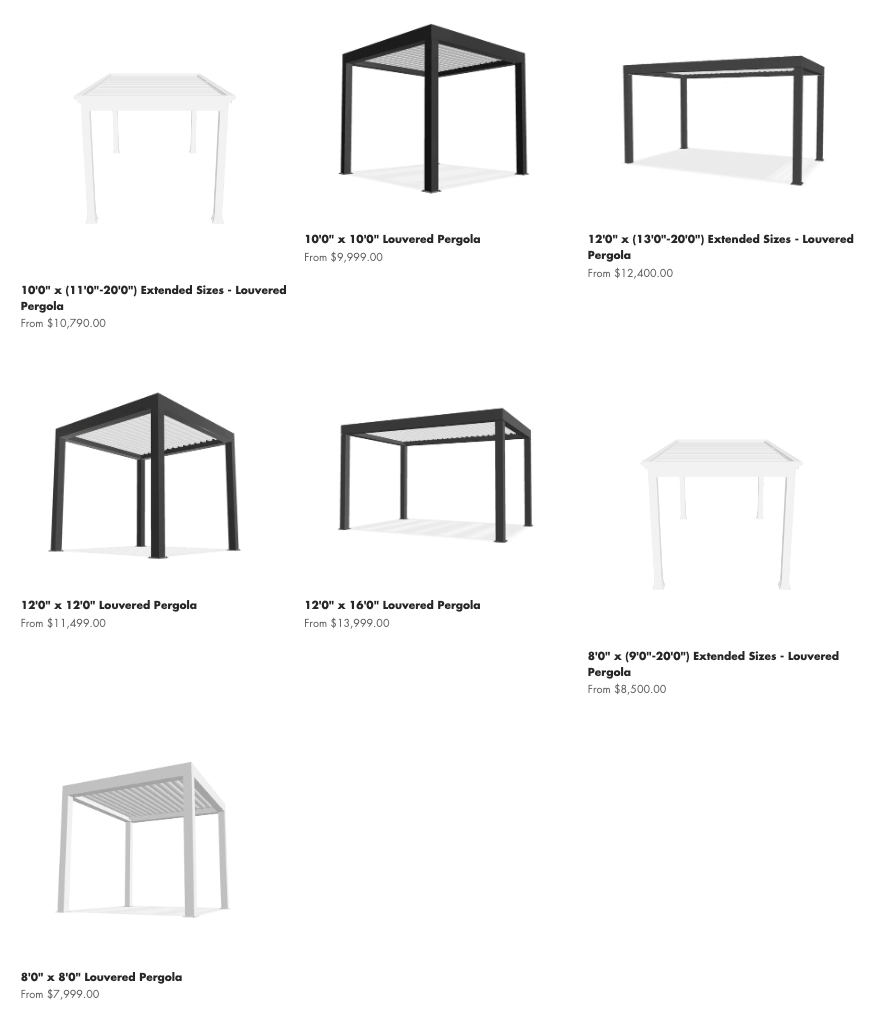 The Luxury Pergola Kits have an average price of $66 per square foot.
Pergola sizes and styles
Any of our pergola kits can be customized with frame color and louver color with no extra charge. This allows you to have your perfect custom pergola in your outdoor living space to match the aesthetic you were looking for. 
Another way you can change up the look of your custom pergola is by adding crown molding. We have two options, traditional or contemporary. Either one of these options will help you elevate your pergola to be the perfect fit. 
One more way to customize your pergola is to add a base trim. This is a relatively small change with big impact. This will help elevate your look in a way that exudes luxury.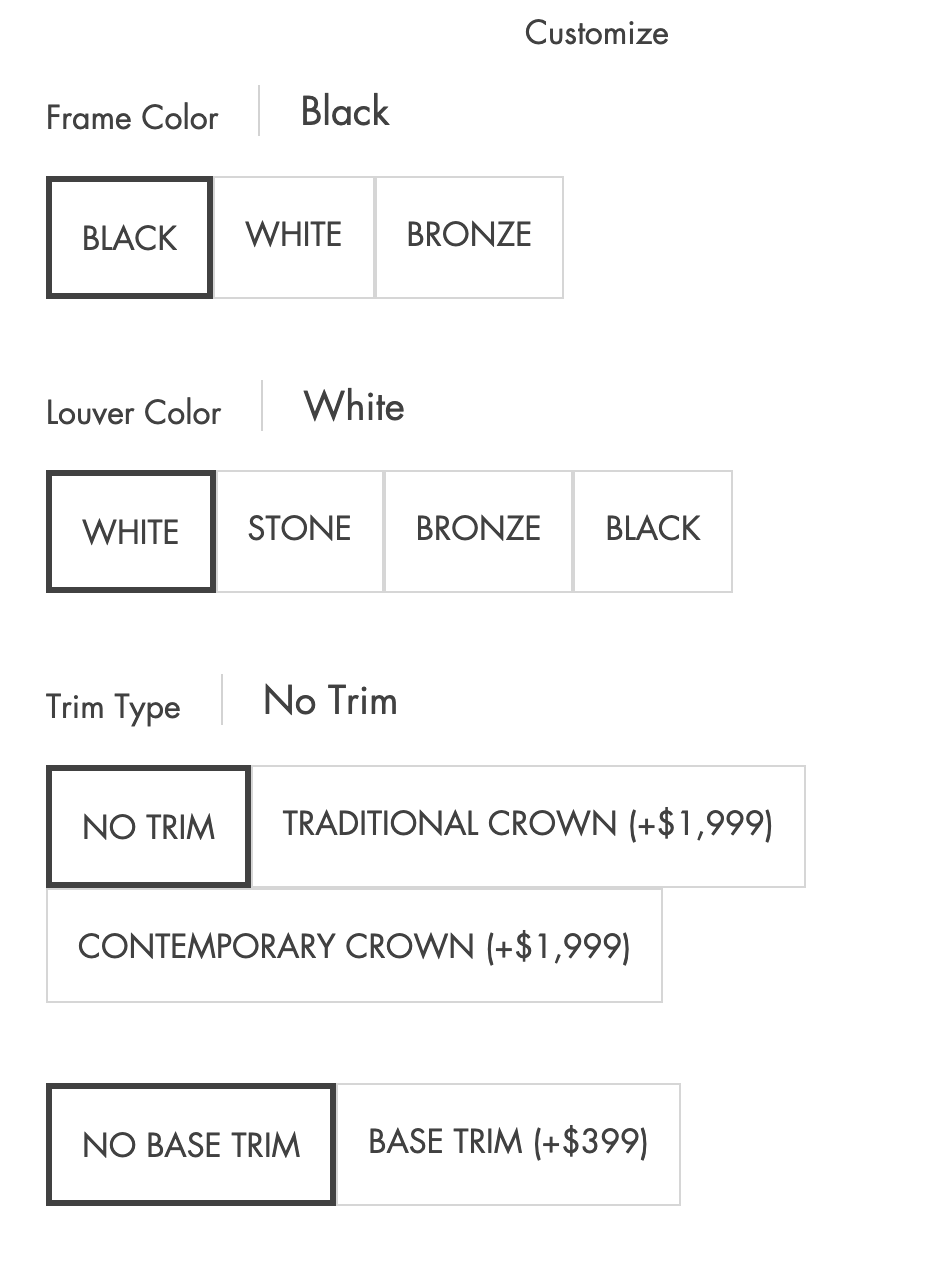 When it comes to cost per square foot, the cost will undoubtedly increase slightly as the square foot increases. What matters here is that for slight changes in price, you can find your perfect fit with The Luxury Pergola. The customization privileges allow you to maximize value while minimizing cost as much as possible.
Material Costs
No matter the aesthetic and style you're looking at for your pergola, the biggest difference in costs will be materials. Overall, whichever material you decide to use for your pergola will largely depend on your needs and preferences.
Aluminum Pergolas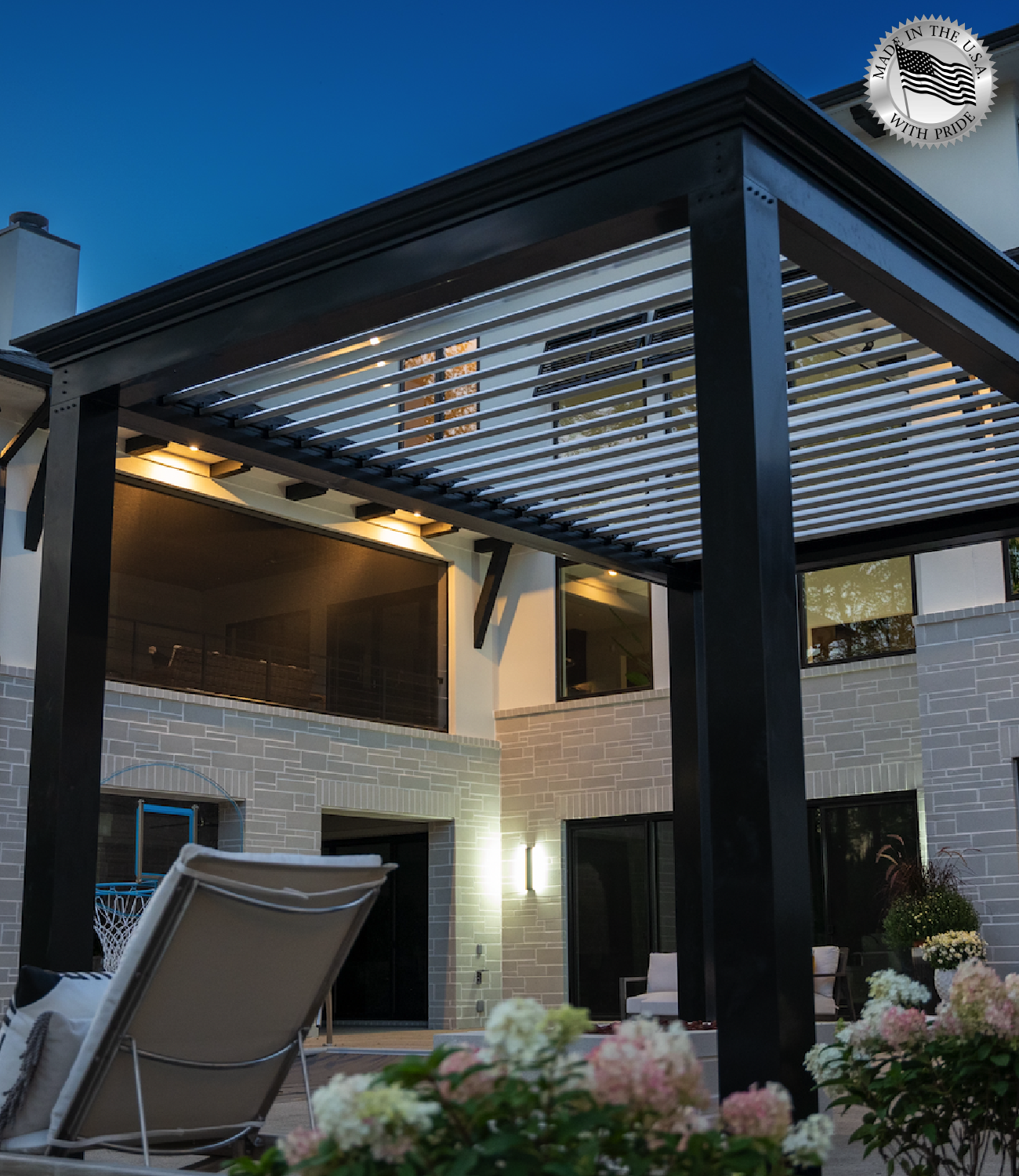 The Luxury Pergola offers an aluminum pergola that is built to last. Compared to every other material on the market for a pergola, aluminum pergolas are the best to get. They are built to be rot resistant, and can withstand rusting and fading. While they are in fact the most expensive on the market, however, they are an investment worth making.
Compared to other materials, aluminum gives you the most bang for your buck. You're paying for quality, security, durability, and luxury.
The Luxury Pergola's pergola kit allows you to save money because it is a pergola DIY. Because you are not paying for the labor costs directly through them, and only for the DIY kit, it will typically cost you less than the average price of an aluminum pergola that has this great of quality.
The top aluminum pergolas start at $7,999 and you will get your use out of this money.
Wood Pergola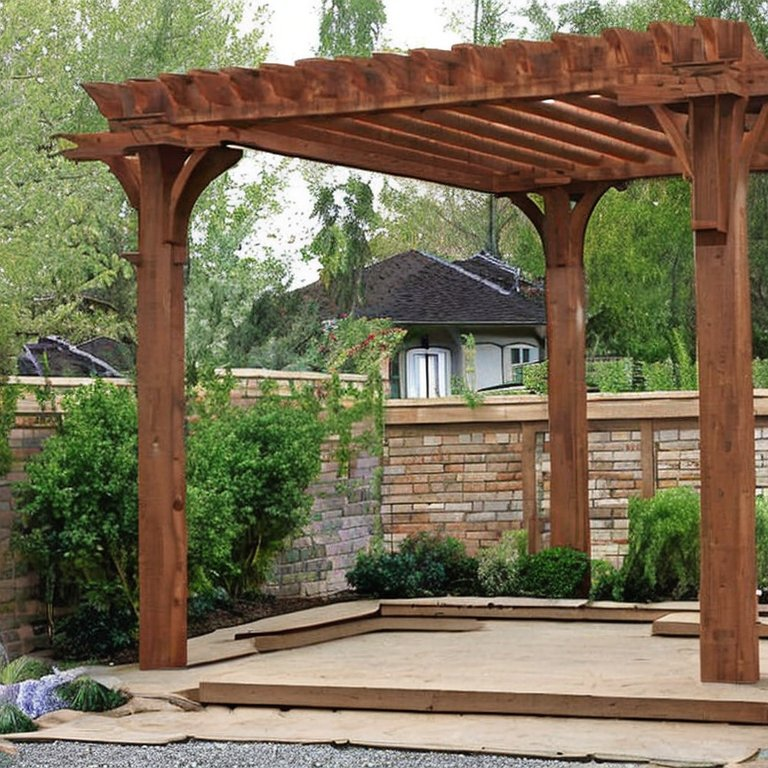 Getting a wood pergola would be the next most expensive pergola material option for you. There are many different types of wood that can be used for pergolas, but Cedar is generally the most weather resistant -- therefore, one of the most common pergola materials in terms of wood.
Cedar pergolas are nice and pretty to look at, but they don't necessarily have the durability and reliability that an aluminum pergola would.
A Cedar pergola is a great option if you want a low maintenance wood pergola, with the added benefit of having it be weather resistant. However, a cedar/wood pergola would not be motorized or operable.
Wood pergolas are also not rot resistant, fading, and require a little bit of maintenance compared to the aluminum pergola.
Vinyl Pergola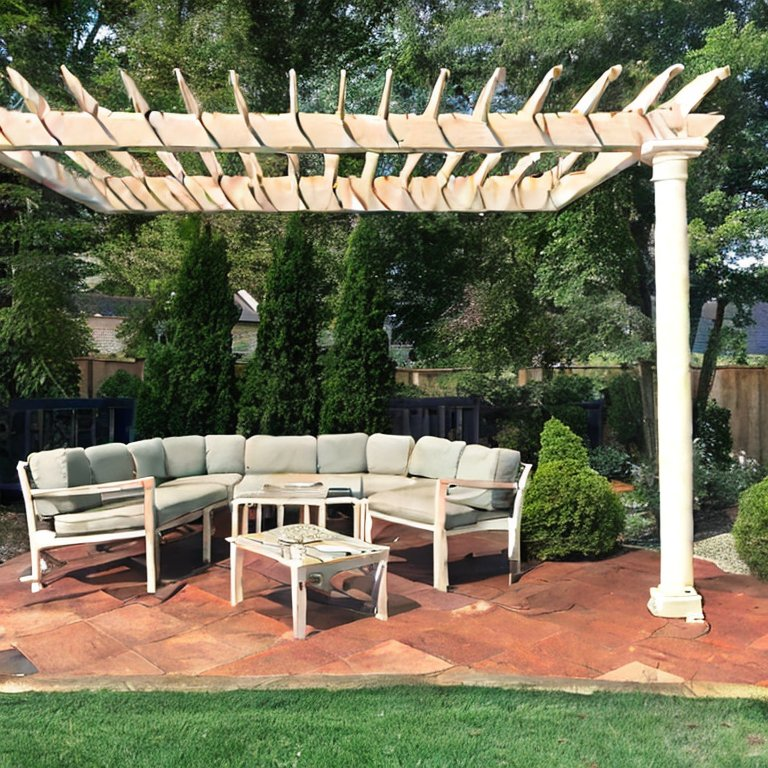 Getting a Vinyl pergola would come with the least expensive material costs. Vinyl pergolas also come with little to no maintenance requirements, they are rot resistant, and moderately resistant to fading. You can also get more of a variety when it comes to colors and style.
With Vinyl pergolas, you're getting what you pay for. While it may be the most budget friendly option for you, it won't last you very long at all. Vinyl is a very common pergola materials, as it is cheap to produce and to sell. The affordable price shouldn't encourage you to get a structure that will not last long.
Our Recommendation
When choosing a pergola, we understand there is a lot to consider. Money, style, material, aesthetic, durability, reliability, security, and your weather conditions are all extremely important factors that will go into your decision of which pergola to choose.
Between the 3 options of pergolas discussed, we strongly recommend the aluminum pergola. The Luxury Pergola's product fully checks the boxes of material, durability, reliability, security, and can accommodate weather conditions the best.
While the total cost of the pergola may be more than you expected, you can have a luxurious, seamless experience with The Luxury Pergola. You will save on direct labor costs, you can choose the specific pergola size to your needs, and you will have your own, custom pergola to enhance your outdoor living space.
Wooden pergolas may cost less but it will rot, fade, and you will need to work to maintain it. You may pay less upfront cost, but it won't last you as long in the long-run and the final cost may end up being more than you intended in the beginning.
A vinyl pergola design may be what you are looking for, but it isn't the pergola worth your money. It will fade and crack and isn't durable enough to last in most weather conditions.
In the end, the decision should be based on which pergola material best suits your needs and preferences.
Extra Costs
Like with any product, you have to think about the extra costs that come with it in order to make your decision. With most pergolas and pergola companies, you have to account for labor costs and shipping costs. The Luxury Pergola makes DIY pergola kits to make it accessible enough for you to build a pergola on your own.
Some other extra costs would be however you want to accessorize your pergola. If you want a modern pergola look, you'll have to consider getting accessories such as furniture, a hot tub beneath the pergola, greenery, plants, etc.
Increase Home Value?
If you were worried about the long term investment of a pergola, don't be. Having a modern, beautiful pergola in your home can actually help raise the value of your home.
There is a concept known as "curb appeal". This essentially refers to the general attractiveness of a property. Curb appeal is used in the context of someone buying a home. Having a new pergola will increase the curb appeal in a way that could possibly raise the value of your home. If you take our style suggestions, whether that be adding some climbing plants, furniture, and making sure it's an extension of your house, it can add more square footage to the property and make it that much more appealing.
If it came down to a smart pergola from The Luxury Pergola, the retractable roof would be enough to make it stand out from the rest. The durability of their pergolas will also make a statement about the house and it's longevity, which is a very important factor that most buyers look into.
This is actually a great factor to look into when considering a pergola.
Pergola vs. Gazebo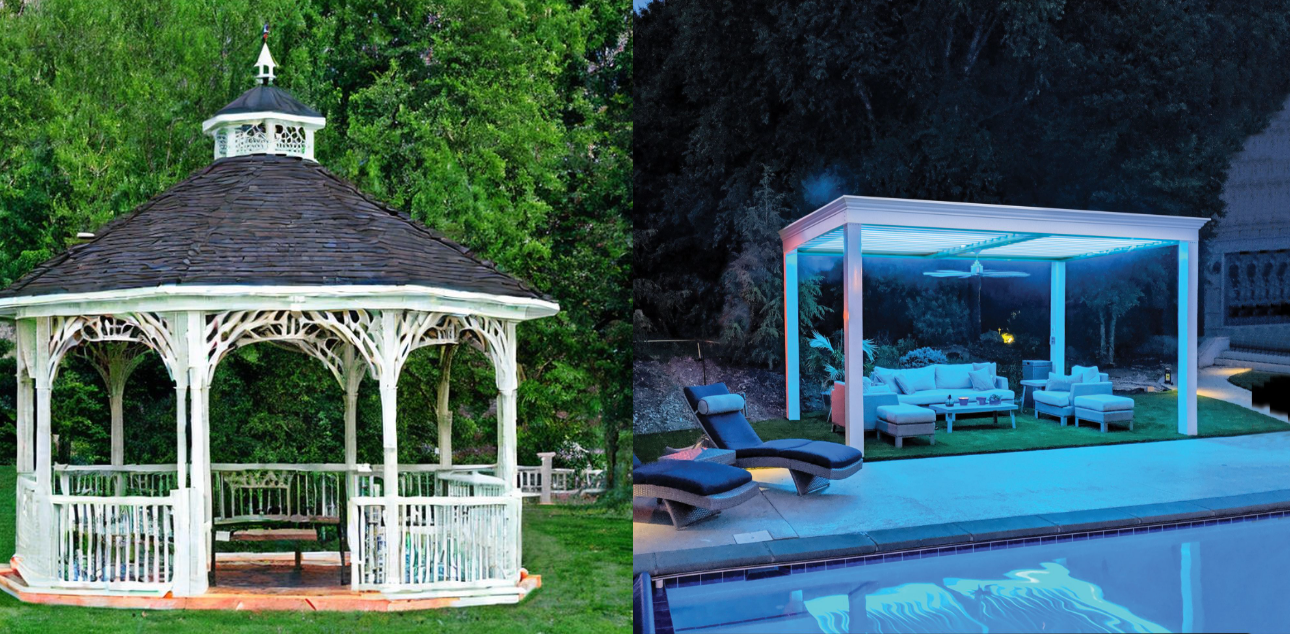 Both Pergolas and Gazebos are popular outdoor structures that can be used to complement your outdoor space.
What is a pergola?
A Pergola is an outdoor structure often supported by vertical posts that support horizontal beams or metal louvers.
You can have a pergola built wherever there is concrete on your property, but it is often built on the patio area in order to extend the indoor space to the outside.
What is a gazebo?
A gazebo is a roofed outdoor structure that offers an open view of the area surrounding it. Gazebos usually need to be professionally installed, and they are typically built with wood with a full coverage roof.
Whether you go with a pergola or a gazebo in your outdoor space is something that depends on your needs and preferences. Pergolas tend to go more with the modern aesthetic that people look for in their homes recently, and gazebos tend to have a more traditional look to them.
DIY Pergola kit vs. Prebuilt Pergola
Are you wondering what the difference is between buying a Prebuilt Pergola and a DIY pergola kit?
The first answer: Price.
A DIY pergola kit such as the one provided by The Luxury Pergola is something that allows you to buy the supplies straight from a US manufacturer, and it's built in a way that you can skip the direct labor cost and get it done yourself.
A prebuilt Pergola is going to cost a lot more for you to pay for not only supplies, labor, and middlemen. The Luxury Pergola is the manufacturer and seller themselves of the prefabricated kit, so you don't have to worry about the hidden costs of the middlemen. You are buying straight from the source themselves.
The Luxury Pergola's prices are much more reasonable. The cost per square foot is something that sets them apart from other brands. The cost per value is something that sets them apart.
The second answer: Accessibility.
Not only is The Luxury Pergola already more accessible due to the price being almost half of some of its competitors, but it allows you to complete the pergola build all on your own.
The other reason it is so accessible is that no matter what kind of aesthetic you are going for, you can find the right one for you. With 4 different frame colors and louver colors, you can make any combination that meets your needs the best.
Where Can I Get My Own Pergola?
As mentioned throughout this article The Luxury Pergola should be your one stop shop for your pergola needs. The cost to build a pergola with them is a steal compared to other materials and brands. For the pergola installation, they have an easy-to-understand, 10 step process that will get your pergola up in about a day.
Because The Luxury Pergola offers a pergola made out of aluminum, it comes with a strong, solid roof. Their pergolas are also louvered. This feature sets them apart from a traditional pergola roof, because you can set the louvers to be a little open, more open, or fully closed. This retractable roof feature gives it another advantage in the custom pergola design world.
The customization feature that they have ensures that you get the perfect pergola size for your needs in your outdoor living space. These pergolas are outdoor structures that will make everyone around you jealous.
The pergola cost to value ratio with The Luxury Pergola is unmatched when you take into account, the accessibility, durability, pergola installation ease, no direct labor costs, and custom pergola designs.
Get the Best Pergola Available