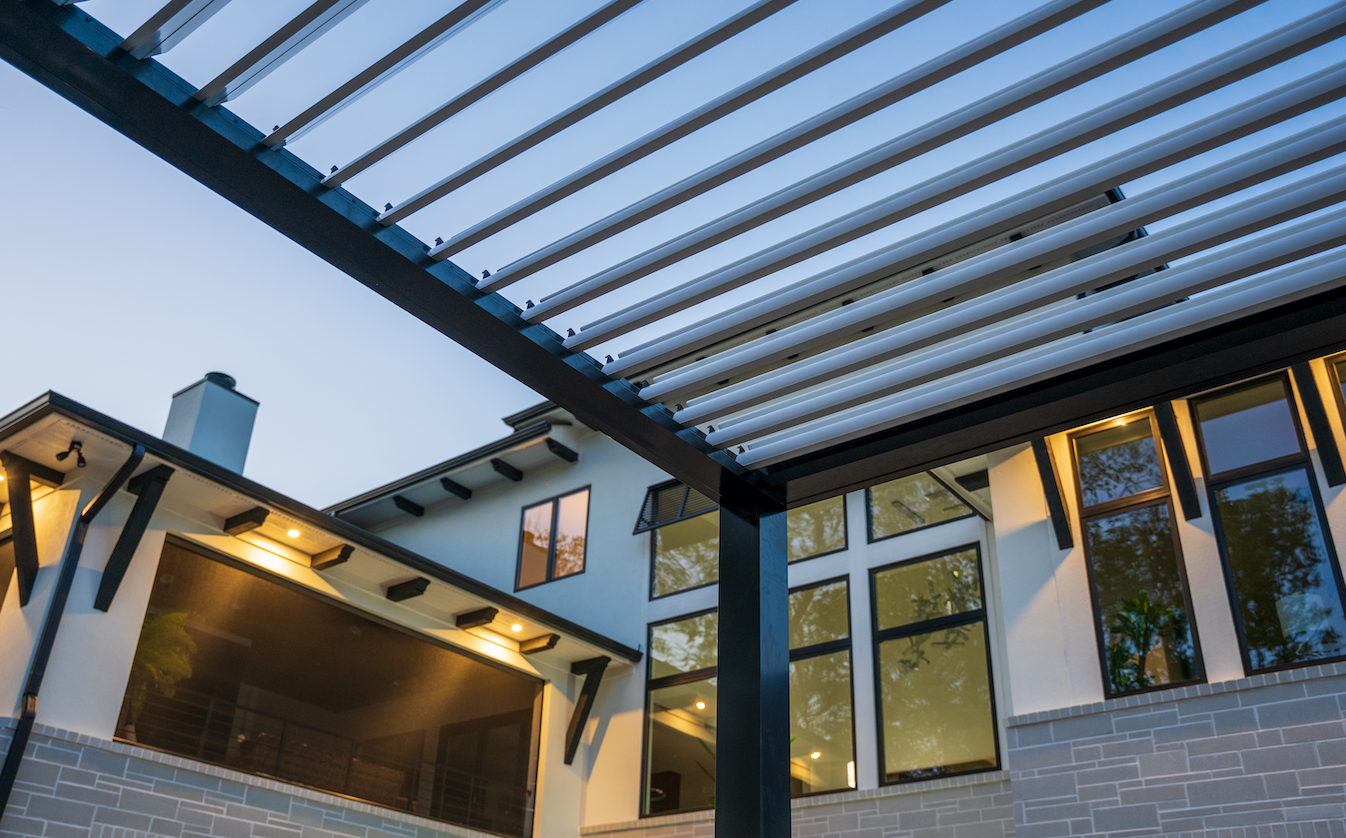 Listen to Article
Motorized louvered pergola kits are pergolas that come with a louvered roof that allow you to control the amount of fresh air, sunlight and heat you let in. You get the benefits of having something to cover your space while also giving you the exact amount of shade that you want, AND a great price if you buy from The Luxury Pergola. Our motorized pergola is the perfect solution for your outdoor space!
Table of Contents
What is a Motorized Pergola?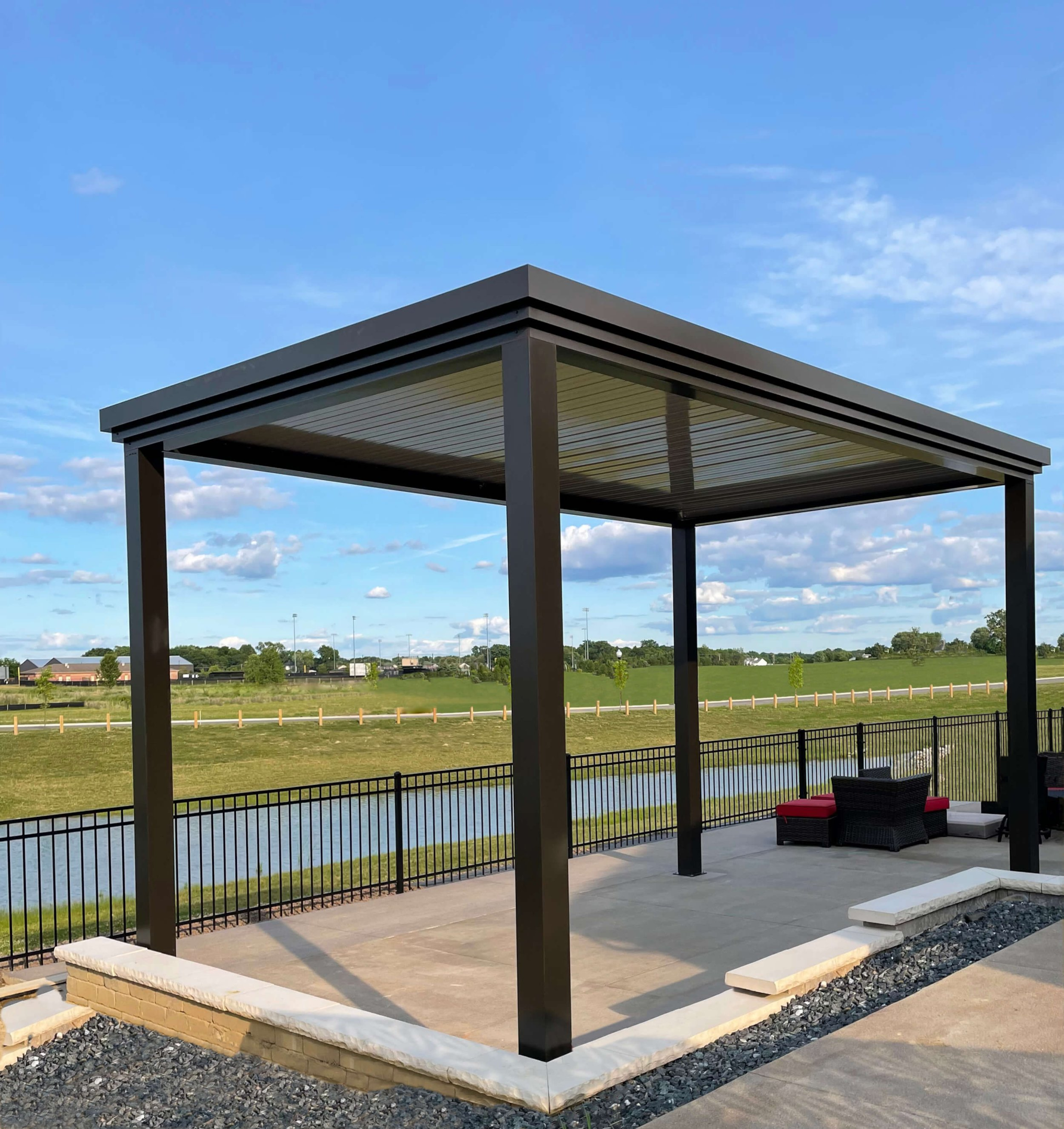 A motorized pergola is a pergola that has louvers that open and close with a remote control. It helps minimize sun exposure, can handle inclement weather, and keeps you safe and sound under it. The structure of The Luxury Pergola is what allows it to keep you safe, as it is made with aluminum, which is the strongest, most durable material that pergolas are made from.
Motorized Louvered Roof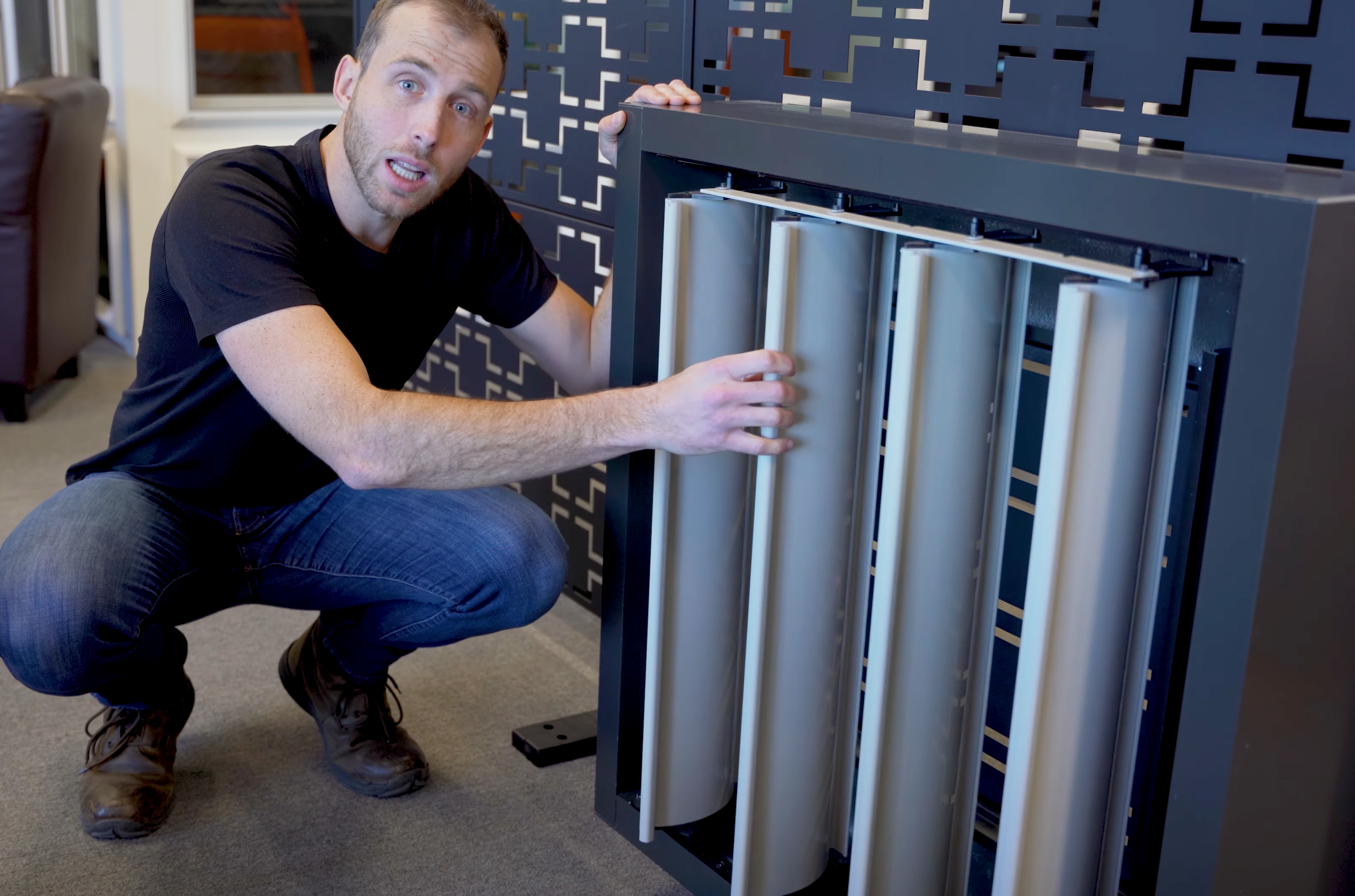 The roof on these pergolas is made with Louvers. These specially-designed louvers were made with an integrated gutter system that automatically drains through the drain post. They were designed to be thicker than most competitors so they are the more reliable option. Their material and design allows them to keep water out, and they automatically close with a remote. The motorized louvered roof lets you experience luxury with convenience, which is what you deserve.
Customizable Louver Angles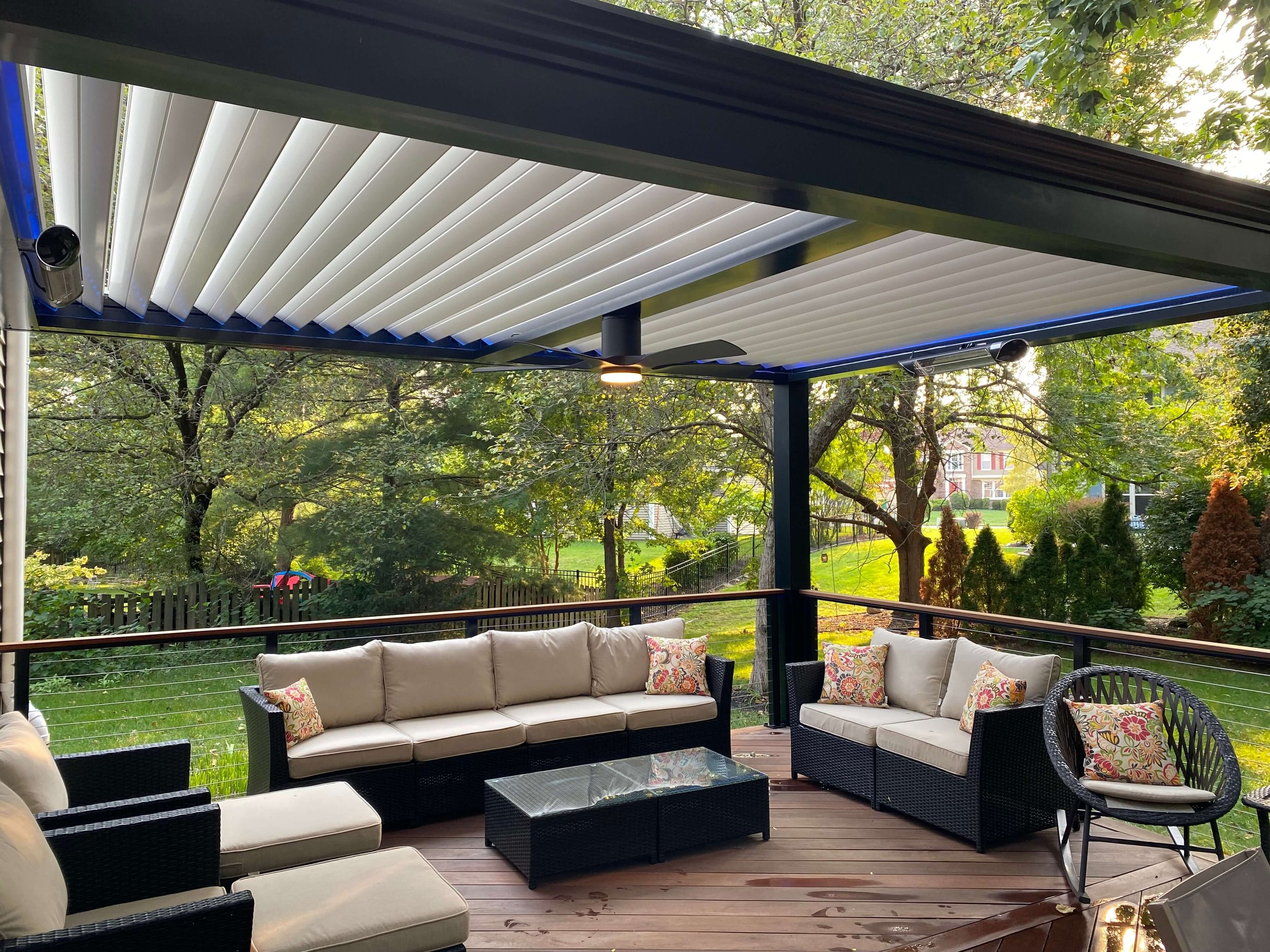 A motorized louvered pergola offers a level of flexibility and versatility over your outdoor environment. The louvers open and close from fully close to up to 130 degrees open at an angle. This way you can allow partial shade or leave the louvers close to keep you covered and cool. By giving you the power to control lighting and airflow, the customizable louver angles are the perfect solution to enhance your outdoor space.
Aesthetic Outdoor Space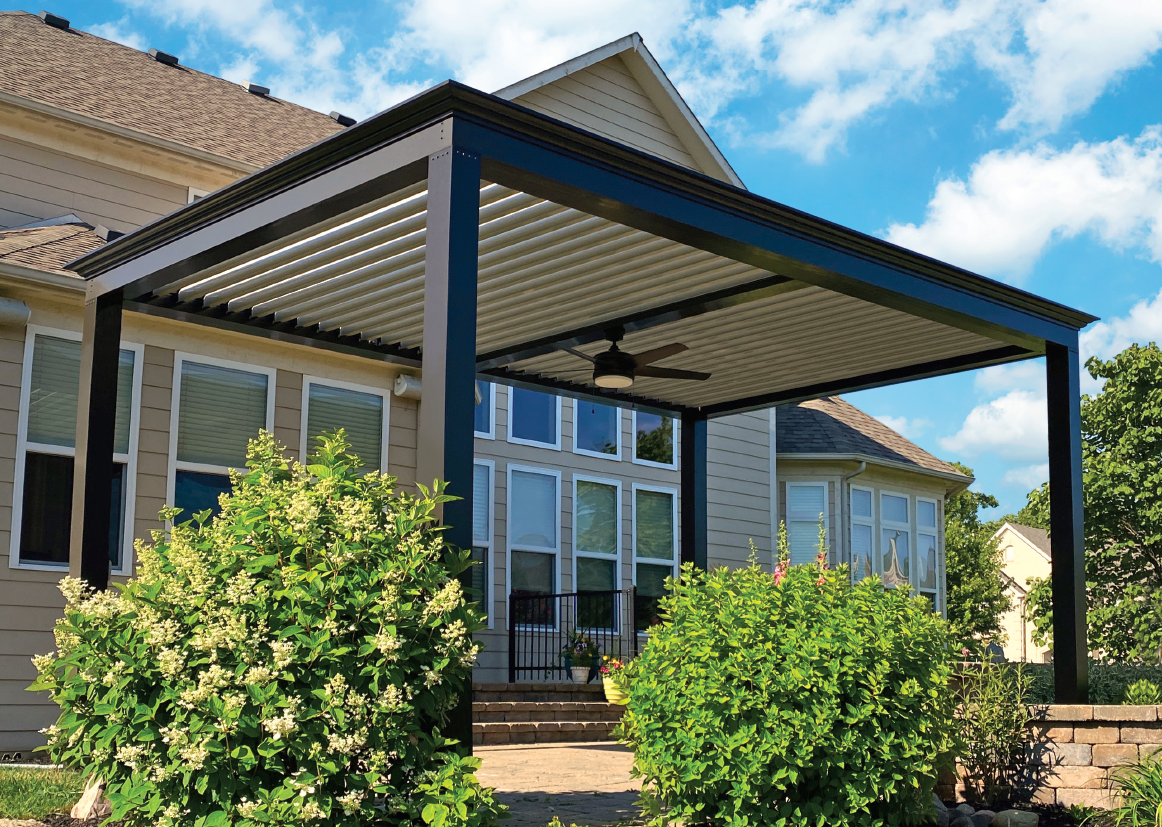 Motorized pergola will elevate the visual appeal of your outdoor spaces while also being exceptionally functional. It is a stunning architectural element made with quality materials to create a beautiful outdoor living space to complement your home. To truly make your outdoor spaces correlate with your interior design, you can style the pergola in many different ways with many different accessories.
Outdoor Kitchen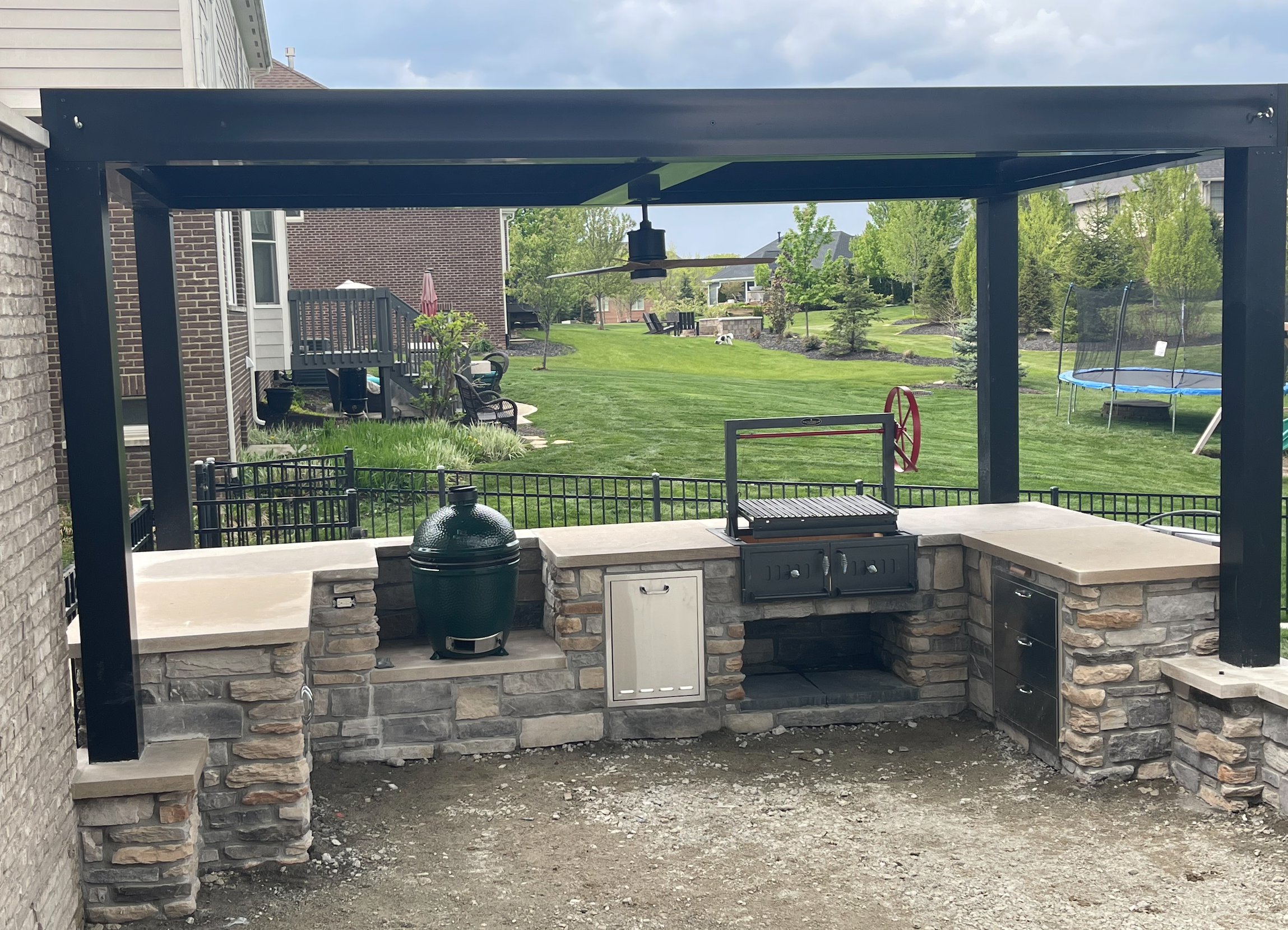 You can create a new kitchen haven, and brand new outdoor dining space. With the louvered pergolas, you get a multifunctional space for everyone to cook and eat with plenty of usable space. Because of the louvered pergolas provide shade and protect you properly from weather incidents, you don't have to worry about the structure failing on you.
Pool Paradise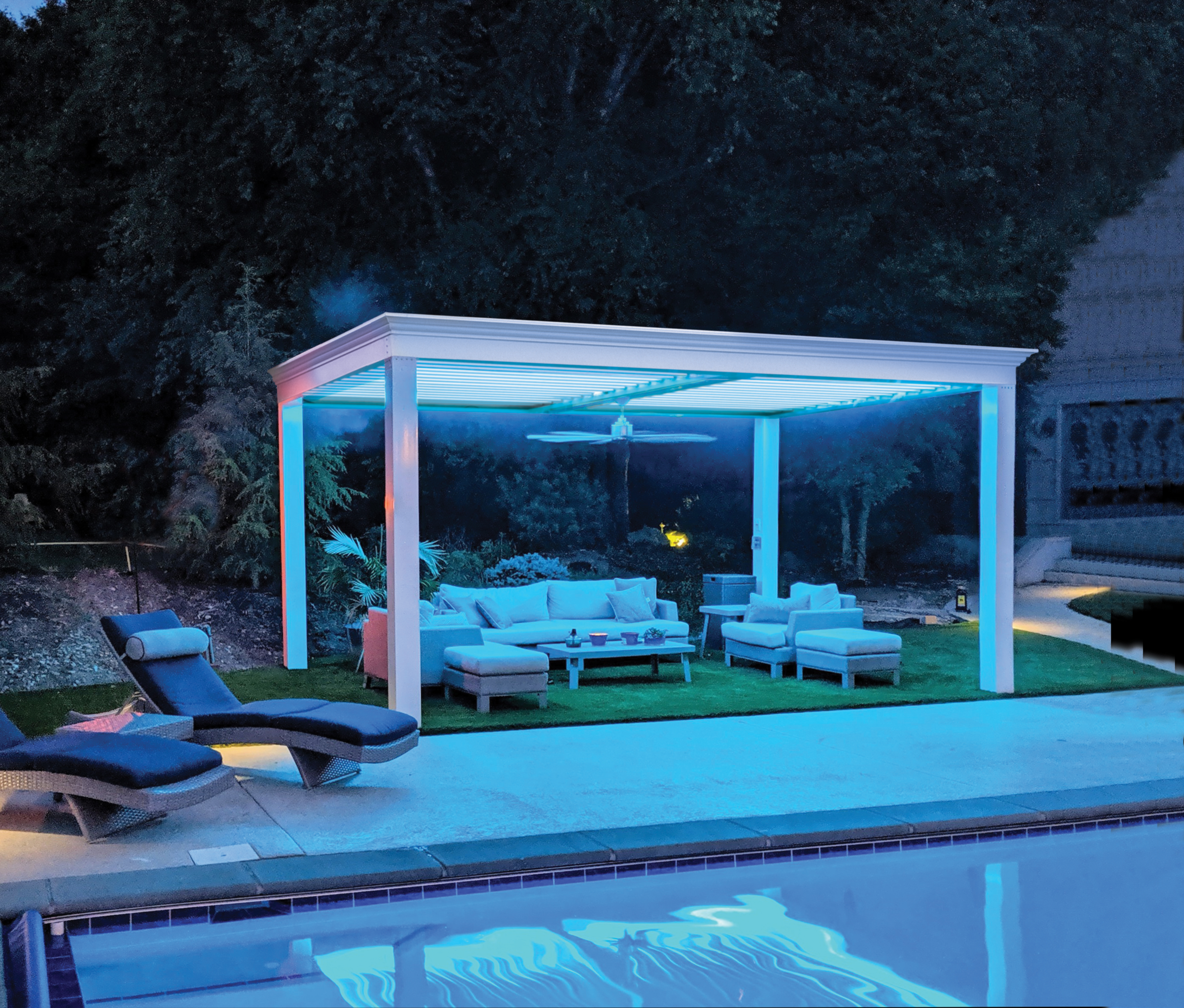 If you're part of the lucky population that owns a pool, this louvered pergola has the features you need to elevate your backyard area. The freestanding pergola allows you to separate your spaces seamlessly, so there's a separate space for water lovers vs the ones who want to stay dry. To take inspiration from a Luxury Pergola customer, you can add led lighting to your pergola to transform the space into a party pool paradise.
Entertainment Area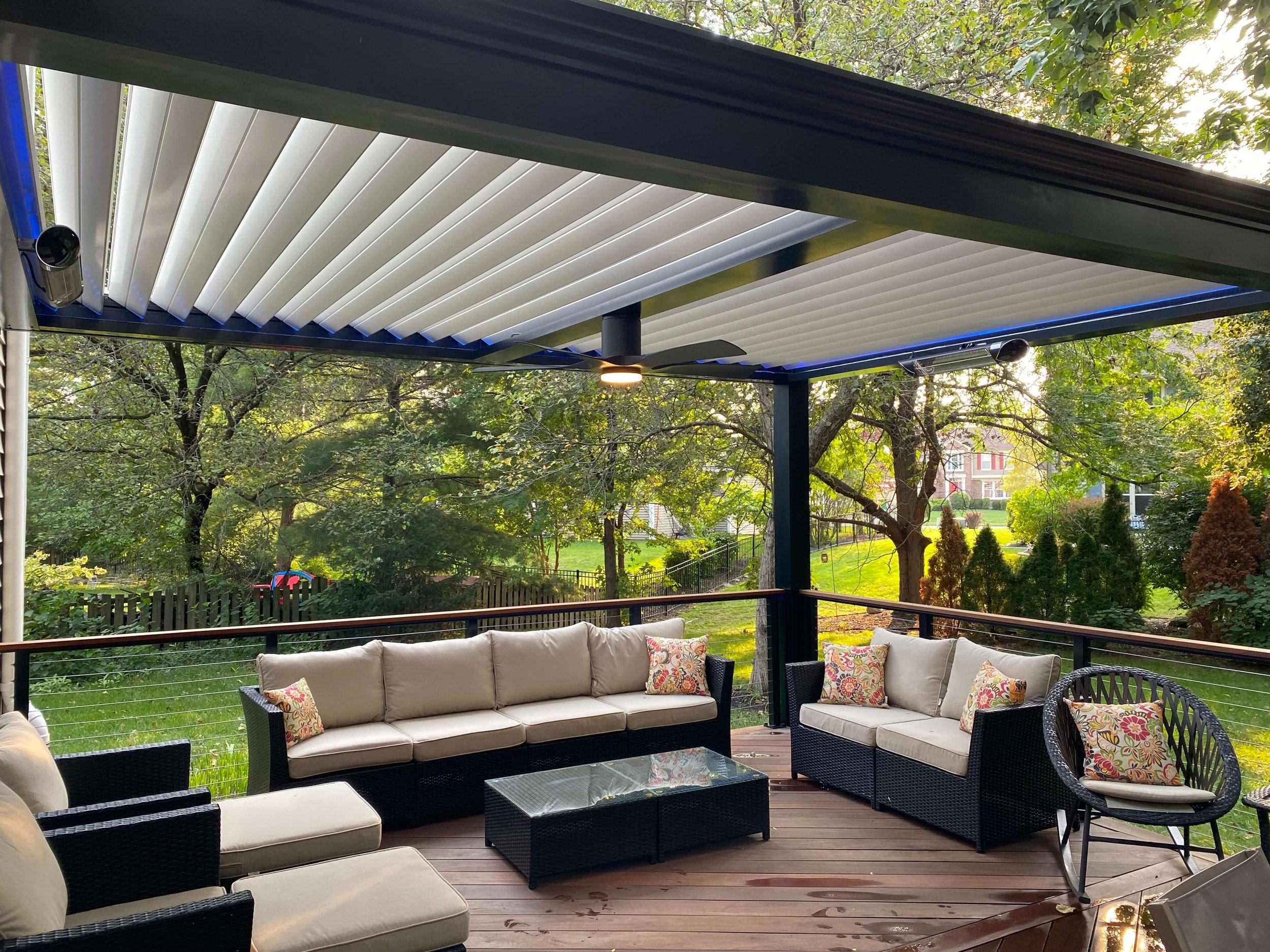 Because of how easily this transforms your area, you can have the party house of the friend group. Not only do you get to enjoy fresh air, having company over doesn't get easier than this. With some aesthetic outdoor furniture, your property is getting upgrades everyone else will want to steal. The value this pergola brings you is more than just a functional, aesthetic space, it also brings you the ability to reconnect with one another in a beautiful hosting space.
Weather-Resistant Functionality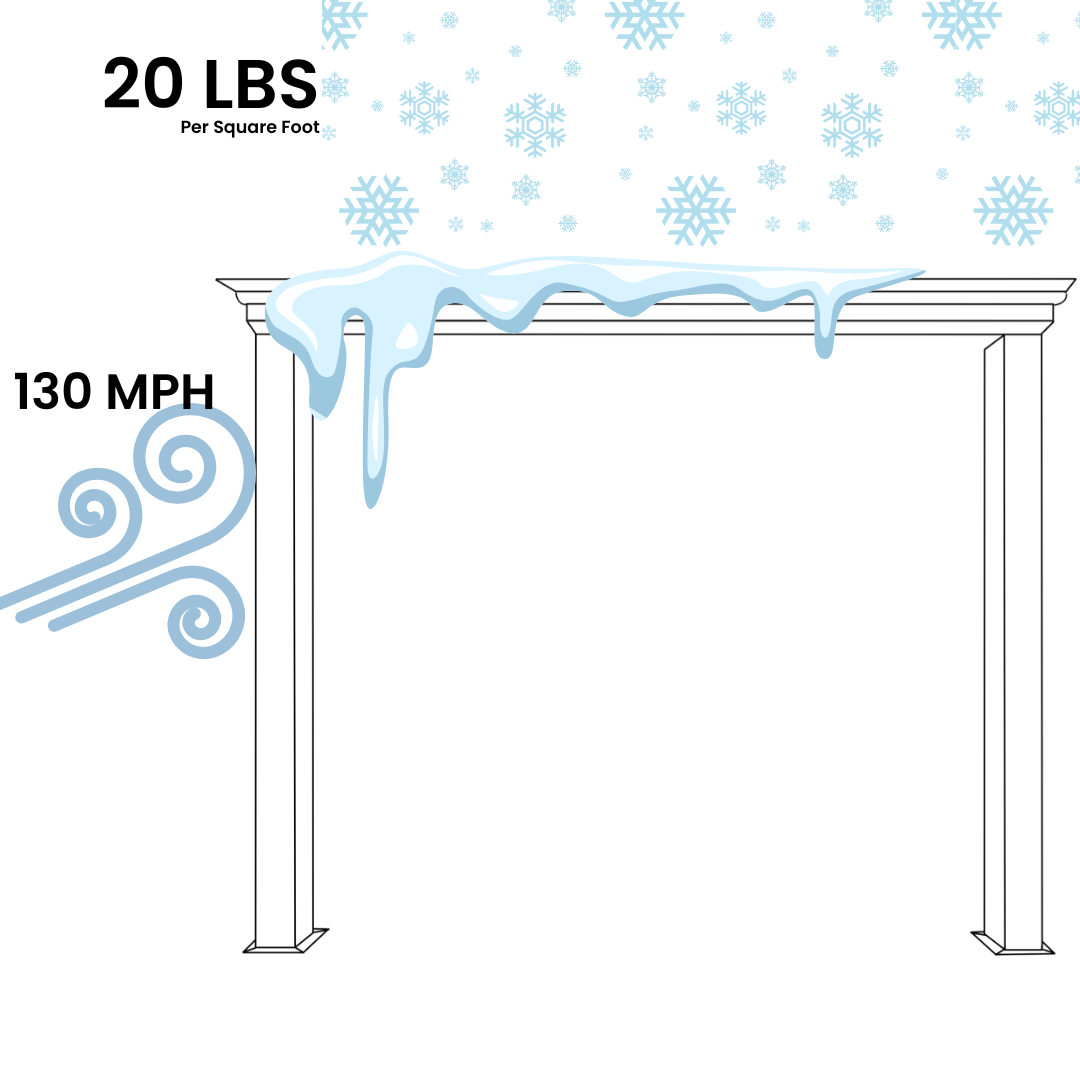 The motorized louvered pergola can take your fear away if you live in an area with inclement weather. With the strength of the aluminum material used to build this pergola, you won't have to worry about what will happen if it starts raining or there are strong winds. The pergola can withstand up to 130 MPH wind (which is up to small hurricane force winds), and depending on which one of the multiple sizes you choose, up to 50 LBS of snow per square foot of pergola, which can translate to up to 9000 LBS of snow with the louvers closed.
If it rains, there is an impeccable gutter system that allows the rain to come through the louvers and drain through a drainage post, which you can place at any of the 4 corners. The louvered pergola takes away all of your worries when it comes to snow, rain, and high winds so you can enjoy your outdoor living to a new level!
Year-Round Enjoyment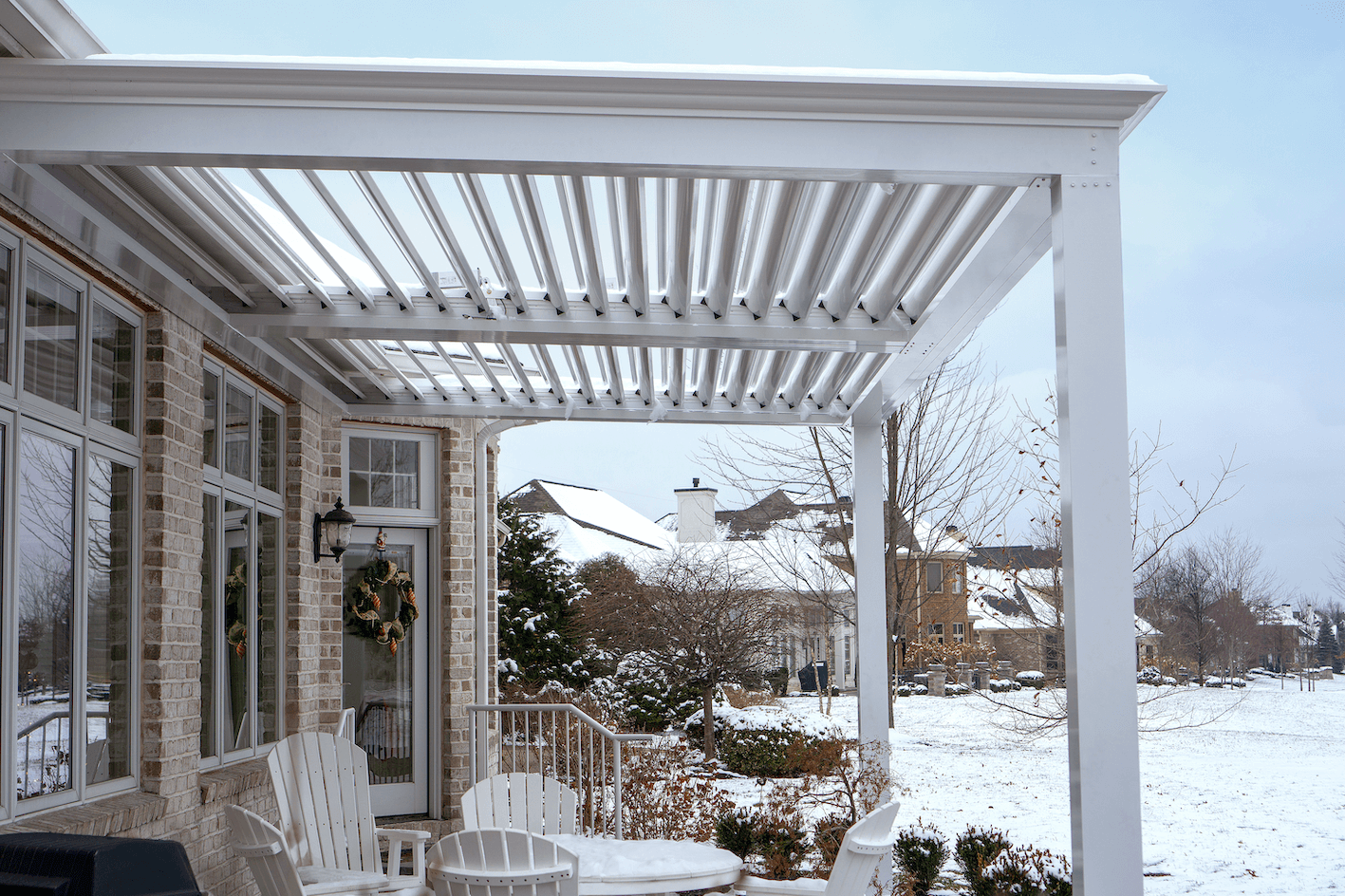 Because of the amazing weather conditions that this pergola can handle, you can enjoy your space year round. The strong aluminum roof is the quality that you need to enjoy your patio year round. The strong frame is easy to assemble, and can be installed yourself! Rain, high winds, the sun, snow, and light are all no match for The Luxury Pergola.
The Luxury Pergola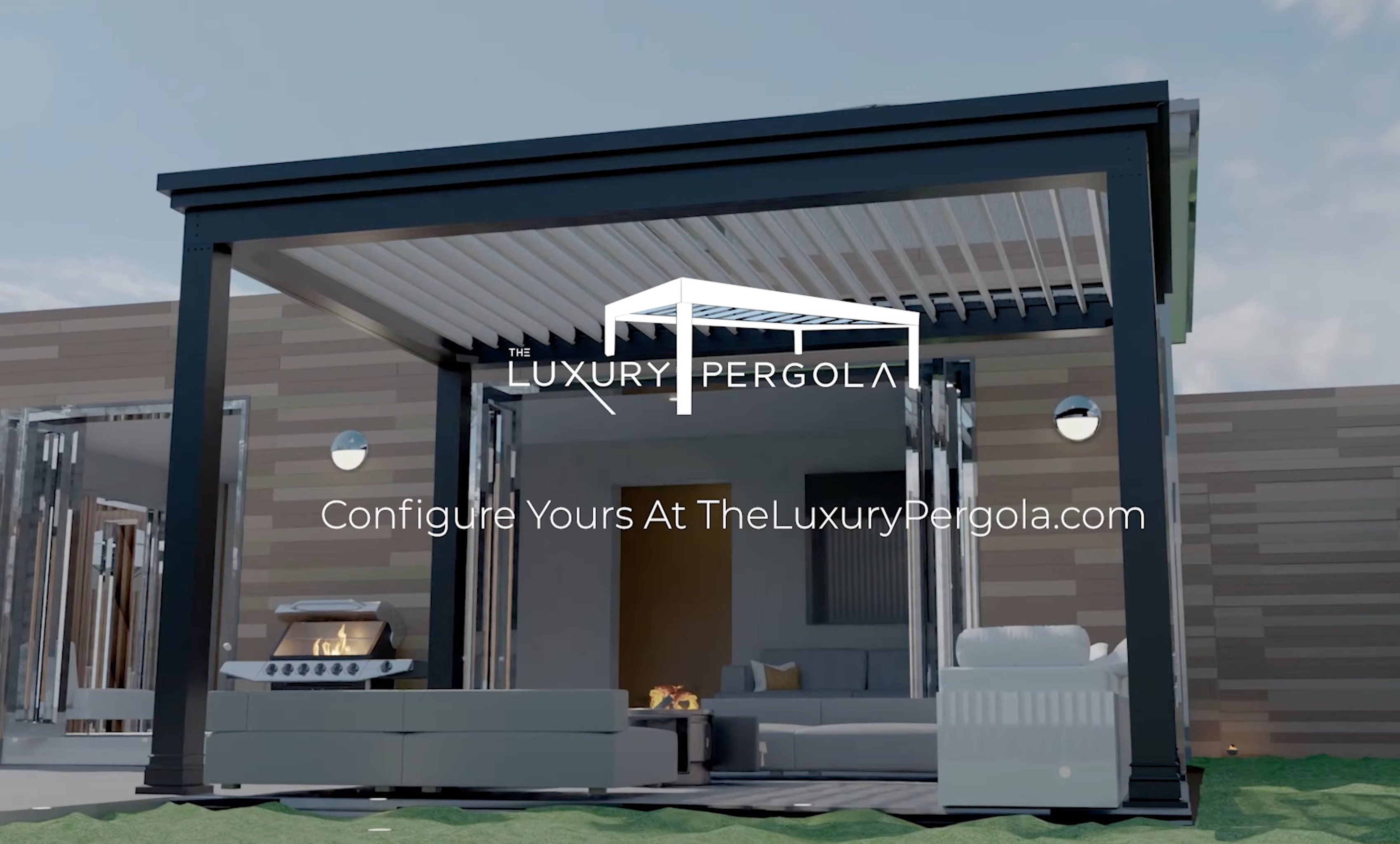 Being a seller of DIY pergola kits allows us to cut out a middle-man and give you the opportunity to save money and assemble this yourself and turn it into a family project. The installation is made very simple with many instructions attached with the kit. You can see how we installed it ourselves on our youtube! You don't need a strong level of expertise with pergolas in order to enjoy a luxury pergola. This is the best pergola kit on the market by far! If you want a pergola with easy installation and the perfect solution to your space, The Luxury Pergola is the way to go.