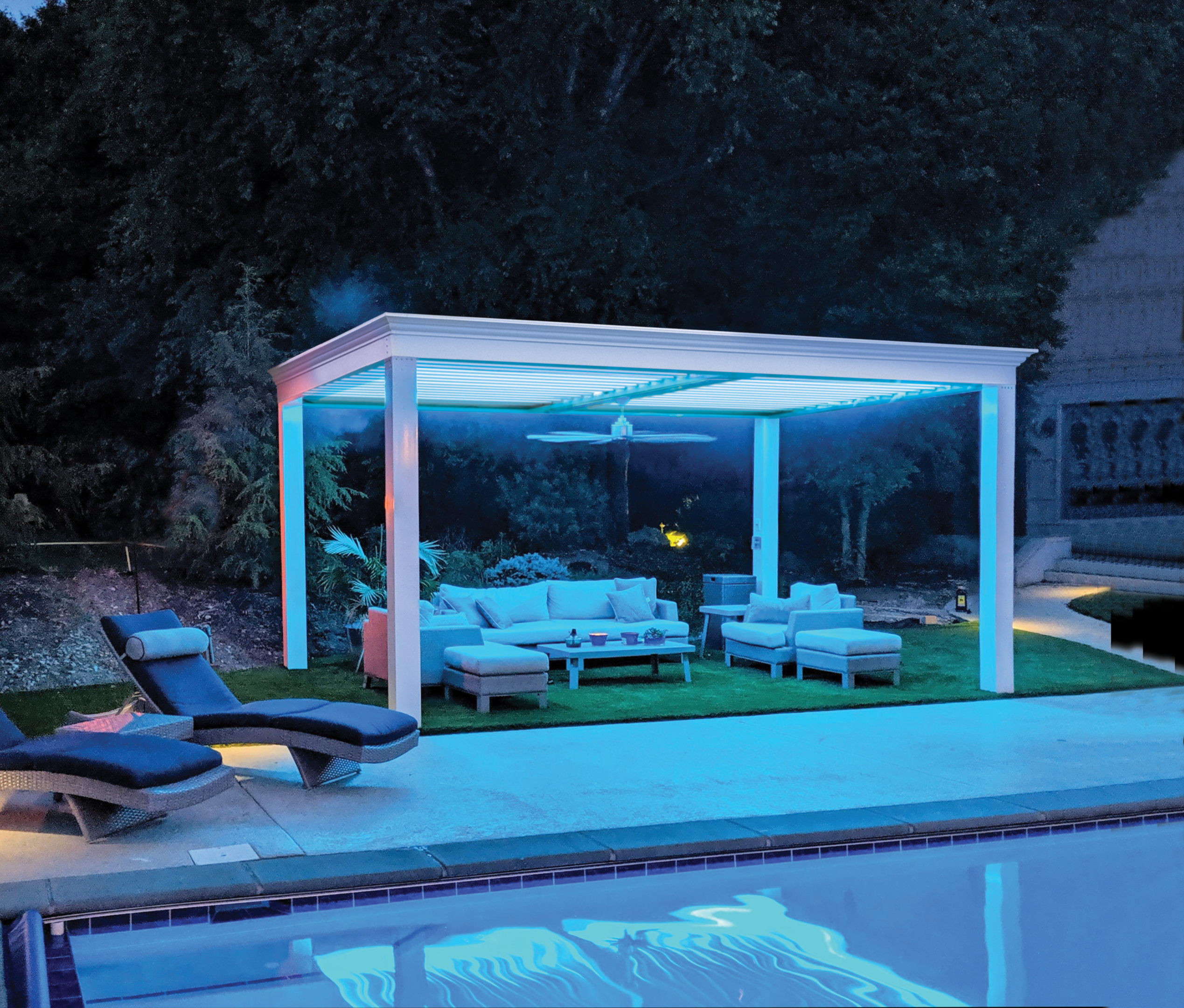 Listen to Article
If you're looking to completely transform your outdoor space including your patio or backyard, look no further than The Luxury Pergola. With our customizable modern pergola designs, your outdoor living space will be the focal point of your neighborhood.
You can revamp your patio space, pool area, or outdoor living space with a contemporary style modern pergola all to your choosing.
This article will go over the many pergola ideas we have, whether that's the structure of the pergola itself, or the design and styling.
Enhance Your Patio Space With Our Pergola Kits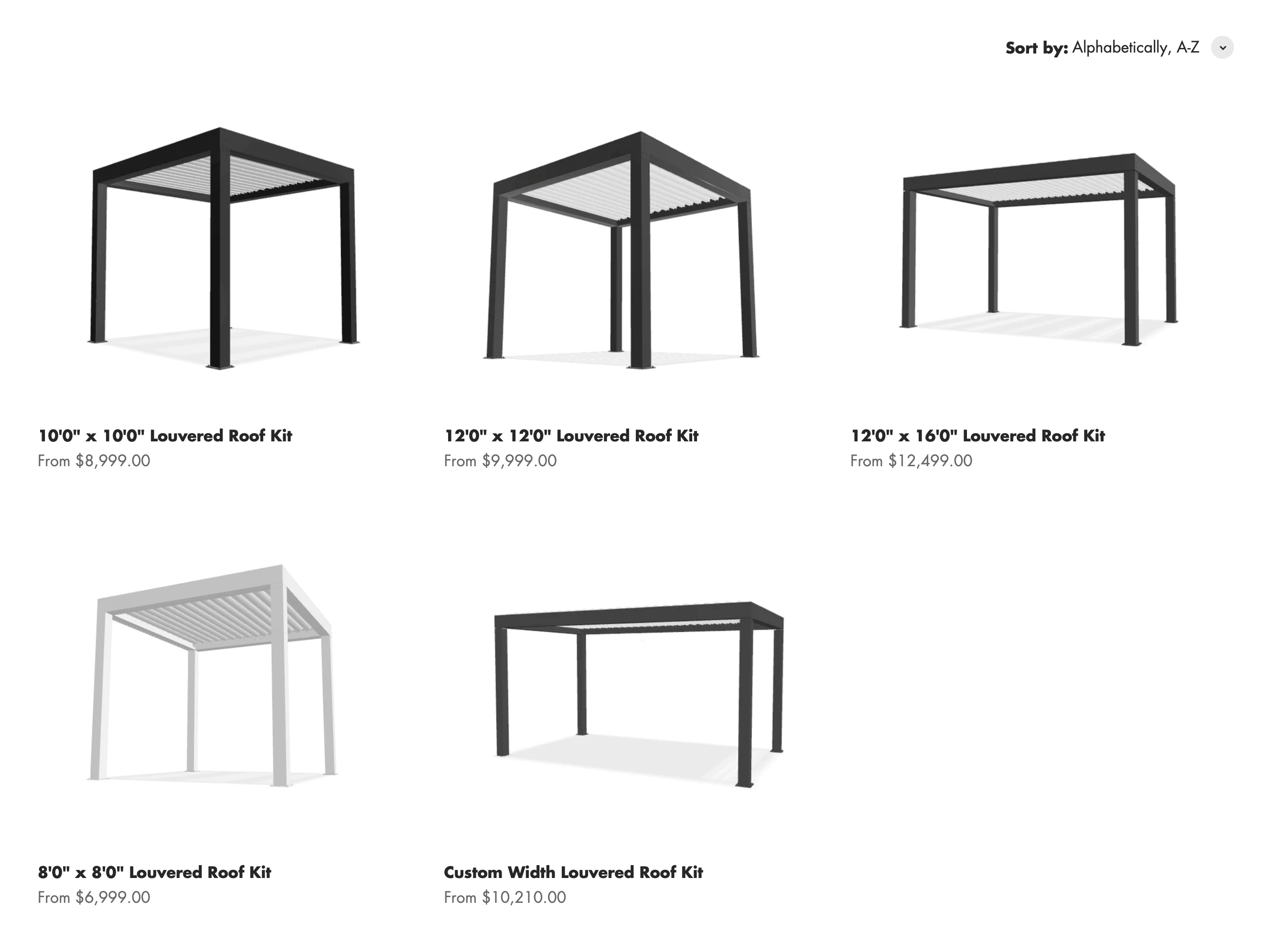 Want to transform your patio/outdoor space but unsure where to start? Uncover the potential of your underutilized outdoor spaces with our game-changing DIY pergola kits. Remodeling your space will become a breeze with these kits!
With The Luxury Pergola, you can elevate your outdoor space to a new level of sophistication and functionality. We only design pergolas that seamlessly transform your area into whatever you are looking for. Our pergola design was made to withstand dramatic weather and be durable.
Sizes of Pergolas:

Due to our accessibility, you can customize your modern pergola to be the size that you need it to be for your space. Whether you want a pergola to enhance an outdoor entertainment space, your backyard, or you just want a simple outdoor space, our variety of sizes will cater to your every need.
Materials and Finishes
The Luxury Pergola offers a unique solution to your problems and allows you to customize your pergola to your needs. We offer 12 different sizes, with your choice of frame color, louver color, and trim.
We also offer the most durable pergola material on the market. While you may be interested in a cedar pergola, an aluminum pergola is built to withstand rotting, rusting, and fading. Our aluminum pergolas are also operable which you won't find in a cedar pergola.
With many different finishes to choose from and the aluminum material, our pergolas will completely change the style of your home and turn it into the space of your dreams.
Durability of the Structure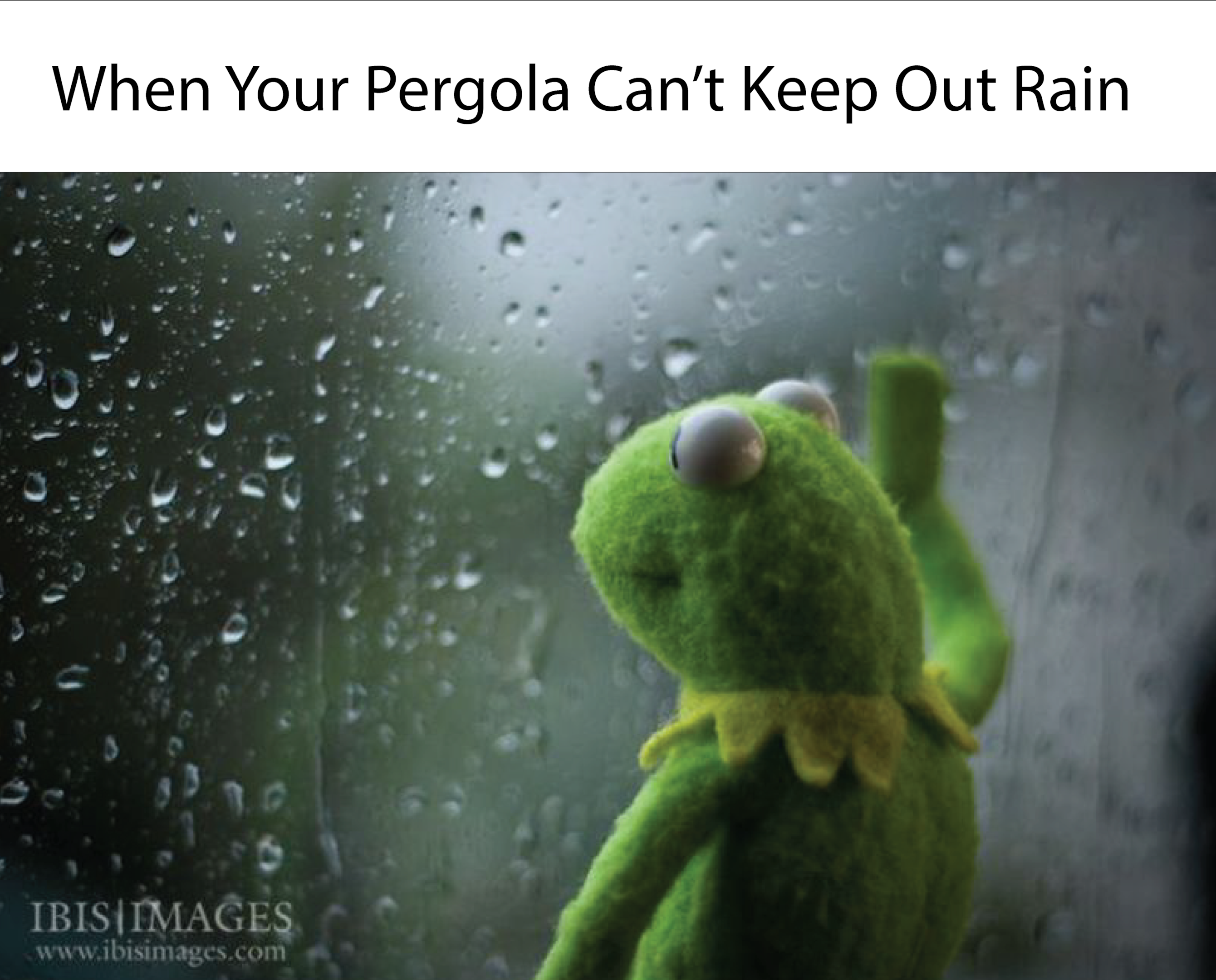 The covered pergolas can provide you with the shade and protection you need from sun and rain showers and high winds as our louvered pergola is built to withstand high winds. Enjoying a cool summer night (rain or shine) is easy with our louvered pergolas because you don't need to have any extra concern about inclement weather.
Styling your Modern Pergola
Once you receive your pergola kit and put it up there are a variety of ways you can design and transform the space depending on your current needs.
Ceiling Fans

You can upgrade your pergola by adding in a ceiling fan, which are seamlessly supported by our pergola design. No matter to what extent you want to open or close your louvers, you can see from above that our pergolas provide compatibility with fans, ensuring that you have premium air flow, fresh air, and comfort in any weather that you prefer.
Complement your pergola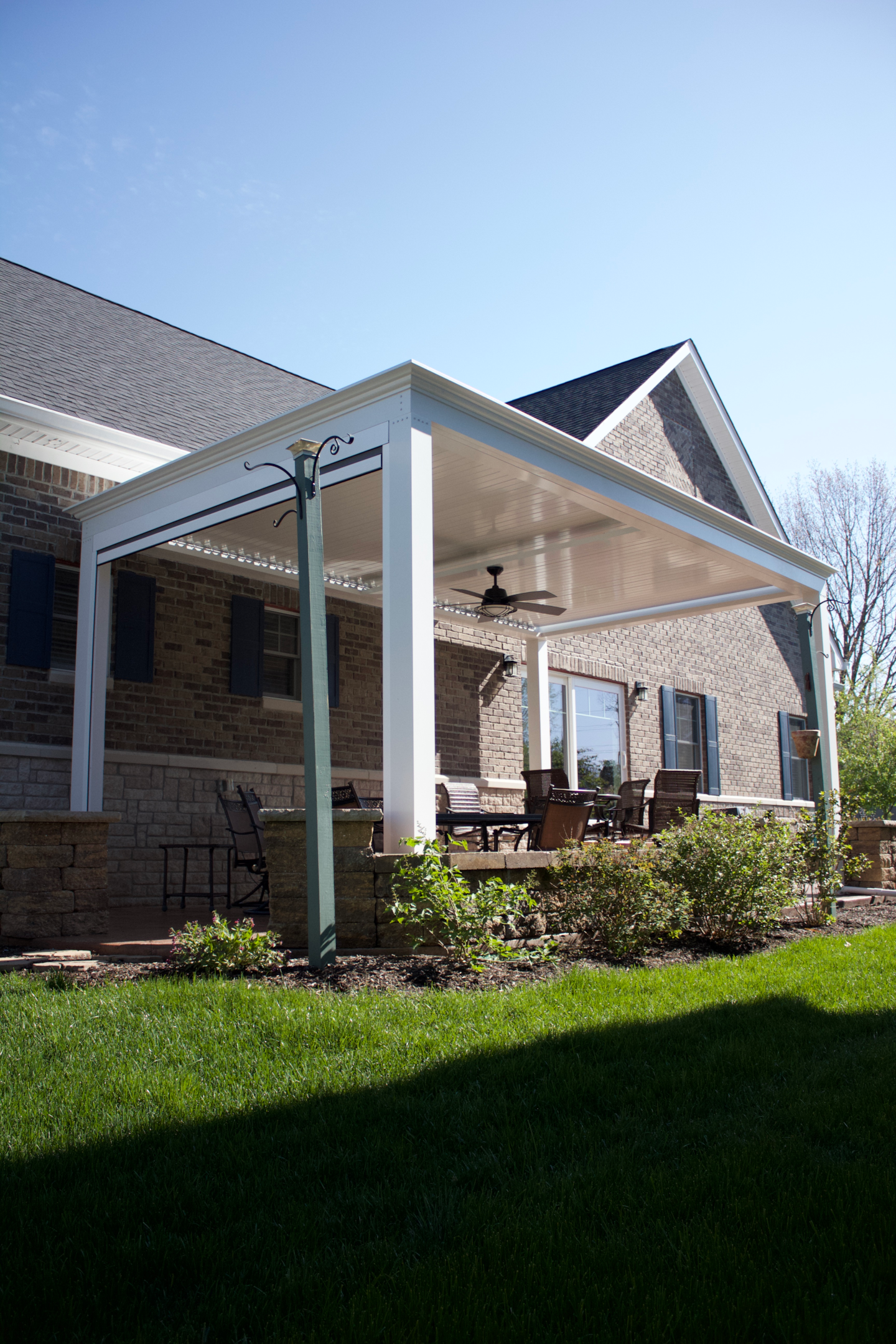 Elevate the modern pergola design by accessorizing with chic, contemporary features, such as a coffee table, bold colors, and clean lines. You can add greenery accents with climbing plants, potted plants, and hanging baskets with any sort of plants you prefer.
Having landscaping around the pergola will allow you to incorporate greenery and make your yard match the modern pergola features.
Emphasize your modern pergola by adding these touches of style.
outdoor furniture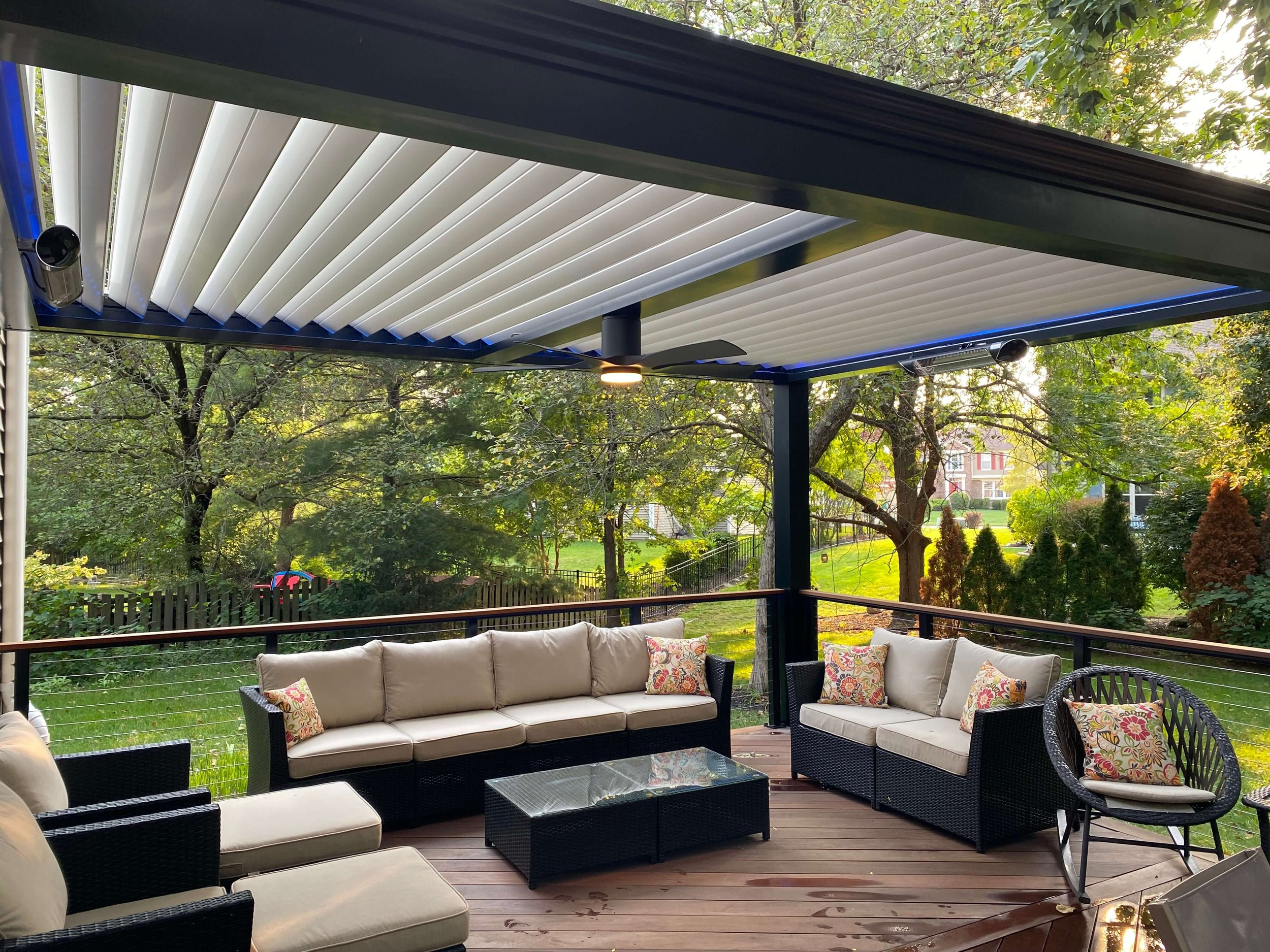 Enjoy and take advantage of the well-deserved shade with the louvered roof on your pergola.
Worried about outdoor seating? Adding a hint of your style incorporated in your furniture will help your indoor and outdoor spaces match and create a comfortable, aesthetic space to indulge in relaxation, while also having enough seating to accommodate everyone in your life.
Outdoor Space: Extending your home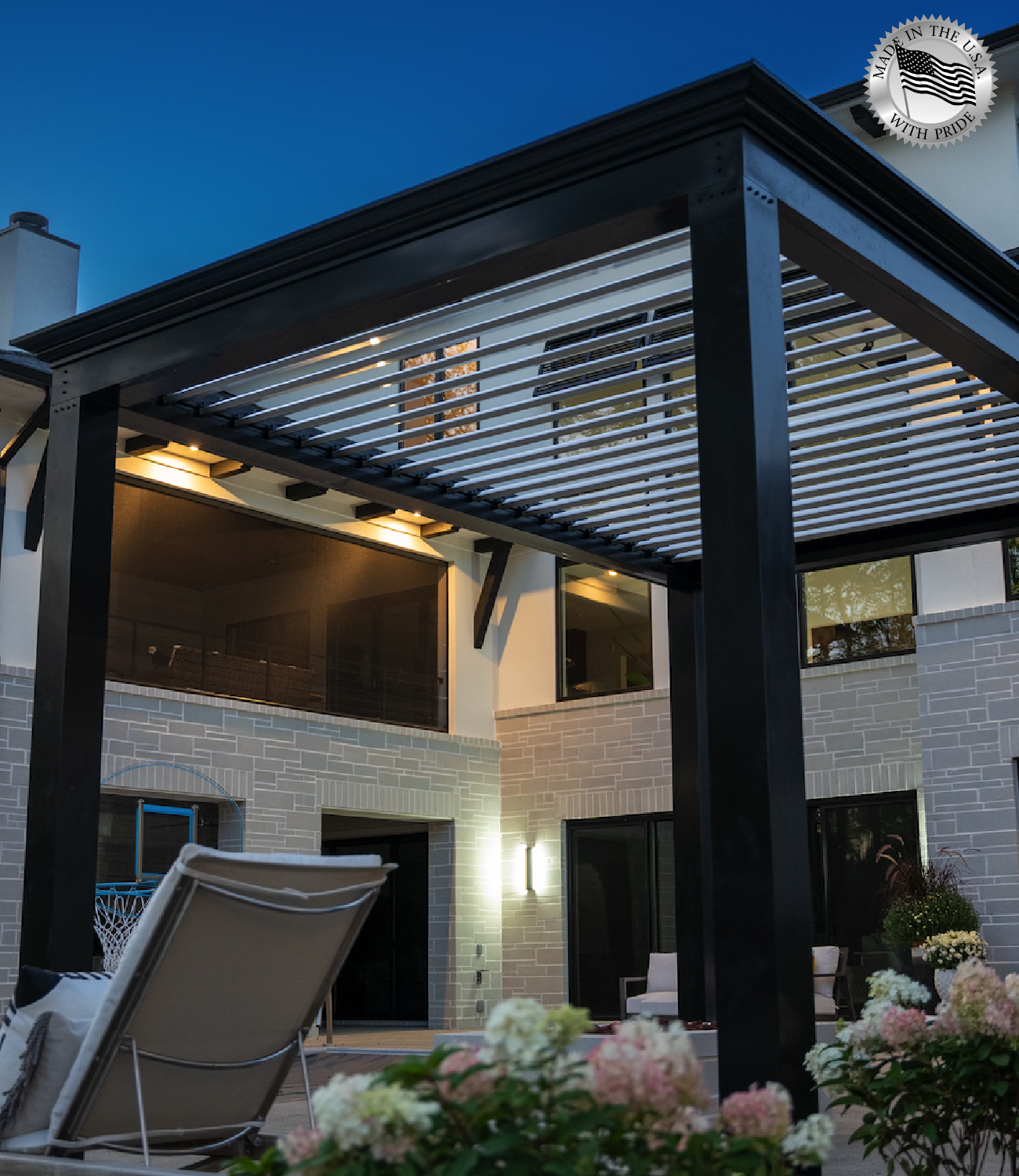 With our modern pergola kits that are completely designed by you and catered to your needs, you can easily extend your indoor living space to your outdoor space. You can integrate a modern pergola with an outdoor kitchen, seating area, fire pit, or entertainment zone, and become the most cohesive and entertaining house in the neighborhood.
Entertainment Area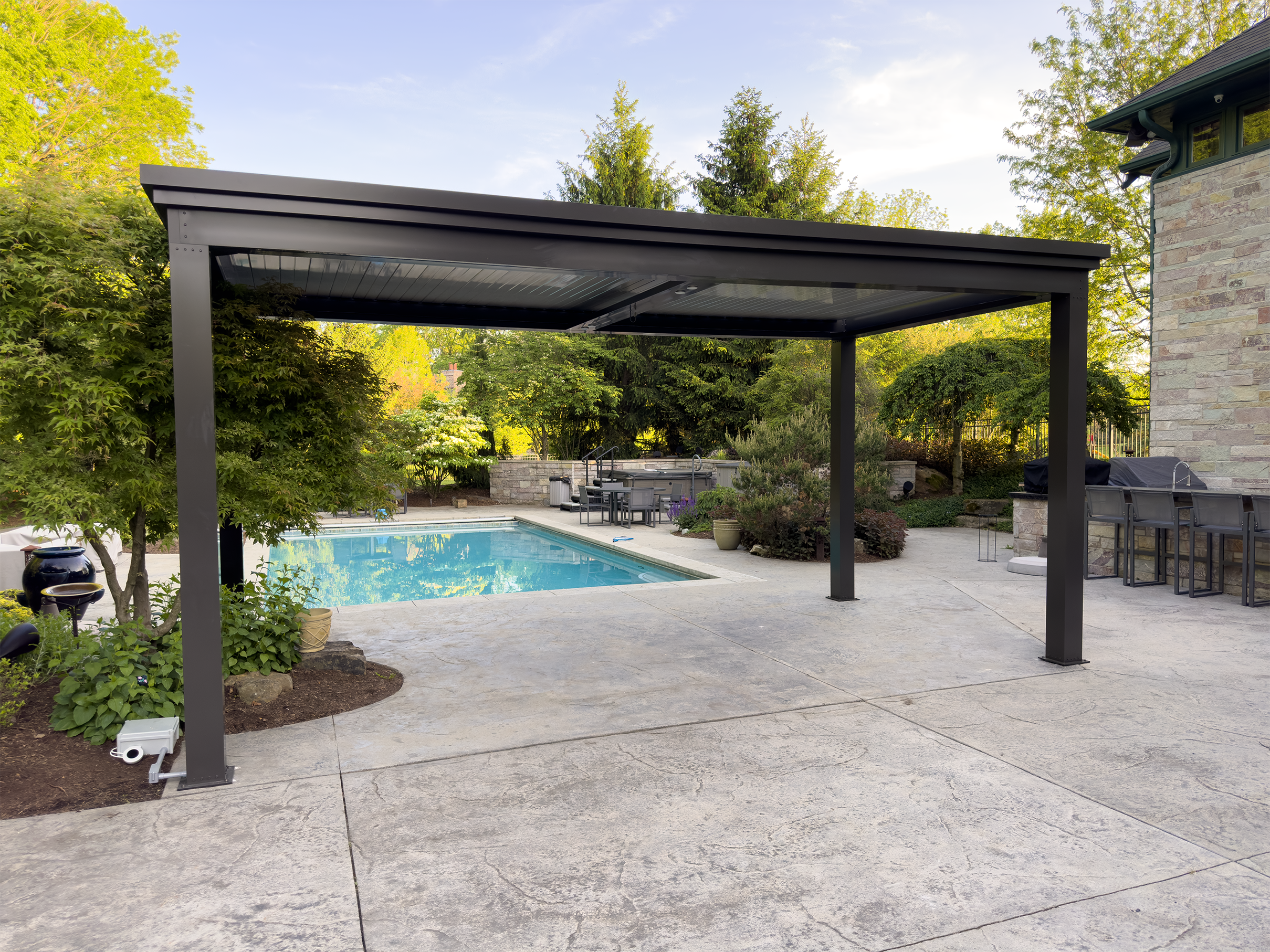 With summer coming up right around the corner, maximize the space you have and revamp your home into the ultimate entertainment zone using a modern pergola. Whether you want to transform your space into an outdoor kitchen, have a place for the kids to play safely while you unwind, utilize the space for a game and activity zone, using our structurally sound pergola kits will help you create long lasting memories with friends and family.
Your outdoor living room will be complete with a freestanding pergola providing you with much needed shade.
Kitchen Pergola Design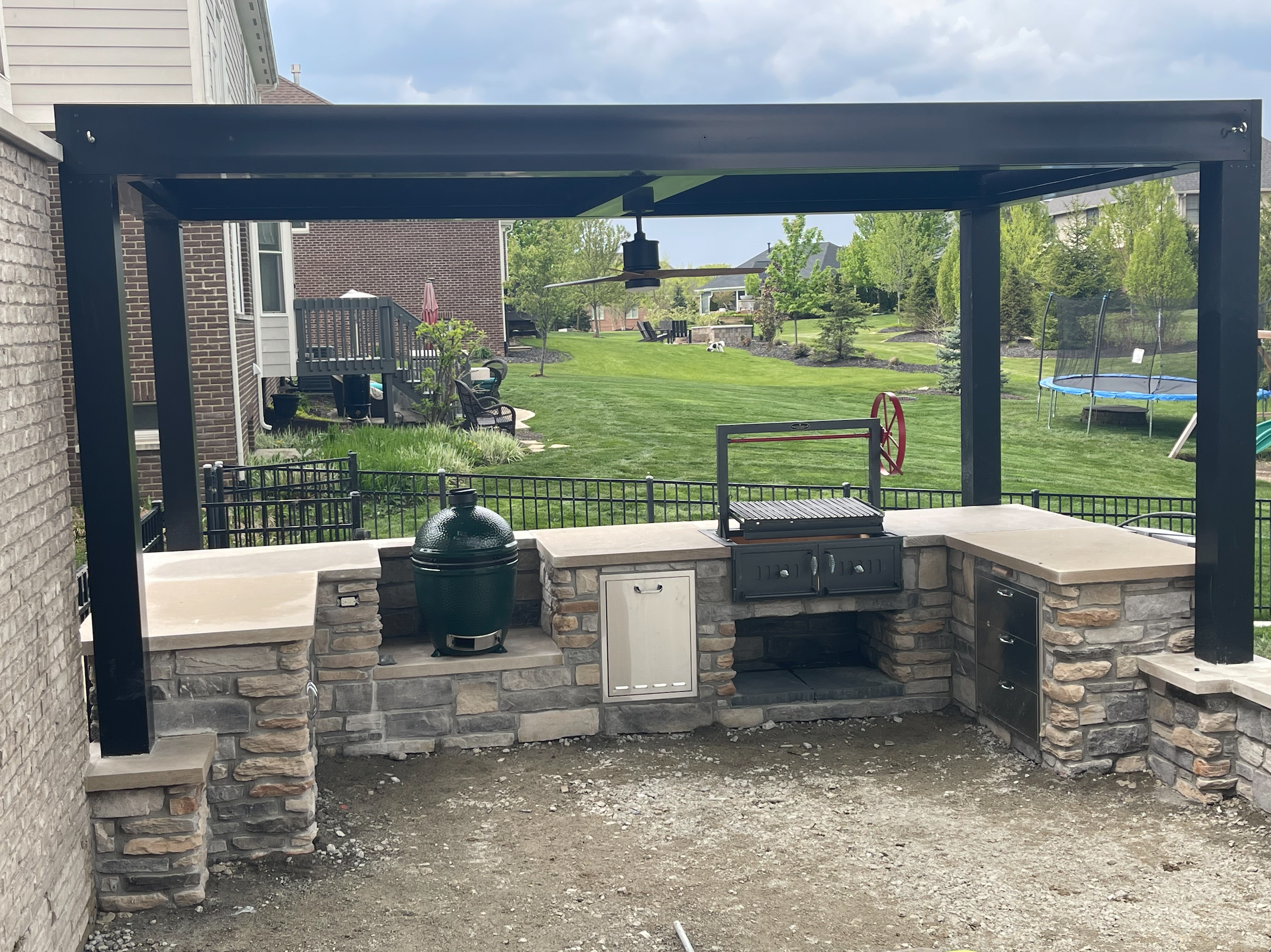 With our backyard pergola you can create an amazing outdoor dining space. To host barbecues and family get-togethers, you can create a multifunctional space for everyone to eat and cook with plentiful area. The above picture is one sent by a customer who designed this structure with a kitchen and outdoor space to cook, enjoy, and relax in mind.
Pool Paradise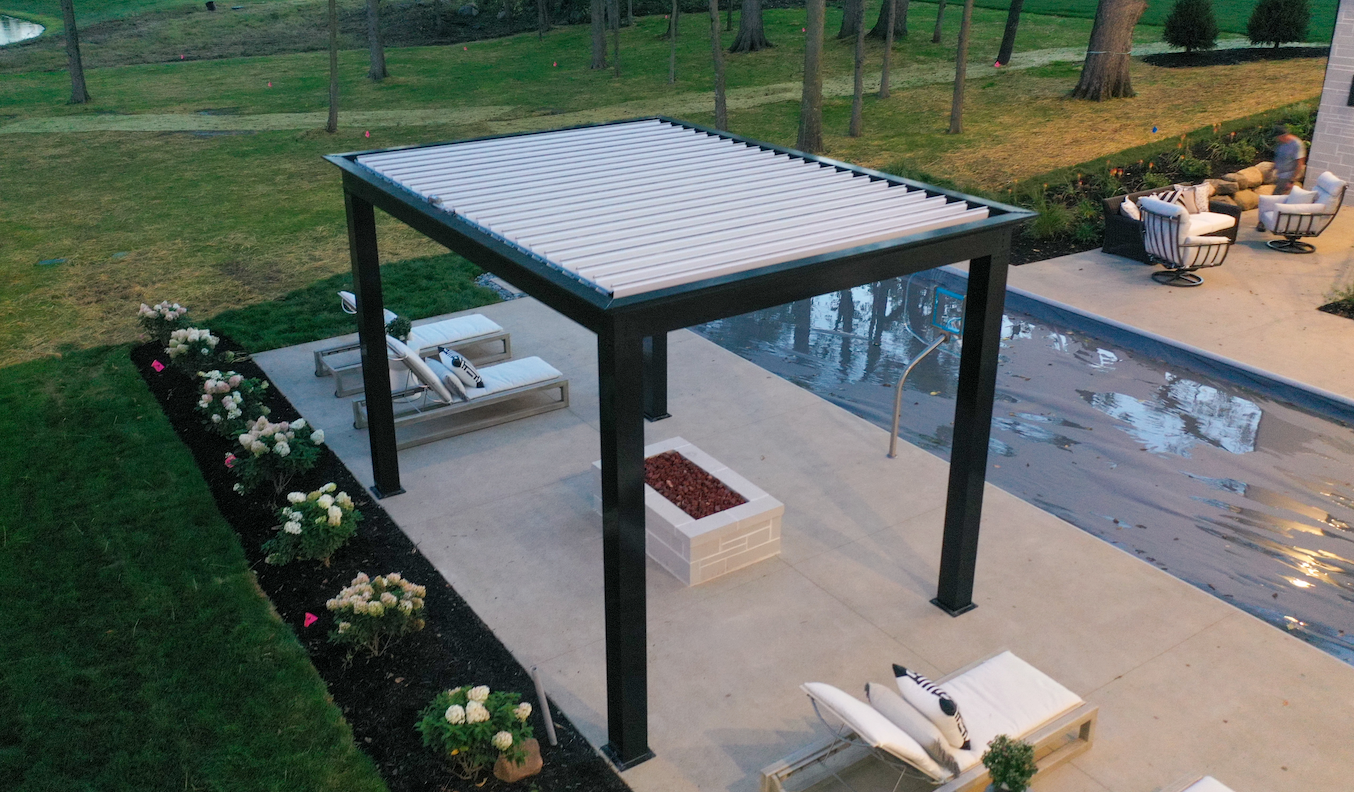 When the heat we've all been yearning for finally arrives and you dive into your stunning pool, our modern pergola will elevate your backyard to a contemporary haven with modern and sleek features. Having a freestanding pergola will allow you to separate your spaces seamlessly.
You can style your freestanding pergola with outdoor furniture that complements the garden and greenery surrounding you, and have a stylish structure to protect you from the sun.
Hot Tub Retreat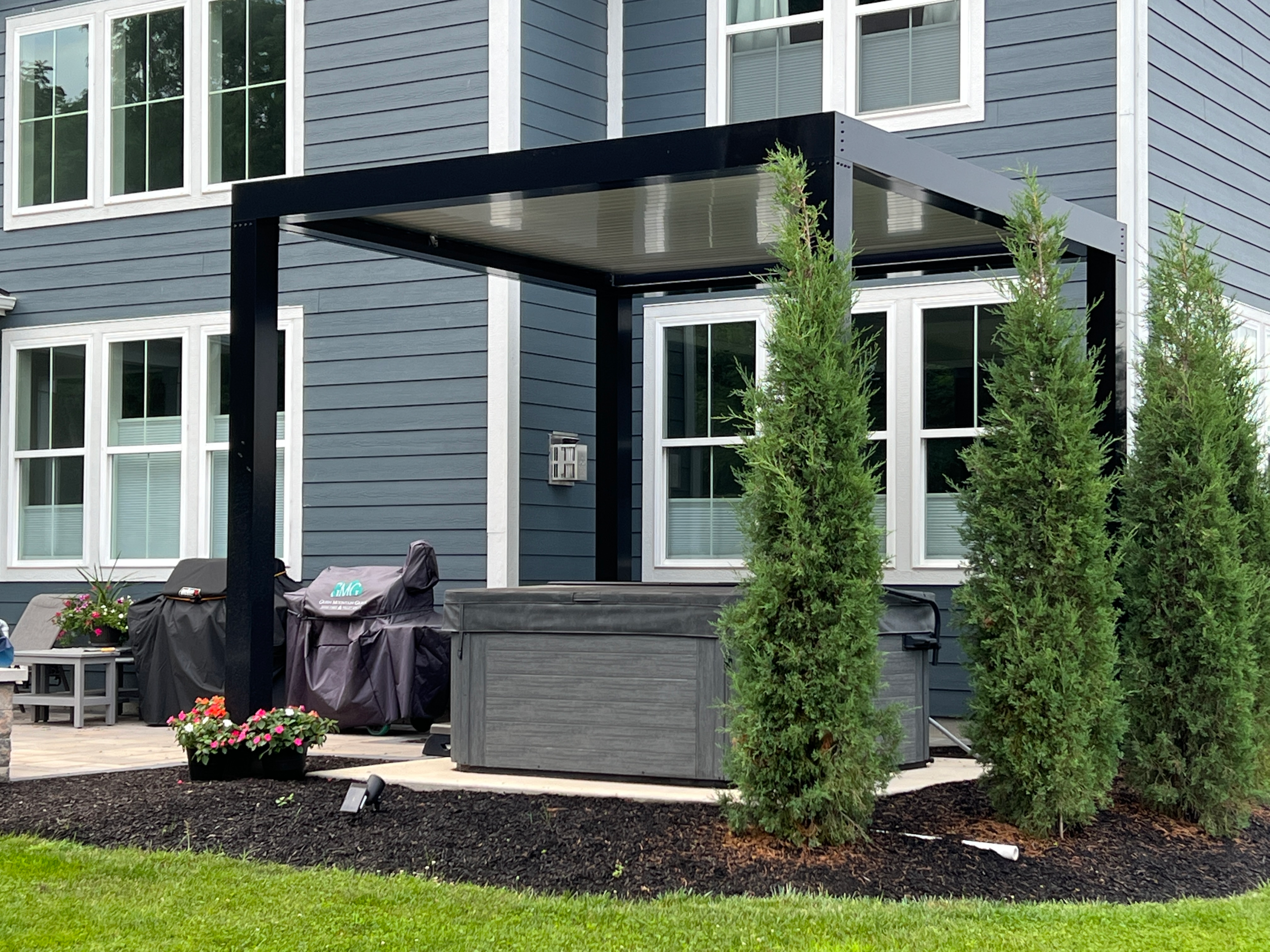 Still unsure of how to pair our modern pergola design with outdoor living? An amazing option is to add a hot tub. You get to unwind after a long day in the soothing waters of your hot tub while also staying sheltered with your modern pergola. This option will enhance your outdoor living with a modern look.
The above picture is from a previous customer and this simple pergola is the perfect pergola for their house and their backyard.
Conclusion
A modern pergola can offer plentiful possibilities when it comes to transforming your outdoor space into a functional extension of your house. Using The Luxury Pergola will allow you to customize, design, and style your pergola to your desires. You can find your perfect pergola with us.