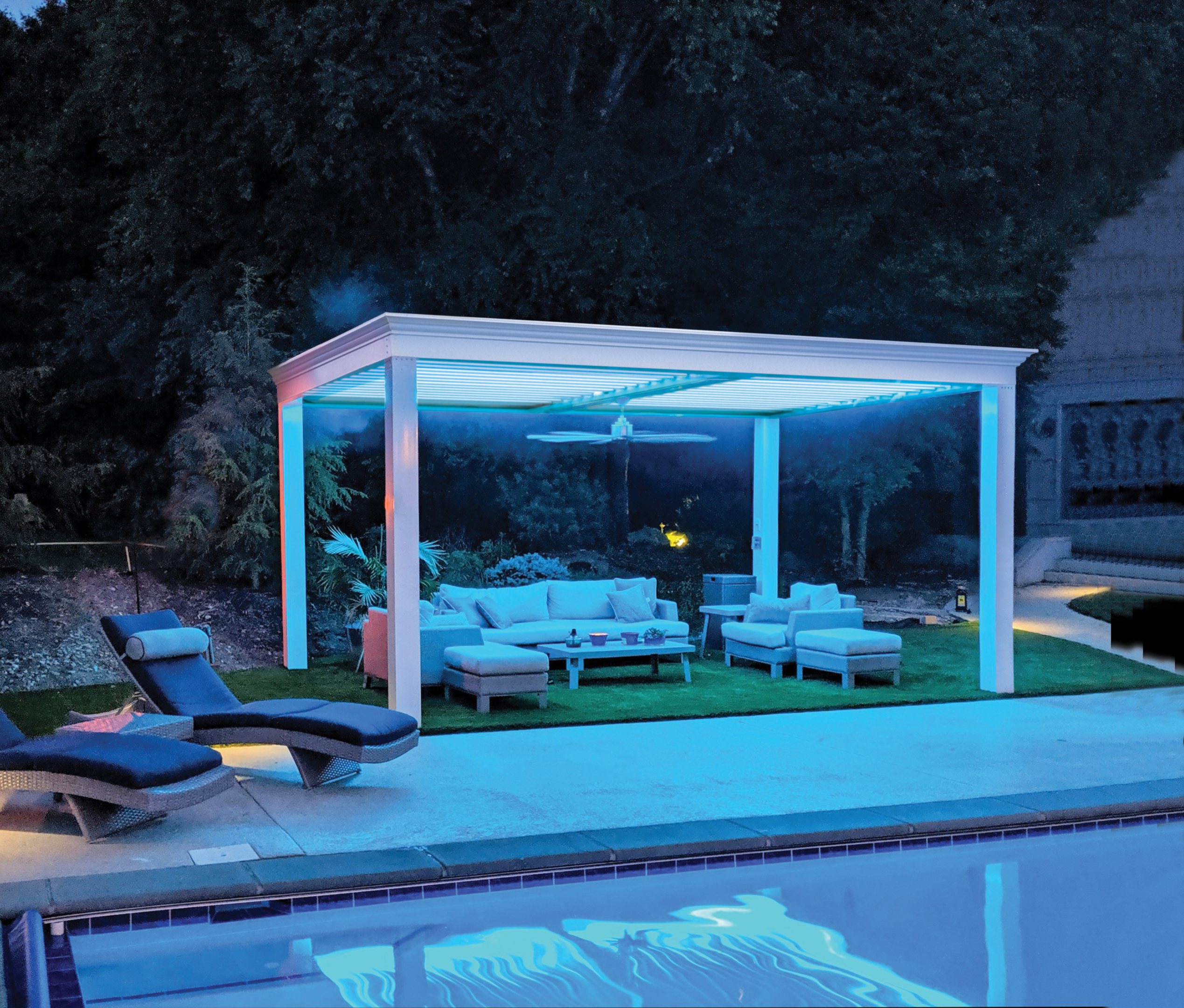 Listen To Audio
A White Pergola may be the best color option for you as you begin your backyard pergola journey. There are several options to choose from regarding preference, but what has made white so popular is it's ability to match any color or home pattern.
Pergolas have grown in publicity continuously since the early 2000's as more innovations create further compatibility for all home visions. A couple more recent inventions are pergolas that have smart controls as well as pergolas that open and close.
Table of Contents
White Pergolas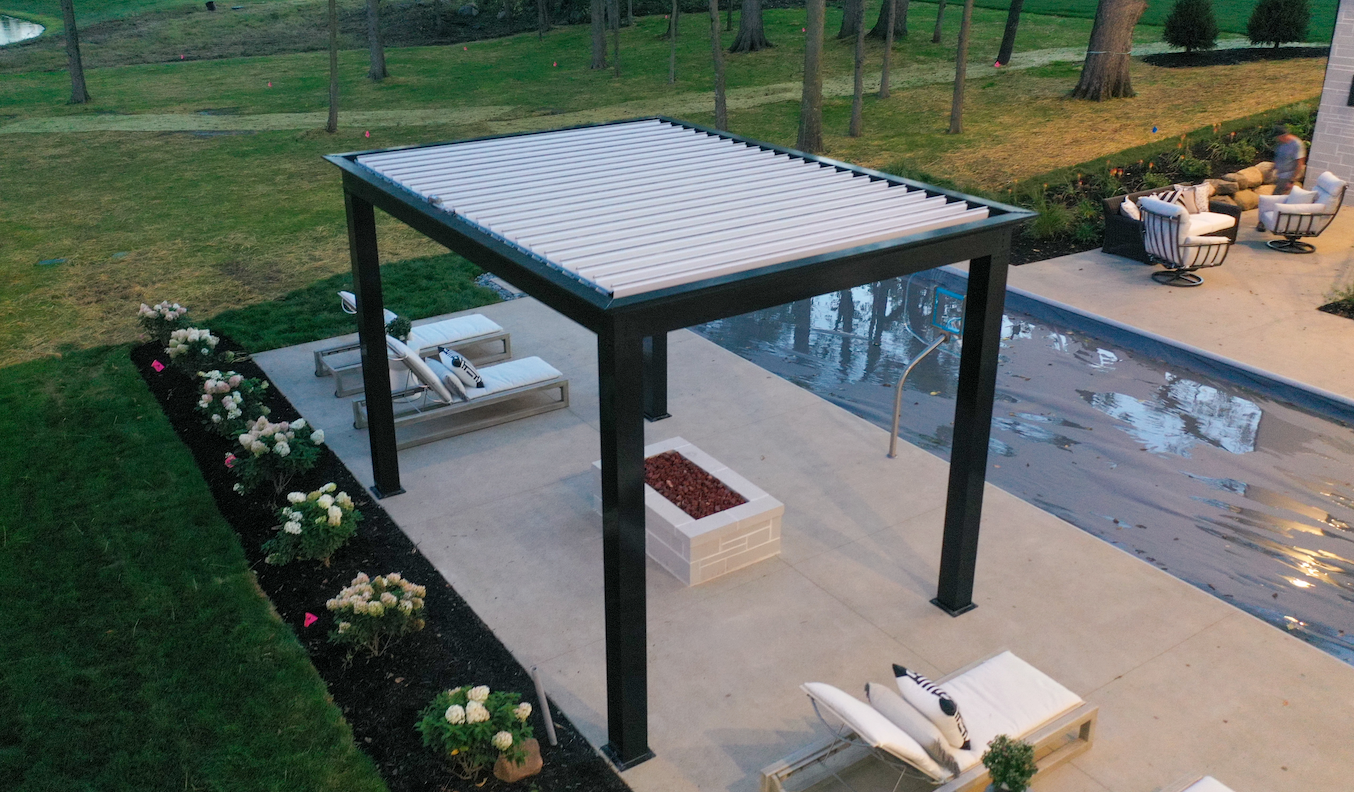 In the picture above you can see an example of a white louver pergola with a black frame. When deciding what pergola color is best for you it is important to consider what aesthetic you are looking to be compatible with. Frame and trim options help to accommodate your overall theme more as well.
The color you divide is all up to personal preference. This is made easy to look at on the luxury pergola site as you can click colors to mix and match and see what it looks like in a diagram.
Best Color For Your House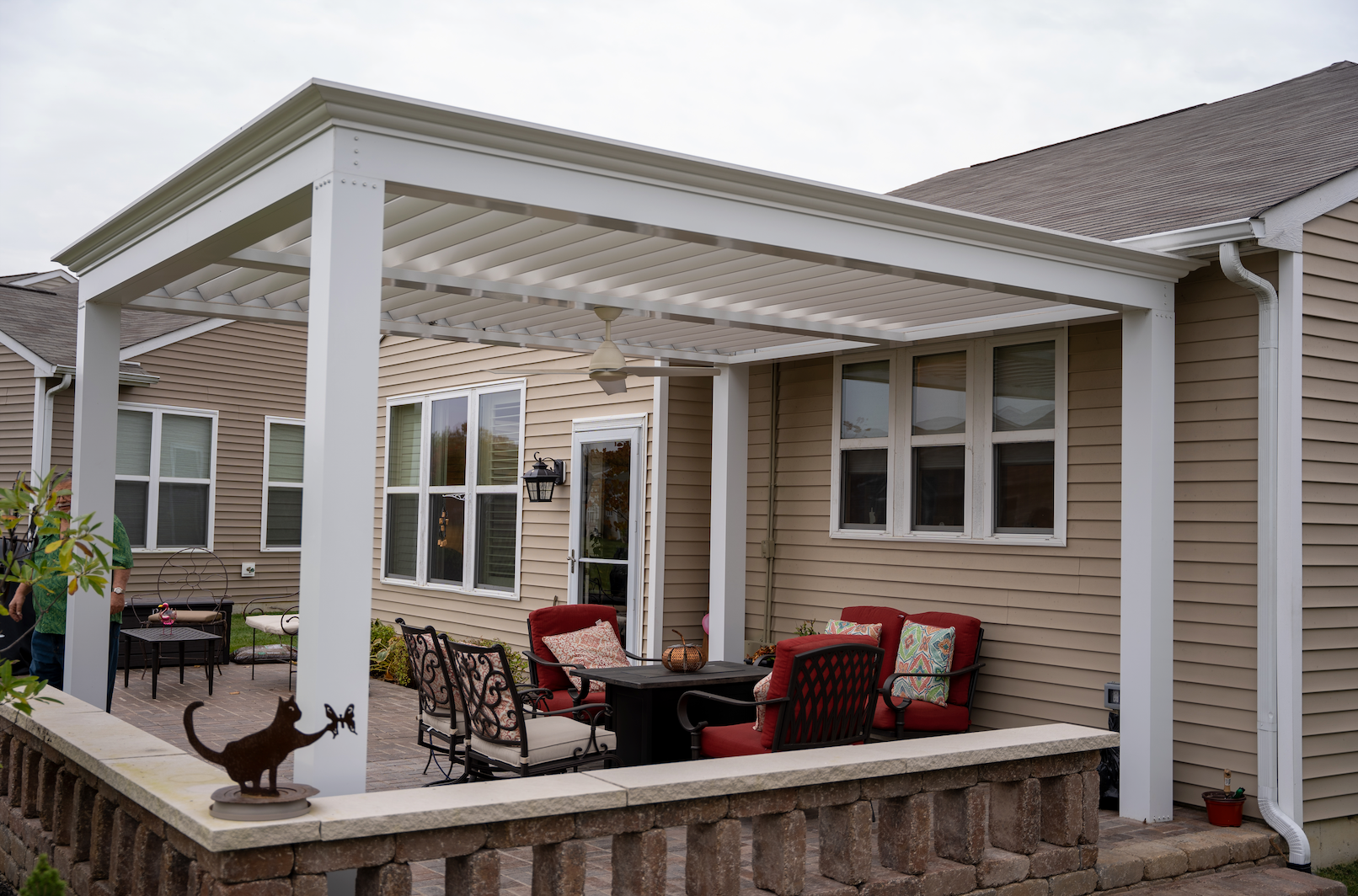 To understand what the best pergola color for your house is you must first look at what you are trying to match with. Are you looking to match a white pergola to the white trim on your house, or would you like a standout centerpiece that adds a wow factor to your backyard.
Whatever color you are looking for can vary depending on your home color, trim color, landscaping, and more. Aluminum pergolas are a preference for all colors as they are powder coated and able to withstand elements and maintain color for years to come.
High Quality Materials For Your Backyard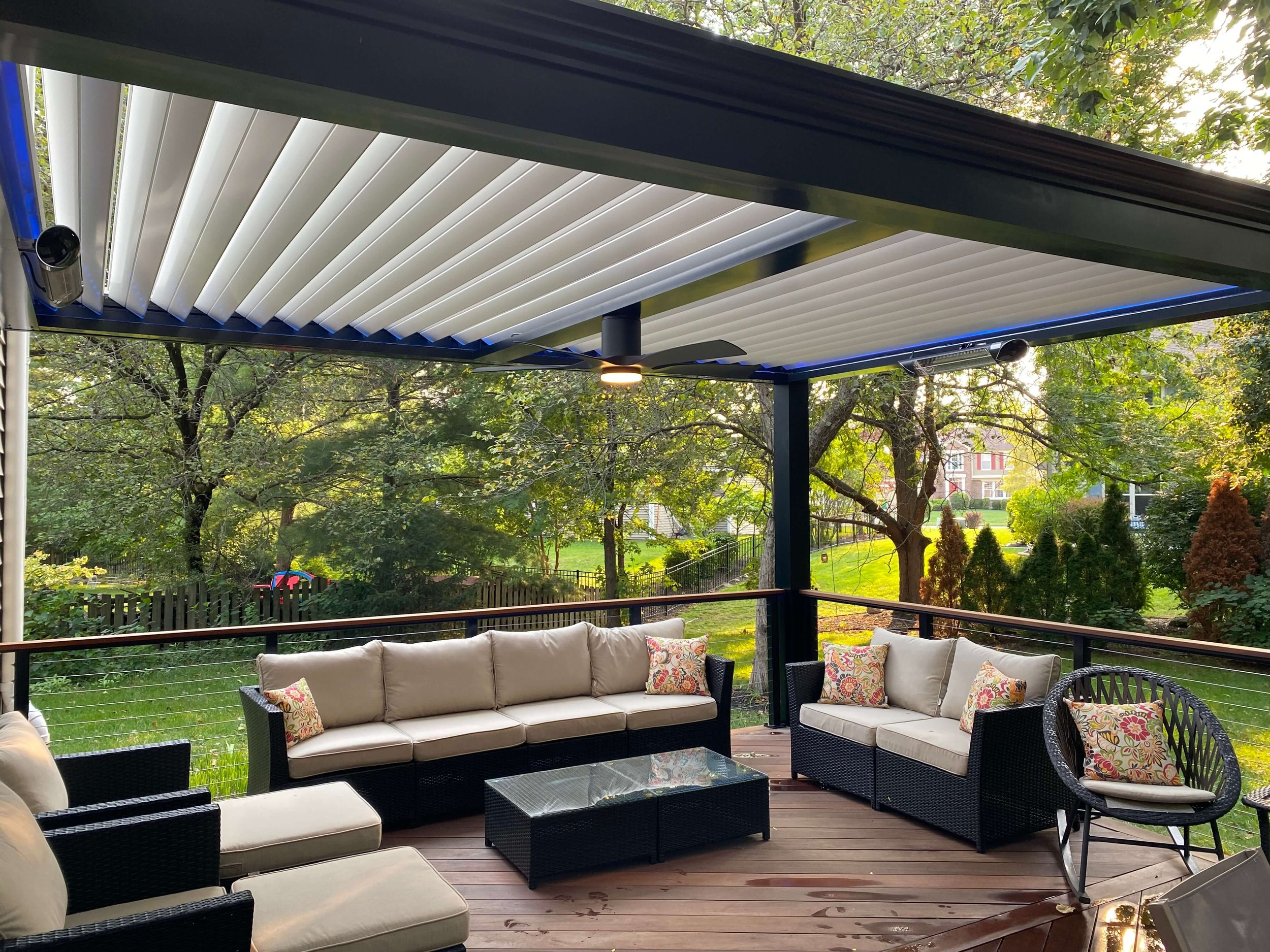 When looking for a high quality pergola, you want a material that is able to withstand elements and maintain high functionality without breaking the bank. Aluminum has become the most popular option across all companies to solve exactly that.
Aluminum is able to withstand high wind loads and snow loads while being entirely waterproof and able to have a high strain tolerance for features and add ons. It takes away any problem you would have like rotting wood, snapping vinyl, or bank robbing stainless steel making it the most preferable of pergola materials.
How to Maximize Your Space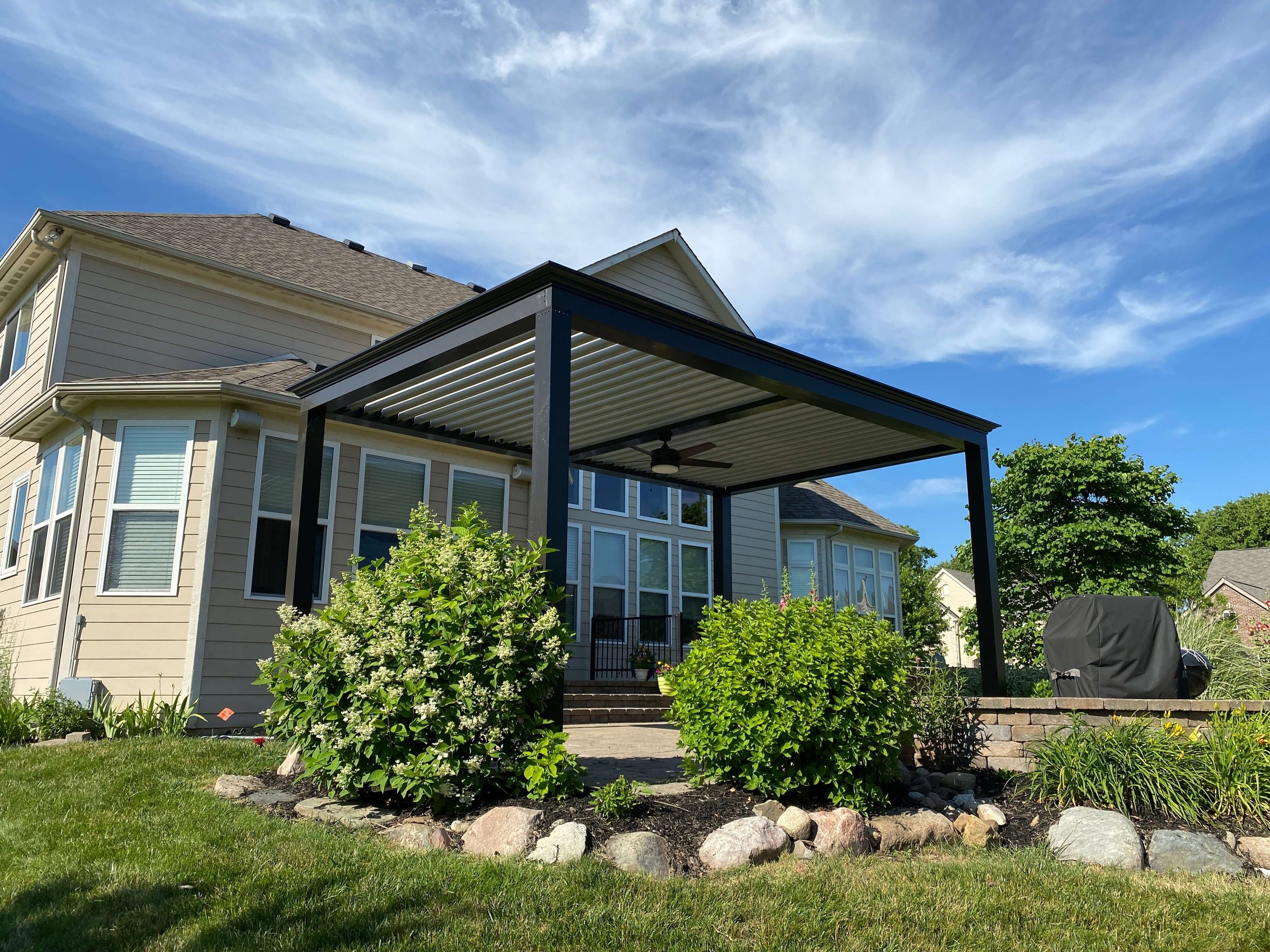 The best way to maximize your space is by making it a direct extension of your backyard. Adding an extra living room or backyard kitchen can add to home value and create extra space to host and enjoy.
Feel free to invite friends over as you sit back and enjoy a nice glass of wine or a bowl of fresh watermelon with your loved ones. This space is limitless to what you decide to create.
Patio, Deck, Slab, Etc.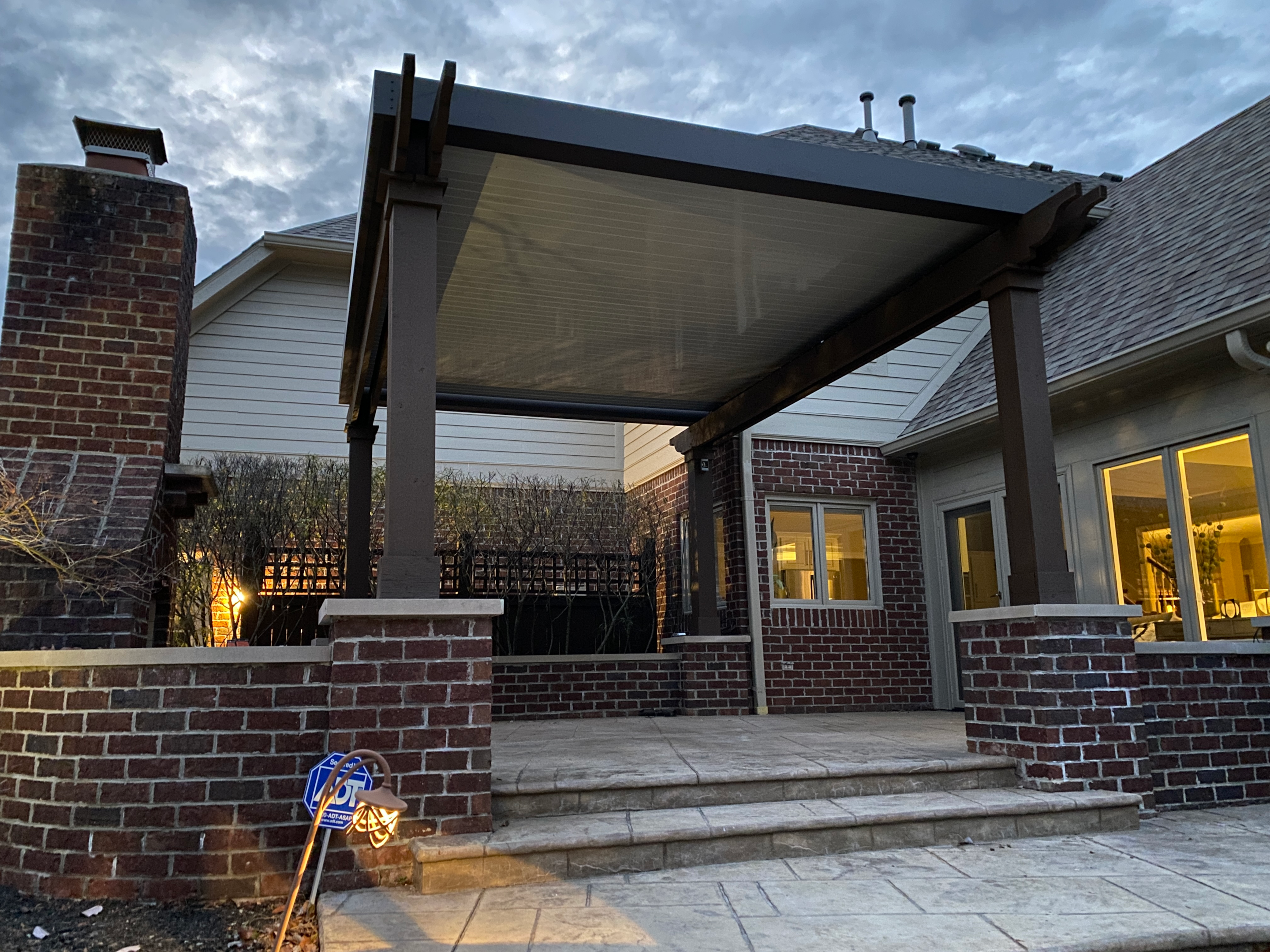 A common question asked is "Can I install it on my patio or deck?". The answer to this is simple, always yes. If you are looking to install it on a floor that is not directly concrete there are plenty of ways to attach appropriate footings for the job.
On a deck you would drill the pergola to the floor joists to which that would be a sufficient base. On a patio you would simply attach footings underneath the patio to be able to create a sufficient base. Both are simple installations that are just as good as installing on a concrete slab. Once more, the options are limitless to what you create.
Attached Vs. Free Standing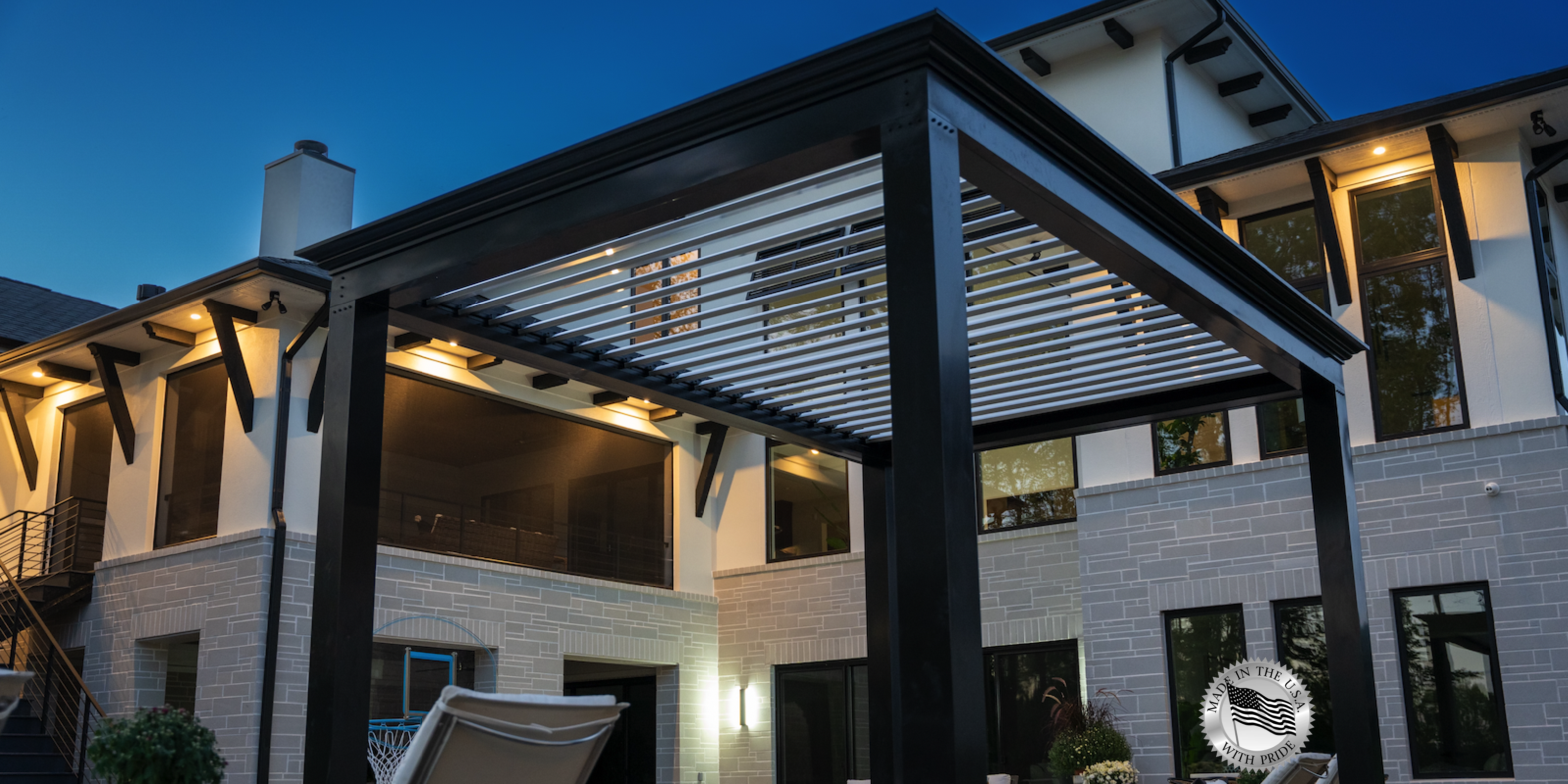 Unlink the bases, there is a specific answer when attaching it to your home. You can do it, if you want to spend 3x more money. Attached pergolas have a much greater liability which creates a much larger price.
Liabilities like improperly attaching and causing leaks to the home or a pergola collapse with possible injury are both factors that make this avoided. An increased cost and increased liability is not ideal to attach to your home.
Pool, Hot Tub, And Garden Accessories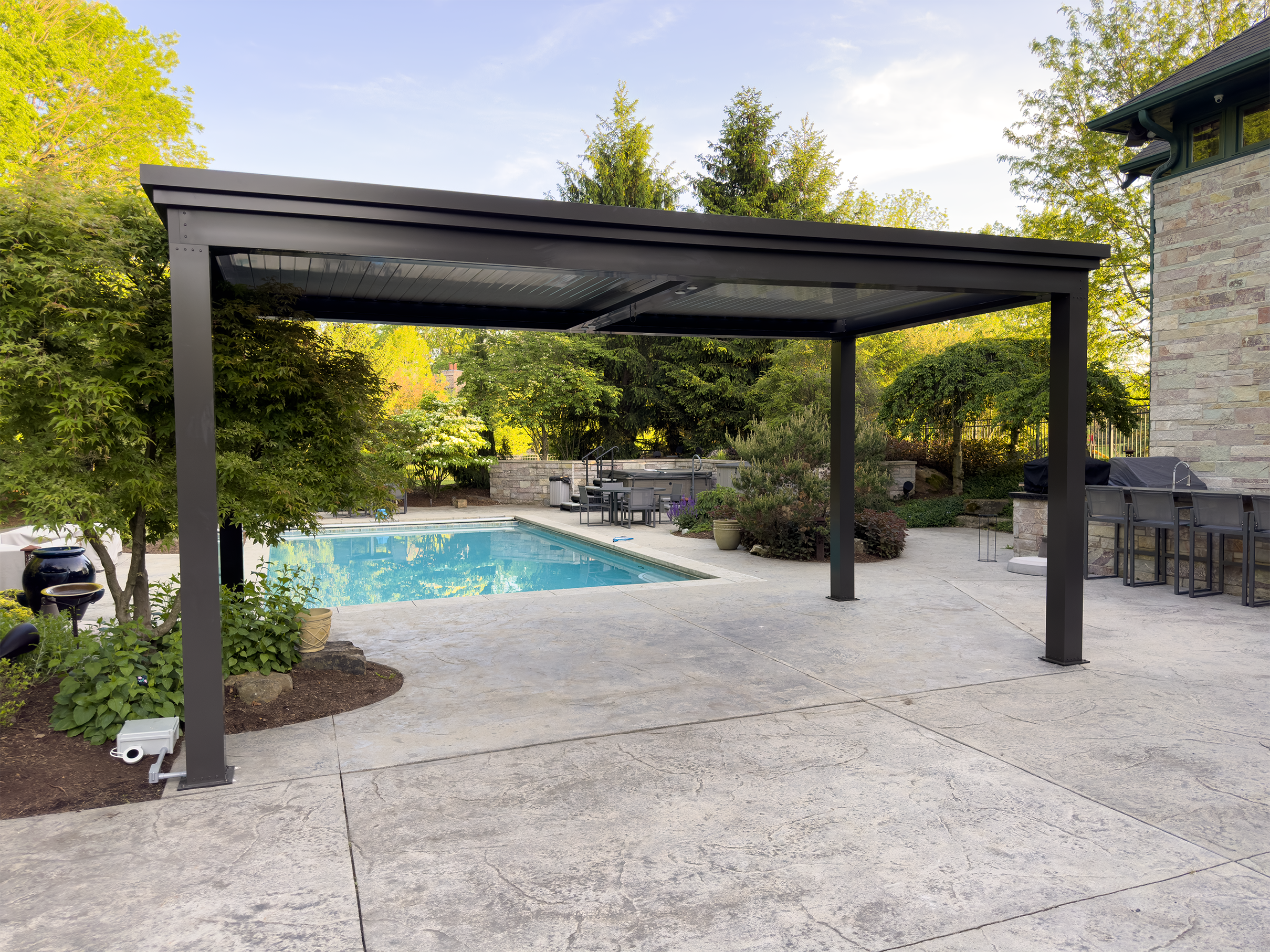 A pool, hot tub, or garden are great assets to further add to the value of your pergola. They compliment one another to increase the atmosphere of anyones backyard and increase the value of what you are looking for when you host.
A pergola with a hot tub under it is a popular option to block the sun and the rain as you enjoy the warm waters of your spa. Other popular options are hanging vines for a garden accessory and to add a natural flair to the pergola. Many will even add retractable screens to their pergola as it blocks bugs and adds another level of shade to the game.
Maintenance Levels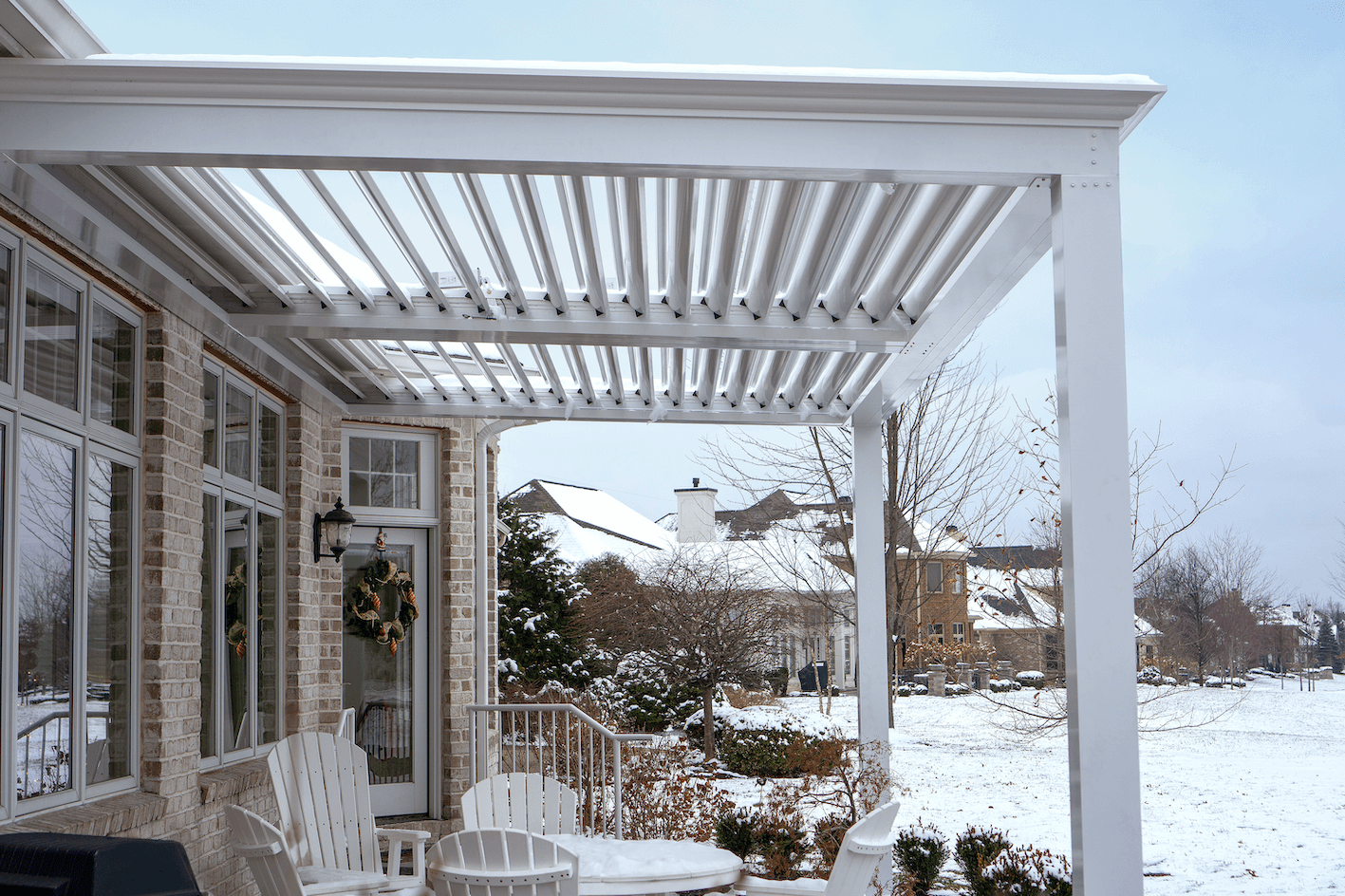 Maintenance is slim to none. They can take high snow loads and wind loads for a reason. There is quite literally no maintenance that needs to be done. As long as you are using common sense and not trying to open it with 2 feet of snow on top there will be no problems.
When designing the perfect pergola you have to look at what you are going for. The two most common things is durability and performance. Water proof motors and hard material aluminum create this high performance and durability to be able to fit any demographic.
Complete Example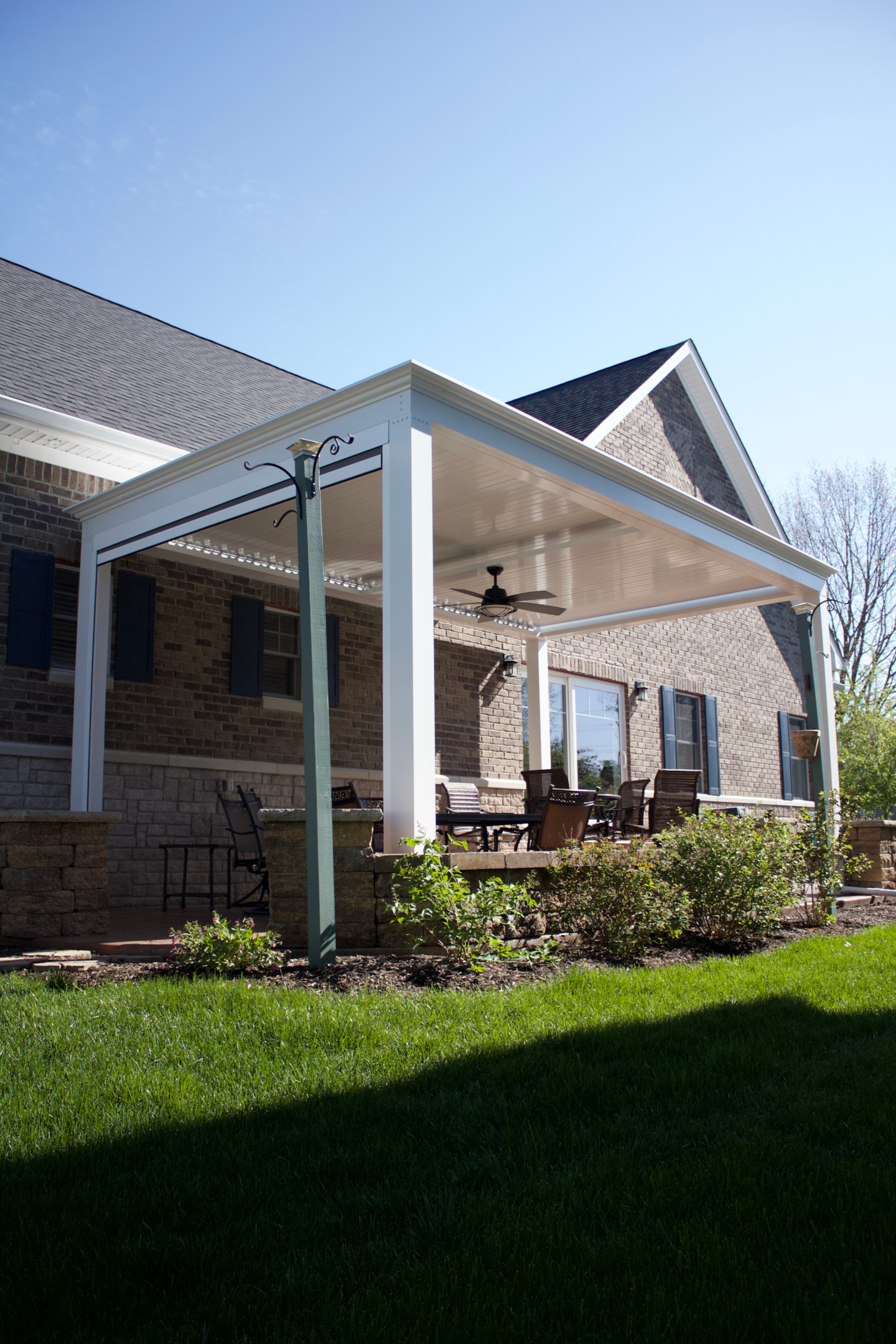 A complete example of a white pergola with a beam, a fan, and a screen is shown above. A full set up like this creates a moment of elegance and luxury for any who wants to enjoy this outdoor space.
Outdoor dining, outdoor kitchen, outdoor living room, outdoor sports bar, and more. The options that have been created with this DIY project go on and on. This can add to anyones overall home experience and create memories for years to come.
How To Make The Right Purchase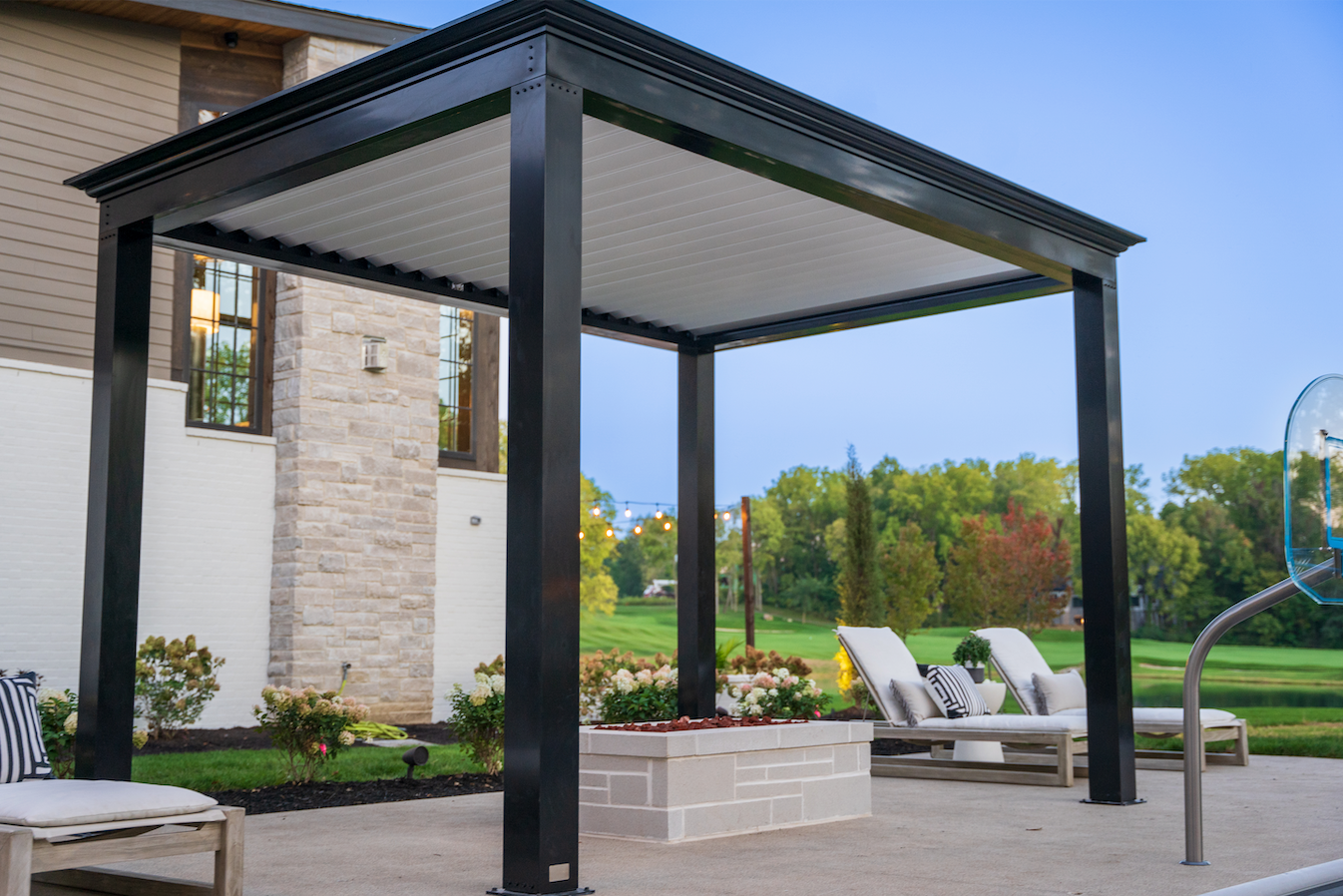 To make sure you make the right purchase you have to do research. What are you looking for, what size are you looking for, do you want trim, what color fits you best, how will you use it, etc. All of these can be imagined and researched through the help of YouTube and a few steps outdoors into your backyard.
Create exactly what you are looking for, find the right price for you, and execute. The DIY world has been dealing with the luxury pergola as it is significantly less than for example how much a struxure pergola costs.
All Details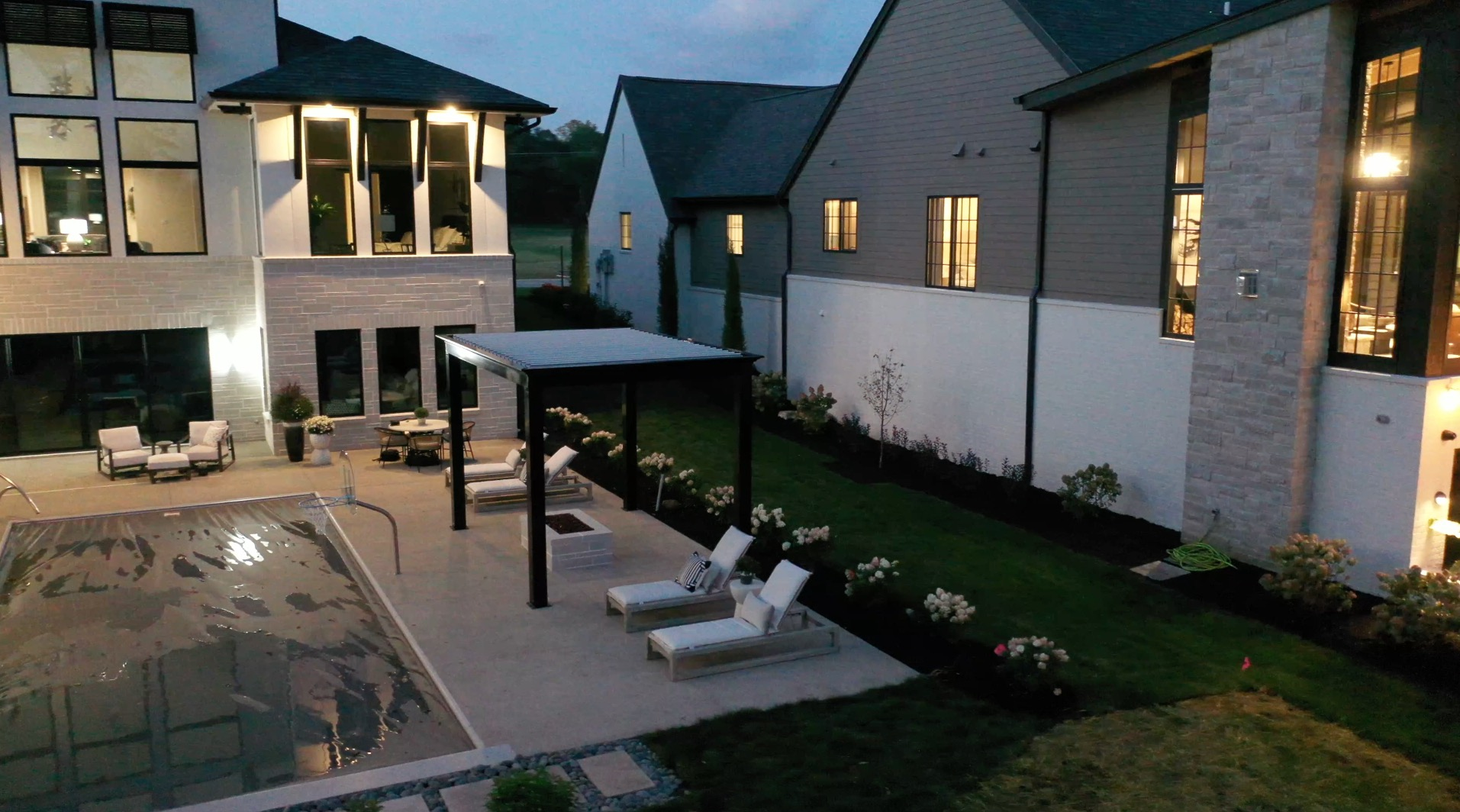 All the details are available on the store from colors, to trim, to screens, to size. You are able to customize your DIY pergola kit to exactly how you deem it fit. The best thing you can do is measure your yard to get what is right for you.
The bigger you go the more people you will be able to host, the smaller the more intimate the space is. Every pergola fits every persons ideal differently, which is why there are so many options to choose from in terms of length and width. Find what fits you, act, and elevate your home life at a DIY cost. Be proud knowing the money you saved to buy such a high quality product.