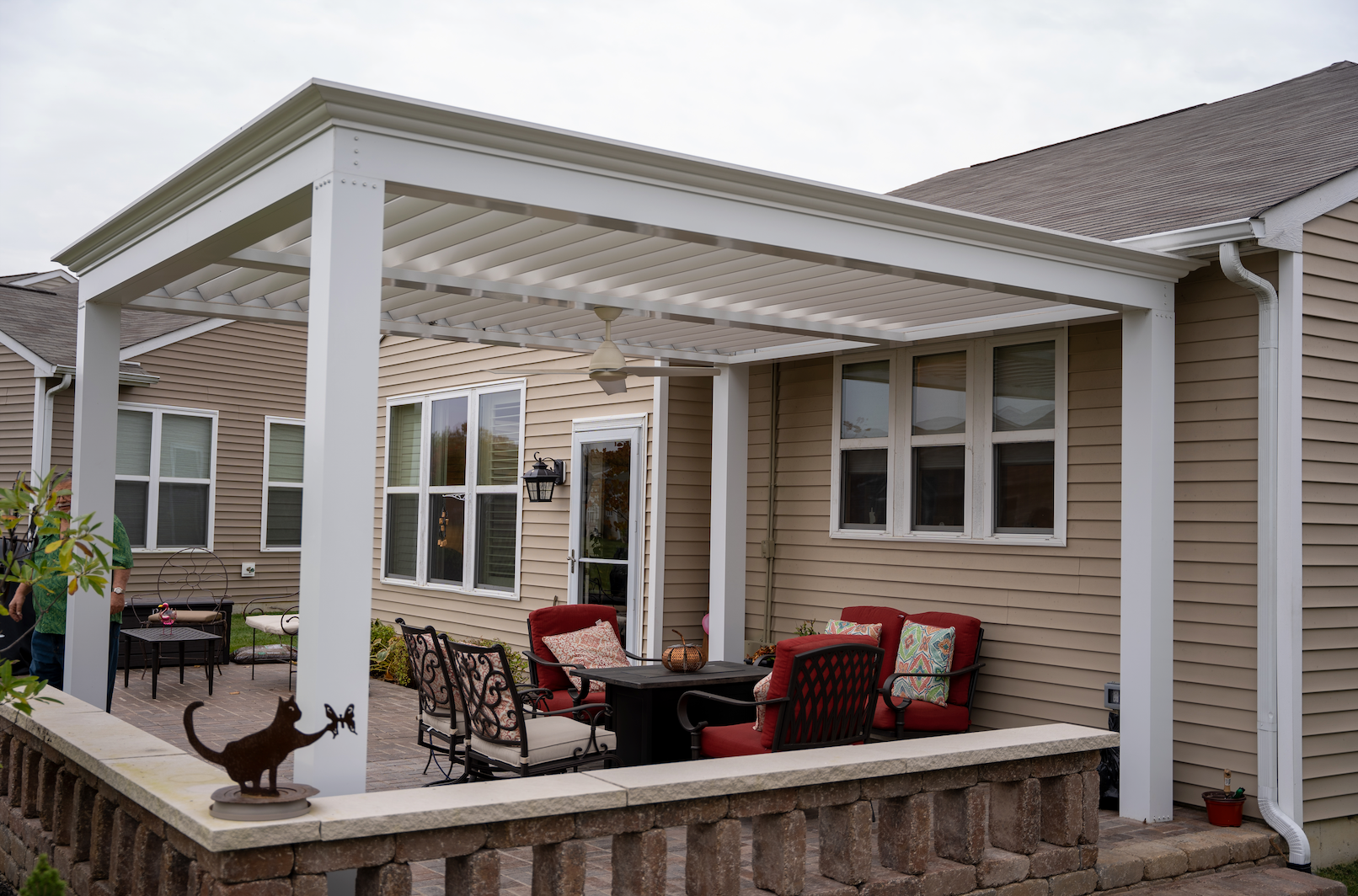 So you've been hearing all the chatter about outdoor aluminum pergolas now. Many of your friends have one and you want one. How do you go about finding the best aluminum patio pergola kit available on the market today? Let's break down some of the options.
Table of Contents
Aluminum Pergola Options
Since pergolas have become so popular, there are multiple options available on the market today for your construction project. Deciding what option is best for you will take some time and research on your part to assist in making an educated decision.
Freestanding aluminum pergolas are not attached to any structure and can be strategically placed anywhere in the yard you desire. They come in many styles and sizes and can usually be customized with lighting, fans and privacy screens or walls. The freestanding pergola can usually be installed by the homeowner or by a hired professional.

Attached aluminum pergolas are designed to be attach to the side of your home or other structure and are a great way to add to your living space. These usually require a contractor to install as they can add an element of difficulty to be attached to the brick or siding of your home. The leader in attached pergolas is Struxure pergolas. Struxure pergola cost is the biggest question though.

Retractable aluminum pergolas have a retractable canopy that can be open or closed as desired. The roof of the retractable pergola is usually made of weather-resistant fabric.

Louvered aluminum pergolas have adjustable louvers that can be opened and closed or angled to control the amount of shade or sun you desire at any given time. They are perfect if you want to customize your area during the day or night.

DIY Aluminum pergola kits are designed for building the structure yourself and will have a money savings advantage to the budget conscious.
Environmental considerations for your area
When you are deciding what structure design you want much consideration needs to go into the environment where you live and how durable a pergola product you need.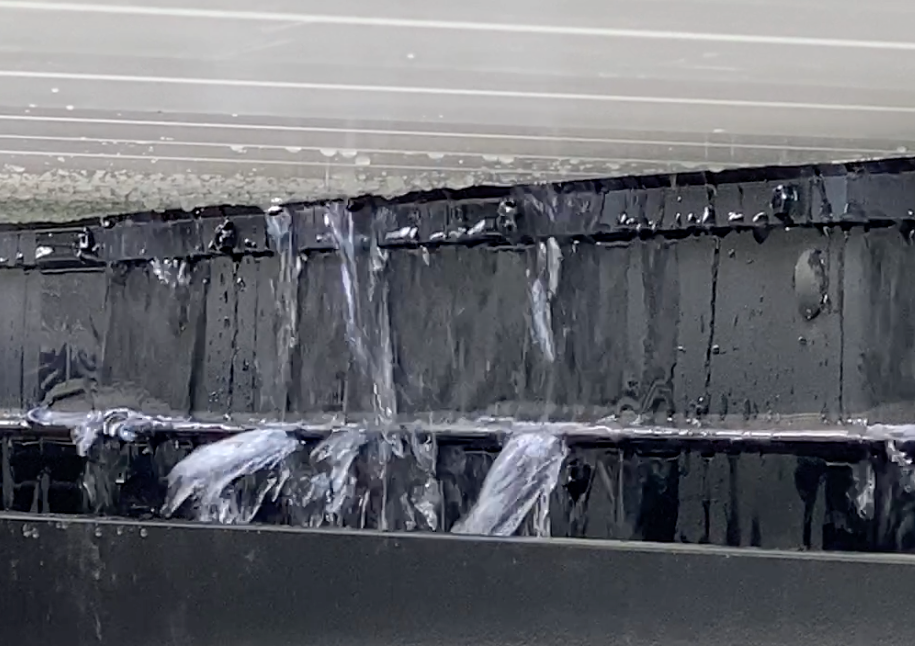 Do you live in a climate that gets lots of snow in the winter or in a warm climate and are subject to high winds. These elements are important to determine the specific design needs for your project.
For example, some pergolas test and only withstand winds up to 62mph. If you are in an area where a high wind storm could come through this unit will not withstand those winds and the unit will likely have damage.
In this case, you need a strong structure that is capable of a higher wind tolerance. The Luxury Pergola kits can withstand 130mph winds with the louvers closed.
In areas with large amounts of snow the same issue can exit. Some companies such as Hanso, manufacturer pergolas kits that can withstand 8.2 pounds per square foot. Other companies like
The Luxury Pergola, have built pergola kits that withstand 20 pounds per square foot. If the louvers are left open for the winter The Luxury Pergola can handle even higher amounts of snow.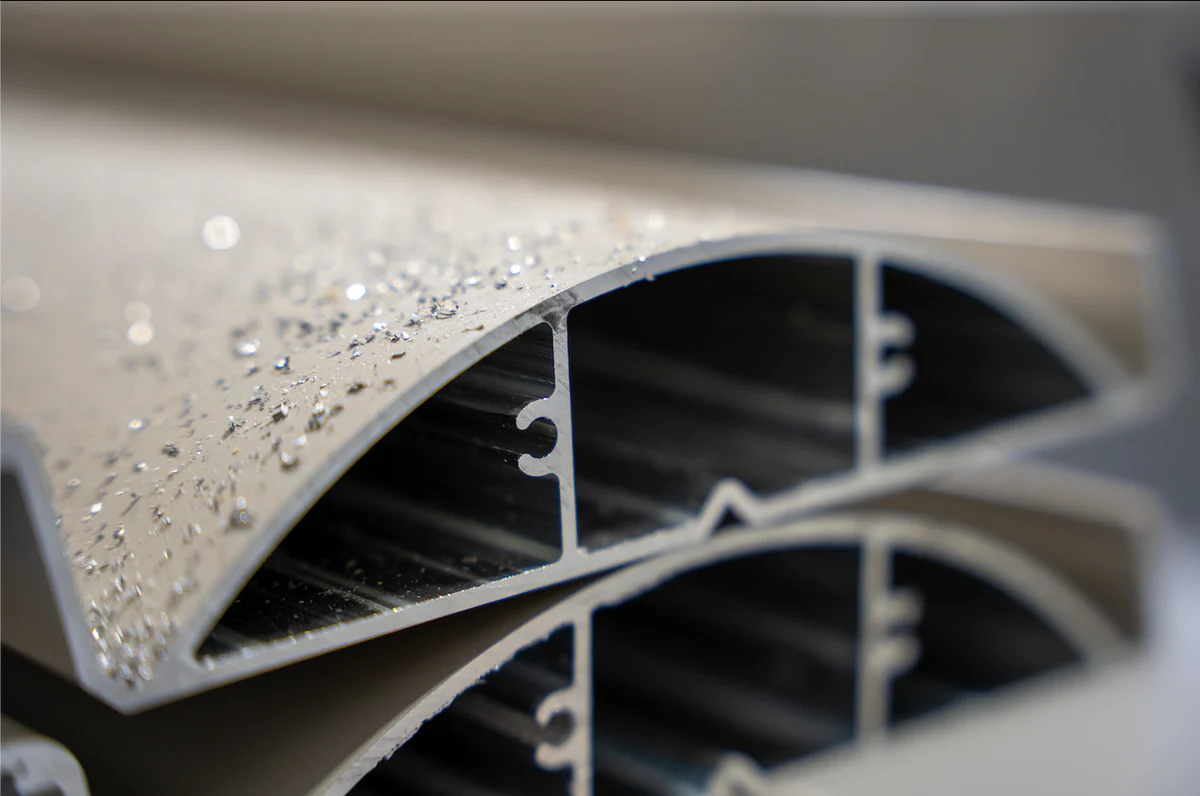 Higher quality aluminum pergolas are going to have a higher price point. It will be up to the consumer to choose the product that stands the test of time and resistance to weather in their area.
When making your final decision consider longevity, protection, warranty, aluminum quality and minimal maintenance required. You want your investment to be durable enough that you won't have to replace it for a very long time or ever!
How do pergolas differ in strength and durability?
Aluminum pergolas can differ greatly in durability, design, beauty and strength. With all the variety of choices it's easy to become confused. The comparison video below can give you an idea of the difference between a big box store louvered aluminum pergola made in China and a United States manufacturer. There is of course a price difference between the two but again you are taking into consideration the structural components and your particular needs.
The 10x20 Mirador louvered aluminum pergola kit from Amazon costs $3599 and has manual adjustable louvers. The 10x20 Luxury Pergola kits cost $15,300 and has motorized adjustable louvers. The thickness of the extruded aluminum between the two products is substantial as shown in the video above.
The Luxury Pergola weighs approximately 1400 pounds compared to approximately 650 pounds for the Mirador. The Mirador needs 6 posts in its kit compared to only four with The Luxury Pergola. This is due to the strength of the post base for Luxury Pergola.
The post base sits on a thick steel plate and the post fits over on the post base which is 24 inches tall. The Mirador bolts to a steel plate but does not have added support inside the post for support. Four strong supported posts is all you need for the Luxury Pergola project and gives a more open feel without the additional posts.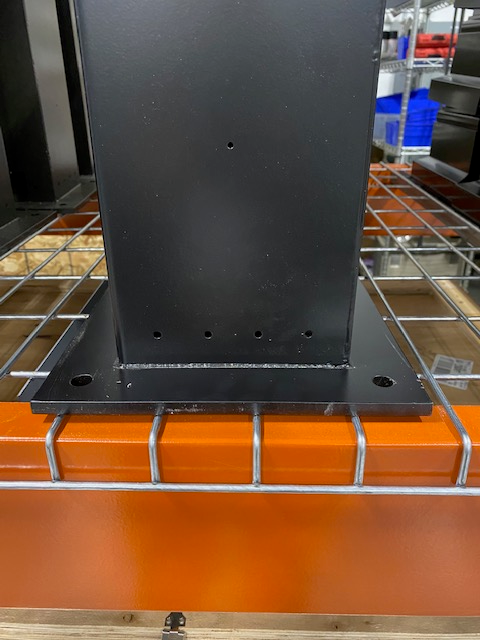 Another difference is in the size of the gutters attached to the beams to mitigate the water flow. The luxury pergola gutter is 5'5" wide. The Mirador gutter is substantially smaller and less than 2 inches.
How do you think that small gutter will handle a heavy rain? Notice the difference in the beam size and thickness of the aluminum? Now you can begin to see why the Luxury Pergola has a higher price point and has become a very popular product for those looking for a sleek designed quality product. The Mirador is also a very popular product for the budget conscious and especially if you live in an area where weather extremes are not an as much of an issue.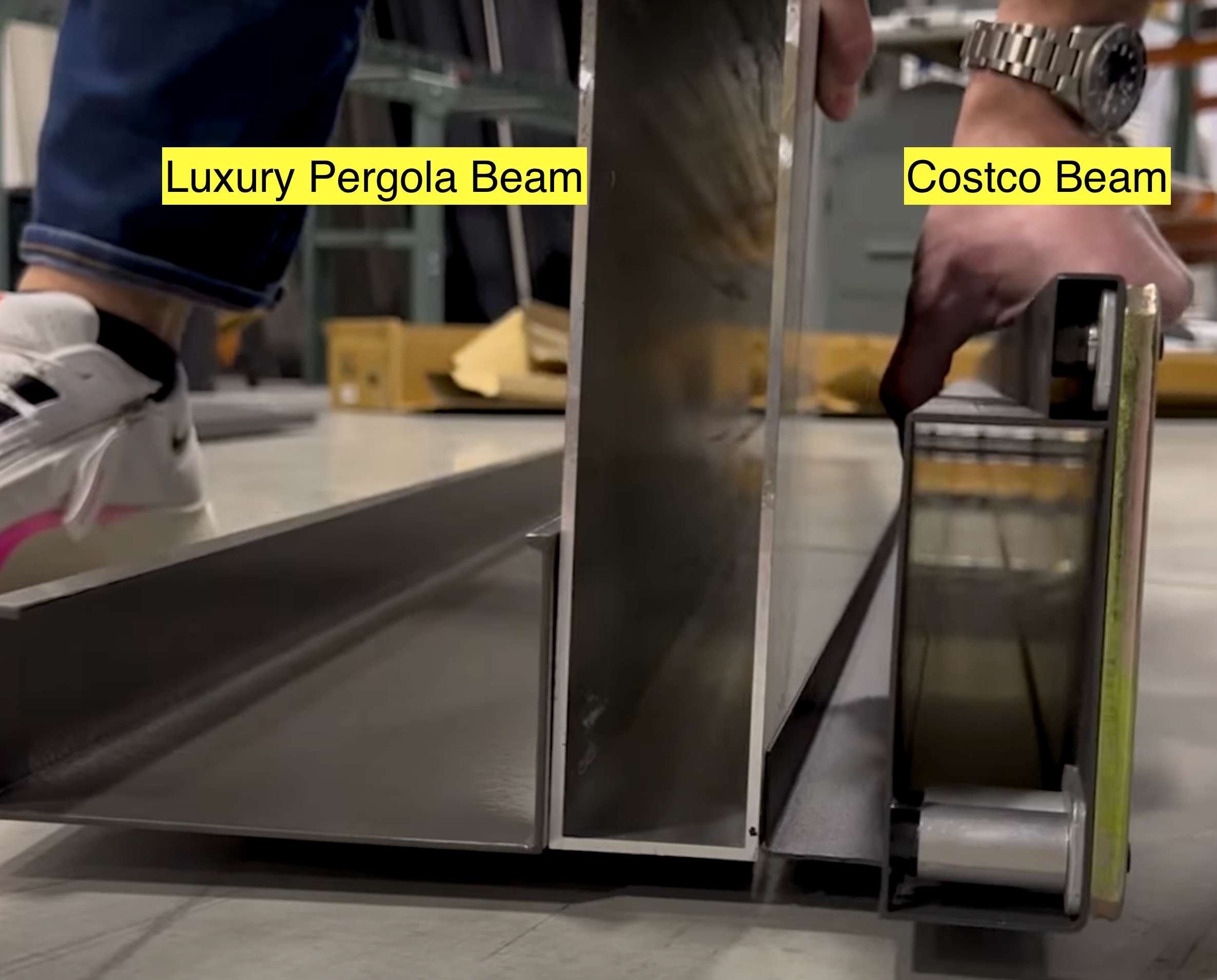 An aluminum pergola kit can have retractable roofs. This is an attractive option for those who want the versatility of a full sun experience or a open roof at night for star gazing. The canopy can be made of fabric, polycarbonate, metal or glass.
The most popular material purchased is polyester or PVC-coated polyester. They may not be as durable as other types of outdoor structures, especially if exposed to extreme weather conditions and may be more cumbersome to maintain. They should do a good job of keeping the sun and rain out when seated under the structure. They also come in a variety of colors and sizes.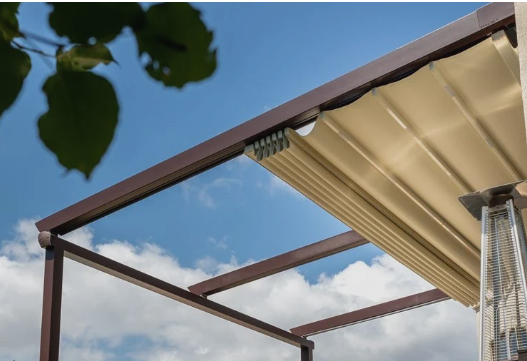 You may want the option of attaching your pergola to your home. In this case customized aluminum pergolas designed and built by a contractor may be a good choice for you. This option can be more expensive but gives you the ability to have additional features that may not otherwise be available.
Set you mind on the timeless appeal of a style created just for your liking. Maybe you want an outdoor kitchen and want the pergola posts to be installed in structured brick pillars for a professional finished look. A modern design can be created with different materials to complete your look. Choosing this gives you almost unlimited design options.
If you choose to go this route, you can expect a heftier price for the custom features you desire. However, you will be the envy of all your neighbors while you prepare a feast under the shade of your new structure!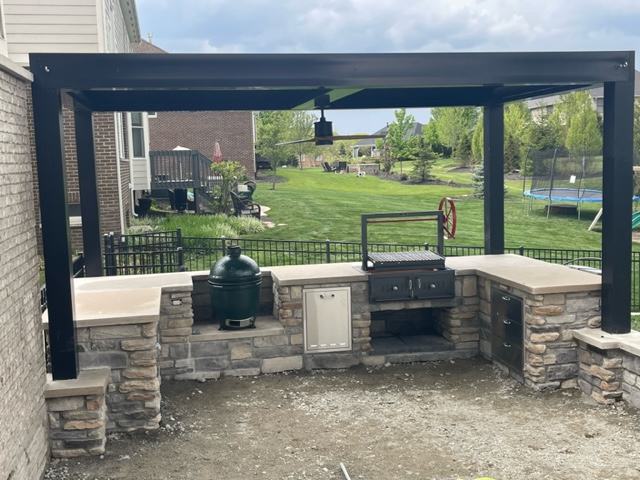 Why aluminum is a preferred metal for pergolas.
Incredible strength and durability are high on the list of reasons why aluminum is one of the most preferred materials for pergola installations. Aluminum is resistant to the effects of weather, pests and corrosion and doesn't warp or rot. It is also eco-friendly for those that are concerned about the environmental footprint.
Aluminum is low maintenance and can be powder-coated in various sizes and colors to match the surrounding landscape.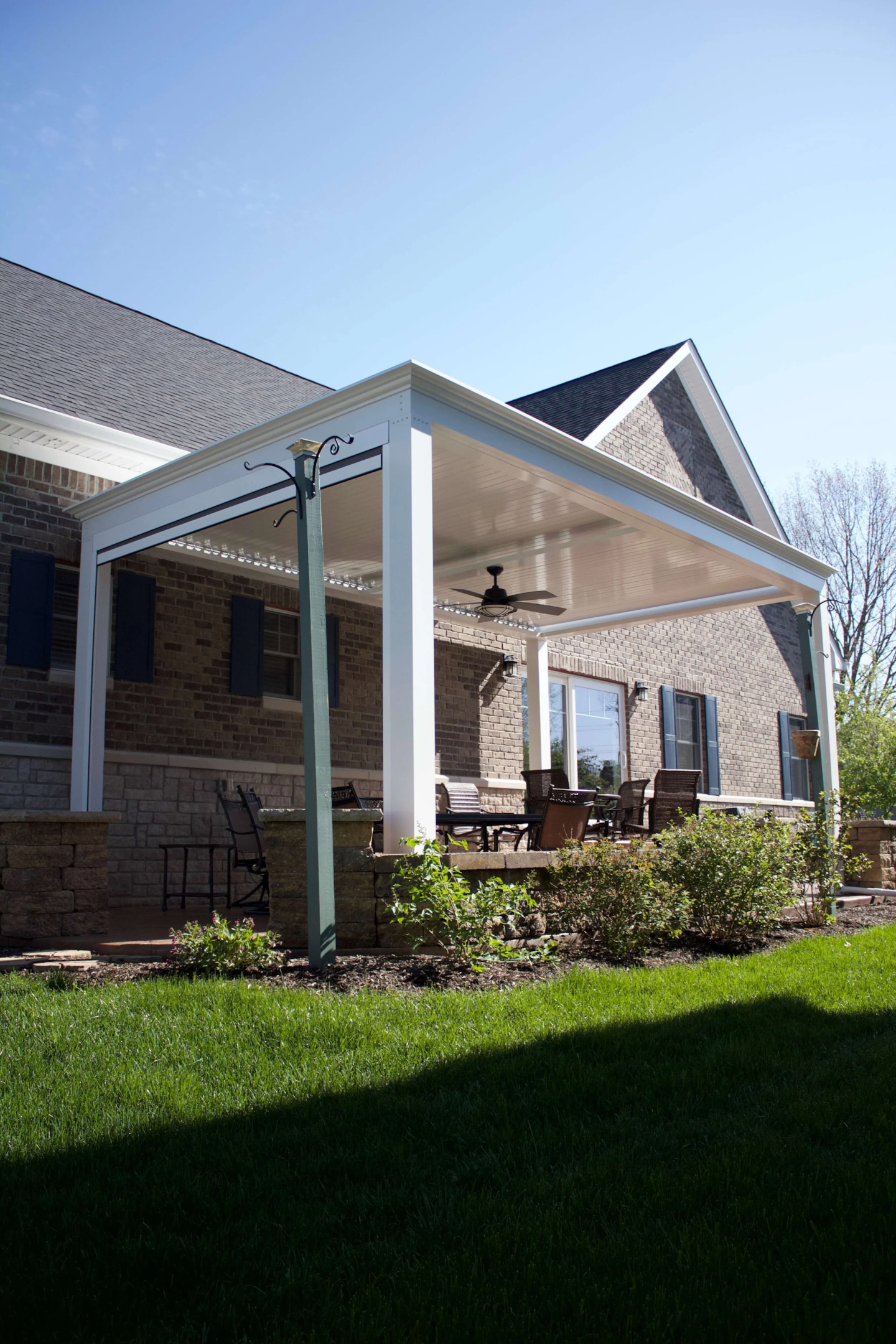 Overall the combination of these qualities makes aluminum a highly desirable metal for your covered patio area. Providing shade, quality, beauty and style will be a good fit for your backyard oasis!