You are wanting a structure to add partial shelter and more protection from the rain and sun to your back yard for entertaining guests and relaxing after a long day at work. You have the optimal space for a permanent gazebo structure or a pergola. How many people do you want to accommodate in your seating area? How do you go about deciding which option you prefer?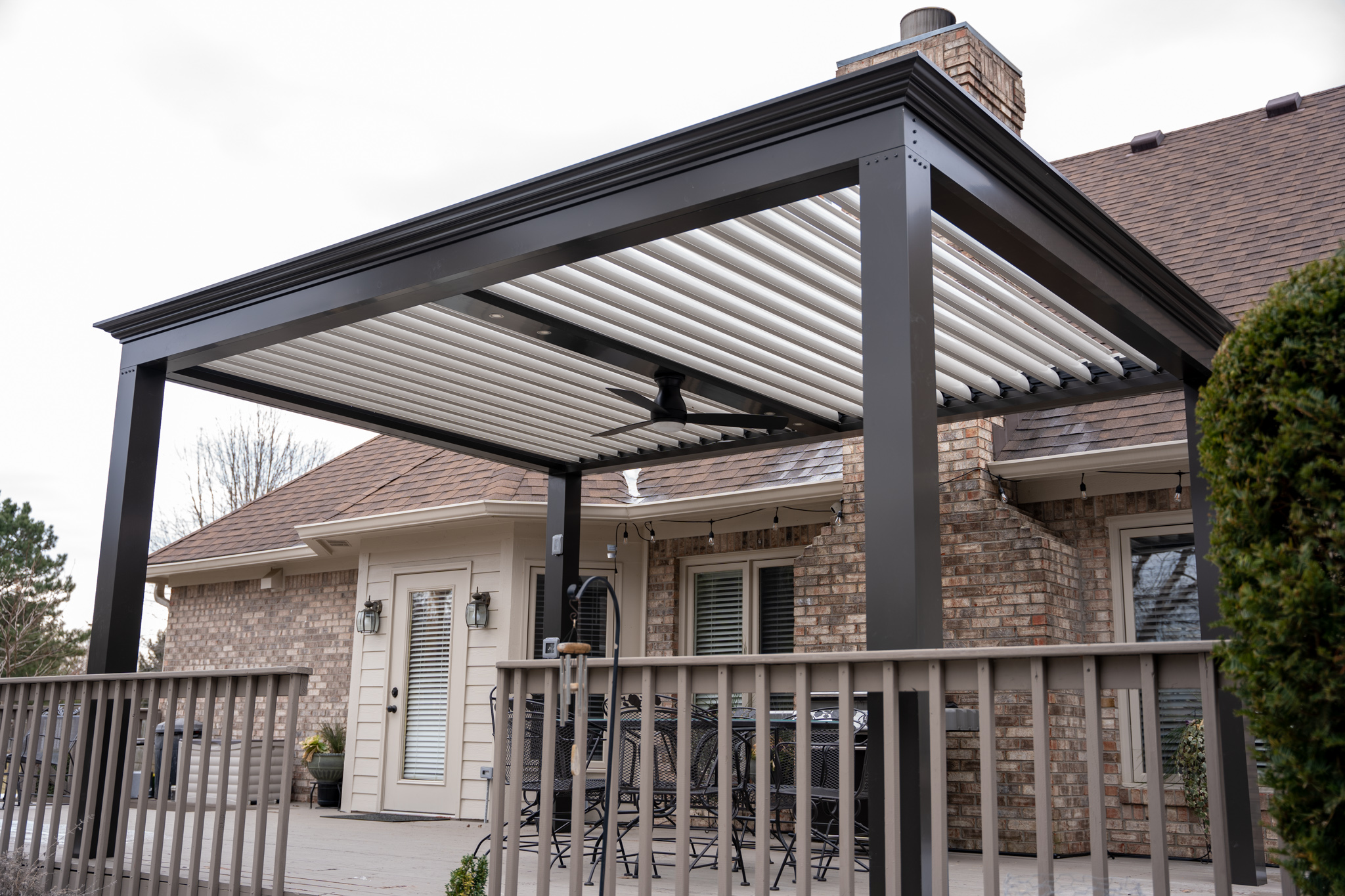 Table of Contents
What is a gazebo?
Gazebos can be found in a wide variety of locations both public and private. They are typically used for outdoor events, entertainment and relaxation. They provide shade and shelter from outdoor elements such as rain and snow.
The classic gazebo is usually found in town squares and can be relatively large to accommodate many people or maybe the local jazz band. Large permanent gazebos usually require professional installation and are freestanding structures. Most often they are typically built of wood and have a full coverage roof. They can be attached to a garden allowing climbing plants and vines to grow up the side of the permanent gazebo structure.
A gazebo pergola provides shade and weather protection in your outdoor space with their closed roof. Most gazebos provide seating areas such as benches or tables. They make a good meeting place for friends where they can visit and catch up. It also make a great backdrop for photographers taking family photos or senior pictures.
Many homeowners have opted to have a gazebo built in their backyard space. These wood structures create shade and give shelter from oppressing heat from the sun. Many gazebos are placed a certain distance from the house and serve as an eye-catching decorative structure to complete an aesthetic look they desire.
What is a pergola?
A pergola is a outdoor structure usually supported by vertical posts or pillars that support horizontal cross-beams, open slatted roof or metal louvers. Most pergolas can be constructed of wood, vinyl or metal. Aluminum Luxury motorized pergolas have a clean esthetic look and have recently taken the lead in popularity of homeowners.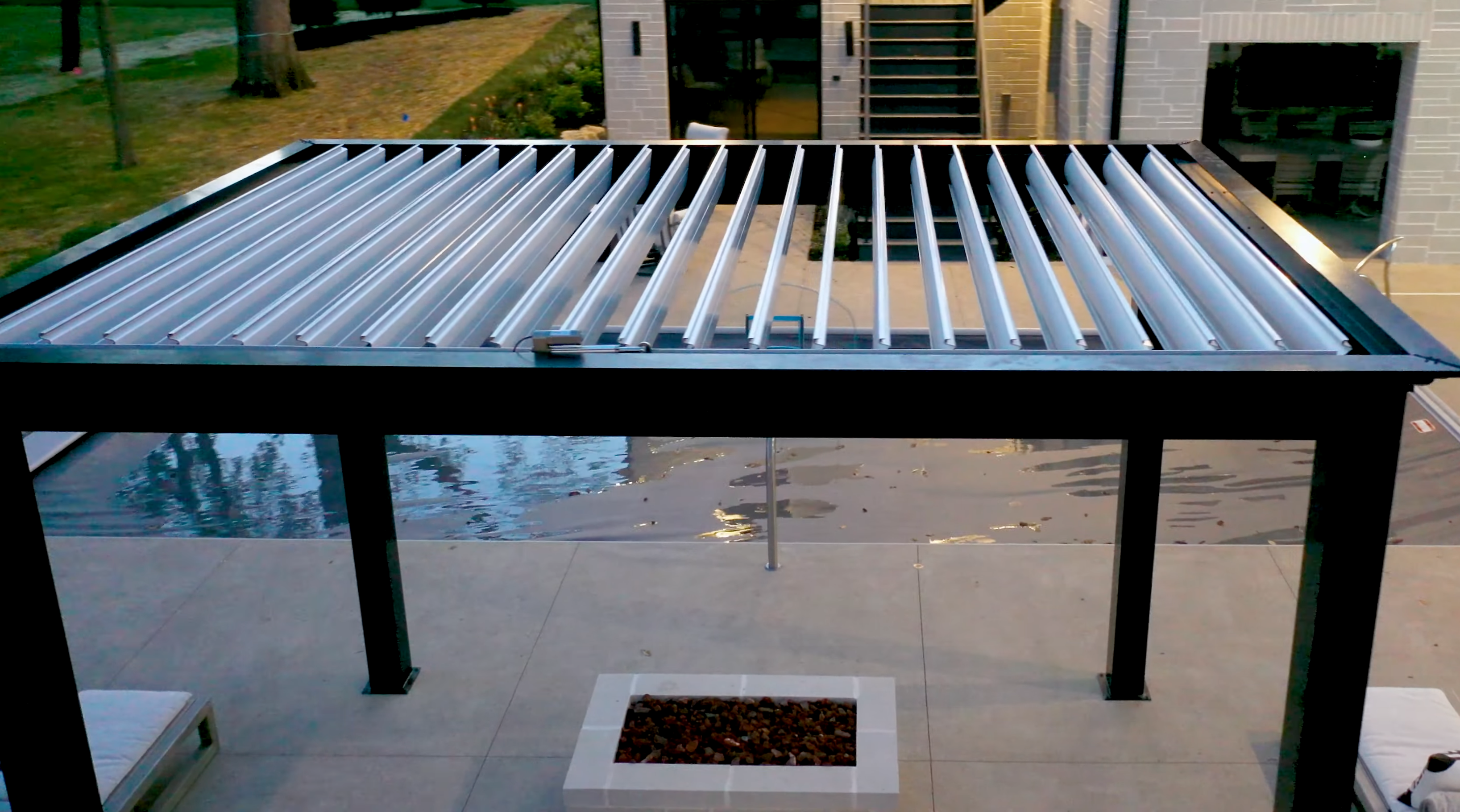 Pergolas vary in sizes and shapes and can be custom-designed to suit the needs and preferences of the homeowner. Pergolas are often built in the patio area close to the home's exterior wall to add to the outdoor living space. They can be added to an existing deck or a concrete pad or area with concrete footers.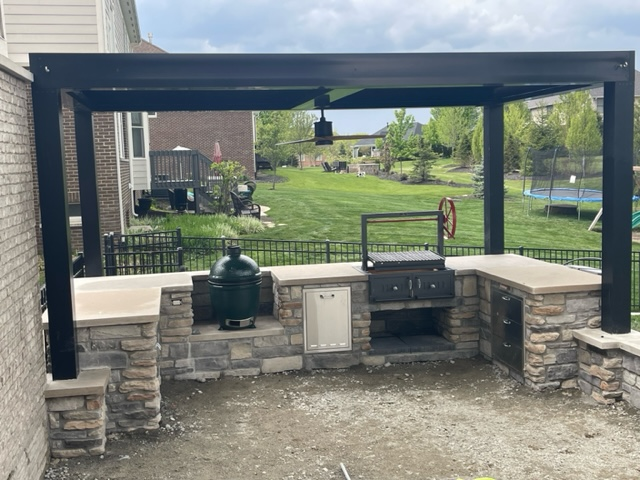 Pergolas can be a freestanding structure or attached to the home's exterior wall. When bad weather rolls in a pergola with a closed roof structure can protect you from rain especially if they have proper water drainage. Pergolas with a criss crossed wooden roof do not protect you from rain.
Difference between a pergola vs gazebo
The key differences between a pergola vs gazebos is that gazebos tend to have a full coverage roof canopy. Pergolas tend to let the sun come in to warm the area or have an adjustable louvered roof structure to give the option of sun or rain shelter.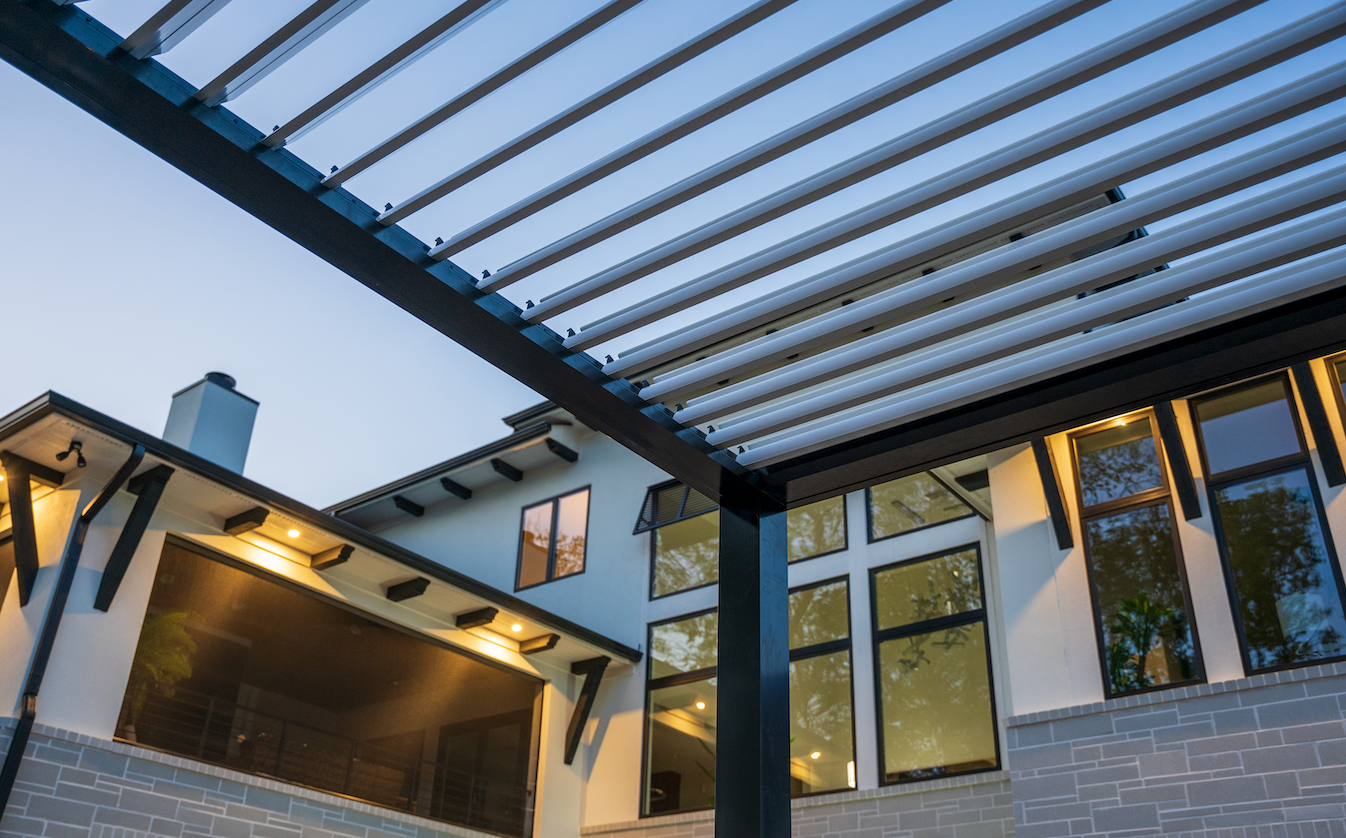 Structurally pergolas are much less cluttered and much more elegant than a gazebo. Choosing your structure is not an easy task. Your decision also may depend on whether you are installing by a pool area, garden or patio area.
Each structure should be built to your local building codes as different towns require different building specifications. Double check as some may require the gazebo or pergola to be built a certain distance from any permanent structures. You may need to install an new electrical line if you plan to install lights or a fan to your gazebo structure. Make sure to check with your local utility company before proceeding to avoid digging in an area with buried gas lines or an electrical line.
You can attach optional screens to either product but the aluminum louvered pergola is better suited for a permanent motorized screen. Mesh screens that hang from the beams can be pulled back or closed as preferred and are usually light weight to fit any structure.
The gazebo or the pergola can have vines growing up the posts however a louvered pergola would not be a good option for this due to the louvers opening and closing. A wooden pergola would accommodate vines growing as the structure would have a slatted roof or criss crossed wooden roof that is permanent.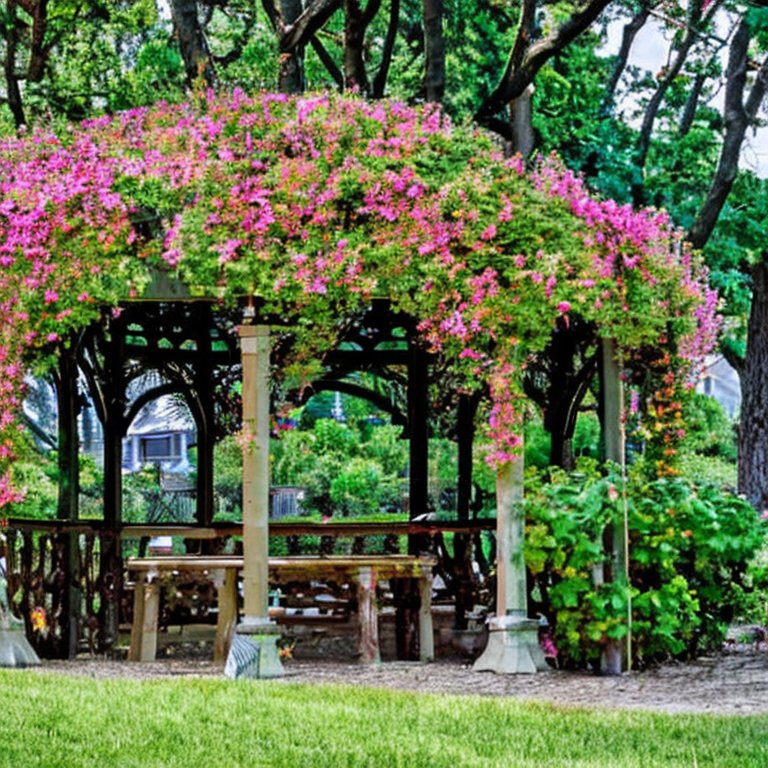 How do they hold up to weather extremes?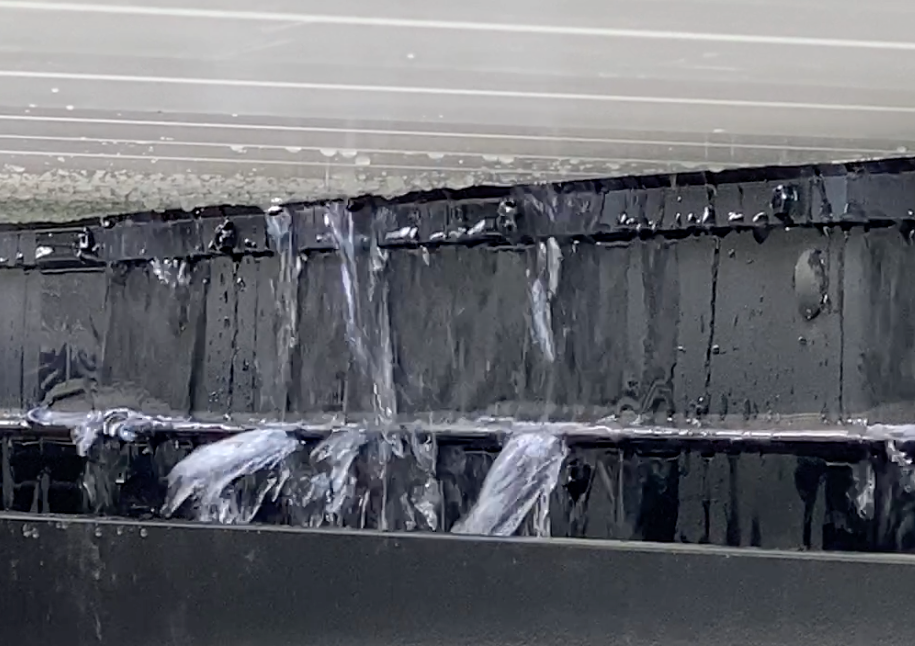 Choosing the right materials is crucial if storm resistance is one of your top priorities. What is the most durable pergola material? Let's break it down.
Pergolas or gazebos in your outdoor space can be made of wood, vinyl, or aluminum. Wood has a beautiful timeless look but does require a greater amount of maintenance whether that is painting or staining on a regular basis. Wood is also subject to decay and rot over time if not well cared for. A typical wooden pergola will last about 5 years. With regular maintenance of cleaning staining and sealing, you can improve it's lifespan to 10-12 years. If well constructed most wooden pergolas or gazebos can withstand winds of 110mph.
Pergolas or gazebos constructed with vinyl will tend to be more expensive than the wood option. Vinyl has a history of being a lower maintenance option over wood. Vinyl pergolas can last 10-15 years. The can hold up better than wood however temperature extremes can make it brittle and crack. If the vinyl pergola or gazebo is reinforced with an inner core of aluminum it can be extremely durable.
Aluminum Pergolas or gazebos are very sturdy option. Aluminum is strong and very durable and resistant to rust, corrosion and rot. Aluminum structures require little maintenance and are not prone to cracking or warping. They resist termites and other pests. The strength of the aluminum pergola or gazebo depends on the quality of the material used for the structure. Not all pergolas are made alike. It is important to choose a reputable manufacturer that uses high-quality aluminum and design their products to withstand strong winds and heavy amounts of rain or snow. Assuming the pergola is made of high-quality aluminum materials, it could last for 20-30 years or longer with regular maintenance. This may include cleaning it regularly to remove dirt and debris and checking for signs of damage or wear and making prompt repairs. This make it an excellent choice for your outdoor space.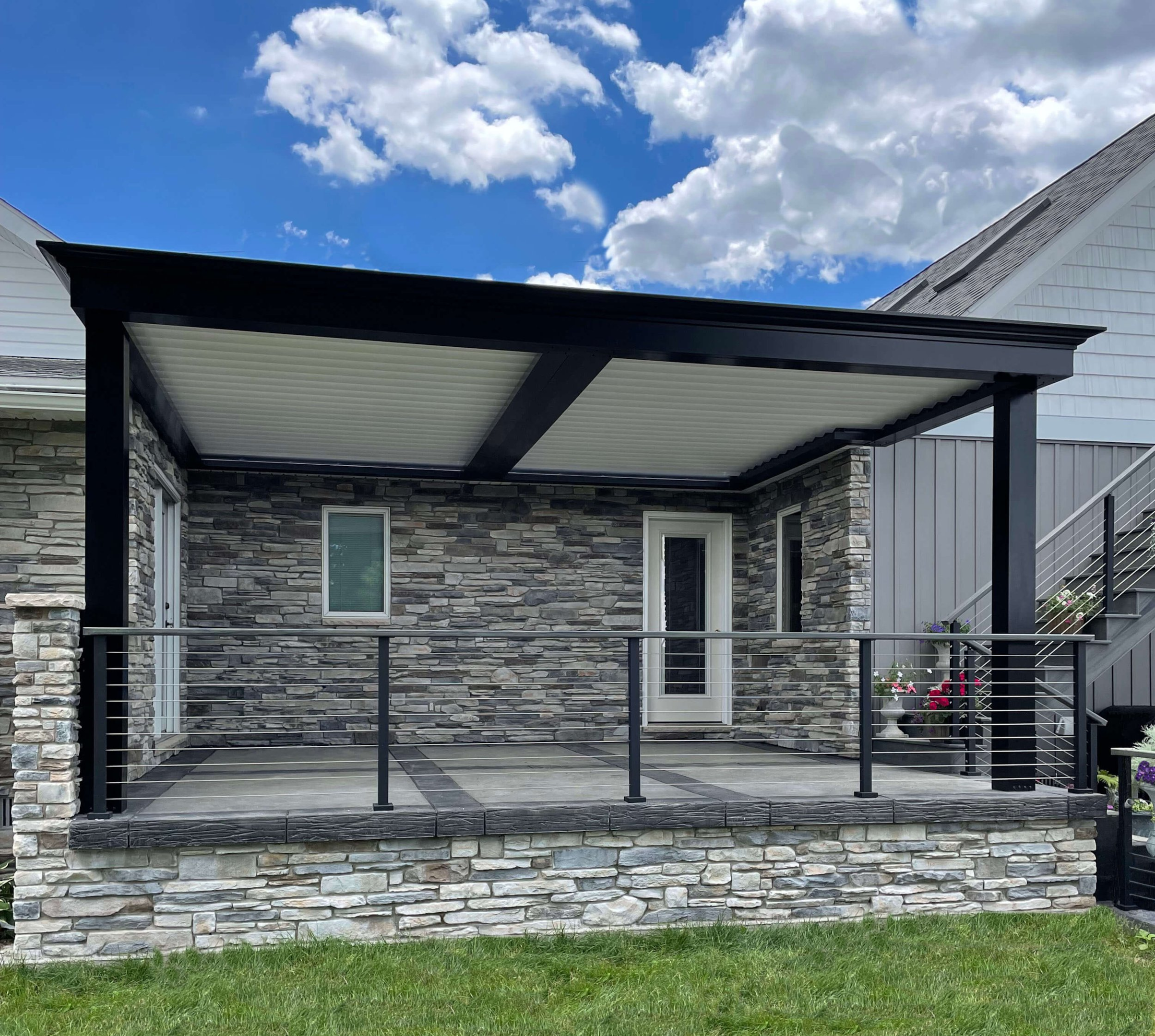 Installation process
When it comes to choosing a pergola vs gazebo, you should ensure that your structure is properly installed to prevent safety hazards. The foundation of your structure is of upmost importance. The requirements may differ depending on the size and quality of the unit you are purchasing. You should check with your local building codes before purchasing and installing your unit. You may need to install concrete footers or have a concrete patio area. If you have a deck, check with a local building expert on how best to anchor the pergola or gazebo down.
Care should also be given to the type of structure you choose dependent on the area in which you live. Most all areas of the United States are subject to extreme weather but some have key differences when it comes to strong winds and heavy snow. The company you are ordering from should list the technical specs of the unit.
The installation process for the DIY pergola or gazebo kits are relatively easy to follow with some companies including videos which show instructions step by step. Some units may be quite heavy and require 2-3 people install safely. Making sure you have the tools onsite and ready will streamline your installation process.
Personalizing your pergola or gazebo pergola
There are several things you can add to your pergola or gazebo to personalized and give it your own unique appeal.
You can install string lights or LED strip lights to create a cozy and inviting atmosphere in the evening. You can use spotlights to highlight specific features of your outdoor space.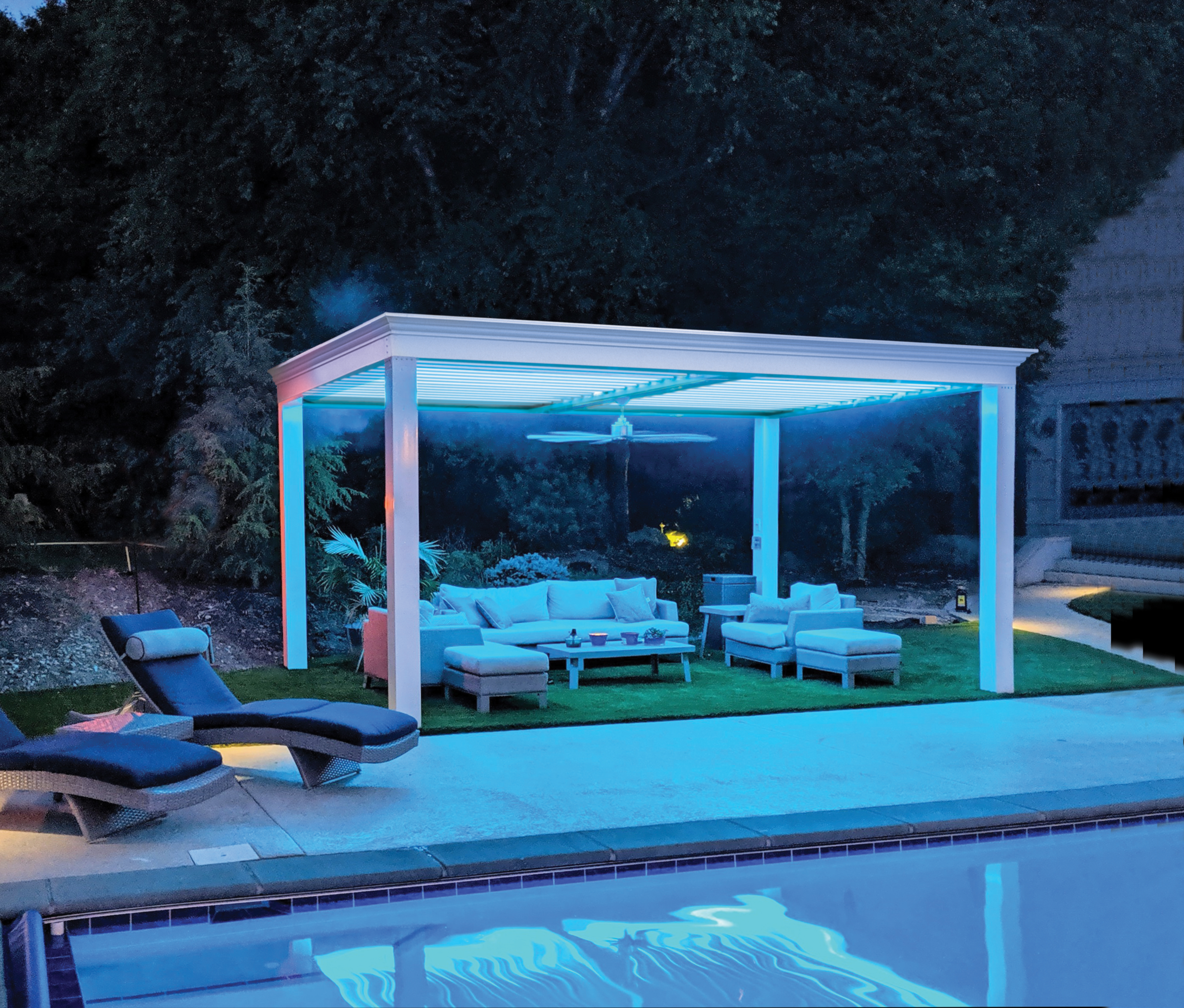 Adding pots and hanging baskets will create a natural and lush feel. Consider adding climbing plants to your wood structures to create a living wall.
Installing a fan will help the area stay cool in the summer when the sun is penetrating and temperatures are rising. You can use a ceiling or portable fan to cool off.

Adding curtains or drop-shades can have multiple purposes. They can provide shade, privacy and create a cozy and intimate atmosphere. You can also you them for pest control allowing protection from mosquitos and other flying pests.
Incorporate outdoor furniture in your seating area that is stylish and comfortable. Consider adding cushions, throws, tables and other accessories to create an inviting space on your backyard patio.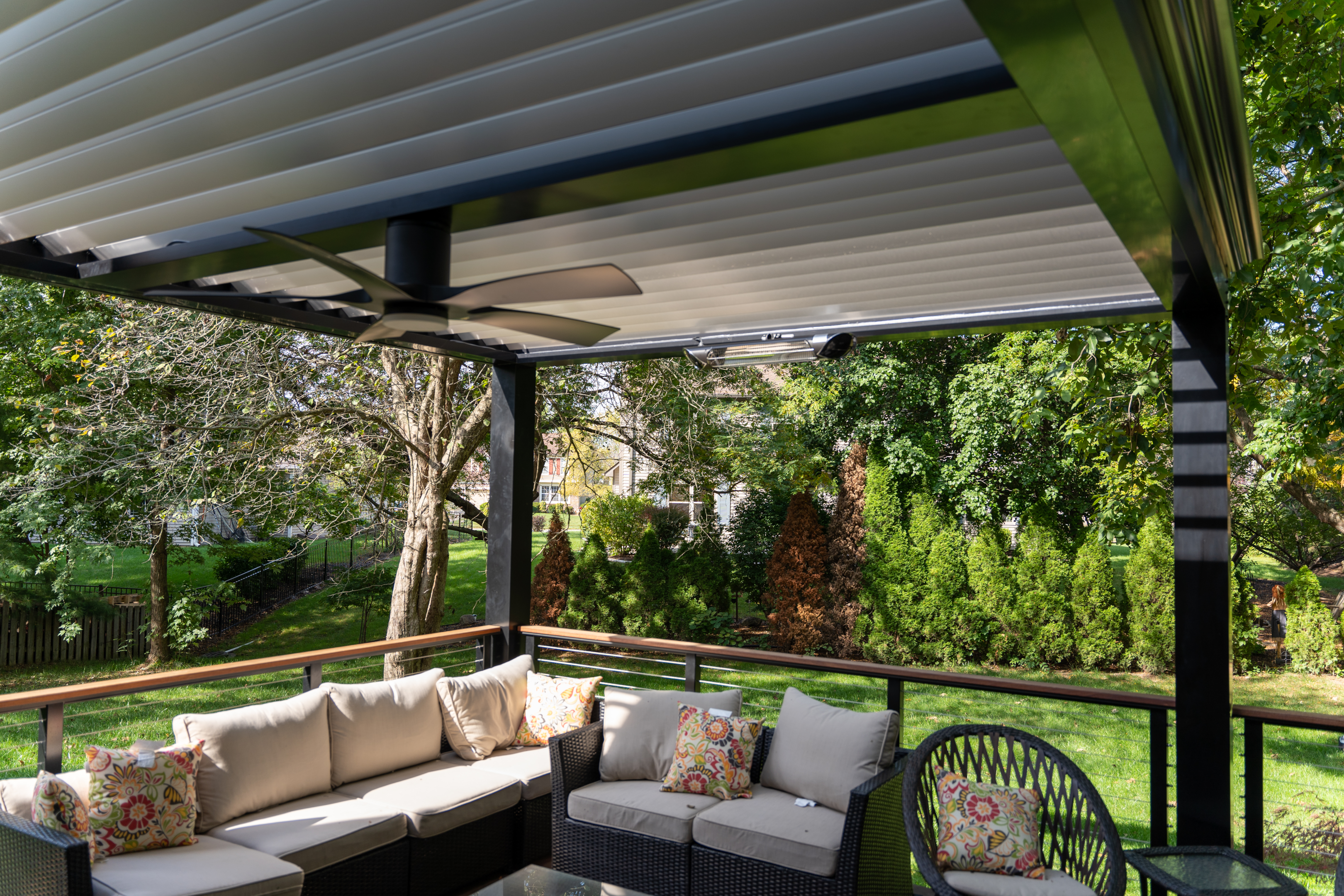 Imagine spending time outside in your yard with your favorite music. You can add a speaker sound system and listen to podcasts or set a mood while relaxing under your pergola or gazebo.
Some decorative elements like sculptures, artwork or wall hanging can also create a unique and personalized look.
By using these ideas, you can customized your pergola or gazebo and create a space that suits your personal style and meets your outdoor need. The ideas are limitless. Have fun with it!
Entertaining under your outdoor structures
There are many uses for your outdoor living space. You can spend endless hours sitting under your pergola or gazebo enjoying the sound of nature, reading or even taking a nap. Most likely you have installed your structure to entertain your friends and family. Lets visit some ideas to make your outdoor space a versatile entertainment area.
This structure will serve as an extension to your living space and is a great place for outdoor dining. Set up a table and chairs and decorate for a holiday or for your unique style. Your guests will appreciate the time spent to make a special place for them to enjoy. You can set up a grill and have an outdoor BBQ and enjoy some delicious food in the shade on a hot summer day.
You could host a garden party. Set up a table and have your guests bring a pot and flowers to create their masterpiece or have them each bring some perennials to share with each other. Have a master gardener as a guest speaker to teach the group about different plants and how to grow them.
How about hosting a birthday or graduation party. Your outdoor living space will provide the background for a decorated area where your guests can escape the sun rays and some rain won't ruin the event.
Entertaining ideas are endless. You can plan multiple activities that will be enjoyed by many.
Conclusion
Making a decision to build a pergola or gazebo will take some time and research on your part. Either of these outdoor structures will add beauty to your outdoor space. Spend some time driving around your neighborhood and town to view these structures when considering improvements to your backyard oasis. This will give you some ideas and help in making a decision when designing your outdoor space.