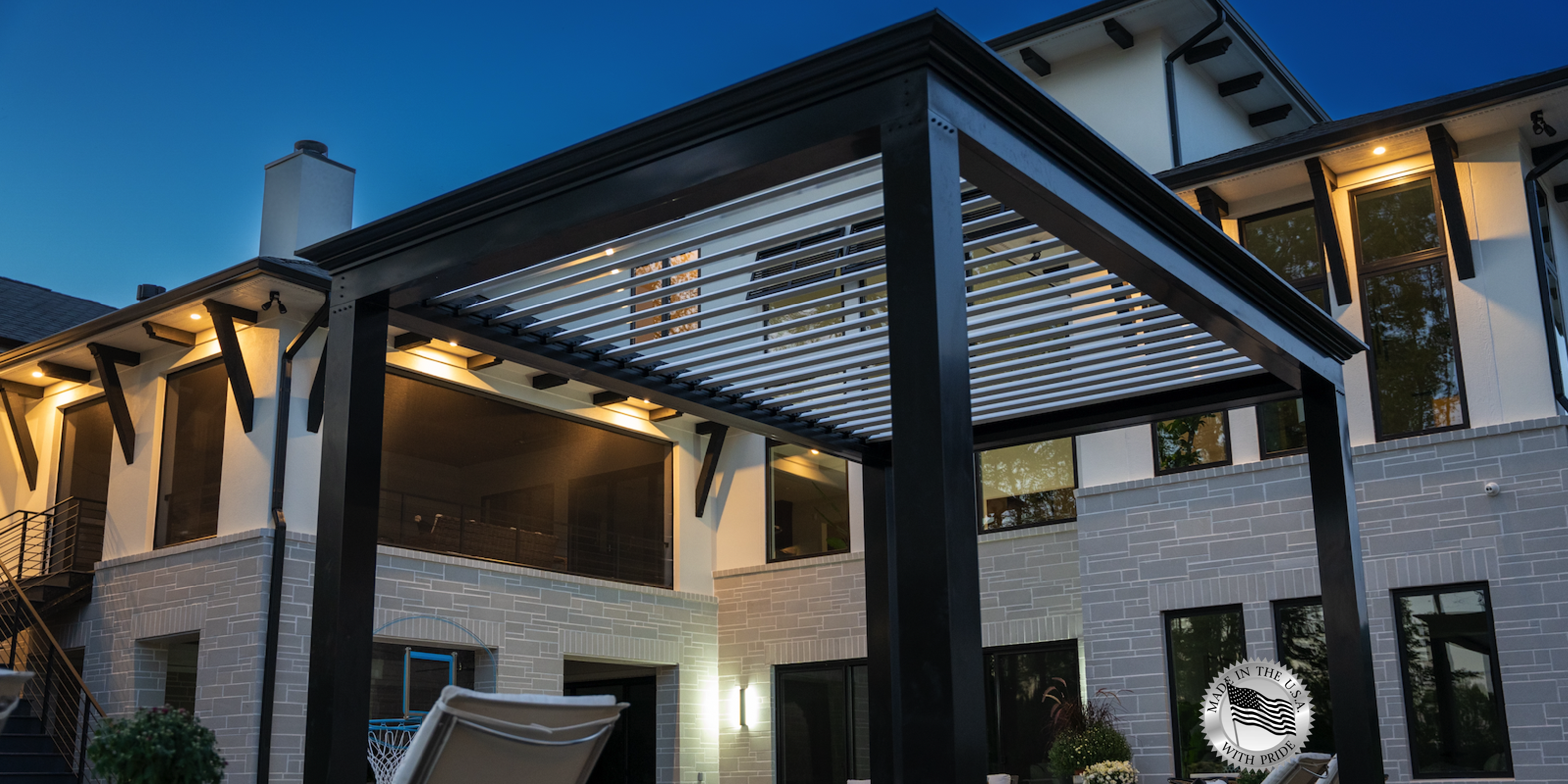 Listen to Article
The 18x18 pergola would be the perfect solution for anyone looking for new ways to improve their outdoor living space. This pergola would be a great family project that everyone will love to use all year long. It's worth mentioning that owning a pergola would also improve the aesthetic appeal of your backyard and your property as well.
Whether you want to use the pergola for relaxation, entertainment, or dining, the pergola will provide a versatile and aesthetic space for you and your company to do anything you want! The Luxury Pergola works hard to give each customer the outdoor space they have always imagined while also enjoying the great outdoors.
Pergola structure/durability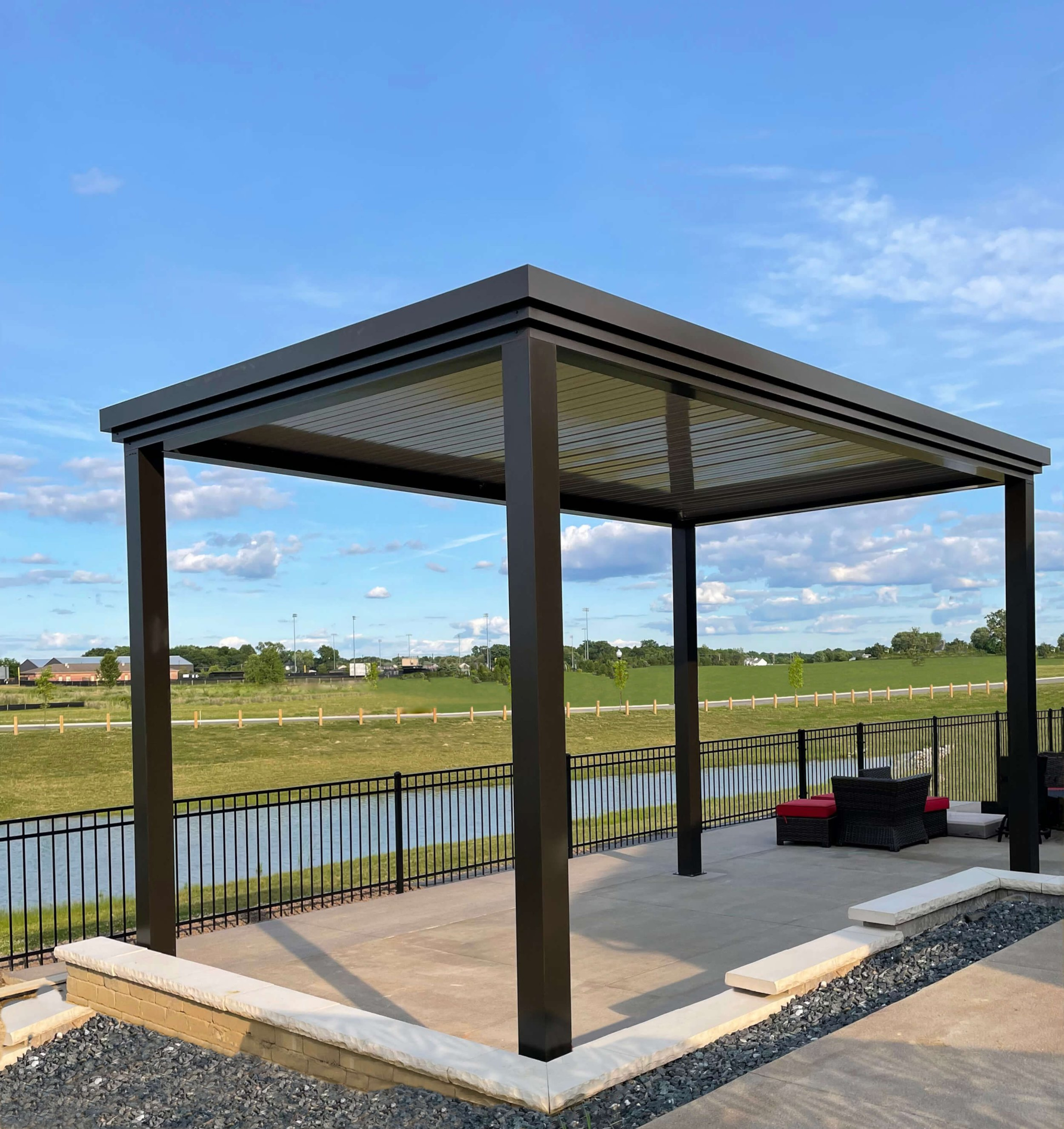 A pergola is an outdoor structure consisting of four vertical posts, which supports one or more center beams and a louvered roof. The louvered roof that is included is very easy to access and operate, as there is a remote control allowing you to open or close the roof to your liking. No need to get your own rafters when we provide louvers with your pergola to make your life more luxurious.
Each pergola is designed to provide much needed structure and durability, as each of them are made with an aluminum frame. Aluminum is the strongest and most durable material in stock and will last much longer than other materials that competitors will use, such as vinyl or wood.
These 18x18 pergolas are all pre drilled and very easy to put together, so no need to drill your own holes when we've taken care of it for you! Among the vertical posts, they include:
One electrical post for wiring

One gutter post for the rain/snow

Two standard posts
It's important to note that the amount of posts to install with your pergola will vary depending on the pergola size you are ordering and the location.
Shade and protection from extreme weather conditions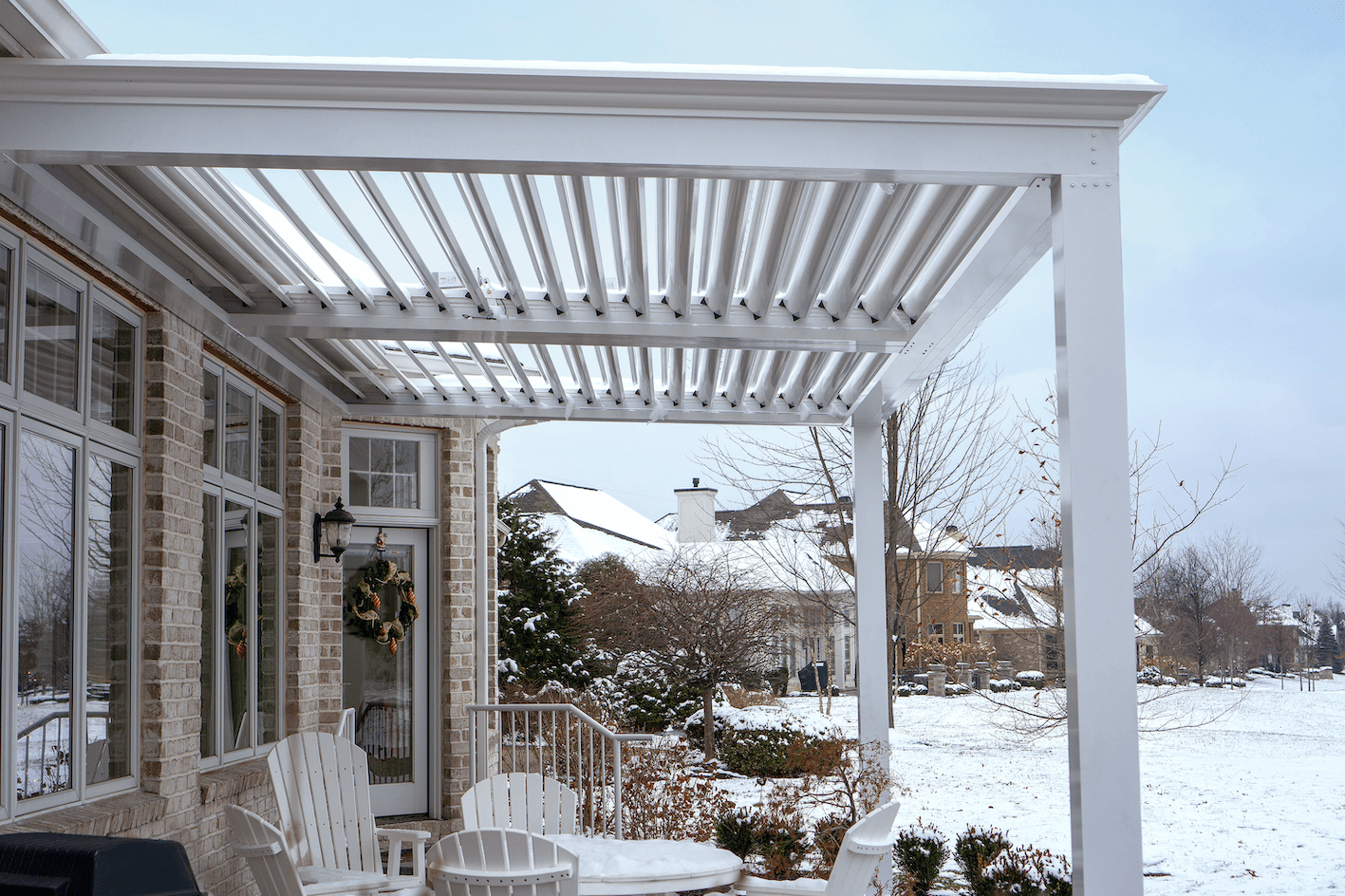 Having shade and protection is one of the many key benefits of owning a pergola. By having those benefits, you are able to enjoy your backyard space comfortably without having to worry about the elements throughout the year.
Each 18x18 pergola offers much needed shade and protection from any bad or extreme weather conditions. Such weather conditions that the pergola can withstand include:
Excessive sunlight

Heavy winds

Heavy rain

Heavy snow
You can now install a pergola screen that can be attached to the 18x18 pergola. Implementing the pergola screen will add some extra shade and protection from the elements/insects as well as providing a more private and comfortable outdoor space. The screen is very easy to access and operate, as each screen comes with a handle next to it.
What can I do for the design/style of my pergola?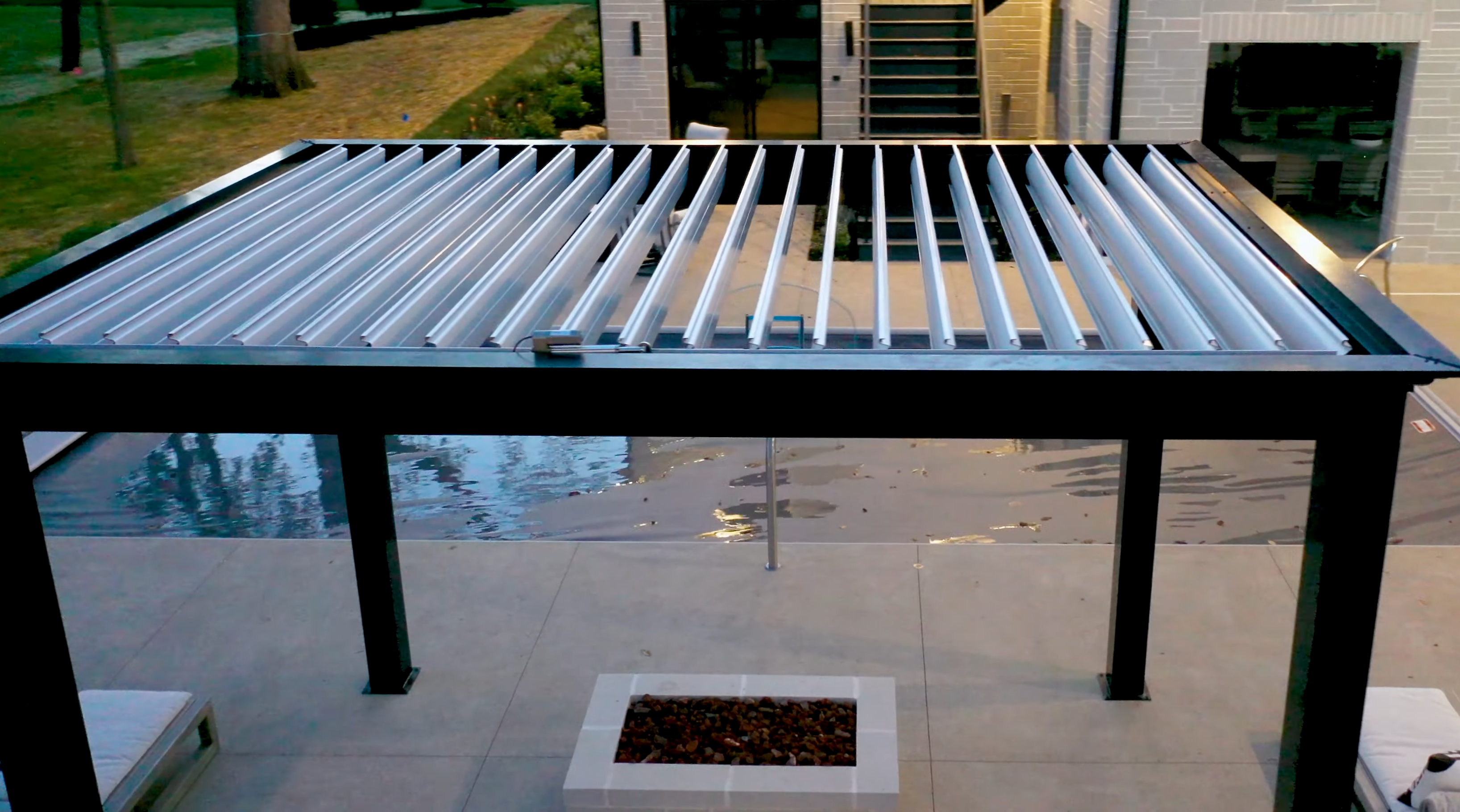 When purchasing a pergola, there are plenty of customization options to choose from. For each pergola, you can customize it by its size, pergola color, crown moulding, and other functional features. With these options, you will be fully able to customize your pergola to have it look the way you've always envisioned.
Pergola color
At The Luxury Pergola, we strive to give you the best quality pergolas and provide you the best color options as well. The colors for every pergola and the louvers include:
Bronze

White

Stone (Louvers only)
You can either have your pergola and louvers be the same color or you can make them different colors, the choice is yours! We strive to provide you the freedom to customize your pergola the way you want it to be.
Crown moulding
For you pergola, you can order it with or without the crown moulding. However, we highly recommend that you include crown moulding with your pergola, as it enhances the aesthetic appeal and also provides more protection to your pergola.
When it comes to options, you can pick either traditional or contemporary. There is a base trim that can be included with the pergola, which makes it look more appealing and better protected. Overall, having crown moulding will improve your pergola's aesthetic look and your outdoor living space as well.
Additional functional features for your pergola
For anyone wondering what else they can add to their pergola, there are many options for you to choose from. Some functional features that you can add to your pergola include:
Including any additional features with your pergola would be a great idea, as it would enhance the functionality of the pergola and its overall appearance as well. The possibilities are virtually endless for you, so let your creativity go to work!
Versatility with your pergola space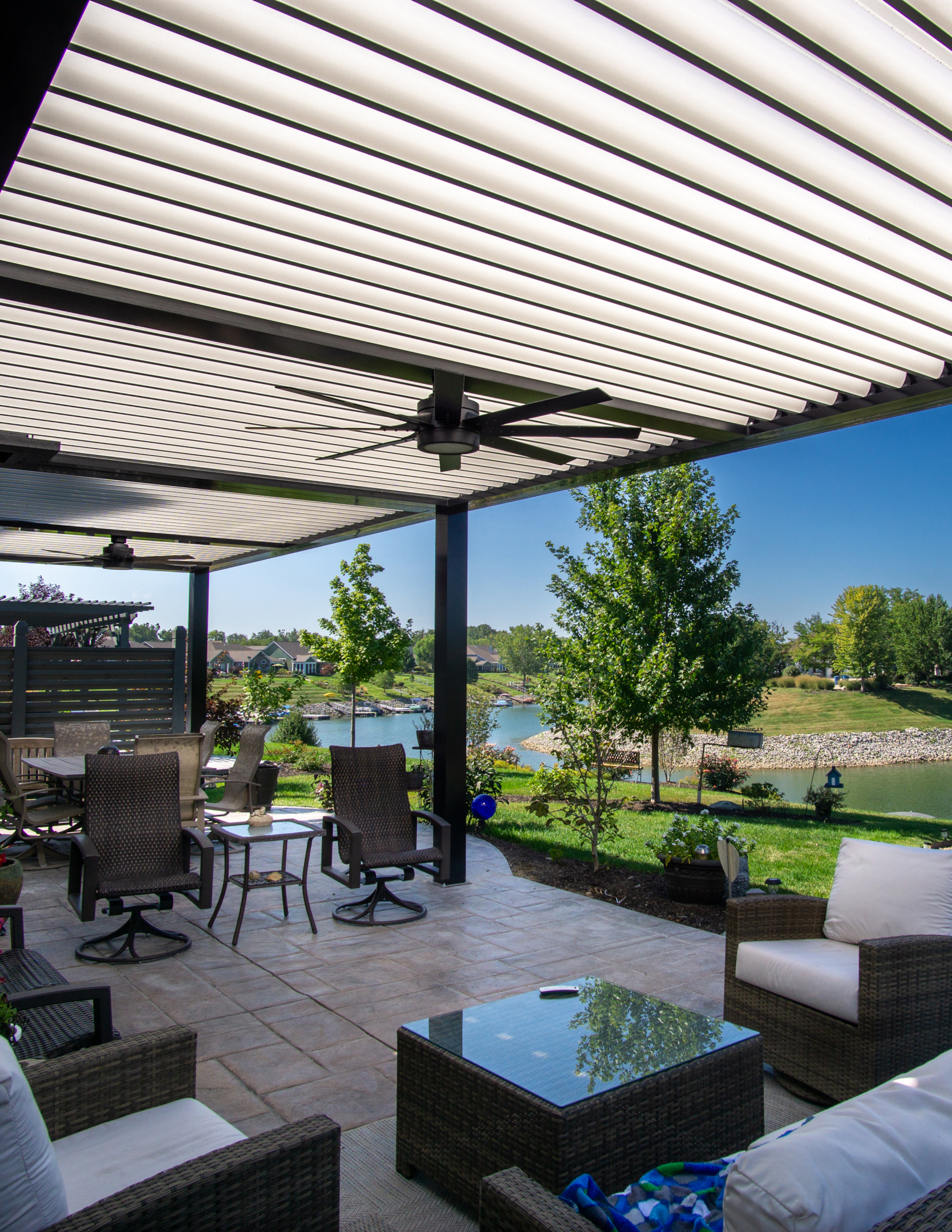 The 18x18 pergola will give you and your company lots of versatility and comfortability for your backyard living space. However, what you choose to do with your pergola will vary depending on your personal preferences. Whether it's on your patio, deck, garden, or on concrete, you will have the ability to do whatever you please throughout the year.
Some ideas that you can use your pergola for include:
Family events

Get-togethers

Dining

Relaxation

Parties

Bonfire

Game night
Each pergola is designed to provide the perfect space for you and your company to have a good time and enjoy your backyard space in the process. You have complete control of what you want to use your pergola for, so invite your family and friends, take out some chairs, and enjoy the entertainment and fresh air!
The Luxury Pergola: Purchase a pergola kit today
Having a 18x18 pergola would create a versatile and comfortable environment for everyone to enjoy. The Luxury Pergola values giving their customers the best high quality pergolas while making them as affordable as possible.
The 18x18 pergola is very easy to assemble, with clear instructions included with the pergola kit. You can also visit our YouTube page if you have any questions or need more details on how we assembled these pergola kits. Ready to buy a brand new 18x18 pergola today? The Luxury Pergola is the way to go.