Imagine transforming your outdoor space into a stunning retreat, complete with a pergola that not only provides shade but also serves as a breathtaking focal point. Pergolas are versatile structures that can be customized to fit any style, size, and purpose. With the right pergola ideas, you can create your dream outdoor living room, enhance your deck, or even design a poolside oasis. In this blog post, we'll guide you through 25 creative pergola ideas to inspire your next outdoor makeover and help you choose the perfect pergola for your space.
Key Takeaways
Choose the right pergola for your outdoor space based on purpose, size and design.

Make sure it meets or exceeds USA minimum building codes of 115mph wind rating.

Enhance your deck with a pergola by adding climbing vines, lights and furniture pieces.

Consider climate when selecting materials to ensure UV ray resistance, wind resistance & ability to withstand moisture & extreme temperatures.
Choosing the Right Pergola for Your Outdoor Space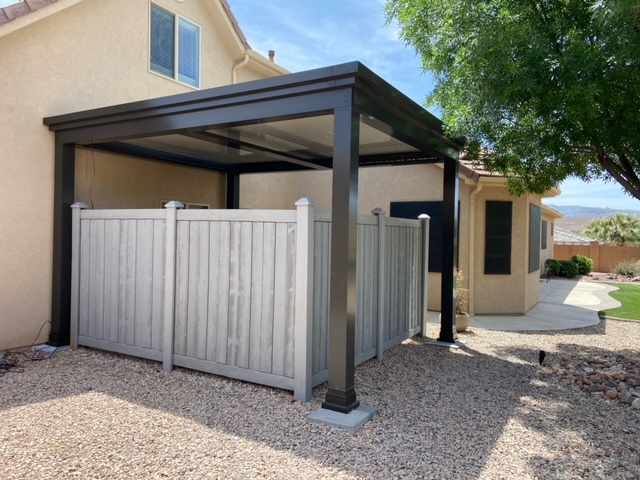 Selecting the ideal pergola for your outdoor space involves considering various factors such as purpose, size, and design. Are you looking for a pergola to provide shade for al fresco dining, or do you want one to serve as a stunning entrance to your garden? Determining the purpose of the pergola will help you choose the right style and size, ensuring a harmonious blend with your outdoor space.
When planning your pergola, size is a key consideration. Garden designer John Wyer of Bowles & Wyer advises, "Ensure your covered pergola is not excessive in relation to the garden but adequate to be practicable". A well-proportioned pergola creates a balance between practicality and visual appeal. If your property is in a conservation area or listed, be aware that planning permission may be required.
There's a variety of designs available when it comes to pergolas. They can be attached to a house or stand as a feature on their own. Some options include:
Cantilever pergola: a great option for a deck pergola, as it provides a more open atmosphere with only two legs

Contemporary style: for a modern and sleek look

Traditional style: for a classic and timeless design
Don't forget to consider additional elements like a fire pit, vivid patio furniture, or an outdoor kitchen to enhance your patio space with creative patio ideas.
Enhancing Your Deck with a Pergola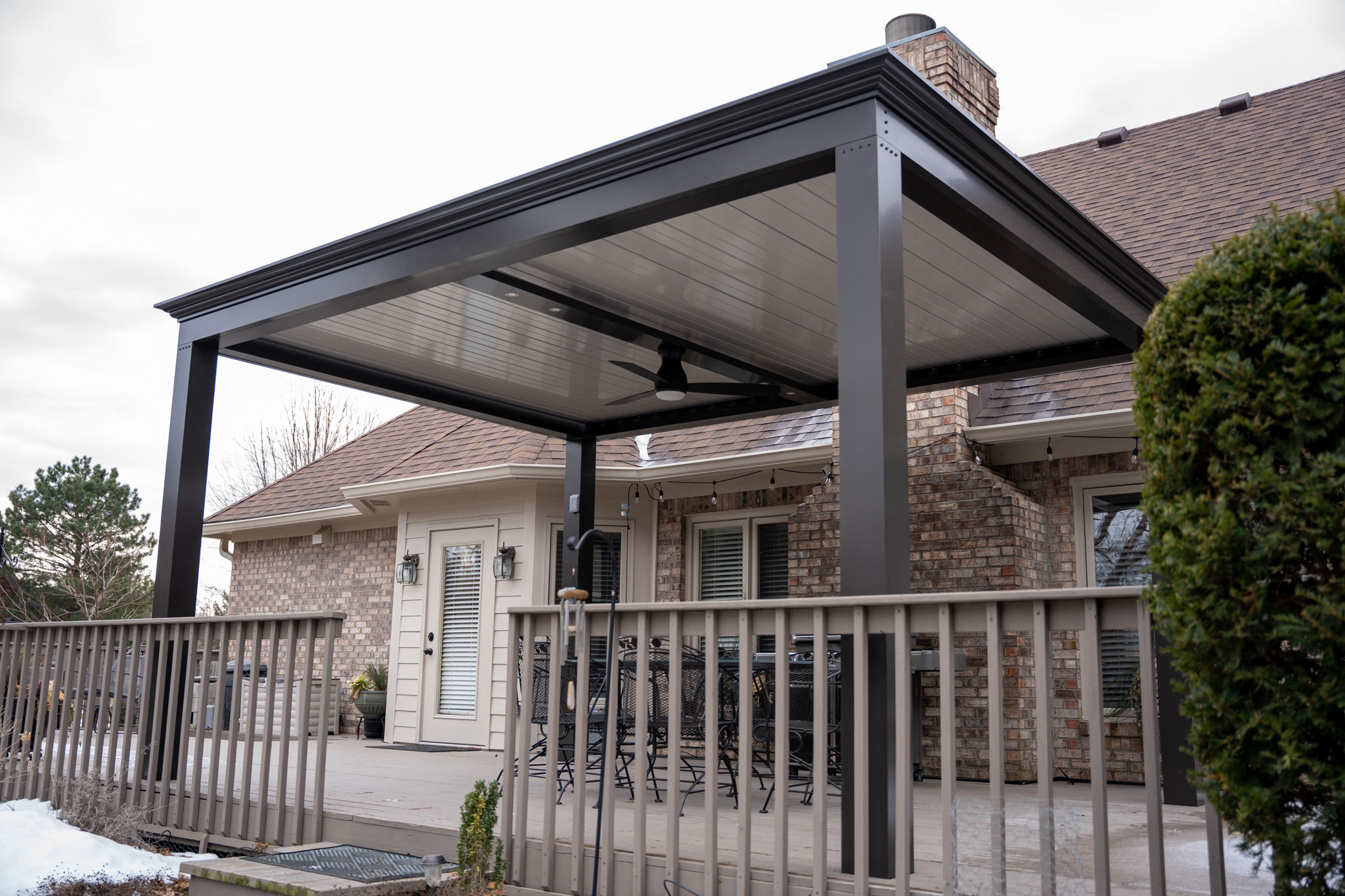 An added pergola can enhance your deck, offering additional shade and creating a more inviting atmosphere. Enhance the aesthetic of your deck pergola by incorporating:
Climbing vines, such as jasmine or wisteria, to create a lush, green canopy

Outdoor string lights to add a touch of warmth and enchantment during the evenings

Comfortable seating for a cozy and relaxing space
Further personalize your cedar pergola by choosing furniture pieces that are both stylish and functional to cultivate a welcoming seating area. Opt for weather-resistant materials and cushions for a low-maintenance, inviting space. The right furniture and accessories will transform your deck pergola into a relaxing sanctuary perfect for outdoor gatherings or quiet moments of solitude.
Poolside Pergola Ideas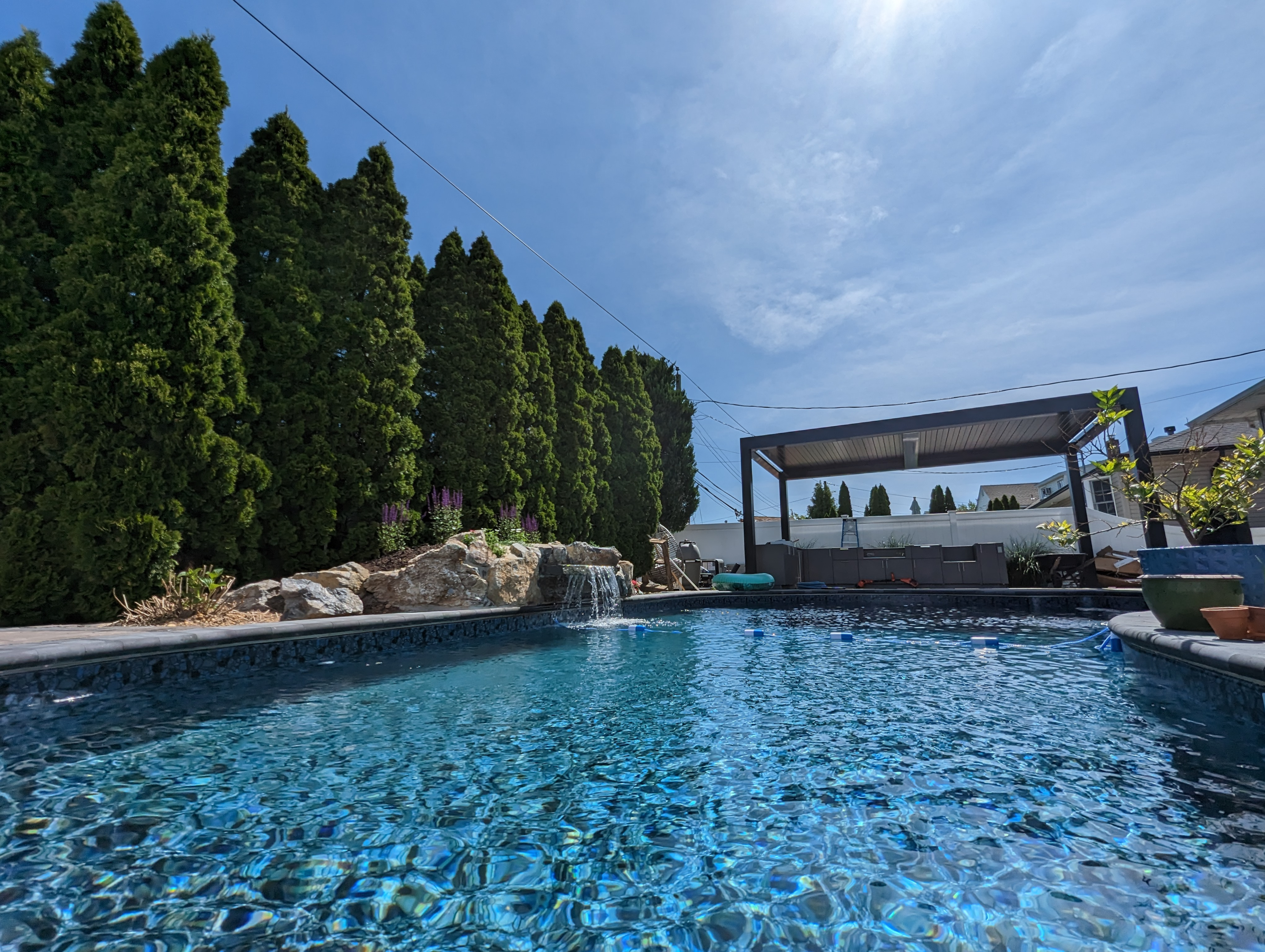 A pergola situated poolside can significantly enhance your outdoor space, offering shade and intensifying the poolside atmosphere. To create a luxurious retreat, consider incorporating comfortable seating, climbing plants, and shade options that suit your style and needs. This can range from permanent pergolas to temporary pergola canopies, depending on the desired level of flexibility.
Consider various pergola designs like wooden pergola garden structures, structures that are either attached or freestanding, or perhaps wood pergola designs featuring fire pits and waterfalls. These creative ideas can help you set the scene for ultimate poolside luxury and create the perfect ambiance for relaxation, entertainment, or simply basking in the sun.
Maximizing Privacy with Pergolas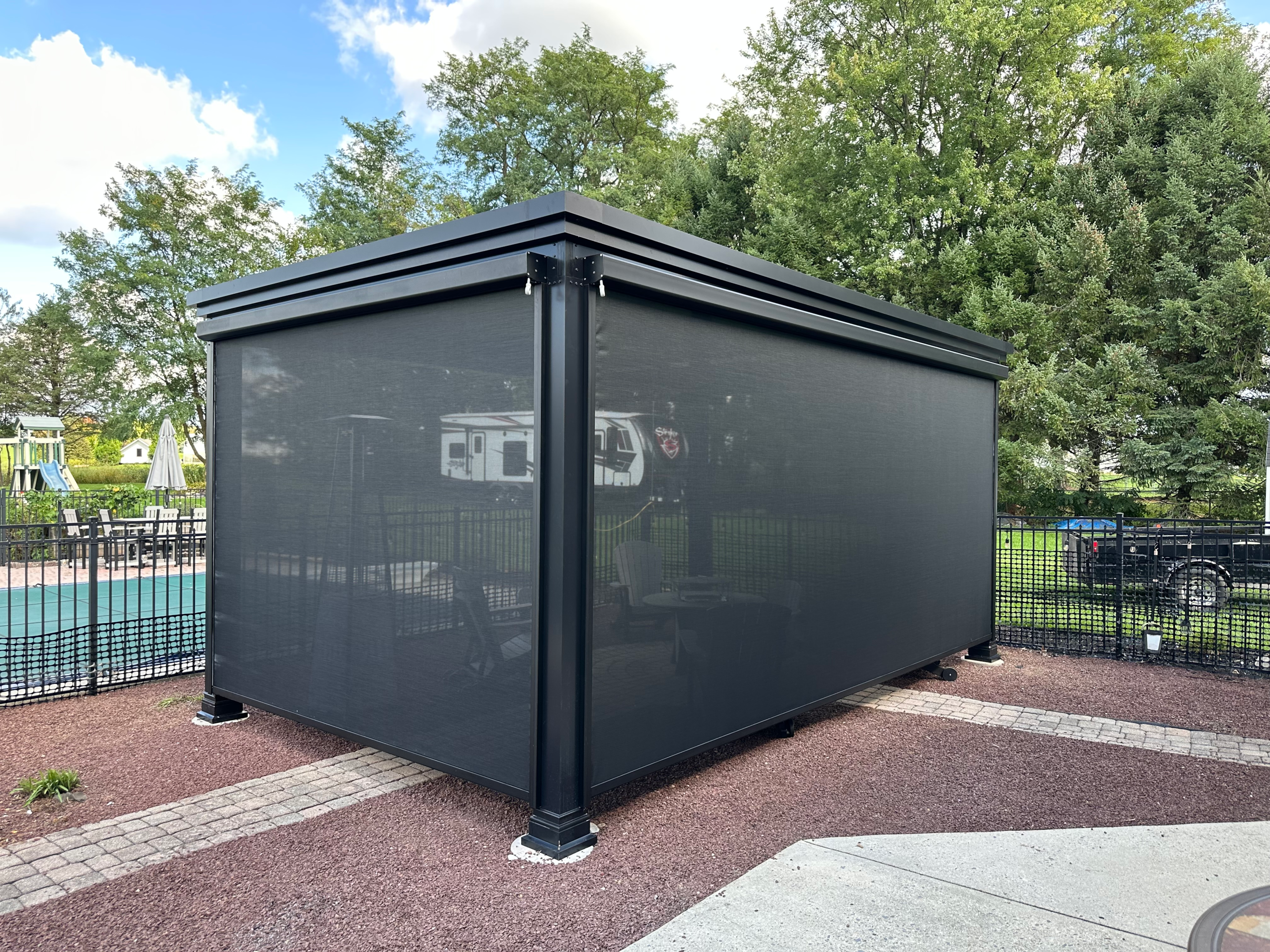 You can design pergolas in a way that offers more privacy while maintaining their open connection to the surroundings. This can be achieved by incorporating privacy screens, trellises, or curtains into the pergola design. For example, a custom lattice roof or trellis with narrow openings can provide seclusion while still allowing light and air to flow through.
To further enhance privacy, consider using climbing plants and vines to create a natural barrier. Select plants that are easy to maintain and thrive in your climate, guiding them to grow along the pergola's supports and slats. This not only adds privacy but also introduces a beautiful, verdant touch to your outdoor space.
Combining Pergolas with Other Outdoor Structures
When you integrate pergolas with other outdoor structures such as arbors, trellises, and gazebos, it leads to a unified and practical outdoor living area. Consider incorporating trellis screens to form a secluded sanctuary or matching the style and color palette of your pergola with other structures. This can enhance the visual appeal of your outdoor space and offer more privacy and functionality.
Personal touches, such as custom-built benches or unique lighting fixtures, can also help blend pergolas with other structures, creating a harmonious and inviting environment. By combining various elements and designs, you can transform your outdoor space into a sanctuary that reflects your personality and style.
Materials and Styles for Pergolas
Various materials like wood, metal, and vinyl can be used to construct pergolas. Timber is an incredibly popular material used in construction. Western red cedar, iroko, and oak are commonly chosen varieties. When selecting the material for your pergola, consider how it will be securely anchored to the ground for longevity. For instance, using a steel shoe can prevent timber posts from decaying at the soil level.
Consider various styles for your pergola, from traditional to contemporary designs. Custom-built pergolas can be tailored to fit any space and incorporate unique features like built-in benches, trellises, and lighting. With the right material and style, your pergola can become a stunning focal point that complements your outdoor space.
Pergola Roofing Options
Pergola roofing is significant as it provides shade and safeguards against the elements. Various pergola roofing options are available, such as slatted roofs, sail-type blinds, and flexible roofs.
Slatted roofs offer full coverage, while sail-type blinds allow you to adjust the amount of sunlight or shade throughout the day and at different times of the year. Flexible roofs can provide protection from wind and rain, making outdoor dining or seating areas more practical and luxurious.
Consider the specific needs of your outdoor space and climate when selecting the most suitable roofing option for your pergola.
Decorating Your Pergola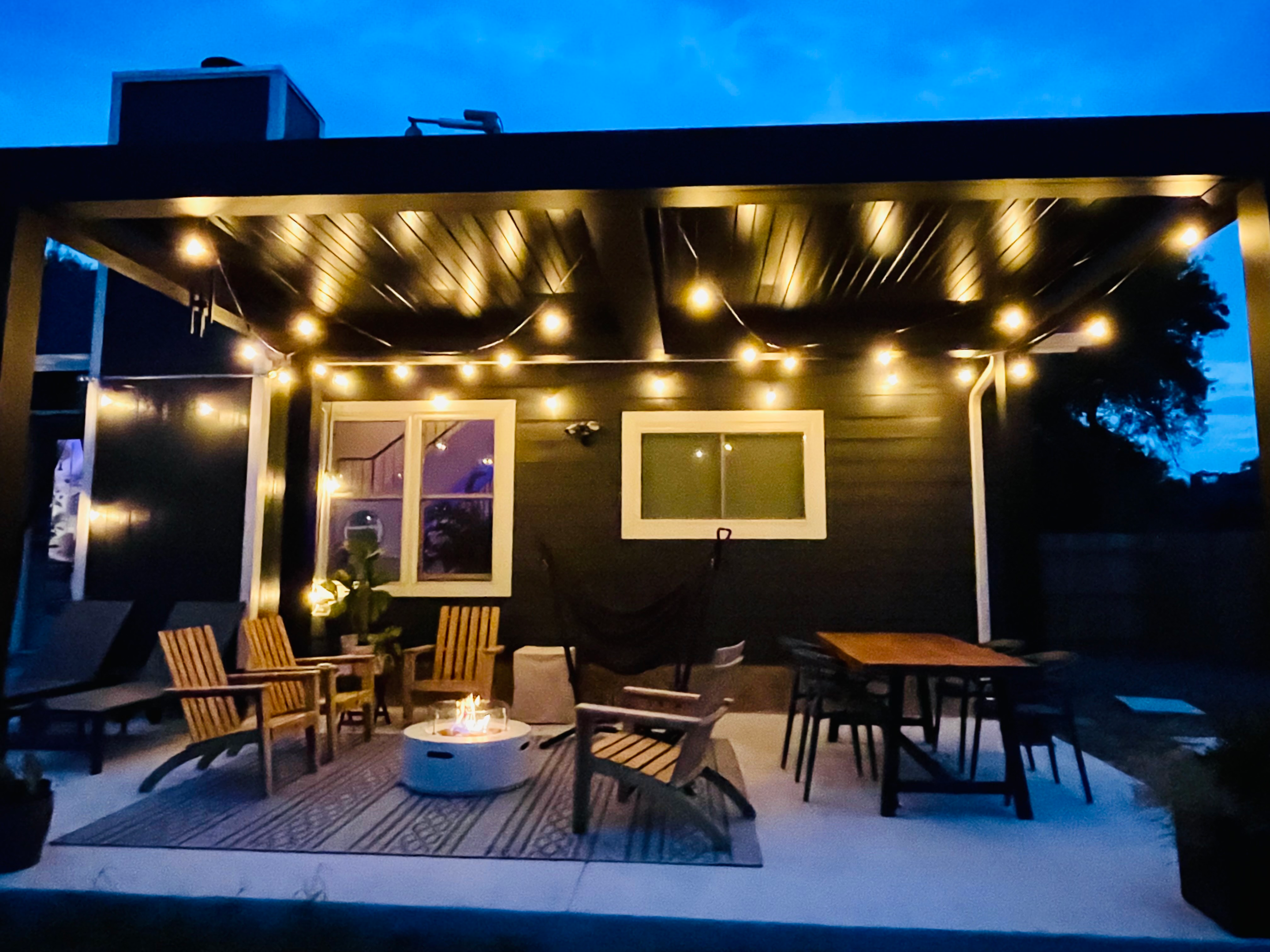 After selecting the ideal pergola for your space, the next step is personalizing it with plants, lighting, and accessories. Line the perimeter with containers planted with bright blooms or hang pendant lights above a designated dining or seating area. Adding plants and lighting creates a cozy and inviting atmosphere, perfect for relaxation and entertainment.
Further customize your pergola attached to your home by adding a hanging swing, a hammock, or a large piece of art to the area. These personalized touches will make your pergola feel like an extension of your home, reflecting your unique style and personality while enhancing the overall ambiance of your outdoor space.
Creating an Outdoor Living Room with a Pergola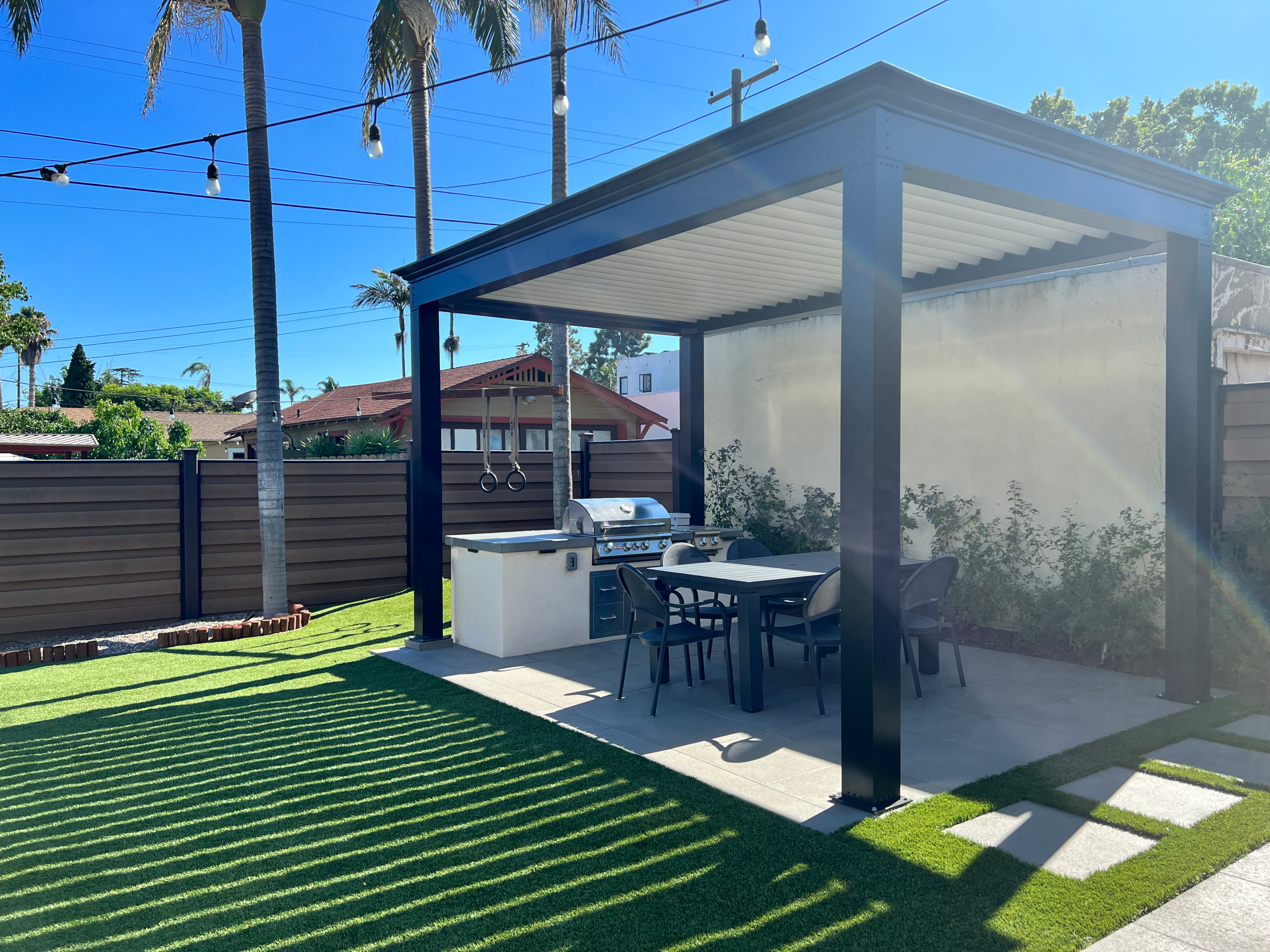 With a pergola, you can convert your outdoor space into a cozy living room that includes furniture, soft furnishings, and atmospheric lighting. Choose weather-resistant furniture pieces and cushions in a neutral color scheme for a sophisticated touch. Incorporate a mirror into the pergola design to create a more spacious atmosphere and reflect light for an open ambiance.
Integrate fragrant climbing plants, such as jasmine and honeysuckle, and trellis designs to introduce natural elements into the pergola. These elements, combined with the right furniture and lighting, will create a cozy outdoor living room perfect for relaxation, entertainment, or al fresco dining.
Pergolas for Small Spaces
Even with limited outdoor space, pergolas can add vertical interest and create the illusion of a larger area, thereby enhancing your space. Customize the size and design of your pergola to fit your small outdoor space, ensuring it complements the surroundings without overwhelming the area.
Incorporate decorative elements, such as a trellis or climbing plants, to add visual interest and create a captivating backdrop. With thoughtful planning and design, a pergola can elevate the aesthetics and functionality of even the smallest outdoor spaces.
DIY Pergola Kits vs. Custom-Built Pergolas
When you're considering a pergola for your outdoor space, the options range from DIY pergola kits to custom-built pergolas. DIY kits often come at a lower cost, even when including the expense of a contractor to assemble the components. These kits typically include wood, metal, or vinyl materials, depending on the manufacturer.
Custom-built pergolas, on the other hand, offer more design options and can be tailored to fit any space and incorporate unique features like built-in benches, trellises, and lighting. Consider your budget, design preferences, and the specific needs of your outdoor space when choosing between a DIY kit and a custom-built pergola.
Maintaining Your Pergola
Regular maintenance of your pergola is key to ensure its longevity and safety, particularly for wooden pergolas that need proper care to last 12 years or more. Regular cleaning, inspection, and repair of your pergola are vital to its durability and appearance.
For wooden pergolas, here are some maintenance tips to keep in mind:
Apply a sealant or stain to protect the wood from environmental factors.

Inspect the pergola for signs of damage and make repairs as necessary to prevent further deterioration.

Proper maintenance will not only extend the life of your pergola but also keep it looking beautiful and inviting for years to come.
Pergolas in Different Climates
Your location's climate significantly influences the selection of the best pergola for your outdoor space. Factors like sun exposure, wind resistance, and weather conditions should be considered to ensure the pergola's durability and functionality.
Select materials that are resistant to UV rays and can withstand the sun's heat, such as aluminum or steel. Ensure that the pergola is designed to endure strong winds, meeting the required wind resistance of at least 115mph for most US building codes. Additionally, choose a material that can tolerate moisture and extreme temperatures for optimal performance in various weather conditions.
Wind Resistance and Pergola Safety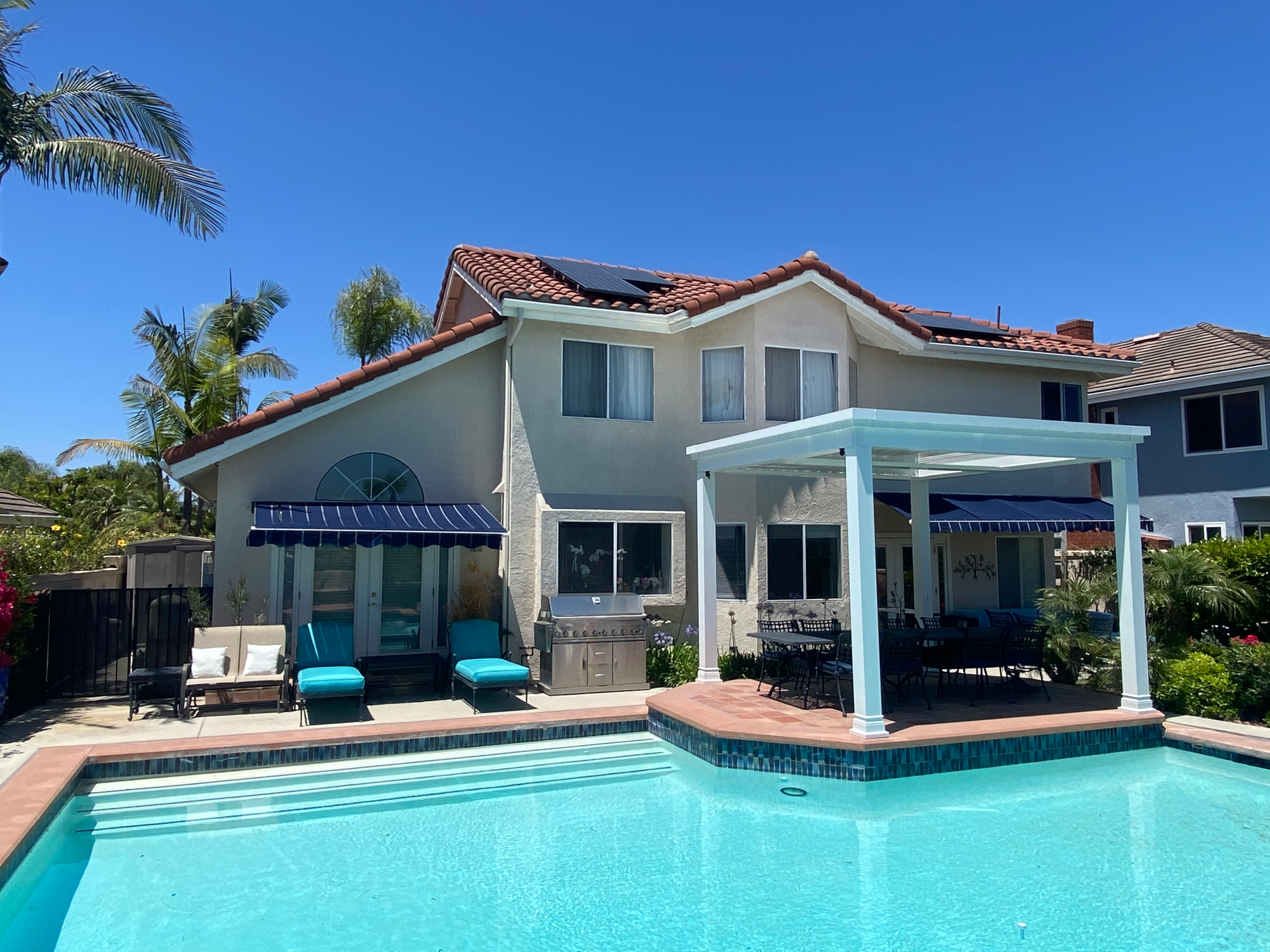 To ensure your pergola's safety, it's important to choose materials and designs capable of withstanding high winds. Most US building codes require a wind resistance of at least 115mph for pergolas. Wind resistance is crucial for the stability and security of your outdoor structure.
To enhance wind resistance, opt for sturdy materials like aluminum or steel, and ensure secure anchoring of the pergola. While these measures can improve wind resistance, it's important to note that no pergola is entirely hurricane-proof. Always consult local building codes and guidelines to ensure the safety and compliance of your pergola.
Summary
Pergolas offer endless possibilities for transforming outdoor spaces into beautiful, functional, and inviting retreats. From choosing the right size and style to incorporating unique elements like climbing plants, lighting, and accessories, there's a pergola idea to suit every taste and need. By considering the specific requirements of your outdoor space, climate, and personal preferences, you can create a stunning pergola that will enhance your outdoor living experience for years to come.
Frequently Asked Questions
What is the point of a pergola?
A pergola is used to provide shade and protection for outdoor living spaces, while still allowing the other elements to come through. It's a great way to enjoy your patio or garden without having to worry about sunburn or the weather.
Is it cheaper to buy a pergola or build one?
It is usually cheaper to build a pergola than buy one, since you can purchase the materials yourself without having to pay for labor costs. The national average cost of building a 10 ft. traditional wooden pergola is around $6,500.
What is a pergola vs gazebo?
Pergolas have an open and latticed roof which offers more sun than a gazebo, which has a rounded and solid roof providing full shade. Additionally, pergolas are usually attached to another structure while gazebos are typically freestanding.
What is the average cost to build a pergola?
The average cost of a professionally installed pergola is $15,000, ranging from $10,000 to $85,000 depending on size, material, and features.
What materials are suitable for constructing a pergola?
Wood, metal and vinyl are all suitable materials for building a pergola.