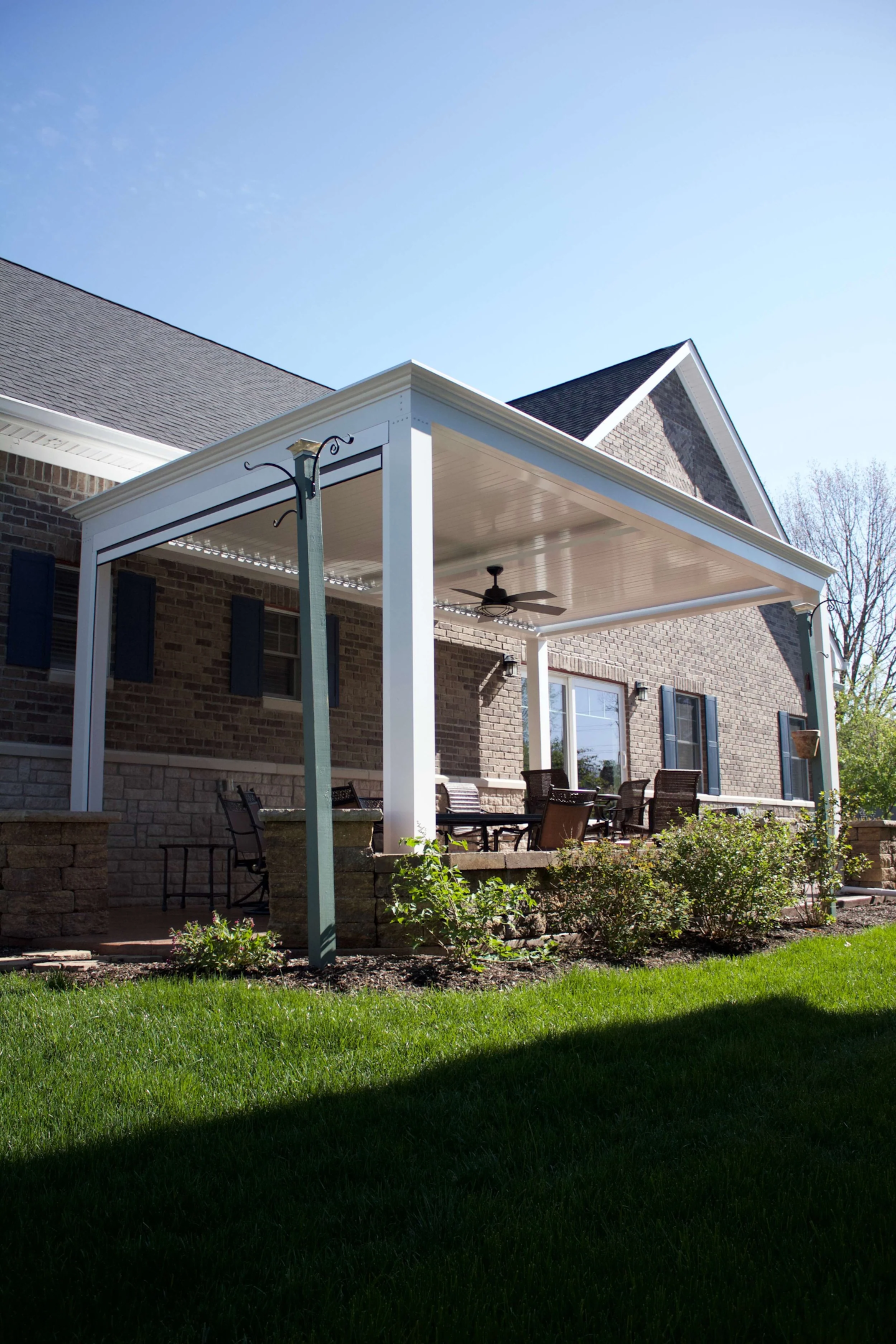 Listen to Article
A 10 x 10 outdoor metal pergola is a square shaped and usually supported by 4 posts.
Pergolas with a roof have louvers that rotate and can be closed for shade or opened to allow the suns rays to permeate the space.
Well built durable metal pergolas should be able to withstand high winds and snow loads. Those elements can vary by location.
The unit has built-in gutters to filter the rain and work similarly to gutters on your home. The water is channeled away from the louvers and collected in the gutters. The gutters can be external or internal. Internal gutters are hidden within the structure of the roof and are preferred for aesthetic reasons. This can protect you from the rain and extend your time outdoors.
Some freestanding DIY Louvered Pergola Kits can be purchased by the customer online and installed with easy assembly after delivery. Find the style you prefer and add item to your customer account. The DIY pergola kit comes pre drilled and ready for easy installation after delivery. Some companies offer free shipping. Make sure to make room for the delivery of the products and hardware until you are ready to install.
One favorable thing about metal pergolas is that they are rot resistant. Wood gazebos do not last a lifetime as they are subject to the affects of outdoor elements and insects. A well constructed aluminum pergola is durable and has components that can withstand weathers harsh conditions.
Pergolas are also energy efficient. The can reflect the suns rays reducing the amount of heat that enters your home. If placed close to your home they can provide shaded protection from direct sunlight entering through your windows.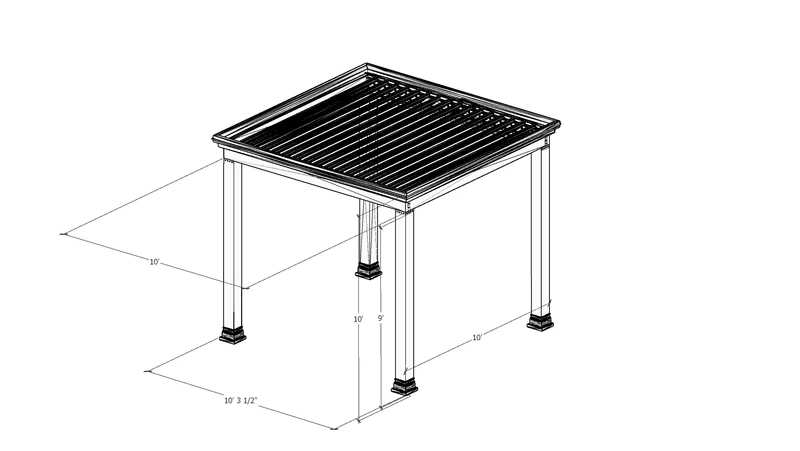 Installation of a metal louvered pergola
Lets visit steps on how to build a pergola. The first thing you need to do is choose a suitable location to install your freestanding pergola. Factors to consider are sun exposure, privacy and wind direction.
Next on the list is obtaining the necessary building permits or HOA approvals for your pergola installation.
Decide next what preparations you need to make to support your 10 x 10 pergola. Are you adding it to a concrete pad that already exists or do you need to dig ground holes footing holes for the four uprights. If you are planning on attaching the pergola to a deck check your local building expert for specified support the pergola will need.
Once your concrete or footings are complete you have access to assemble the pergola. Follow the manufacturer's instructions to assemble the frame of the 10 x 10 pergola. Do not make changes to the structure of the pergola as it may affect the warranty. You should have 2-3 people available to help you install the 10 x 10 pergola.
Measure out the area and mark where the posts will be located. The first thing to do is install the first post to the deck or concrete according to the manufacturers instructions followed by the remaining posts until all are installed.
Once the posts are in place attach the metal beams to the frame. The frame will be attached with hardware using bolts and screws depending on the design of the 10 x 10 pergola.
Once easy assembly of the frame is completed you can begin to install the louvers. If your pergola is motorized, install the motor and test the louvers to make sure the operate smoothly.
Make sure to follow the maintenance instructions to ensure your metal pergola will last a complete lifetime. If the manufacture requires it, fill out your warranty card and send it in. You may then decide to leave a positive review.
Benefits of a pergola for your outdoor space include both functionality and aesthetics.
A freestanding pergola is ideal for small to medium sized outdoor living spaces providing an area for outdoor dining, relaxation and entertaining friends and family.
It offers a naturally shaded oasis with protection from the sun and rain allowing you to spend more time outdoors.
A quality well-built pergola outdoor oasis can increase the value of your home. It has become a popular desirable feature to home buyers and can set you apart from your neighbors.
It offers a stylish appeal to your outdoor space. You can use it to create a focal point in your yard to add an overall ambiance.
A Motorized Louvered Pergola is generally low maintenance requiring little upkeep. You can care for your pergola with a mild soap and garden hose.
Additions for customizing your 10 x 10 pergola.
A pergola can be enhanced with several additions to create your preferred ambiance. The options for personalizing your pergola are limitless. Listed below are some ideas to amplify your patio experience.
In the heart of the day in summer and in hotter climates the breeze can be non-existent on some days. The temperature can rise rapidly even in the shade. A ceiling fan added to your unit can add a cool breeze.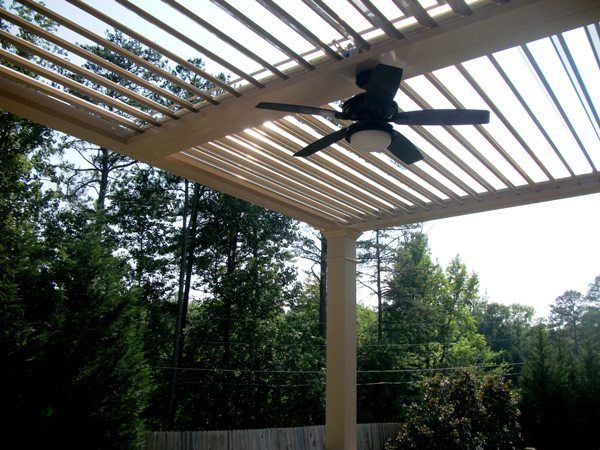 Another way of customizing your pergola is with lighting. Patio string lights can be added or LED outdoor strip lighting can be a great way to make your pergola usable at night.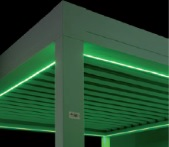 To add ambiance and warm your space on cool nights you may consider having a fire pit. You need to check local regulations to see if it is permitted. When the sun goes down at night and a chill sets in, a firepit can extend your time outdoors making for a comfortable setting.
Shopping for patio furniture can be a fun adventure! You're trying to make your space inviting and most importantly comfortable. Enjoy hours relaxing in comfort. You might consider shopping online to choose your favorite style. It's important to try before you buy. Choose easy to care for materials for your chairs and couches. Consider storage or coverings for your cushions during inclement weather.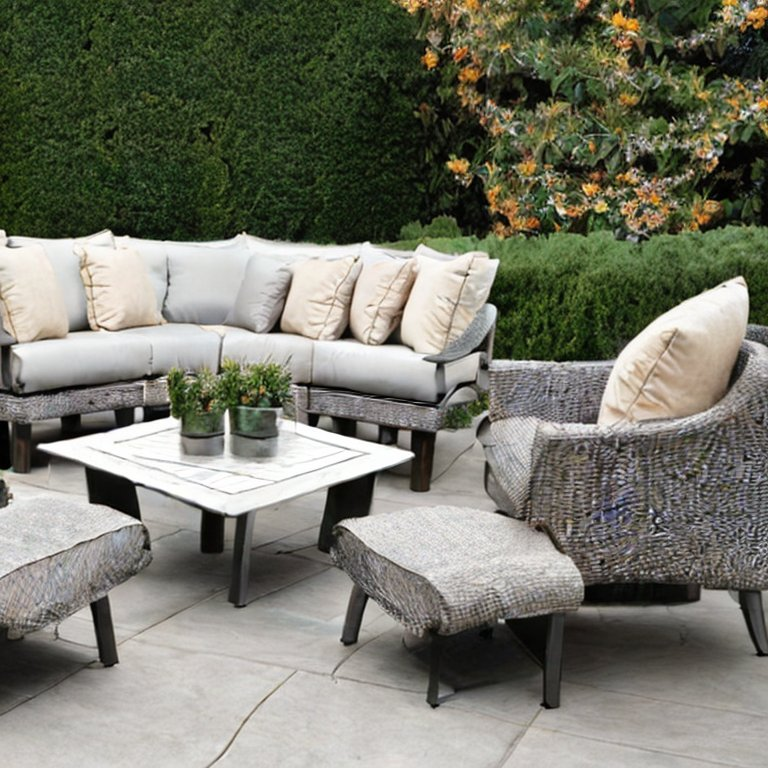 Landscaping around your pergola can also add to it's natural beauty. Adding small bushes, roses or perennials in the ground around your space would provide an inviting appeal to the area. The clematis below would be a good choice for a trailing perennial flower at the base of a post.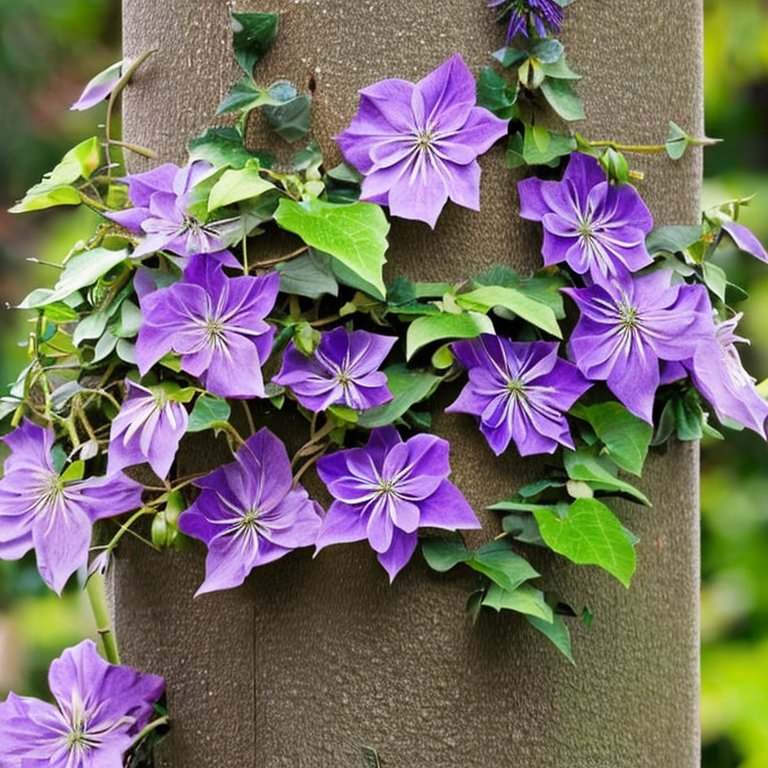 Drop shades have become a popular addition to pergolas for extra shade, privacy and insect mediation. There are multiple options from different companies that can be added to your own pergola's arbors. When ordering your pergola's arbors drop shades you will have to measure the inside dimensions to get an accurate fit.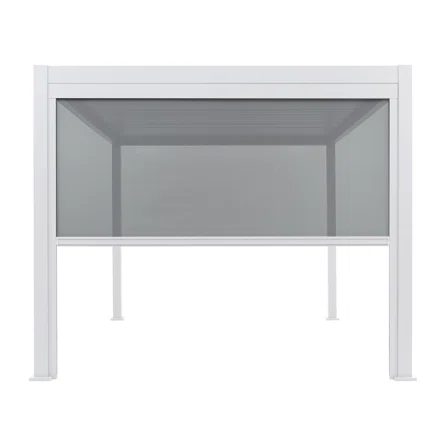 Entertaining family and friends in our outdoor space
The overall possibilities for entertainment ideas under your pergola are endless. Making meaningful memories with family and friends creates connection, happiness and belonging. You can strengthen relationships by spending quality time and create bonds for a lifetime. Spending time with people you care about can have a positive impact on your emotional and mental well-being.
Celebrating special occasions such as birthdays, graduations, and holidays can provide an opportunity to bring a family together and create memories. A family can establish traditions such as family game night or Sunday afternoon cookouts.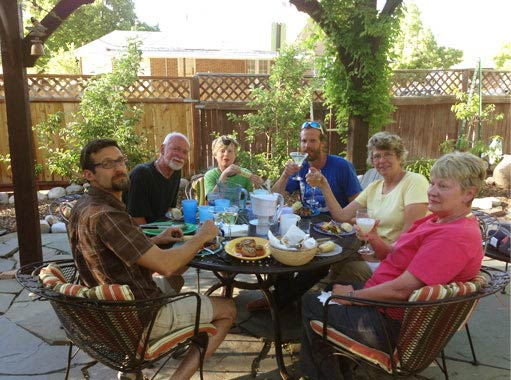 Maybe you belong to a group such as a book club, card club, church group or mothers group. Having your meeting in your backyard sitting on your patio furniture underneath the outdoor pergola would provide an inviting outdoor space for your guests. You can leave the pergola louvers open or closed depending on whether you want shade or sun.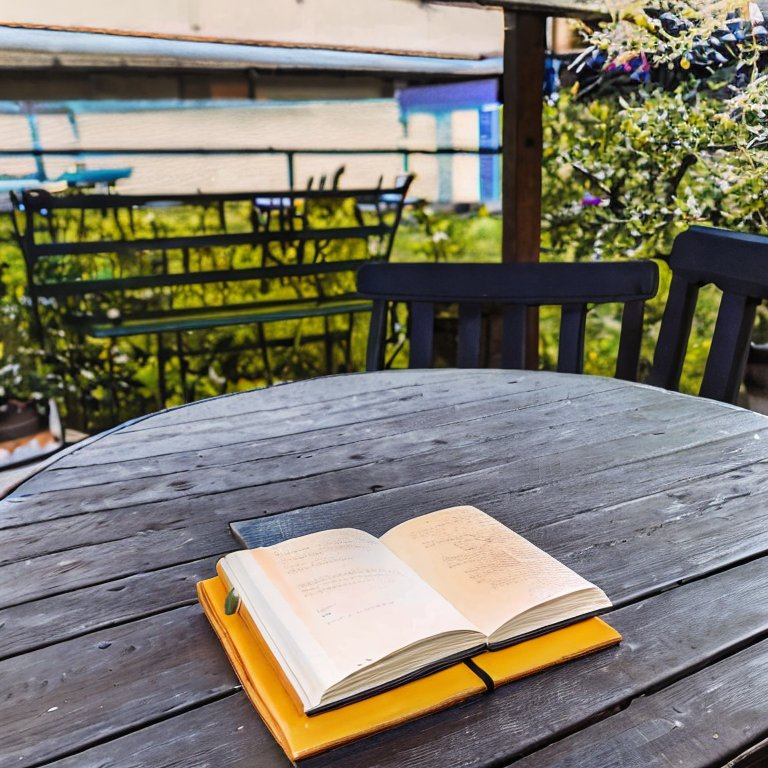 You might want to entertain good friends with a wine and cheese tasting party. You can set up a table with different types of cheese and wines and enjoy trying different combinations.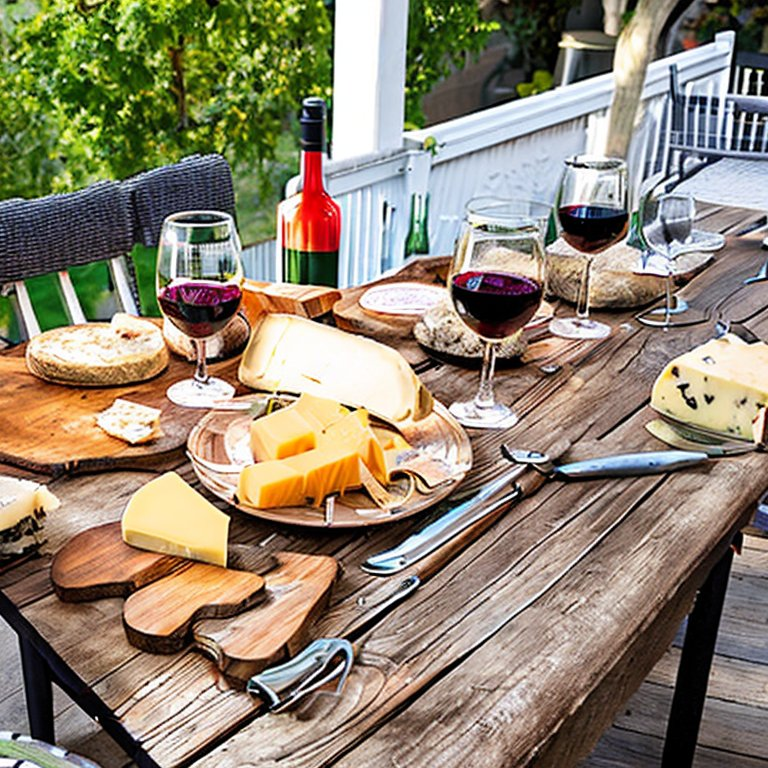 How about hosting a movie night with neighbors. You could set up a projector and screen to create an outdoor theater area. You could show a popular vintage movie or keep the children busy with an animated classic.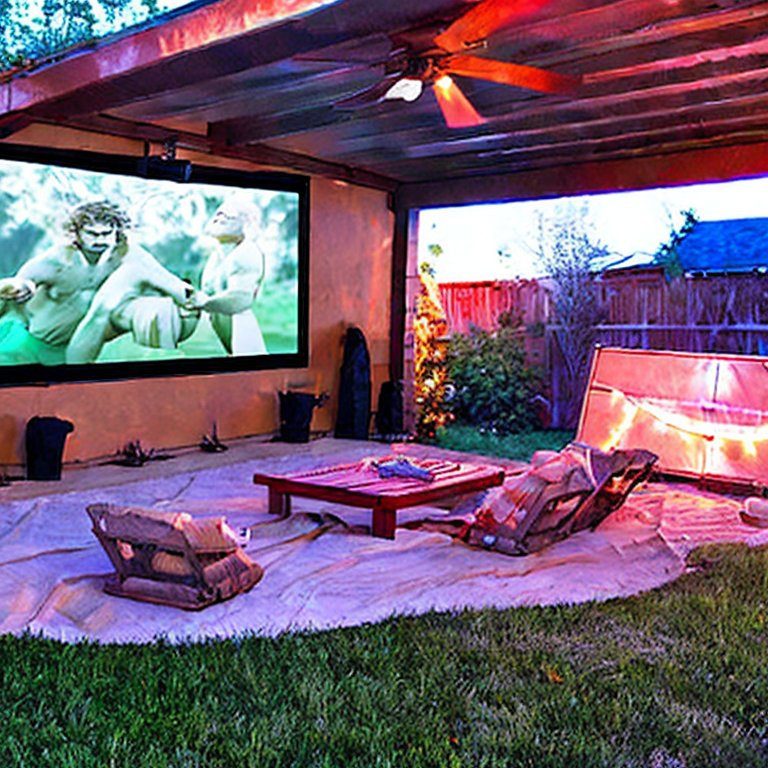 Another option for your patio is the installation of an outdoor kitchen. Outdoor backyard kitchens have become a very popular addition to outdoor spaces. This creates a space making it easier to entertain guests. Adding an outdoor kitchen under your pergola can also increase the value of your home.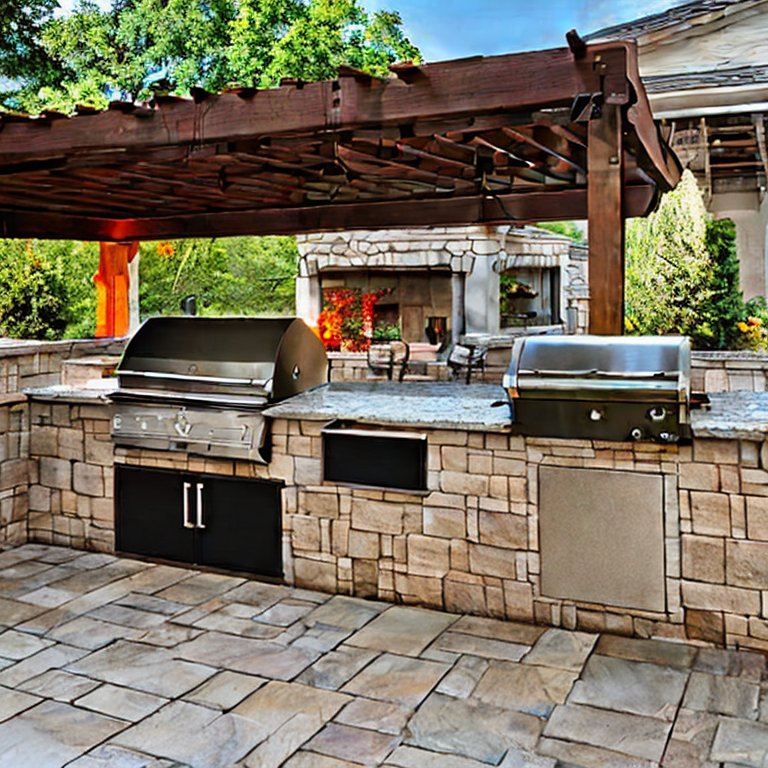 Connecting with nature in your outdoor space
If you enjoy yoga or meditation you can set up a space under the shade of your louved roof outdoor space. It can be a great way to connect with nature and improve your overall wellness. The natural surroundings and fresh air can help you feel more grounded and in the present in the moment.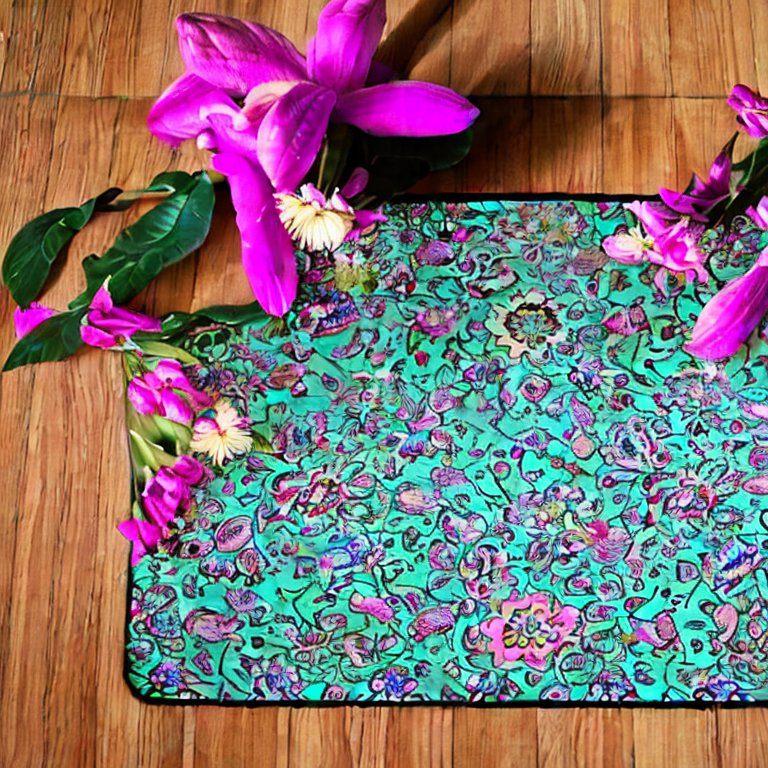 The sound of running water can be soothing. Adding a water feature to your pergola kit such as a fountain can provide a calming and soothing environment. The sound coming from the fountain can drown out background noise and create a relaxing atmosphere.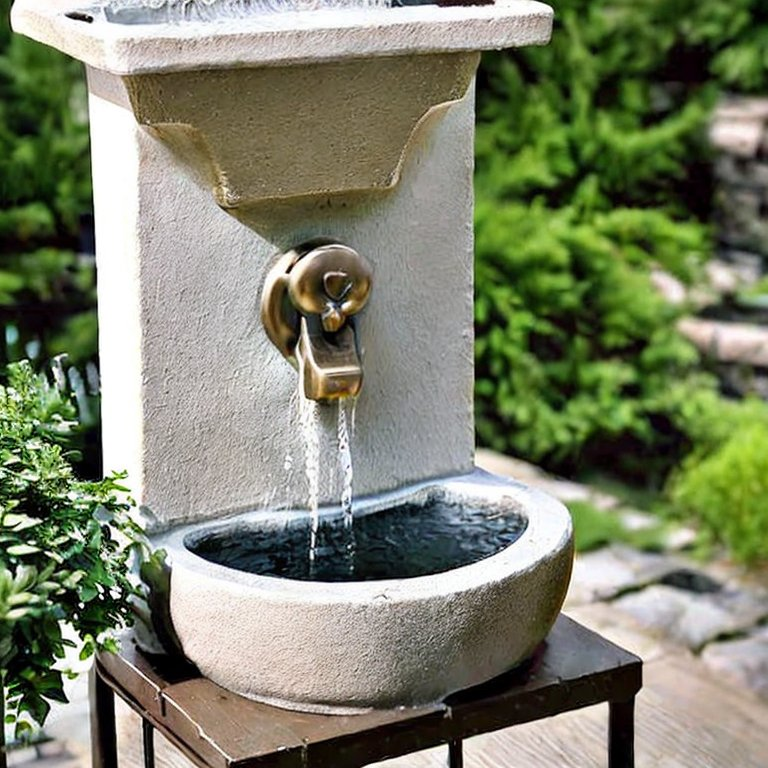 You may find a new backyard discovery! As you spend more time in your backyard, you will notice the sounds of nature. Watching birds can be a peaceful and enjoyable experience. Maybe you purchase a birdfeeder and begin to research and recognize the different birds that drop in for a bite to eat.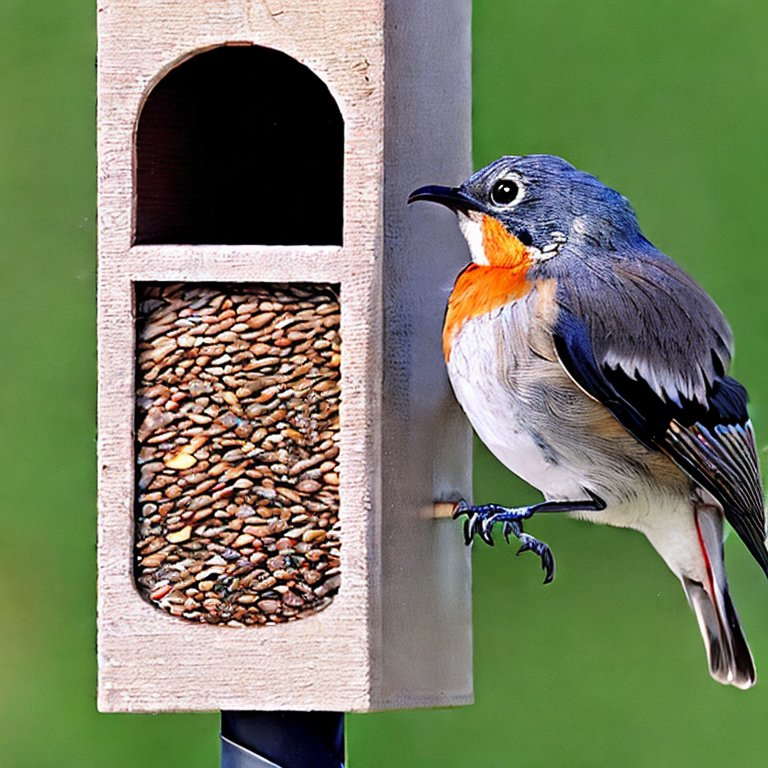 The neighborhood squirrels may stop by and you will enjoy hours of entertainment. Colorful butterflies add a touch of enchantment to your shaded patio experience. Plant backyard flowers and bushes that attract birds and butterflies.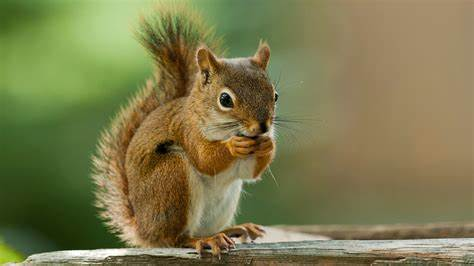 We all know the benefits that spending time outside. Imagine sitting outside with a gentle rain coming down as you read your favorite book. One of the nice things about a metal pergola with louvers is they protect you from the rain. Maybe you work from home and would benefit from exposure to the warmth of a summer breeze. You can also extend your time outdoors by adding a heat source to your area. The benefit to your overall health and well-being make a pergola a great choice for a backyard oasis. What are you waiting for?