When building your outdoor kitchen, there are a few key things to keep in mind. You want to have an outdoor space that can entertain, delight, and provide a great backyard experience for your house. There are a few key things to keep in mind when taking on this project. Here, we will go over them so you can have the best outdoor kitchen design possible.
The five pieces we will go over are:
Practical uses for an outdoor kitchen pergola

Maintenance considerations

Cooking under an outdoor pergola

Where to get the right pergola
Practical uses for an Outdoor Kitchen Pergola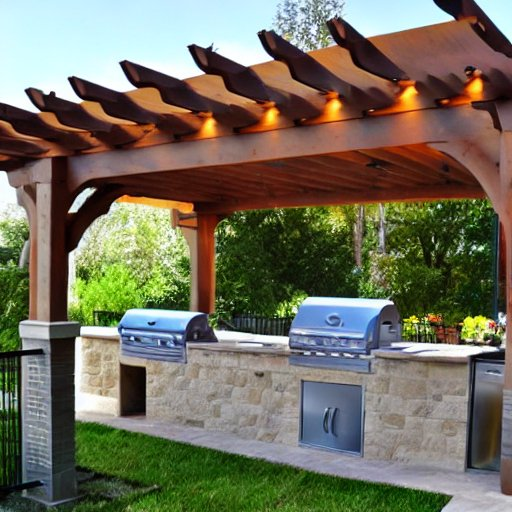 An outdoor kitchen pergola serves as a great addition to any outdoor space. When you are looking to design your outdoor kitchen for your yard, a few things come to mind.
What will you be cooking underneath your pergola?

Will you need lights above you for your kitchen?

What fuel source will be used for your kitchen?

Do you need shade?

Do you need rain protection?
What will you be cooking underneath your pergola?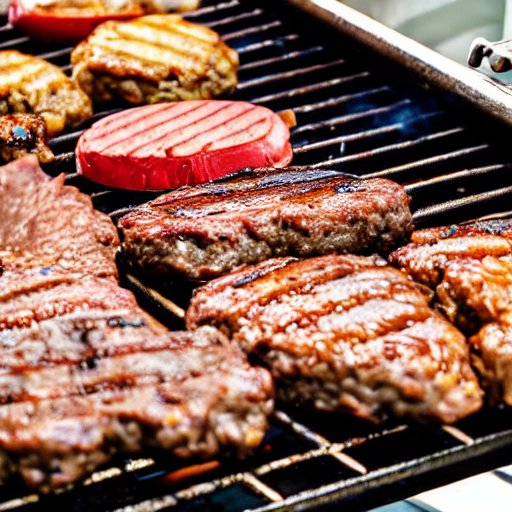 This is something almost everyone misses when working to create their outdoor pergola space. If you are primarily preparing fish or vegetables, then you won't have to worry about grease or smoke nearly as much as if you are grilling red meat.
With a red meat, you can get grease that evaporates and collects on the slats of your pergola. Unless you have a hearty finish on all of the wood used, this will be almost impossible to remove.
A great option for your pergolas is aluminum. Compared to wood, it is significantly more durable, and cleaning any smoke or grease off of the pergola is as easy as wiping it down with a wet rag.
Will you need lights above you for your kitchen?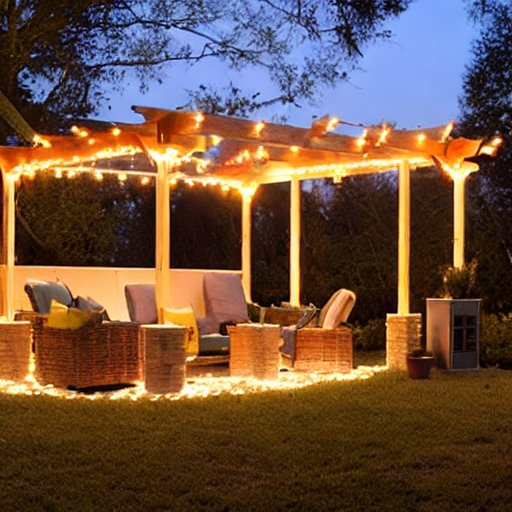 This is a big consideration for every simple use of a pergola. The pergola offers great options for hanging string lights above you while you cook. This can help when you're doing holiday cook outs or late night parties.
You will need this light to make sure your meats are cooked properly. No one wants to walk around with a headlamp on like you would have to with your traditional spaces. The lighting can also help with making your dining area and outdoor furniture more inviting for guests.
What fuel source will be used for your kitchen?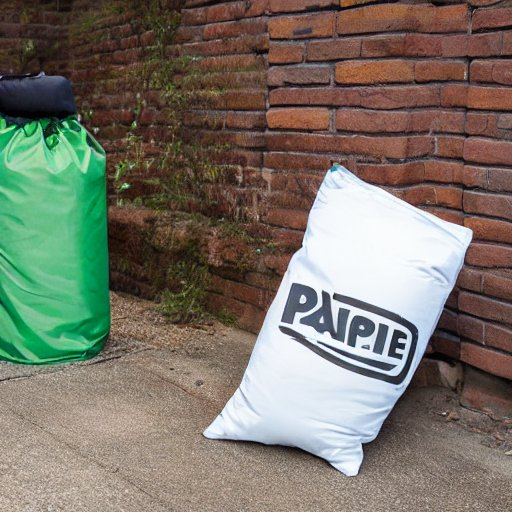 The fuel source is an important choice as depending on what you go with, you could risk discoloring your pergola. If you are using propane, you are unlikely to generate a lot of soot or coal dust that will discolor your pergola and ruin your outdoor kitchen design.
To keep your backyard space looking perfect, you want to create an environment that is clean and pristine. Your outdoor kitchen should be an oasis, rather than a nuisance.
Do I need shade while in my kitchen?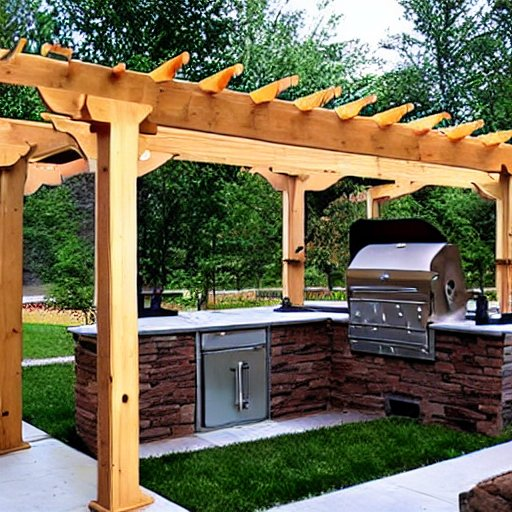 One, commonly overlooked, consideration of your outdoor kitchen is "do I need shade?". A pergola can offer SOME protection for your backyard space, but it won't provide complete protection. If you want to grill on a hot day, you will be hard pressed to avoid the blistering sun, with a pergola.
Some pergolas allow you to have some kind of cover over the top, but most of these are low quality and difficult to install. It is usually best to get a product that will incorporate the best of the pergola with the best of a solid roof to relax under.
Do I need rain protection while in my kitchen?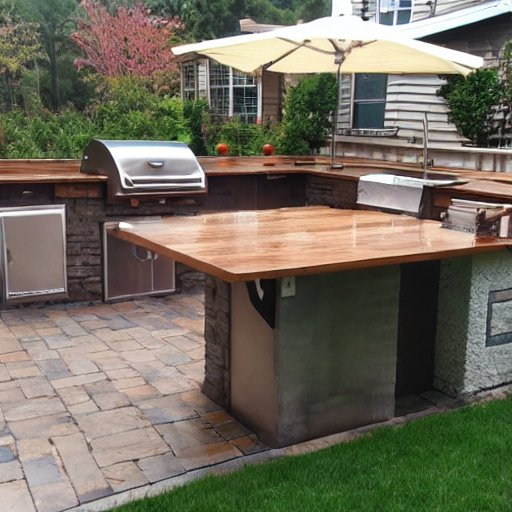 This is almost always overlooked. Do you need rain protection? Depending on where you live, you may have to worry about the durability and materials of your pergola. If it cannot withstand a sudden rainstorm without ruining a beautiful day with your family, you may not have a great option.
A common consideration in areas with sudden or frequent rainfall is whether or not your budget can handle a cover that can keep the rain out of your kitchen. Unfortunately, a pergola is not a great option if you want to enjoy gathering on a rainy day.
Fortunately, there are other options to get the best of both worlds. A louvered pergola kit is a great way get the versatility and style of a pergola without the drawbacks.
Maintenance Considerations for your Outdoor Space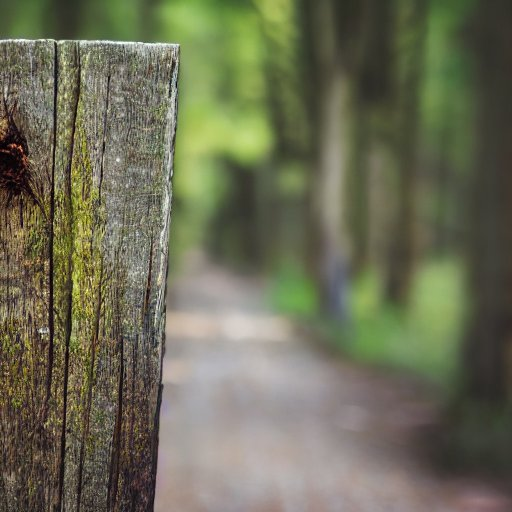 When you have an outdoor kitchen pergola, the biggest consideration is going to be maintenance. A wood pergola that is rotting will have a dramatic detriment to your outdoor area rather than enhance it.
With wood pergolas, you will have to paint the pergola every year. This is guaranteed to get frustrating and require constant effort to maintain. Pair that with the variety of stressors on the structure itself, and you are in for a world of hurt.
The best category to consider when designing your outdoor kitchen to create a sense of unity, is aluminum pergolas. The layout is easy to use and the material used is incredibly durable. There won't be the yearly "sprucing it up" cycle and they are perfect for entertaining.
Cooking under an Outdoor Kitchen Pergola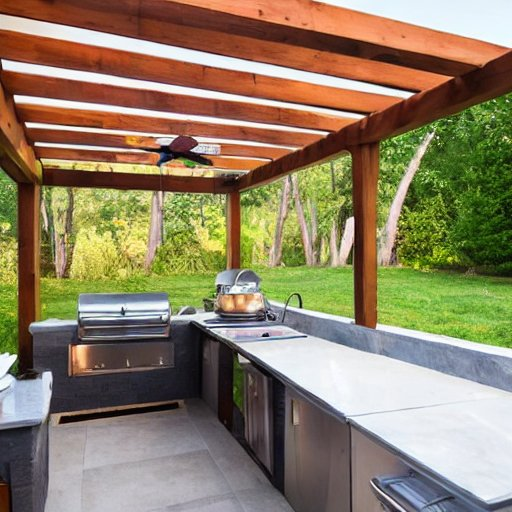 When you install an outdoor kitchen, you need to take into account what your inspiration is. If there is a pool nearby, you want to stay far enough away that it's safe, but not so far you can't gather with friends and family.
The biggest consideration for many will be accessories. If you can't put a fan on the pergola, your plan may fail. You want a concrete pergola and system that allows you to grill with excitement and joy. Buy a product that will do that.
Where to get the Right Pergola

This is the biggest question when you've decided exactly what you want to enjoy. Your backyard will have this particular kitchen solution for years to come.
The following are some great options for outdoor kitchen pergolas:
Cheapest Option:
The Kingston Tiny Pergola: $432.99
This pergola is of relatively poor quality and is incredibly small in size. You won't get the best strength available, or the most protection.
Mid Tier Pergola:
The Sombrero Pergola Kit: $3980
This pergola is decent quality, although you run into the same problems described above. You will have to paint it every year if you want to make it last. Any sort of grilling under it will accelerate deterioration of the pergola as well.
Affordable and Best of all Worlds:
The Luxury Pergola: $6999
This is the perfect patio solution. You will get unmatched versatility, and you also get the option to customize your particular unit. This particular solution can handle lights, fans, and can keep the rain out if needed. The material is solid aluminum which will whether anything you can throw at it.
---
An outdoor kitchen pergola is always a difficult choice. Here we endeavored to make things simple for your consideration.
Best of luck and happy entertaining in your future space.