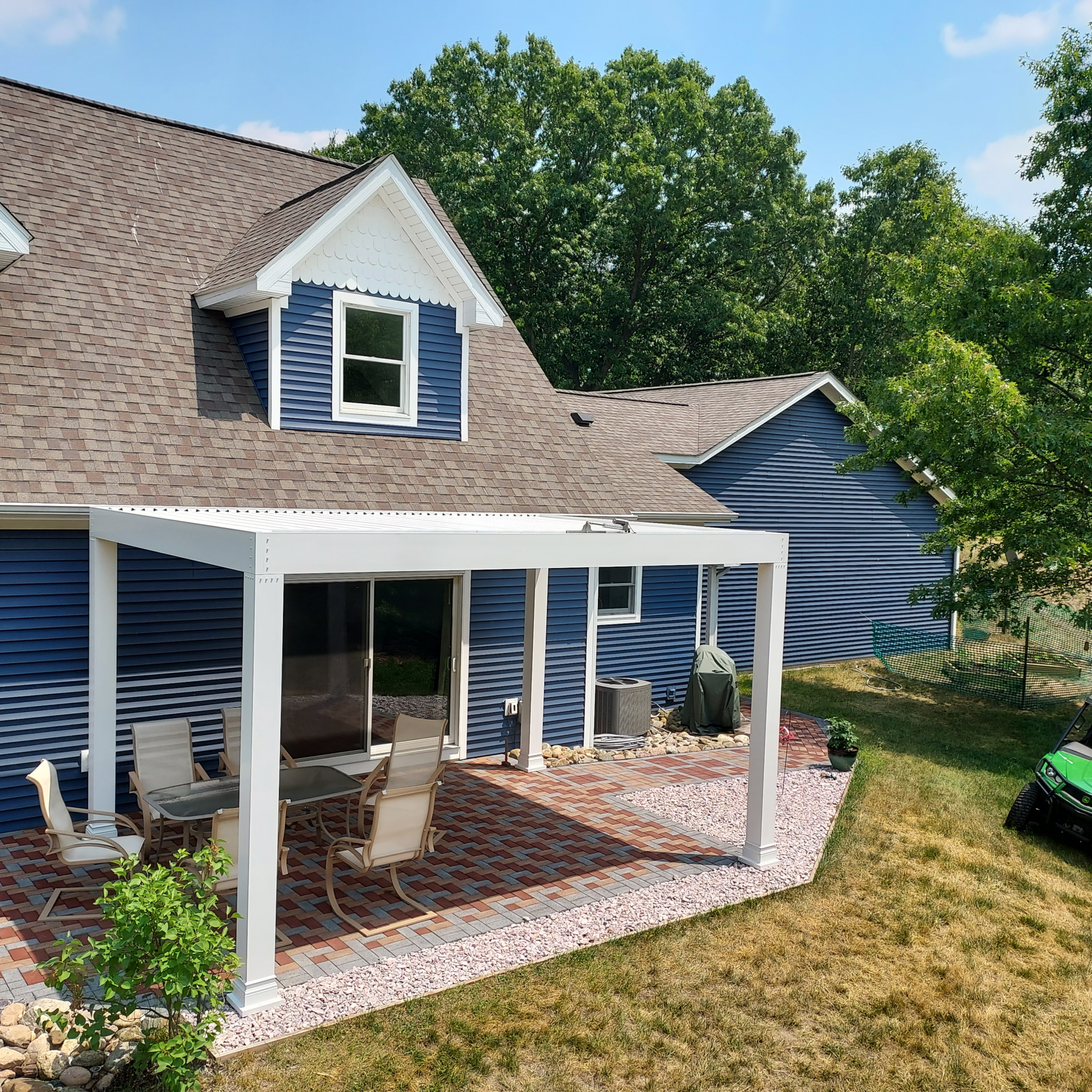 Heavy Duty Gazebo All Season
If you're going to be adding a permanent structure into your backyard it obviously needs to be able to withstand the weather conditions your area experiences.
This is a concern shared by many people when it comes to building a new pergola in their outdoor space. Lets dive into some important items to consider when faced with pergola questions.
Important Questions
Table of Contents
Motorized Louvered Roof
There are many pergola options out there. One style that has become very popular in the market is the motorized pergola. This style has the louvers being opened and closed by a remote control.
The Popular Choice
The reason for the popularity behind this aluminum pergola design is the lack of maintenance required and the protection from various climates.
Heavy Rains

Sunlight

Heavy Snow

Strong Winds
Rain And How It Affects Your Space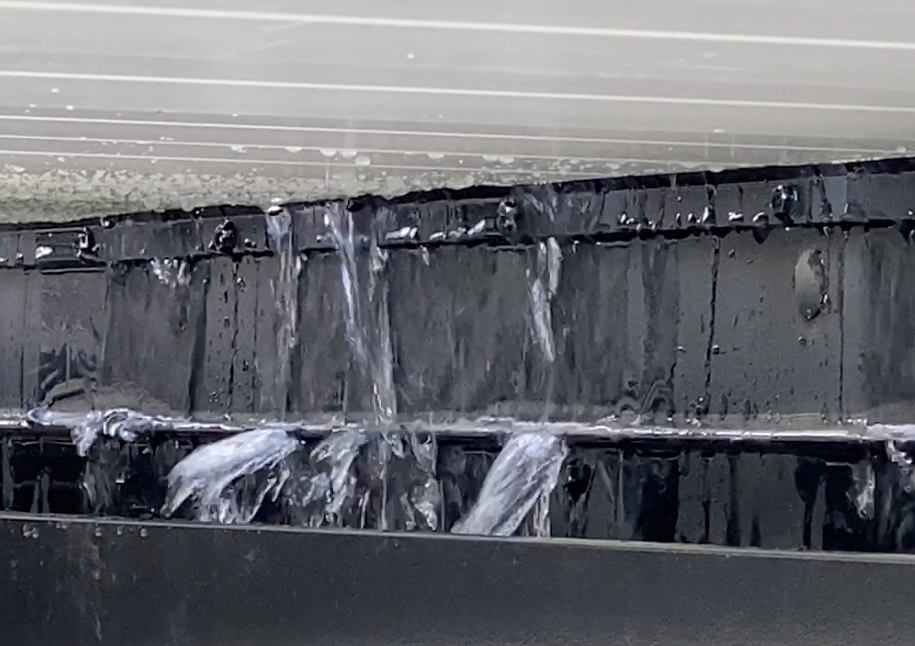 Rainwater, depending on where you are located can be a year round guest. whether in the summer or any time throughout the year, if you are wanting to enjoy your outdoor space, rain tends to cancel those plans.
Unless of course you have a space that can protect you while you relax and enjoy the outdoors on your backyard patio. This is exactly what louvers do.
The Luxury Pergola
The Luxury Pergola has a louver system that is waterproof, giving you that peace of mind knowing you can relax rain or shine in the outdoor space you have put so much time into.
The design is created to where it will protect the falling rain from hitting you while maneuvering the rainwater into the integrated gutter system.
Heavy Snow Loads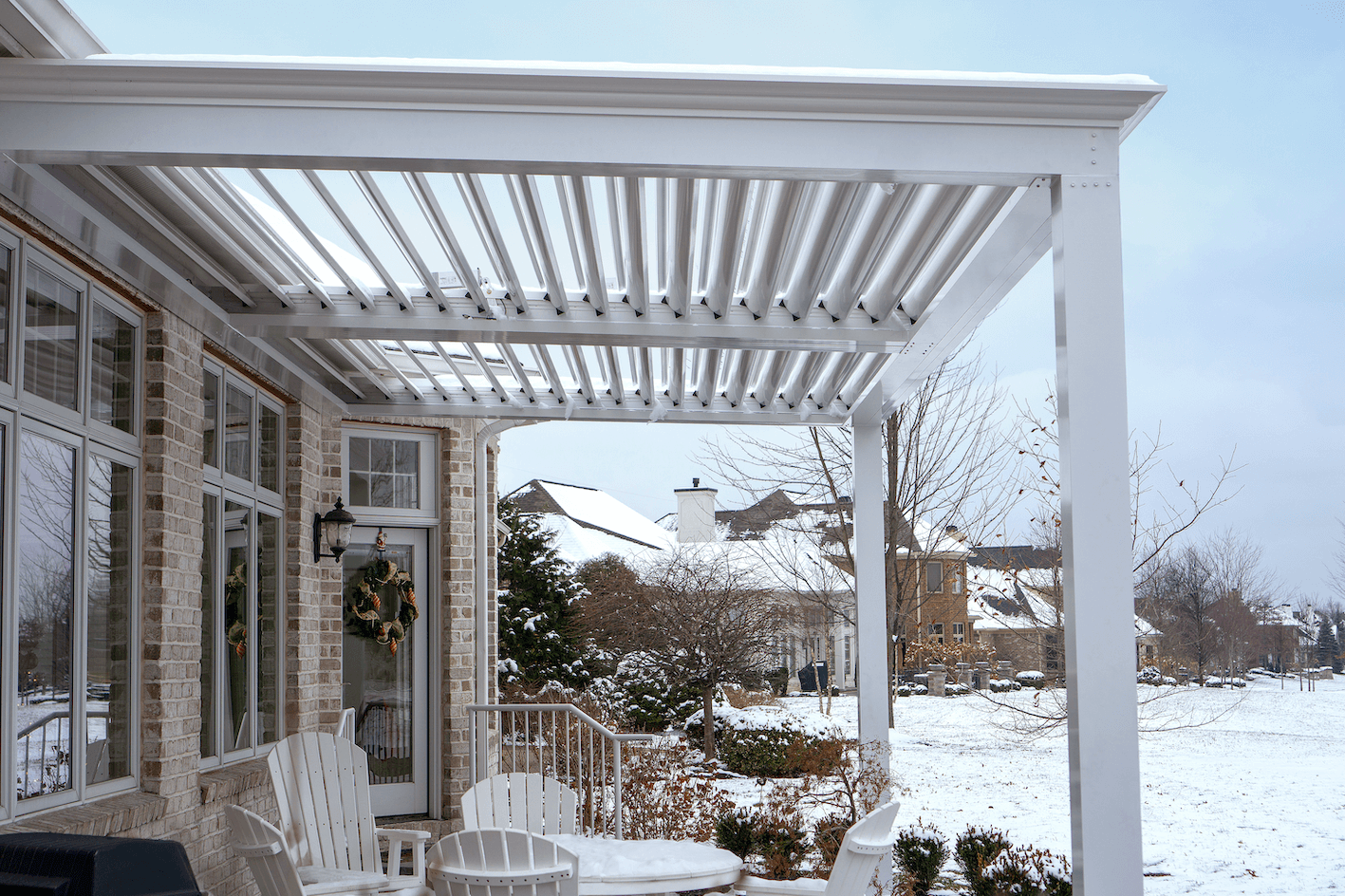 Do you live in an area that receives some mild to incredibly heavy snow loads? Winter weather can be brutal not just to infrastructure, but to your structures.
How Much Snow Is Too Much?
Having a high quality product is vital to be able to withstand various different winter weather storms. Ensuring you have a durable and solid structure is key. This is why the heavy duty pergola is a favorite across the country.
The Luxury Pergola can withstand snow weight of up to 20 lbs per square foot.
Space Heaters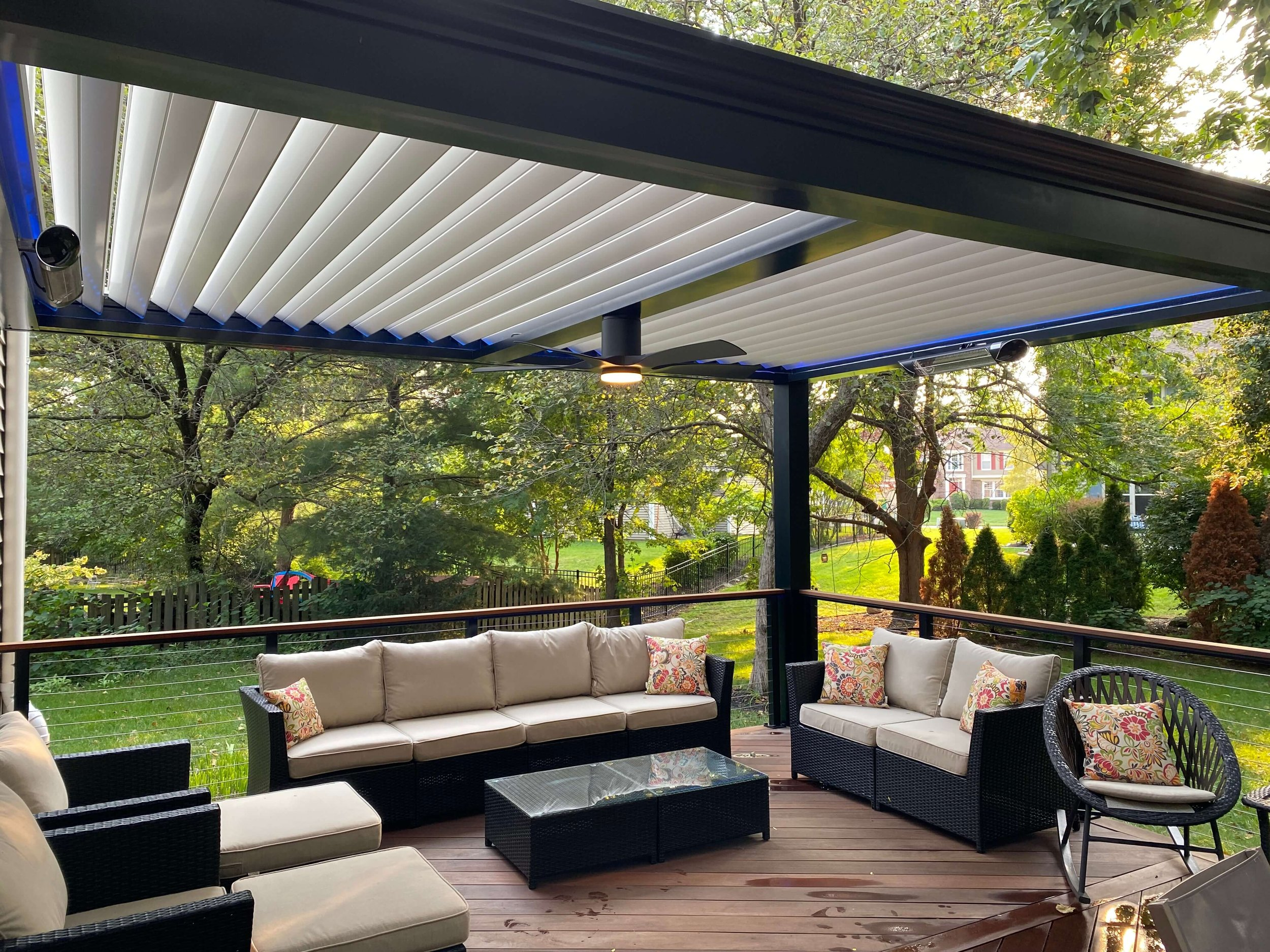 There are so many accessories and features you can have installed. The small details can change your entire space and add convenience at every corner.
Notice in this picture you have pergolas with a ceiling fan install on the roof alongside space heaters. Space heaters can be a great addition to add for those chilly evenings.
Harsh Weather Conditions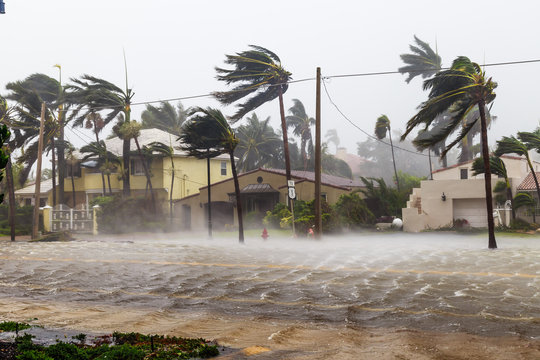 The Luxury pergola has a motorized pergola that can withstand some crazy harsh weather. From strong winds to crazy snow and rain storms.
Wind can be attached to any type of weather storm. Harsh wind can be the most dangerous part of weather climates. This is why it's so vital to have high quality material for your pergolas and louvers.
The Facts
The Luxury pergola can withstand various types of weather.
Up to 130 mph winds with the louvers closed.

Up to 50 lbs per square foot of snow.
Quality First
Obviously quality has been an important piece that protects against summer and winter weather. Both the frame and the louvered roofs must be of high quality.
Wood Framing
Having wood as framing can result in warping or deteriorating. Metals have the protection in place to prevent deterioration of the structure. With warping your square and even project can begin to deform and not be what it once was.
This can lead to constant rebuilding or heavy maintenance where if you had installed an metal structure this could have been avoided.