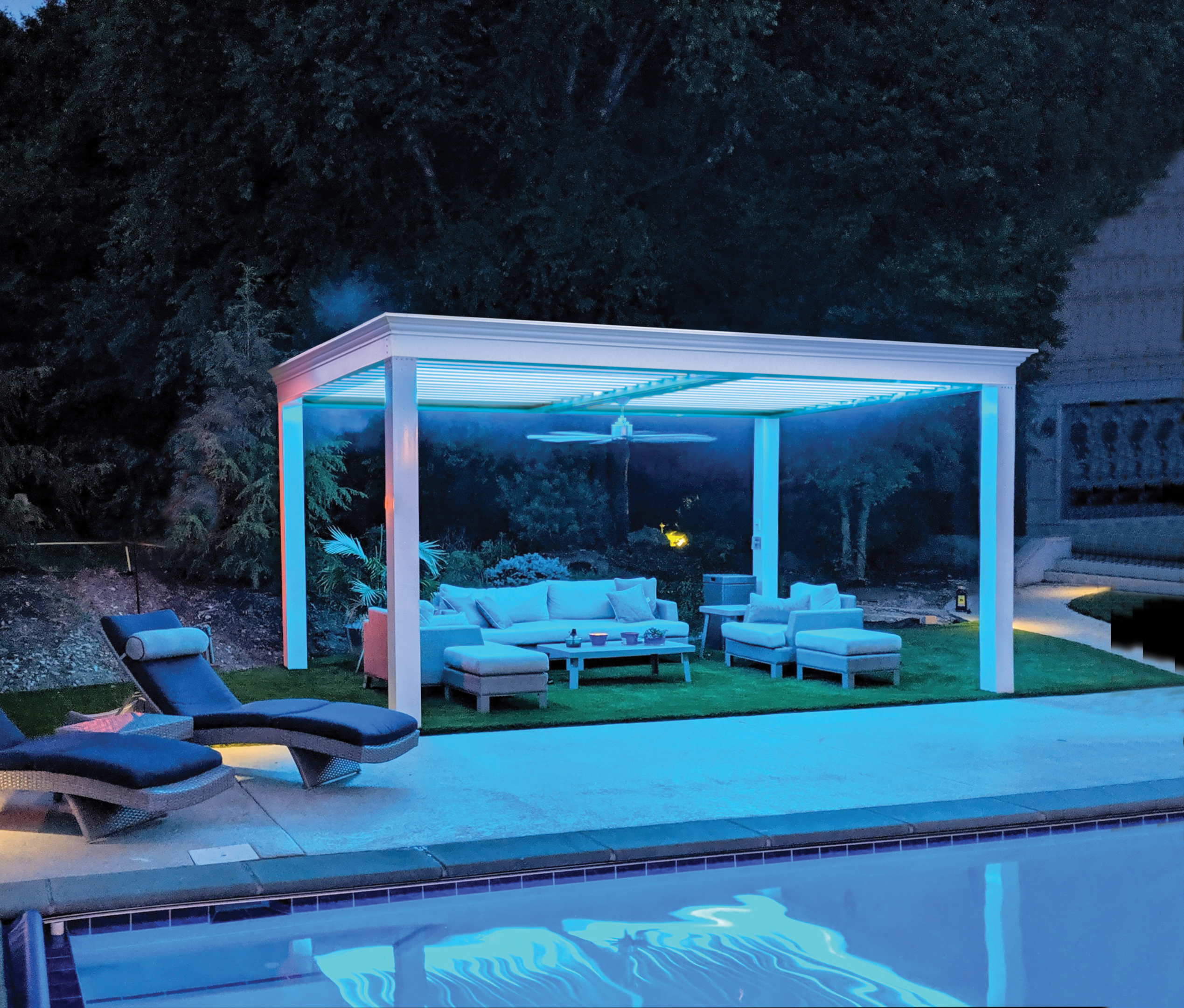 Listen To Audio
A poolside pergola can be the finishing touch to elevate any home and bring your entire outdoor space to the next level. As seen in the photo, above this grass yard was finished off with a white pergola living room that had added LED lighting.
Pergolas are a solution to adding shade next to a pool while still maintaining the ability to soak in sun at the click of a button. Modern pergolas that open and close are able to fully shut or open the roof leaving the versatility of choice in your hands.
Outdoor Space Maximized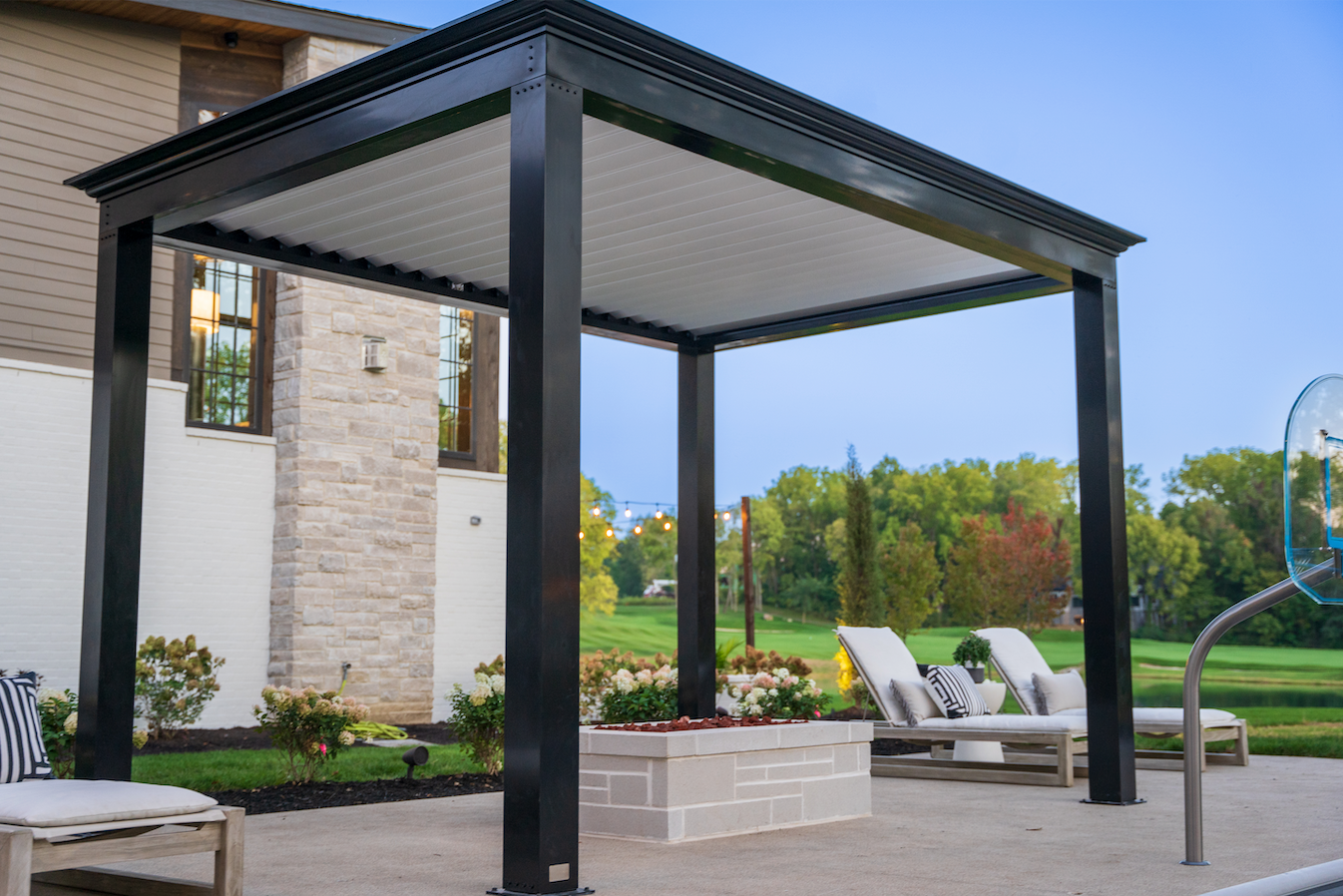 A way many have maximized outdoor space is by increasing the amount of time they can use it regardless of weather. Wether or not it is the hot summer months in requirement of shade or in the raining season where shelter is needed, the luxury pergola can instantly morph to whatever you need at that exact time.
The ability to have versatility and performance while maintaining simplicity is exactly the mission that was set out in the creation of the luxury pergola, and that is what we choose to resemble in our work. Adding things like a fire pit in the center of the pergola can extend the use through seasons even further to where you can have the option of utilizing it even on cold evenings.
Enjoy Your Swimming Pool With An Outdoor Living Room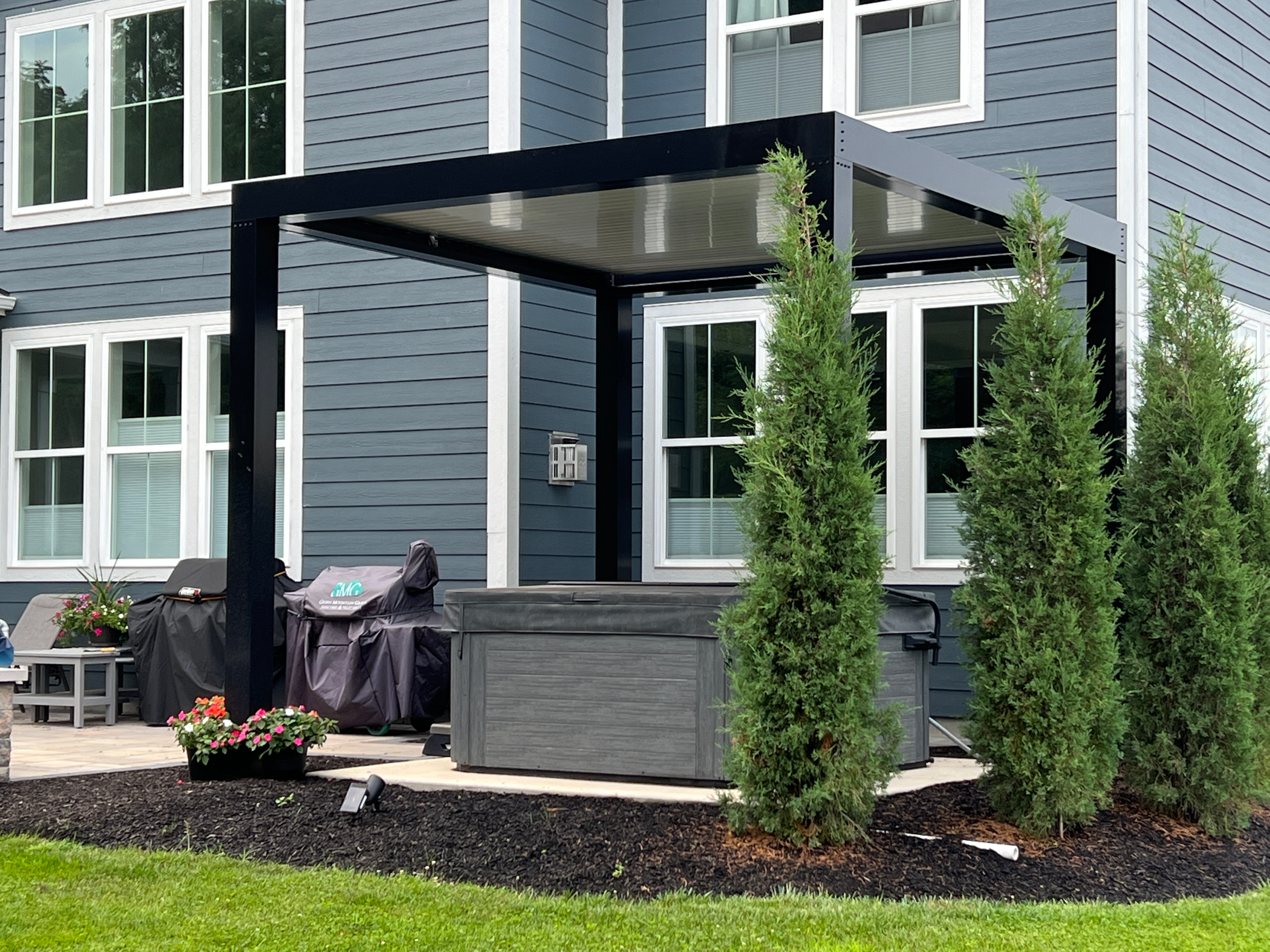 Having an outdoor shade structure can work as much as an outdoor living space to create a lounge living room area. Many choose to put a hot tub underneath or other features that further emphasize the elegance and luxury of the space overall.
Imagine sitting back in your hot tub to enjoy a nice glass of wine or simply having a barbecue in your new outdoor kitchen as you enjoy the luxuries of this shade. Wether a dining area, a pool area, or a simple outdoor bar having anything next to your swimming pool will further improve the space and add to the overall home experience.
Pergola Kits For Pool Deck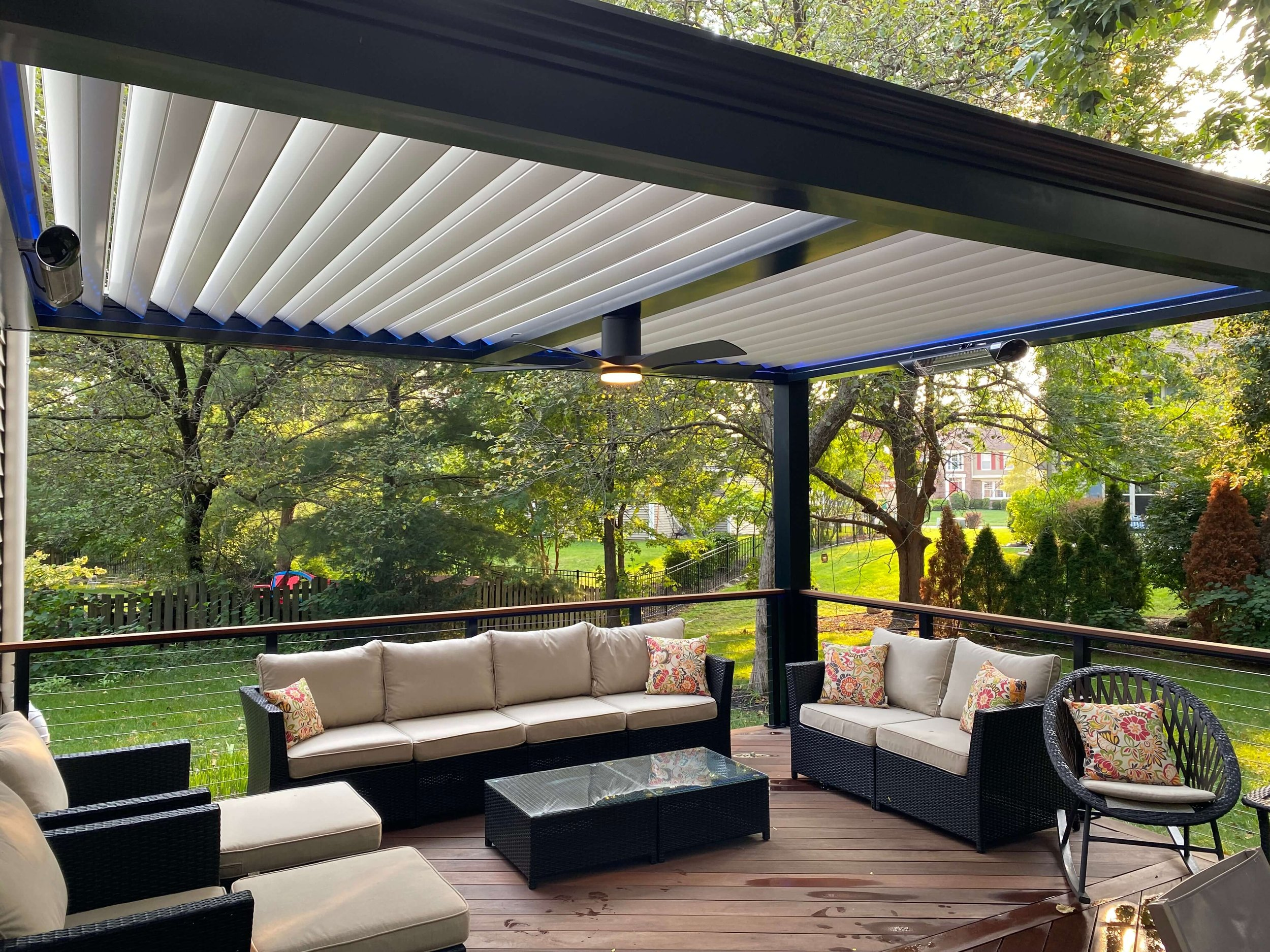 Pergola kits can be utilized on a patio, slab, pavers, or a deck. Some individuals have a deck next to their pool and are curious of the regarding of installation.
As seen in the picture above the installation of a pergola on deck is can be done with the correct construction. Refer to a local contractor for further details. Depending on the wood quality and size of your deck installation could be done a multitude of ways.
Pool Pergola Ideas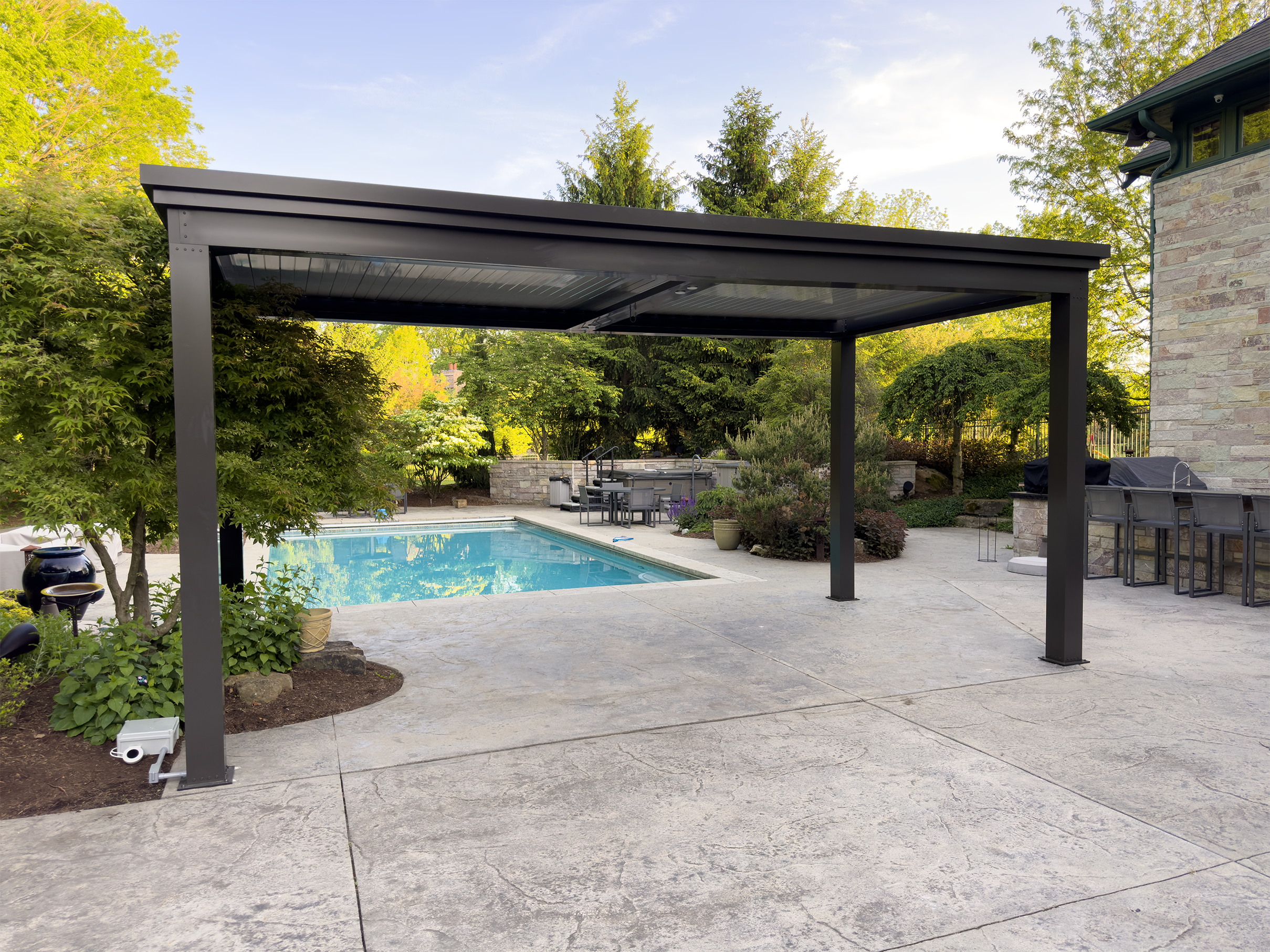 Poolside pergolas allow for a touch of shade to place furniture, host guests, and have events right in the safe convenience of your backyard. According to a report, most homeowners say they would host 2+ more times a month with the place of a backyard lounge area.
Outdoor Living Space
A popular option, add seats and a coffee table to your outdoor space to be able to sit around and enjoy a board game or a nice charcuterie board on a fine evening wether in the sun or the rain.
Outdoor Dining Room
An outdoor dining area is a great option as well to be able to utilize those fine outdoor meals in the warm months. Have a barbecue and gather guests around the table to enjoy.
Outdoor Bar
Another popular option, a bar is a great place to wind back and let loose. This is more commonly used to lounge in the evening although any time can be welcome.
Outdoor Kitchen
Of the 4 options this may add the most value to your home, the creation of an outdoor kitchen to host guests, dine, have drinks, and lounge (all of the above) is a popular option to utilize everything in one.
Outdoor Structure And Home Value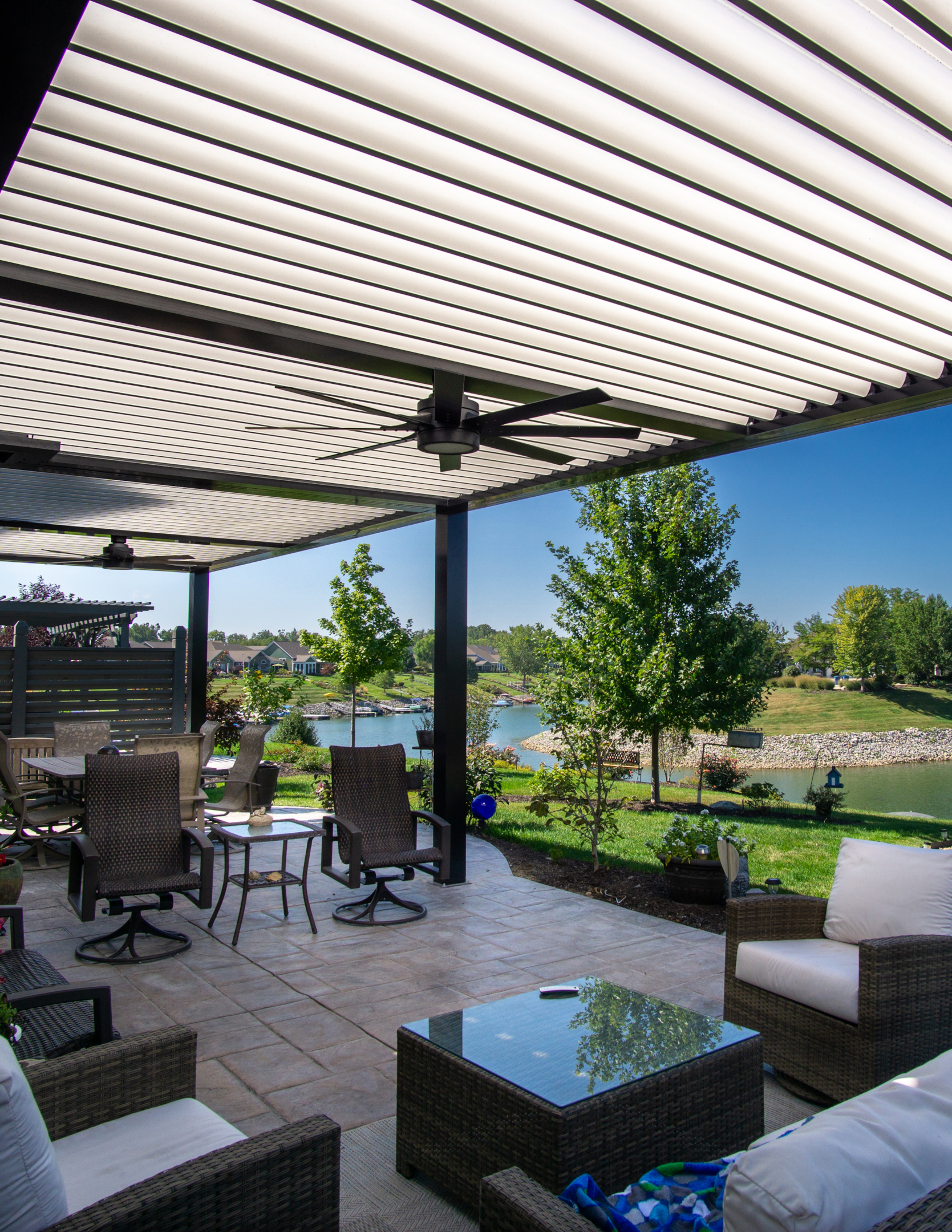 As previously referred to, any outdoor structure will put an investment into your home and increase the overall value by adding space and an extension of where you are living. An outdoor living area can also promote landscape design as it can be utilized to place waterfalls and further features in the midst.
Whatever you envision, be clear to realize that optimization of your backyard space will invest money and gain value back in your pocket. As construction only continues to rise in cost, the DIY space of pergolas and other luxury features continues to look like a better option.
Shade Structure Lounge Area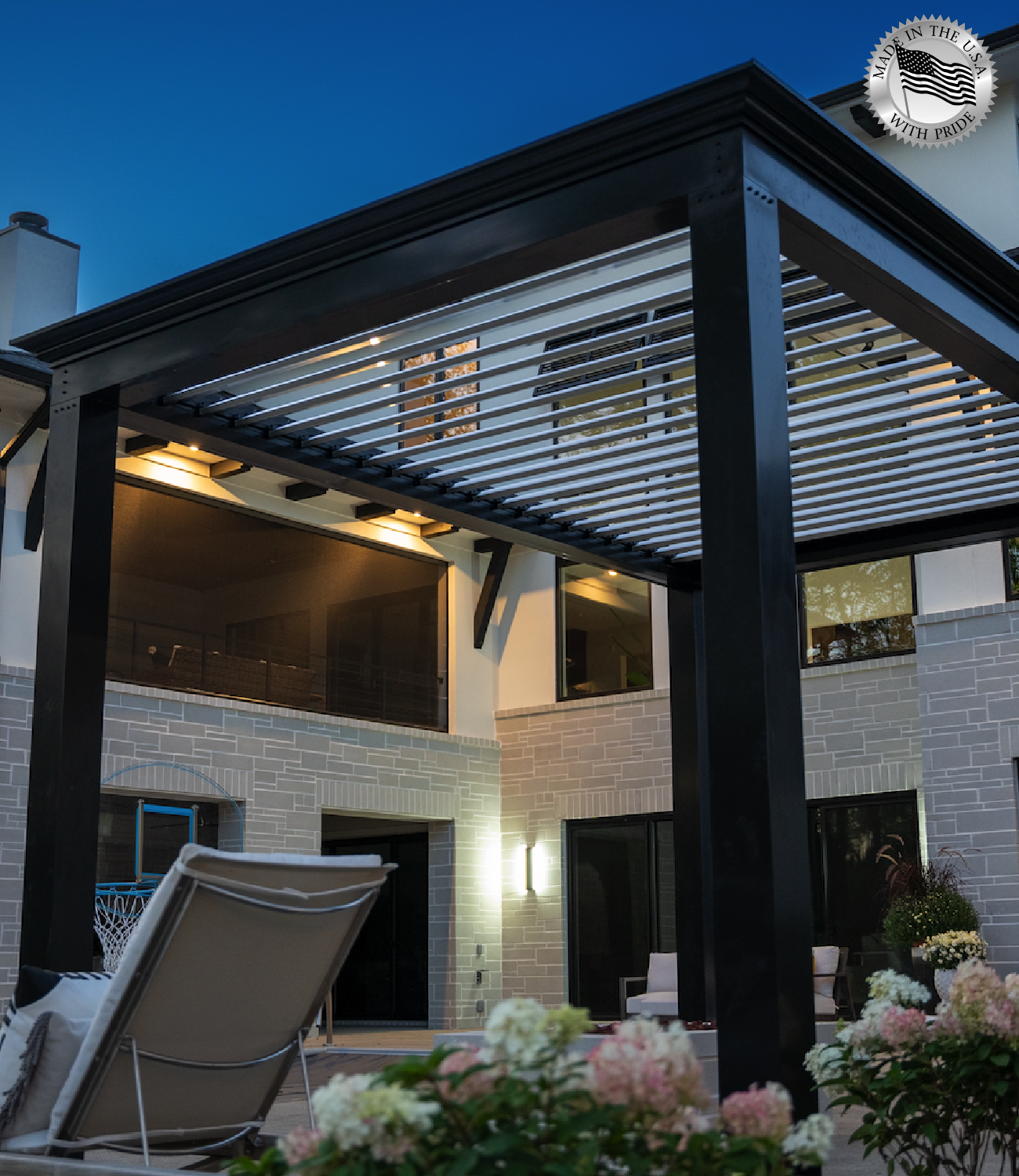 A shade structure can be a perfect location for a lounge area. With a modern pergola, you now have the ability to enjoy this outdoor lounge area however you deem fit at the click of a remote button.
You open the louvers halfway if you would only like partial shade, or full close or open the louvers as well on the roof to create whatever environment you would like. The versatility and customization of this environment has caused for an increase in potential time spent outdoors in your shade structure. This allows for the possibility to further utilize the investment.
Metal Pergolas Vs. Other Materials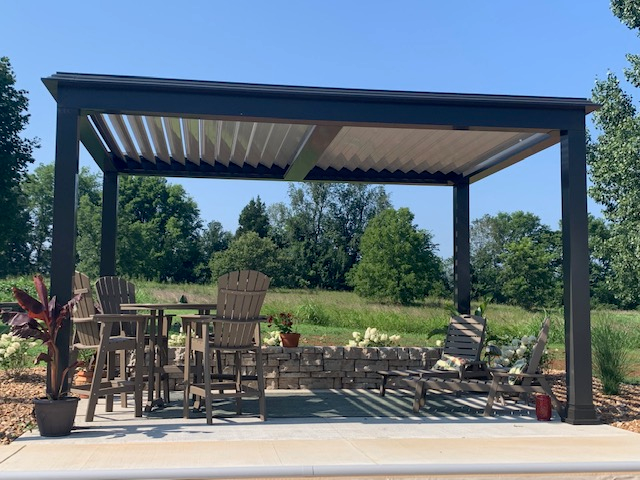 While picking what pergola best suites your needs, a possibility to consider is what type of weather rating this pergola will provide. This can all come down to the materials that make up the main body of the pergola as well as the louvers and trim options.
Through engineering testing we found that aluminum is the best overall choice for durability, simplicity, performance, as well as easy assembly. This is due to its lightweight, intense strength, and high weather resistance.
Poolside Pergola Features (Hot Tub, Gardens, And More)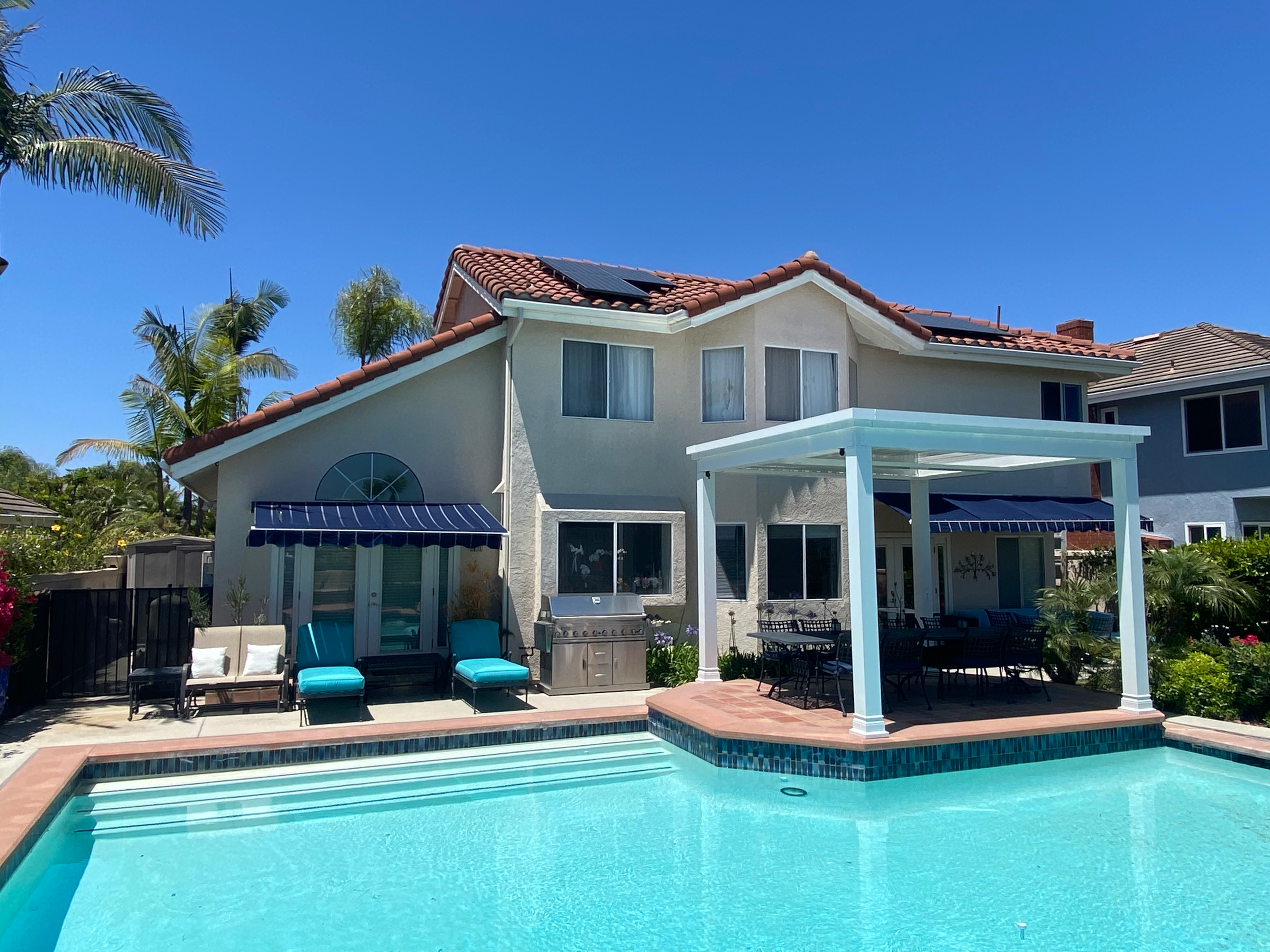 Any poolside pergola can add another feature of luxury to a home, how you choose to do so is entirely up to yourself. The sun's rays can be pleasant under the canopy of an open pergola on a nice summers day, or it can be the vary thing that shelters you from Mother Nature when you need it.
One thing to consider is the added luxury that a poolside pergola will create to your house, this is not to be a side feature, it will likely be the centerpiece area for your home. When considering this into factor it is important to realize that you will want to be able to do the pergola justice. Expect to transform the experience of your yard with this adjustment.
Pergola Design For Luxury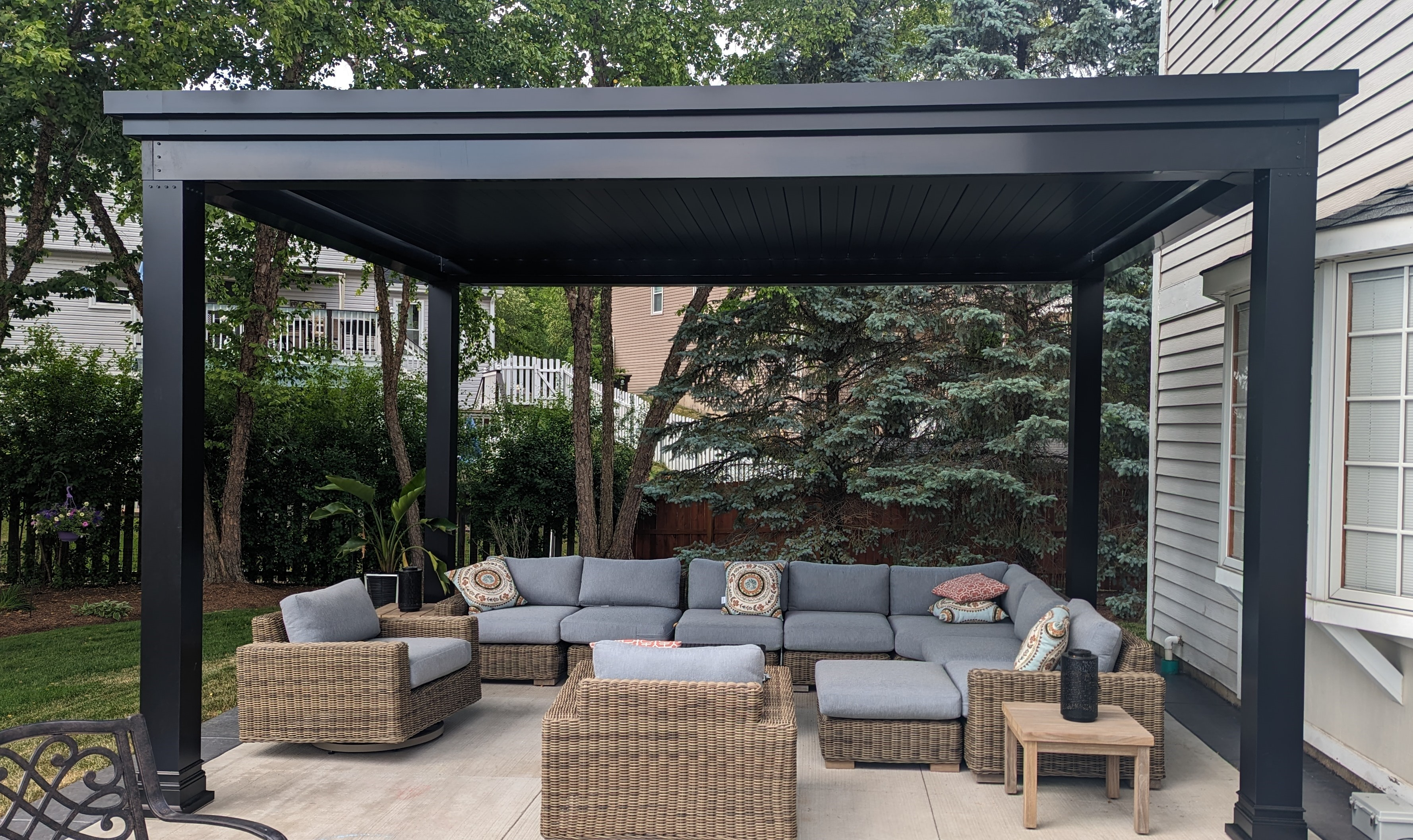 The luxury pergola is designed for exactly that, luxury. This is the Rolls Royce of DIY pergola kits adding value and luxury to every inch of the space it provides. Finding can be important for any investment, especially ones that are directly going to affect the experience you provide at your home.
When looking for the best, you want to find what best fits your needs. Things like price, material, ease of use, and longevity are all factors customers have rated on the luxury pergola giving a high overall review rating. More information on google and YouTube can be seen to further learn about this product.