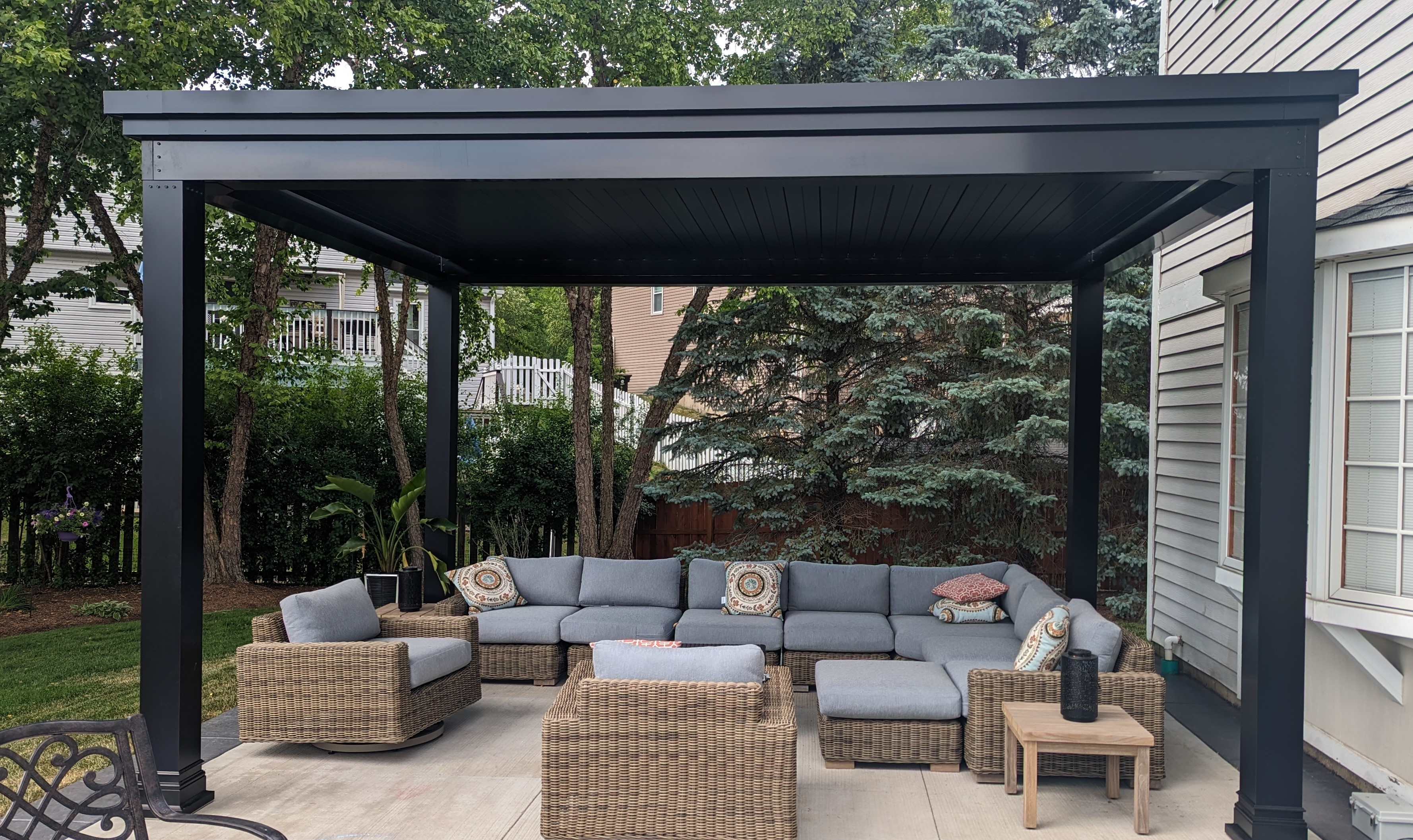 Listen to Article
So you're looking for a pergola with a privacy wall. Anything that you are likely to find on the internet in a prepackaged form, won't stand up to the elements or a stiff wind (with a few exceptions).
Your pergola ideas for privacy options are:
Privacy Fence

Retractable Privacy Shade
This article will go over the pros and cons of these choices and help guide to you some great options!
Adding Privacy To Your Area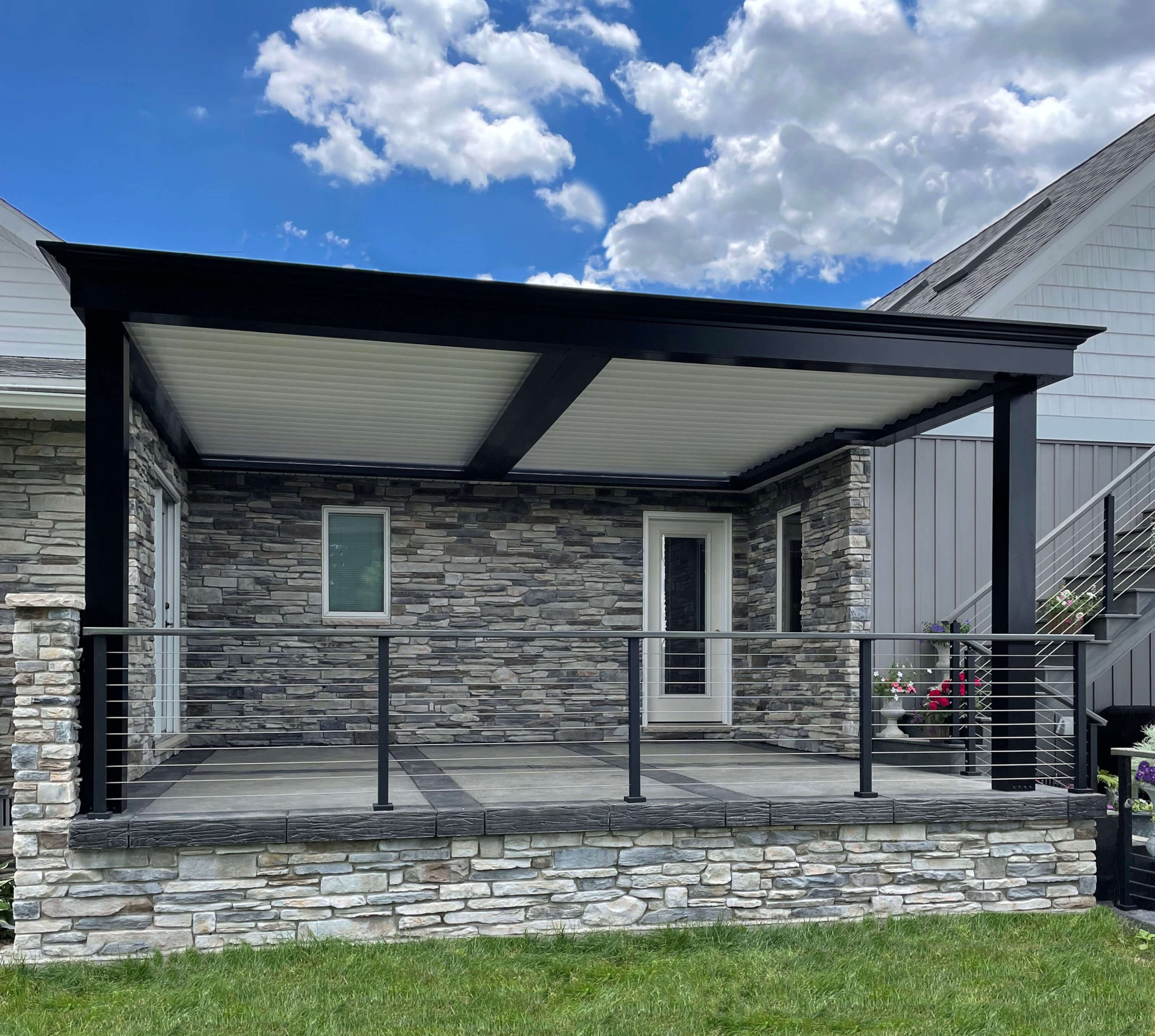 There are many reasons you may be looking into adding some extra privacy to your area. Could be privacy from the neighbors, maybe a bad view, or even privacy from that pesky sun.
No matter what the reasoning, making sure you are choosing the right privacy wall for your need is important to you. So let's break down the options we have and what makes them all great options and see what fits best with your need.
There are so many ideas to consider of course. The location of your pergola is important factor. On the deck, over an outdoors dining space, or that backyard spot with a view.
What Are My Options?
Options that first come to mind such as putting up a fence, sun shades, maybe some privacy lattice, or even wood slats. Every option can have its own unique characteristic to bring to your backyard spaces.
Privacy Fence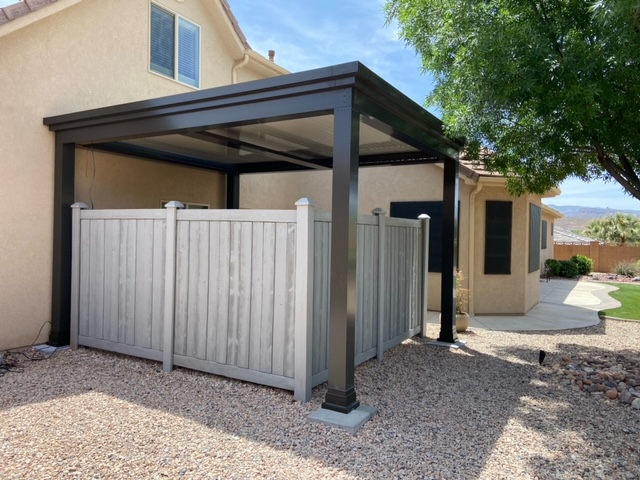 Adding a privacy fence can be a quick, easy and permanent solution. This may be the right choice depending on what you have in mind for your yard.
If you already have a privacy fence surrounding the distance of your property or section of your space, you may want to match that design and have a nice smooth flow and transition into your pergola space while adding that detail of privacy.
Working with a privacy fence can add some more questions or hurdles to jump over however. Maybe this area is the first and only to have fencing. With a wood fence being installed as your privacy wall there are obviously many options of stain, style of board or planks being (vertical board or wood slats), weather durability to consider and so much more.
Once you have decided on the design and type of fencing you like you will need to consider the structural integrity and what goes into to it to ensure your privacy fine is secure and safe.
While fencing can grant a considerable amount of shade and privacy while having that esthetic touch you're looking for one, issue can be the permanence of the fencing.
Obviously having a permanent fence structure the length of your pergola to enhance that privacy aspect takes away your ability to freely move throughout that partition of the area, especially if there will be more than one side with the fencing.
Permits and Zoning Requirements
Before making fencing as your privacy wall method check to make sure zoning permits are obtainable. In most city limits and even outside of city limits proper permits are required for home/ yard modifications to help ensure safe and properly installing methods are being used
To have a solid and secure privacy wall you will need to properly mount the fencing posts in a good foundation typically using concrete, this is often a large part of the permitting process as this will consider the fencing as a permanent structure due to the concrete and sometimes even distance from the home or other permanent structures.
How Much Room Do You Need?
Another valuable step is to make sure you measure your project to understand the idea of what your spacial restriction will be once the wall is erected.
Are you wanting to have your privacy wall in line with the pergola posts? Are you wanting to be able to move freely through each partition of the pergola or close an entire section off? Proper spacing and planning is a key aspect in this process.
The space needed for a 18x12 pergola versus a 10x12 pergola is very different. Make sure material costs don't run away and keep you from adding lighting or other patio improvements for your house.
Privacy Screens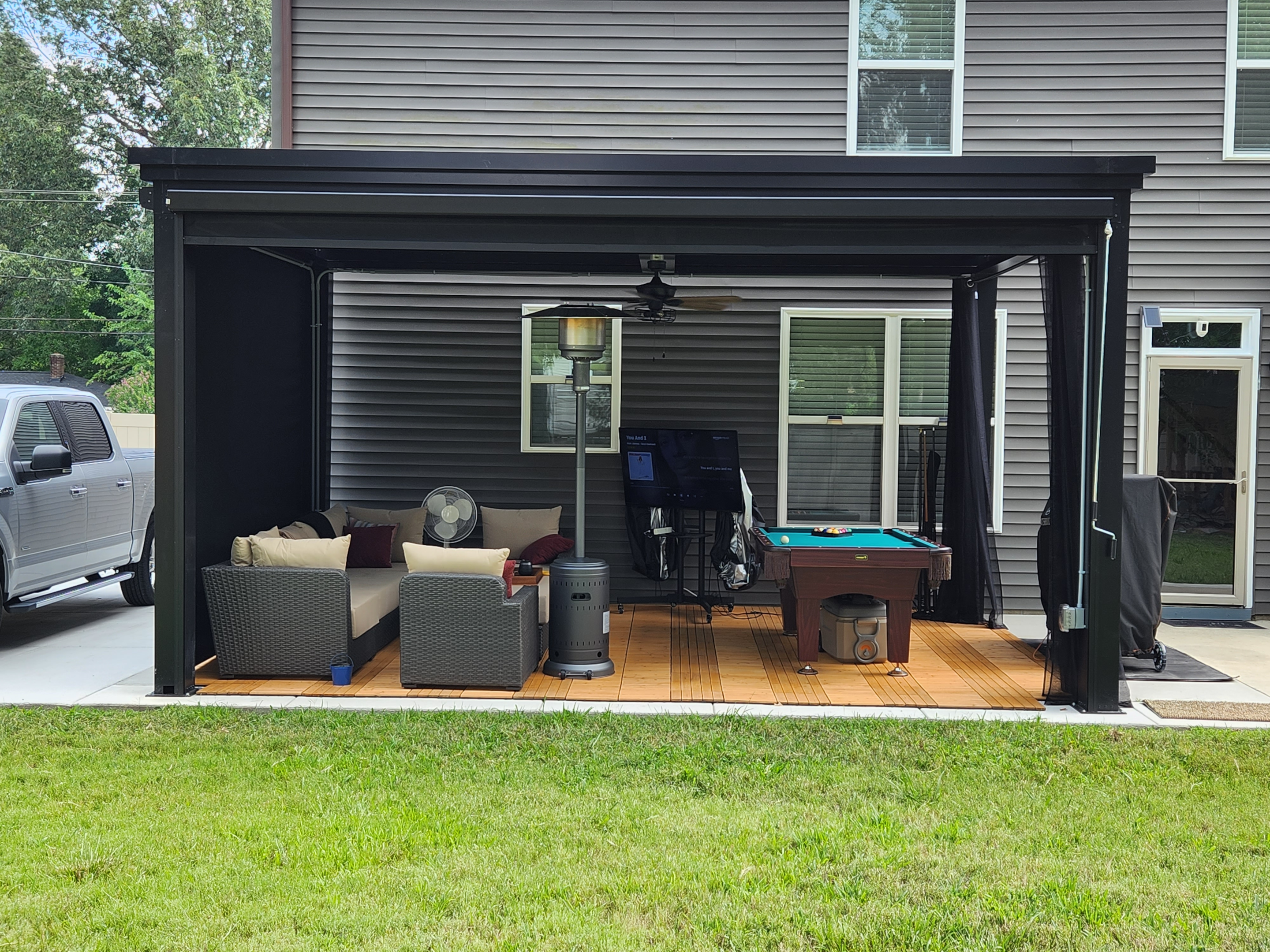 One great privacy wall option for pergolas out there is privacy screens or sun shade screens. This option can easily lower or raise giving you the ability to add shade to your space and yet still be be able to remove the screen if needed for a more open concept to host.
A working solution
Having a privacy screen installed onto your pergola can not only be just convenient with being able to retract it when needed, but also save you time and money on dealing with extra permits that you can run into with fencing.
Having a sun shade that matches your pergola design is key to a clean and consolidated look. The Luxury Pergola has a great option for their pergola style with adding more shade and privacy walls with their Luxury Sun Shade or even their Luxury Pergola Bug Screen which addresses another benefit that screens have over fencing with their pergolas.
Convenience at Hand
Having the ability to lower and raise your privacy walls grants you an abundance of options for your space. While not having a permanent shade structure you create your back yard space to be more versatile for changing needs.
Having a need to move furniture around maybe for a special occasion, or party you are hosting. Not having a permanent fixture as a privacy wall allows you to freely move through that partition of the area.
A single permanent structured Privacy screen wall will be great for blocking sun in that area only. But what about when the sun moves just to the left or right of that space, thankfully with a sun shade not only is privacy able to be achieved on all 4 sides of your pergola, but sun blocking whenever the time of day.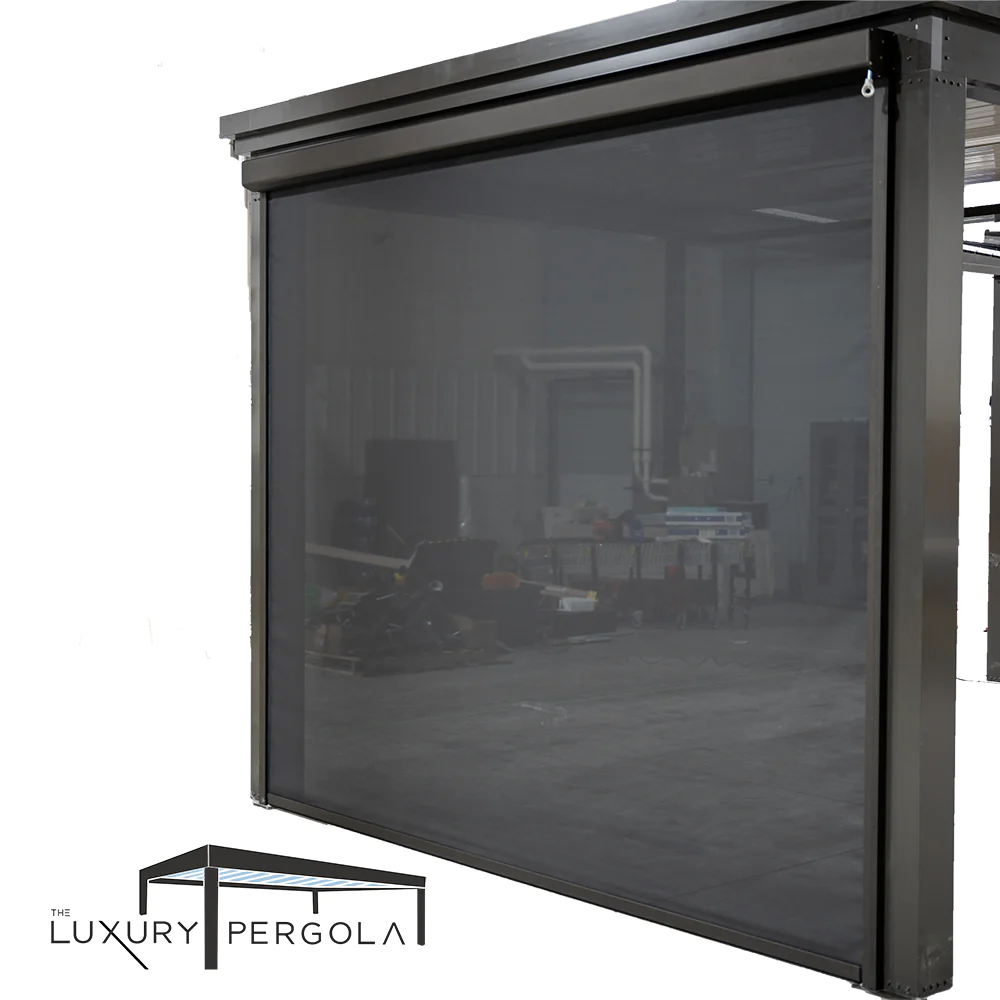 Crafted in the United States, the Luxury Pergola company offers two options for privacy walls. Both being retractable for the convenience of a need to use basis.
The Luxury Sun Shade has commercial grade frame and fabric that make a clean finish look to the pergola and can help act as a privacy screen which can be installed on one side or all sides of your project and fits great between each post where it is attached to the cross bar.
Not only do they look great, but are durable. They are rated for up to 45 MPH wind comparing that of some of the others on the market, light breezes are what some of the other companies can withstand.
Best part is, The Luxury Pergola has a 10 year Fabric Fade Resistance Warranty so helps put you at ease for those sun damages that can occur.
The Luxury Pergola Big Screen though similar to the Sun Shade is different in which its main purpose being protecting you against bugs. That is why it is a great option for those who aren't wanting privacy from peering eyes or the sun, but privacy from those pesky bugs and mosquitoes.
With their pergola design being able to close the center louvers between the beams can act an extra layer of protection from bugs, and also from weather such as the rain.
What's Important to You?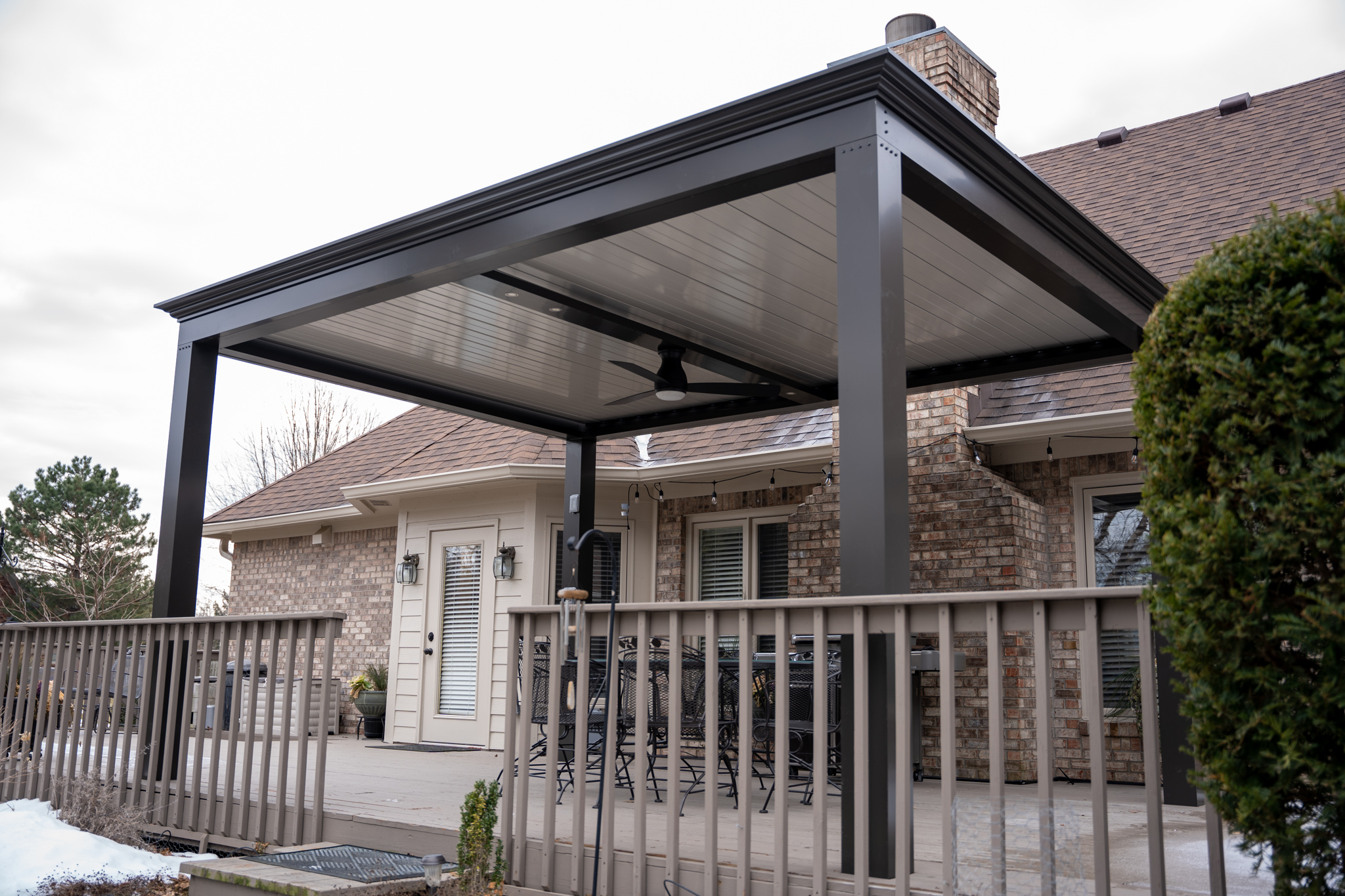 Being happy with your decision and creating your dream space is what is the number one goal. So keep in mind the multiple positions and ideas in this article to help guide you through that process.
What else is important? the complete project? The comments you will receive? The extra features? This is where having convenience and premium quality coincide.
When it comes to a space you want to enjoy for many years to come, you shouldn't try and take shortcuts and expect to receive the longterm satisfaction of that plan.
When looking into a pergola and privacy features, The Luxury Pergola comes first to mind, not just for me but many others, especially looking into their satisfied clients and reviews.
I hope this article gave some insight and helpful information to guide you through some of these decisions you have coming with your project style and install process.