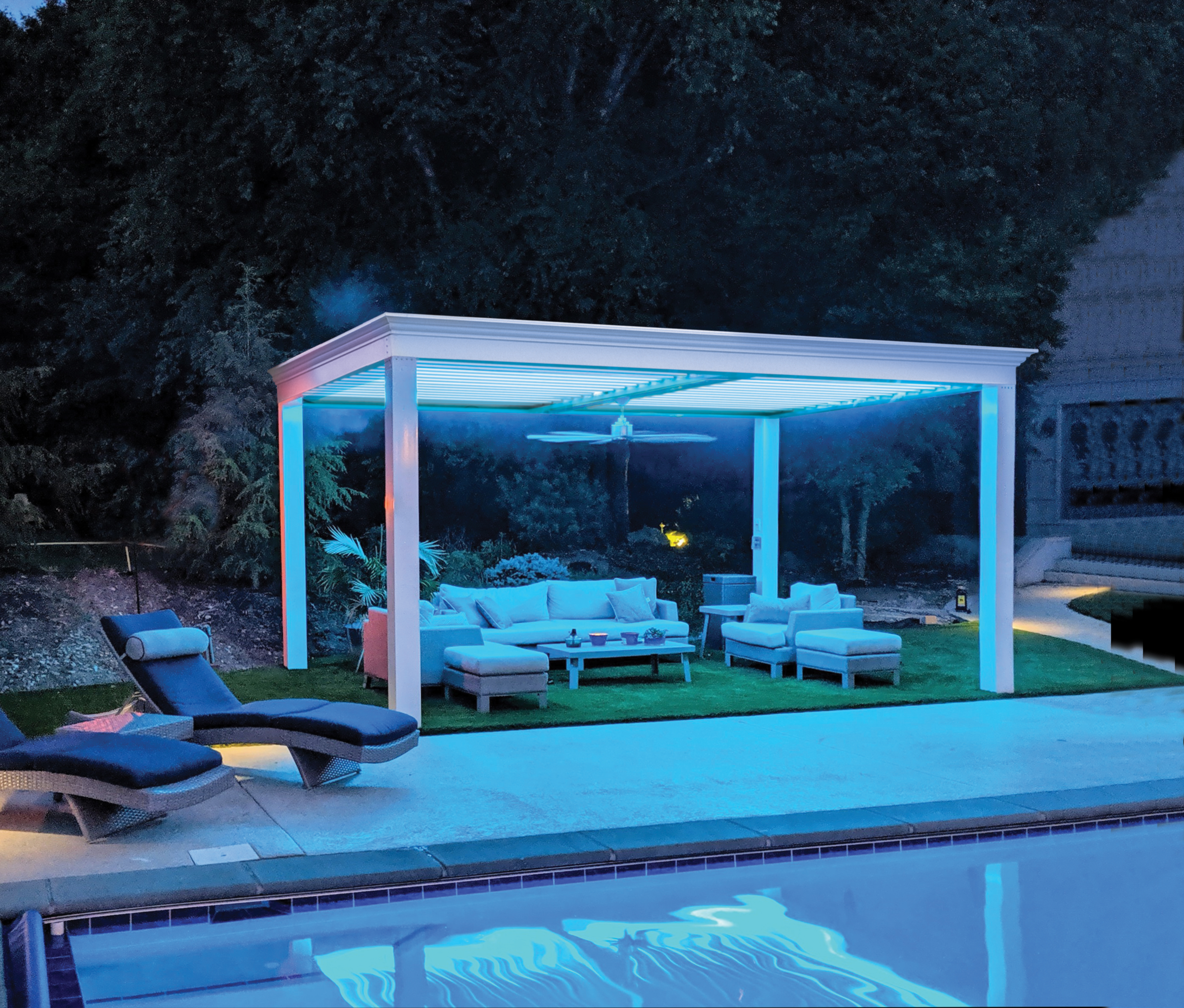 Listen To Audio
An outdoor kitchen pavilion is a luxurious way to upgrade your backyard space and increase your home value. Some look to a gazebo or a lanai to utilize in their backyard, statistics show that a pergola is the most popular option for a positive customer experience.
If you are looking to build a beautiful kitchen where you can enjoy outdoor meals and have a nice bar, then these outdoor kitchen pavilion concepts are likely the best for you to optimally make use of your backyard space. You will find information on what sizes fit best and how to make the right choice for yourself by first asking the right questions.
Optimize Your Outdoor Living Space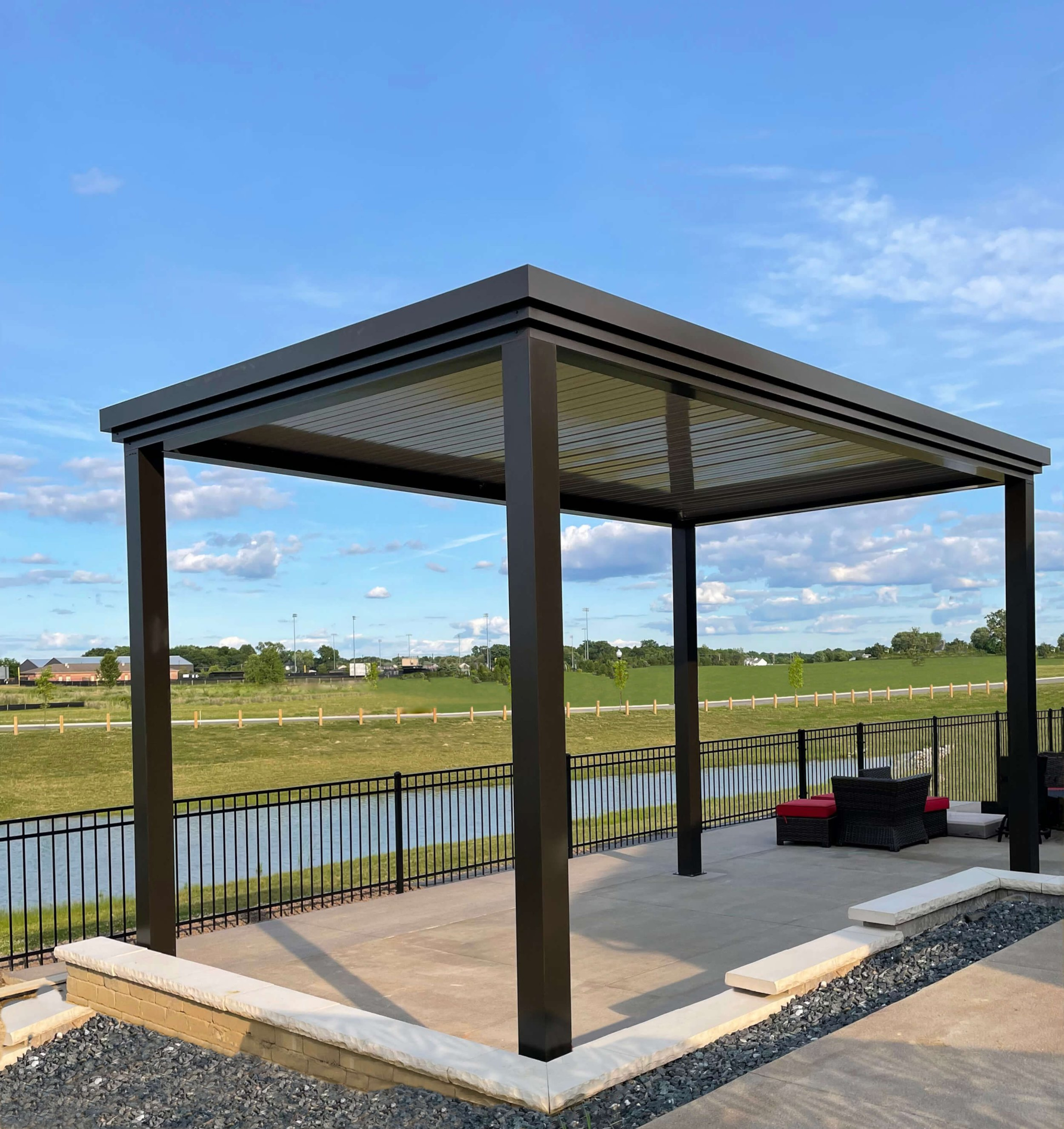 When creating the perfect outdoor living space, you want to have an experience that aligns with your energy and the overall encompassing theme of your home. A great way to find what you are going for is by asking the right questions. Questions like:
How many people will I plan to host regularly?

Do I want to use this for multiple purposes or just a single purpose?

How will the direction of my home affect the shade and sun cast on the pergola?

What time of day will I most often be using this?

How do I plan other parts of my yard to integrate into this space?
Those are just a few questions to get you on the right track for finding exactly what you are looking for in your overall pergola experience.
The Best Outdoor Kitchen Pavilions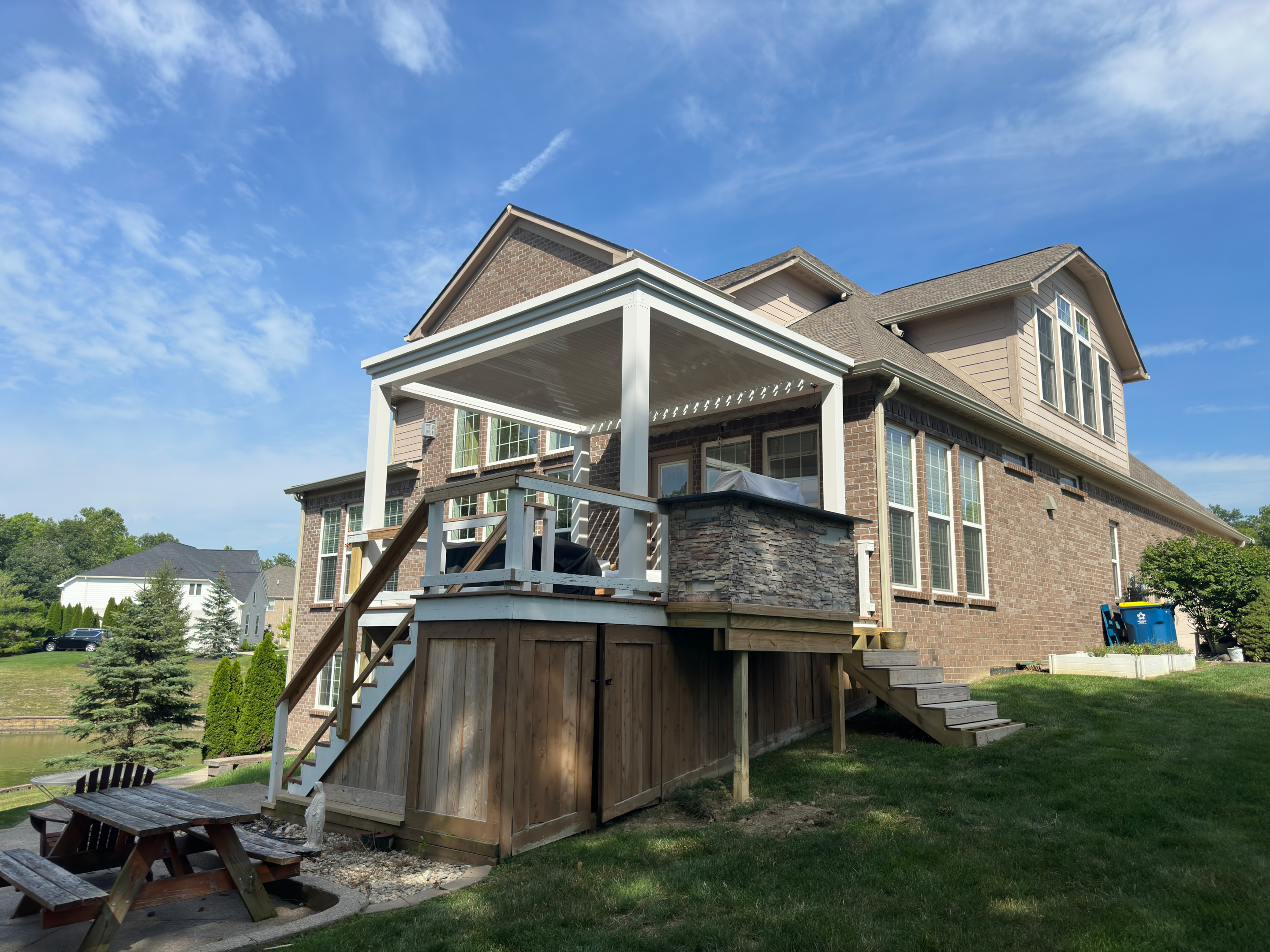 What makes a great outdoor kitchen space is the ability to use it in any weather. With modern louvered pergolas you can open the pergola whenever you deem fit and enjoy the sun, then at the click of a button close it to block out any rain or bad weather.
This versatility creates the gift of allowing you to experience the great outdoors regardless of the weather. If you plan to have a large cookout and all of a sudden it begins to storm, no worries, simply close the louvered roof and allow for all weather to be blocked.
Your Outdoor Dining Area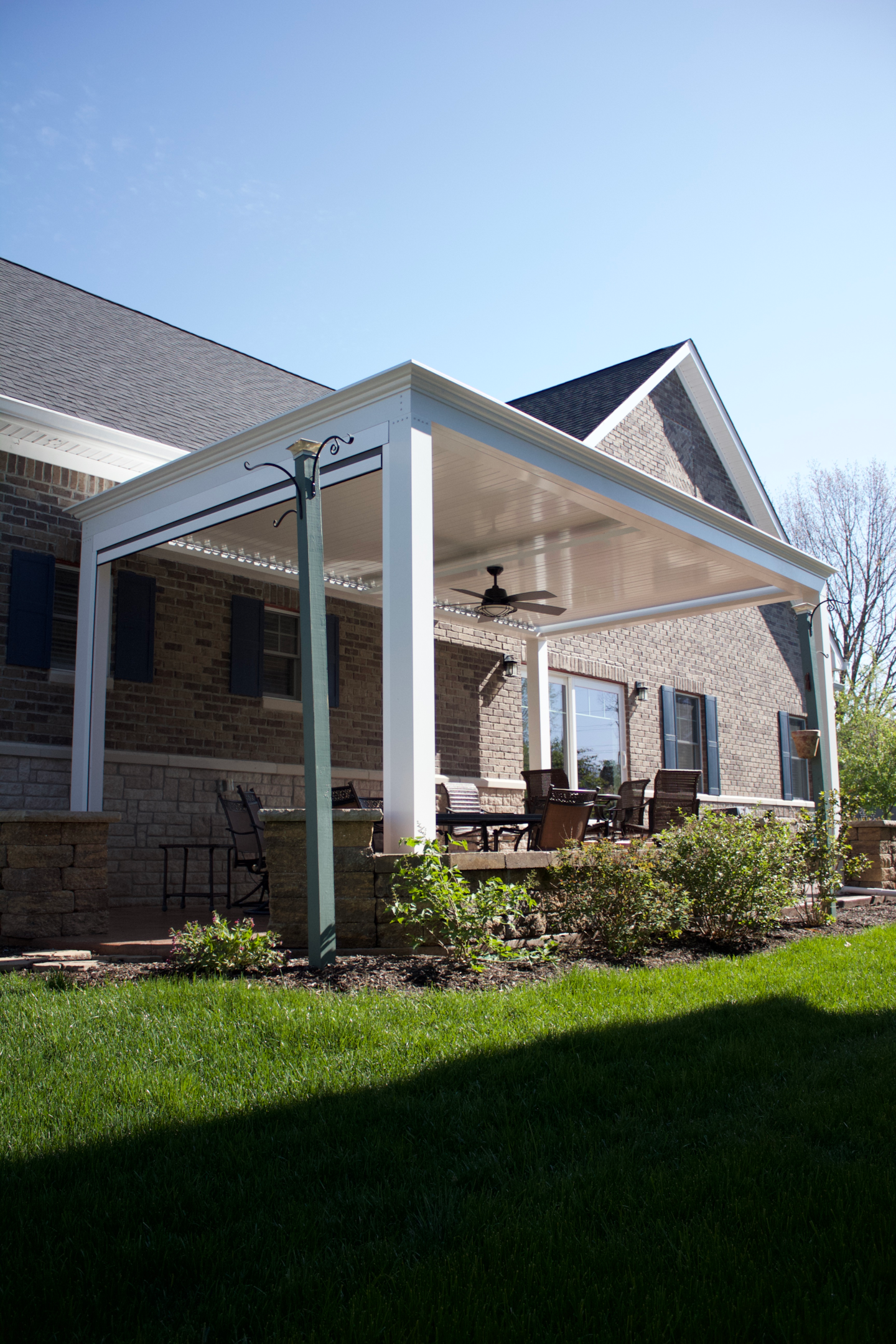 An outdoor dining area allows for the ability to create long-lasting memories with the people you love. Every individual can remember that space where they would enjoy meals outside in the summer months in the past. Wether a park bench, a screened in porch, or simply under an umbrella the outdoors can elevate any experience.
Picture yourself on a fine summer evening with a nice barbecue going surrounded by people you love, or envision yourself in the middle of winter enjoying a nice warm meal as you are blocked from the weather. Versatility creates experiences, and this product offers versatility.
Hot Grill For Outdoor Kitchen: Gas Grill, Charcoal Grill, Fire Grill, Etc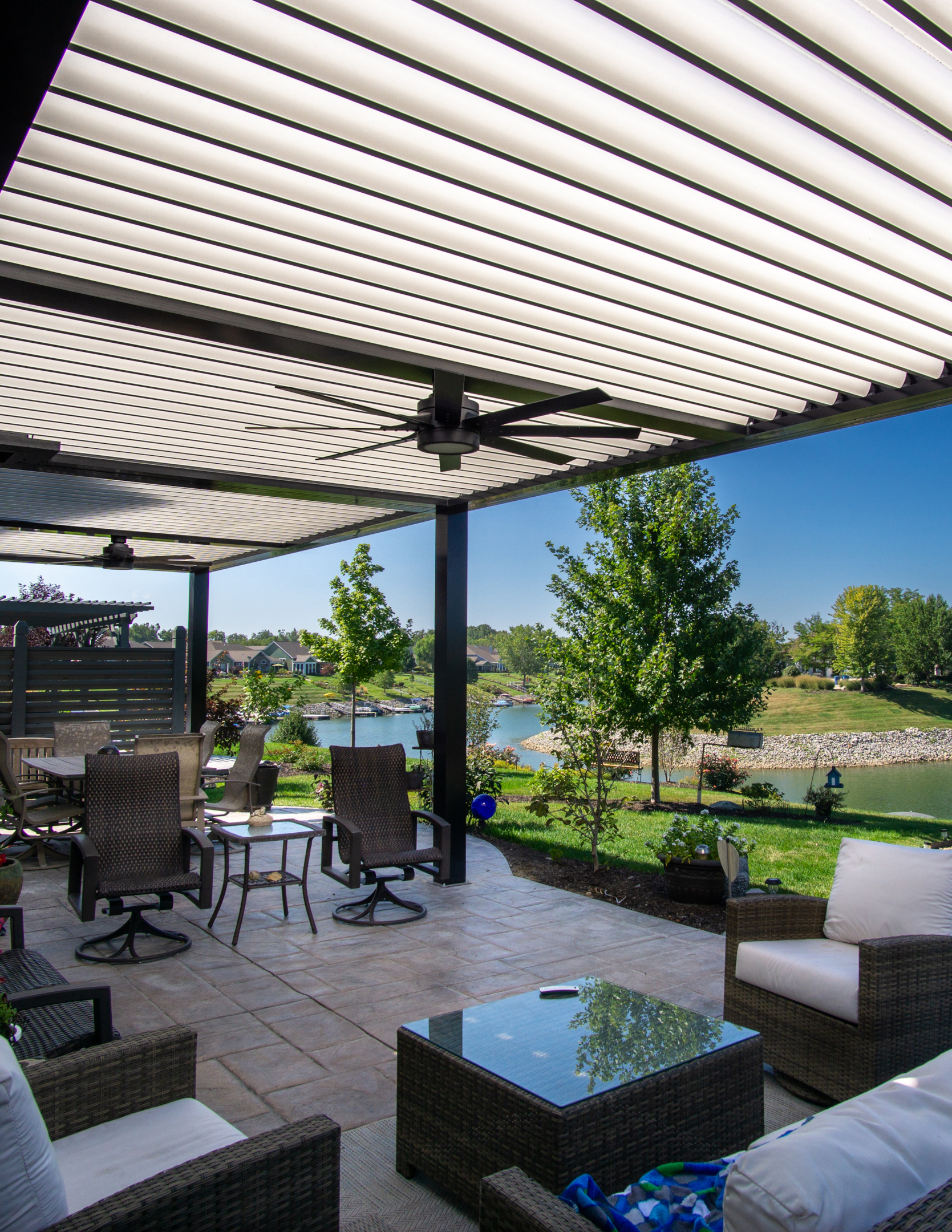 A common question people are worried about is "can I have a hot grill underneath my pergola space?". This is a simple answer that will excite many.
The answer is: Yes any grill can go under your pergola space, many even go to the extent having fireplaces due to the fact the pergola does not burn.
Outdoor Cooking In Outdoor Pavilion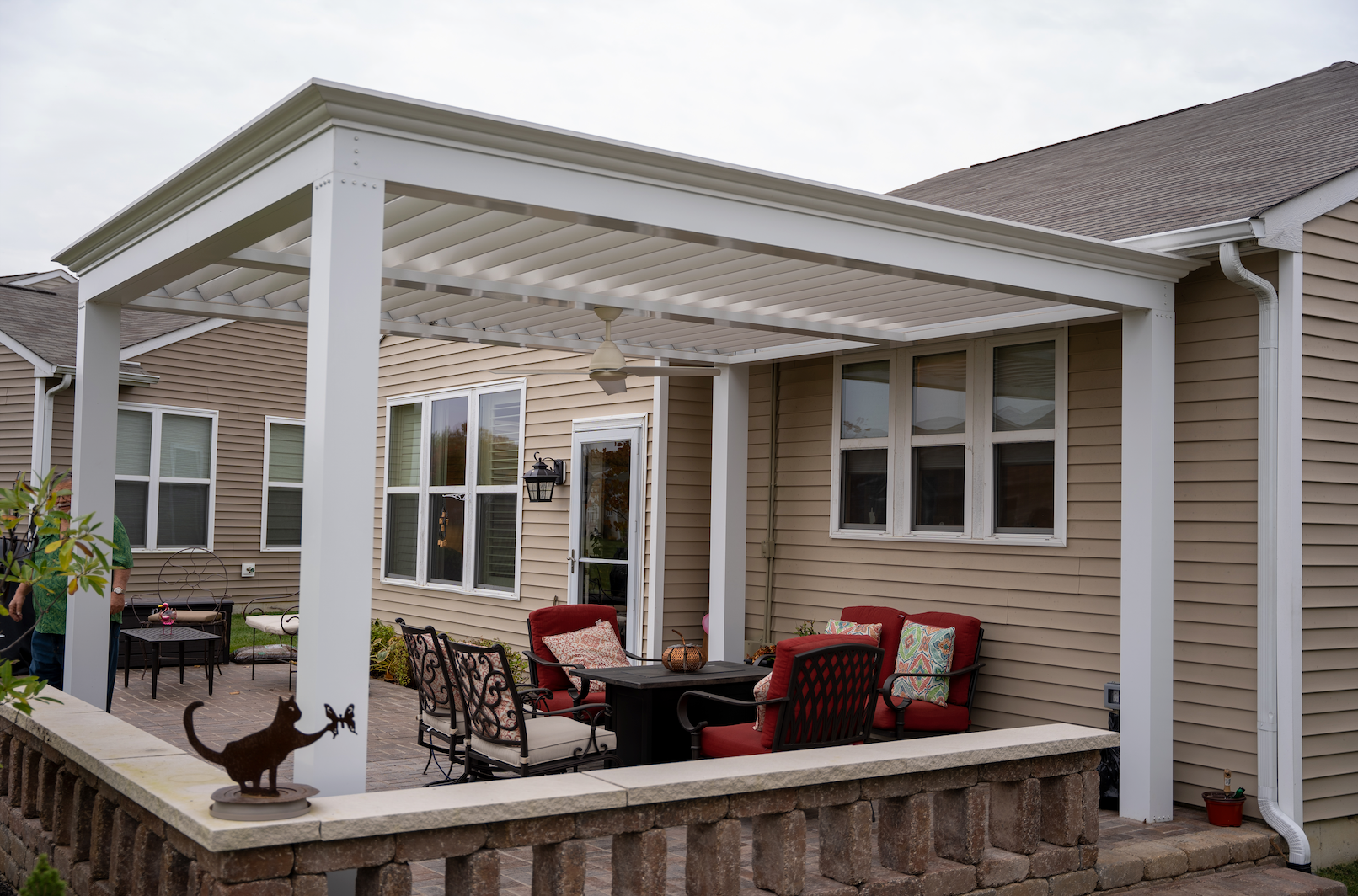 The experience of outdoor cooking can curate long lasting memories that everyone will look back on and love. Picture a nice foggy Sunday morning making a beautiful brunch on the grill with you and your family.
Long lasting memories like this will be the forefront of what you are getting out of your pergola. Every experience is built under the same core concept of our pergolas, made to last. We look for a lasting product that will have high performance in being reliable for you.
An Outdoor Structure Rated For Weather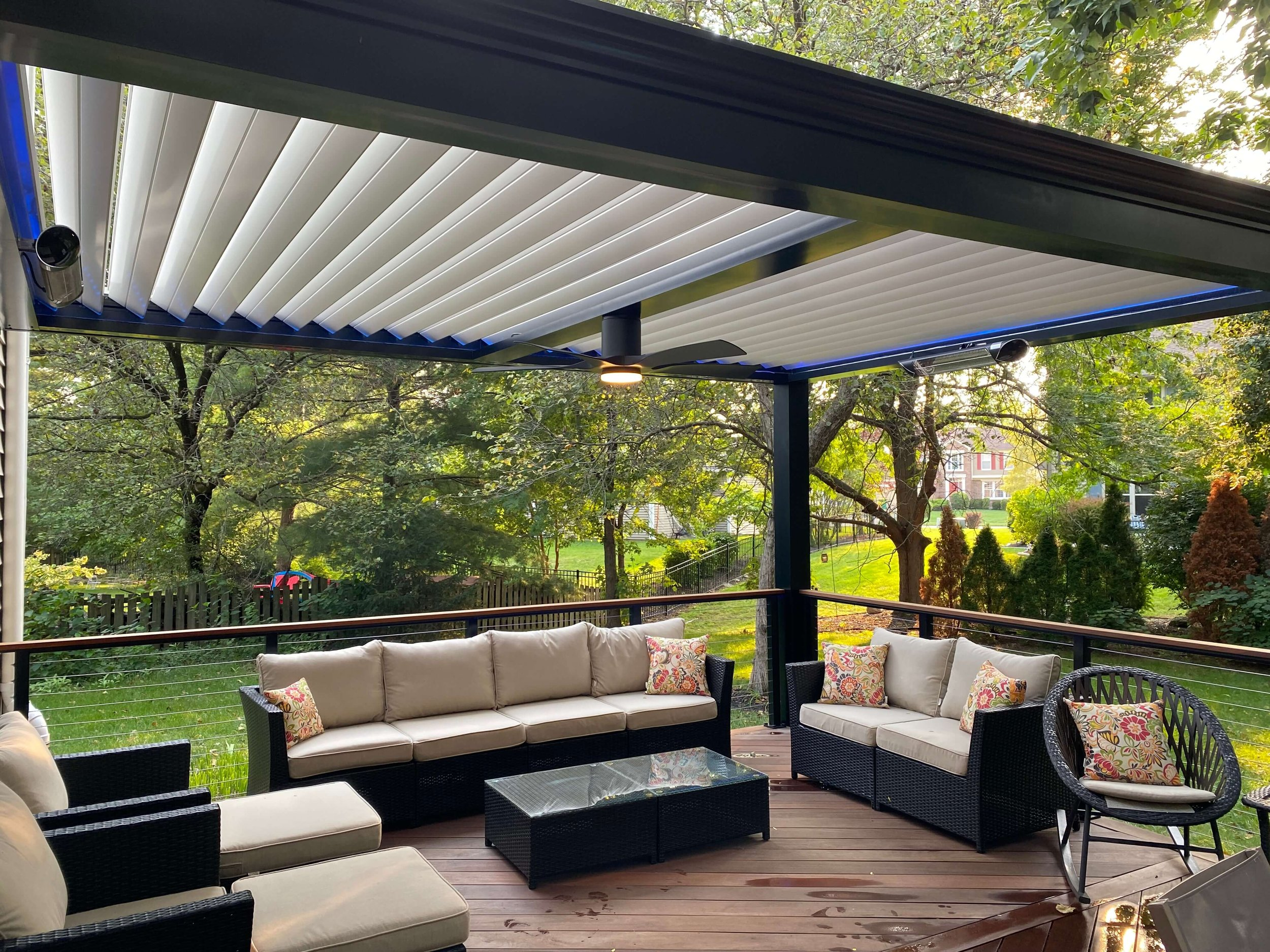 Being long lasting and reliable requires a great feat of quality materials. That is why we utilize the highest grade aluminum and paint coating available to make sure this product is inevitably to go beyond expectations and keep our ratings high.
We look to make the customer experience as optimal as possible, with the ability to take over 9000lbs of snow load and 130mph winds with the louvers closed, this allows for us to maintain that experience. Wether a hurricane or a blizzard, the luxury pergola is made to withstand the force of nature.
Local Building Codes And Installation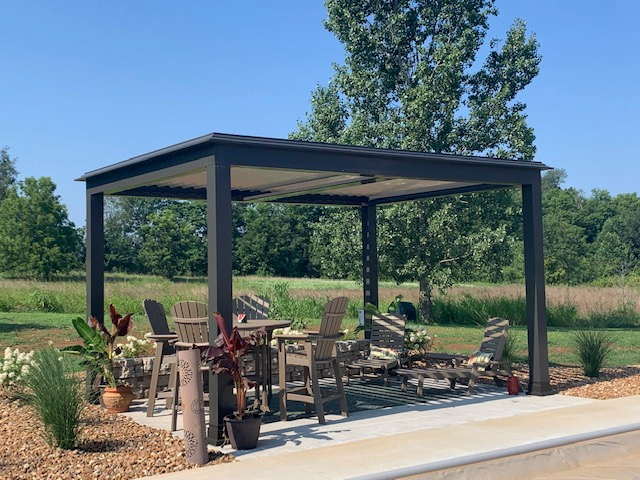 As for permitting, wether you categorize it as an outdoor roof structure or simply a pergola can be the difference of not needing any permitting or going through a long permitting process. Another common question that is asked when regarding the building process is, "how deep do I make my footers for a pergola?". This all will vary based on your location and what you are building this pergola on top of.
As for a regular concrete slab, no footers will be needed at all as the strength can dissipate throughout the entirety of the slab. Another popular place to build these is a deck, there is no requirement of footers there either. On a patio or paves however footers will likely be needed, the way you determine the footer depth required is to talk to a local contractor and look at the frost line.
An Entertaining Space For Luxury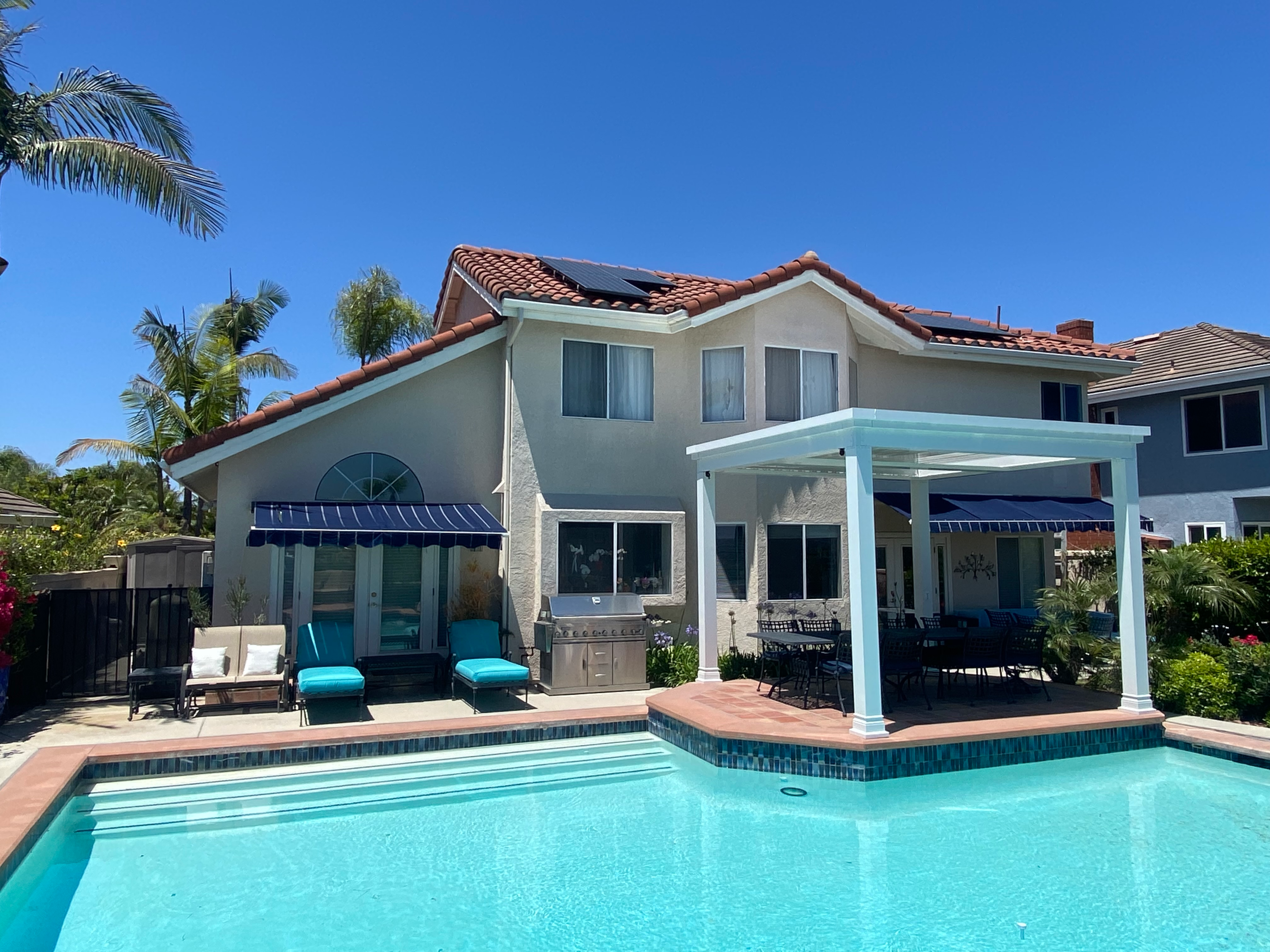 As you can see from the photo above, luxury is the epitome of what this pergola is designed for. Elevate any space and create a resemblance of class as you increase home value with this pergola. The ability for multiple sizes and multiple color schemes makes it the perfect match for almost any space.
Wether it is by the pool or entirely disconnected from your backyard area, the pergola will be able to be up and ready within two days of receiving it. Elegance and class are both timeless, and these pergolas are made to withstand not only the weather, but the change of times as well.
Fresh Air, The Great Outdoors, Sun, And Adaptability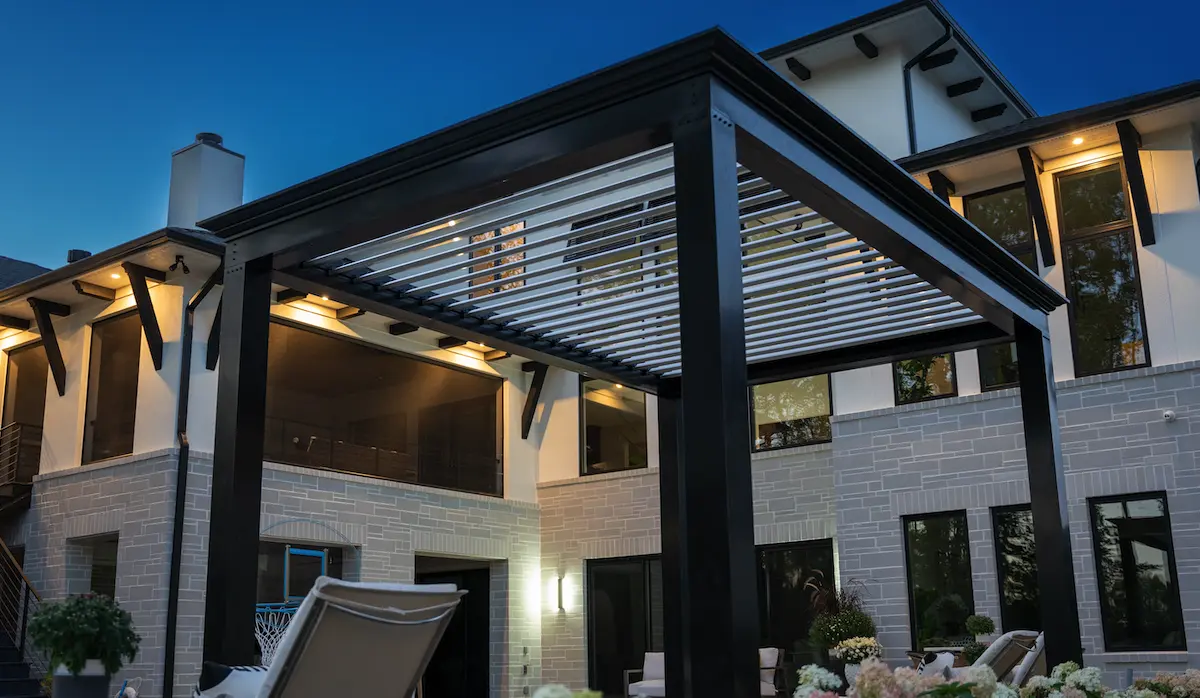 A strong aluminum pergola to enjoy the outdoors is exactly what many yards can use to take their outdoor experience to the next level. Wether the sun or the rain you can rely on durability through high winds due to the thickness of the aluminum extrusions.
Fresh air and outdoor shade spaces are two of the most common qualities that homeowners look for to elevate their overall backyard experience. Luxury outdoor spaces like this pergola do the perfect job in creating such a place.
Perfect Space For A Pavilion Size Outdoor Kitchen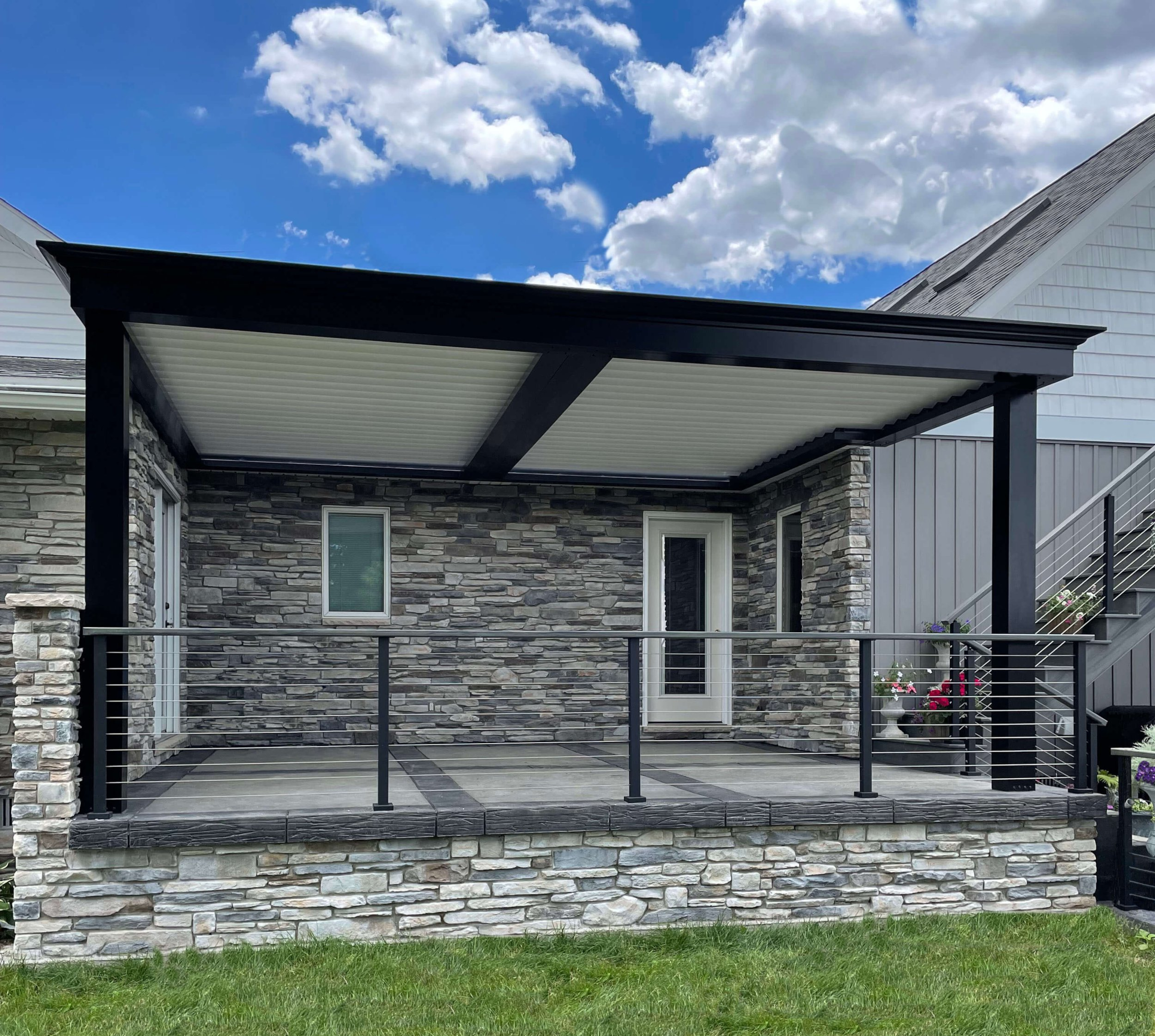 When figuring the right size for your outdoor space, many homeowners take the path of walking around their yard and first envisioning what they are soon to expect. You would be able to take a tape measure and list out the lengths to figure the size. Common sizes are 10x10, 12x16, and 12x20 but every size is different for what the customer is looking for.
Depending on the size of your outdoor kitchen, privacy panels and string lighting can be used to complete the overall experience. An outdoor kitchen is a style of a room many look to perfect so they can enjoy cooking in the warmer months and any other time of the year as well. Finding the right size for you will vary from person to person.
Create Family Memories With Your Backyard Design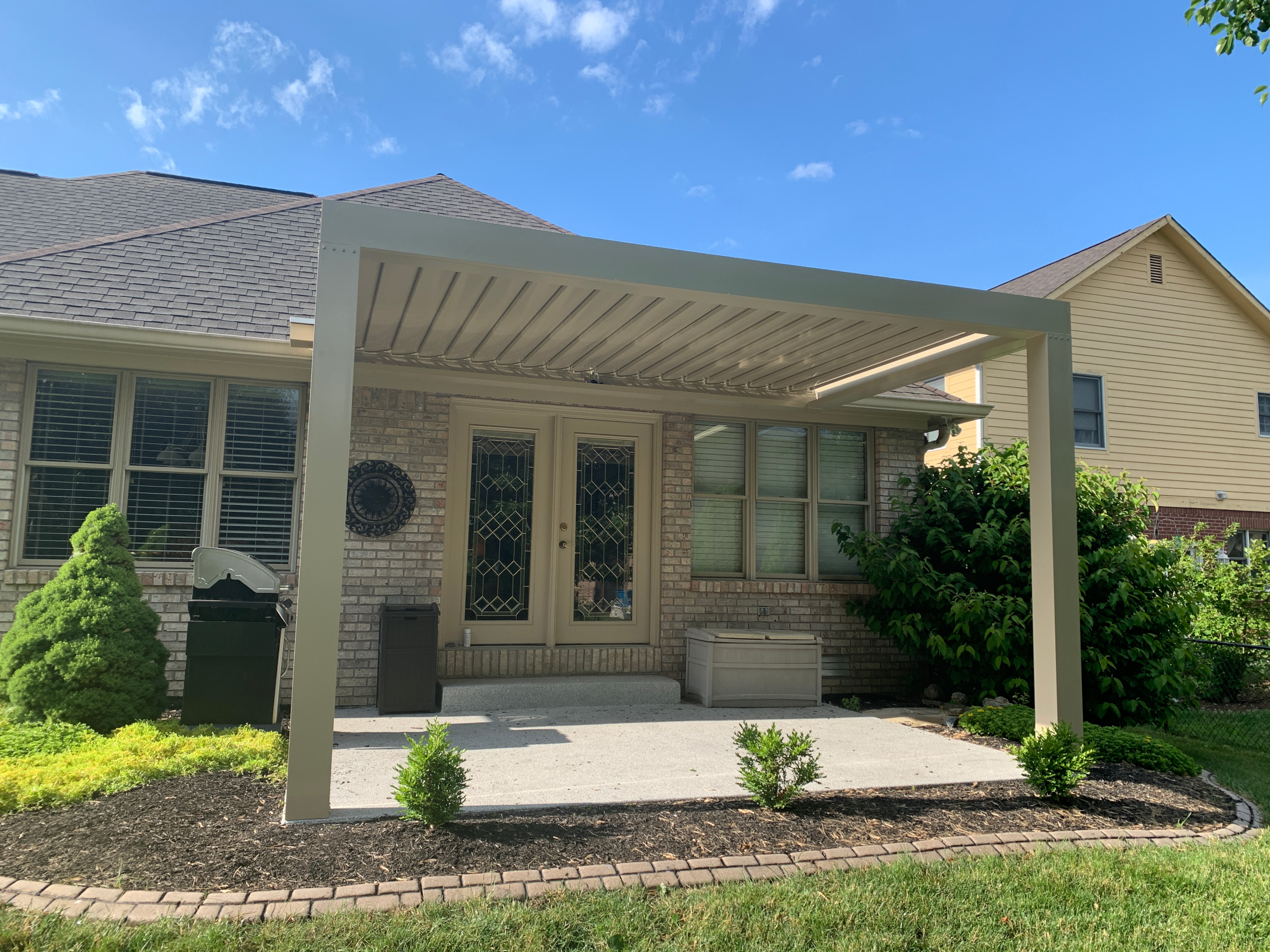 Create core memories at a bar or washing dishes at the sink of your outdoor kitchen pavilion. When you look for such a product you can ask yourself what you are planning to achieve and what exactly are you going for. This is your picture to paint however you would like it.
Most pavilions are designed with the purpose to host more. Many individuals say they would host 3-4 more times a month with a pergola in their backyard space. Create memories with hosting and allowing for entertaining guests in your backyard space.
Fire Pit, Hot Tub, And Out Possible Add Ons
A fire pit or hot tub are two add ons that have grown greatly in popularity with the outdoor pavilion pergola gaining commonality in the United States. A fire pit next to an outdoor kitchen is a theme several customers have done in the past and been quite happy with.
Creating the ideal space depends on the exact vision you are looking to procure. Wether you have a small pergola or a large one, the optimal space for hosting has a great flow and allows for several events and purposes with your DIY pergola kit.
What All Outdoor Kitchens Need For Entertaining Guests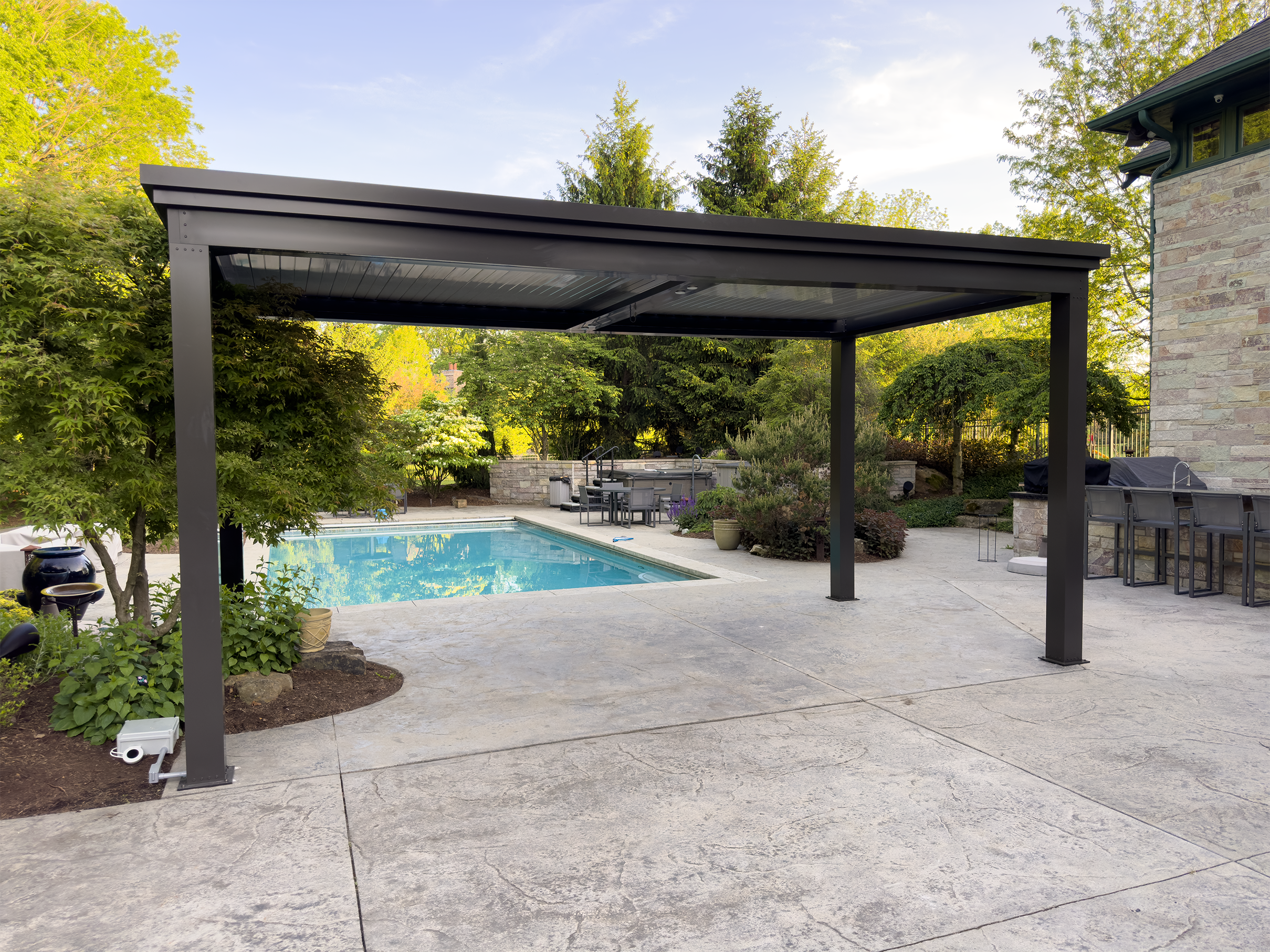 A great outdoor kitchen pavilion has great furniture. A charcoal grill, brick pizza oven, or outdoor bar are just a few of many furniture concepts that allow for outdoor kitchen entertaining to be maximized. As the weather continues to increase the time spent outdoors will only become more and more common.
The best way to have a good time outdoors in increasingly warm weather is to have the ability to get shade when you would like it. The importance of staying cool in the heat is an experience that can make or break some events. This allows for you to have shade when you need it, and sun when you like it.
The Experience Of Outdoor Cooking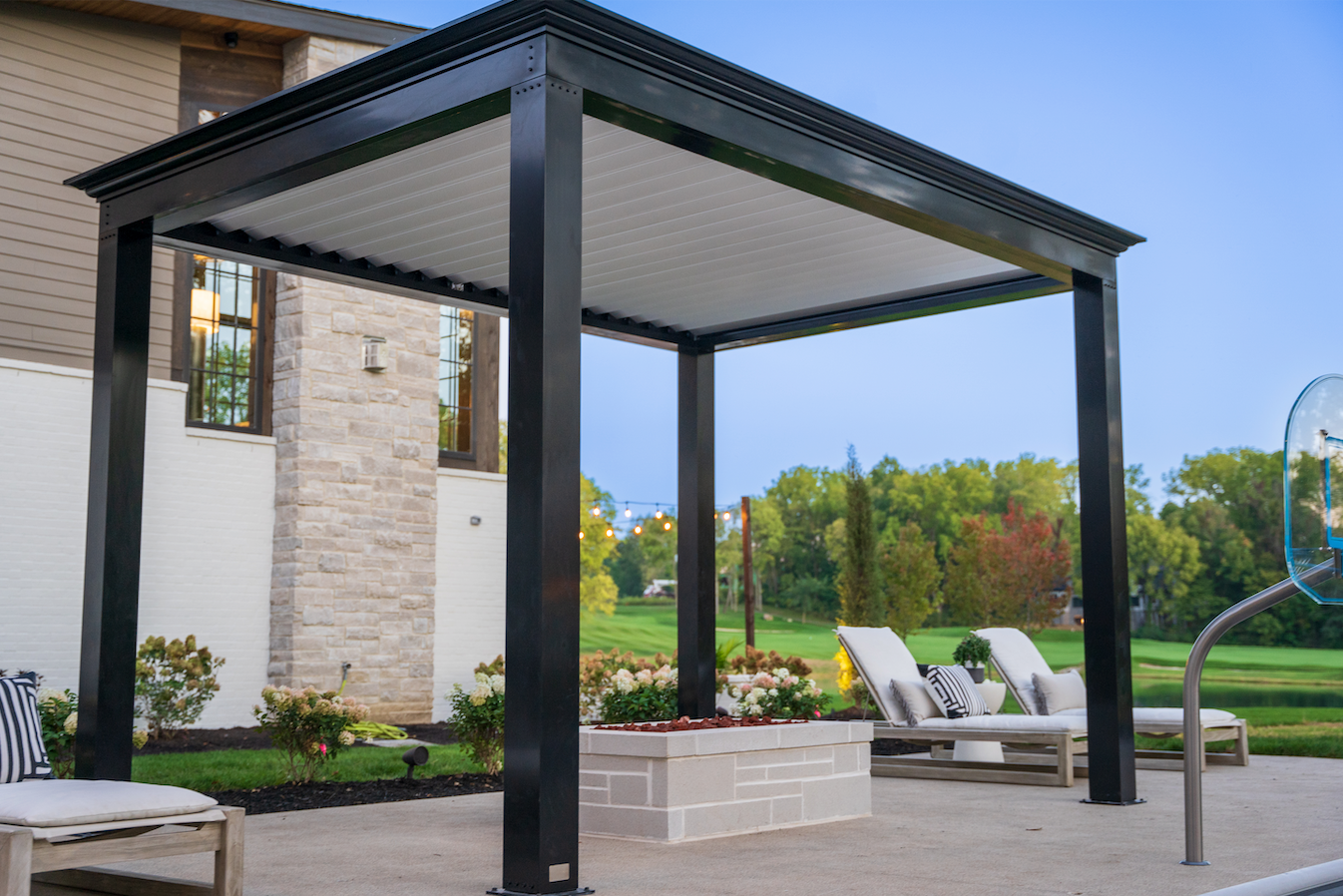 The experience of outdoor cooking as previously reconciled is that which allows for you to create long lasting memories and not worry about any mess as you enjoy the fresh air. There is another level of freedom to cooking outdoors vs cooking indoors, and this is exactly what type of freedom many are looking for in the modern world.
Statistics say those who spend more time outdoors tend to live longer healthier lives. This is one more great reason to add a cause to get outside and the beautiful weather wherever you are. Overall wellness of enjoying the outdoors is what many seem to notice with their new found luxury pergola.
Find An Outdoor Kitchen Pavilion Perfect For You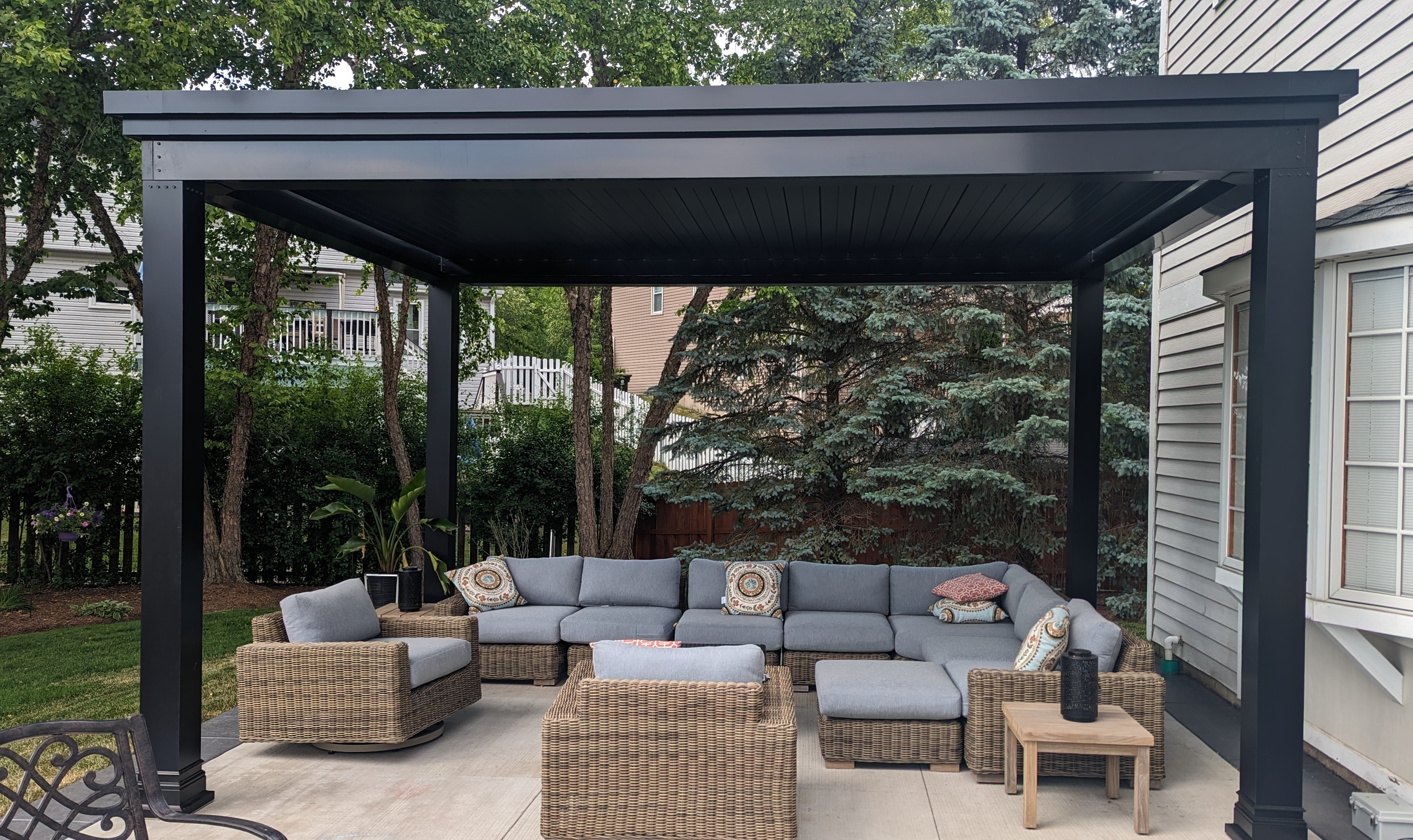 There are many options to find an outdoor kitchen pavilion that fits all of your needs online. Youtube research can help greatly to determine what you are looking for and look at past experiences.
Feel free to do your research and look at all products and sizes as well as past reviews and customer experiences when finding what will fit your needs best.
Outdoor Kitchen Pavilion Pergola