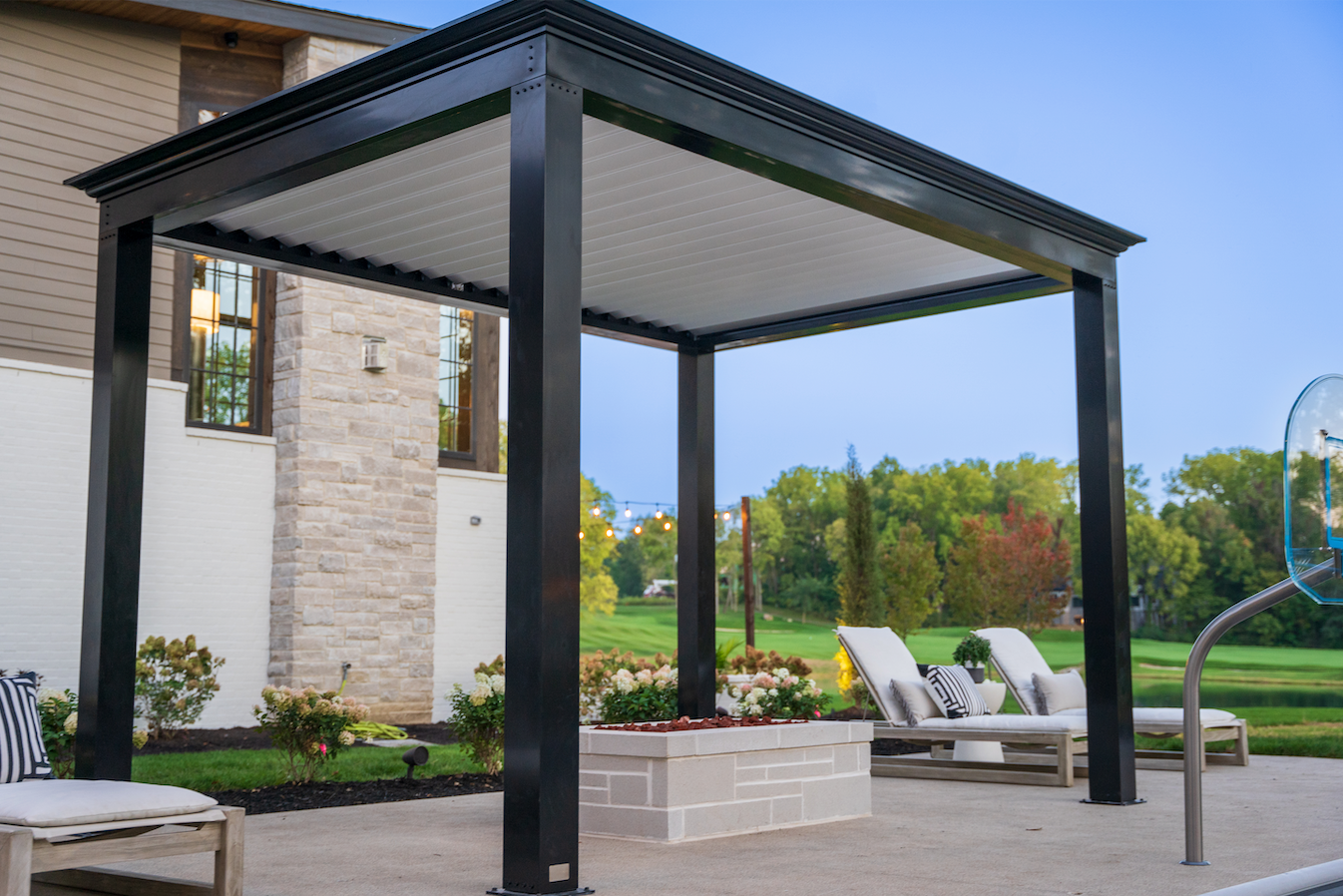 Listen to Article
The Free Standing Pergola has become a staple for all homes as it grows more and more popular. With so many options to choose from today it can be hard to decide which company to go with. This will help you narrow it down as we ranked the top 5 kits which perform the best.
What Are Free Standing Pergolas?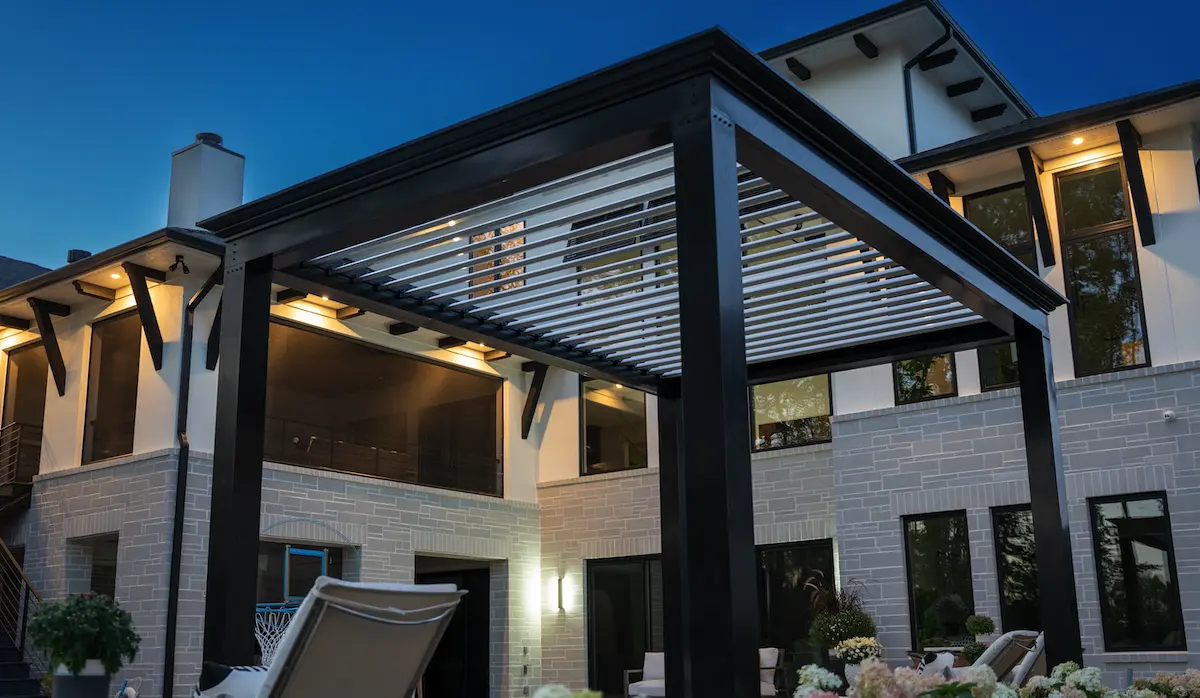 Freestanding pergolas are a luxury home product that can raise value and increase the overall experience of ones backyard. It allows for complete versatility in any weather as well as creates the perfect structure to make as the centerpiece for your outdoor area.
Top 5 Freestanding Pergola Kits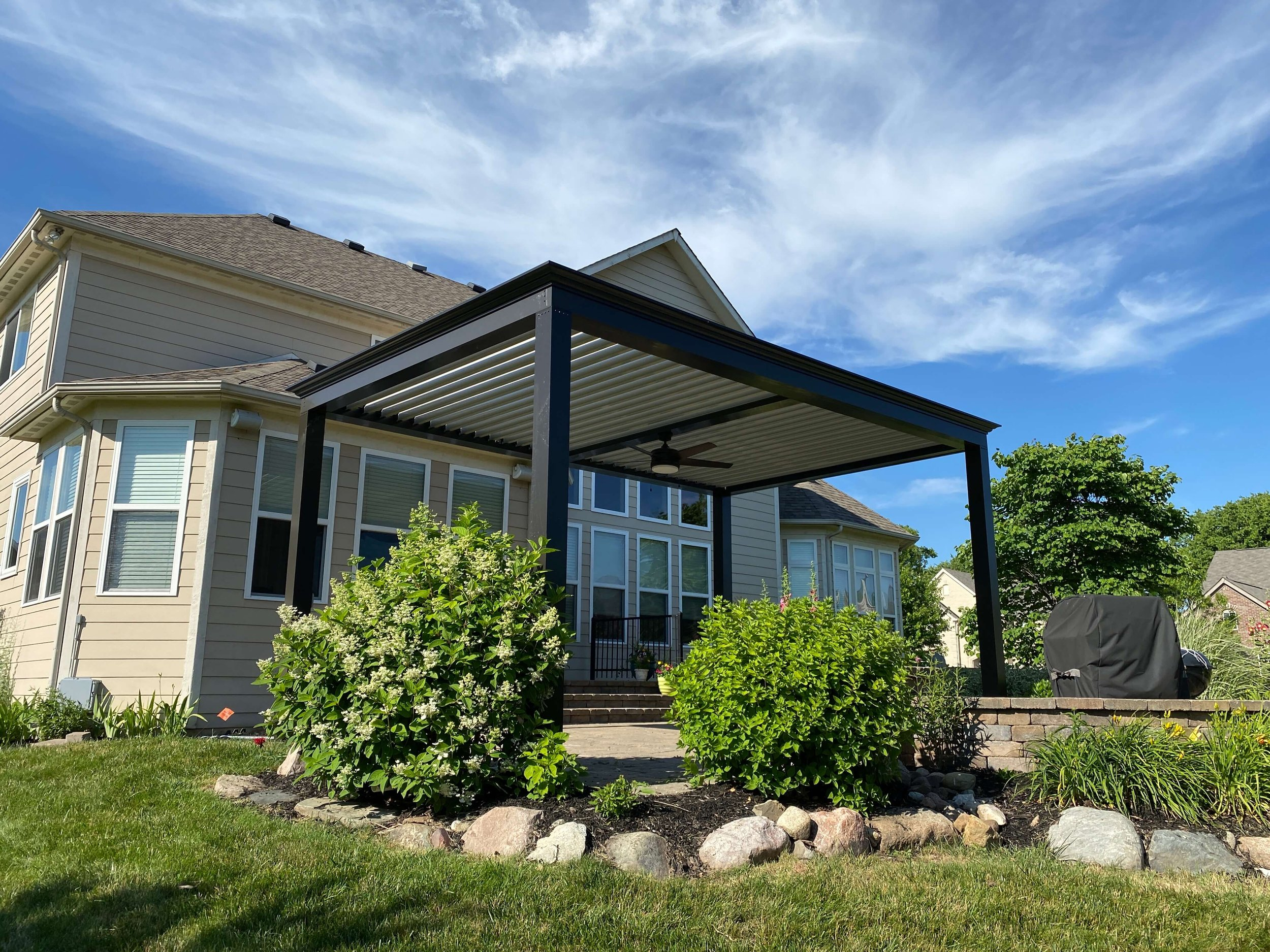 Through thousands of hours of research and data from customer reviews, we have compiled these as the top 5 Best Freestanding Pergola Kits.
1. The Luxury Pergola 12x16
The Luxury Pergola takes home the prize as being the best in business. Not only is it capable of the highest weather resistance and longevity, but it's easy to use and easy to install mechanism combined with great price give it a landslide for the #1 spot.
2. Costco Pergola
Costco pergolas come in a close second as they are able to provide for a cheap price. You get what you pay for in terms of product having possibilities for failure but with the amazing price Costco provides and accessibility this has to come in #2.
3. Steel Shade Pergolas
Steel shade pergolas provide a sexy look that is hard to replicate. They do not open and close to block weather but they do provide a good look. Considering their appeal they come in #3.
4. The Luxury Pergola 10x10
We couldn't stay away. The Luxury Pergola comes in at #4 again for their 10x10 due to the quality and elegance of this product. The only reason for being lower is due to the fact that the 10x10 is a smaller product to fit any size needed in any yard.
5. Gazebo.com
Gazebo.com has to take home a great #5 spot. A fine product overall just not exquisite at any specific category. This gives them the place at which they are at.
DIY Pergola Kits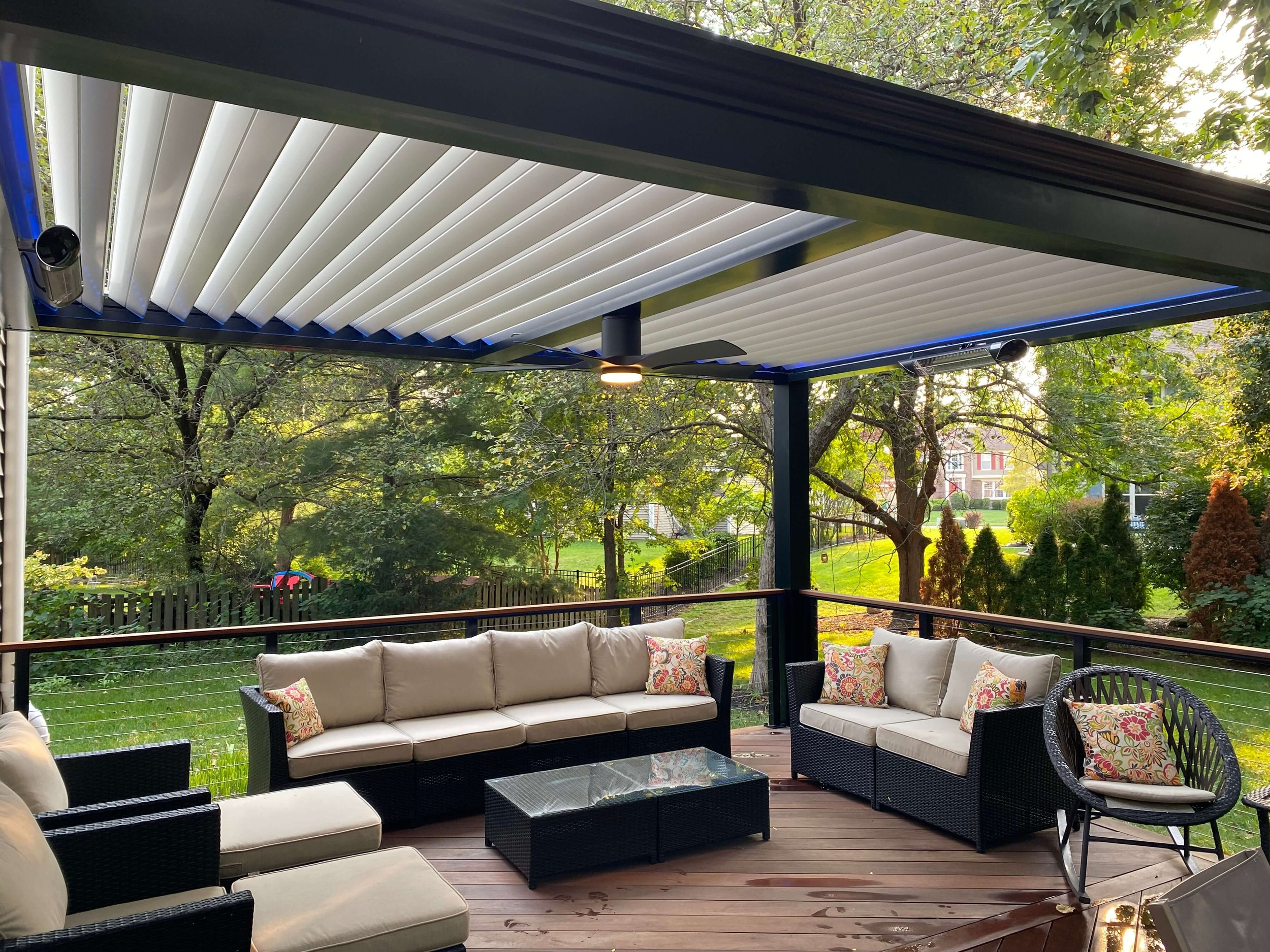 DIY Pergola Kits are popular due to the fact that you are able to save an extra amount of money just for installing it yourself. Considering easy installation with recommended vendors as well, it is no wonder that DIY is the route most home owners take.
What Makes A Great Freestanding Pergola Kit?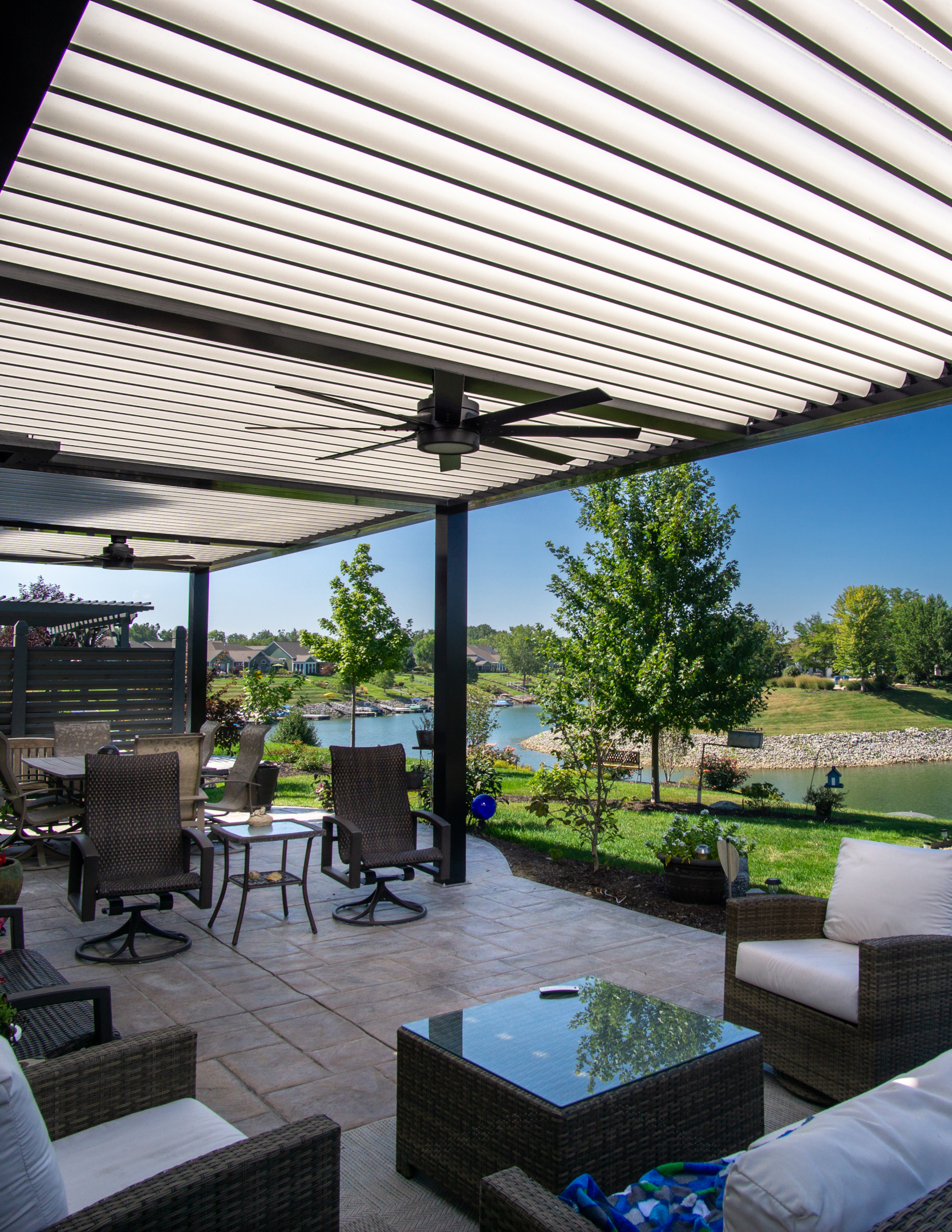 A separating factor that makes a great freestanding pergola kit is the fact that it must endure all weather. You want a product that is going to be reliable and not blow away at the first wind storm that you receive. Aluminum Pergola Kits are great for this as they have the durability of and weather resistance to take home this prize.
How A Pergola Kit Upgrades Your Backyard Space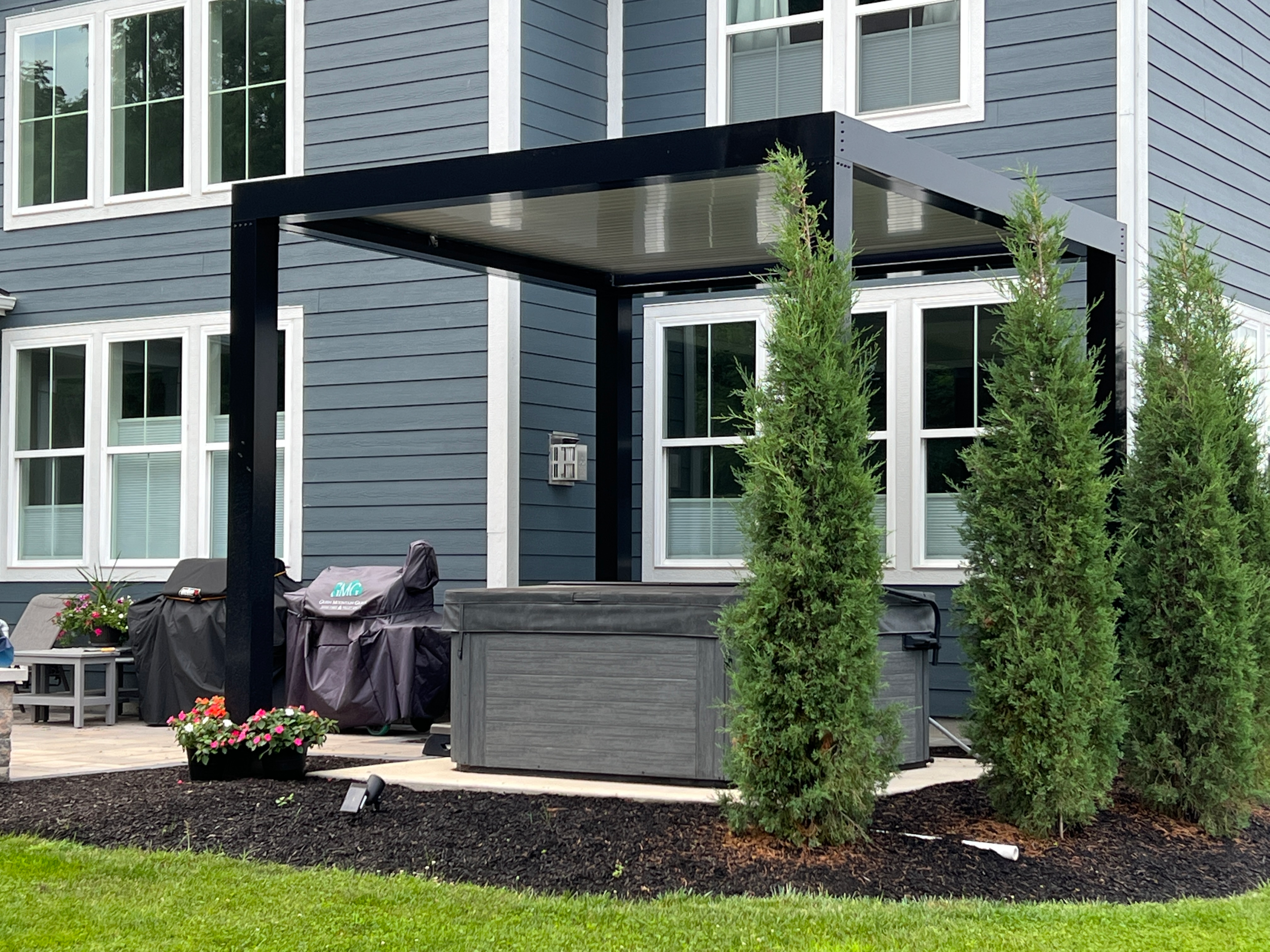 Pergola kits have been shown to increase home value, the way they are able to accomplish this is due to the fact that it adds another level of luxury to anyones backyard. Take this hot tub pergola kit in the picture above for example.
Complimentary Pergola Areas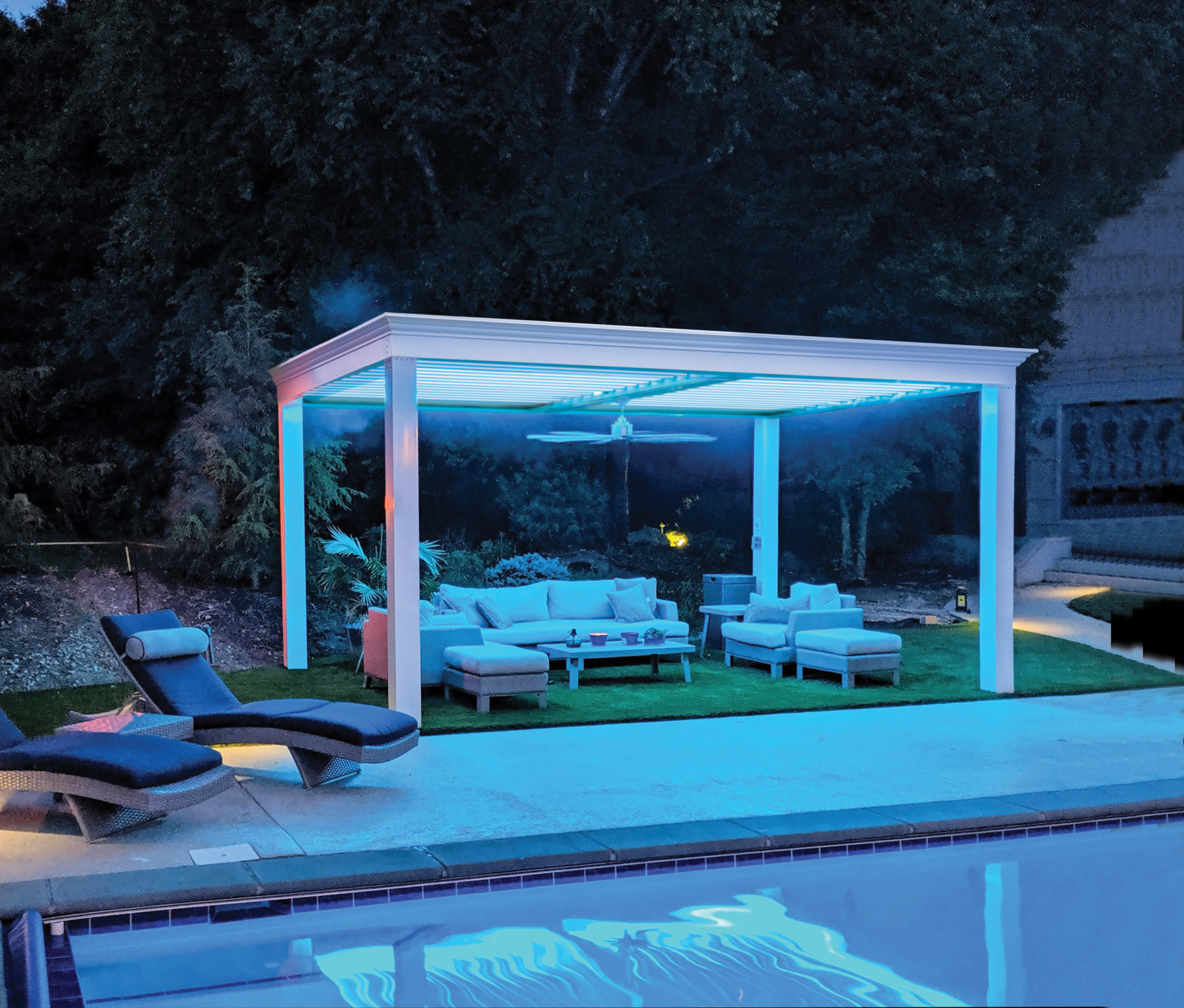 Pergolas can complete any backyard and be the missing piece that brings everything together. A few great ideas to compliment a pergola with are:
An Outdoor Kitchen

A Pool

A Hot Tub

An Outdoor Lounge Area

A Gas Fire Pit

And More
More Shade For Your Yard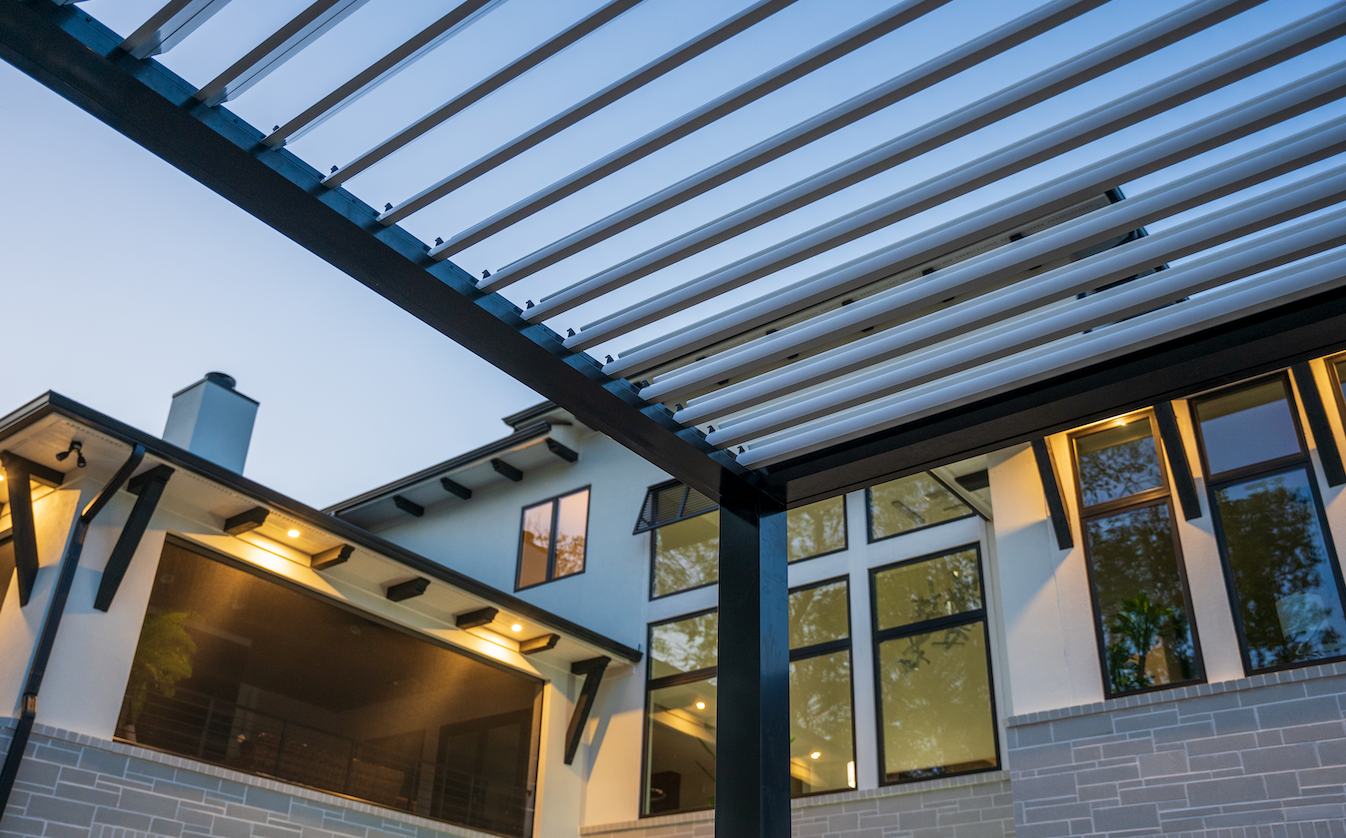 As you can see, there are luxury louvers on top of modern pergolas that make them weather adaptable for all conditions. This opening and closing roof allows for freedom to enjoy the outdoors regardless of the day or season.
How To Assemble A Pergola Kit (Maintenance)?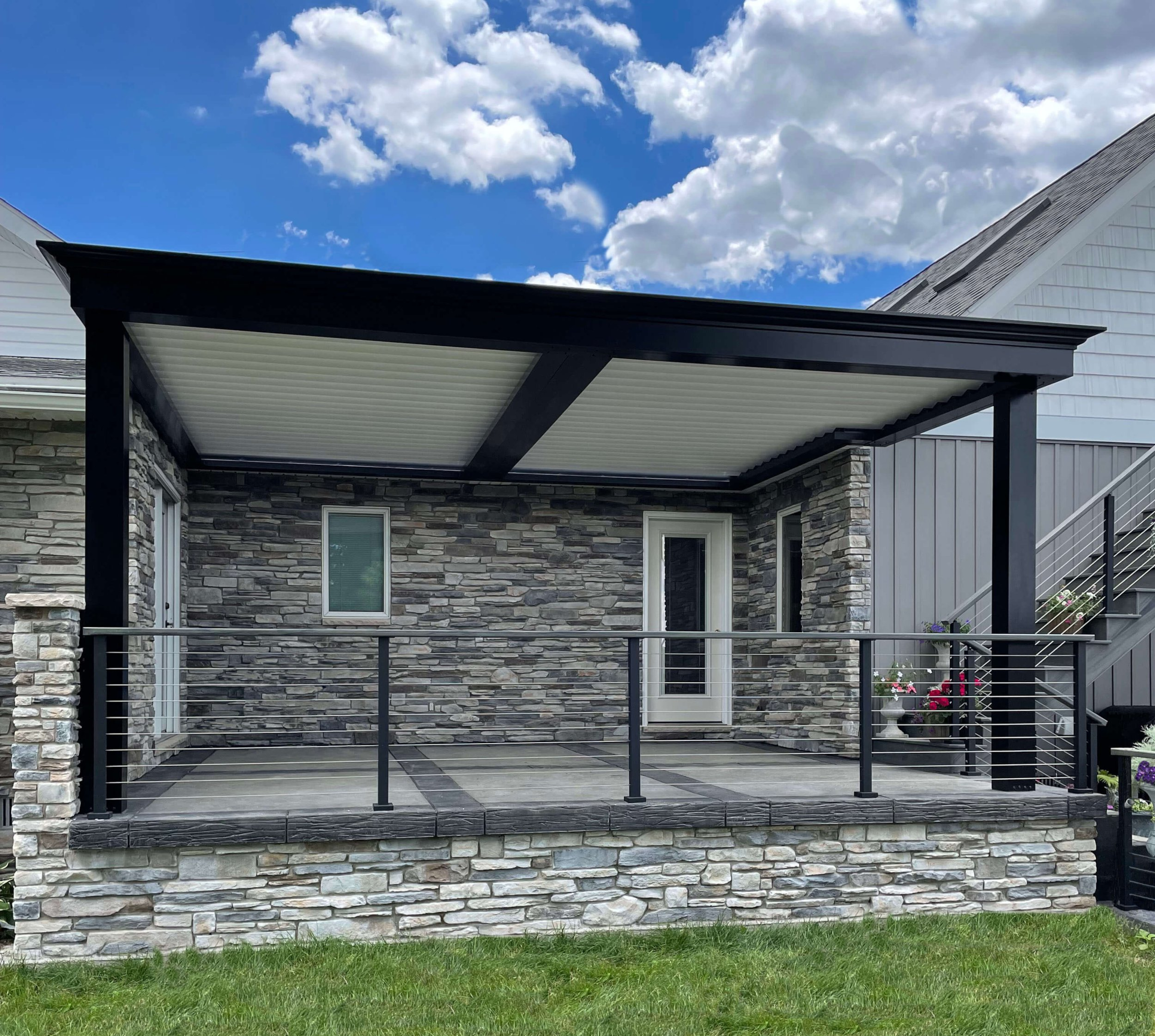 Pergola kits are easy to assemble and require little to no maintenance. Able to withstand 130 mph winds and 7000lbs pounds of snow load, the luxury pergola is one of the most durable products on the market.
Why Modern Homeowners Choose Louvered Pergolas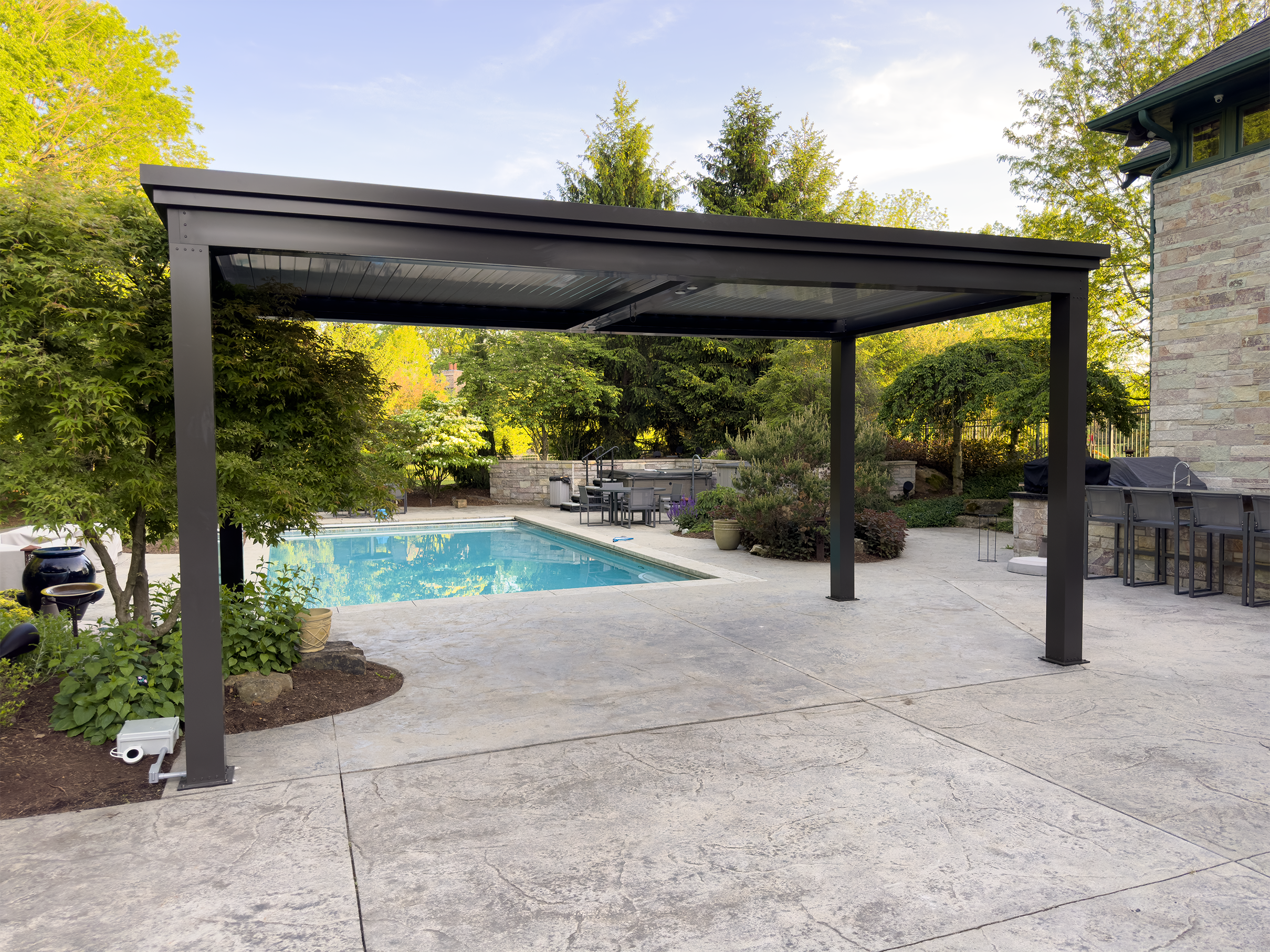 The reason why modern homeowners are choosing louvered roof pergolas is due to its incredible adaptability. In this ever changing world with ever changing weather you want to have a reliable product that can beat the times. Luxury Louvered Pergolas will withstand the test.
Thee, Free Standing Pergola Kit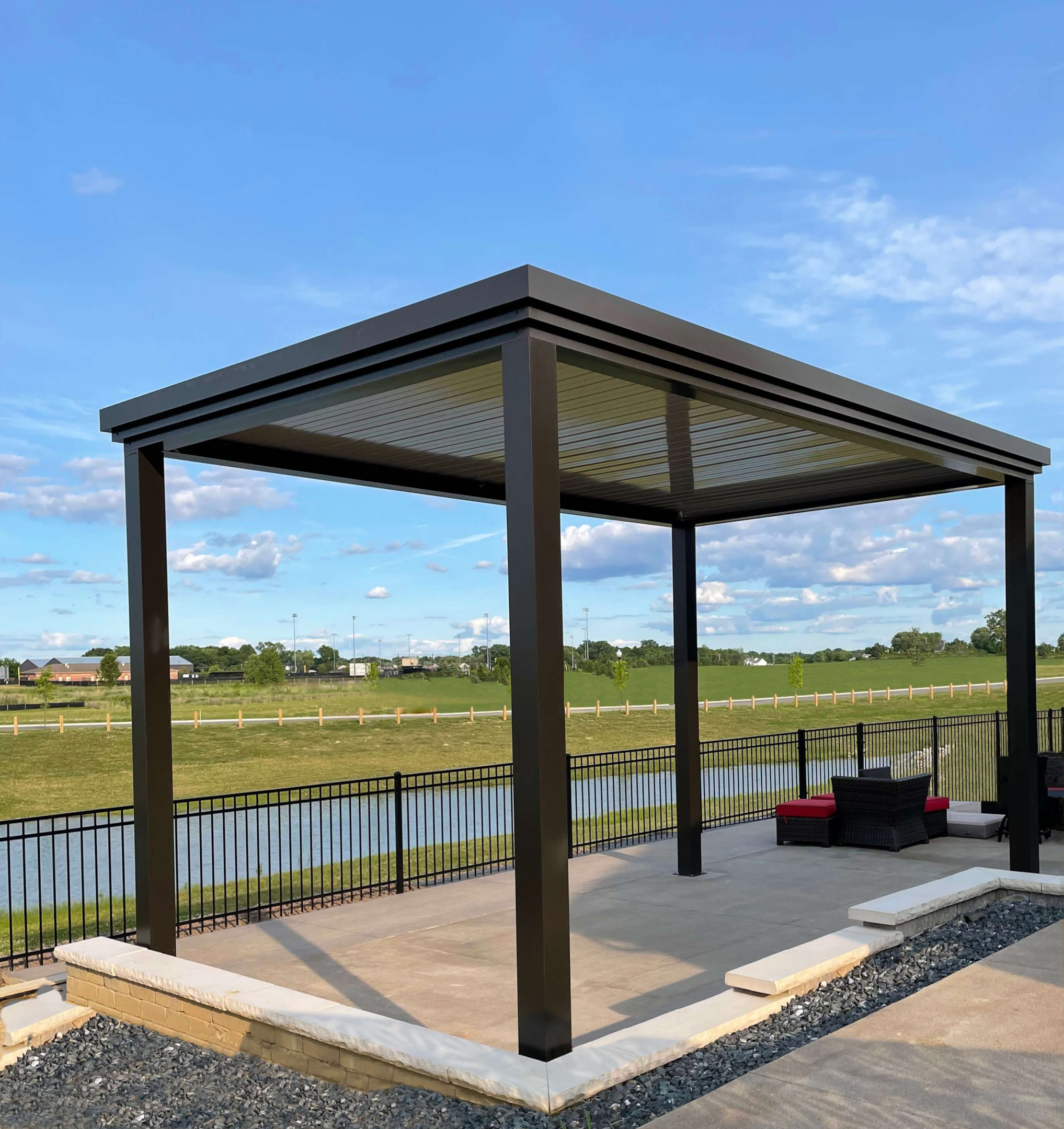 Freestanding Pergolas are here and they are here to stay. Home values will go up, home experiences will go up, and memories will be made. Allow yourself to sit back and enjoy the fruits of your labor as you relax in the shade of a luxury free standing pergola.