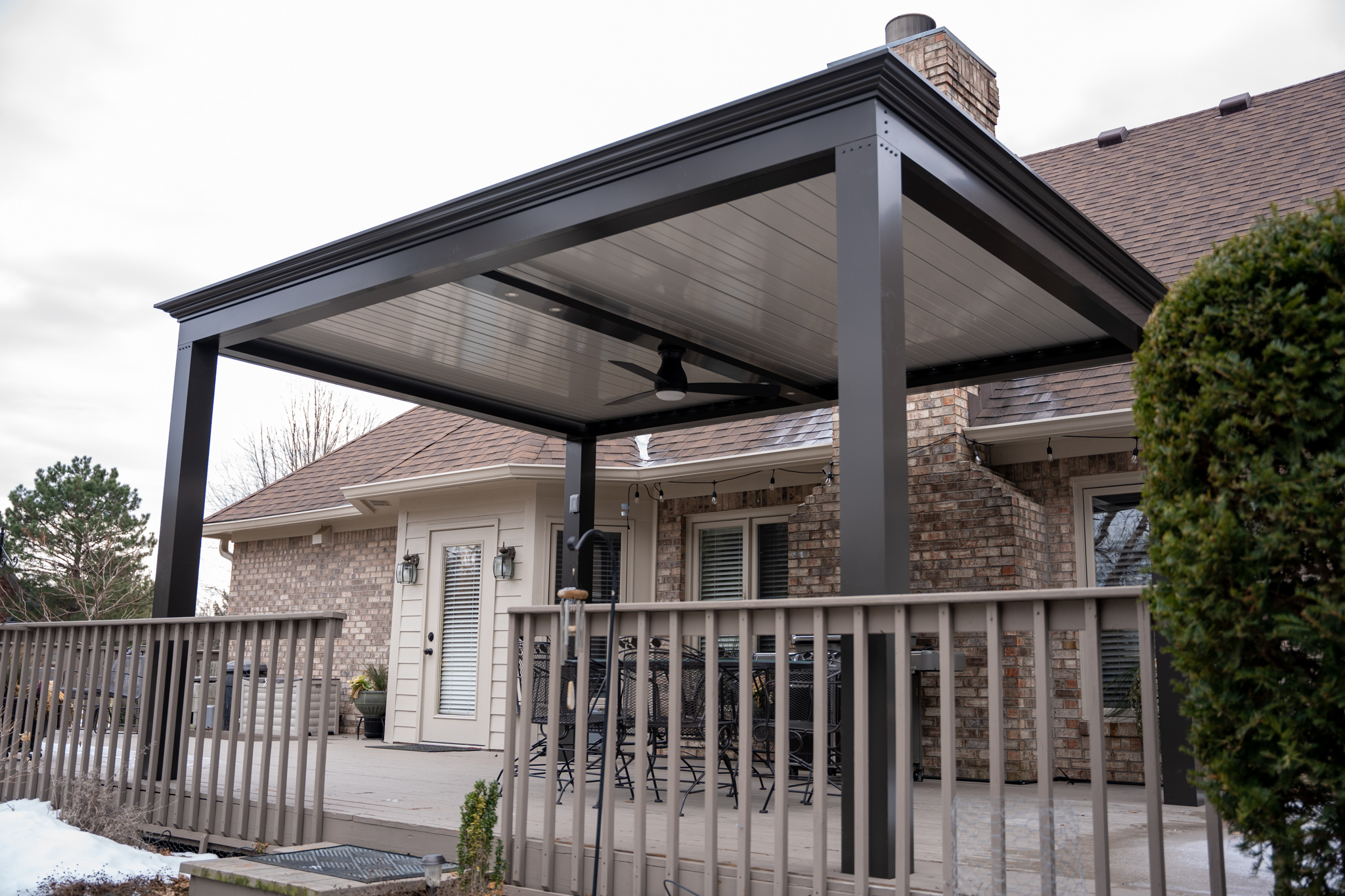 Listen to Article
A common question we get asked is "What about a custom pergola design?"
Brendan Elmore, Co-Founder of The Luxury Pergola says "If you want your pergola custom, be prepared to spend 3-4x more money, we create kits in variety of colors and sizes to fit anyones needs and save people money."
Pergola Kits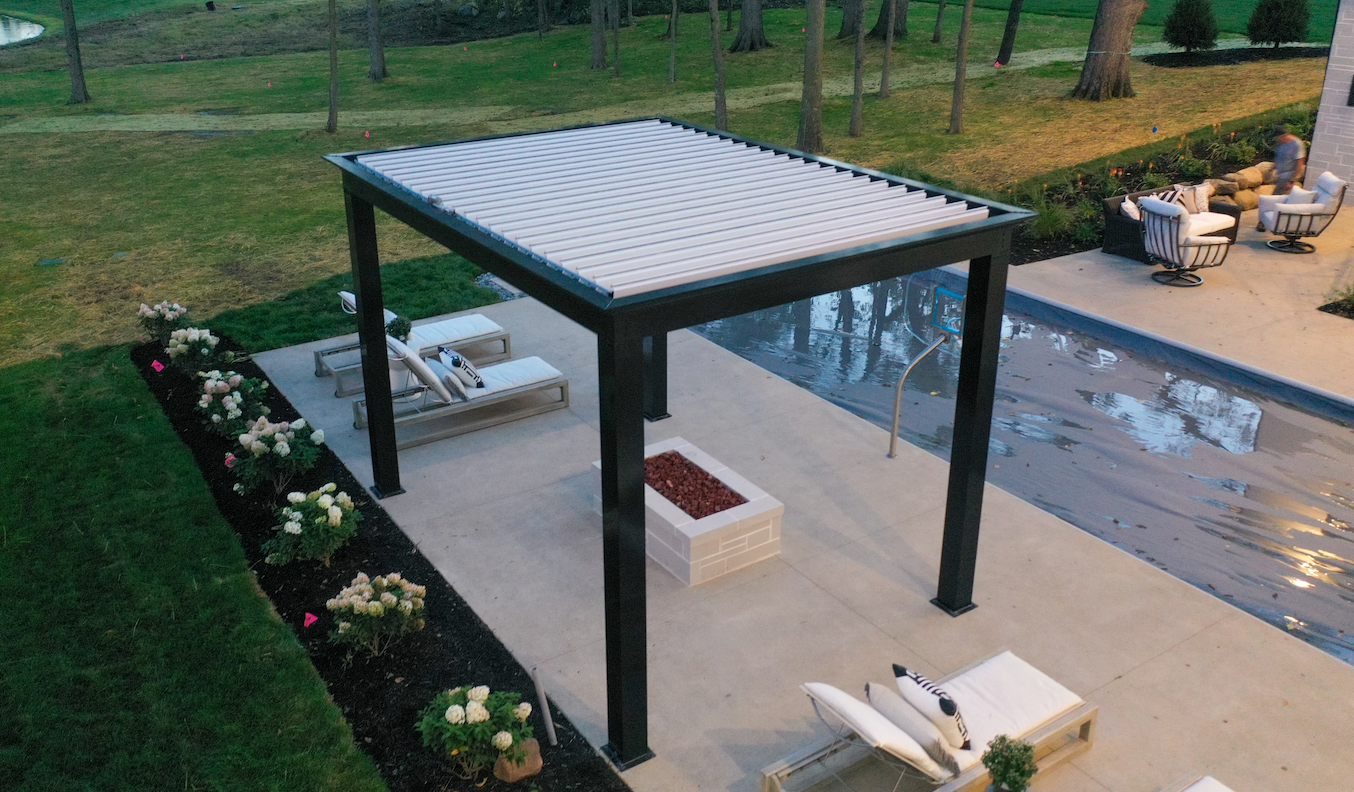 Pergola kits are the modern touch that saves money and gives the same level of luxury as many other more expensive home remodels. It will increase home value and give your backyard the wow factor you want to host as many people as you like.
Enjoy your backyard in any weather, wether that be rain or shine the modern pergola can fit whatever your needs are for the day. Drink a glass of wine on a late afternoon or dive into some watermelon in a mid-July day. The luxury Pergola adds elegance to The Human Experience.
Wooden Pergola Kits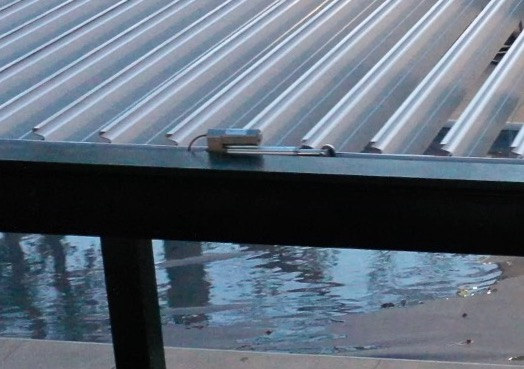 Wood Pergola Kits are not a popular option in the industry. Reason being is due to the fact a wood pergola will rot and create more problems than solutions down the road. Depending on the kind of wood you get as well, it may even be more expensive than aluminum regardless making it a no brainer to go with metal.
Wood Pergolas are popular for the old ages but the reason you don't see a lot anymore is because they all rotted and fell apart, modern pergolas are made to last and increase your ROI on your home so you can make money no matter where you live.
Custom Pergola Kits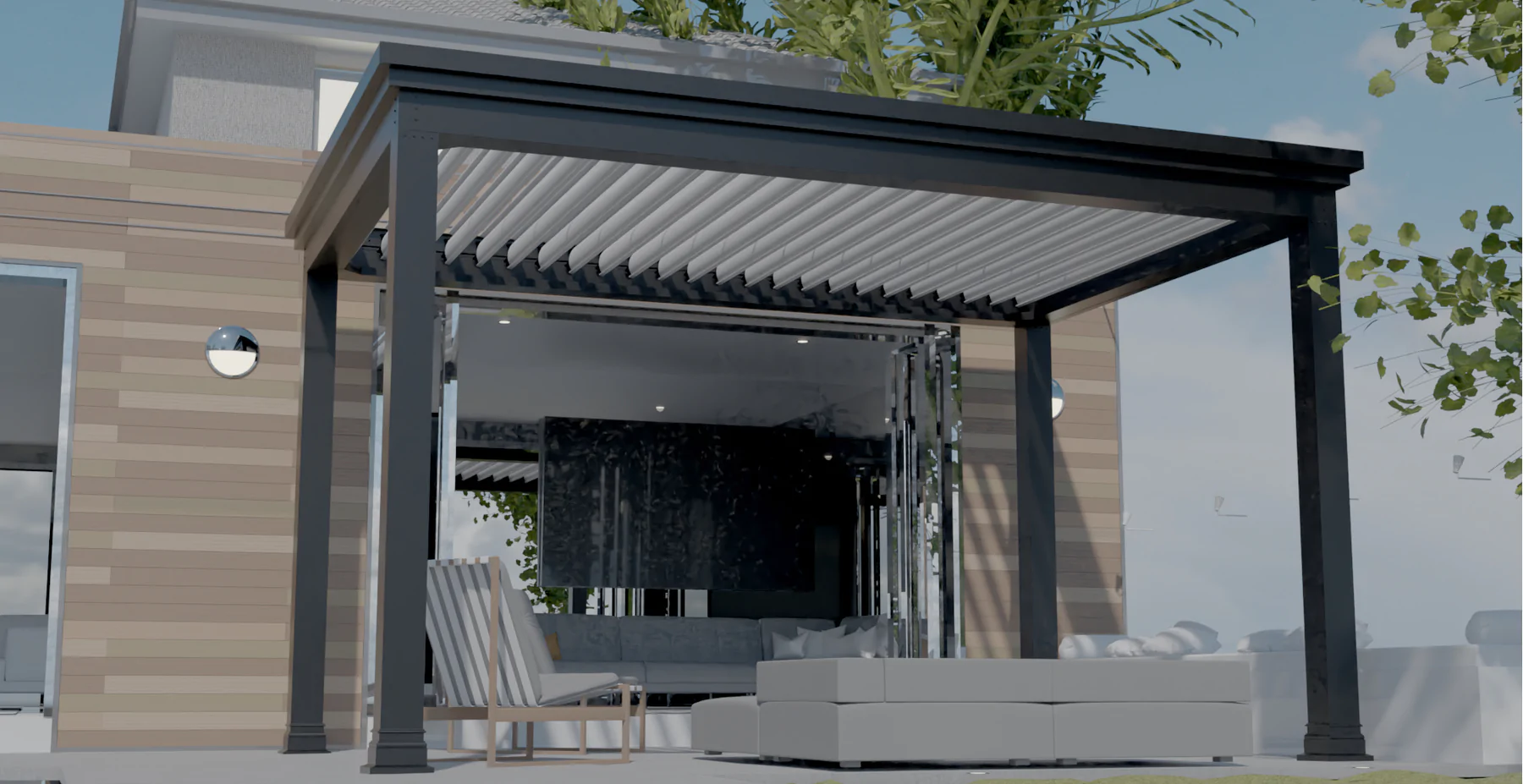 Custom Pergola Kits are a popular option for the ultra wealthy, but it depends if you would like to spend $50k-$60k on a Pergola or would rather spend $10k-$20k instead. This is why regular size matching kits have become so popular. It fits your perfect size home without needing to go into pother custom designs that add money for no reason.
You do not need to lose money in all the details, you can get 95% of the job done for 30% the price with regular pergola kits rather than going with a high ticket custom for simple minor changes. You are not building a pergola to hold up the weight of a California redwood, simple and effective designs are often the best path.
Aluminum Pergola Kits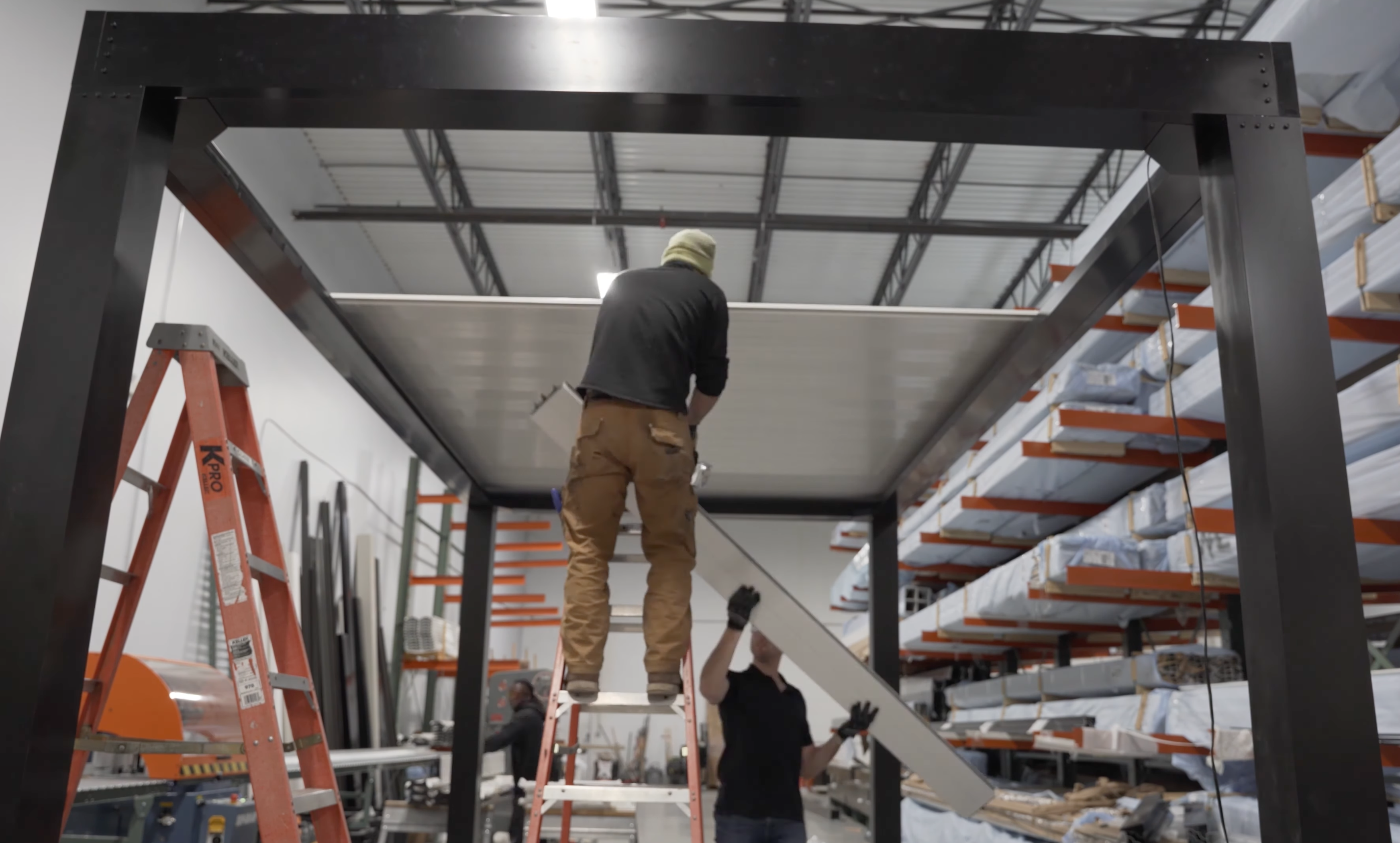 Shade structures add value to any home. Aluminum pergola kits are able to have the strength to withstand up to 130mph winds and 7000lbs of snow making it the most durable option out there. Standard size pergola kits can range from anywhere from 8 x 8 to a 12 x 20 size and fit anyones preference for color and trim.
Pergolas are able to open and close as well creating variety for the ever changing weather that we experience on a day to day. Whether it is raining, thundering, hailing, blizzarding, or in the middle of a heat wave aluminum pergola kits withstand the test.
Outdoor Space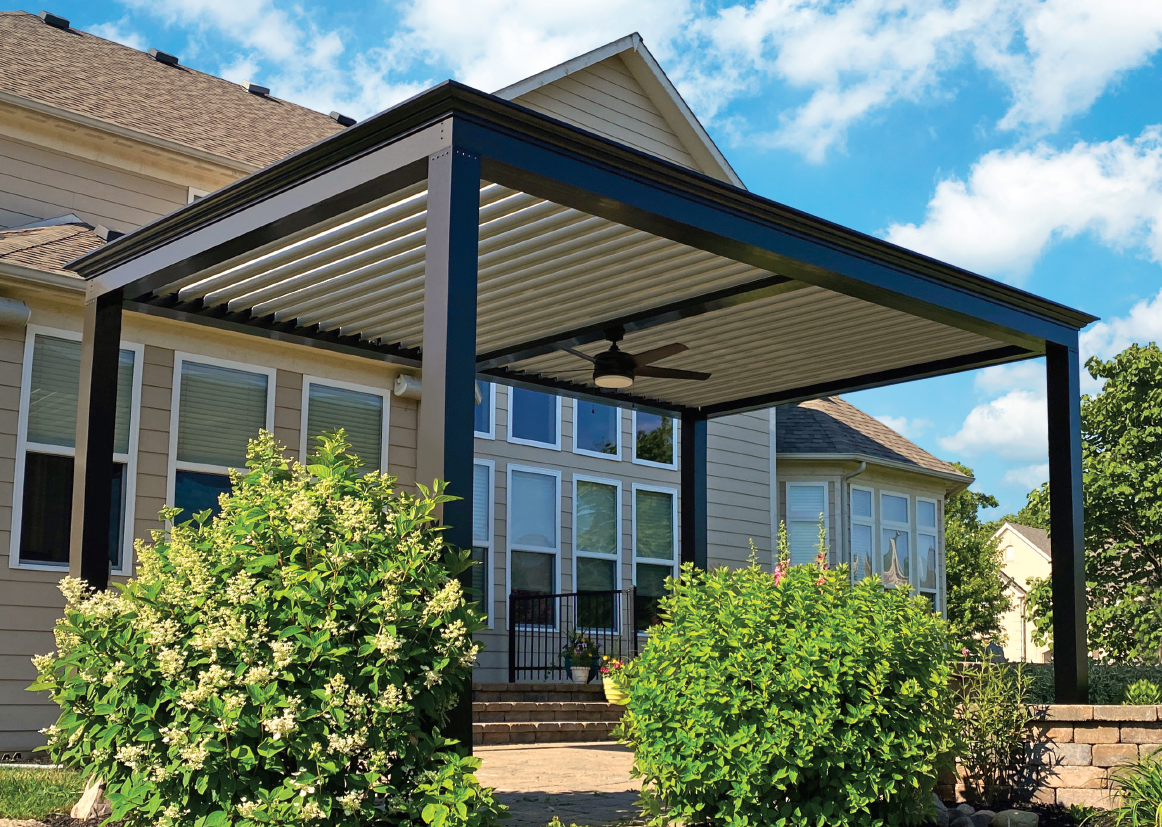 You want your outdoor space to match your home. Pergola kits come in several colors to be able to match and go well with any home.
Adding some plants around the pergola can also be a nice touch as seen within this depiction above.
Attached Pergolas vs Non-Attached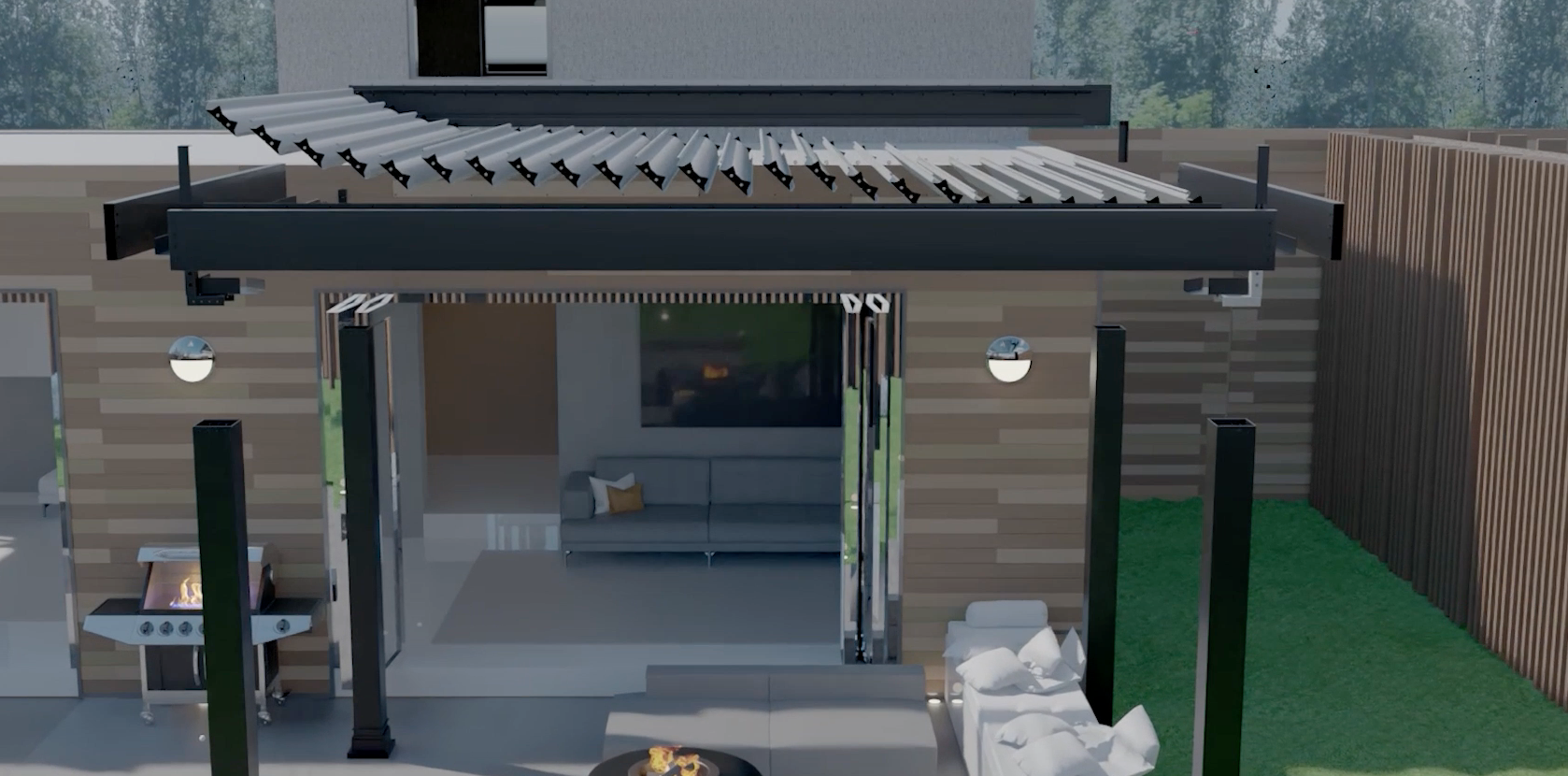 In simple terms, a free standing (non-attached) pergola is the way to go for several reasons. It is easier to build, requires less yearly maintenance, is prone to very little to no problems. Attached pergolas will often cause leaks in the roof unless you have a very good craftsman who is able to give the time and energy an attached pergola needs.
Your Outdoor Structure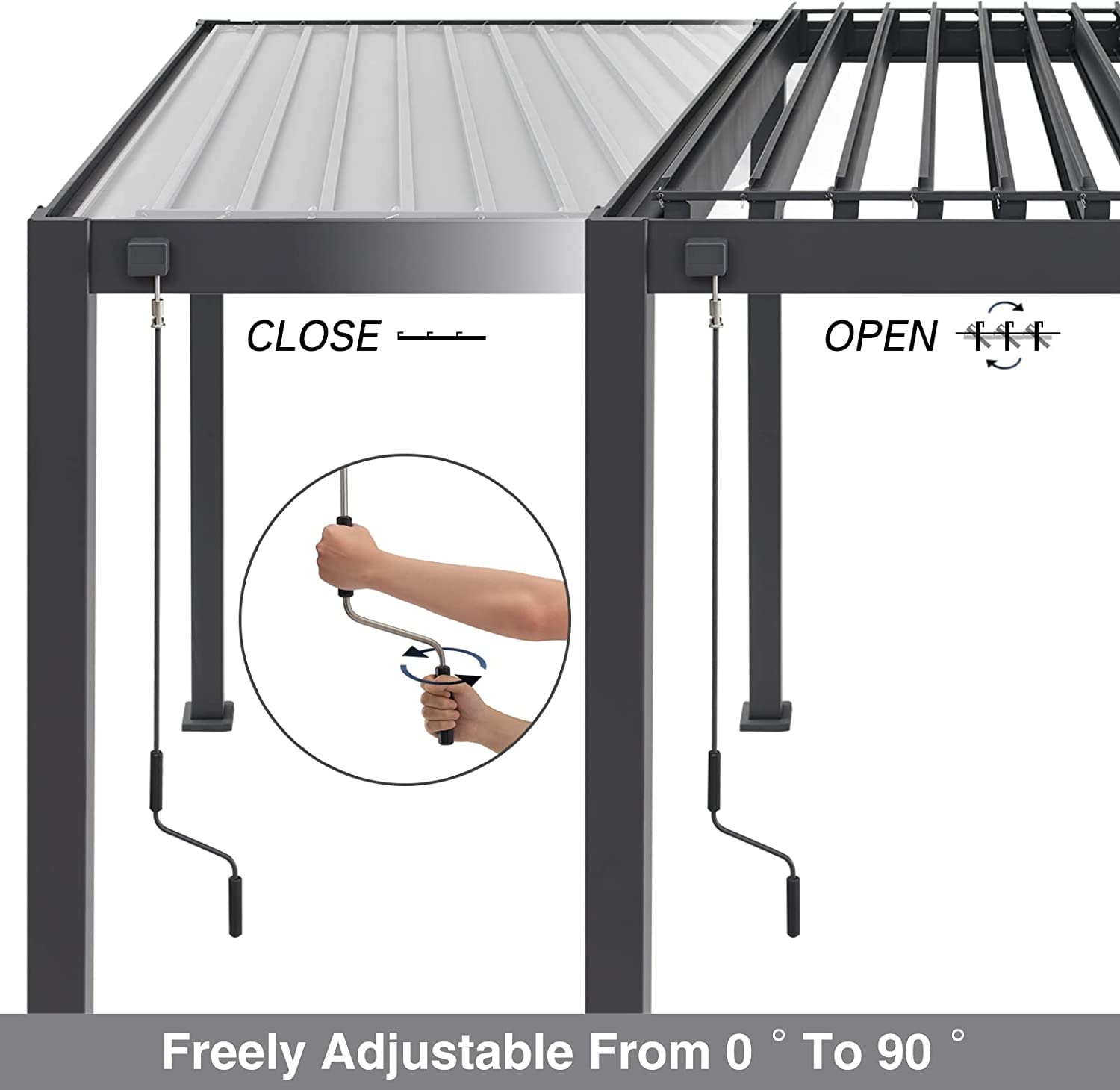 This is an example of what a non motorized pergola looks like for a basic outdoor structure. This is lightweight and nice for several reasons, but will not withstand storms, you can see a video of a regular pergola vs. the luxury pergola in a YouTube video attached below.
Outdoor Living Envisioned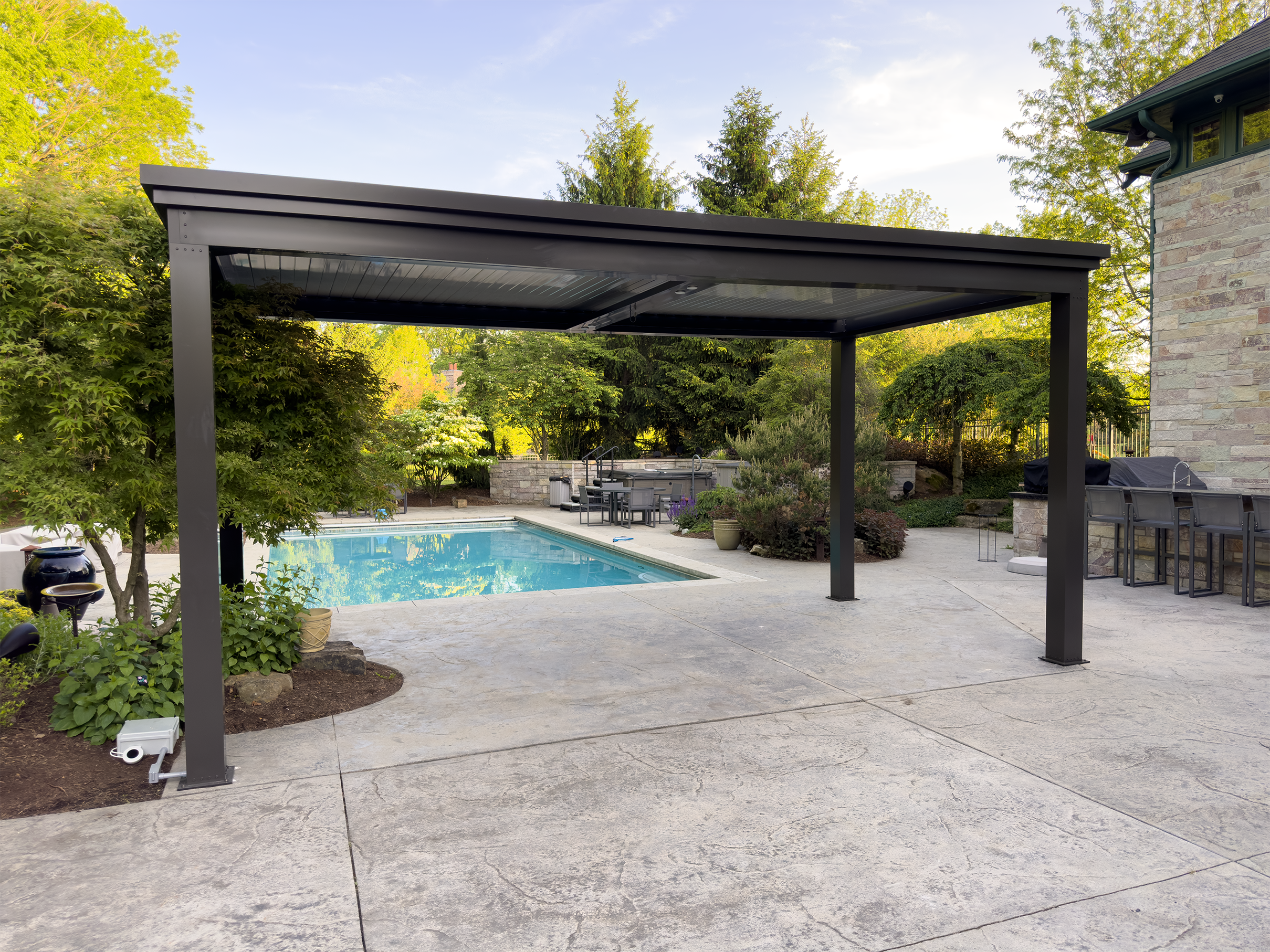 The custom pergola kit of your dreams does not have to be custom at all. Various sizes and colors will create the exact specifications you need to get exactly what you want to fit your backyard.
Above you see an example of a pergola kit installed next to a pool to give the best solution to a modern balance in an individuals backyard. Many add fans and lights to the kit to even get further into the customization to match an outdoor kitchen or outdoor furniture underneath the space.
Real Shade

The best pergola design will often include a fan to provide even more regularity to an outdoor living space. This helps with the custom design and still has an easy installation process for the customer.
Materials for fans are always recommended to be entirely waterproof. Wether it is on a deck or a patio assembly with a fan will increase the value to your home even further and provide another level to real shade.
Low Maintenance and Easy Installation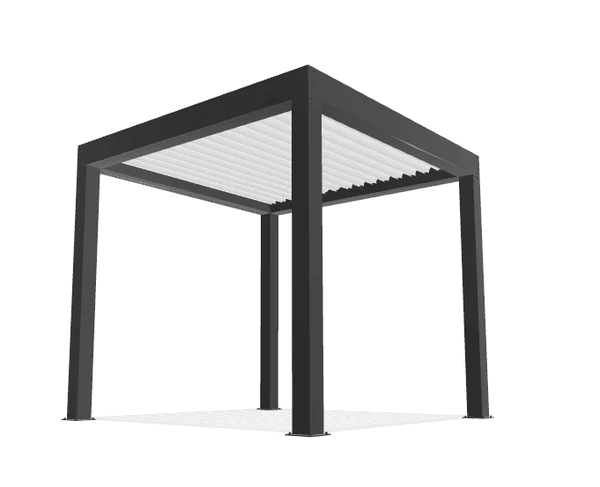 Now that you are ready for your new pergola; installation (especially for free standing) will be easy as can be. There are guides all over the internet as manuals that come in every package. A smooth and correct process can get done in as little as a day, a few requirements:
more than one person

regular home tools (drill, ladder, etc.)

ability to lift 75lbs

a great attitude
Free Standing Next To A Pool Area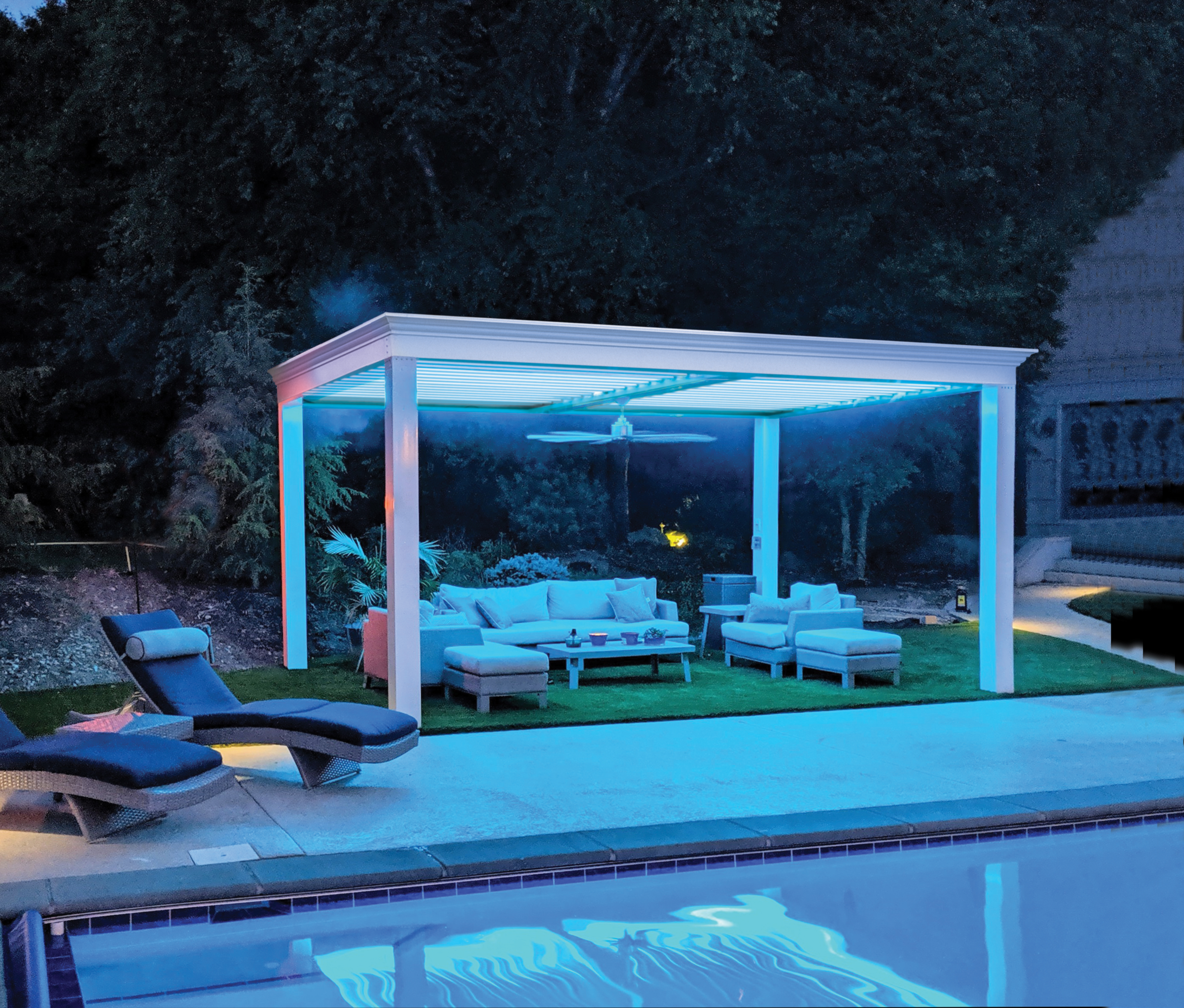 One of the most common and popular options is to place a pergola kit next to a pool area. This increases the wow factor of a pool even more and makes outdoor hosting simple.
Hot tub pergolas are also created to make a beautiful cover to enjoy the warmth of your hot tub in.
Shade Coverage for Outdoor Spaces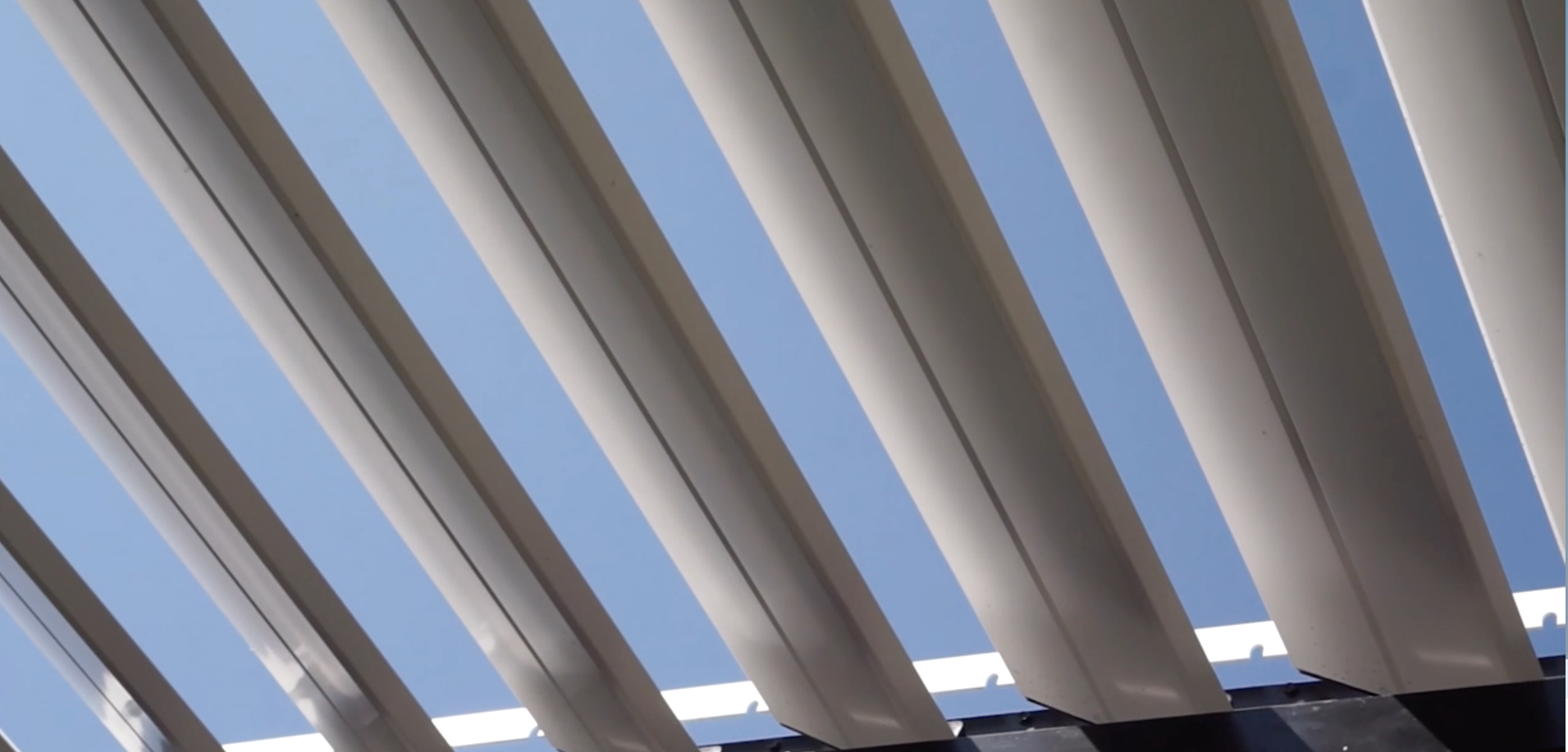 As the days get warmer and longer with summer and then colder and cloudier with winter, having a pergola adaptable for any season is a great fit to have versatility in your backyard. Enjoy in all 4 seasons and feel the luxury of the luxury pergola.
Modern Pergolas Make Patio Cover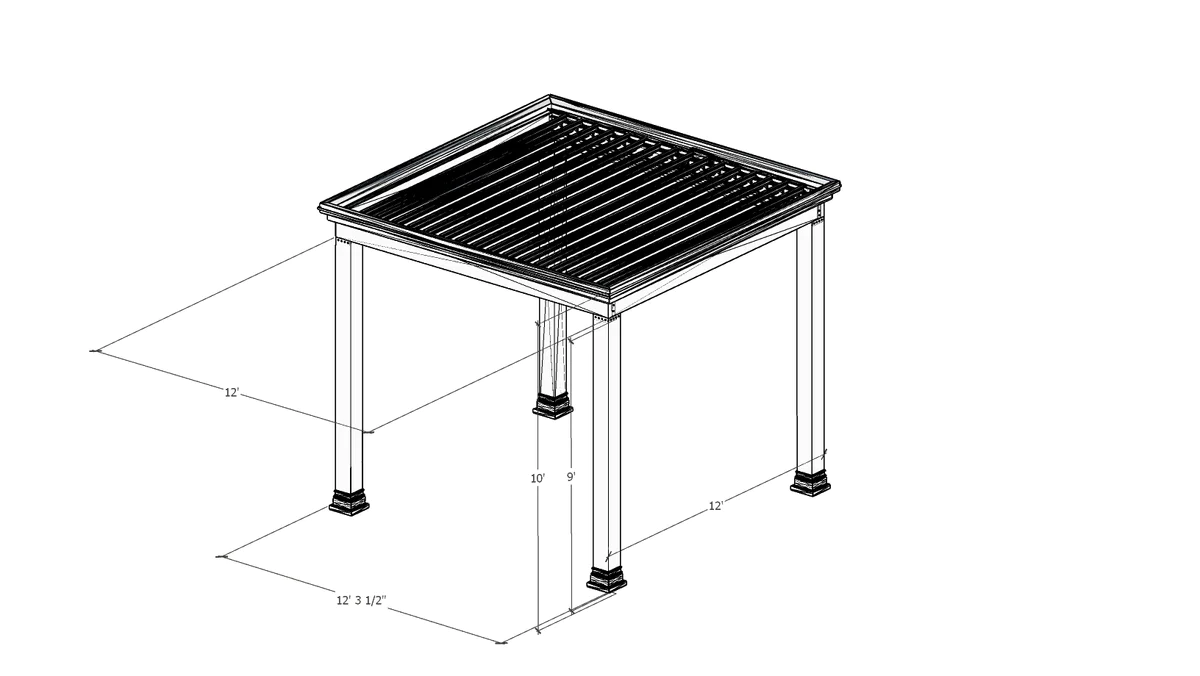 One of the most common customers are individuals looking for a great patio cover. This kit as shown in the diagram makes the perfect fit to cover your patio. They are simple to install, great for home value, and great for all seasons which is why it is the modern craze and hottest outdoor trend.