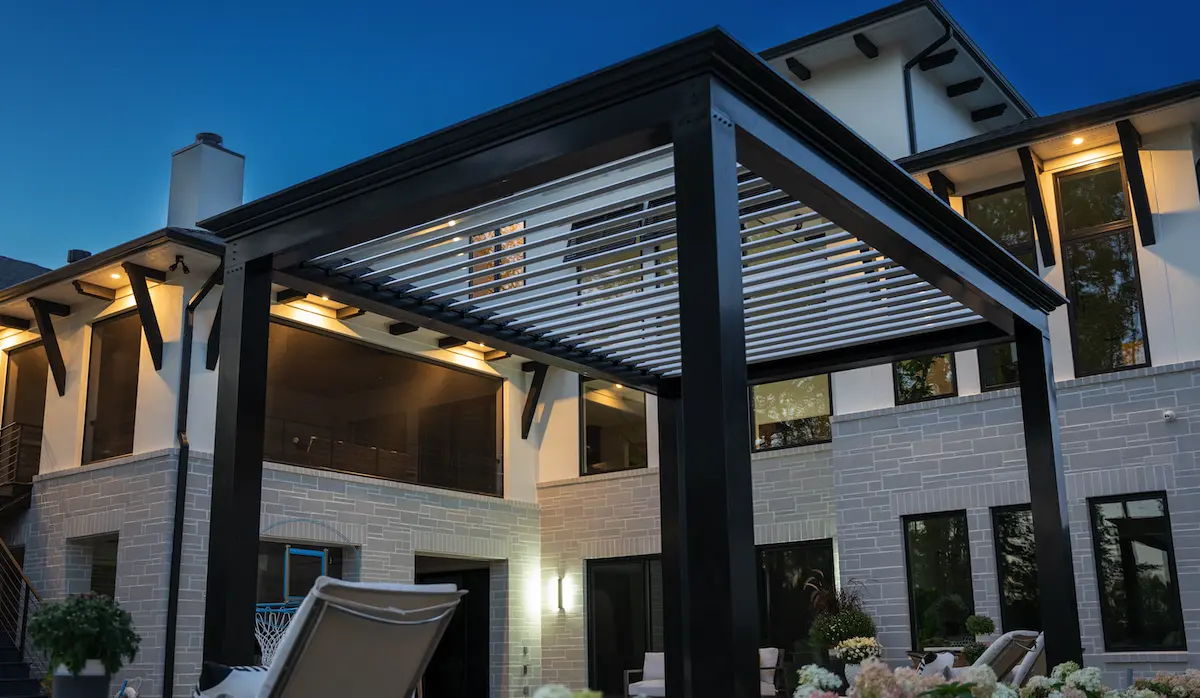 When looking for ways to enhance your backyard living space, a pergola is the perfect outdoor solution for you. A pergola is a charming outdoor structure that adds both functionality and beauty to any outdoor space. If you are wanting more building inspiration, ordering a 16x10 is a great pergola project that you and your family will love.
Regardless of you are wanting a place for entertainment or for relaxation, a 16x10 pergola is a great choice to improve your outdoor space and make lifelong memories. You can order a pergola today and fully customize the dimensions of the pergola that will fit your needs and preferences.
Table of Contents
What is a pergola?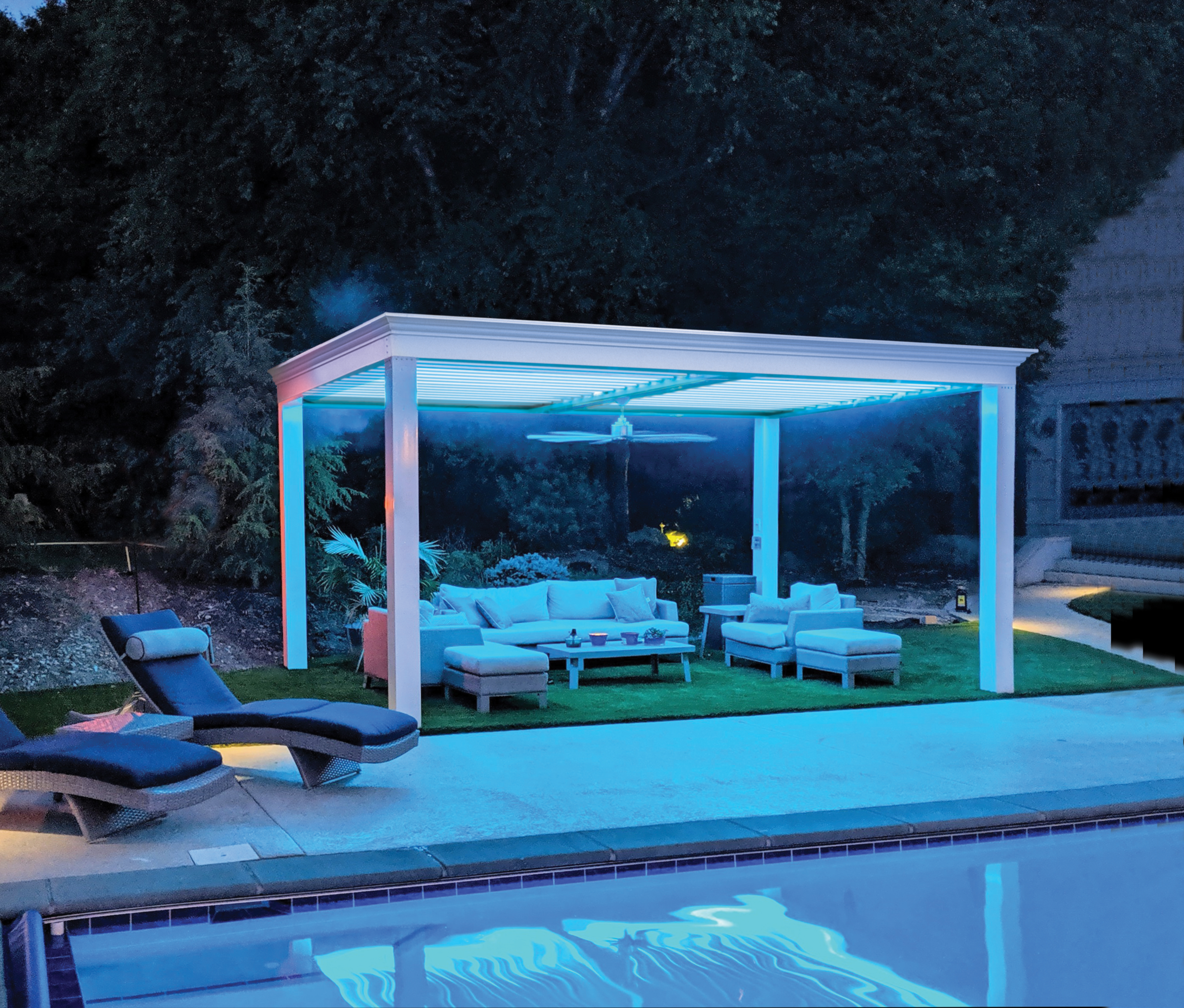 A pergola is an outdoor structure, with key components consisting of four vertical posts that supports one or multiple beams and a louvered roof. You place the louvers into the proper position of the pergola and then place tightly together. Once they are placed together, the roof can be easily adjusted to be opened or closed by using a remote control.
You may notice that other competitors will have rafter ties and rafters fit with their pergola. However, The Luxury Pergola has made your experience more luxurious with motorized louvers instead. This will give your pergola a more enhanced aesthetic look and will make it easier for you to adjust your louvered roof instead of dealing with the top rafters.
The 16x10 pergola is very easy to assemble, as all the pieces are pre drilled. No need to drill your own holes or drill pilot holes, we've taken care of that problem for you! The pergola is constructed to give you an easy way to relax, adjust the louvered roof, and protect you from the elements.
Stainless steel hardware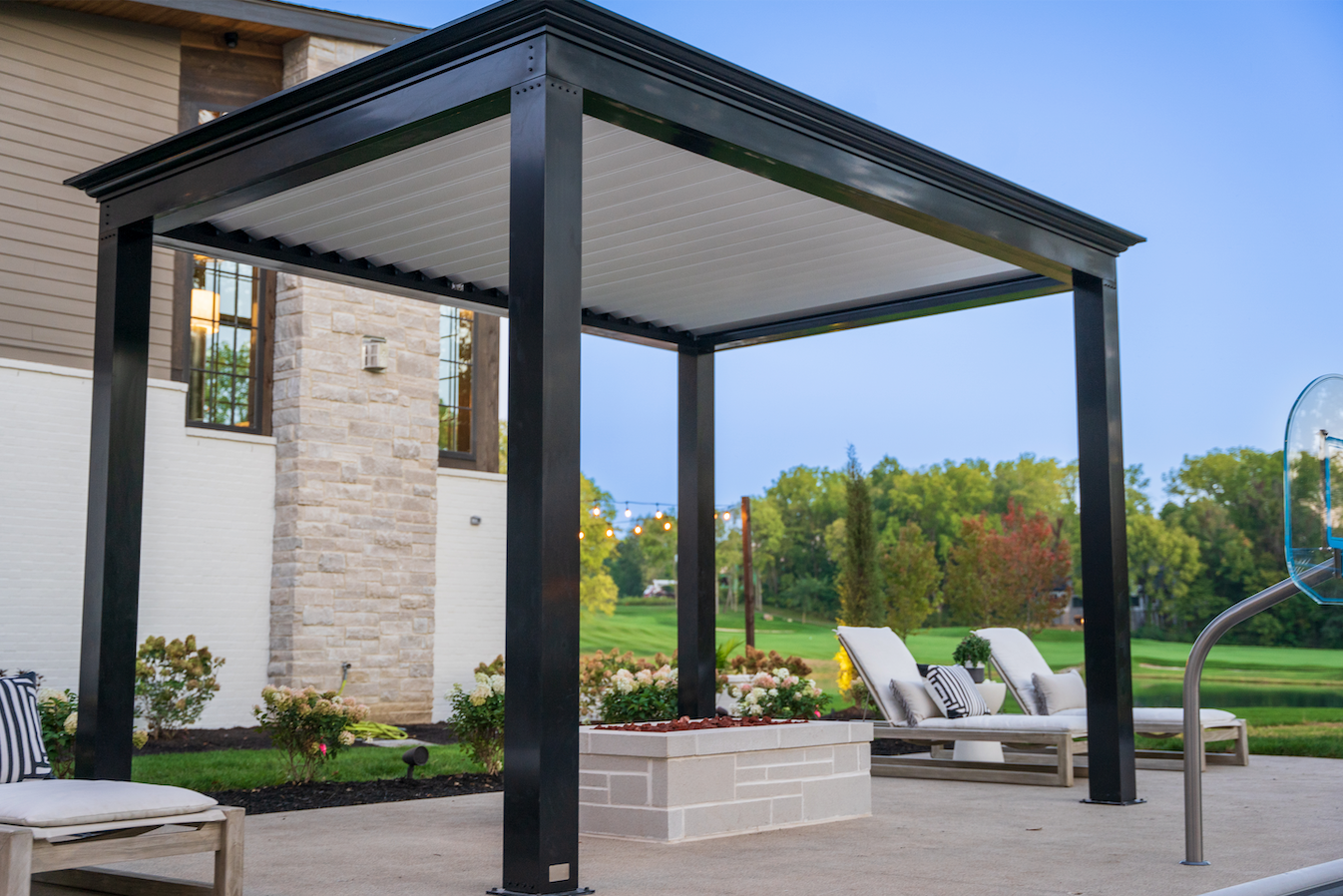 In the construction of pergolas, the material play a vital role for their durability and longevity. Each of our pergolas are made of aluminum, which is a very popular type of material used considering how durable, versatile, and requires little maintenance. To further protect the pergola structure from the elements, a few coats of powdered coating onto the aluminum is all you need.
All the posts, support beams, and louvers are very sturdy and will last for many years to come. Not only aluminum is the best kind of material used for our pergolas, they will last much longer than other materials that competitors will use, such as vinyl or wood.
Shelter for outdoor space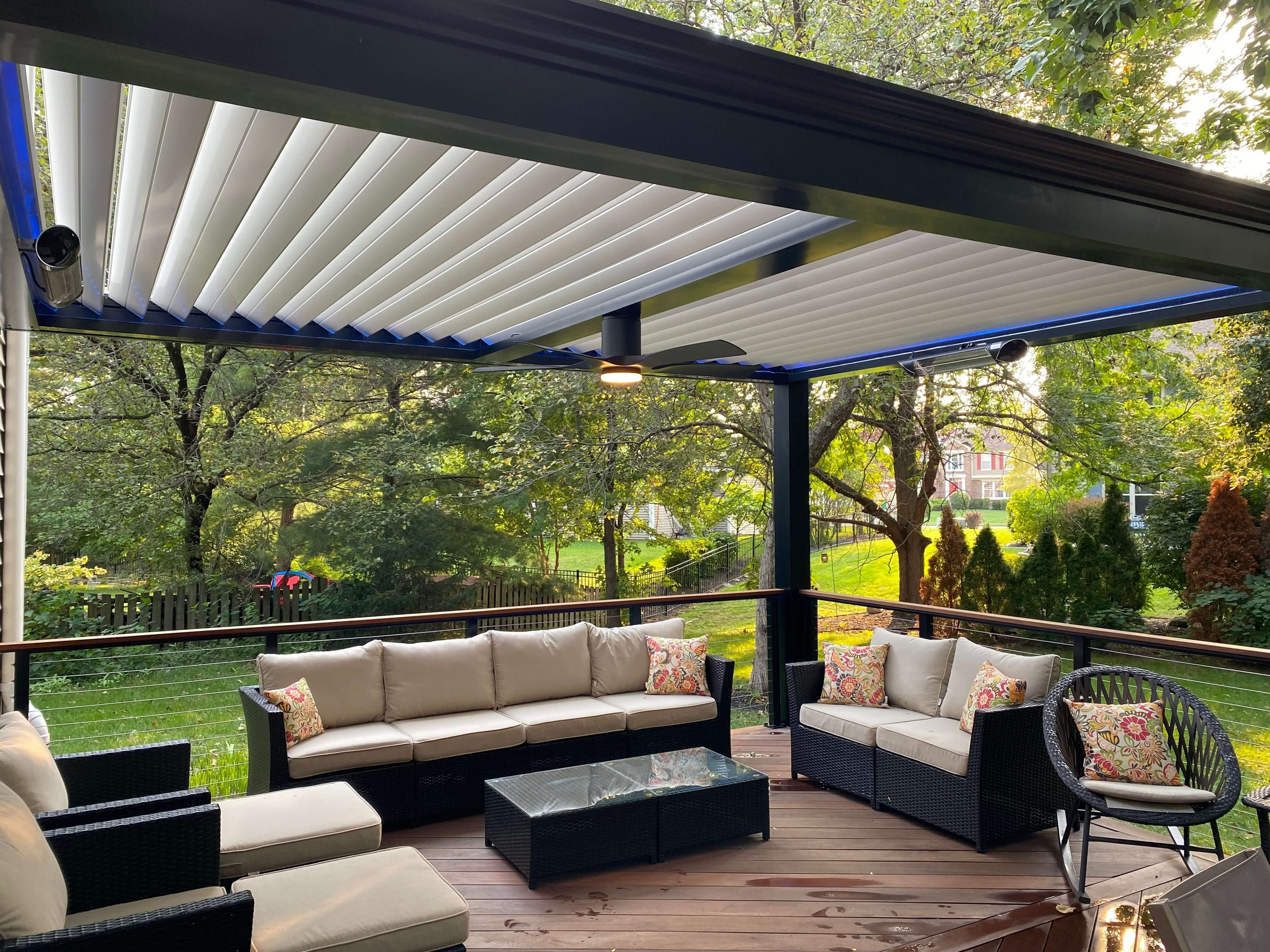 The Luxury Pergola works very hard to produce high quality pergolas that provide shade, as it allows you to enjoy your backyard space better while also having cover from the elements. The 16x10 pergola can withstand any kind of weather condition, such as excessive sunlight, heavy winds, rain, or snow.
The Luxury Pergola now offers the chance to have attachable screens with your pergola. This would be a fantastic addition and improve your spirit level, as it would significantly shade elements and especially insects from getting into your pergola area.
These screens are very easy to access and operate. Each pergola constructed is built to include a handle which will hang and be placed next to the screen. By including a screen with your pergola, you will have a more private and enclosed area that you, your family, and your friends will enjoy all year long.
Design/Style options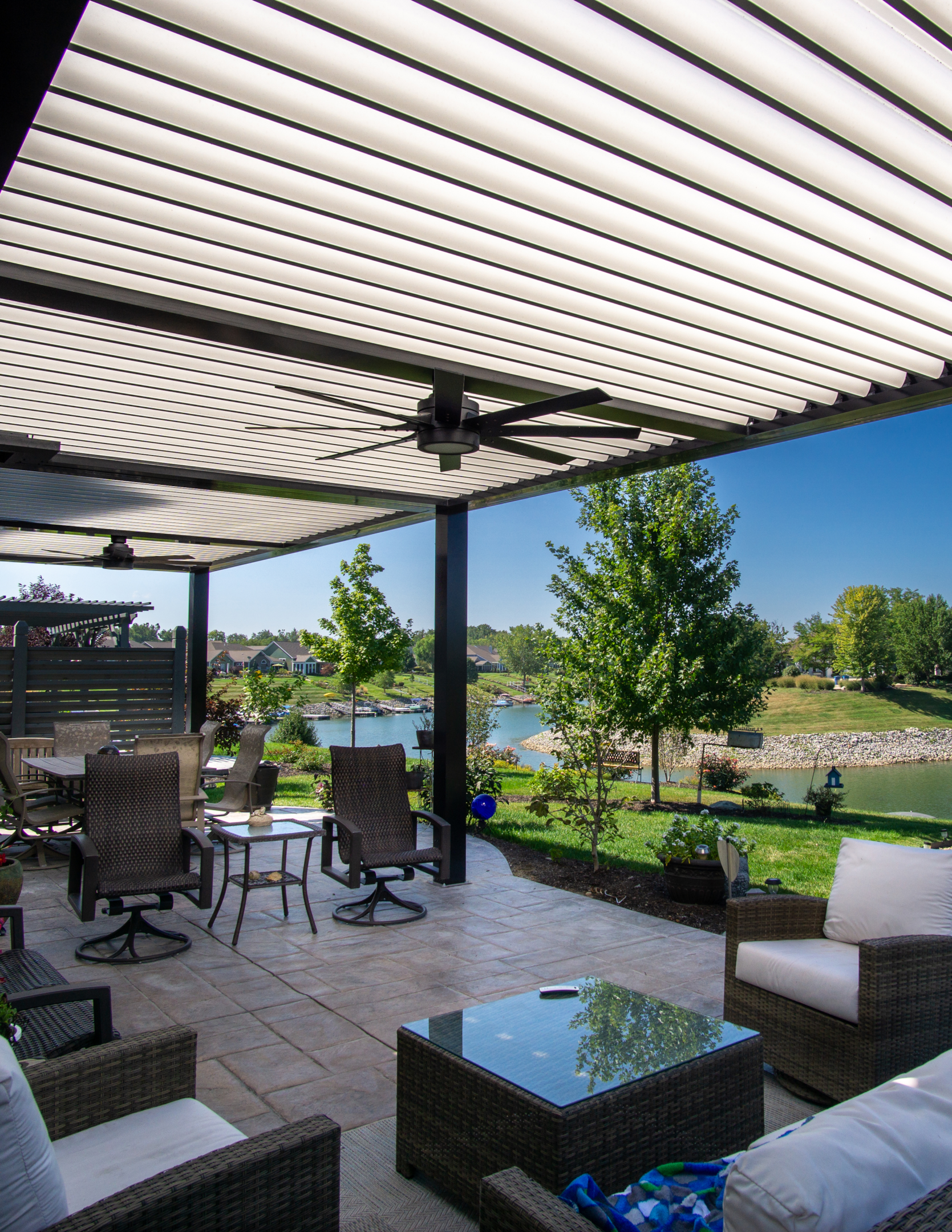 For the design/style options, there are many aspects that should be looked at. You will be able to fully customize your pergola that fits your needs and preferences. Such customization components include color, crown moulding, and functional features. The Luxury Pergola works to give you plenty of options to choose from so that you can have the freedom to transform your living space into a space of comfort and style the way you have always imagined.
The pergola color will vary from white, black, and bronze. If you have louvers included, the same colors will apply plus stone as another option. You can either pick a color that will have it blend in with your backyard or pick a color that will make your pergola stand out more, the choice is yours!
For the crown moulding, there are a couple options that you can pick. You can pick either traditional or contemporary trims to add to your pergola. There is also a base trim located at the bottom of each post and will offer more protection. These trims improve its overall appearance and are designed to complement the chosen style of the pergola, contemporary or traditional.
Usage of the pergola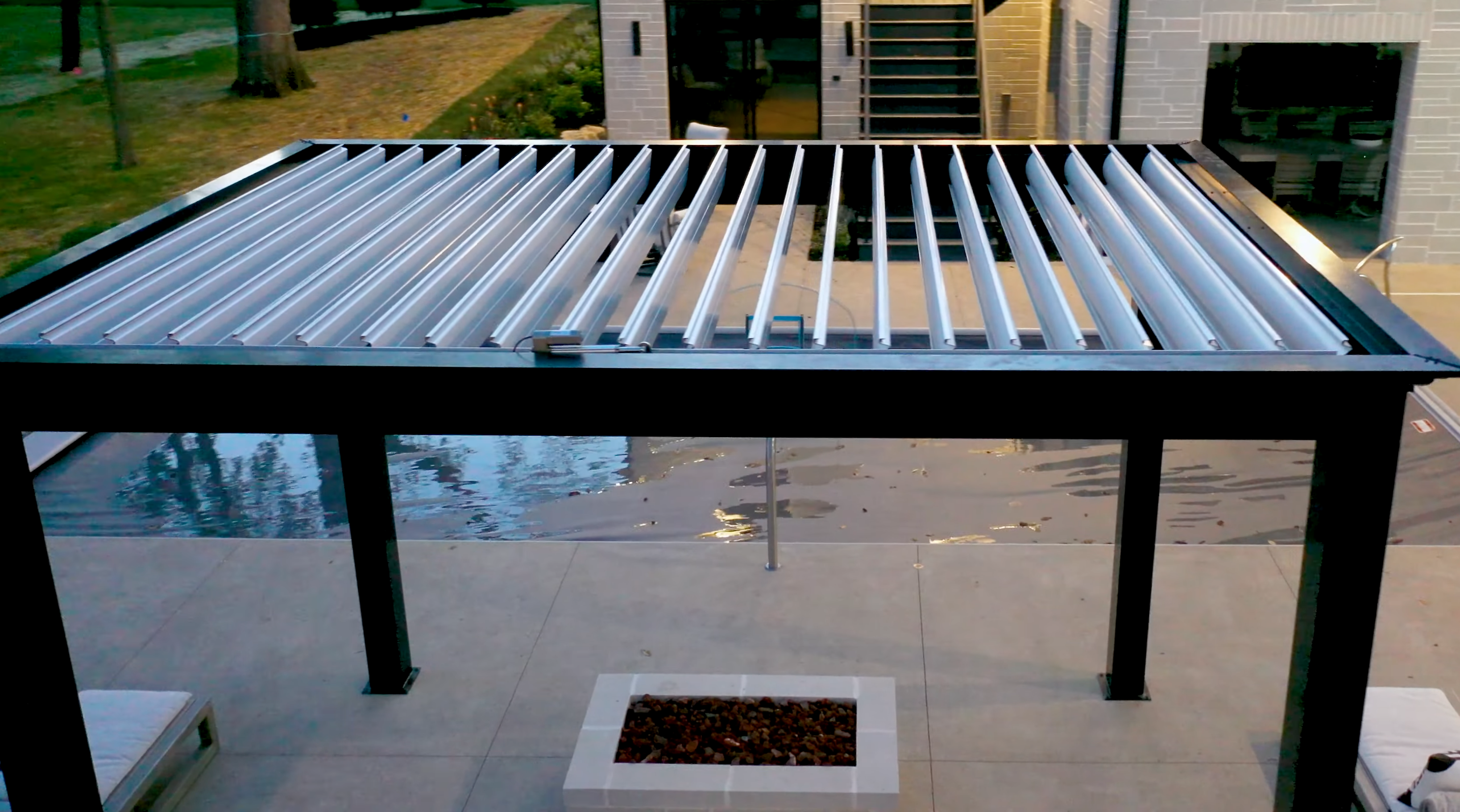 It's important to mention that the 16x10 pergola usage will vary depending of what you choose to do with your pergola. If necessary, be sure to consider and adhere to local building codes to ensure the safety and structural integrity of other structures within the area.
Whether you want to have a space for comfortable seating, outdoor kitchen, dining, or even a hot tub, the opportunities are endless! There are plenty of choices for you to pick when it comes to your intentions of using the pergola, as it will enhance your backyard living space all year long.
Also it's important to mention that wherever you choose to place your pergola, the surface might not be level so you might need to place slabs under the posts to make sure that the pergola is balanced. Instead of substances like wood putty, we offer breakable shims that you will be able place under the post and break off the part you don't need, that way you will have something solid under the post and will stay in place.
The Luxury Pergola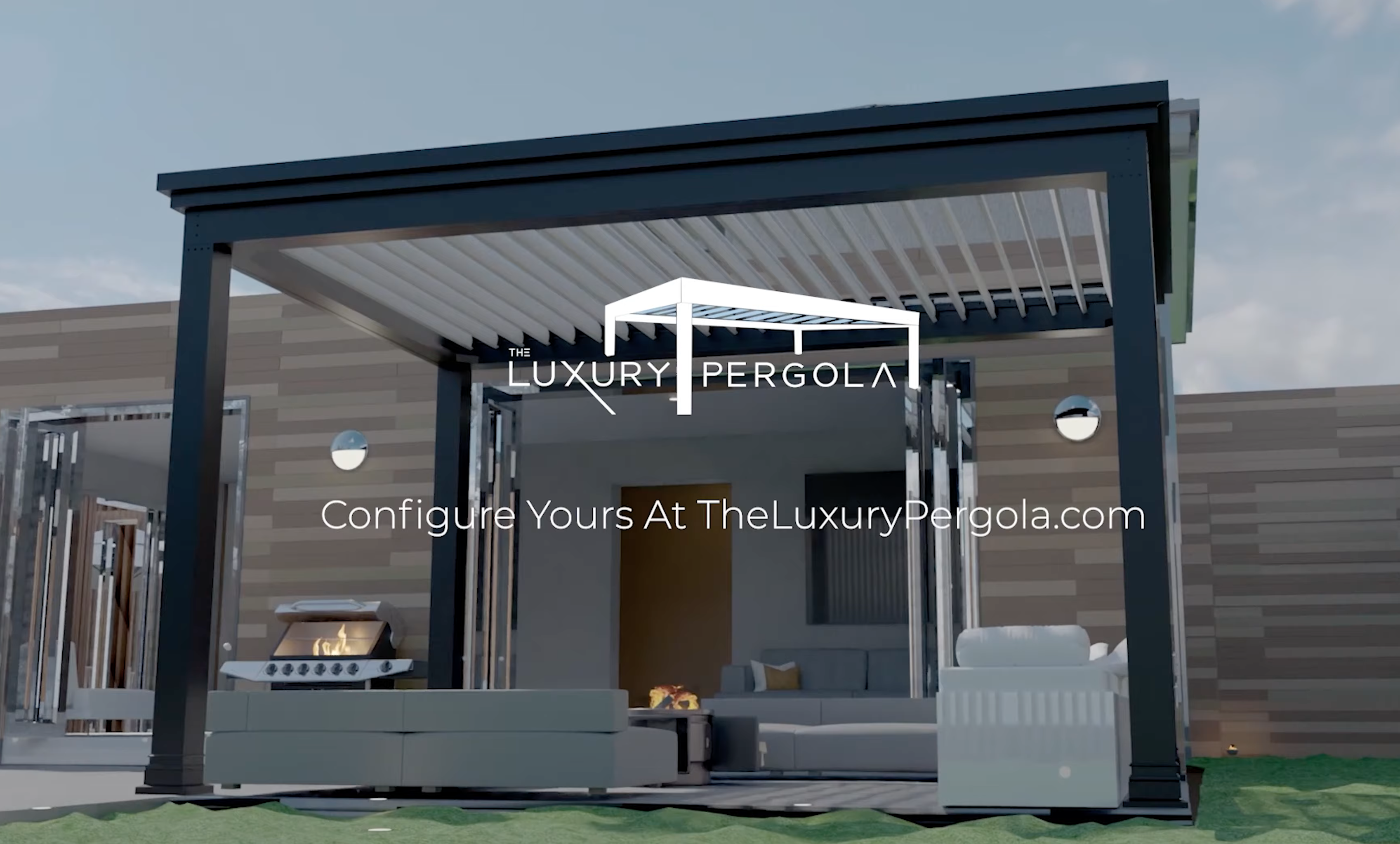 Having a 16x10 pergola opens up a world of possibilities for outdoor living. This space offers much versatility and combines functionality, style, and the beauty of the great outdoors. Installation was made to be as easy as possible for you, as there are clear and simple instructions attached to the pergola kit. You can also visit our YouTube page to see how we installed it ourselves.
Whether you envision a place for entertainment, dining, or simply just place to rest, the 16x10 offers endless customization options to best fit your needs and preferences. Interested in purchasing a new pergola today that will save you money? The Luxury Pergola is the best choice for you!