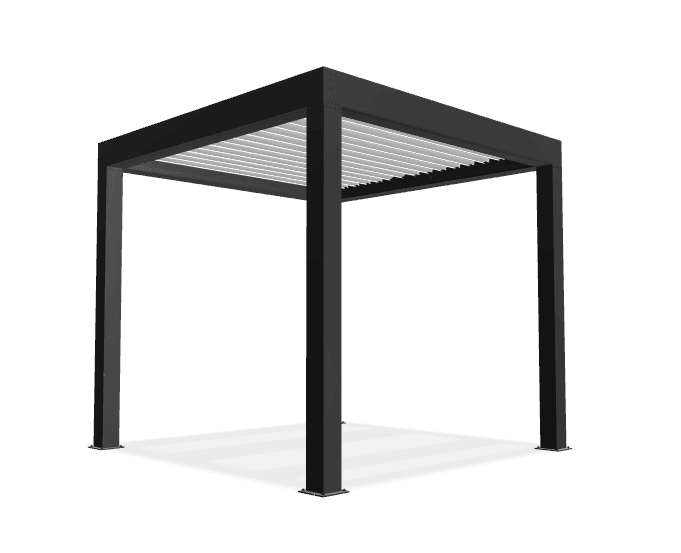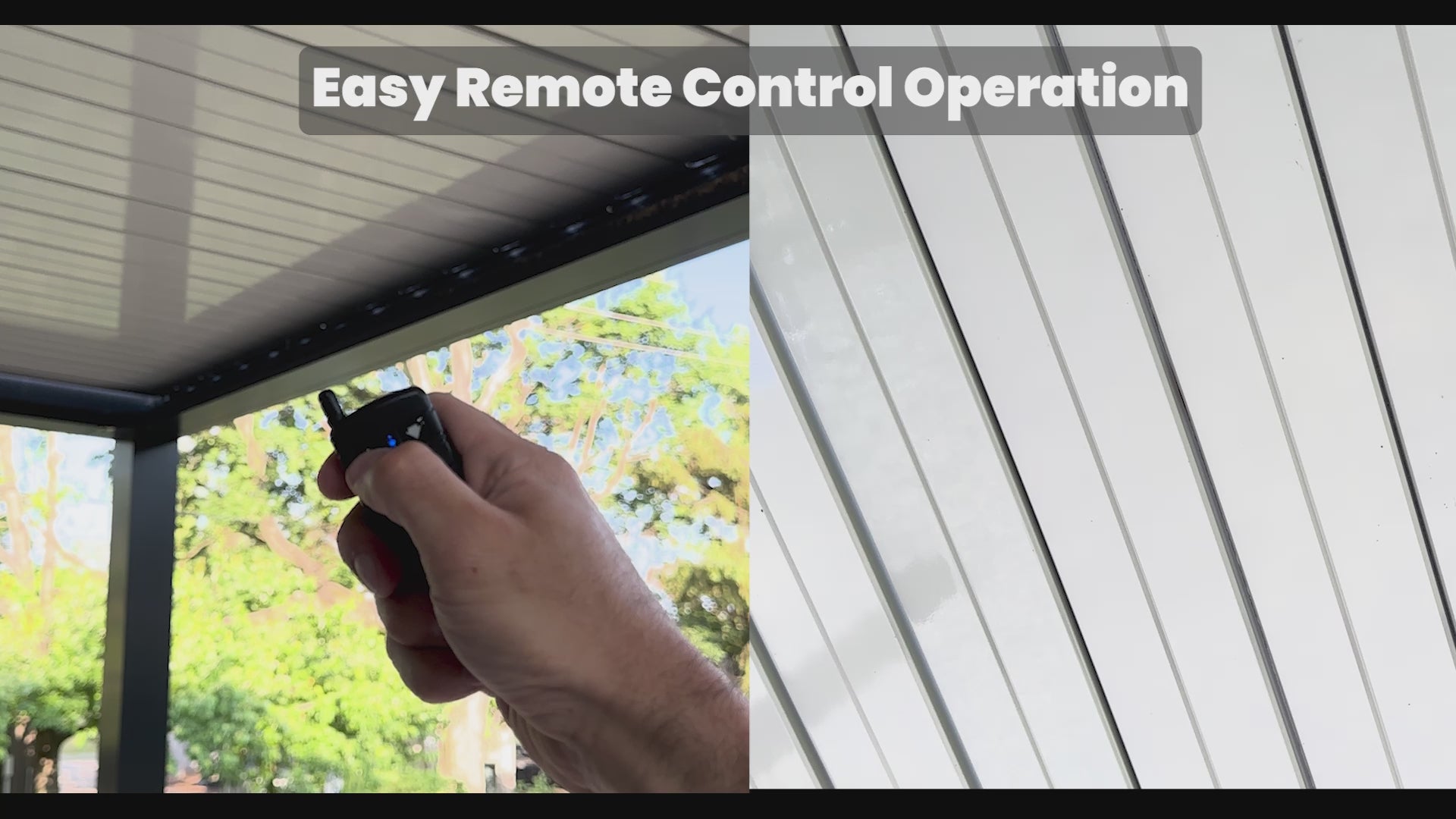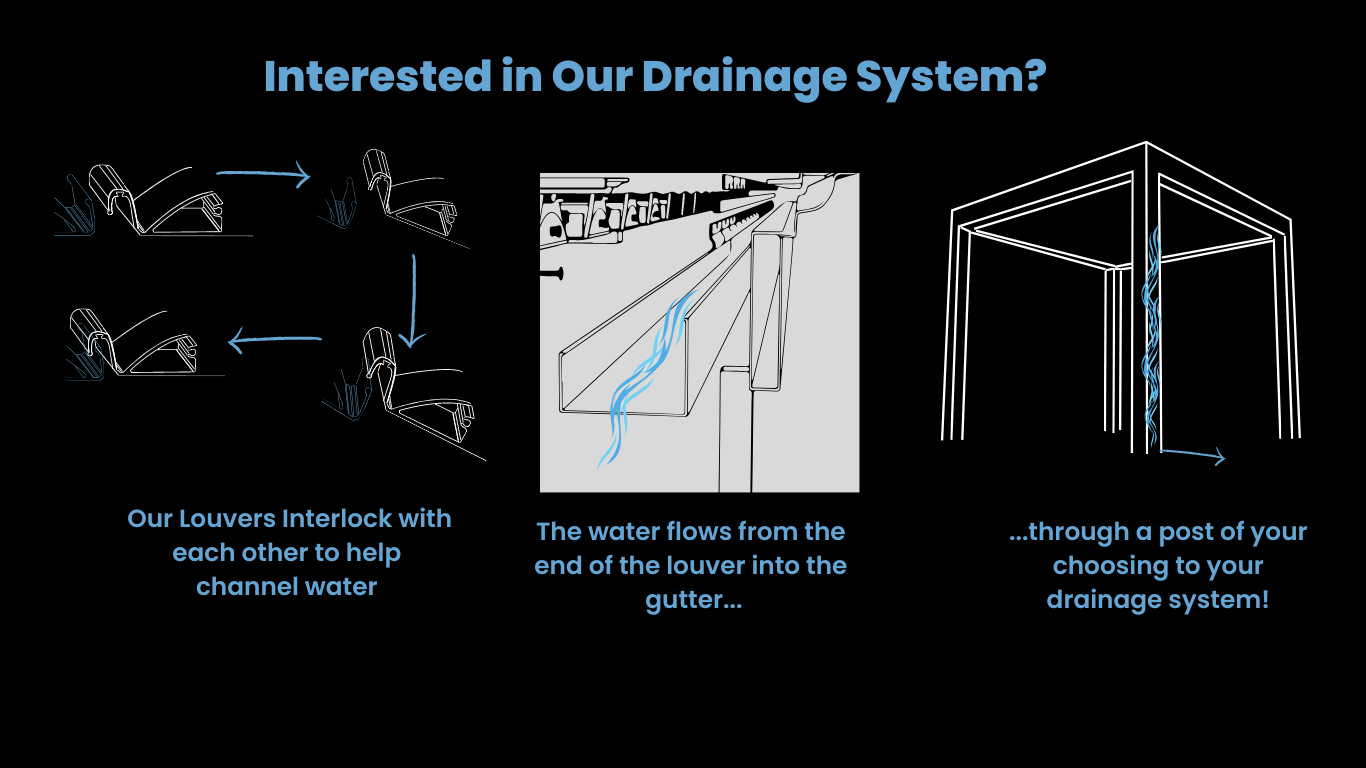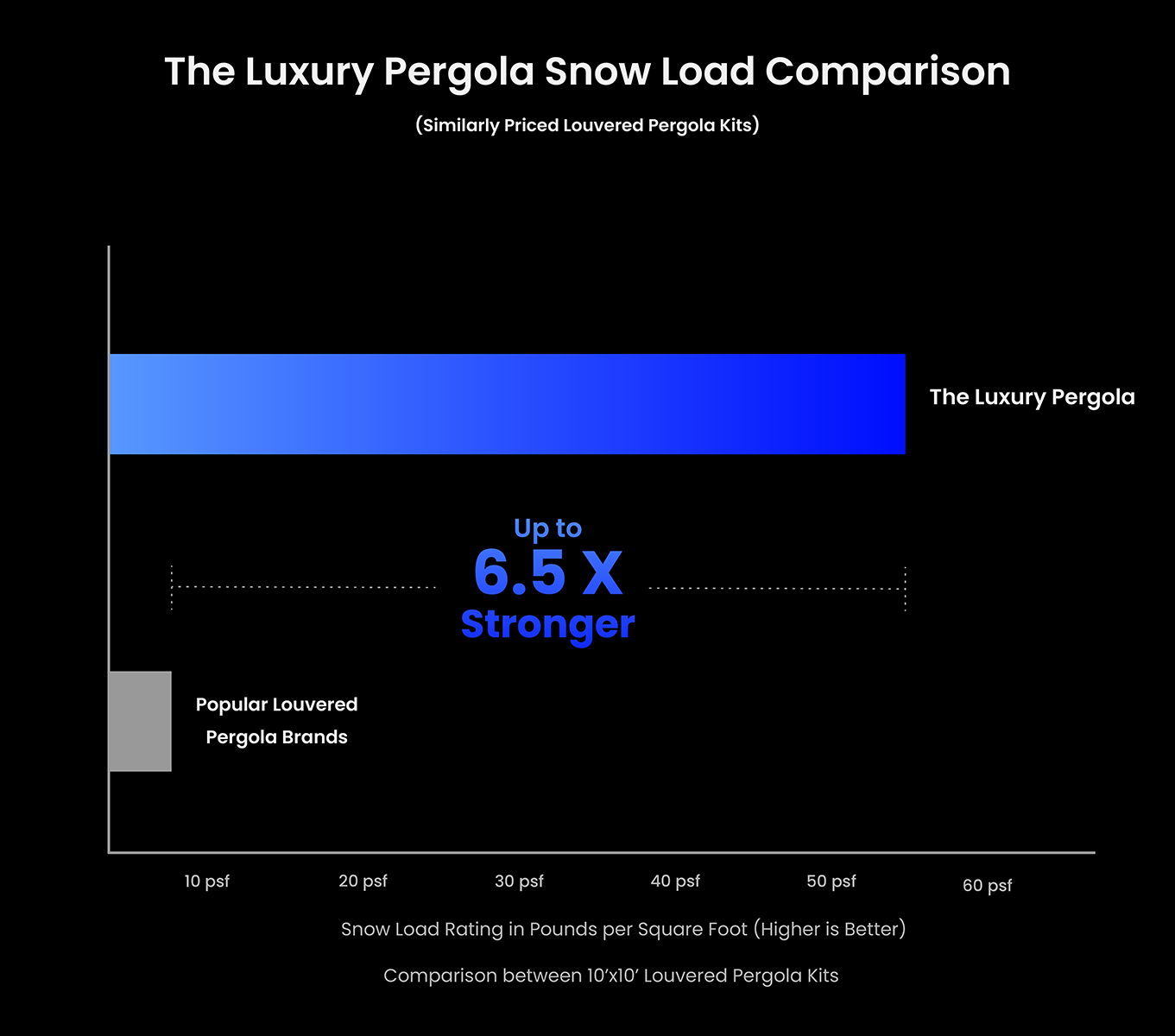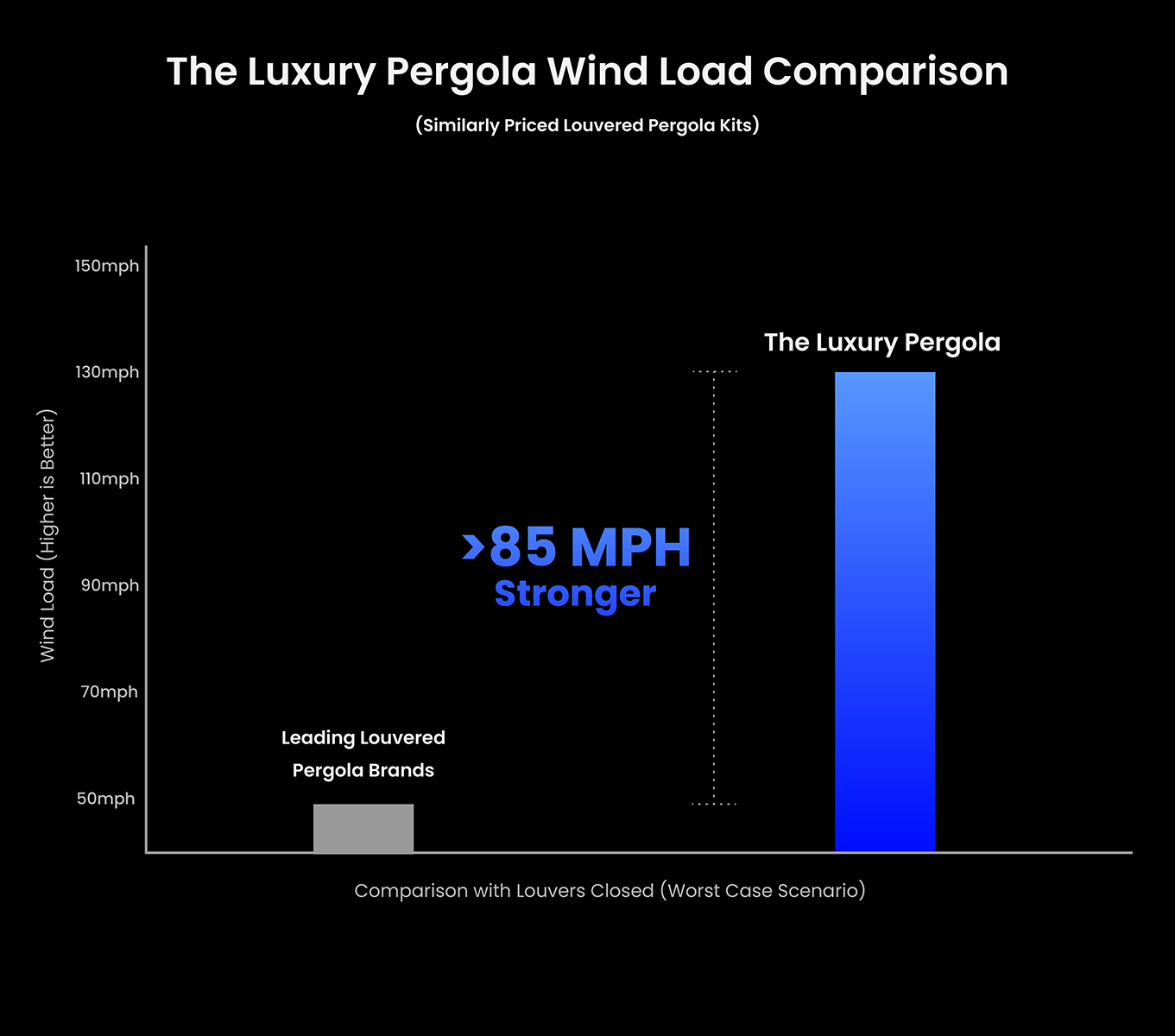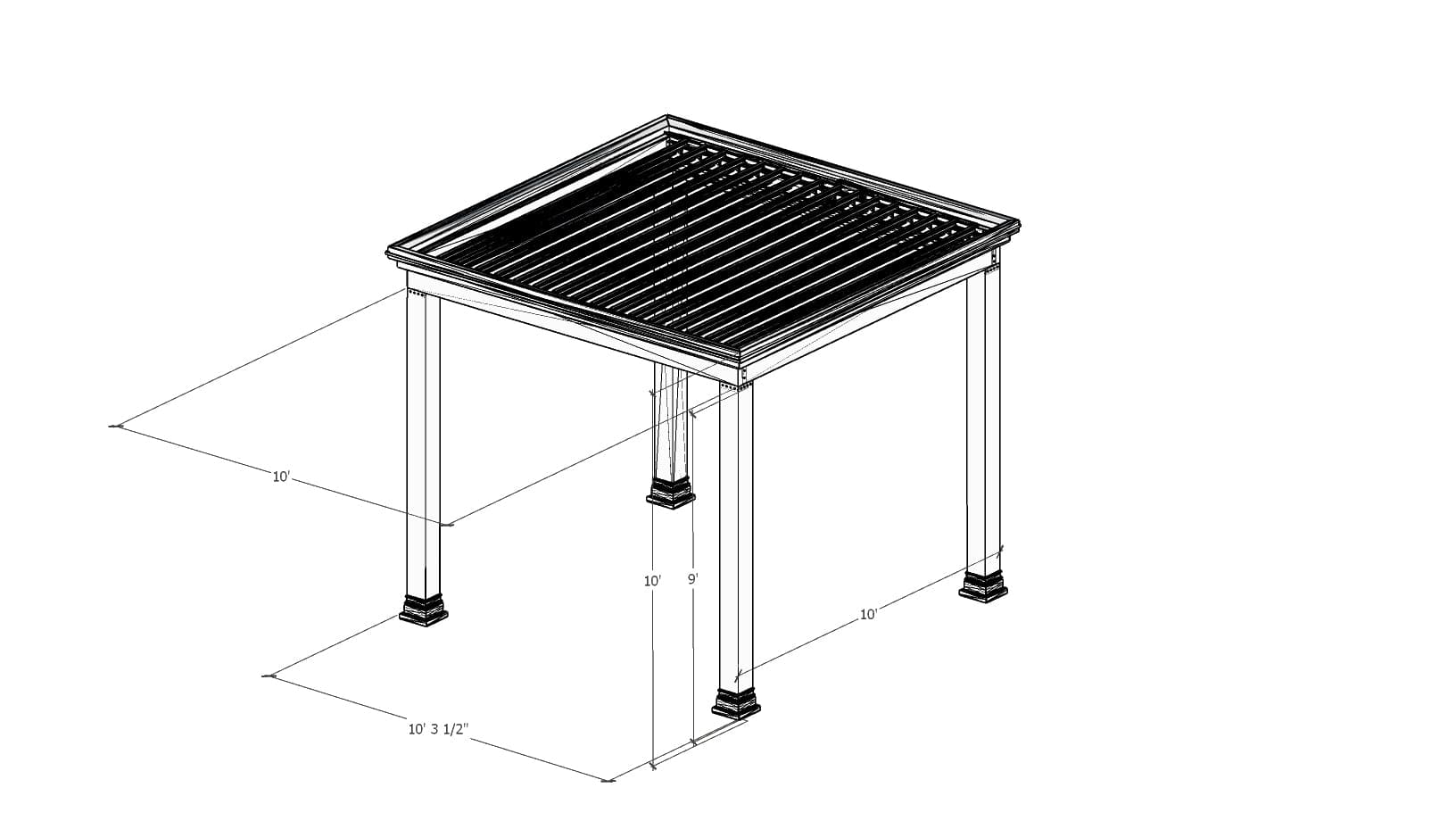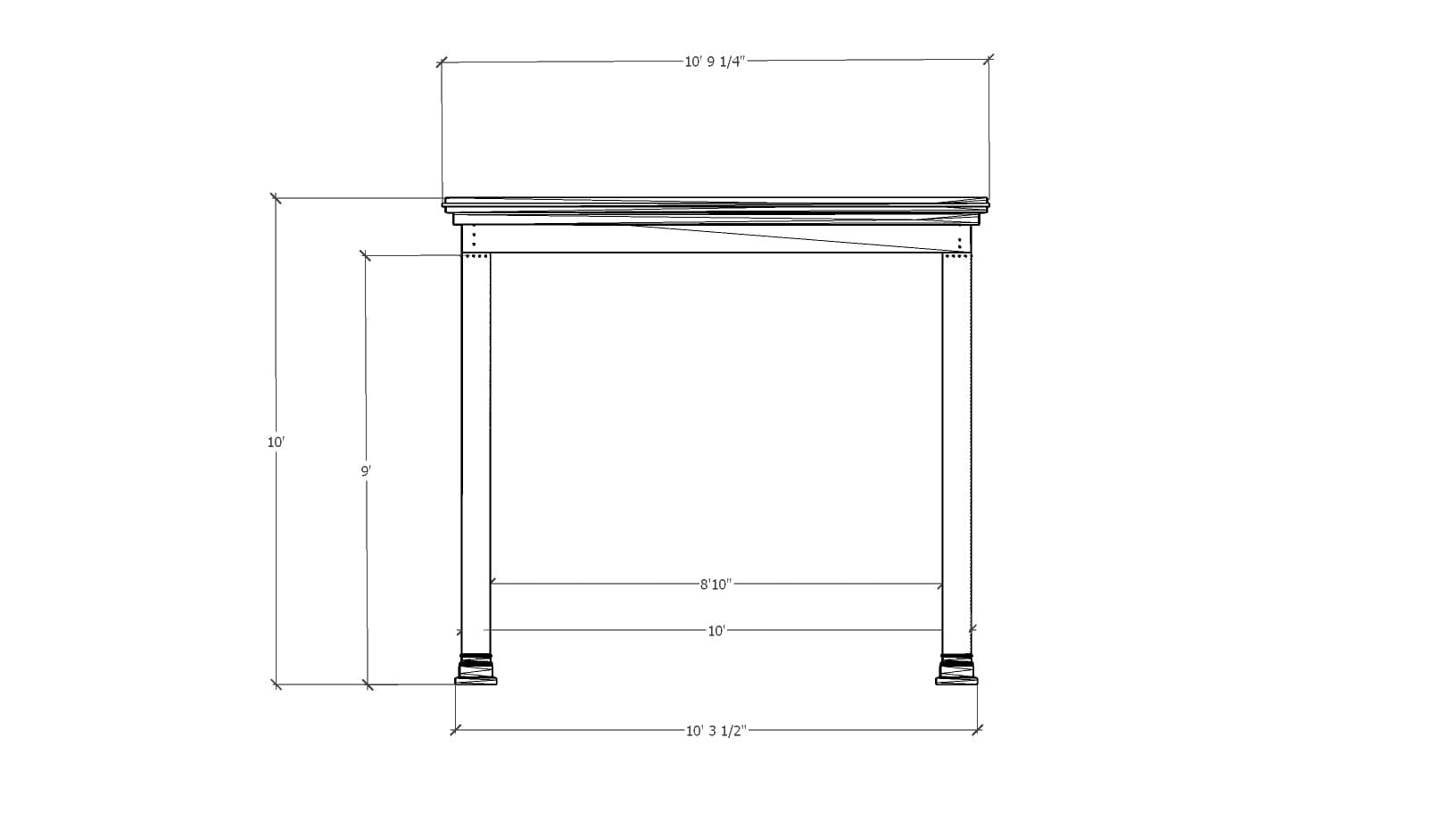 10'0" x 10'0" Louvered Pergola
Free Shipping (March Delivery)
Made to Order Pergola Kits at Industry Leading Manufacturing and Shipping times. Comparable products take greater than 4 Months to deliver
---
✓ 10 Year Warranty
✓ Lab Tested & Certified for 130 MPH Winds
✓ No center posts
✓ Holds Greater than 6000 Lbs of Snow with Louvers closed
✓ Direct from Manufacturer Low Pricing
✓ Internal Gutter System to Keep you Dry
✓ All Units Motorized
✓ Super Pergola Compatible: Click for Super Pergola Information 
Technical Specs for the unit are down below and in the included drawings:

 

Motorized
Yes
Material
Aluminium alloy 6063 T6
Louver Aesthetic
Flat-ceiling
Louver Size
1.5" x 8" Louver
Beam and Gutter size

2"x10" Beam with 1/8" thickness

3" Height x 5.5" Width Gutter with .088" thickness

Posts
7"x7" with 3/16" thickness
Electric Motor
Grade IP67 24V electric motor for louver control via Remote Control (Pulls 3 AMPs) when operating. Plug in 120V Power Cord For Plug In Power in available outlet
Finish
Weather Durable AAMA2605 Powder Coated Paint
Drainage
Inbuilt hidden drainage through hollow post with water outlet at base of the post
Weight

No Trim: 990 lbs


With Crown Molding Trim ONLY: 1075 lbs

With Base Trim ONLY: 1020 lbs

With Base Trim & Crown Molding: 1105 lbs

Snow Load Cap.
6000 lbs 

(louvers closed or open)

Wind Load Cap.
130 mph winds (louvers closed or open)
Height
9'0 to top of posts

 

Optional Fan & Lighting: Not yet available in a kitted version.

Note: Dimension of the frame is shown in drawings as outside of the unit to outside of the unit.
No customization has been created for this 3D model
You can create a customization now by clicking here
(Don't worry! Your customers will not see this error message.)
LOADING 3D CONFIGURATOR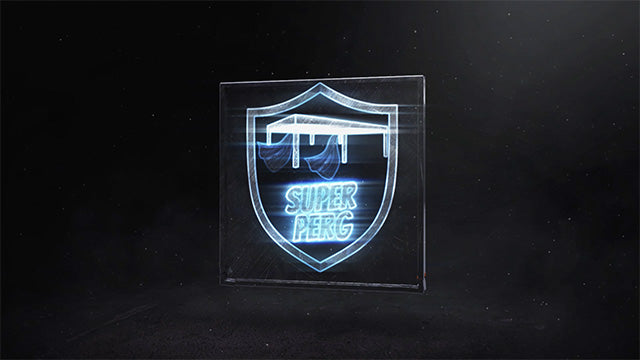 Combine Luxury Pergola Units!
Combine Luxury Pergola units to cover even greater areas. With the Super Pergola, you can create even larger shaded spaces than ever before.
Super Pergola
FAQ
Here you can find answers to your most frequently asked questions. If you have any other questions, feel free to give us a call at
How tall is The Luxury Pergola?

The pergola is 10'2" with the louvers standing straight up. The distance from the ground to the bottom of the frame is 9'.
Can I get posts shorter than 9 feet?

For some customers, a 9' post and 10' pergola is too tall. We can cut down that post for you. Just give us a call before ordering and we can tell you how to specify this.

If you need a precise cut to get the pergola under a portion of roof, we strongly recommend cutting on site. That will guarantee the best possible fit.
Do I need pier footings? Can I attach it to pavers?

Click the footing link for information on footing placement: Footing Placement Advice
If you have a 5 inch concrete pad, you typically don't need pier footings. If you don't have any concrete, typically a pier footing with 24 inch diameter and 36 inches deep is satisfactory. Make sure you go below the frost line.
We do not recommend attaching to pavers. That will not give enough structural support or counterweight.
Can I attach 2 pergolas together to get an even bigger size?
How do I power the pergola?

With our pergola, all you have to do is plug it into a standard 3 prong, 110 volt outlet. Most houses have exterior outlets readily available.
Can I add lights or a fan?

We don't sell lights and fans ourself, but our pergolas can most certainly accommodate them.

We recommend using the Center Beam Accessory as a mounting point for a fan and/or lights.

Additionally, we found that any lights we could sell in a DIY product (has to be low voltage) wasn't bright enough for customers to enjoy.
Can I attach this to my house?

The unit is designed to be freestanding. The weight of the unit and the difficulty of installation with a house attachment means that we cannot warranty any pergolas that are attached to a house. Therefore, we do not offer a version that attaches to a house.
Do you have retractable screens?

Yes we do. They can be found by clicking the link below:
Our customer support is available Monday to Friday: 8am-8:00pm EST
Average answer time: 4-8 hours
Contact Us