Why is an aluminum Louvered pergola so expensive? The short answer is, it's a poundage problem. Delivery of aluminum to a customer can be very expensive.
Extruders and Powder Coated Aluminum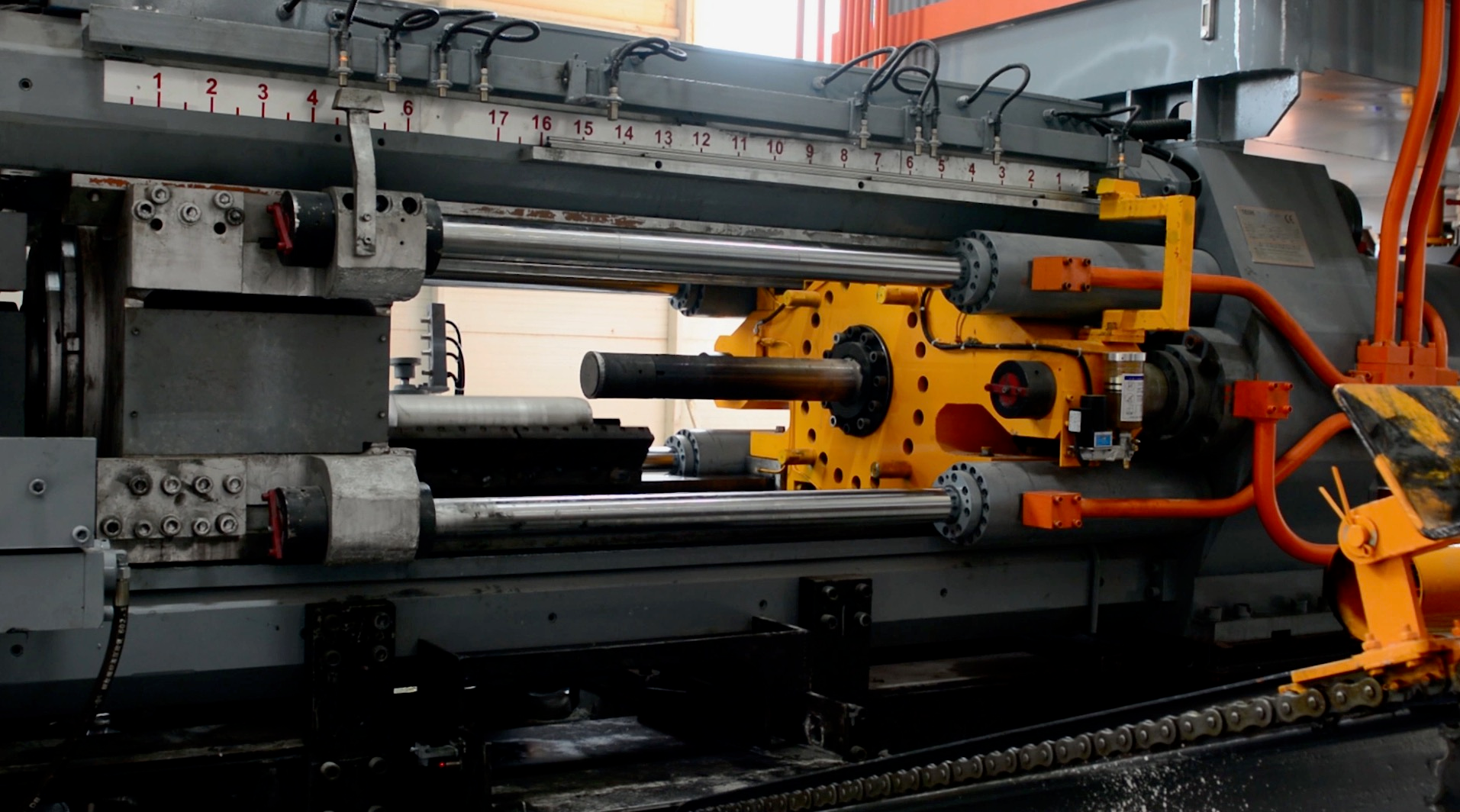 The extruder mines the aluminum, or recycles it, and then they press it out and it weighs a certain weight. This is what brings the main value for your system. They make money by charging a certain amount of money per weight or per billet weight of the actual aluminum part that you buy.
The thinner, the smaller you can make that part, the more you can make it inexpensive. That's where the price of the material comes in. Quality is important, so you need to make sure the louvers are durable.
How Does a Louvered Roof Price Increase?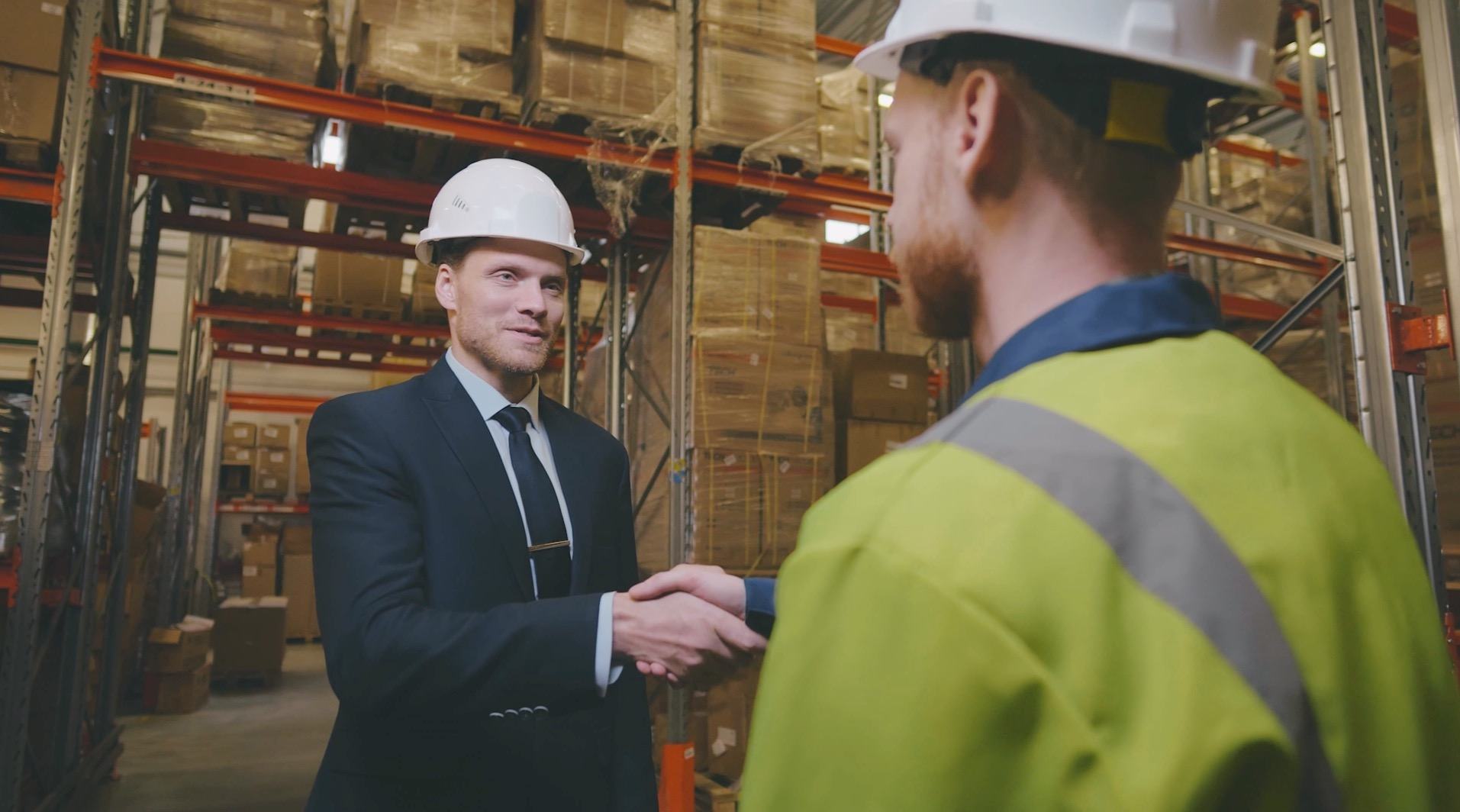 The problem there is how many times is that then stepped on. The typical model for a louvered system is the manufacturer is going to go out and they're going to buy extrusions from an extruder.
Hopefully that extruder has good pricing models. Hopefully they're the ones that actually own the mines. Different extruders have different buying power. So that all really depends on the price of aluminum. Aluminum is a commodity market, and the customer pays the going rate.
If they buy aluminum futures, there's a lot of issues there, but let's say they take that material price. Well, now they need to end up cutting fabric and making money on their end. So they are going to mark it up and sell it on to the next person.
The Louvered Pergola Dealer
The next person traditionally is a dealer and that's someone that's a contractor or, you know, a mom and pop it much like what we were when we first started.
My family and I, we started originally a contracting company. My parents started the contracting company and that was installing basically anything that they could a sun room, screen porches, mainly outdoor living sort of products where we got home delivered system.
The Dealer Model for Modern Louvered Pergola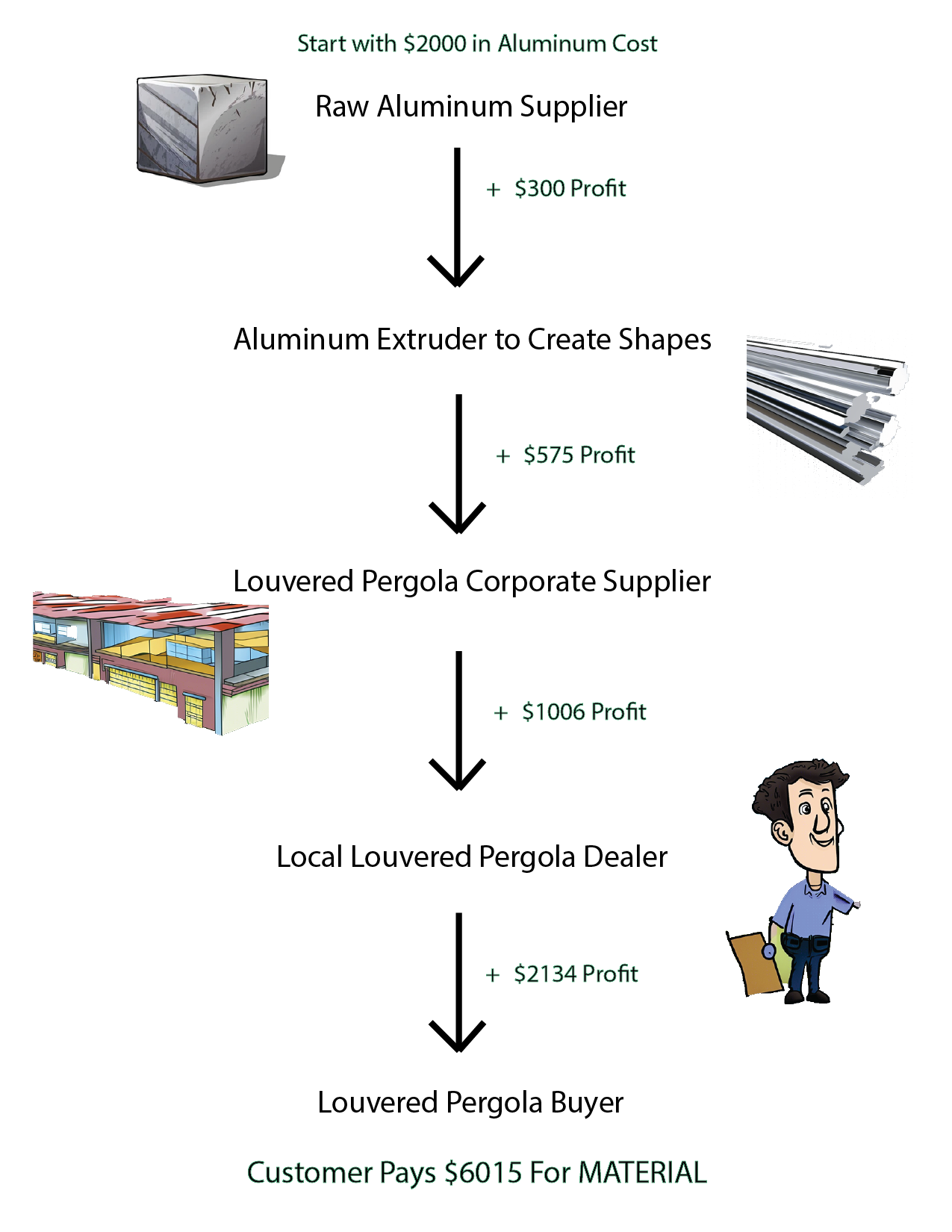 That's what we did. We signed up with the manufacturer, we bought the extrusions and then we cut fab them and placed them on someone's house.
And then obviously the end consumers buying the unit from the contractor with both the stepped on price of the product and install fee. So let's back up to find out the cost of materials.
Recap Pricing of Louvered Pergola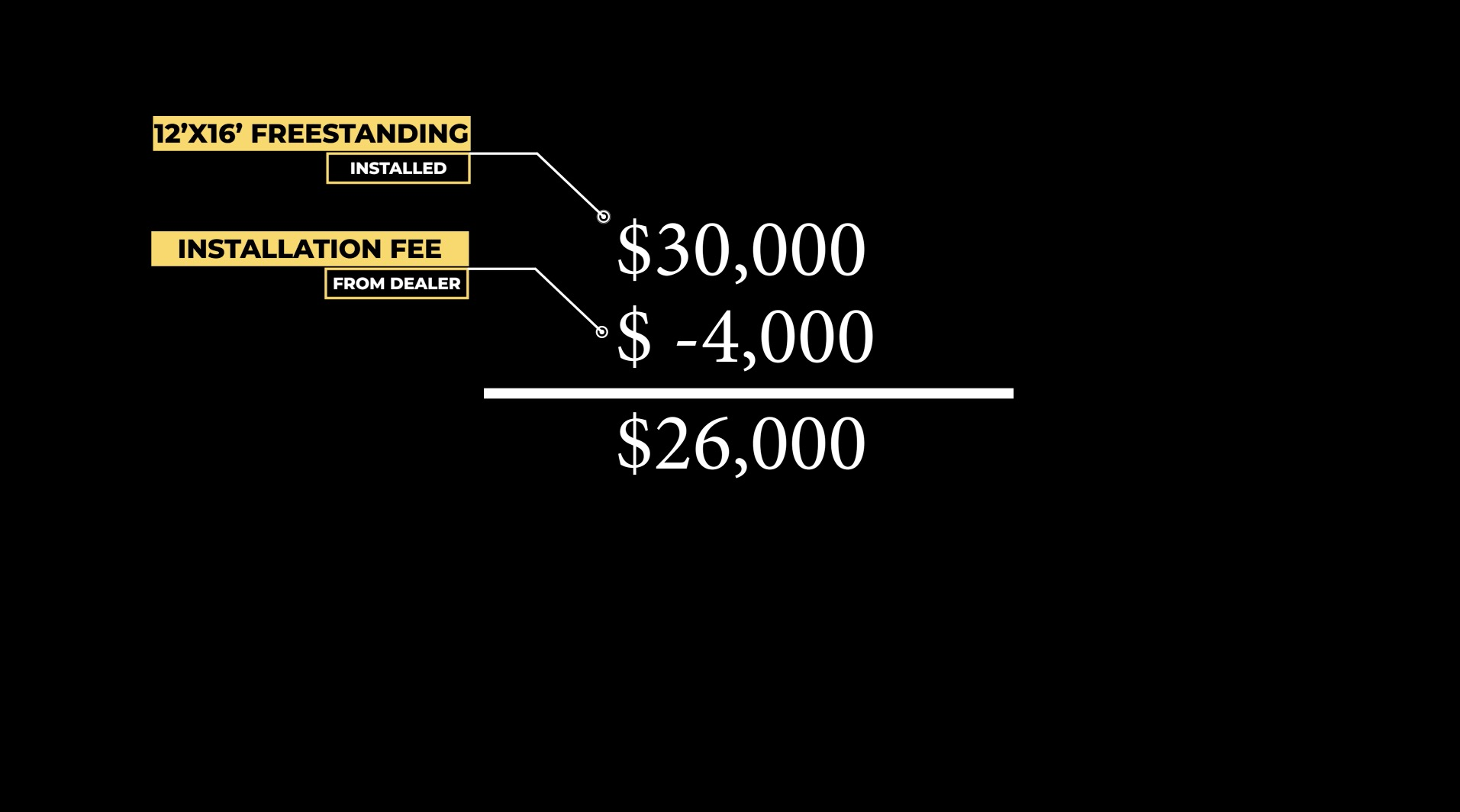 Let's start first at the end, if you're buying a 12 by 16 right now in the market, from what I can tell by a lot of different competitors, it's about 30 grand for a 12 by 16 for 12 by 16 freestanding product and that's with installation.
And so you're going to back the installation out. Let's say it's about four grand, which is traditionally what you would expect on most these models, sometimes closer to five.
Removing Tax and Options Cost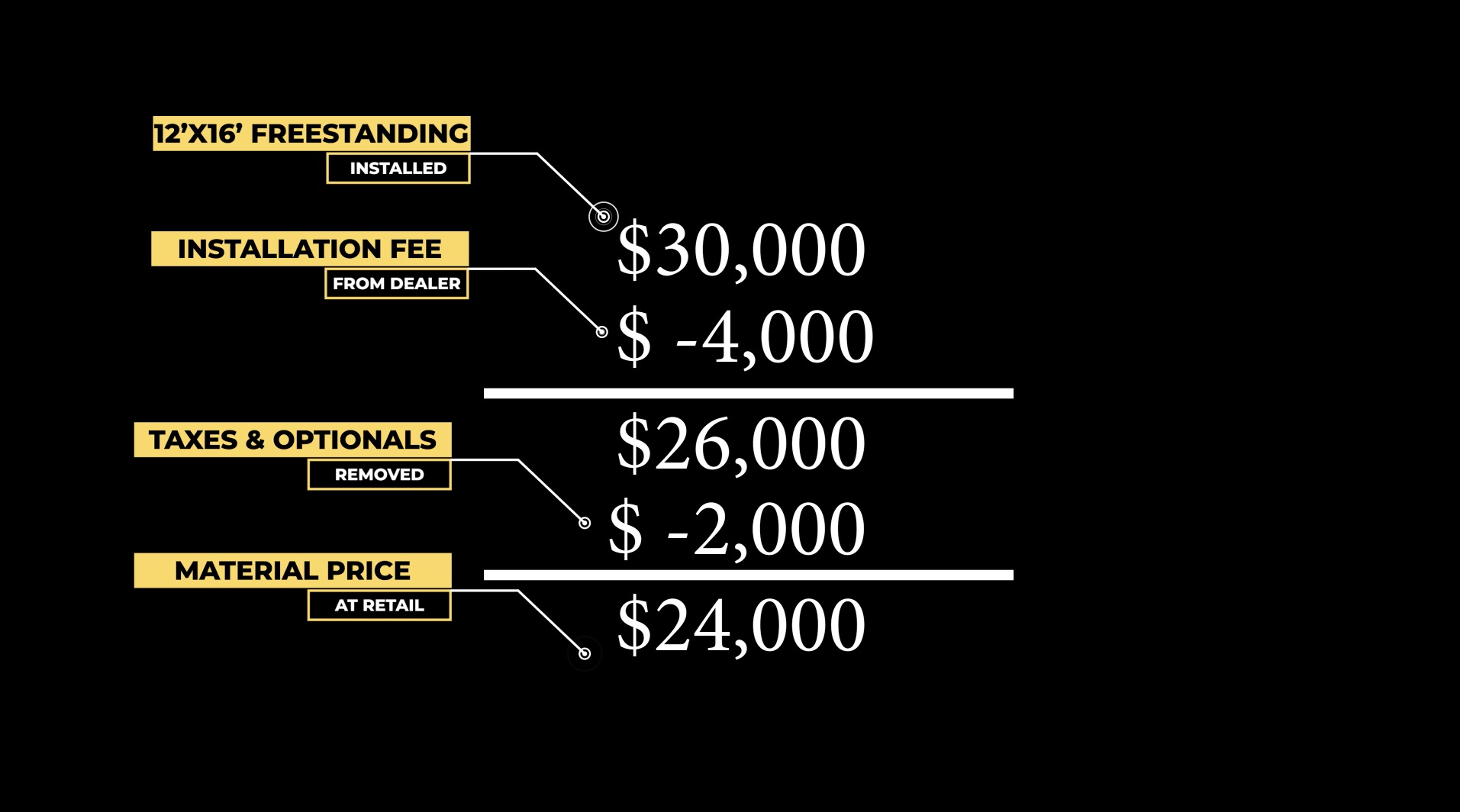 Let's say we back out four grand, you're going be at $26,000, then you need to back out the product so you've got a back up tax and then you got to back out the actual product price itself.
So let's say the product itself only costs about 24,000. And this right here is what's a little different than like a sunroom, for example, a sunroom is low product cost, high installation charge.
Difference between Aluminum Louvered Roof and Sunrooms
This is the reverse, high product cost because it's expensive the product itself and then relatively low adder for the installation. Obviously, that's a sliding scale based on the size of the unit.
So once you at that 24,090 to find out, okay, what did that dealer pay for that product? And typically dealers going to try and make about 40, 45%. They have to you have to understand as a business owner, you're not going to get in the business for doing stuff for free.
When you look at that gross margin of 40%, that gets chopped up in a lot of different things, both advertising, payroll taxes, hoa fees, computers, subscription fees, accounting fees. There's a lot of things that can eat into that money.
Determine Materials Cost to Dealer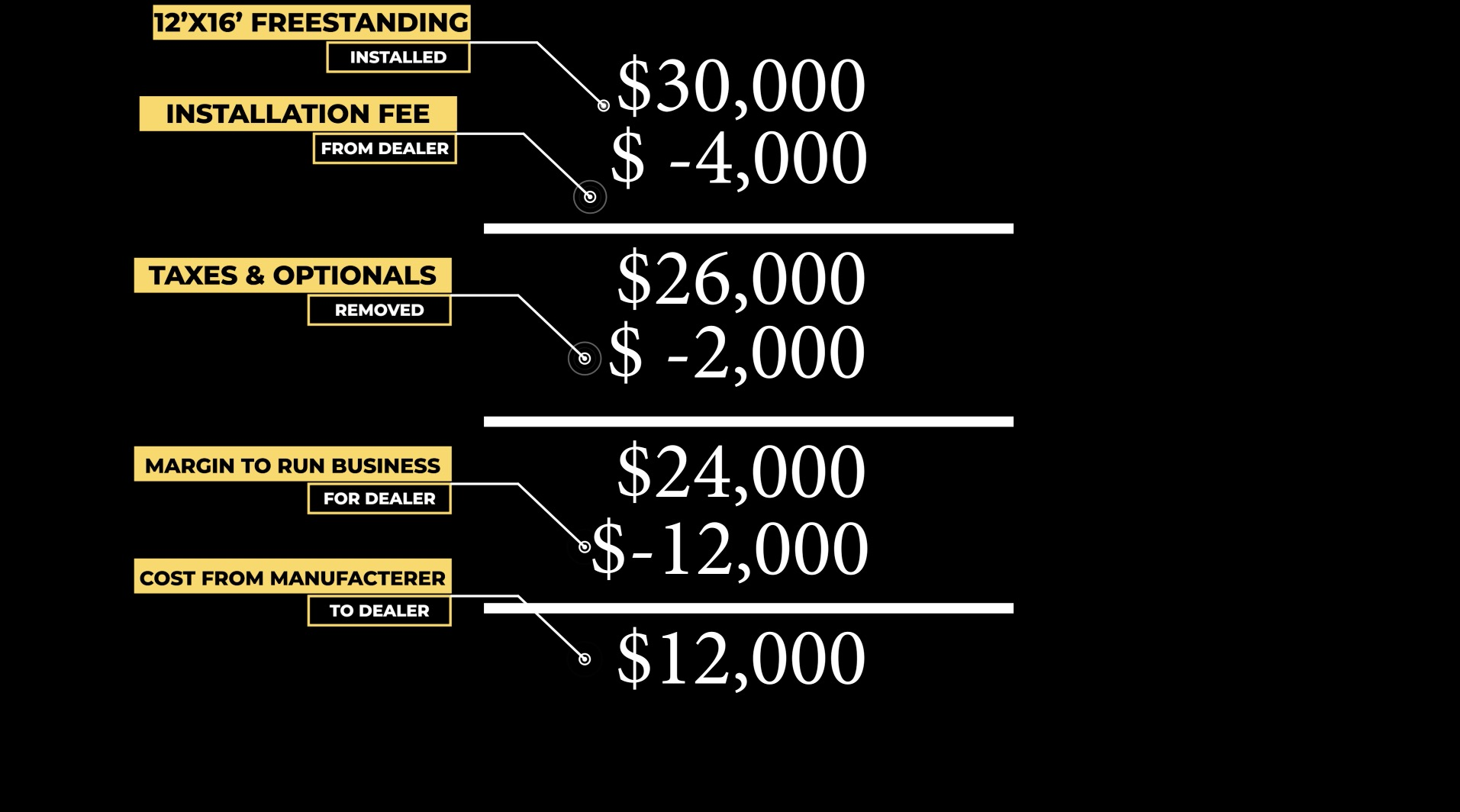 So you have to make about 40 to 50% on that 24,000. Let's say it's about 50%. I put you down in aluminum cost at about $12,000. That $12,000 is what currently the manufacturer is selling to the dealer for Before I gets stepped on and sent to you.
Difference between Customer Cost and Dealer Cost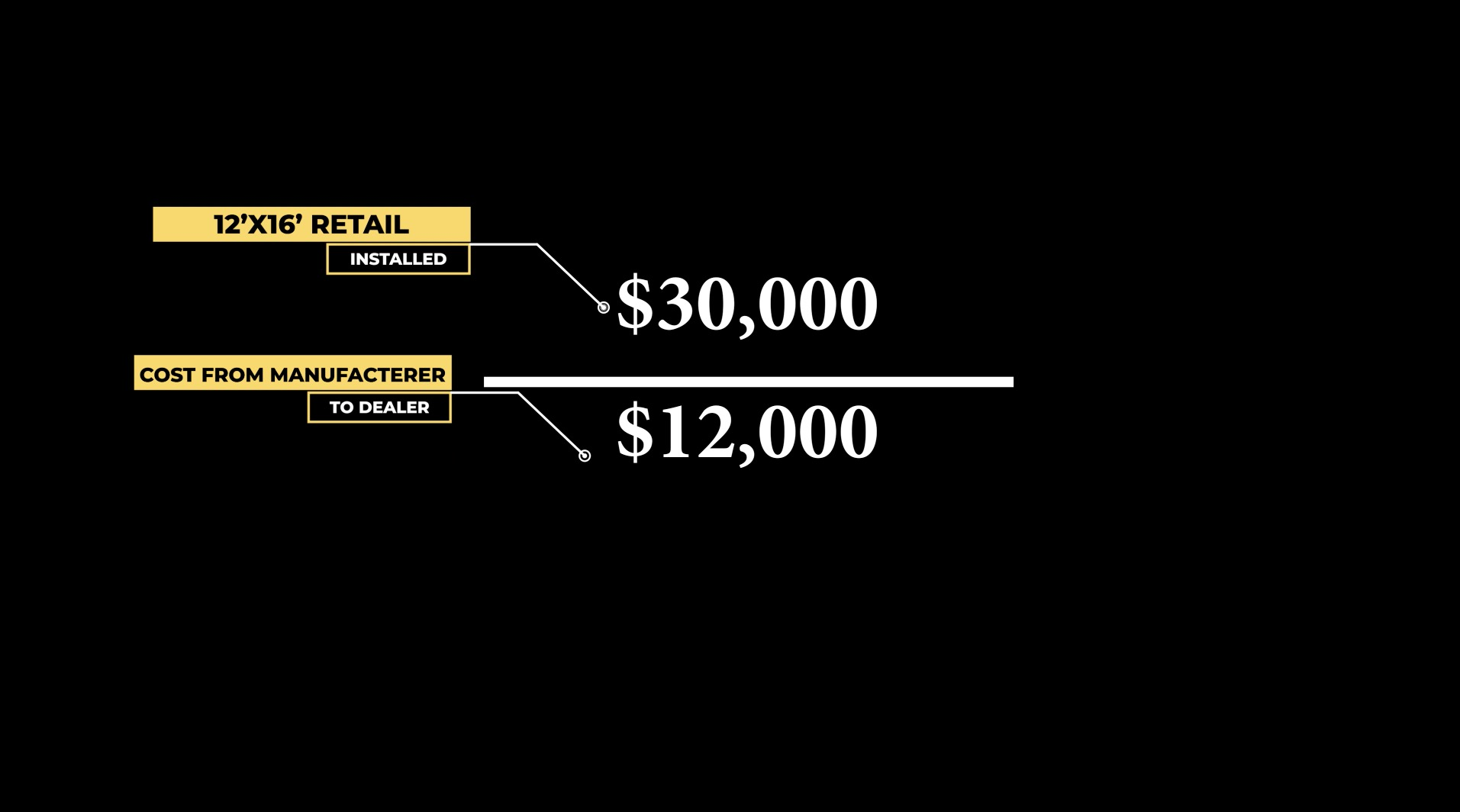 There's a big difference between $12,000 and 30 grand. If you're someone that has a custom product and you need it installed by a contractor because you want to span the entire length of your patio, you want it to be custom cut, you want this angle, you want all this different stuff. Then pay the contract.
They're the only ones that are going to get it done for you in that manner because that's how business works. They're not making killing on this.
What do Contractors Actually Earn
Most contractors are going to gross more than 4% actual profit, net profit at the end of the year. So they're making what they have to to stay afloat, which you want them to if you want them to service and warranty your product.
What Options Are There For Customer Installed Pergolas
The problem is, if you don't want to pay that 30 grand, your best option is not at $12,000. You need a freestanding pergola. And most of those units are going to be closer to about three grand from Costco.
Watch Out For Scams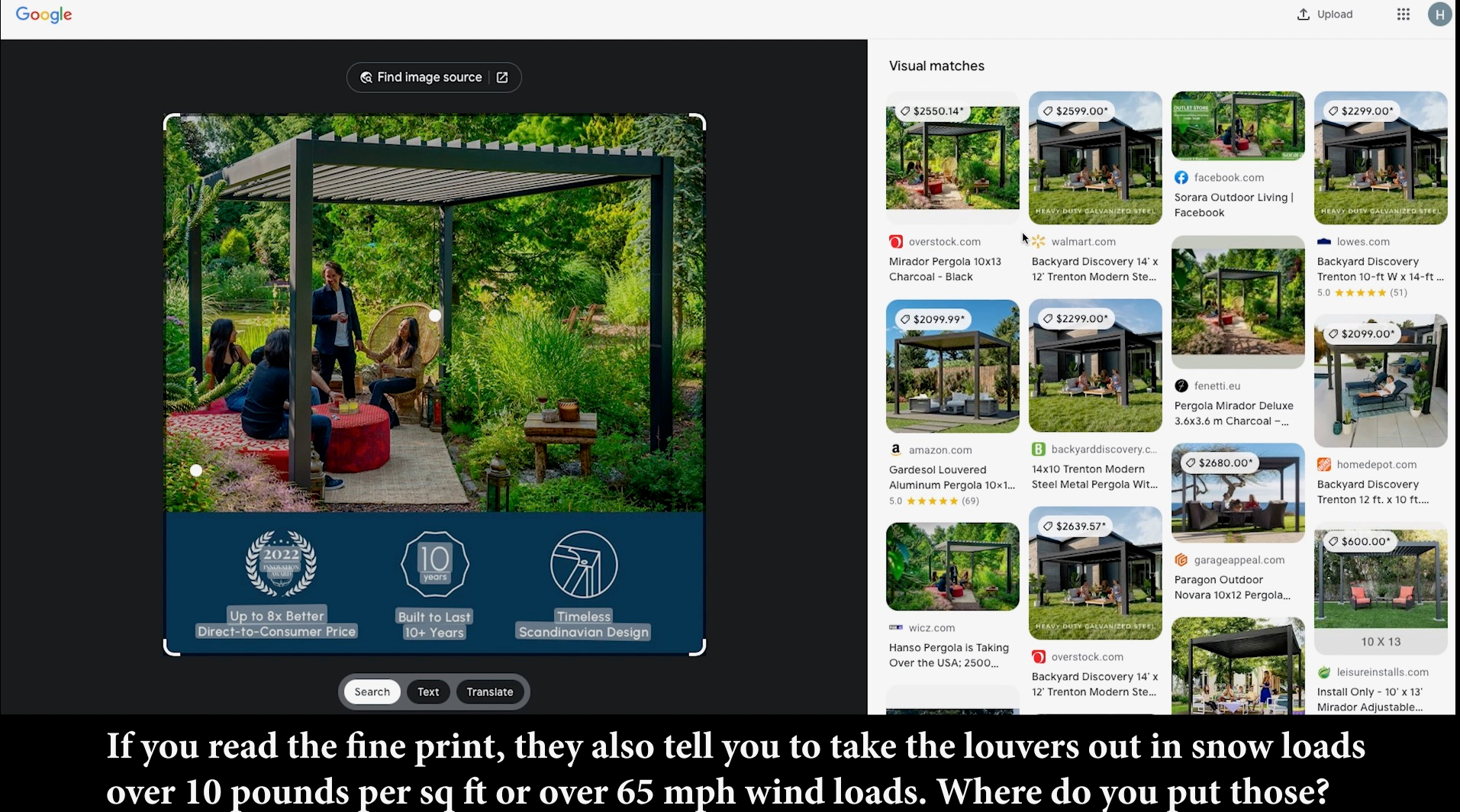 Now, there are exceptions. There is a company that sells basically the Costco pergola branded differently for about $12,000. It's the exact same product, but their marketing looks good so you don't notice.
If you reverse Google search those images, you'll notice pretty quick that it's basically the exact same product.
High Quality, High Value Louvered Pergola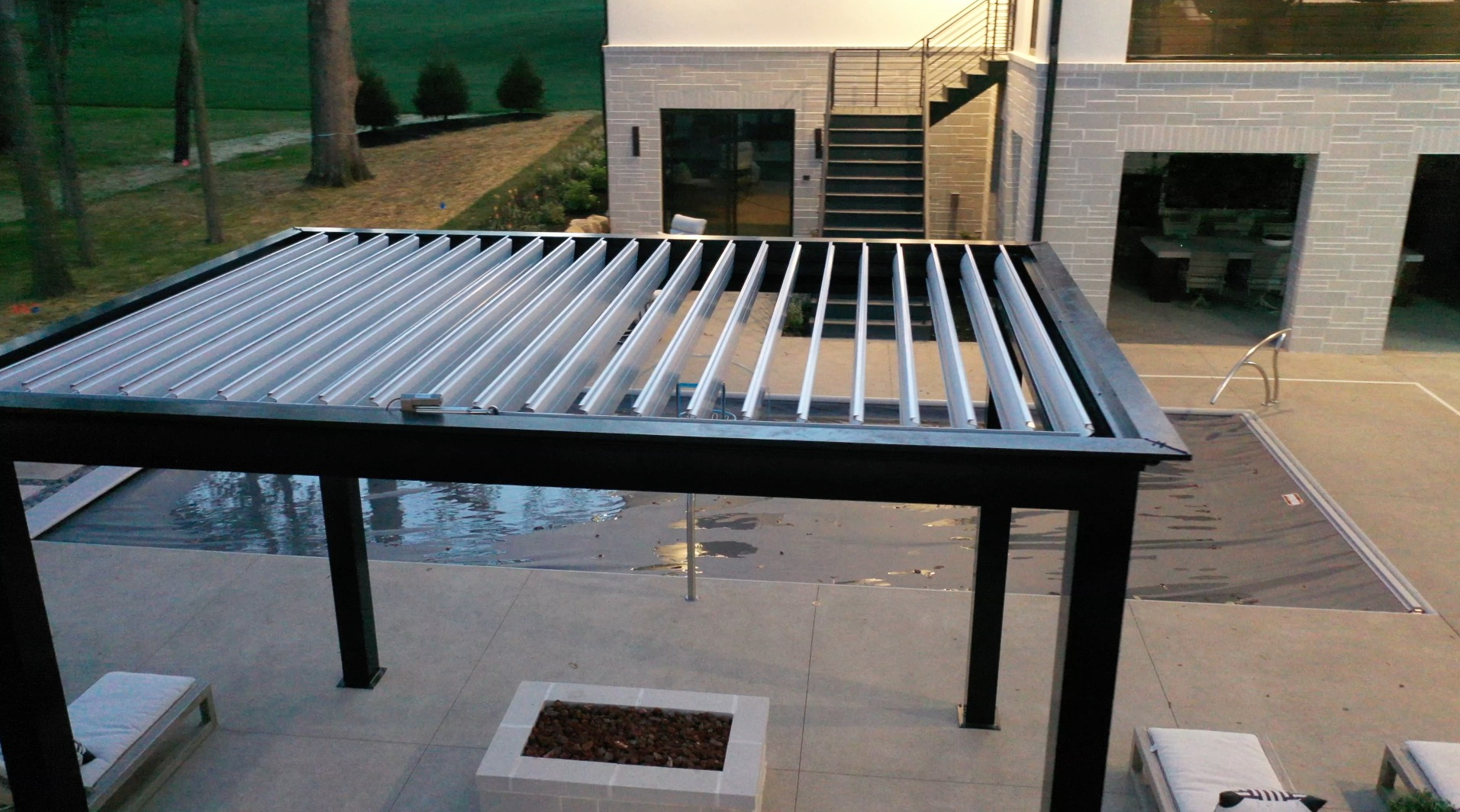 To get a high quality frame and louver combo you need to look elsewhere. The same version that you get for 30 grand is something that can withstand 130 mile an hour winds and about 50 pounds per square foot of ground snow load. That is 8,000 pounds of snow at the same time, which is what your house roof typically needs to be rated for.
Before, you didn't have any good options, until us. The luxury pergola is essentially the exact same product you get for 30 grand. That's how you get a great aluminum louvered pergola, with great support, integrated gutter system, complete control, and more for a great purchase cost.
Instead of shipping to the dealer for that $12,000, at the Luxury Pergola we sell to you for $12,500. That $500 is basically the fee to be able to drill out and make everything so that when I ship it, you just put the screws back in the hole.
Compare that to what a Struxure Smart Pergola cost or anyone else on the market. They won't be able to compete on any project elements or requirements compared to luxury pergola.
A Motorized Aluminum Louvered Pergola with Easy Installation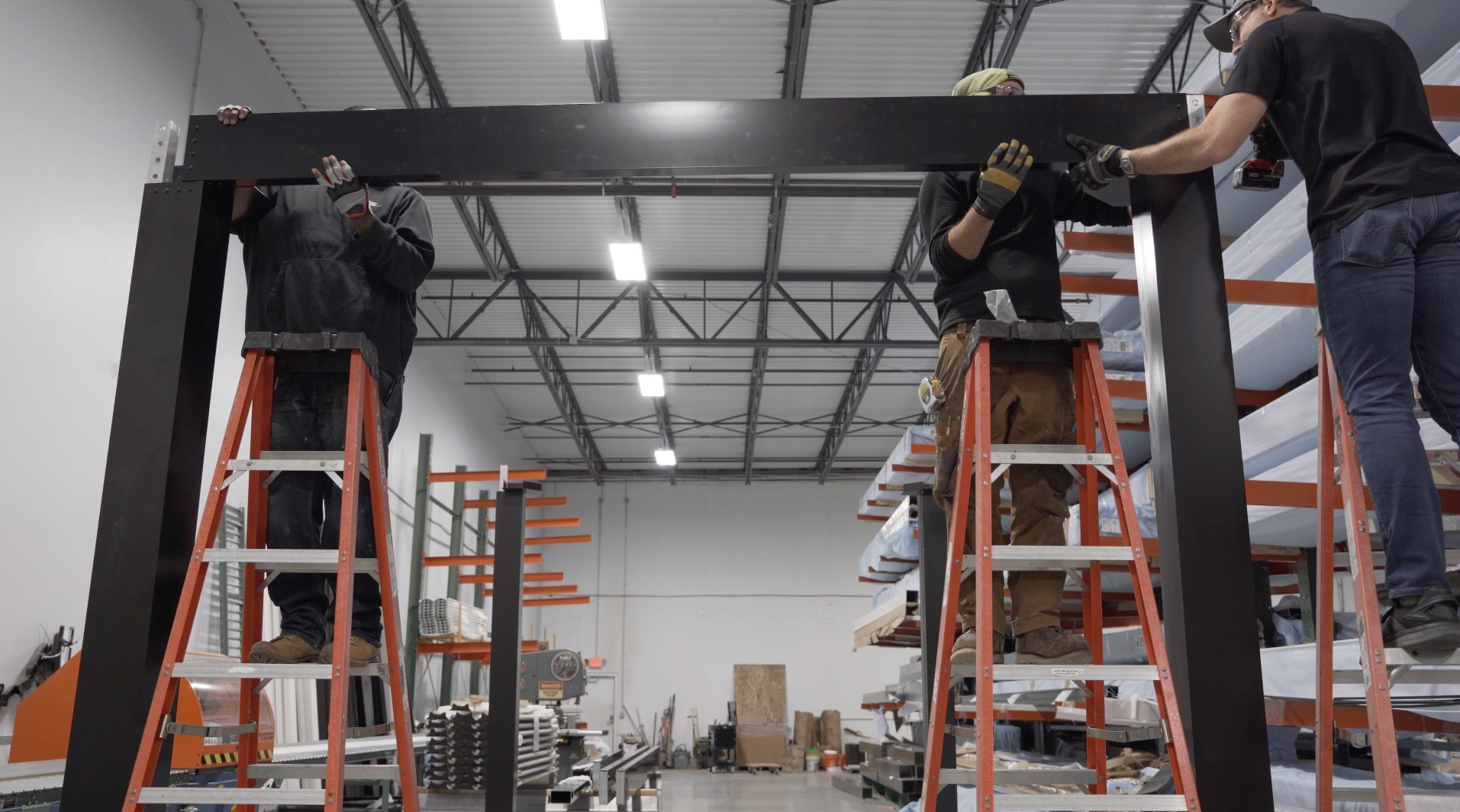 So you check out our install videos and they go through the actual installation itself. We try to make it easy. We want it to go up in a day or less.
Most contractors could probably do it in about 6 hours, especially if you got good at it. A trained installer could probably put it together in about 4 hours, so that's nice because you can take the same advantages of 30 grand and be able to get it for a lot less.
Why Start the Luxury Pergola?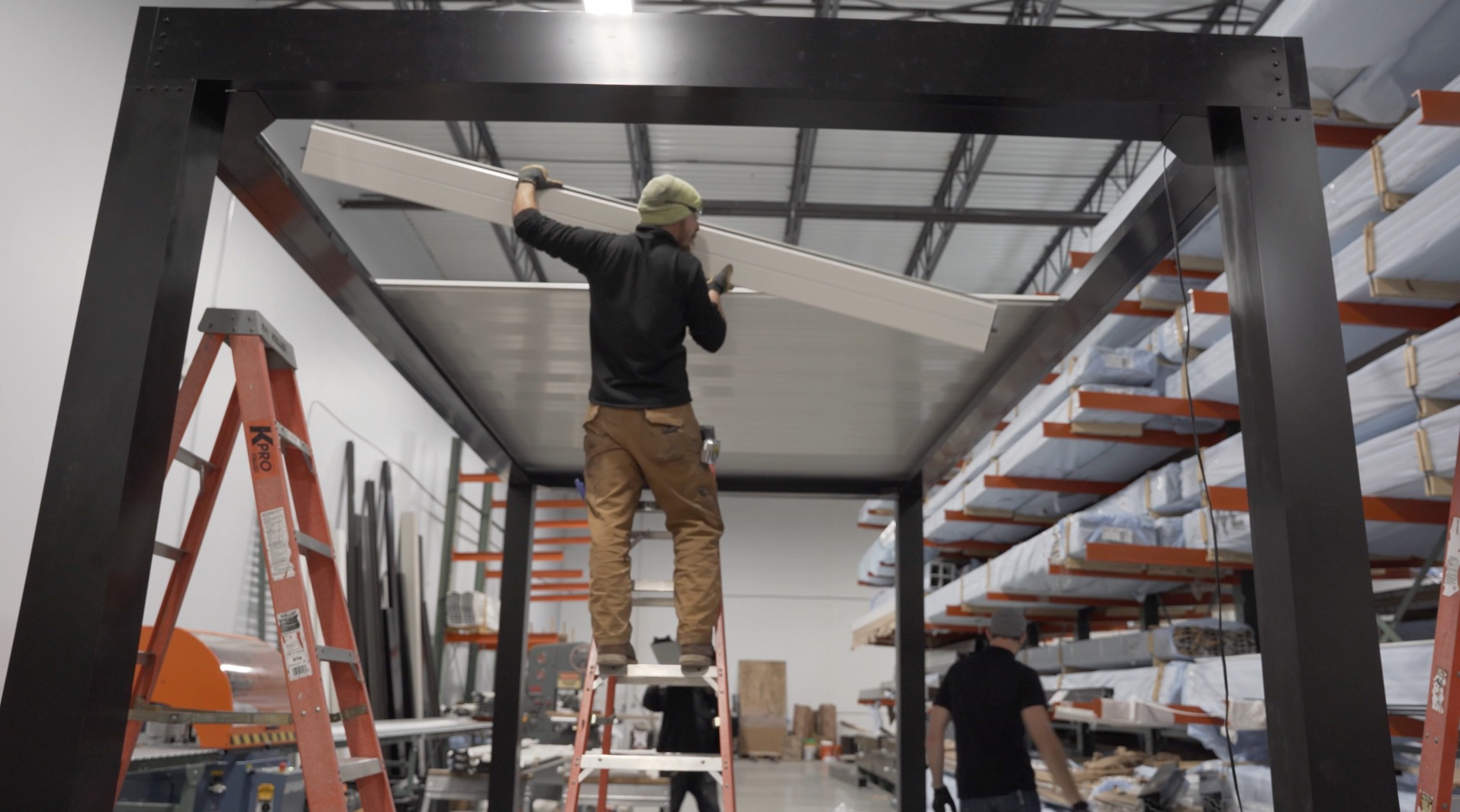 That's what the luxury pergola is, and that's why we started it. We wanted to be able to offer the same quality at a wider audience for a much better price.
That's where the price comes in. There are small differences between louvers and actual shapes. The different end caps and all that stuff does matter for actual user experience.
powder coat variation is also incredibly important, but the basic understanding is you have to know where that price is coming from and why it is what it is. I hope this helps till the next one.