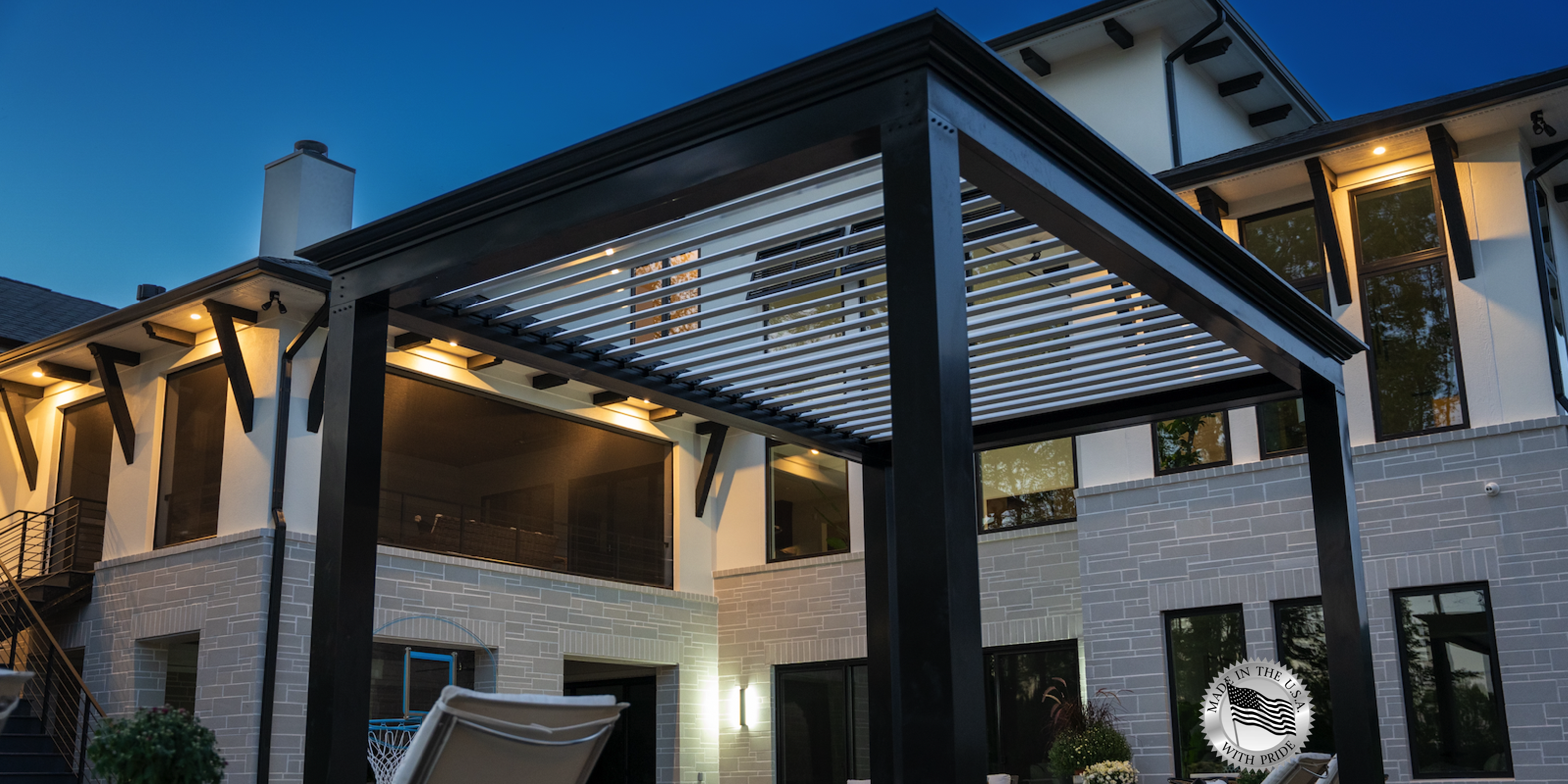 Join The Luxury Pergola's high ticket affiliate marketing program. In this modern world you are capable to make $10,000+ per day from a beach in a remote area. The Luxury Pergola has assessed this opportunity and optimizes for affiliate compatibility with high ticket product delivery to allow for growth in the market.
Table of Contents
Our High Ticket Affiliate Program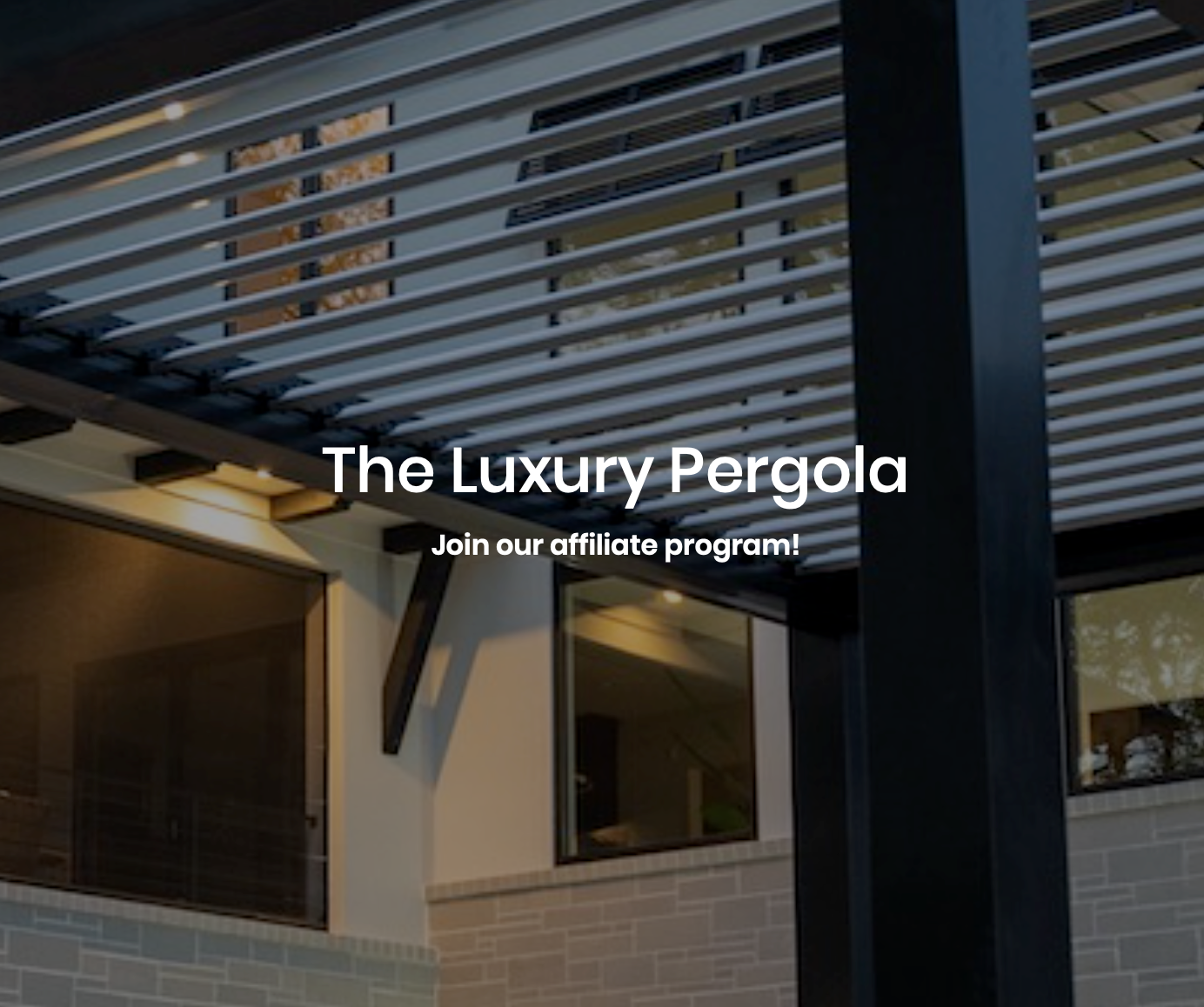 A high ticket affiliate program revolves around three things: delivery, traffic optimization, and scalability. Marketers have found success in blog posts, YouTube videos, as well as short form ads for Facebook and tik tok. After a vetting process and application, you can be accepted to our program where we provide any information needed to find success in the industry. Like our product, we are looking for the best only.
If you are interested but do not want to put in any work, do not apply.
We have created an avenue for financial freedom that has helped many to generate remote revenue through online media optimization. This is for winners who are looking to break through their next level of income.
Become An Affiliate Marketer (How To Qualify)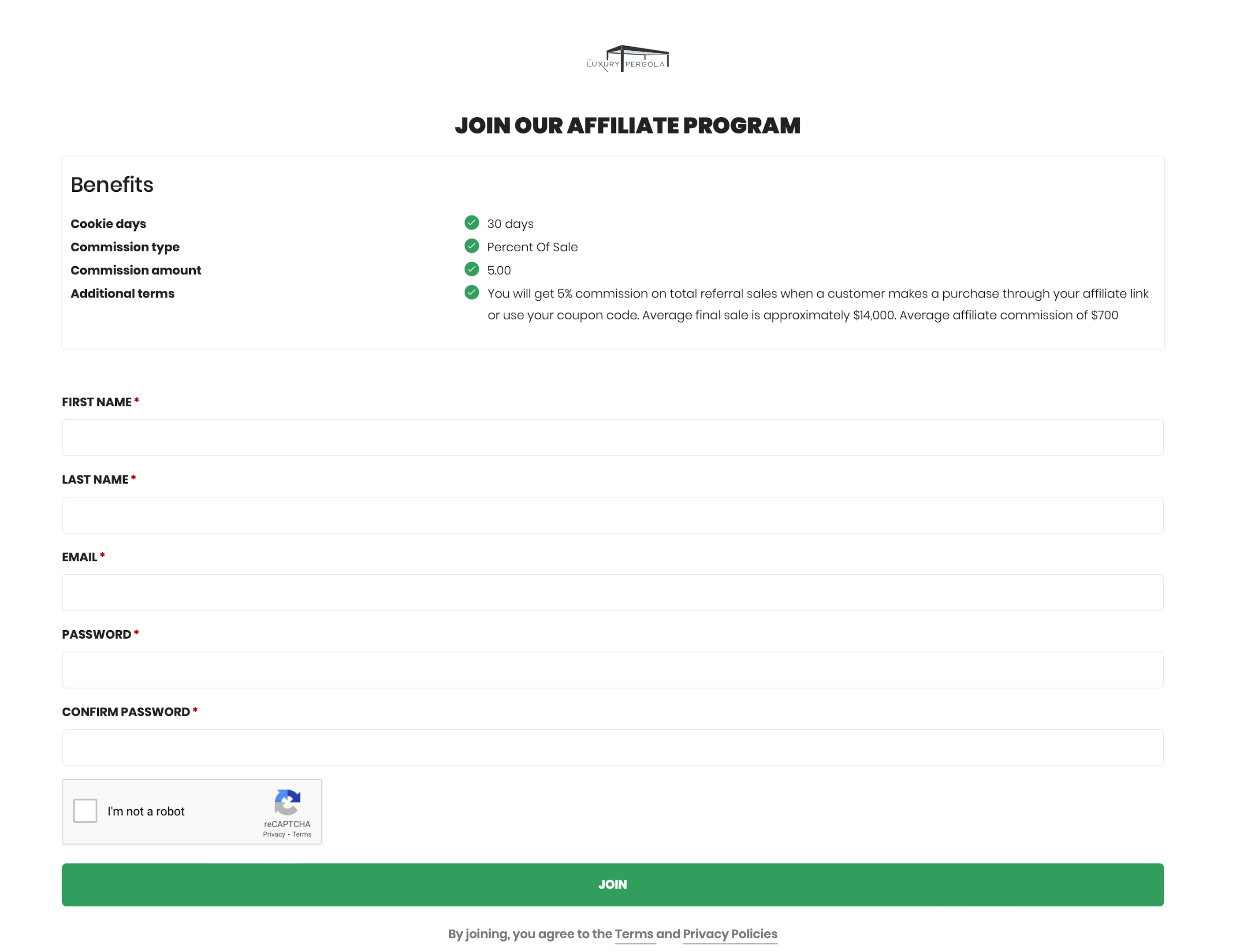 The steps to join the affiliate program start with filling out this form:
After that you will go through a series of steps:
Create A Login

Application Research/Overview

Over The Phone Interview

Onboarding To Resources And Information

Begin Marketing
The best currently in our program make an extra $120,000 a year off this product alone. We represent a luxury high end brand and want to make sure we are only choosing the best to represent us.
Commissions For Affiliate Marketers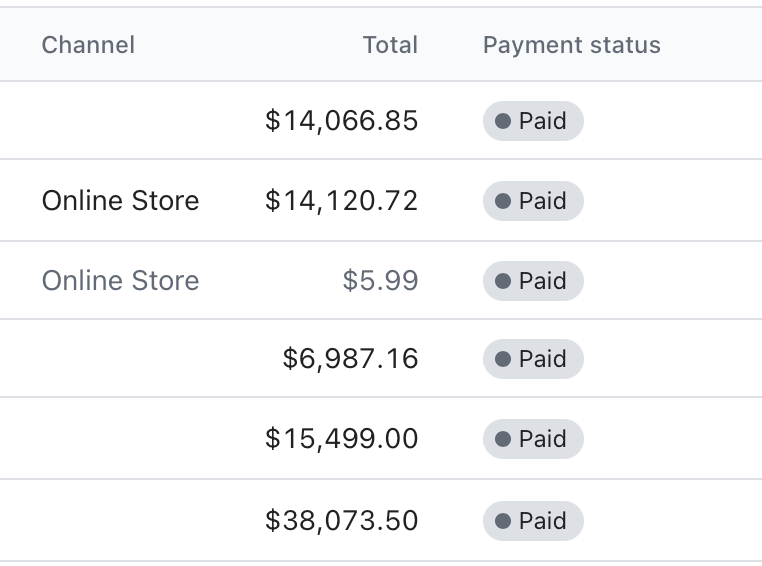 We represent a base commission of 3% on a $14,000 average ticket size coming to an average commission earned of $450 per order. Affiliates doing a baseline job should get an average of 10 directed orders per month coming to $4,500 extra dollars every 30 days. There are currently thousands of pergola orders everyday, the traffic is there to optimize and the saturation is fairly minimal.
Basic Affiliate Numbers:
10,000 views x 0.5% purchase through rate x $450 commission per purchase = $2,250 profit to affiliate
You can easily generate $2,250 profit for every 10,000 views you get. Views can be achieved through blogs, posts, videos, or ads. We will do the heavy lifting of selling and customer service, you generate traffic.
Affiliate Marketing Tactics For TLP
The best high ticket affiliate marketers know how to captivate value an information in a clear, concise manner on their ads to maximize sales. High performance marketing for this high end demographic appeals to upper middle class and above. Picture the avatar of the person you are marketing to and cultivate that audience within you online media platform. Platforms that work well to captivate this audience and generate revenue both organically and financially are:
Youtube, Youtube Shorts, Youtube Ads

Pinterest

Amazon

Tik Tok, Tik Tok Ads

Facebook Shorts, Facebook ads

Online Blog Sources

Twitter
You can generate money online through affiliate income on any one of these platforms, but are not limited to these platforms alone.
Current Numbers/What We Are Looking For

Above consists of a depiction of SEO growth over the course of less than a year of targeted analytics. These skills can be applied to create drastic organic traffic and monetize consumer attention.
Current affiliate marketers generate anywhere from $700 to $14,000 extra per month with this product alone. Other high ticket affiliate programs combined with this one allow certain affiliate earners to become entirely financially free with essentially passive income through the screen of their laptop.
What we look for in a positive affiliate is any of the following:
Hard Working

Basic Understanding Of Online Marketing

Able To Learn And Implement New Concepts

Established Audience

Able To Utilize AI To Create Mass Content

Can Cultivate A Following

Able To Direct Traffic Through Advertising
If you have little to no experience with these, we have a free online coaching system to allow you to learn and implement these practices with success. We are looking for winners who are able to learn and implement these practices to generate success.
Projected Growth In The Space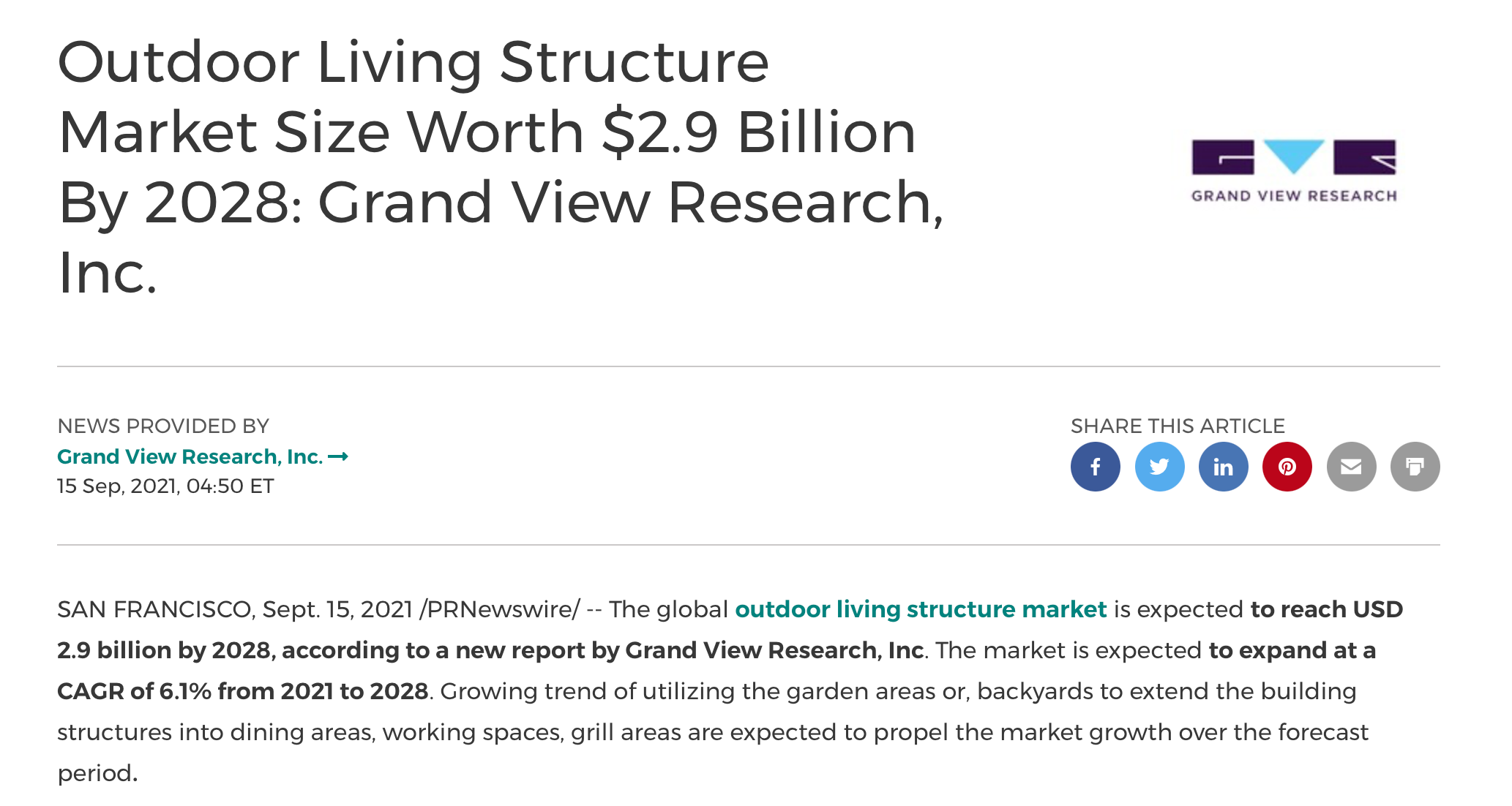 The projected growth for an affiliate in this space is essentially exponential. As seen above, the current outdoor living structure has a $2.9 Billion evaluation with a current market size of $2.2 Billion. Through affiliate marketing, if one is able to reach peak efficiency and captivate only 1% of the space that is equivalent to $22,000,000 in total revenue and $1,100,000 in earned commissions for the affiliate.
Capitalizing on this program is an avenue to create financial freedom and allow to make money and revenue from the beach at anywhere in the world at any given time. We are looking for the best only, acceptance for the program will be conducted only after the interview is complete.